Cherry Jalapeno Jam is a quick and easy no pectin jam recipe with fresh cherries, jalapenos and warm spices for a tasty sweet, spicy spread.
Fresh jellies and jams like Strawberry Jam and Blueberry Jam are a great way to use up late summer berries! This easy recipe takes juicy ripe cherries and adds fiery jalapenos for a sweet, sour, and spicy Spread you'll want in your Pantry all year long.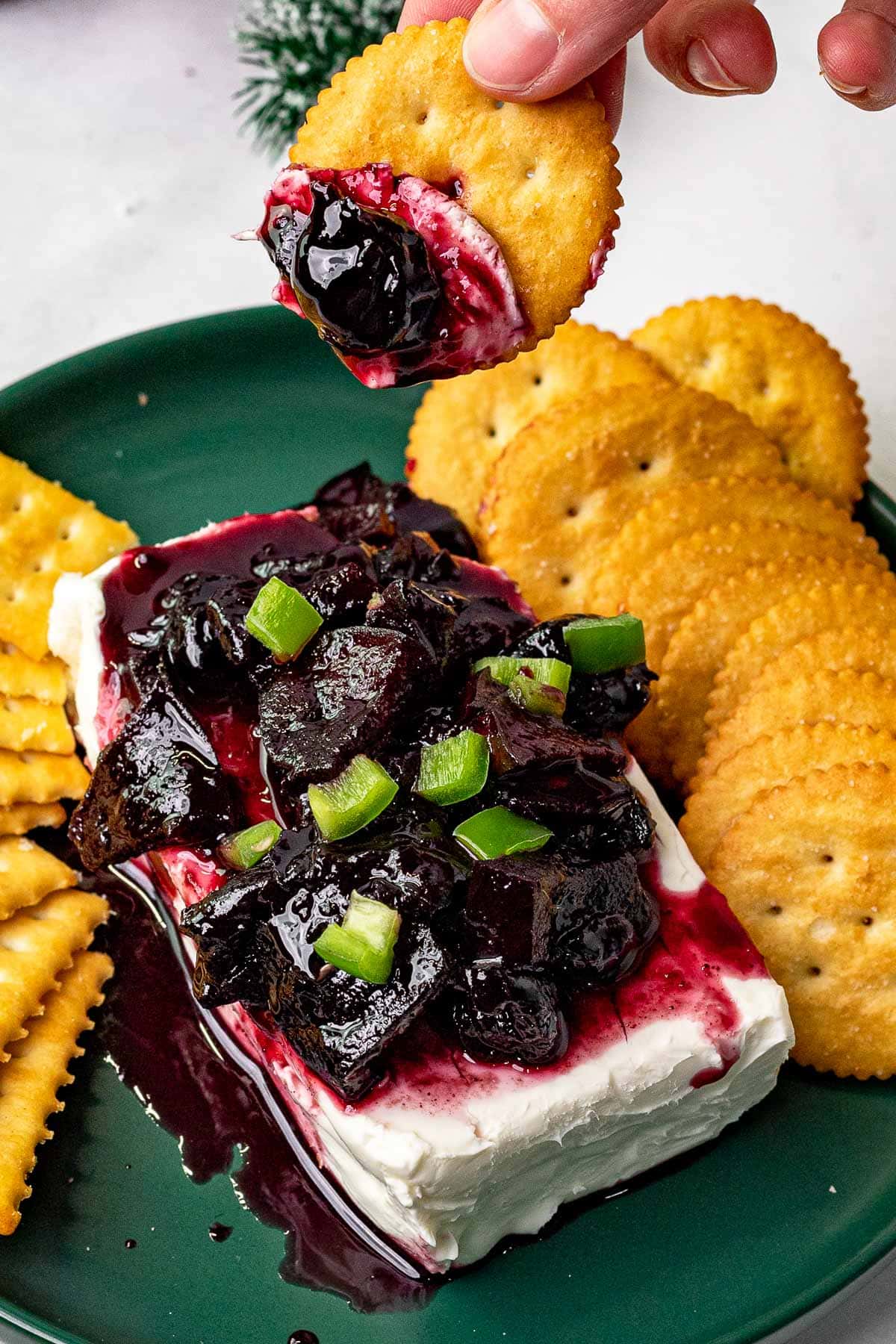 This recipe is unlike any other jam you've tried before. The rich sweet taste of the cherries perfectly balances out the spicy heat from the peppers. On top of that, you have warm spices like ginger, ground cinnamon, nutmeg, and cloves. Then there's a granny smith apple to add some extra tartness. It hits every flavor note and will leave your taste buds dancing.
Cherry Jalapeno Jam is wonderfully easy and doesn't require any pectin or preservatives. The jam thickens naturally thanks to the cooking process along with all the natural pectin in the cherries, jalapenos, sugar, and apple. Once it's simmered long enough to activate the thickening ingredients, it finishes setting in the fridge. The result is a thick, spreadable sweet and spicy jam unlike any other.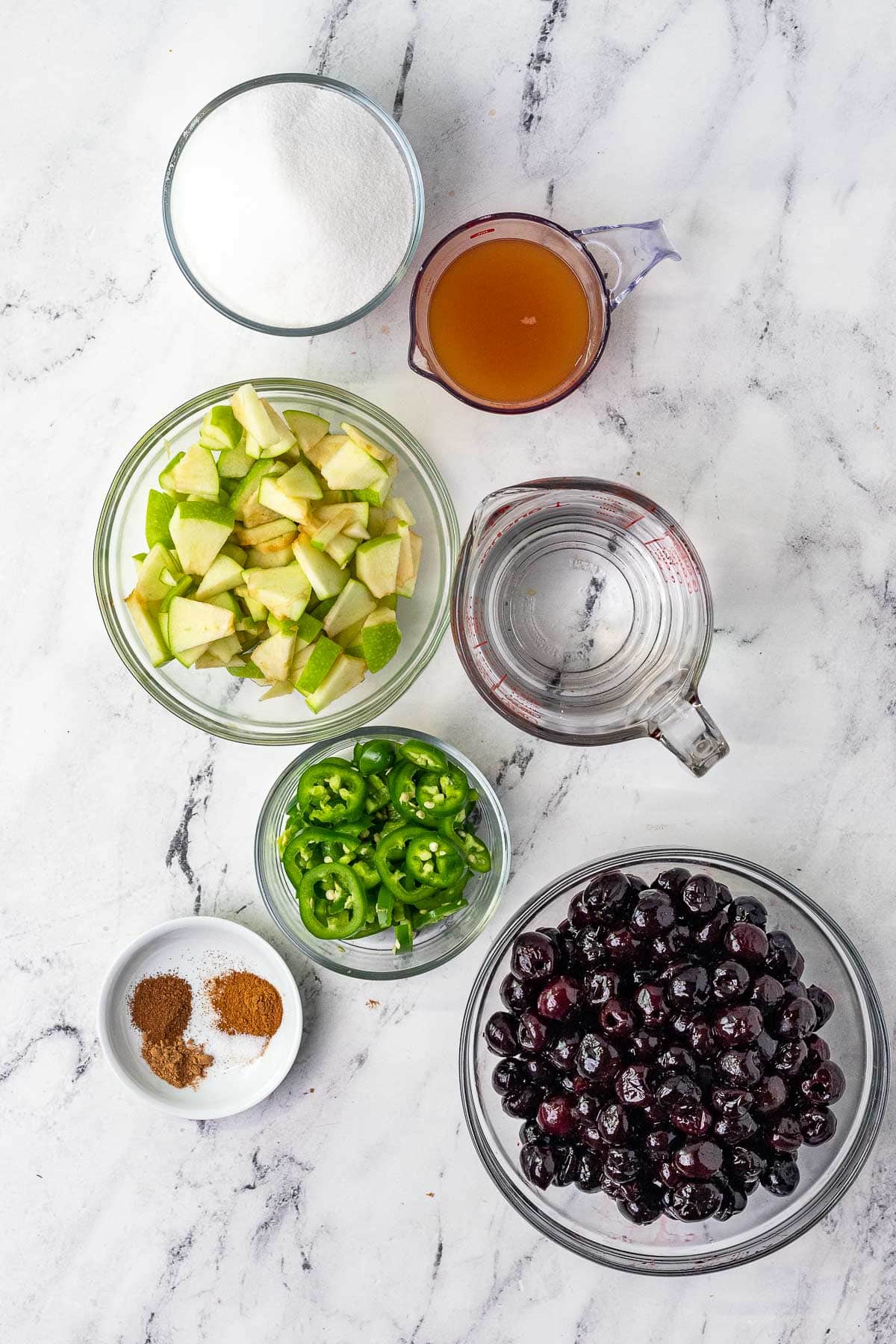 This hot pepper jam is the perfect amount of sweet for serving with fresh, warm White Bread but it also goes great with savory meats and cheeses. Take your holiday charcuterie board to the next level by adding homemade Cherry Jalapeno Jam. You can also preserve this jam and give it away as gifts during the holidays too. There are canning instructions in this post so that you never have to be without a jar of this amazing spicy sweet jam!
How to Make Cherry Jalapeno Jam
Prep: Start by slicing the apple, jalapenos, and cherries.
Cook: Once all the ingredients are prepped combine them in a large, heavy saucepan, and bring the mixture to a boil. Reduce the heat and continue to simmer for about 50 minutes.
Note: As the ingredients cook together the mixture should reduce to about 4 cups. Make sure to skim the foam off the surface from time to time.
Cool: Allow the jam to cool a bit before pouring it into a jar or other airtight container. Cover and chill in the fridge. It will continue to thicken and it cools.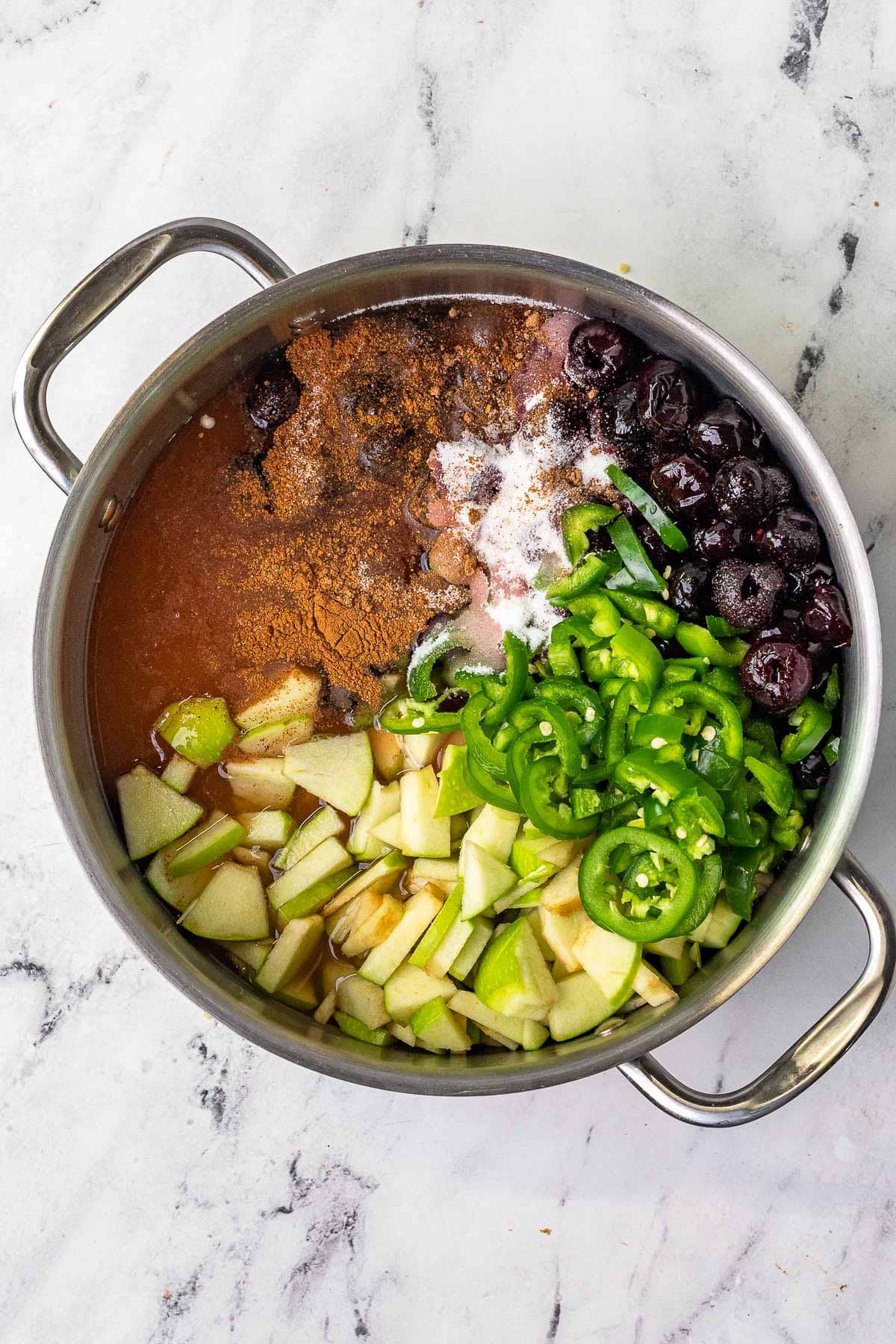 Easy Homemade Bread Recipes
FAQs for Cherry Jalapeno Jam
Can I use frozen cherries?
No, you don't want to make this jam with frozen cherries that have been thawed. When you freeze fruit, the natural fruit pectin breaks down and since we are not adding pectin to this jam, you want to use fresh cherries.
Do jalapenos contain pectin?
Yes, jalapenos do contain natural pectin. There higher amount of natural pectin makes them perfect for adding to jams and jelly and they can even be turned into jelly on their own.
What kind of cherries should I use for jam?
The most popular cherries for making jam are Bing Cherries, Dark Cherries, and Rainer Cherries. It's really up to you whether you prefer sweet cherries, sour cherries, or something in between.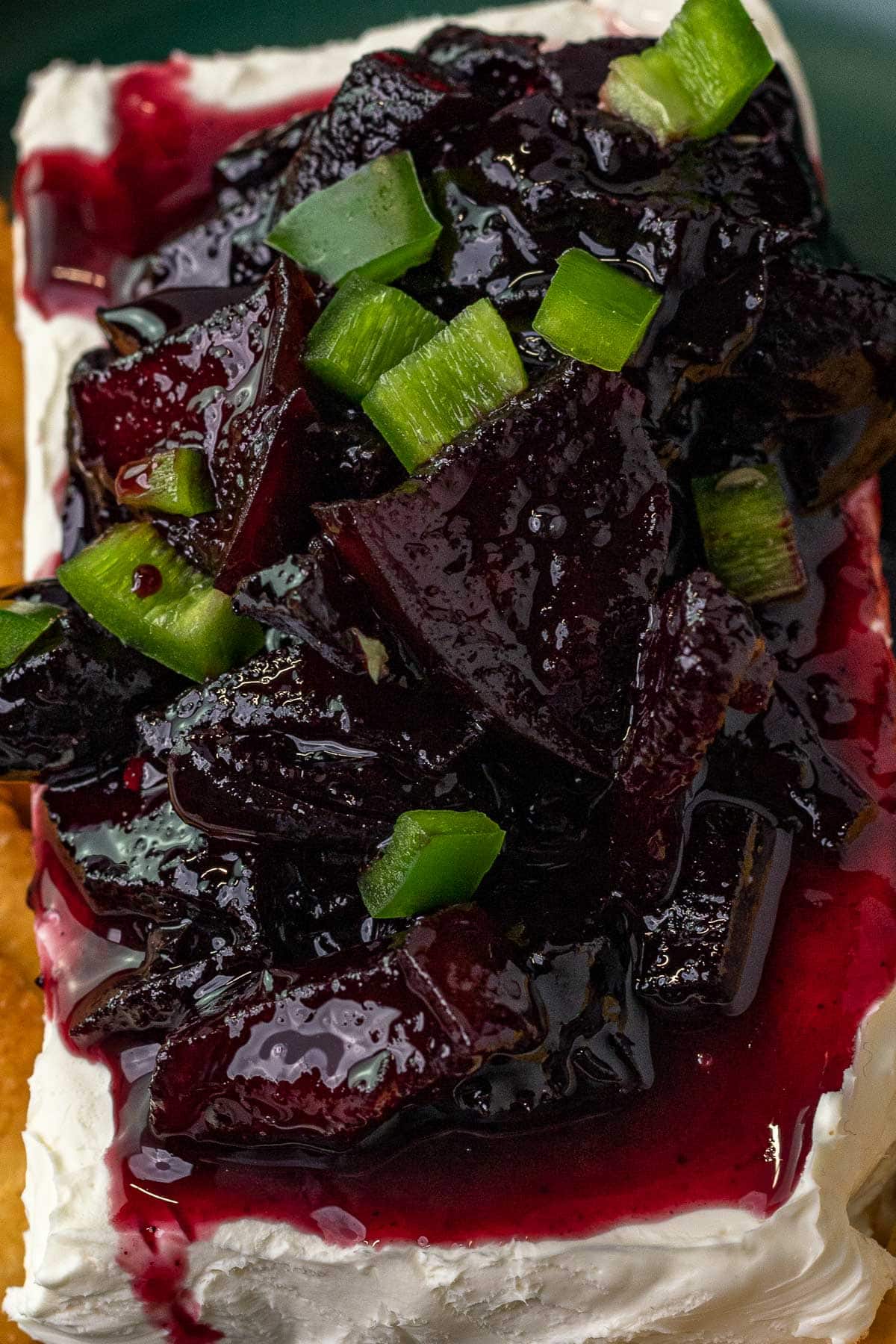 Create a free account to

Save Recipes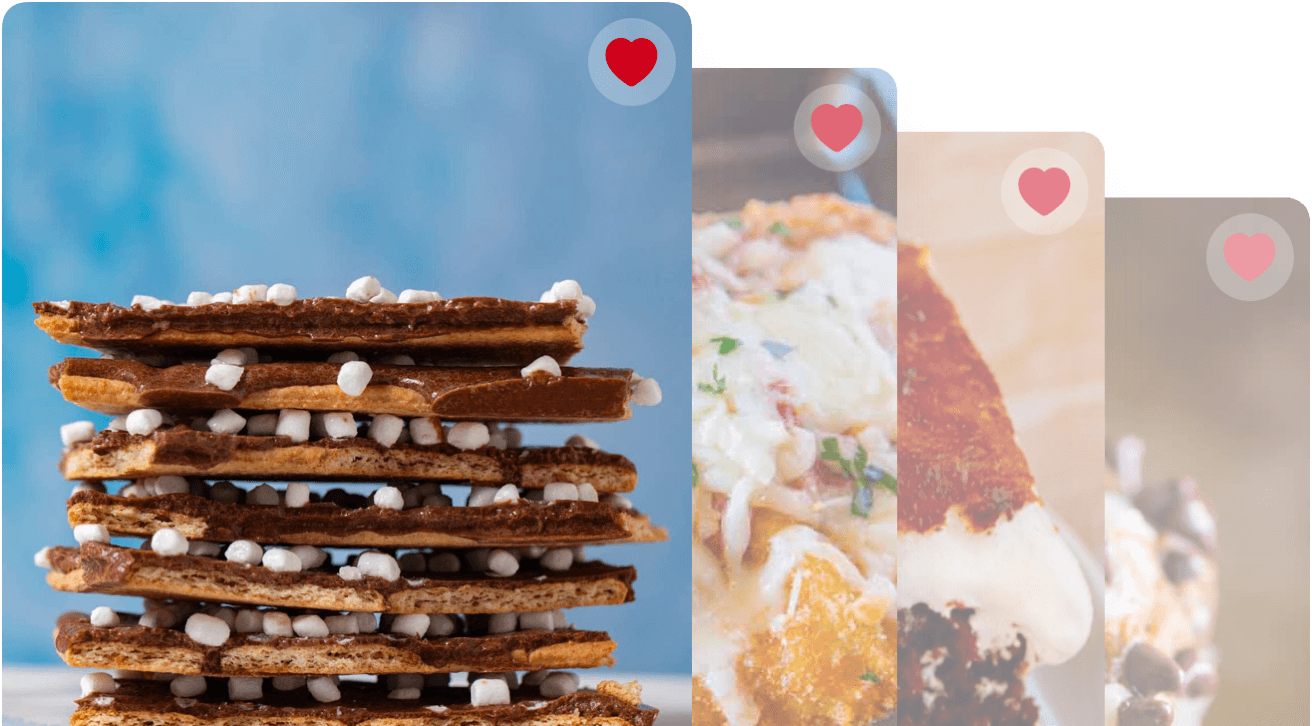 Key Ingredients
Sugar: Sugar adds sweetness to balance the heat from the jalapenos and tartness of the cherries. It also helps to thicken the jam and is a natural preservative.
Vinegar: Cider vinegar helps to balance out the sweetness from the sugar without bringing a strong vinegar taste. It also helps set the jam because it activates the natural pectin.
Spices: This jam has a warm spice blend of ginger, cinnamon, nutmeg, and cloves. Cloves and ginger have a subtle spicy taste that compliments the jalapeno while the cinnamon and nutmeg have a bit of earthy sweetness that brings out the deeper cherry notes.
Jalapeno Peppers: Jalapeno peppers provide a delicious fiery kick that goes amazing with a fruity jam. You can adjust how many you want, or remove the seeds, depending on how spicy you want it.
Sweet Cherries: Fresh cherries are the star ingredient and when they are in peak season, they are sweet, juicy, and full of cherry flavor. You can use any variety you prefer, and they are best when slightly firm to the touch but not hard with some give but not mushy.
Apple: Granny Smith apples are tart and crisp, providing a counterbalance to the sweetness of the cherries. They also contain natural pectin, which helps the jam set without the need for added pectin.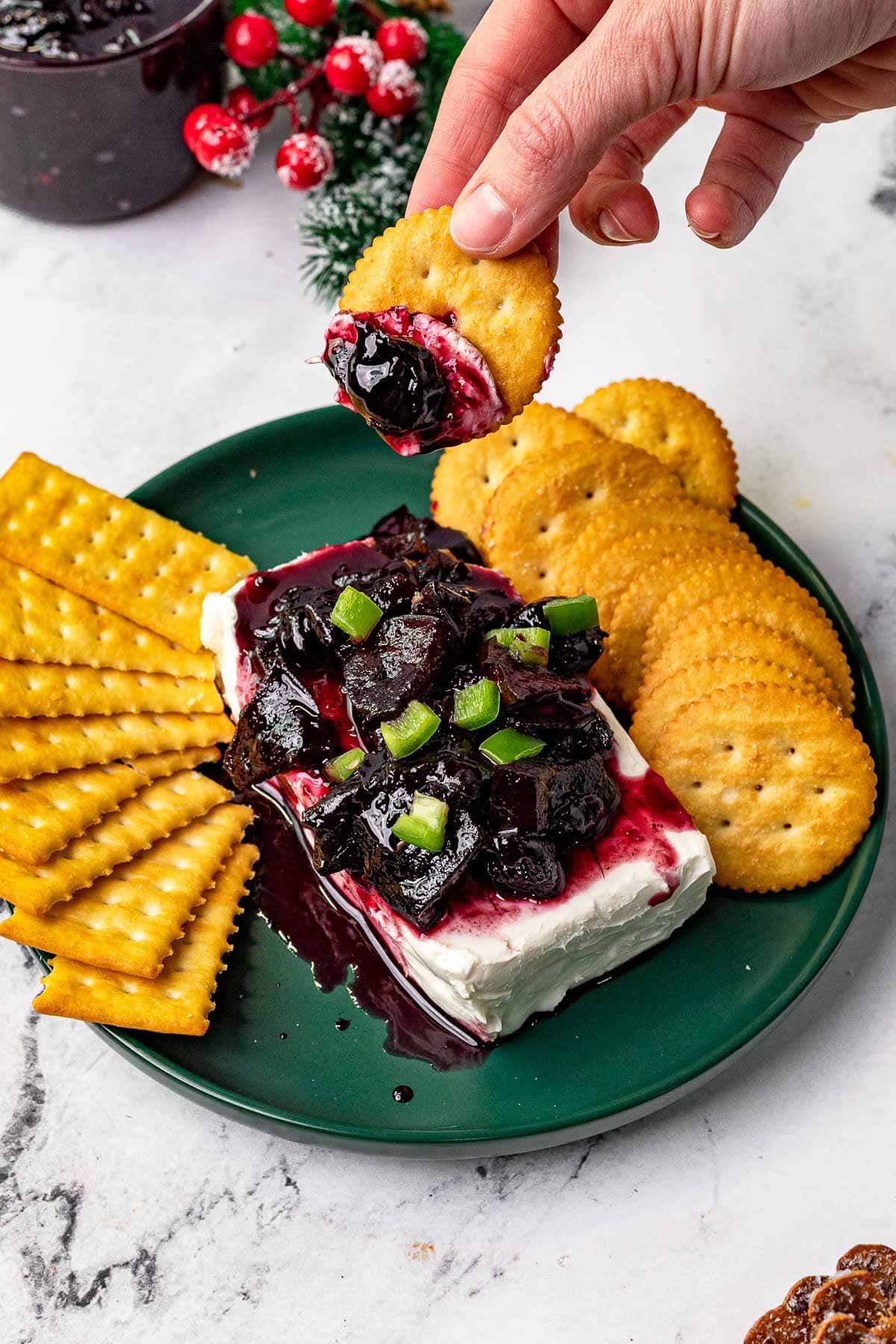 Can Cherry Jalapeno Jam be made in advance?
Yes, Cherry Jalapeno Jam needs to be made at least a few hours ahead of when you plan on serving it, preferably overnight. Although it's delicious as a sauce as soon as it's done cooking, jam does need to chill in order to set. You can also can the jam and keep it for up to a year. See below for water bath canning instructions.
Variations
Heat: Most of the heat in hot peppers comes from the seeds so depending on the level of spicy flavor use jalapenos with seeds or without. You can also switch up the peppers and try habanero peppers or cherry peppers. Roasting the peppers first will give your jam a deep smoky, spicy flavor!
Berries: The spicy flavors of this hot pepper jam would taste delicious with other berries too. Try it with blueberries, blackberries, or raspberries, or do a mixed berry jam.
Jelly: If you prefer jelly, instead of using the whole cherries and apple, you can process them first then puree and strain the mixture to just use the cherry juice. If you are using just the cherry juice, you will need to add liquid fruit pectin to help it set.
Lemon: Instead of the apple cider vinegar, you can use lemon juice to help thicken the jam and add a tart, zesty flavor. Use fresh lemon juice and you can add even more lemon flavor by adding grated lemon zest too.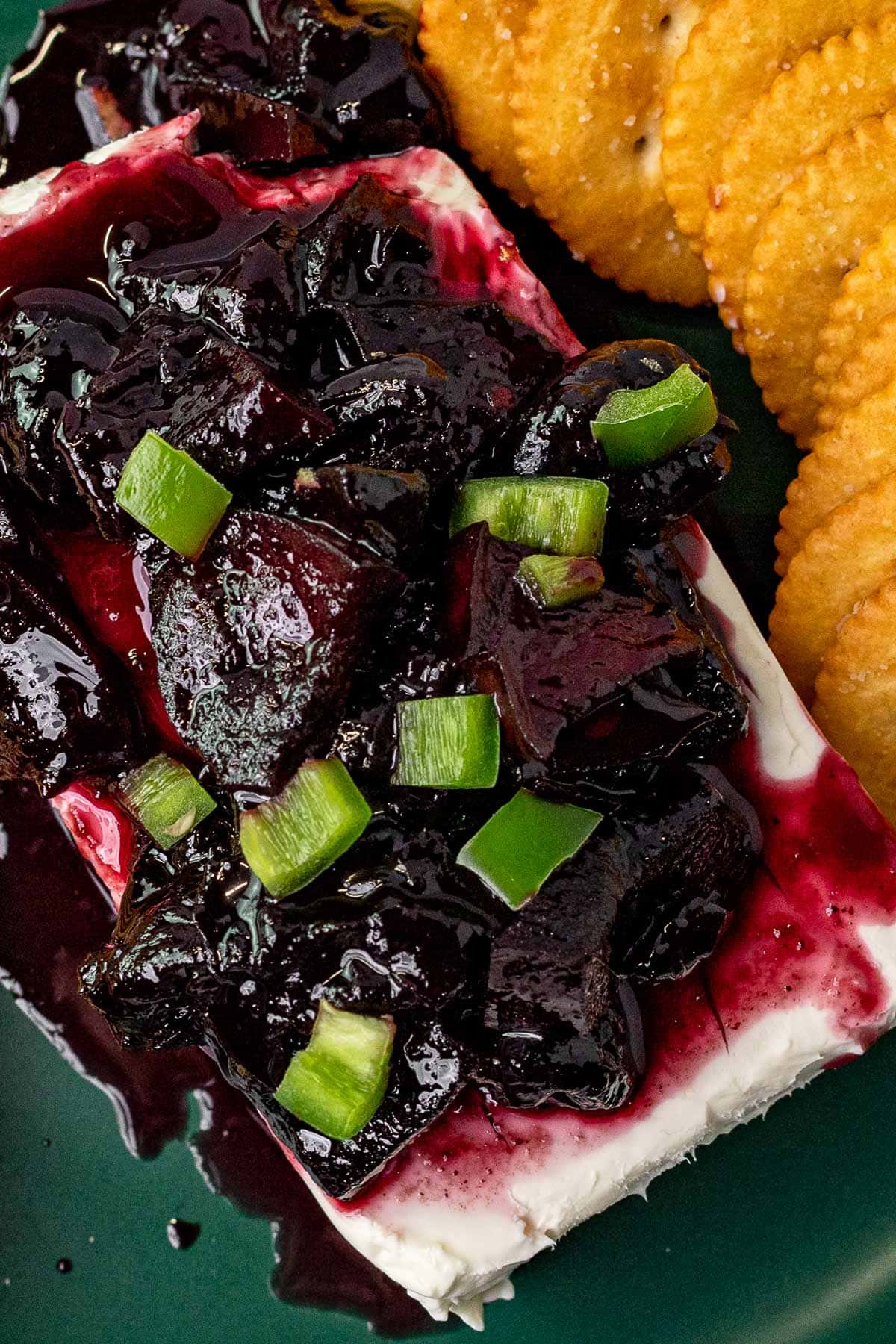 Canning Instructions
You will need a water bath canning pot or a large, wide heavy bottomed stock pot. This canning recipe is for water bath canning not pressure canning.
Sterilize half-pint or pint sized canning jars along with their lids, and the rings. It's best to use straight-sided jars to make removing air bubbles easier. Keep everything in hot water while you prepare the Cherry Jalapeno Jam.
Once it's done cooking, ladle the hot pepper jam into the clean, hot jars leaving ¼ inch space at the top. Run a flat spatula (or special canning tool) down the inner sides of the jar to remove air bubbles.
Wipe down the rims of the jars with a clean linen towel to remove any drips. Secure the rings around the lids with fingertip tightness.
Bring water (enough to cover jars) to a roiling boil in the canning pot. Carefully place the filled jars in the boiling water, leaving at least ½ inch space between jars.
Process the Cherry Pepper Jam in boiling water for 10 minutes, then turn off heat. Leave the jars in hot water for 5 minutes.
Carefully remove the jars, again with canning tongs or heat safe oven mitts, from the water bath and set on a thick towel or wire rack. Do not set them directly on the counter.
Cool jam for 12-24 hours. You may hear pinging as the lids seal. Test lids by pressing down on them, they should not give or wiggle.
Store your canned Cherry Pepper Jam in a cool, dry place for up to 1 year.
How to Serve Cherry Jalapeno Jam
Sandwich: This Cherry Jalapeno Jam makes a great sandwich spread with roasted turkey or chicken. Keep a jar on hand to make extra delicious leftover Roast Turkey sandwiches during the holidays.
Grill: Brush it on Grilled Chicken or Pork Chops during the last few minutes of grilling for sweet, sour, spicy glaze. Serve more jam on the side or pour on top.
Appetizer: Serve it as a snack or appetizer with cream cheese and crackers. Pour the jam over a block of softened cream cheese and serve with hard crackers or Pita Chips.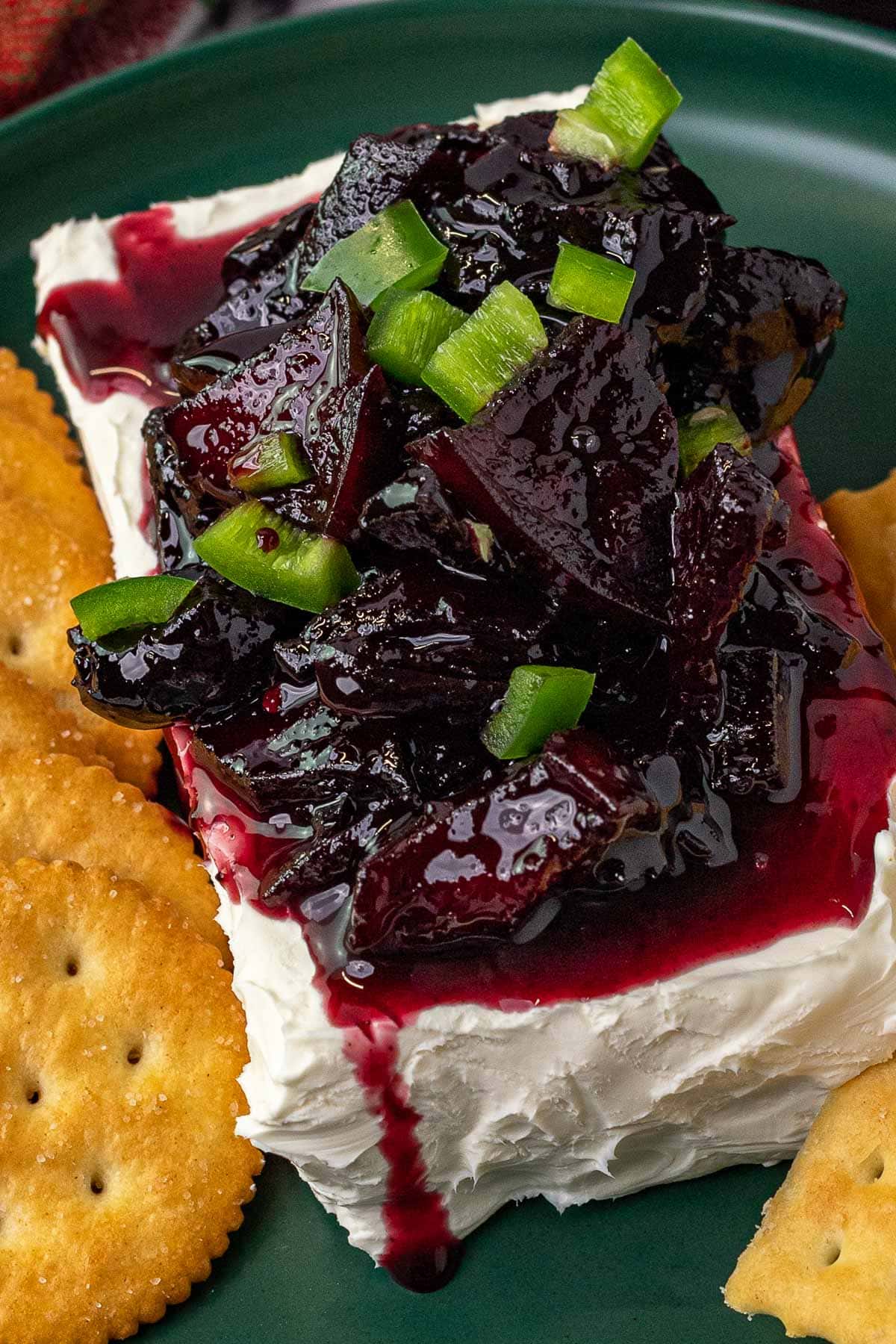 More Homemade Jam Recipes
How to Store
Serve: Let the jam completely cool before serving so it has time to set. Don't leave the jam at room temperature for more than 2 hours.
Store: Kept in an airtight container Cherry Jalapeno Jam will keep well in the fridge for up to 3 weeks.
Freeze: Let the jam cool in the fridge before freezing it, and make sure there's room in the container for the jam to expand. It will stay good in the freezer for a year.


Ingredients
2

cups

sugar

1 1/2

cups

water

2/3

cup

cider vinegar

1 1/2

teaspoons

ground ginger

1/2

teaspoon

ground cinnamon

1

dash

salt

1

dash

ground cloves

1

dash

ground nutmeg

4

jalapeño peppers

, sliced

2

pounds

sweet cherries

, pitted and coarsely chopped

1

large

Granny Smith apple

, cored and chopped
Instructions
Combine all ingredients in a large, heavy saucepan; bring to a boil.

Reduce heat, and simmer until slightly thick and reduced to 4 cups (about

50 minutes

), skimming foam from the surface of mixture occasionally.

Cool; pour into an airtight container. The jam will thicken as it cools. Cover and chill.
Notes
Note: Refrigerate preserves in an airtight container for up to three weeks.
Nutrition
Calories:
96
kcal
|
Carbohydrates:
24
g
|
Protein:
1
g
|
Fat:
1
g
|
Saturated Fat:
1
g
|
Sodium:
3
mg
|
Potassium:
106
mg
|
Fiber:
1
g
|
Sugar:
23
g
|
Vitamin A:
54
IU
|
Vitamin C:
6
mg
|
Calcium:
6
mg
|
Iron:
1
mg