Easy Banana Jam is a winter spiced jam made with ripe bananas, brown sugar, rum, vanilla, cinnamon, nutmeg, and cloves. No pectin needed!
When it comes to stocking your Kitchen Pantry with homemade Sauces and condiments, it doesn't get easier than fruit spreads like Strawberry Jam and this banana recipe!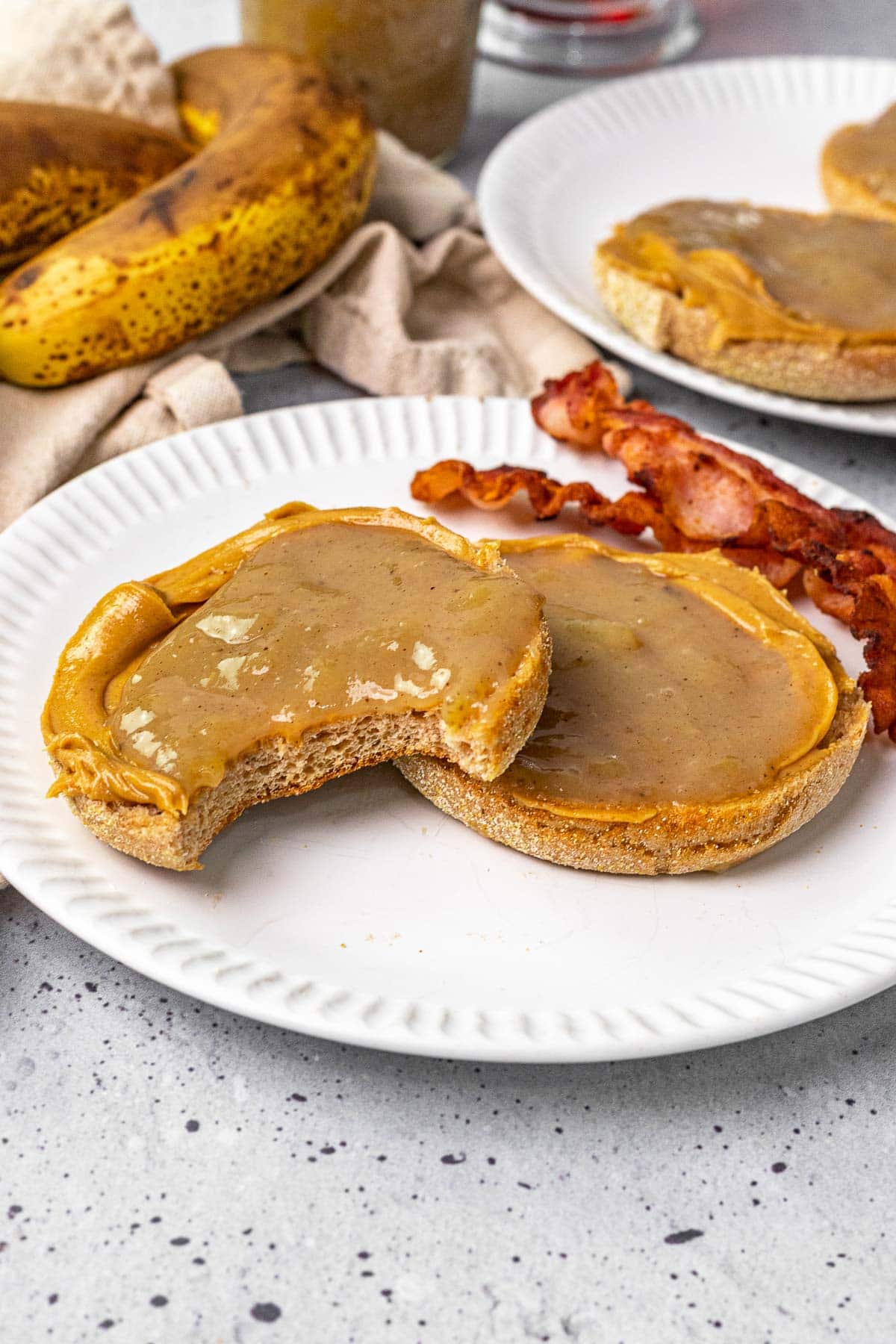 After Banana Bread, Banana Jam is the next best thing you can make with ripe bananas, cinnamon, and brown sugar. Just like our easy banana bread recipes, you don't need a food processor or mixer to make this quick and easy jam! While you are waiting for your Banana Jam to set, bake a loaf of Quick Bread then serve them together for a tasty winter breakfast.
This Banana Jam recipe is sugary sweet balanced by the warm spices like cinnamon and nutmeg. The acidity from the lemon juice cuts the sweetness slightly while adding a natural pectin to thicken the jam without extra ingredients. There is a little kick from the rum, but feel free to leave it out if you prefer or replace it with a bit more vanilla extract.
Easy Banana Jam has a wintery flavor that makes it a great Christmas gift. Make a delicious breakfast-themed gift basket with a jar of Banana Jam and dry Pancake Mix.  A cute spatula, a handwritten recipe card for the pancake mix, and a pretty checkered yellow ribbon will finish off this special Christmas basket!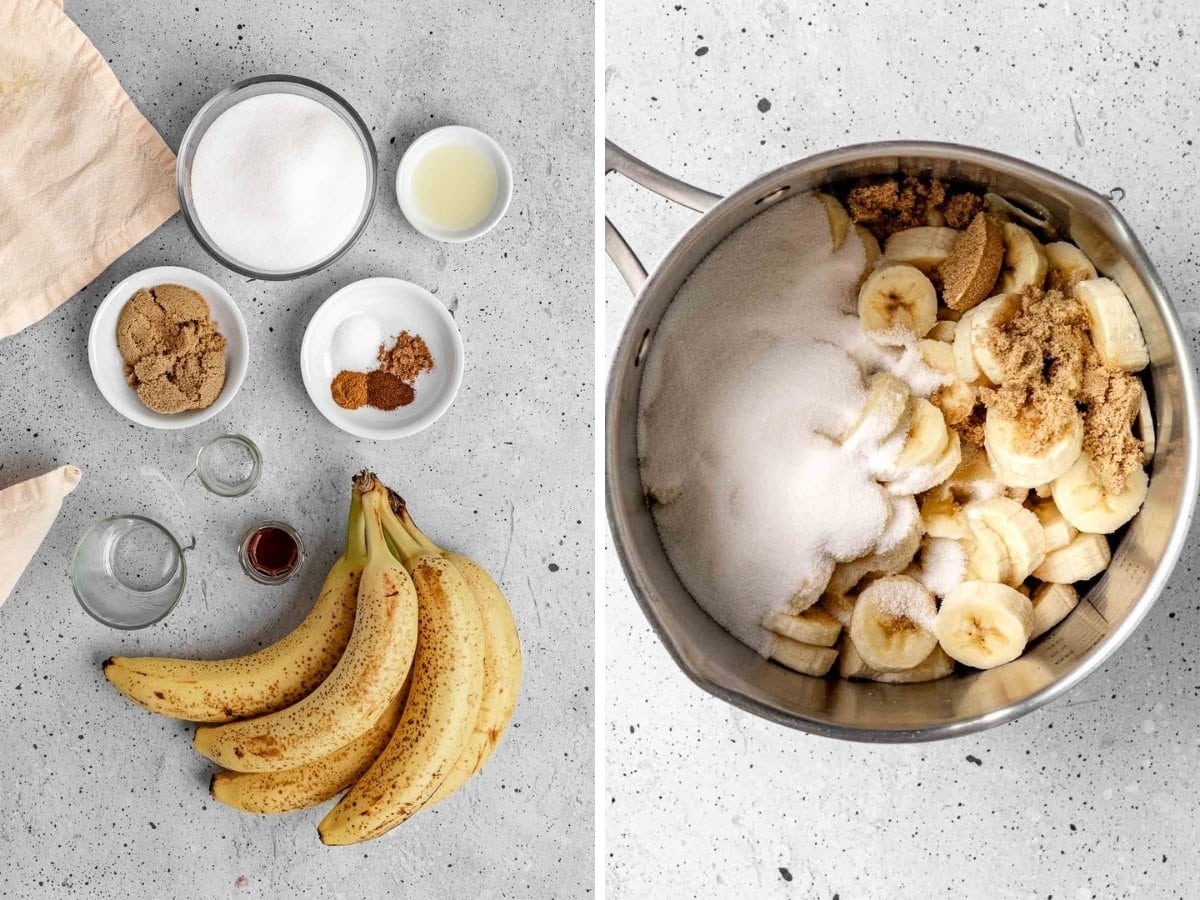 Easy Banana Jam has a wintery flavor that makes it a great Christmas gift. Make a delicious breakfast-themed gift basket with a jar of Banana Jam and a bag of Pancake Mix ingredients. A cute spatula, a handwritten recipe card for the pancake mix, and a pretty checkered yellow ribbon will finish off this special Christmas basket!
You can make a bulk batch of Banana Jam and preserve it with water bath canning with the easy guide in this post. Store your canned Banana Jam in the refrigerator or the freezer. It's so quick to make you can whip it up the same day you are craving it. Cool the jam in the refrigerator to set it faster or enjoy it warm like a syrup.
There are almost endless ways to enjoy Banana Jam! Swap fruit jelly for Banana Jam to make the best peanut butter and banana sandwiches. Toast homemade White Bread and serve with Banana Jam for a decadent breakfast on the go. Stir a spoonful of Banana Jam into Rice Pudding or yogurt as a snack. A scoop of Vanilla Ice Cream, a drizzle of jam, and sliced fresh bananas is an easy banana sundae.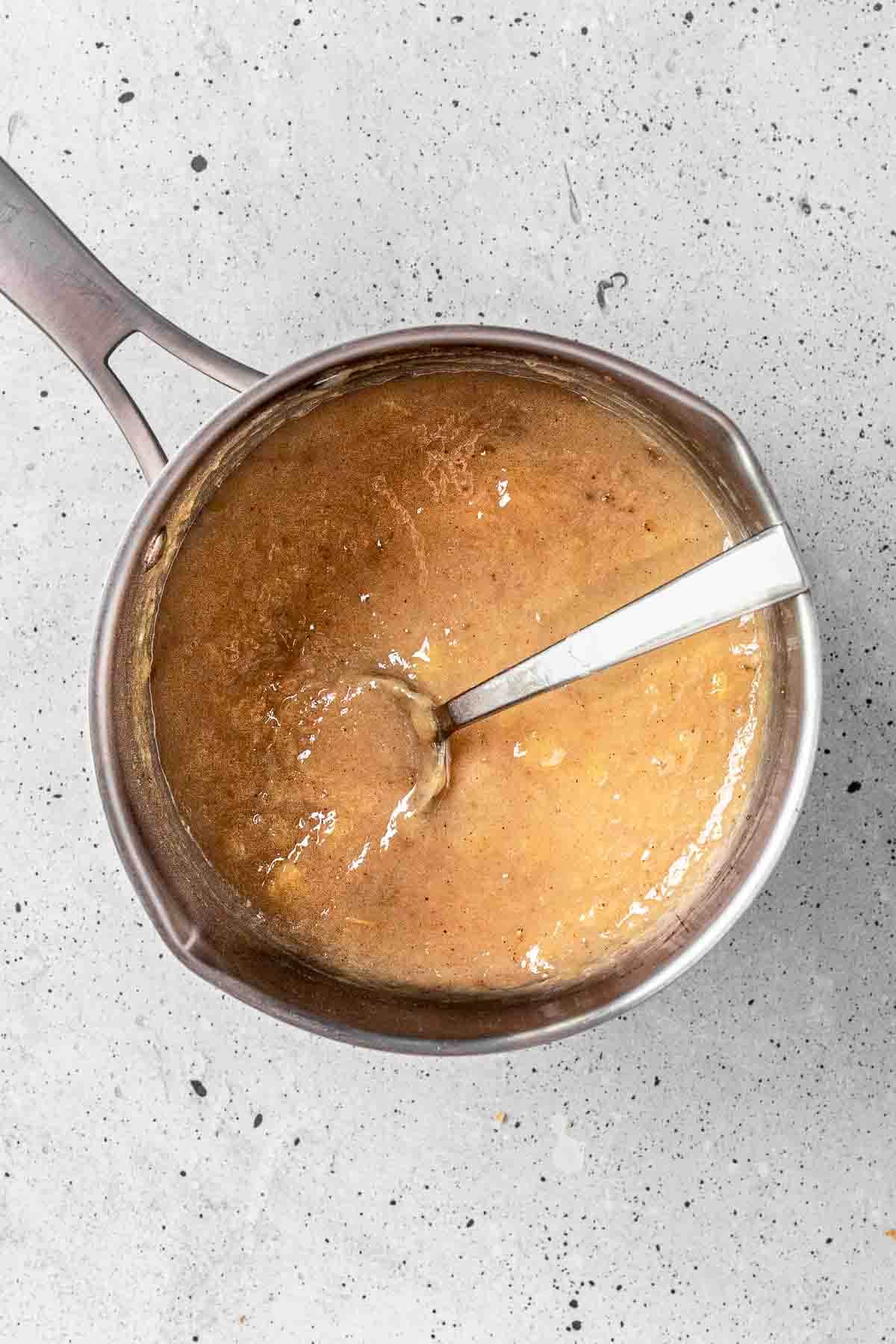 How to Make Banana Jam
Mash: Mash the bananas, brown sugar, granulated sugar in a large pan until well mixed together and a syrup starts to form.
Simmer: Heat banana mixture until it begins to simmer then stir in lemon juice, water, salt, and spices. Stir well and bring back to a simmer.
Thicken: Cook, stirring frequently, until thickened. If you swipe your finger on the back of the spoon dipped in jam, it should leave a blank space. You can also use the plate test to see if it is set. See FAQs on how to do plate test for jam.
Finish: Remove jam from heat. Mix in the rum and vanilla extract, stirring well. Transfer hot jam to clean glass jars and seal the lids. If you want to preserve them with a water bath, there are instructions in this post. Cool jars completely before storing in the fridge, freezer, or canning.
More Delicious Spread Recipes
FAQs for Banana Jam
How do you do the plate test for jam?
Start by placing a small plate in the freezer before you begin making your jam. After your jam has cooked for at least 10 minutes and you think it's thickened enough, remove the plate from the freezer. Add a dollop of hot jam to the cold plate and tilt the plate so it's straight up and down. The jam will start to run, and if it moves slowly then the jam is set. If it slides quickly, continue cooking and test in another 3-5 minutes to see if it's set.
Can you make banana jam with alternate sweeteners?
Since this recipe is not made with pectin, it's not advised to make it with alternative sweeteners made with stevia extract. The glucose of sugar reacts with the acid in citrus juice and that is what makes the jam set. Stevia has a different chemical make up than glucose so it may not set your jam properly.
Is it better to make jams with or without pectin?
It really comes down to whether the fruit has a high amount of pectin naturally. Pectin is a carbohydrate that naturally occurs in fruit, but the amount varies depending on the fruit type and how ripe it is. Fruits like bananas and lemons are high in pectin and do not need it added. Soft fruits like berries and ripe apples are low in pectin so you usually need to add it to the jam to thicken it.
What kind of banana should I use?
You want to use overripe bananas for jam so they break down and form a thick jelly. Green or ripe all yellow bananas will not work as well, Bananas with more brown spots than yellow are perfect, but you also don't want to use spoiled all brown or black bananas.

Create a free account to

Save Recipes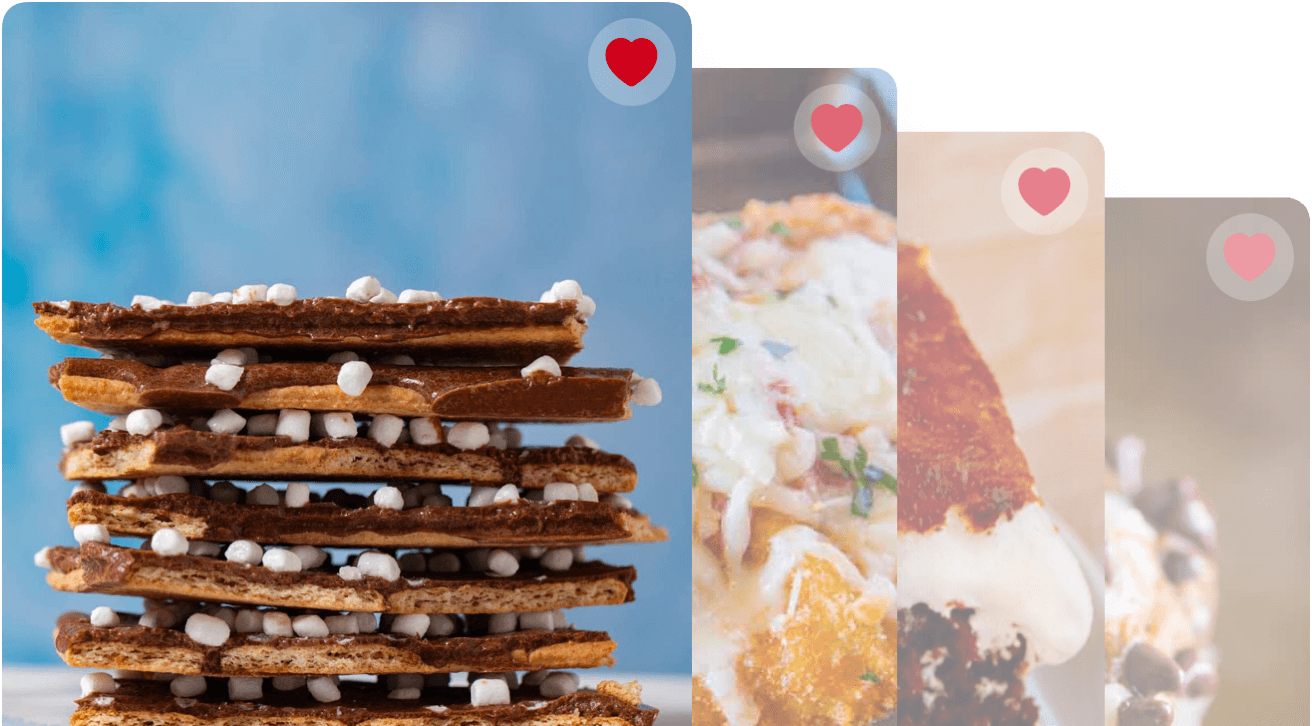 Key Ingredients
Bananas: Sweet overripe, soft bananas make a delicious jam! You want the skin to be yellow with lots of brown spots. Unripe bananas won't break down and if the skin is fully brown they will be bitter.
Brown Sugar: Of course you need regular white sugar to help jam set but the little bit of brown sugar gives this jam a slightly caramelized flavor that is simply amazing.
Spices: Cinnamon, nutmeg, and cloves are a trio of warm spices that pair perfectly with bananas. It's like having all the flavor of banana bread that you can eat by the spoonful.
Rum: A splash of rum adds a warm flavor without making this jam boozy. You can swap out the rum with more vanilla extract or almond extract to make this without alcohol.
Variations
Citrus: Citrus adds natural pectin, so you can swap freshly squeezed lime juice or orange juice for the lemon juice. Lime will be more tart than lemon, so decrease it by 1 tablespoon according to your taste.
Sweetener: Replace ½ cup sugar with more brown sugar, honey, sugar substitute, maple syrup, or coconut sugar. The riper the banana, the more naturally sweet this recipe will be.
Strawberry: Make Strawberry-Banana Jam by replacing half the bananas with fresh strawberry or frozen berries. Strawberries take longer to break down so start cooking them in white sugar until syrupy, then mash bananas and brown sugar into the mixture.
Pineapple: For a tropical summer jam, add ½ cup crushed canned pineapple with the syrup and leave out the brown sugar and baking spices.
Flavoring: Use vanilla bean instead of vanilla extract for a stronger vanilla flavor. Add ground or crystallized ginger for even more holiday flavor.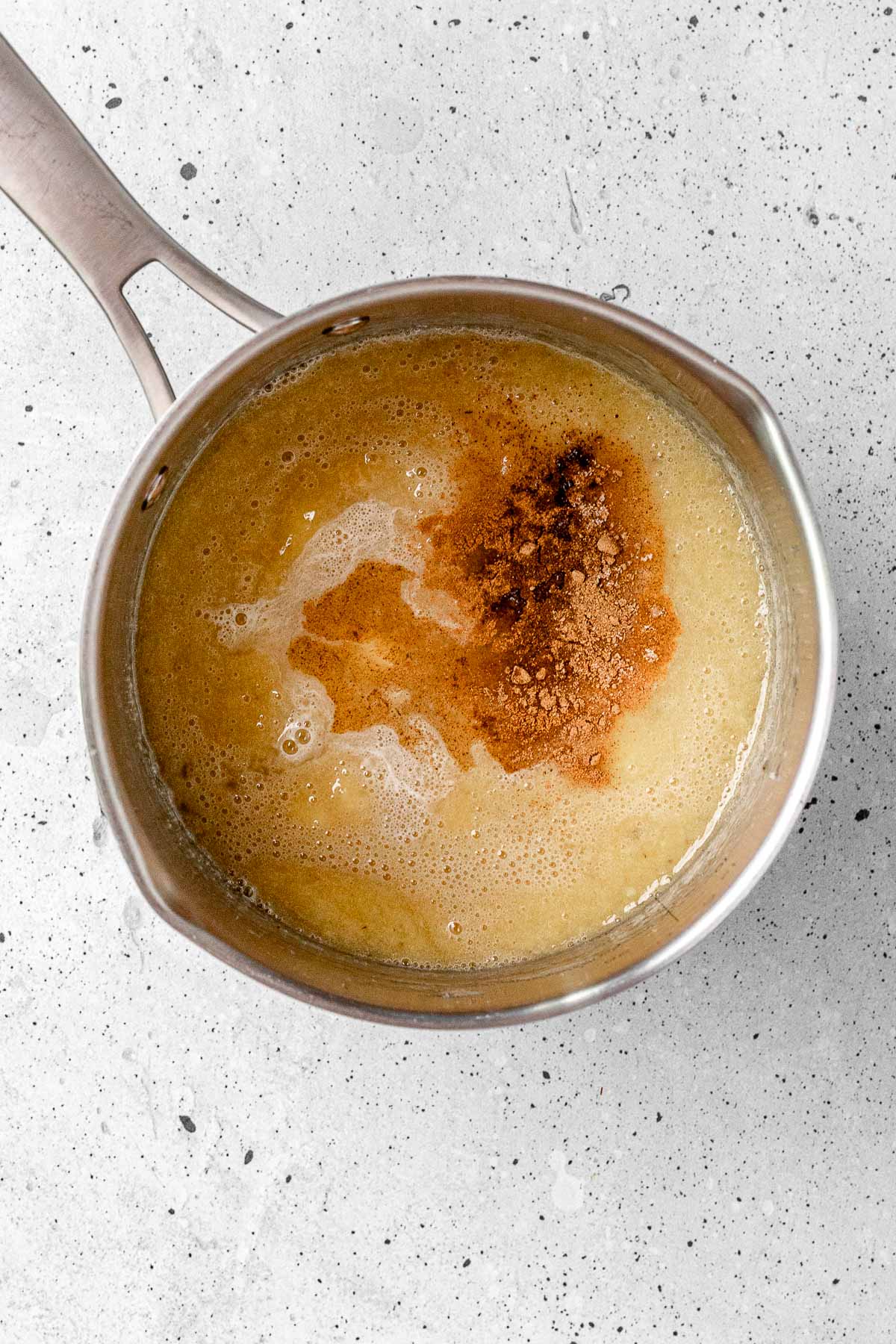 How to Can Banana Jam
Sterilize half-pint or pint sized jars, the lids, and the rings in boiling water and keep in hot water while you prepare your Banana Jam.
Carefully ladle hot jam into hot jars, avoiding getting jam on the rim of the jar.
Remove air bubbles with a spatula or canning tool.
Clean any jam from the rims of the jars and secure the lids with rings with a fingertip tightness.
Add enough water to the canner to cover jars and bring to a boil.
Place jars in the boiling water and secure the canner lid.
Process in boiling water for 5 minutes, then turn off the heat. Leave jars in hot water for 5 minutes.
Remove jars from the water bath and cool for 12-24 hours, until you can press down on the lids and they don't give.
Store canned jam in a cool, dry place for up to 1-2 years.
How to Store
Serve: Serve Banana Jam warm like a syrup or cool for at least 30 minutes to set. Allow the jam to cool and set before storing it in the refrigerator or freezer.
Store: Store Banana Jam in sterilized glass jars with sealed lids. Refrigerate Banana Jam for up to 3 weeks.
Freeze: Add Banana Jam to a glass jar, leaving a ¼ inch between jam and lid for expansion. Freeze jam for up to 6 months and thaw overnight in the refrigerator before serving.


Ingredients
6

large

bananas

, peeled and cut in large chunks

1 1/4

cups

sugar

2

tablespoons

brown sugar

3

tablespoons

lemon juice

2

tablespoons

water

1/2

teaspoon

kosher salt

1/4

teaspoon

cinnamon

1/8

teaspoon

nutmeg

1/8

teaspoon

ground cloves

1

teaspoon

rum

1

teaspoon

vanilla extract
Instructions
In a large pan, mash the bananas, brown sugar, and white sugar until combined and syrup forms.

Set over medium-low heat and bring to a simmer.

Stir in the lemon juice, water, salt, cinnamon, nutmeg, and cloves.

Continue to simmer and stir frequently for

10 minutes

, until thickened.

Remove pan from heat and stir in the rum and vanilla extract.

Spoon hot banana jam into glass jars and secure lids.

Cool jars before storing in the refrigerator or preserving in a water bath.
Nutrition
Calories:
36
kcal
|
Carbohydrates:
9
g
|
Protein:
1
g
|
Fat:
1
g
|
Saturated Fat:
1
g
|
Polyunsaturated Fat:
1
g
|
Monounsaturated Fat:
1
g
|
Sodium:
25
mg
|
Potassium:
55
mg
|
Fiber:
1
g
|
Sugar:
8
g
|
Vitamin A:
10
IU
|
Vitamin C:
2
mg
|
Calcium:
1
mg
|
Iron:
1
mg