Egg Foo Young is a Chinese-style omelet dish made with carrots, peas, bean sprouts, onion and bell peppers. Additional gravy recipe included.
Easy Chinese recipes like Classic Chinese Chow Mein, Easy Mongolian Beef, and Egg Foo Young are the perfect way to recreate your favorite takeout Asian cuisine at home.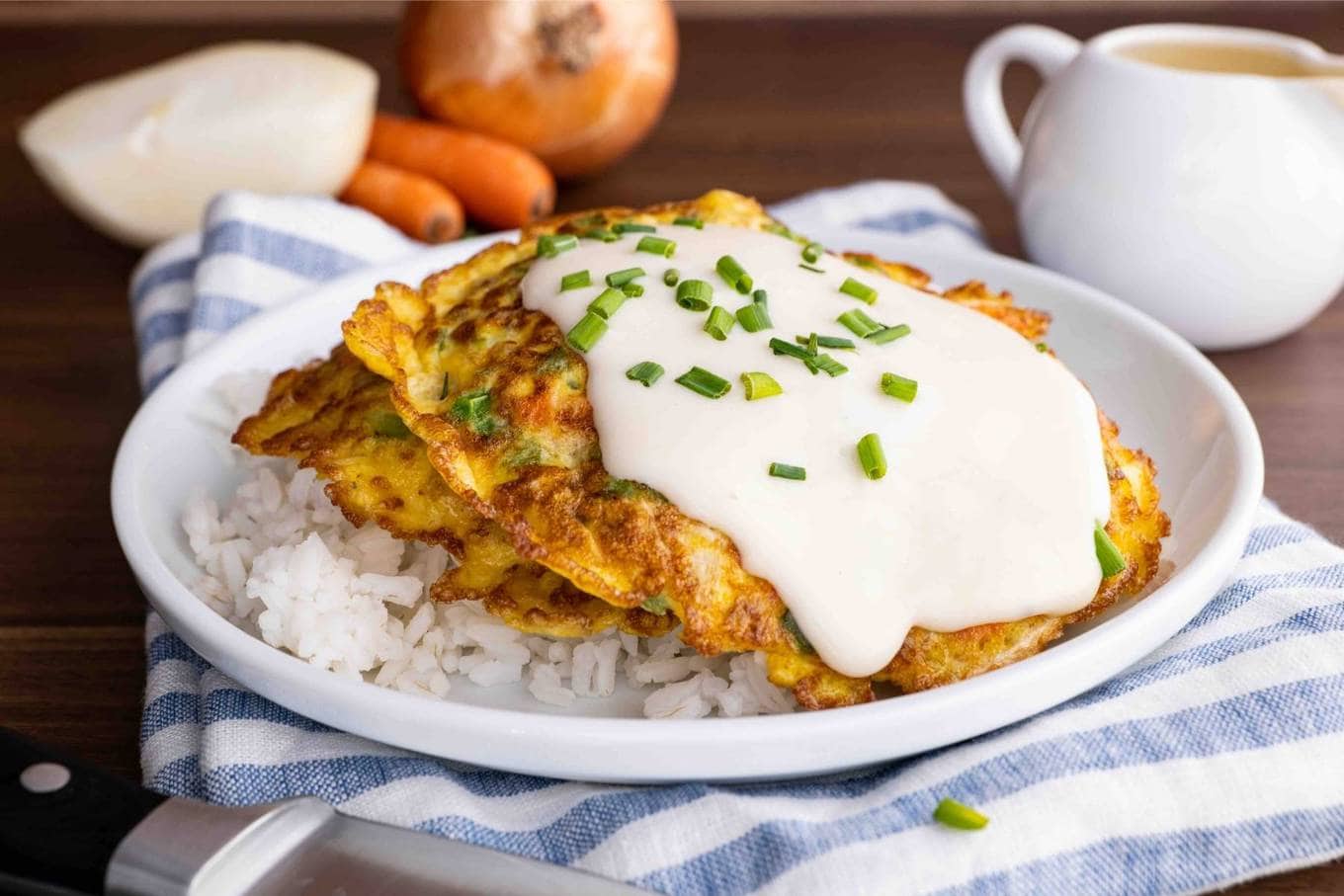 Egg Foo Young is a classic recipe and one of the most popular dishes in both traditional Chinese cuisine and Chinese American restaurants. This Chinese-style omelet is filled with fresh mixed vegetables for a deliciously easy vegetarian dinner but it's also the perfect leftover stir-fry to make at the end of the week. It's adaptable, hearty yet healthy, and ready in about 10 minutes.
You don't need a lot of ingredients to make this amazing yet simple home-cooked dish. This is the perfect recipe to use up vegetables and meat left over from other recipes. What really makes this Chinese omelet dish stand out is how just a couple ingredients can bring so much flavor to this delicious recipe. Soy sauce is the only seasoning you add to the vegetable and egg mixture. Everything is quickly cooked in fragrant sesame oil for an egg dish filled with rich, umami flavors and crunchy veggies.
One of the best things about Egg Foo Young is that you don't have to skip the recipe if you don't have all the vegetables on hand, you can simply just swap them out. This is sure to be a new favorite family recipe if you have picky eaters because you can easily separate the omelet batter into individual portions before adding the veggies so everyone gets a Chinese omelet they will love! Serve Egg Foo Young with other favorite Chinese food recipes like Hot and Sour Soup, Orange Chicken, and Chinese Steamed Rice.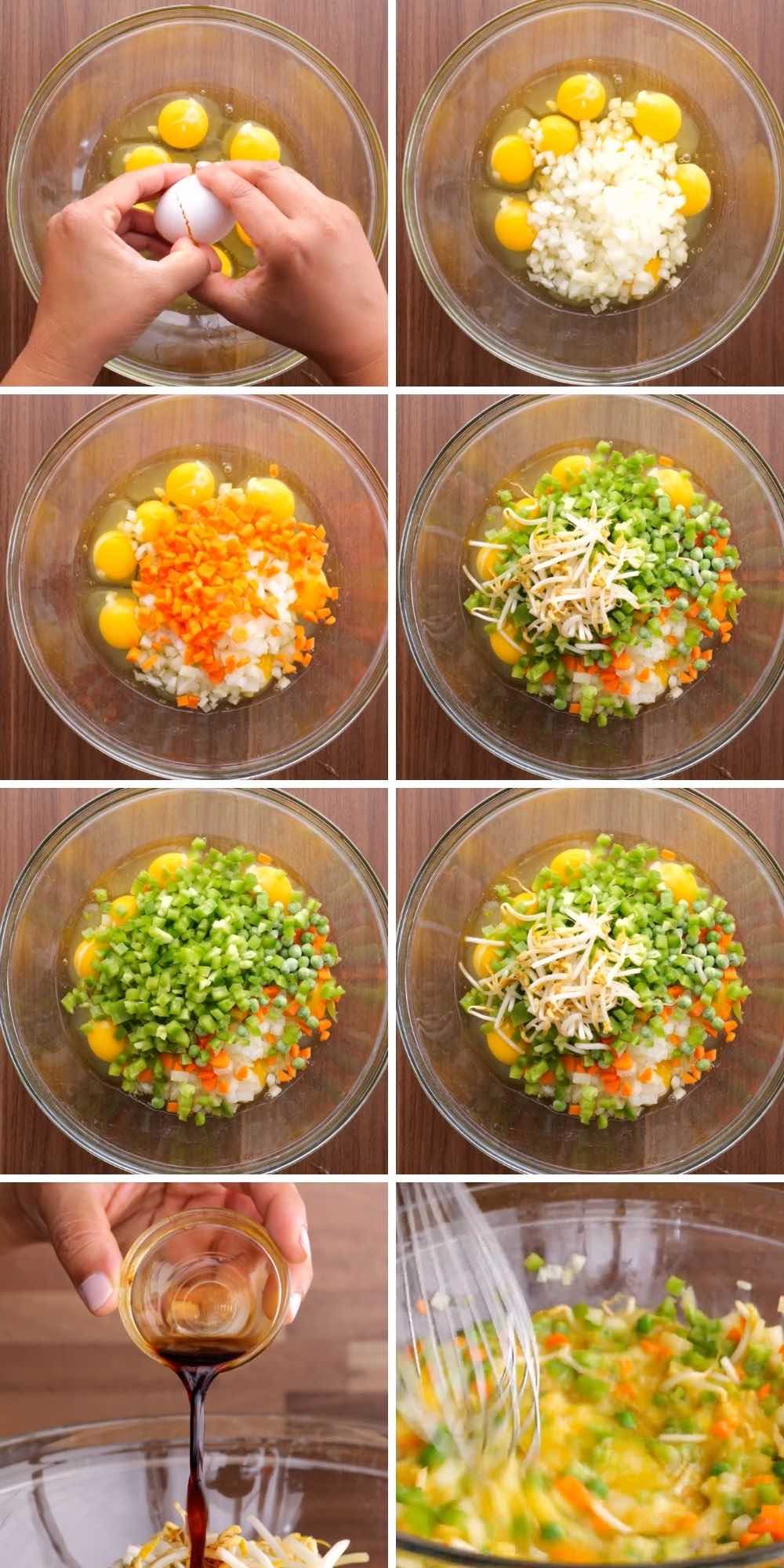 What is Egg Foo Young?
Egg Foo Young is a Chinese-style dish consisting of a fluffy omelet made primarily with beaten eggs and various ingredients such as vegetables, meats, and sometimes seafood. The ingredients are typically mixed together and cooked in a frying pan or skillet to form a thick pancake-like omelet. It is often served with a savory gravy or sauce and white rice.
What's the difference between Egg Foo Young and an Egg Omelet?
Egg Foo Young and an Egg Omelet have some similarities but also notable differences. While both dishes start with beaten eggs, Egg Foo Young is a Chinese-style dish typically made with a variety of chopped vegetables and sometimes meat, mixed into the beaten eggs and cooked as a pancake-like omelet. It is often served with a savory sauce or gravy. On the other hand, an Egg Omelet is a more general term referring to a dish made with beaten eggs cooked in a frying pan, usually folded over a filling such as cheese, vegetables, or meats. Overall, Egg Foo Young is a Chinese American classic that combines the flavors of Asian cuisine with the simplicity of an American-style Omelet.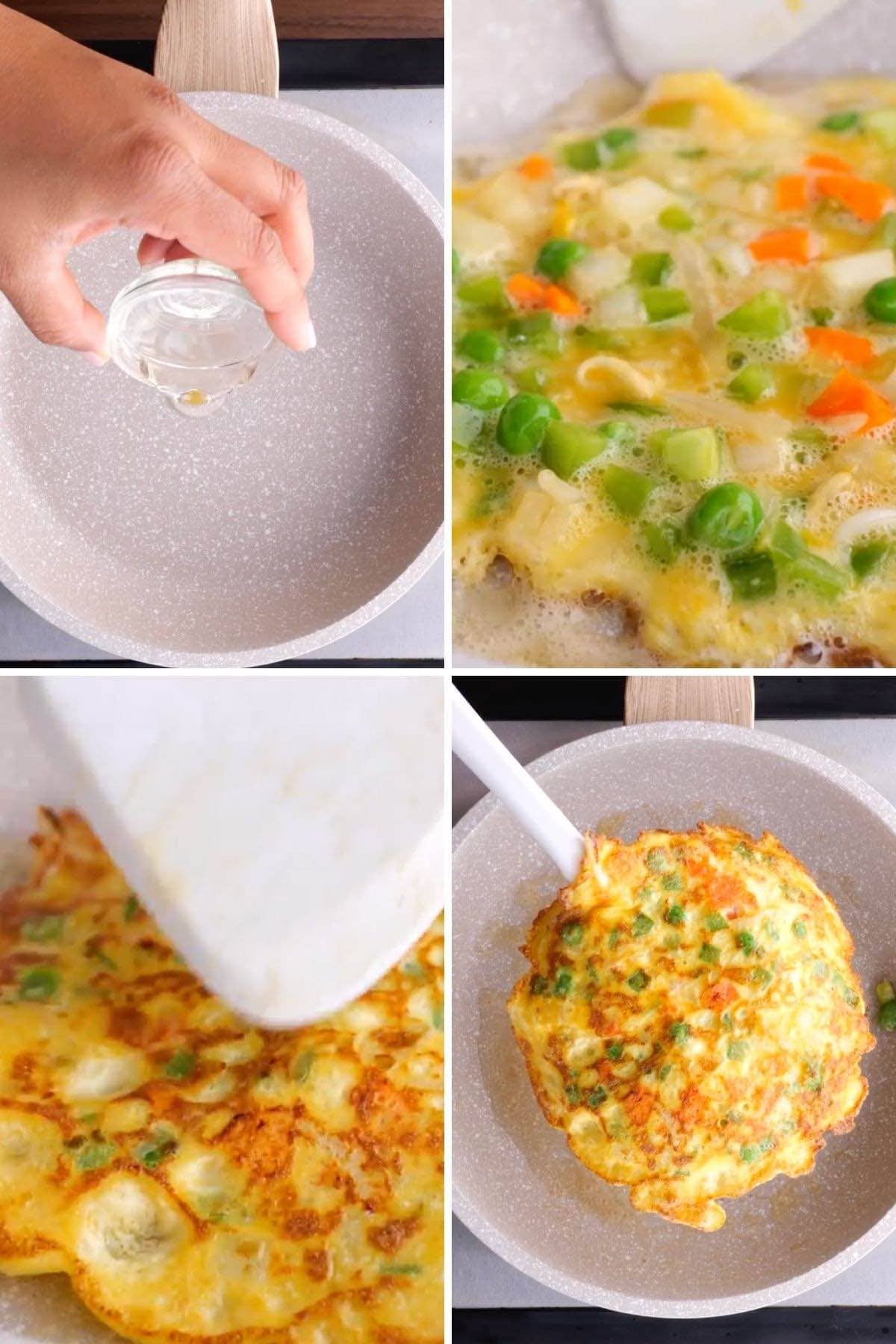 How to Make Egg Foo Young
Batter: In a large bowl, add the eggs, onion, carrots, peas, bell pepper, bean sprouts and soy sauce. Whisk to combine until the eggs are fully beaten.
Heat: In a large skillet, add 1 teaspoon of the sesame oil. Heat over medium heat until hot and fragrant.
Cook: Scoop ⅓ cup of batter into the hot skillet and cook for 3-4 minutes. Flip and cook another 1-2 minutes until eggs are set and the crust is golden. Serve hot with white rice and gravy.
Easy, Tasty Chinese Side Dishes
FAQs for Egg Foo Young
What vegetables are used in Egg Foo Young?
Traditionally Egg Foo Young is made with a mixture of vegetables including mushrooms, green onion, peas, carrots, bell pepper, water chestnuts, bamboo shoots, or bean sprouts. Use finely chopped raw vegetables to give your egg patties some crunchy texture throughout.
Can you add meats to Egg Foo Young?
On top of the wide options of vegetable mix-ins, you can mix in any leftover meats you have as well. Just made sure the meat is cooked ahead of time. This dish cooks so quickly raw meat would stay raw by the time the eggs were cooked. You can make Egg Foo Young with chicken, Chinese sausage, roast pork, shrimp, beef, ham, or lobster.
Is Egg Foo Young healthy to eat?
While eggs themselves are a good source of protein and essential nutrients, the overall healthiness of Egg Foo Young can vary based on how much oil is used, the types of vegetables, and if it's topped with additional gravy or sauces. Opting for lean protein sources, using minimal oil, and choosing fresh, nutrient-rich vegetables can help make your Egg Foo Young healthier.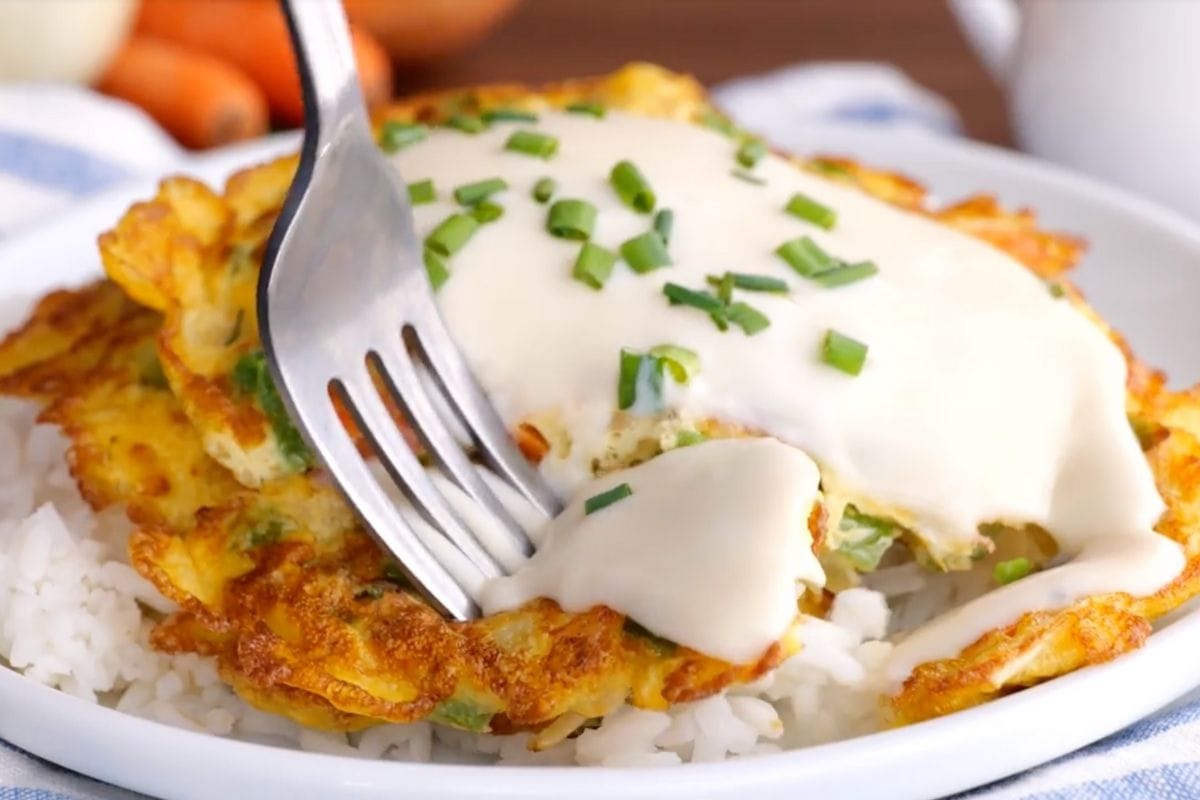 Create a free account to

Save Recipes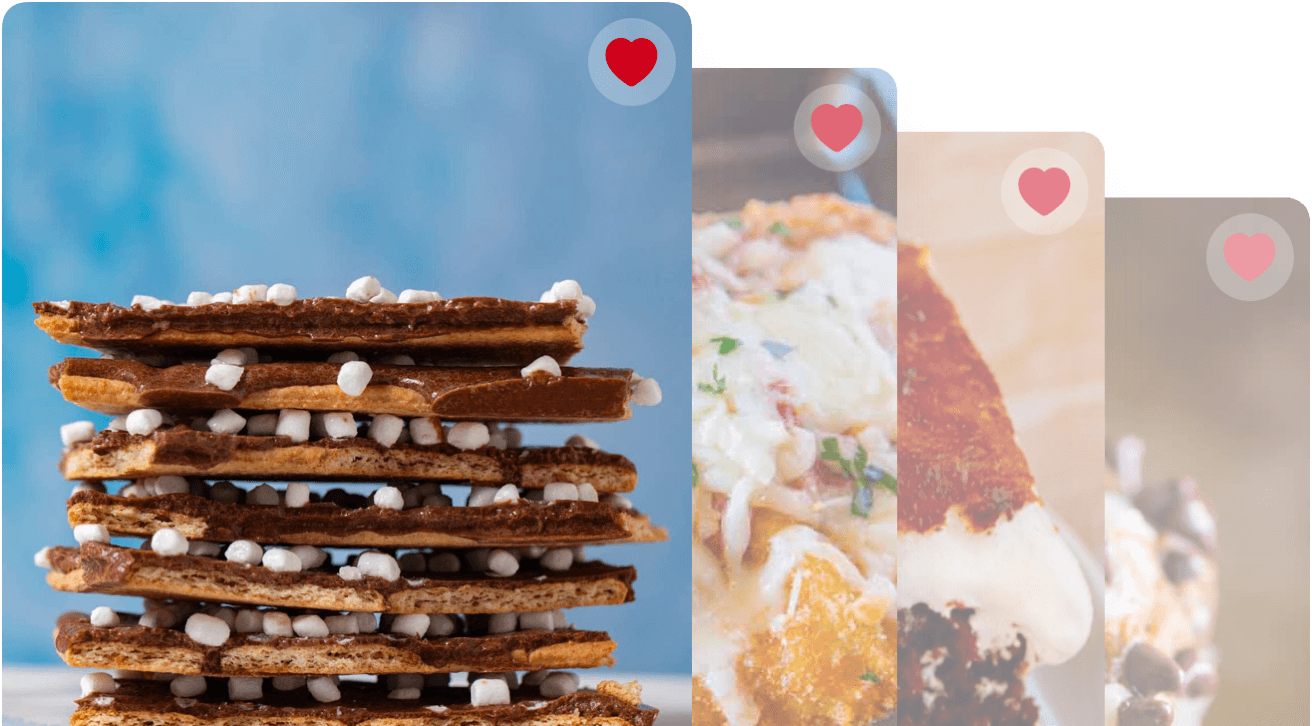 Key Ingredients
Eggs: Eggs are the main ingredient in these Chinese-style omelets. Use whole eggs for rich flavor and creamy texture, or lighten them up by replacing half the eggs with egg whites.
Onion: Chopped yellow onion isn't just one of the mixed vegetables in this dish, it's also adding a lot of aromatic, slightly sweet, sharp flavor. If you aren't a raw onion fan, you can saute them first to take the sharp bite off.
Vegetables: Carrots add a crisp texture and a touch of natural, earthy sweetness. Green peas bring a burst of garden freshness and a pop of vibrant green color to your egg patties. Chopped green bell pepper adds a mild and slightly tangy flavor and a pleasant crunch.
Bean Sprouts: It's best to use fresh bean sprouts because they will have the most satisfying crunch and are more flavorful than canned sprouts.
Soy Sauce: Light soy sauce is the only seasoning you need besides the onions. It adds a savory umami flavor with just a touch of saltiness without overpowering the delicious egg and veggie flavors.
Sesame Oil: Sesame oil has a strong nutty aroma and you just need a little bit to add a ton of flavor. This is why you want to only add a teaspoon at a time while you cook the individual egg patties. It gives the outside of the patties a mouthwatering, flavorful crispy crust.
Can Egg Foo Young be made ahead of time?
Yes, Egg Foo Young can be made ahead of time. While it is best enjoyed fresh and hot, you can prepare the omelet mixture in advance and store it in the refrigerator until you are ready to cook. When ready to serve, simply heat a skillet, add the mixture, and cook as directed.
Variations
St. Paul Sandwich: For a well-loved Midwestern Chinese-American dish, serve the Egg Foo Young patty on slices of White Bread with mayonnaise, dill pickle, lettuce and tomato. This would make a great vegetarian lunch!
Korean Style: You can recreate a Korean-Chinese Dish called jjajang bokkeumbap by adding a black bean sauce mixed with ground pork. Look for Jajangmyeon Sauce or Korean black bean paste, and cook the raw pork then toss in the savory sauce. Top some Fried Rice with the egg patty then ladle the pork black bean sauce over patties and serve.
Indonesian: In Chinese-Indonesian cuisine, you'll find Egg Foo Young made with cabbage instead of bell pepper and with crab meat, shrimp, or chicken added. The dish is served with Sweet and Sour Sauce instead of the gravy.
Veggies: Switch up the mixture of vegetables with other veggies like shredded cabbage, slices of mushrooms, spring onions, bamboo shoots, water chestnuts, or corn. You can also add raw vegetables like zucchini or summer squash but soak them in salt water and pat them dry so they don't make the omelet batter runny.
Egg Foo Young Gravy
Here's a classic and incredibly easy gravy to add to the top of your dish.
1 cup chicken stock
2 tablespoons light soy sauce
1 tablespoon dry sherry
1 tablespoon cornstarch
Add everything to a small sauce pan and whisk well before the liquid heats up.
Cook and whisk until thickened.
More Popular Chinese Takeout Recipes
How to Store
Store: Don't leave Egg Foo Young at room temperature longer than 2 hours before refrigerating. Sealed in an airtight container, Egg Foo Young will keep in the refrigerator for up to 4 days.
Reheat: You can reheat your egg patties in a skillet over medium-high heat so that it warms up quickly without cooking the eggs too much.
Freeze: Freeze Egg Foo Young in a freezer safe plastic bag for up to 4 months, with individual pieces separated by parchment. Let thaw in the refrigerator and reheat on a skillet.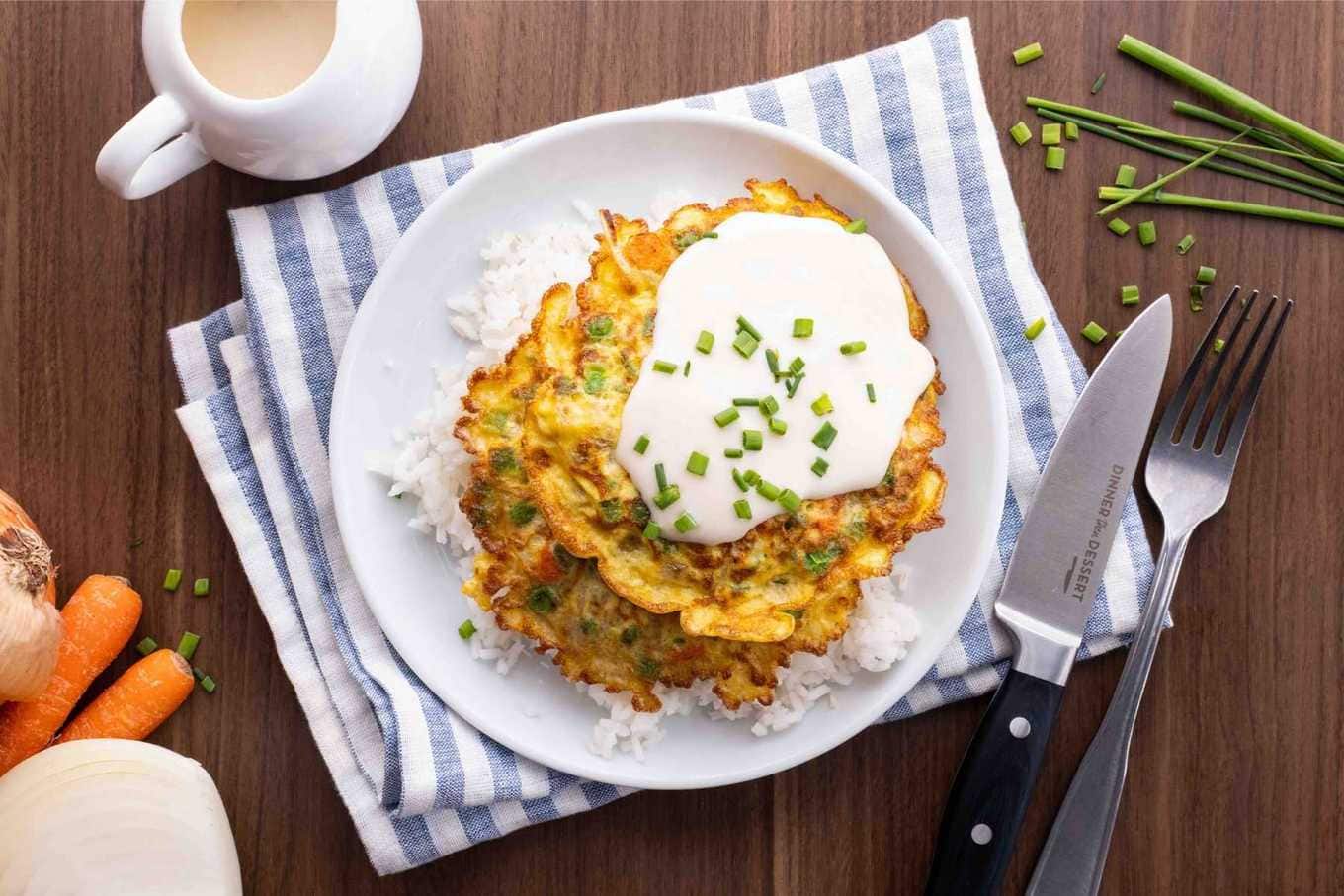 Ingredients
8

large

eggs

1/2

yellow onion

, chopped

1/2

cup

carrots

, chopped into chunks and steamed

1/4

cup

green peas

1/2

cup

green bell pepper

, chopped

1/4

cup

bean sprouts

, cut in half

1

tablespoon

light soy sauce

3

tablespoons

sesame oil

, divided
Instructions
Add the eggs, onion, carrots, peas, bell pepper, bean sprouts and soy sauce together in a bowl and whisk to combine.

In a large skillet heat 1 teaspoon of sesame oil at a time for each pancake you cook on medium heat.

Add about ⅓ cup of mixture per pancake and cook for

3-4 minutes

on the first side and

1-2 minutes

on the second side.
Notes
Egg Foo Young Gravy:
1 cup chicken stock
2 tablespoons light soy sauce
1 tablespoon dry sherry
1 tablespoon cornstarch
Add everything to a small sauce pan and whisk well before the liquid heats up.
Cook and whisk until thickened.
Nutrition
Calories:
170
kcal
|
Carbohydrates:
2
g
|
Protein:
9
g
|
Fat:
13
g
|
Saturated Fat:
3
g
|
Cholesterol:
248
mg
|
Sodium:
263
mg
|
Potassium:
148
mg
|
Sugar:
1
g
|
Vitamin A:
450
IU
|
Vitamin C:
13.1
mg
|
Calcium:
39
mg
|
Iron:
1.4
mg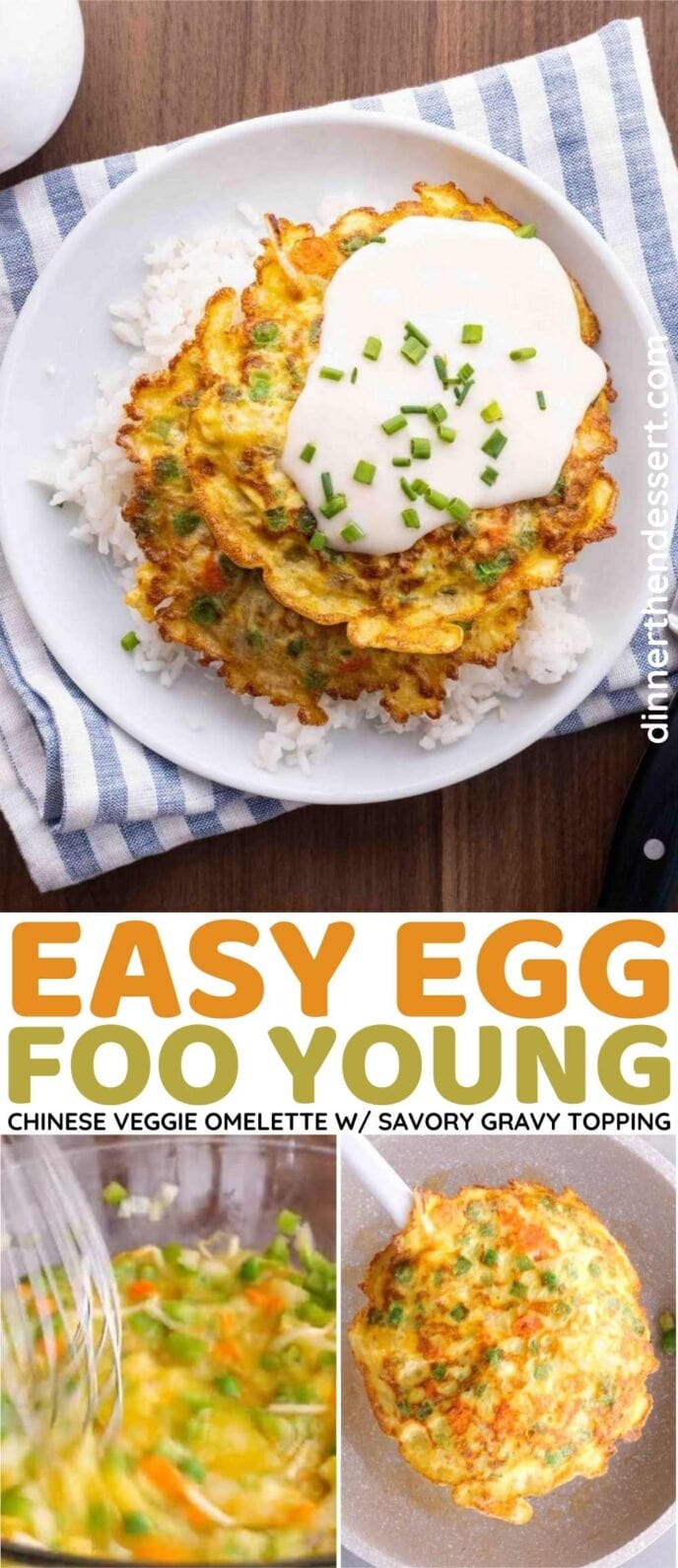 Photos used in a previous version of this post.