Easy Eggnog Muffins are a holiday breakfast sweet enough for dessert! Melt-in-your-mouth muffins flavored with vanilla, cinnamon, nutmeg, and a cup of eggnog.
Tasty seasonal Baked Goods like Pumpkin Muffins give you all the holiday flavors you love in an easy breakfast on-the-go and can double as a dessert!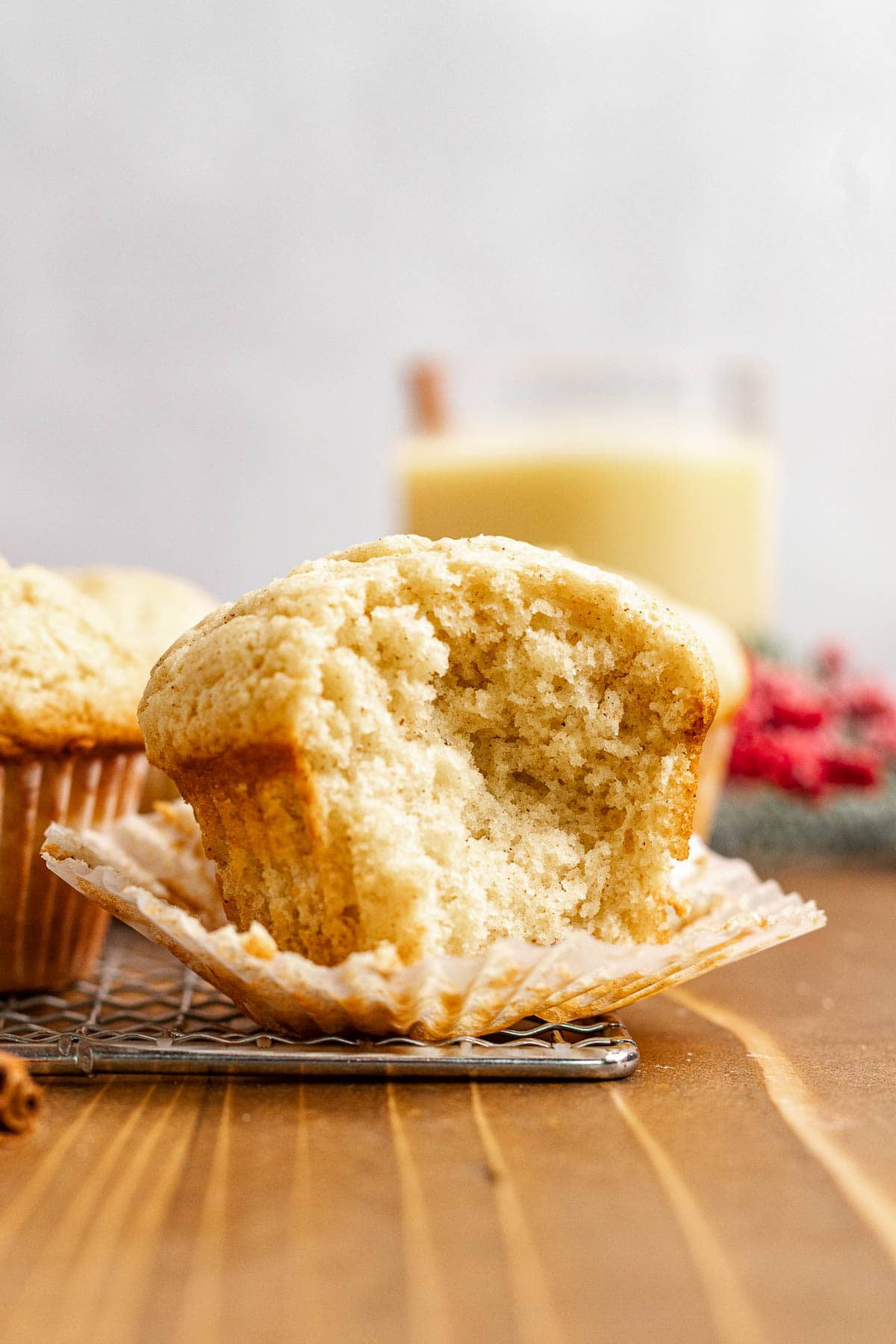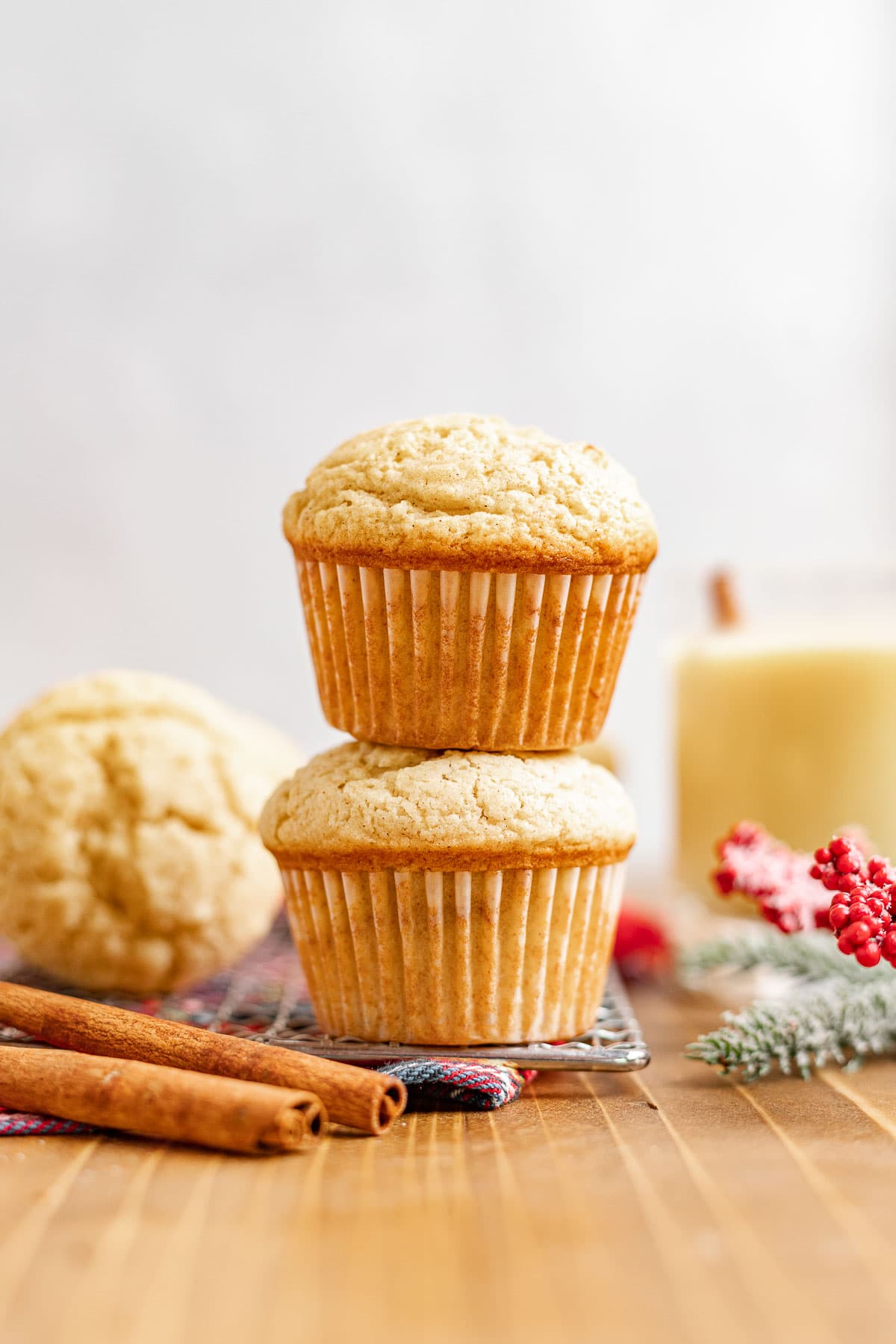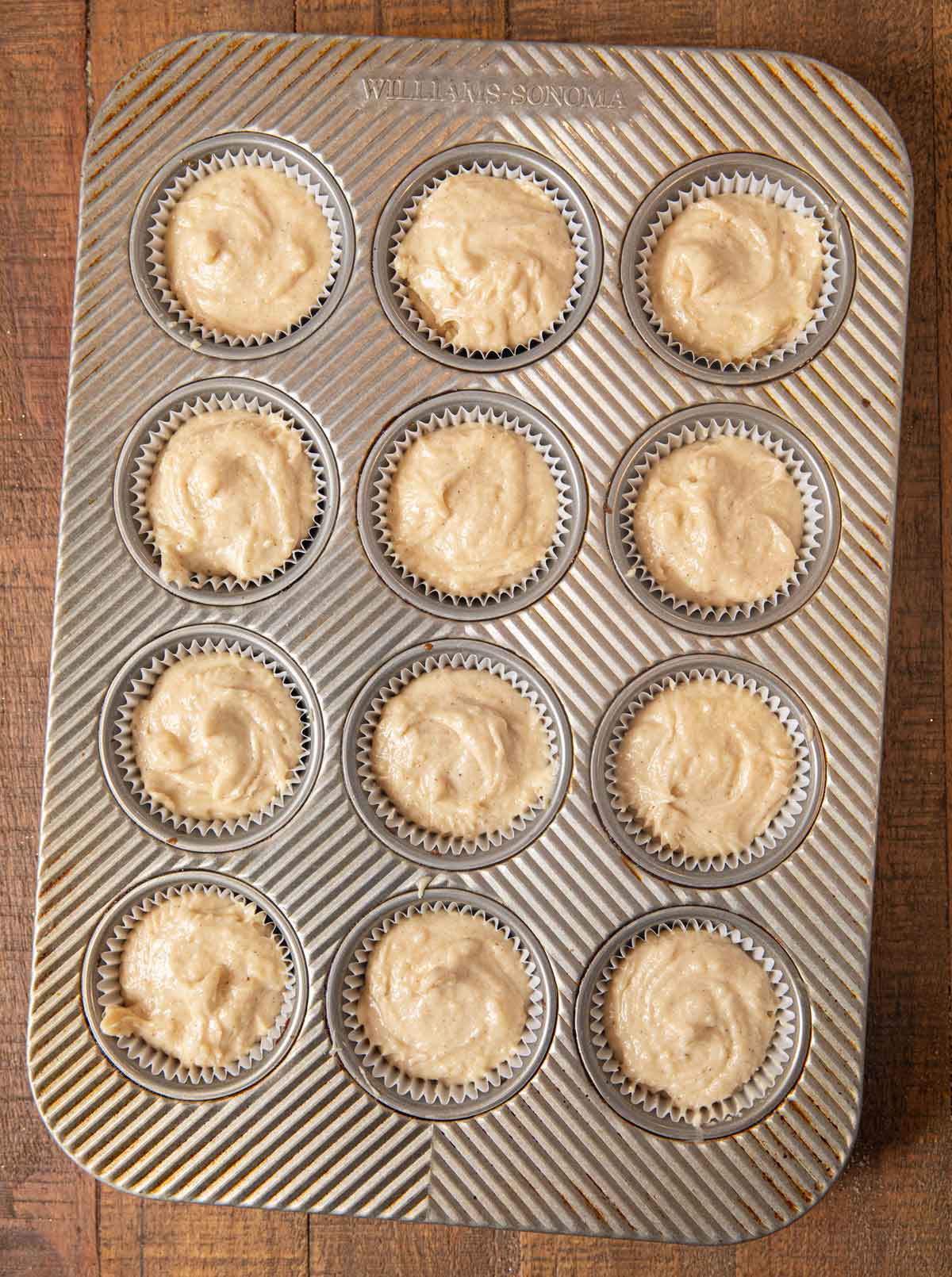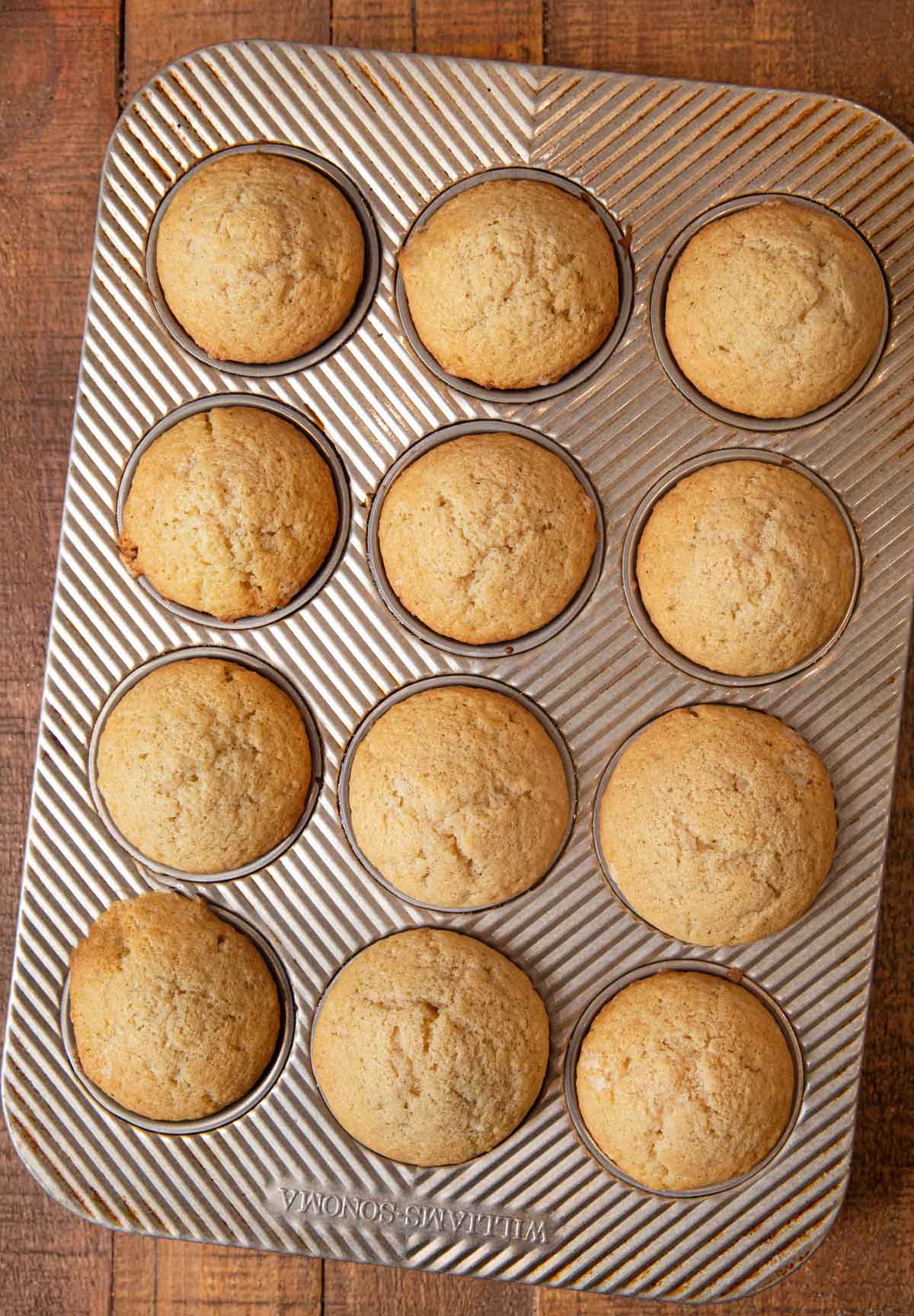 About Our Eggnog Muffins Recipe
Add a little decadence to your Christmas brunch this year with these rich, buttery, melt-in-your-mouth holiday muffins. Even the eggnog skeptics will fall in love after one bite of these sweet and tender muffins. They have just enough cinnamon and nutmeg to bring out the holiday spices in eggnog without losing any of that buttery and eggy goodness.
Rest assured this is a family-friendly recipe for Eggnog Muffins, so everyone can enjoy them! Instead of adding rum, this Eggnog Muffin recipe doubles the vanilla extract. Vanilla extract is a great substitute to give your muffins bourbon or rum flavor, without adding any booze. You could also use rum extract to get that boozy flavor while keeping these Eggnog muffins kid-friendly.
Eggnog Muffins are an easy breakfast muffin that is moist and eggy, almost like an old-fashioned donut. The full cup of eggnog in these muffins gives them extra moisture and they practically melt when you bite into them. They are sweet all on their own, no need for a streusel or glaze, but we won't stop you if you want to add one just in case!
"Can Eggnog Muffins be made ahead?"
Your holiday morning is likely to be busy, so anything you can prepare ahead will make your day just a tiny bit easy. Go ahead and add these Eggnog Muffins to your make-ahead list! You can make them several days ahead if need be, though the fresher the better. Serve them warm to make them taste more like they were just baked. Warm them in the oven at 325 degrees, covered, for 10 minutes and they're good to go.
Eggnog Muffins Ingredients
½ Cup Butter, softened: Fat content is required for moist, tender muffins and butter does the trick. Make sure it is soft enough to add to your mixer.
1 cup Eggnog: Bring in the real stuff to get that full eggnog flavor. Use your favorite eggnog brand or homemade recipe for a muffin flavor you'll love.
Spices: ½ teaspoon ground nutmeg and ½ teaspoon ground cinnamon bring in the same flavors you would use when making eggnog.
2 teaspoons Vanilla Extract: Vanilla helps your muffins from tasting too eggy, but it also rounds off the the eggnog flavor and pairs so well with the spices.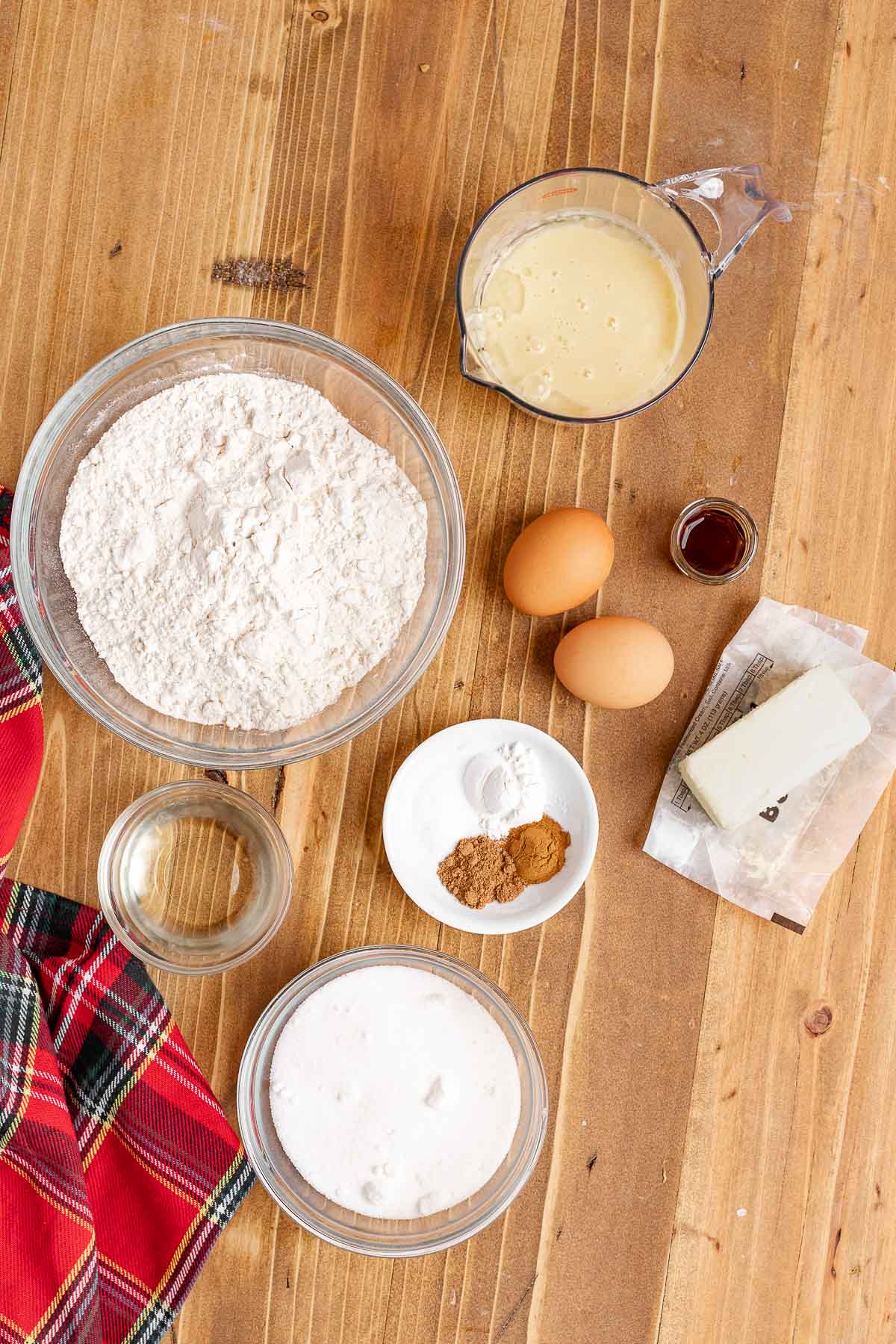 Kitchen Tools & Equipment
Muffin Tin: Grab your trusty 12 cup muffin tin for these Eggnog Muffins.
Paper Liners: Line your tin with paper liners of your choosing. Pick classic white, choose a holiday design, or colors that match well with your holiday decor.
Measuring Cups and Spoons: Use your favorite measuring cups and spoons to get all of your ingredients precise for perfect muffins.
Stand Mixer: You'll use your stand mixer to easily cream the butter, and combine all of your ingredients. If you don't have a stand mixer, you can use a handheld electric mixer instead.
Sifter: You'll need to sift your dry ingredients together to make sure they are evenly distributed, and to make combining the wet and dry ingredient a breeze without risking over-mixing them.
Toothpick: A toothpick is such a simple, yet perfect tool to tell if your baked goods are ready to come out of the oven.
How to Make Eggnog Muffins
Time needed: 30 minutes.
Prep

Preheat oven to 350 degrees and line a 12 cup muffin tin with liners.

Cream the Butter

Add butter and sugar to your stand mixer on medium speed until light and fluffy, about 2 minutes.

Combine Wet Ingredients

Lower the speed to the lowest setting and add the vegetable oil, eggs, eggnog, and vanilla extract until smooth.

Prep Dry Ingredients

In a separate bowl, sift together the flour, baking powder, salt, nutmeg, and cinnamon.

Combine All Ingredients

Add the flour mixture to the stand mixer on lowest speed setting until just combined.

Baking Time

Fill muffin cups 2/3 full and bake for 18-20 minutes, or until a toothpick comes out clean.
Nutritional Facts
Recipe Tips & Tricks
Make this versatile treat come out just right this holiday season by following these tips:
Choice of Eggnog: You can use store-bought eggnog mix or make your own with this easy Classic Eggnog Recipe. Making homemade eggnog lets you control what ingredients go into it like sugar, so you don't end up with overly sweet Eggnog Muffins.
Alcohol Content: Regular store-bought eggnog from the dairy case is going to be non-alcoholic. For boozy Eggnog Muffins, be sure to get the eggnog from the liquor department or add up to ¼ cup rum or brandy.
Mix Carefully: Be sure to turn your stand mixer on low before adding the eggnog so it doesn't splash out. Keep your mixer on low when adding the dry ingredients to prevent over-mixing your batter.
How to Store Eggnog Muffins
Serve: Eggnog Muffins are best served warm. Since there is a lot of dairy, only keep these muffins at room temperature for up to 2 hours.
Store: Cool before storing Eggnog Muffins in an airtight container so moisture doesn't collect. Refrigerate Eggnog Muffins for up to 1 week, and warm before serving.
Freeze: Once cooled, transfer Eggnog Muffins to a sealed container and freeze for up to 6 months. To keep them from sticking together and make a grab-and-go snack, wrap each muffin in aluminum foil before storing them in a freezer-safe plastic bag.
Ideas to Serve Eggnog Muffins
Continental Breakfast Spread: Create an amazing continental breakfast spread with Eggnog Muffins as the star! You could also put together a beautiful breakfast board. Set the muffins out along with a bowl of mixed fruit, yogurt, Deviled Eggs, Canadian bacon, bagels, and cream cheese.
Holiday Dessert: Easily turn these sweet Eggnog Muffins into a holiday dessert with a little frosting. Use classic Cream Cheese Frosting, add a little cinnamon and nutmeg to Classic Buttercream Frosting, or follow this recipe for Cinnamon Cream Cheese Frosting to take it to the next level for these Christmas muffins. Drizzle your Eggnog Muffins, with or without frosting, with some Salted Caramel Sauce for an extra special treat.
Glaze: If you'd like a lighter topping, but still want to make your Eggnog Muffins a little extra special, you can drizzle a glaze over the top. To make the glaze mix 2 ½ cups powdered sugar with ¼ cup milk, and ¼ cup light corn syrup. 
FAQs for Eggnog Muffins
What is Eggnog?
Eggnog is a sweet holiday drink seasoned with cinnamon and nutmeg. It is really rich because it's thickened with egg yolks, and is sometimes made with alcohol like Brandy or rum.
What size muffin pan should I use for Eggnog Muffins?
A standard sized is used for this recipe but you could switch to mini muffins, or even jumbo muffins if you like. You will need to adjust the cooking time accordingly. Mini muffins will cook much faster so you should check on them after about 10 minutes in the oven. Jumbo muffins might take as long as 30 minutes in the oven. Check them with a toothpick before you take them out.
Recipe Card


Ingredients
1/2

cup

butter

, softened

1

cup

sugar

1/4

cup

vegetable oil

2

large

eggs

1

cup

eggnog

2

teaspoons

vanilla extract

2 1/2

cups

flour

2

teaspoons

baking powder

1/2

teaspoon

salt

1/2

teaspoon

ground nutmeg

1/2

teaspoon

cinnamon
Instructions
Preheat oven to 350 degrees and line a 12 cup muffin tin with muffin liners.

Add butter and sugar to your stand mixer on medium speed until light and fluffy, about

2 minutes

.

Lower the speed to the lowest setting and add the vegetable oil, eggs, eggnog and vanilla extract until smooth.

Sift together the flour, baking powder, salt, nutmeg, and cinnamon.

Add to the stand mixer on lowest speed setting until just combined.

Fill muffin cups 2/3 full and bake for

18-20 minutes

, or until a toothpick comes out clean.
Nutrition
Calories:
300
kcal
|
Carbohydrates:
39
g
|
Protein:
5
g
|
Fat:
14
g
|
Saturated Fat:
6
g
|
Polyunsaturated Fat:
3
g
|
Monounsaturated Fat:
4
g
|
Trans Fat:
0.3
g
|
Cholesterol:
64
mg
|
Sodium:
252
mg
|
Potassium:
79
mg
|
Fiber:
1
g
|
Sugar:
19
g
|
Vitamin A:
325
IU
|
Vitamin C:
0.3
mg
|
Calcium:
79
mg
|
Iron:
1
mg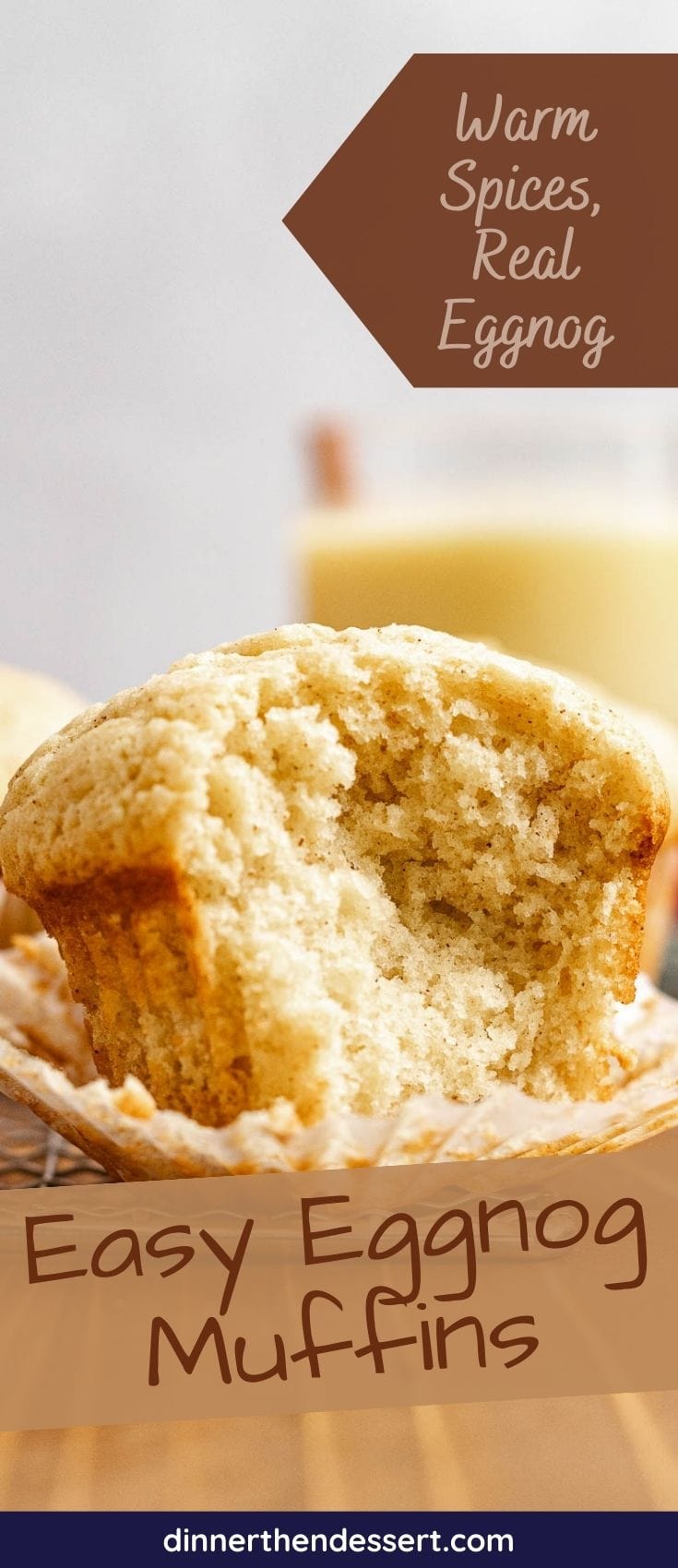 Eggnog Muffins Variations
Mix-Ins: Fold in up to a ½ cup of holiday baking mix-ins like raisins, dried cranberries, white chocolate chips, dark chocolate chips, dried apricots, or candied cherries. You can also add chopped nuts like pecans, hazelnuts, and walnuts.
Pumpkin

: Combine two favorite holiday flavors by adding ½ cup

Pumpkin Puree

to your Eggnog Muffin batter and reducing eggnog to ½ cup. Replace the cinnamon and nutmeg with

Pumpkin Pie Spice

for more holiday flavor!

Streusel Topping

: Make Coffee Cake Eggnog Muffins by adding a quick streusel topping. Use a pastry cutter or fork to mix ¾ cups all-purpose flour, ½ cup butter, ½ cup brown sugar, nutmeg, and cinnamon until a pea-sized crumble forms. Sprinkle crumb topping over filled muffin cups before baking.

Healthy

: For Healthy(ish) Eggnog Muffins, replace 1 cup all-purpose flour with 1 cup rolled oats oatmeal and use a non-dairy or low-fat eggnog. You could also replace half the eggnog with sour cream or buttermilk.

Eggnog Bread

: Bake your Eggnog Muffin batter in a well-greased 9×5 inch loaf pan for 55-60 minutes. Allow to cool for 10 minutes before removing from loaf pan.
Related Recipes
More Tasty Holiday Muffin Recipes