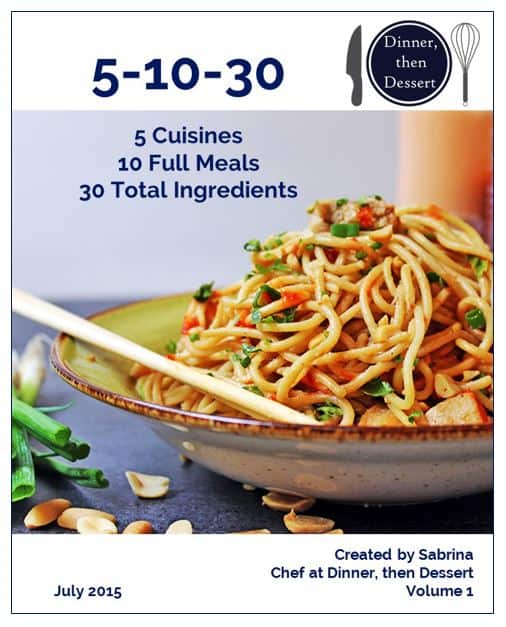 The long awaited 5-10-30 E-Cookbook is here for you all to enjoy!
Here is what you can find inside:
5 Cuisines: American, Italian, French, Korean and Chinese
10 Full Meals: In plain terms, a protein, a vegetable and a starch. Realistically, a meal you'd sit down to and happily enjoy without needing to source a second or third recipe to round out the meal.
Disclaimer: A couple of the recipes (the Peanut Pasta and the Caesar Pasta) don't have vegetable sides. This was not something I had hoped for but we almost never add a vegetable to the Peanut Pasta and the Caesar Pasta is usually enjoyed with a side salad that I could not for the life of me work into the ingredient list. Sorry guys!
30 Total Ingredients: Not including salt, pepper, flour and oil. There are 30 ingredients used over the course of all ten meals. This cuts down on food waste and your shopping bill since you aren't using a long list of ingredients in each recipe! BUT, with 5 different cuisines you won't feel like you are eating the same thing over and over again!
Other things you will find in the e-cookbook:
Master shopping list for all 10 meals
Week 1 & Week 2 shopping list if you prefer not to freeze meals or ingredients.
Alternate Ingredient Ideas: Don't love pork or shrimp? Sick of carrots? The recipes have alternate ideas for you if you prefer different flavors.
Food Ingredient Glossary: A quick explanation of the ingredient and how I like to use them
In case you are wondering… this wonderful e-cookbook is FREE! for all email subscribers as a thank you for being loyal readers!
Here are the recipes you will find inside! Some of these recipes have been posted to the blog, but in the e-cookbook they are altered to include sides and are formatted to work within a very small list of ingredients. Trust me when I say the magic is in the assembly!
Week 1: 
Crispy Chicken in White Wine Sauce with Garlic, Peas & Roasted Potatoes
Korean Ground Beef with Brown Rice & Garlic-Ginger Carrots
Crispy Shrimp Scampi Pasta with Parmesan & Peas
Brown Sugar Garlic Pork Loin with Roasted Carrots & Potatoes
One-Pan Baked Chicken & Brown Rice Casserole with Carrots & Peas 
Week 2:
Baked Chicken Caesar Pasta with Buttery Cracker Crust
Slow Cooker Turkey with Gravy, Candied Sweet Potatoes & Green Peas
Lemon Salt Marinated Pork Loin with Honey Roasted Apples & Carrots
Easy Asian Sesame Peanut Pasta
Chicken with Brown Rice Pilaf, Armenian Garlic Sauce & Lemon Glazed Carrots
It is my first E-Cookbook, so be gentle if I made any mistakes! I would love to hear what you guys think of it in the comments! I also really hope you love carrots as much as we do! They get used, a lot!
Enjoy!!
Sabrina