Fried Green Tomatoes made with green tomatoes and a super crispy cornmeal crust served with a delicious remoulade sauce. A quick and easy appetizer recipe.
 Fried Green Tomatoes
Fried Green Tomatoes were confusing to me for many years. Why cook with unripe tomatoes when ripe ones had such amazing flavor?
Well the tartness of these green tomatoes fried with a crispy cornmeal crust are the perfect counterpart to the rich, spicy, creamy, tangy Remoulade Sauce. I'd venture to say they're like a milder version of Fried Pickles, another Southern recipe people love.
This site is full of all different kinds of recipes, some of which are southern favorites. Among them, Martha White Southern Cornbread which is a white cornbread rather than the super sweet yellow cornbread most people make, BBQ Cajun Shrimp which is buttery, lemony and all kinds of delicious and Creamy Bacon Pea Salad, my favorite side salad of the summer which is  full of cheddar cheese and bacon.
Is a fried green tomato made with an unripe tomato?
Yes, for classic fried green tomatoes you are using unripe tomatoes that would turn red as they ripen. Do not use fully ripe green tomatoes such as heirloom tomatoes as they won't have the firm structure and correct flavor for the recipe.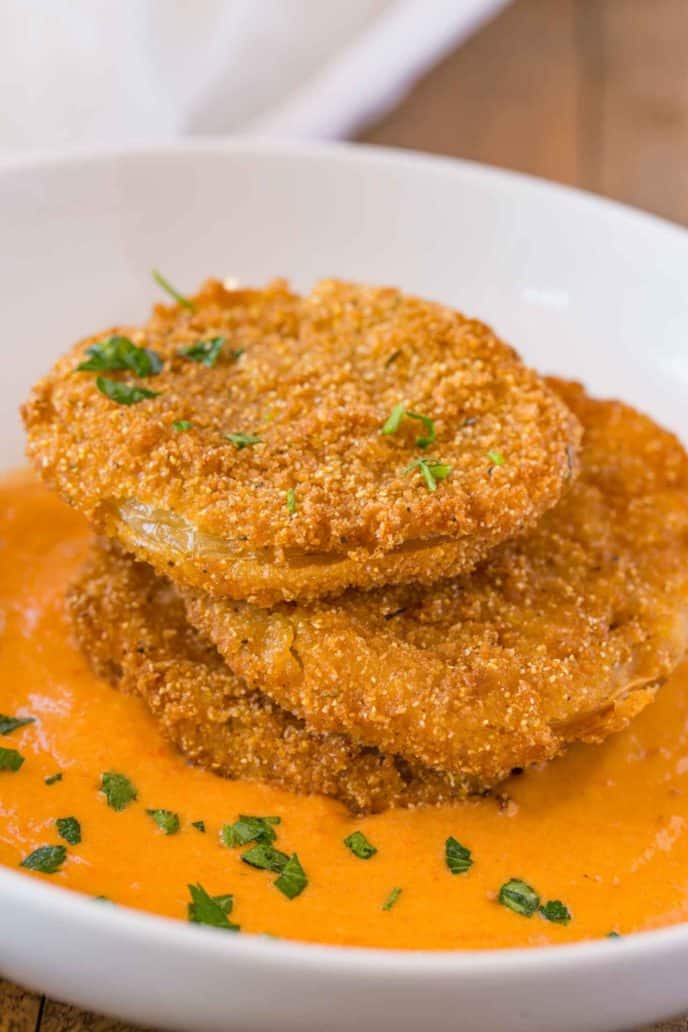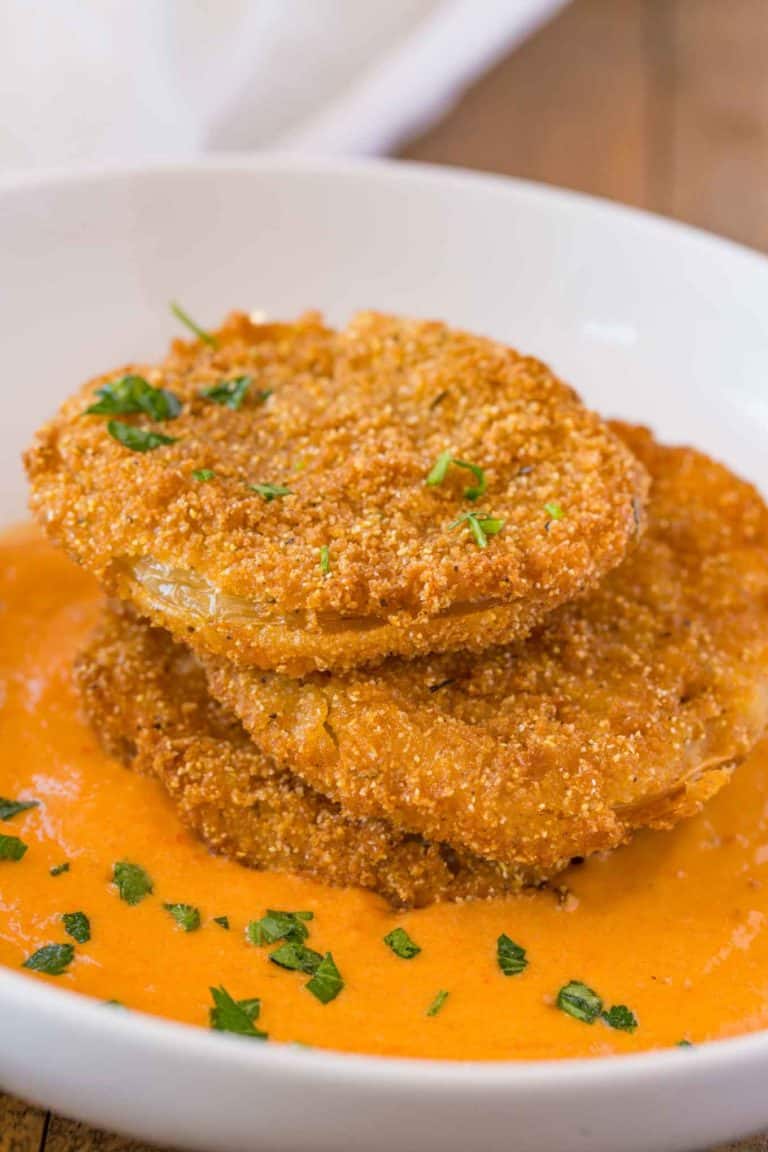 What to serve with Fried Green Tomatoes?
The most classic thing to serve with Southern Fried Green Tomatoes is a classic remoulade sauce. You can make a remoulade sauce in just a couple of minutes, but flavors are best if the sauce has had a chance to sit and let the flavors develop.
This dish of fried green tomatoes may look fancy, but the process for making them is the same as making chicken parmesan. And that delicious sauce under the tomatoes? Well that sauce is made in a food processor in just seconds.
Remoulade Sauce Recipe:
2 tablespoons lemon juice
¾ cup mayonnaise
¼ yellow onion
3 stalks green onions, root trimmed
1 stalk celery, rib removed and root trimmed
2 tablespoons prepared horseradish
2 tablespoons whole-grain mustard
3 tablespoons ketchup
3 tablespoons chopped parsley
1 tablespoon Louisiana Hot Sauce
½ teaspoon paprika
½ teaspoon kosher salt
Add all the ingredients to a food processor and process for 30-45 seconds or until creamy.
You'll love this remoulade sauce on its own even as a quick as easy dip recipe.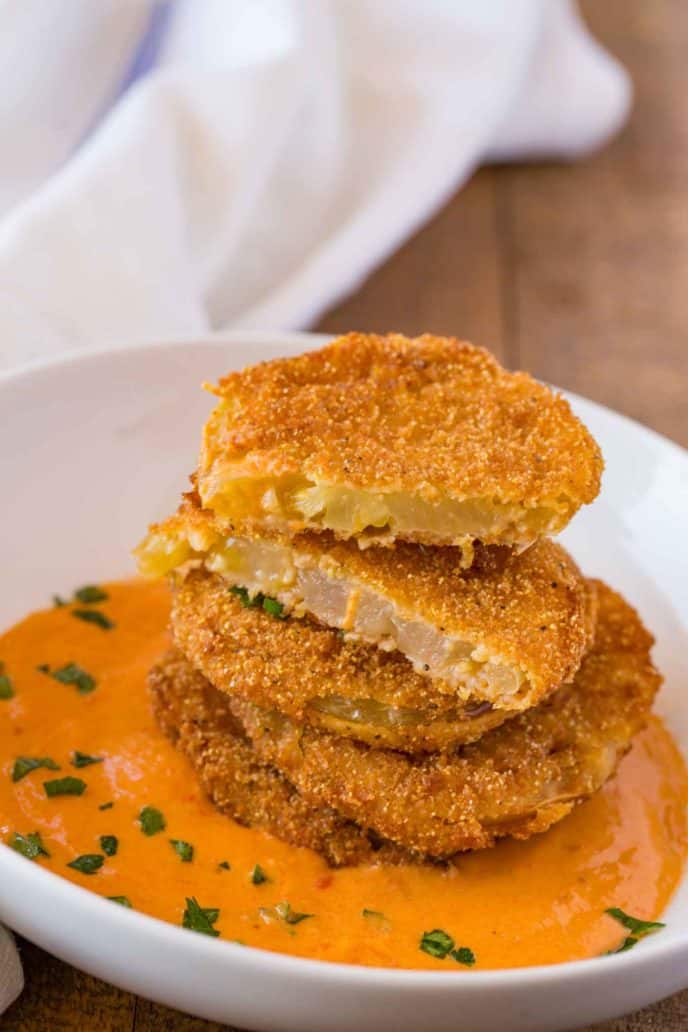 These fried green tomatoes are an EASY appetizer recipe. With just 30 minutes from start to finish, you'll find they are a Southern classic.
How to keep Fried Green Tomatoes crispy?
If you're making these for a large crowd keep them warm and crispy in a 250 degree oven on a cooling rack.
Easy and Quick Dip Recipes:


Ingredients
2

large green tomatoes

2

eggs

1/2

cup

whole milk

1/2

cup

flour

1/2

cup

cornmeal

1/2

cup

plain bread crumbs

1

teaspoon

kosher salt

1/4

teaspoon

coarse ground black pepper

canola oil

for frying
Instructions
Cut out the core of the tomato.

Slice the tomatoes into ¼ inch slices.

Make a dredging station, in one bowl eggs and milk are whisked together, in a second bowl the flour and in the third bowl the cornmeal, breadcrumbs, salt and pepper mixed together.

Dip the tomato slices in the flour, then the milk/egg bowl then the breadcrumbs bowl.

Place onto a cookie sheet while you coat the remaining slices.

To a deep skillet add the canola oil, 1 inch deep on medium high heat.

Using a spatula slide the tomato slices into the hot oil and cook for

3-4 minutes

or until browned on each side.

Remove the cooked tomato slices to a cooling rack.
Nutrition
Calories:
167
kcal
|
Carbohydrates:
27
g
|
Protein:
6
g
|
Fat:
3
g
|
Saturated Fat:
1
g
|
Cholesterol:
56
mg
|
Sodium:
489
mg
|
Potassium:
202
mg
|
Fiber:
2
g
|
Sugar:
3
g
|
Vitamin A:
375
IU
|
Vitamin C:
9.6
mg
|
Calcium:
53
mg
|
Iron:
1.8
mg