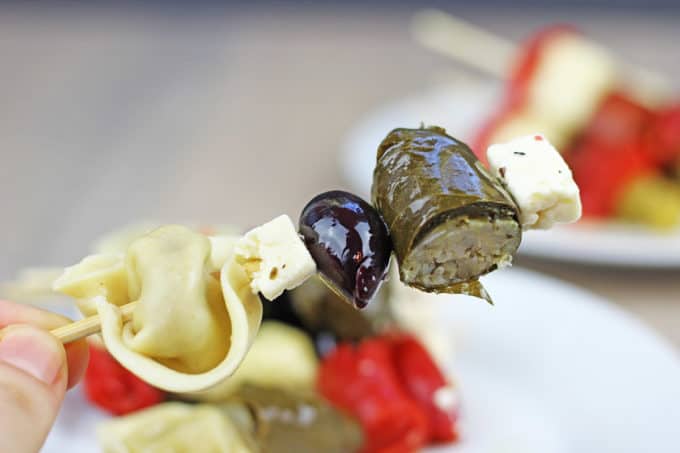 Party skewers are one of my favorite appetizers for holiday parties and by far one of the most popular client requests. They accomplish so much with so little effort. No plate needed, no utensils, a variety of flavors and the ease of sticking to a theme of cuisine or seasonal ingredients.
You've already seen my Spanish Chorizo Skewers, Italian Antipasto Skewers and the hit of our Halloween, the Halloween Candy Skewers. These Greek skewers keep all the ease of the previous ones while mixing up the flavors for a fun Middle Eastern twist.
One of my favorite parts of being a private chef was working with clients on party menus, and more specifically small bite menus. I had a long list of items I would make because when it came to cocktail or holiday parties it was all about mingling. People didn't want to be tied down to a table and served large meals. The downside to this was if you weren't careful people would get bored with the spread and either not eat much of anything at all and leave hungry or they would find one thing they liked and eat it and nothing else.
Skewers were an easy way to provide the variety while keeping the service moving quickly. Plus with skewers you don't get people cherry picking only the stuffed grape leaves or only the tortellini…or those delicious Kalamata olives. I am totally guilty of snagging/hoarding those when I would go to Armenian catered events and they put three of them on top of a bowl of hummus for the table (and I'm not even sorry, haha). Plus, room temperature! A party hosts best friend. While I have given you guys three versions of skewers (my three favorite) I have made/served many more varieties that I love as well.
The makeup of my skewers are normally five parts:
The Starch: You are trying to fill up your guests here. The tortellini is the "filler" here and provides a good base to work off of.
The Protein: Cheese/Meat. Starch will only go so far, people need to have some protein so they stay full through the evening.
The Vegetable: I prefer roasted vegetables or soft raw ones like tomatoes.
The Fat: Normally a butter sauce or olive oil. Your starch will suffer if dry, but just a bit of fat will go a long way in terms of creating a feeling of fullness/satiety.
The Acid: You need something to cut the richness of the fat. This acid will balance out the whole skewer. It could be the pepperoncini or balsamic glaze. In this skewer it is the grape leaves, the lemon served with it and the Kalamata olives.
As long as you keep an eye towards a balance you can alter any/all ingredients quite successfully and chances are your skewers will be the hit of the party!


Ingredients
24

cheese tortellini

2

teaspoons

olive oil

1

clove

garlic

, minced

24

kalamata olives

, pitted

4

ounce

block of feta cheese

, cut into 24 cubes

8

stuffed grape leaves

, cut into thirds

2

red bell peppers

, roasted
Instructions
Cook the tortellini one minute shy of the package instructions

Drain water completely (leave the tortellini in) and let pot heat on high to dry out (this should just take a few seconds).

You could also just drain the tortellini in a strainer and wipe the inside of the pot dry but I find prepping for a holiday party to be time consuming and this trick saves a couple of minutes and one less dirty strainer!

Add the olive oil to the hot pan and add the garlic.

Toss for

15 seconds

until you can smell the garlic and oil.

Remove from pan and let cool.

Cut the roasted bell pepper into 24 strips.

Add the pieces to a skewer in alternating patterns.

Serve at room temperature, garnish bowl with lemon wedges if desired, they go great with the grape leaves and over the tortellini.
Nutrition
Calories:
29
kcal
|
Carbohydrates:
2
g
|
Protein:
1
g
|
Fat:
2
g
|
Saturated Fat:
1
g
|
Cholesterol:
5
mg
|
Sodium:
120
mg
|
Potassium:
28
mg
|
Fiber:
1
g
|
Sugar:
1
g
|
Vitamin A:
621
IU
|
Vitamin C:
13
mg
|
Calcium:
31
mg
|
Iron:
1
mg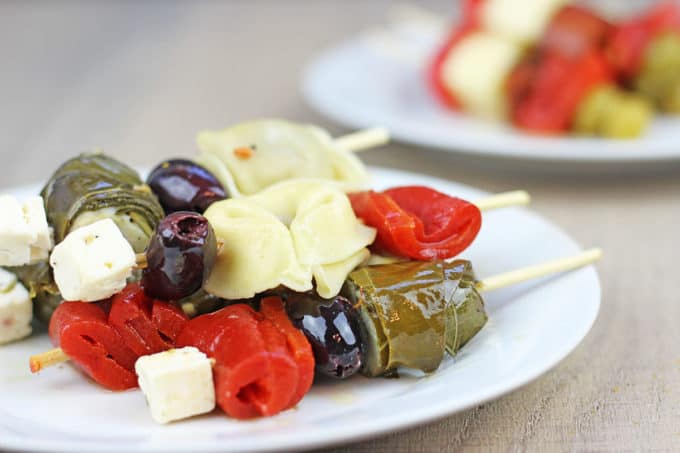 Any plans for the holidays, I would love to hear all of your plans! I'm having a relaxing long weekend off from cheffing and blogging to recharge and start wrapping Christmas presents! Our garage looks like Disney Jr. and Nickelodeon exploded into all corners of it down to the wrapping paper!