Greek Orzo Salad is a light summer side dish with tender orzo pasta, fresh veggies, olives and feta cheese tossed with lemony vinaigrette.
This simple Side Dish has similar ingredients to a Greek Salad or Easy Greek Pasta Salad. However, this version is made with tender orzo pasta and all tossed in a tangy lemon vinaigrette that you'll find yourself whipping up for any number of salad recipes.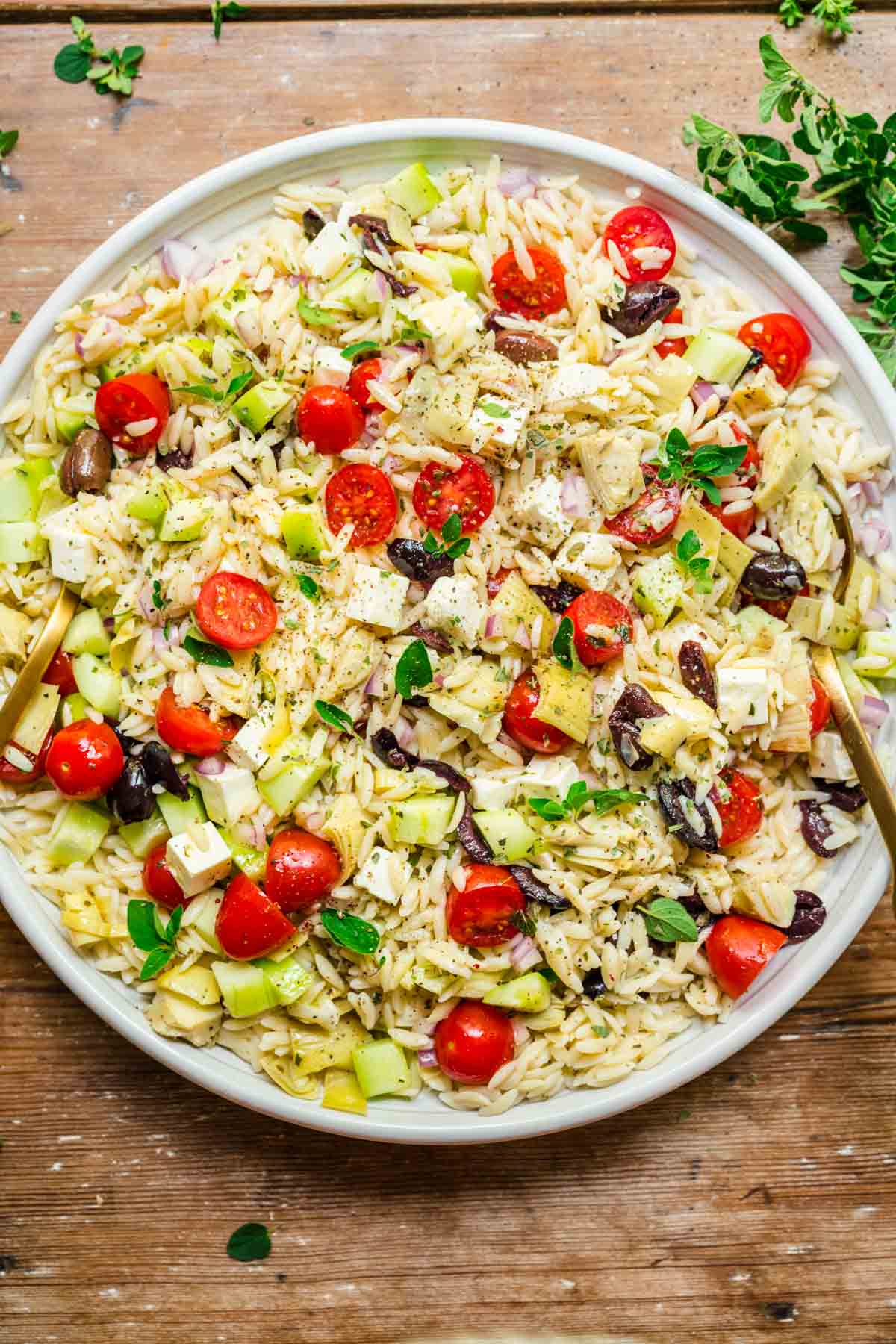 If you're looking for a healthy and flavorful spin on typical Pasta Salad then look no further. Greek Orzo Salad is packed with pickled and fresh vegetables like artichoke, tomatoes, olives, and cucumber. Unlike typical macaroni pasta salad that's coated in heavy mayo, this recipe uses a light lemony vinaigrette dressing. All it takes to make this salad is cooking the pasta, then tossing all the ingredients together and letting them cool in the fridge. It's sure to become a go-to light dish for the spring and summer!
Even though it's lighter than a typical pasta salad it's just as full of amazing flavors if not more so. The zesty lemon dressing has a bright flavor, the fresh veggies give a refreshing crunch and the briney flavors of the pickled veg bring a nice balance to tie all together. Greek Orzo Salad makes a great Side Dish to go with Greek Chicken Souvlaki for an easy, tasty Mediterranean dinner. It also makes a light lunch served with sandwiches or a crowd-pleasing dish for a summer potluck.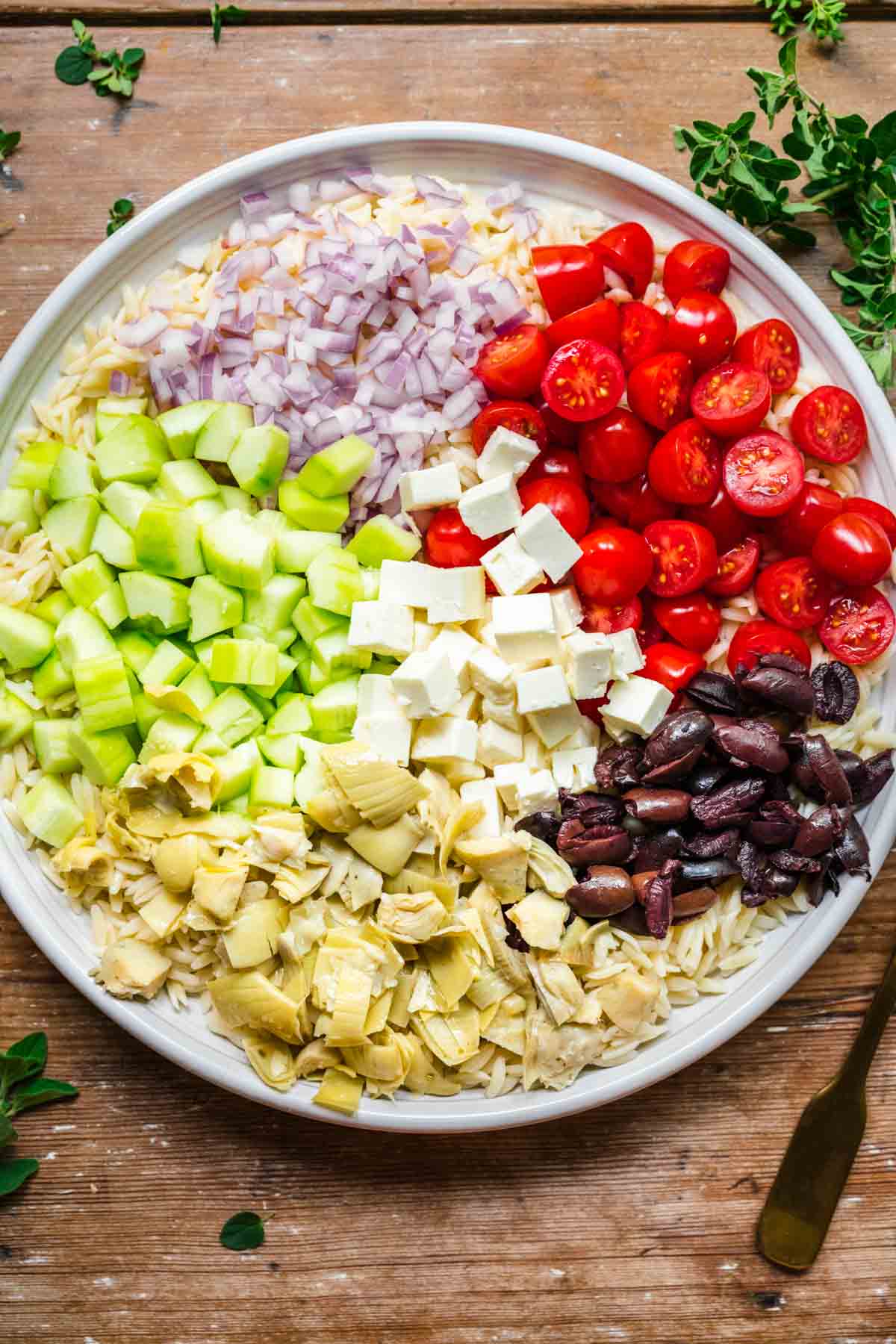 What is Orzo?
A classic pasta salad is usually made with rotini pasta, penne pasta, or elbow noodles, but Orzo pasta gives a delicious twist that goes great with the other Greek ingredients in this recipe. Orzo is a type of pasta that is shaped like rice grains but cooks tender like pasta. It is made from wheat semolina flour and water and is commonly used in Mediterranean and Middle Eastern cuisine.
How to Make Greek Orzo Salad
Prep: Bring a pot of water to a boil to cook Orzo Pasta. Let the pasta cook until tender, then drain and set aside while you prep the rest of the recipe. Cut up the vegetables and feta cheese.
Dressing: Add the olive oil, red wine vinegar, lemon juice, oregano, salt, and pepper to a medium bowl. Whisk the dressing together until combined.
Salad: In a large serving bowl add the cooked pasta, artichoke hearts, grape tomatoes, cucumbers, red onion, olives, and feta cheese. Pour the dressing over the top and toss gently. Let the Greek Orzo Salad set in the fridge for an hour before serving.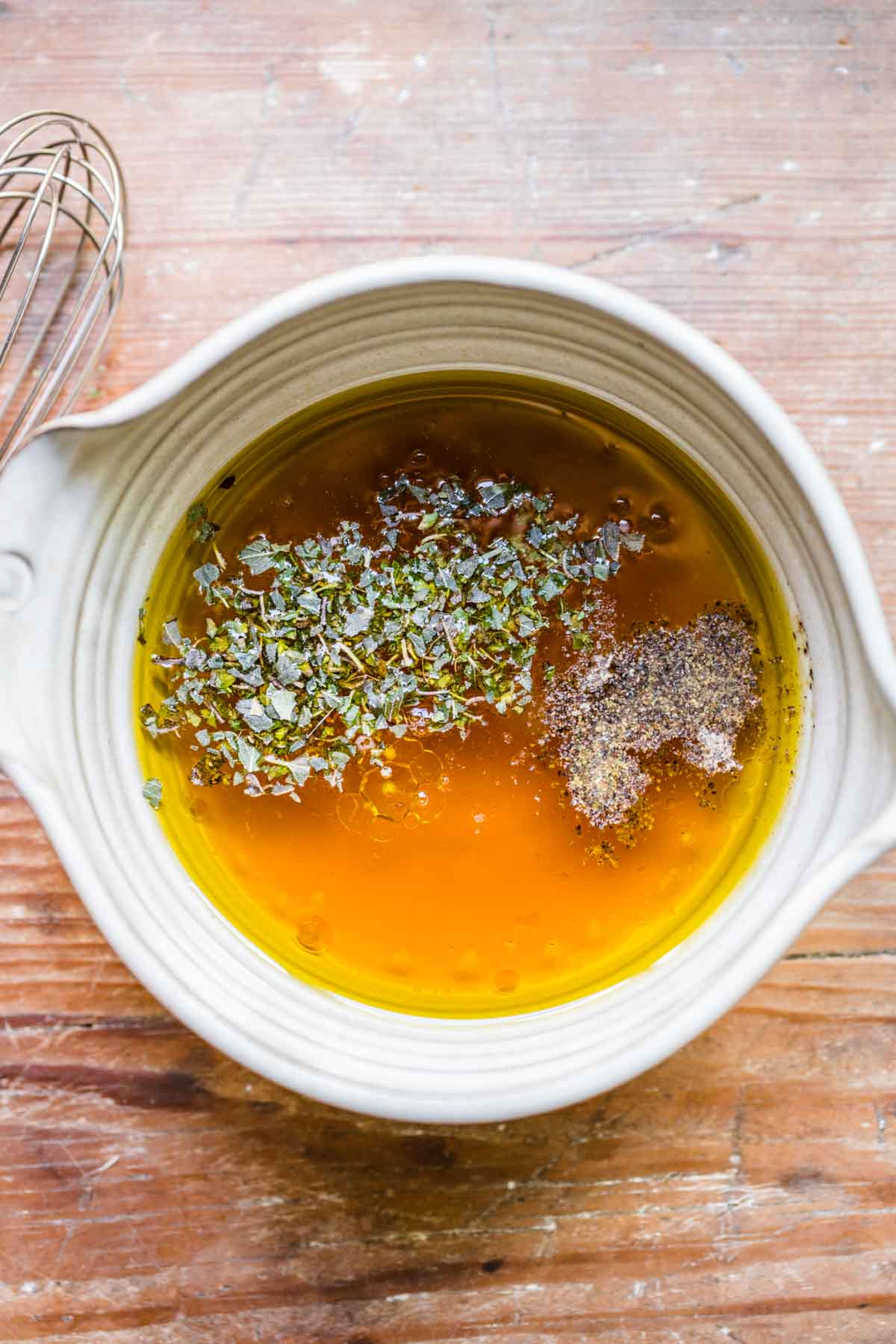 More Tasty Pasta Salad Recipes
FAQs for Greek Orzo Salad 
Is orzo healthier than pasta?
Orzo is similar to other pasta in terms of its nutrition profile and is not inherently healthier. However, the small size and delicate texture of orzo may make it a better choice for certain recipes, such as salads or soups. 
What is the difference between orzo and pasta?
Orzo is a type of pasta, but it is shaped like rice grains rather than the traditional long or short shapes of other types of pasta. Unlike many pasta shapes, it's meant to be more toothsome and firmer and holds up to soaking in sauces without getting mushy over time.
How do you cook orzo?
To cook orzo pasta, bring salted water to a boil and add the orzo. Cook for 8-11 minutes or until it is tender but still slightly firm. It is important to salt the water, cook just shy of the package instructions for al dente, and avoid rinsing the orzo when draining.

Create a free account to Save Recipes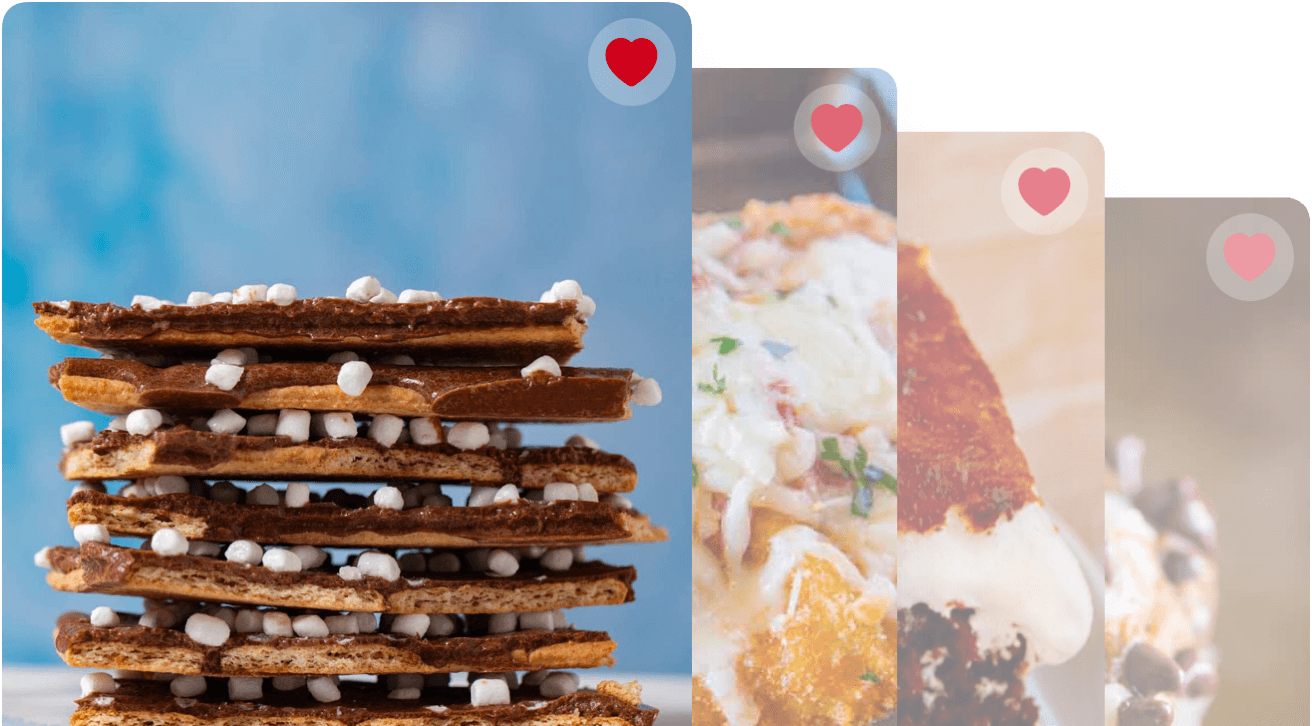 Key Ingredients
Orzo Pasta: Orzo is a type of pasta that is shaped like rice grains. It is made from wheat semolina flour and water and is commonly used in Mediterranean and Middle Eastern cuisine. Its small size and delicate texture make it perfect for salads.
Artichoke Hearts: Artichoke hearts are the tender, edible portion of the artichoke plant. They are marinated in oil and spices to add extra flavor and tenderize the artichokes. They provide a tangy, slightly acidic flavor to the salad and are a good source of fiber and antioxidants.
Grape Tomatoes: Grape tomatoes are small, sweet tomatoes that are about the size of a grape. They are known for their juicy, sweet flavor and are used often in Mediterranean cuisine.
Cucumber: Cucumber is a refreshing, crunchy vegetable that is widely used in salads. It is low in calories and high in water content, making it a great hydrating ingredient for this summer salad.
Red Onion: Red onion is a pungent onion that has a slightly sweeter and milder taste compared to other types of onions. It adds a sharp and slightly spicy flavor to the salad and a classic ingredient in classic pasta salad recipes.
Kalamata Olives: Kalamata olives are a type of Greek olive that is known for its deep, rich flavor and meaty texture. They are usually marinated in oil and spices, which give them a tangy and slightly salty flavor.
Feta Cheese: Feta is a crumbly, tangy cheese that is made from sheep's milk or a combination of sheep's and goat's milk. It has a salty and savory flavor and adds a creamy and slightly tangy texture to the salad.
Lemon Vinaigrette: The lemon vinaigrette is a tangy and flavorful dressing that is made with olive oil, red wine vinegar, lemon juice, dried oregano, salt, and black pepper. The olive oil provides a healthy source of fat, while the fresh lemon juice adds a refreshing, citrusy flavor to the salad. The dried oregano adds an earthy, slightly bitter taste to the dressing. The salt and black pepper help to balance the flavors and enhance the other ingredients in the salad.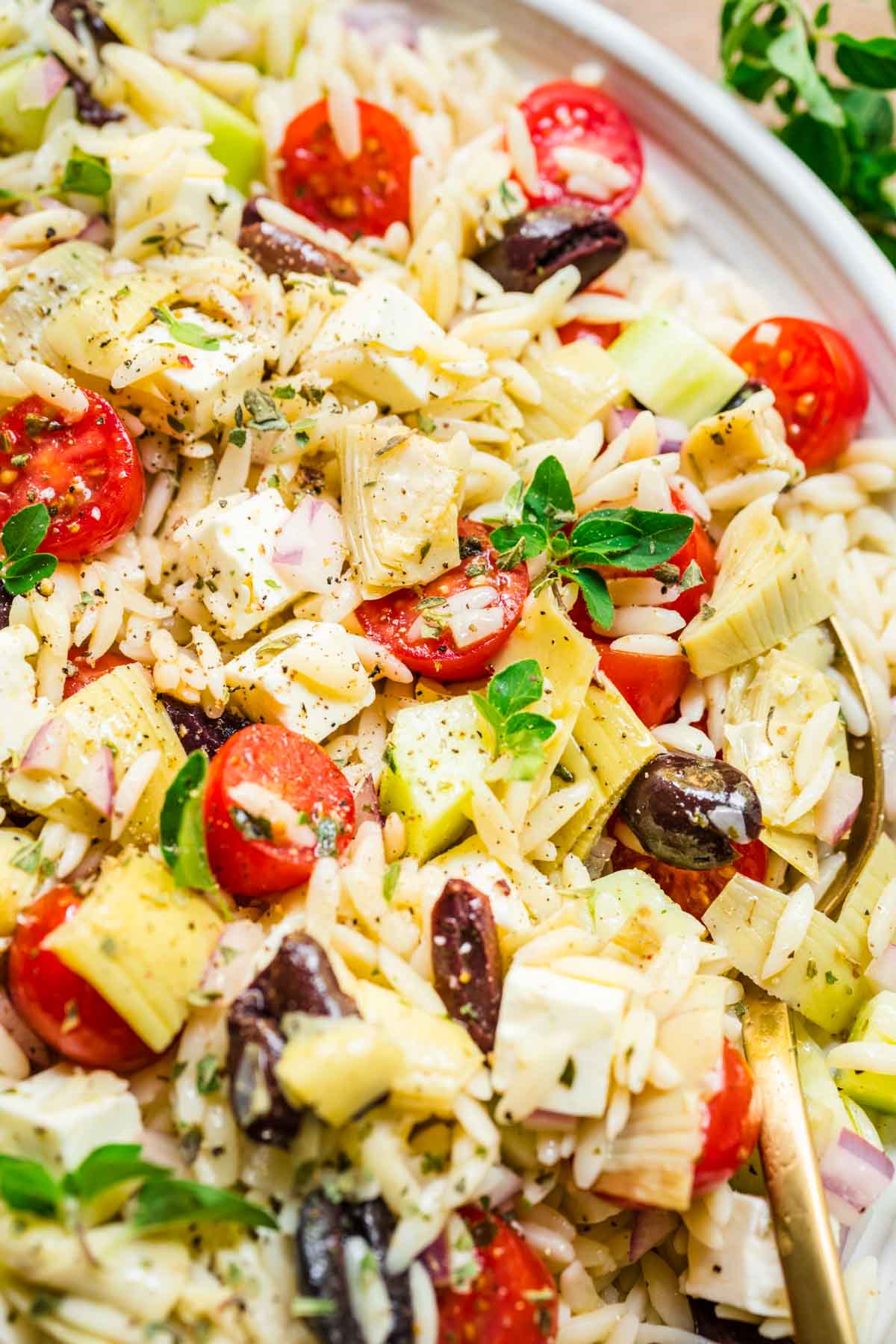 Can Greek Orzo Salad be made in advance?
Yes, Greek Orzo Salad can be made in advance. After tossing the salad with the dressing, cover and refrigerate for at least an hour or up to a day. This allows the flavors to meld together and enhances the taste of the salad. Before serving, give the salad a good stir and adjust the seasoning if needed. You can also prepare the orzo pasta a few days in advance, just toss with a little olive oil so the pasta doesn't stick together. The dressing can be prepared up to 2 weeks in advance, just keep it in an airtight container in the back of the fridge.
Variations
Protein: To serve Greek Orzo Salad as a main dish, make it more filling by adding Grilled Chicken or steak pieces. Fresh grilled seafood would be great as a light summer dinner or try tasty Falafels for a vegetarian Mediterranean dinner.
Cheese: Instead of feta cheese you can try goat cheese, blue cheese, fresh mozzarella cheese balls, or chopped Parmesan cheese. For an easy vegan salad recipe, you add baked tofu pieces seasoned with with nutritional yeast to mimic the salty feta cheese flavors.
Veggies: There are plenty of different vegetables you can add into your Greek Orzo Pasta Salad. Try mixing in some chopped red bell peppers, spinach leaves, or fresh peas. This is a great salad recipe to add leftover Roasted Vegetables for more summer flavor.
Dressing: You can also easily change up the vinaigrette for the salad. Try adding in some basil, thyme, and rosemary. You can also exchange the red wine vinegar for white wine vinegar or apple cider vinegar.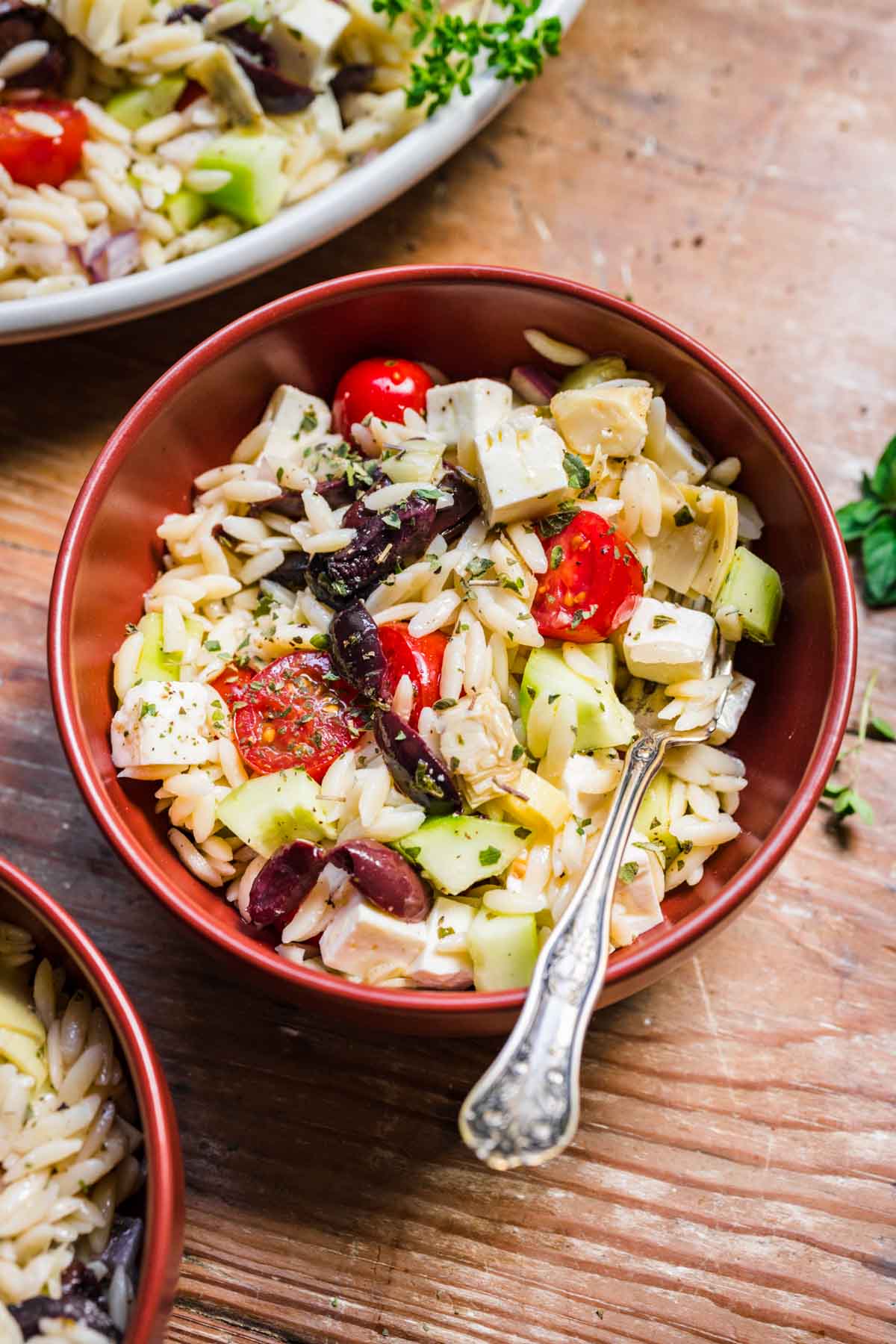 More Delicious Greek Recipes
How to Store
Serve: To make sure all the ingredients stay crisp and fresh, don't leave Orzo Salad at room temperature for more than a few hours.
Store: Cover your serving bowl in plastic wrap or put the salad in another airtight container to store it in the fridge. It will stay good for 3-5 days.
Freeze: Even though there's no cream in the dressing, you don't really want to freeze pasta salads. The oil and vinegar based dressing won't really come back together and fresh vegetables get really mushy when they defrost.


Ingredients
Lemon Vinaigrette:
1/2

cup

olive oil

1/4

cup

red wine vinegar

2

tablespoons

lemon juice

1

teaspoon

dried oregano

1

teaspoon

kosher salt

1/4

teaspoon

coarse ground black pepper
Pasta Salad:
12

ounces

orzo pasta

, cooked and drained

6

ounces

marinated artichoke hearts

, chopped

1

pint

grape tomatoes

, halved

1

cucumber

, peeled, seeded and chopped

1/2

red onion

, minced

1/2

cup

kalamata olives

, sliced

1

cup

feta cheese

, diced
Instructions
In a medium bowl whisk together olive oil, red wine vinegar, lemon juice, dried oregano, salt, and black pepper.

In a large bowl add the cooked orzo, artichoke hearts, grape tomatoes, cucumber, red onion, olives, and feta cheese.

Toss gently with dressing. Refrigerate for

1 hour

before serving.
Nutrition
Calories:
256
kcal
|
Carbohydrates:
25
g
|
Protein:
6
g
|
Fat:
14
g
|
Saturated Fat:
3
g
|
Polyunsaturated Fat:
1
g
|
Monounsaturated Fat:
8
g
|
Cholesterol:
11
mg
|
Sodium:
483
mg
|
Potassium:
215
mg
|
Fiber:
2
g
|
Sugar:
3
g
|
Vitamin A:
566
IU
|
Vitamin C:
11
mg
|
Calcium:
85
mg
|
Iron:
1
mg