Grilled Drumsticks are an easy summer dinner recipe. Prep in a flavorful marinade then grill for the best every juicy, crispy chicken legs.
These easy, flavorful Chicken legs are the perfect Dinner for summer nights when you want to switch it up from Grilled Chicken Breasts, but still want to fire up your grill!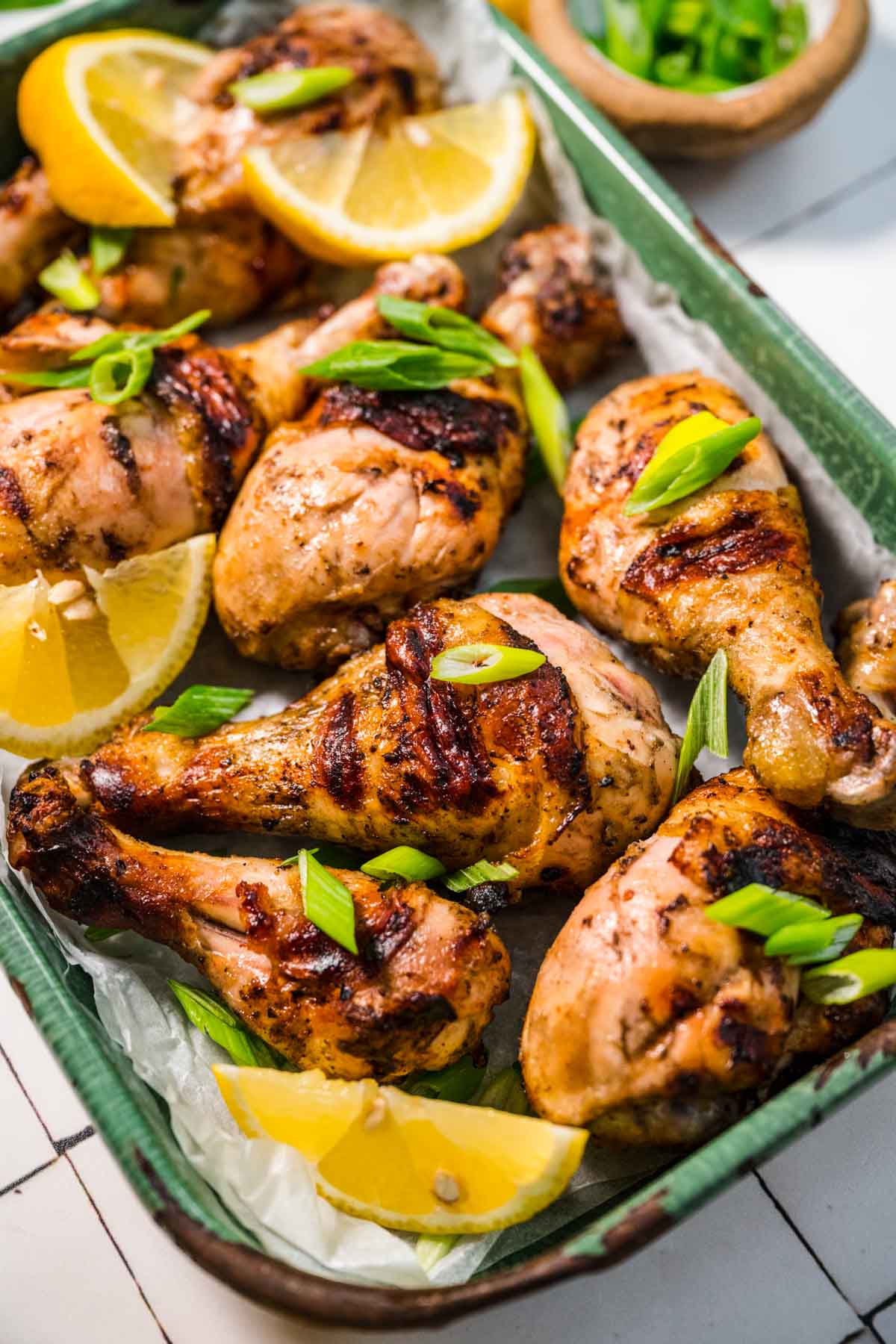 Grilled chicken recipes are the perfect dinner for summer when you need a main course everyone will love but you don't want to heat up your kitchen. This is sure to be your favorite grilled chicken ever because the marinade makes the meat super tender, and the grill gives it crisp chicken skin with a smoky char. They only take about 30 minutes to grill to perfection plus they are less expensive than other cuts of chicken for a quick and easy mouthwatering dinner on budget!
Though this recipe is super easy to make, it does take a little bit of planning before dinner time. In order to get the juiciest chicken that falls off the bone, the drumsticks are soaked in garlicky lemony marinade made with simple ingredients. You want to marinate the chicken for at least 6 hours to give the lemon juice a chance to break down the tough meat, so either throw it together first thing in the morning or the night before so all you have to do is fire up the grill and cook it when you are ready to eat.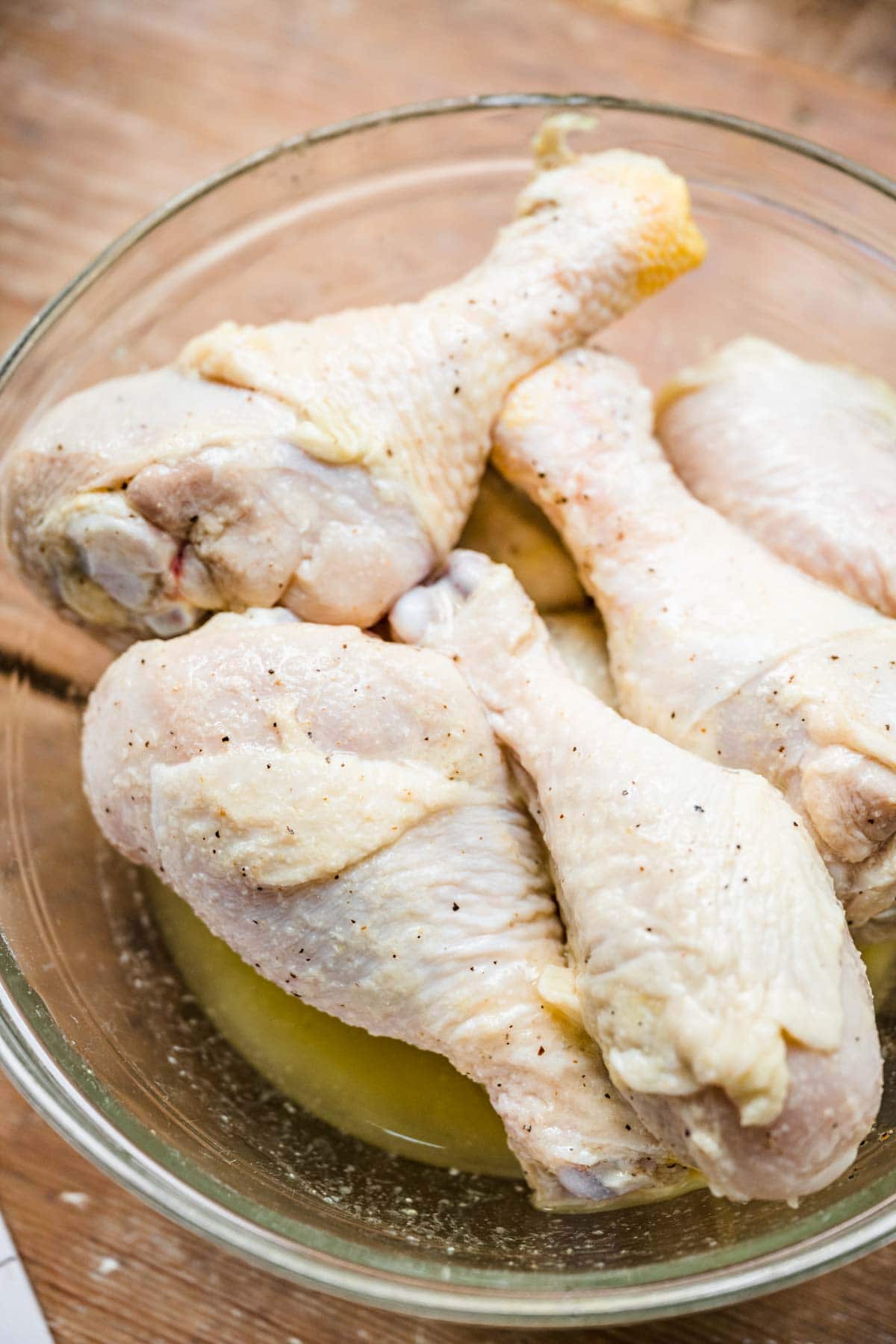 These tasty chicken legs go great with all your favorite summer side dishes like Coleslaw and Grilled Corn. They have an amazing flavor from the lemon, olive oil, and spice blend plus the smoky char adds another level of deliciousness. For even more flavor you could also serve them with BBQ Sauce for dipping or brush the chicken with sauce during the last few minutes of cooking.
How to Make Grilled Drumsticks
Marinade: Combine the olive oil, lemon juice, garlic powder, onion powder, salt, and black pepper in a bowl. Whisk the chicken marinade until well combined. Add ½ cup of the marinade to a large shallow dish.
Marinate: Add the chicken to the marinade in the shallow bowl, turning to coat. Pour the rest of the marinade over the top and cover the dish. Refrigerate for at least 6 hours, but preferably overnight.
Cook: Preheat the grill to medium-high heat. Once the grill is hot, place the chicken over direct heat on the grill grate. Close the grill lid and cook for 15 minutes. Flip the chicken and continue to grill the chicken uncovered for another 15-20 minutes, or until the internal temperature is at 170 degrees.
Notes: Check the internal temperature at the thickest part of the drumstick. For extra flavor, you can baste the chicken in the remaining marinade every few minutes while it cooks.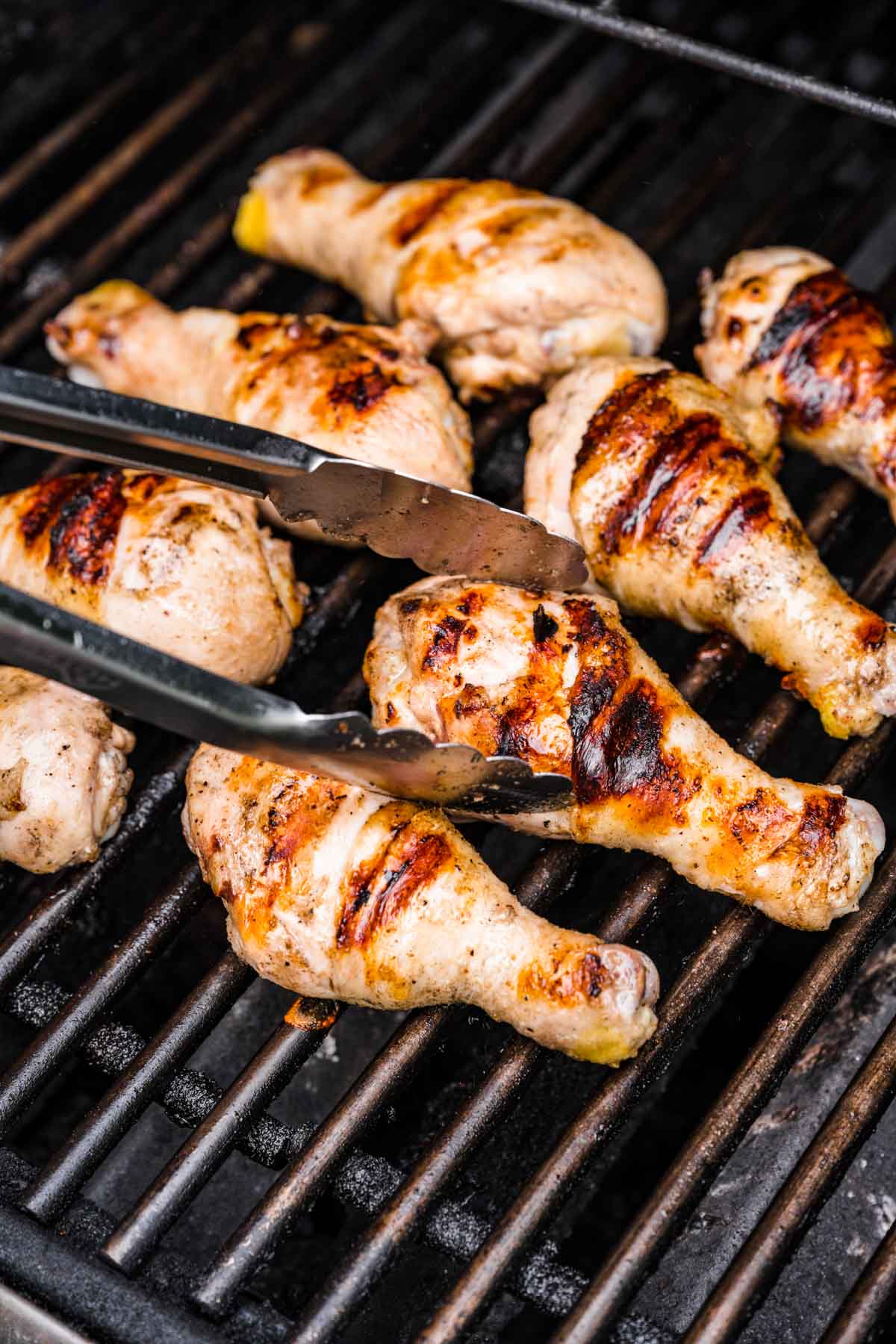 Delicious Classic Summer Sides
FAQs for Grilled Drumsticks
How long does it take to grill drumsticks?
It takes about 30 minutes to properly cook chicken drumsticks on the grill over medium high heat, or about 350 degrees. They need to be flipped every 10 or 15 minutes so they cook evenly. The chicken needs to reach an internal temperature of 170 degrees for the chicken to be done, regardless of the amount of cooking time.
Do you have to boil drumsticks before grilling?
You do not have to boil the chicken legs before grilling them, they will cook all the way through and stay juicy with this recipe. However, if you are making them ahead, you can boil them for 15 minutes the day before and just grill them until they are charred and the skin is crispy.
Do you need to marinate chicken drumsticks before grilling them?
While you don't have to marinate the chicken before you grill it, it really helps with both the flavor and moisture. The oil helps lock in the juices and the lemon breaks down the meat for the ultimate tender, juicy grilled chicken!

Create a free account to Save Recipes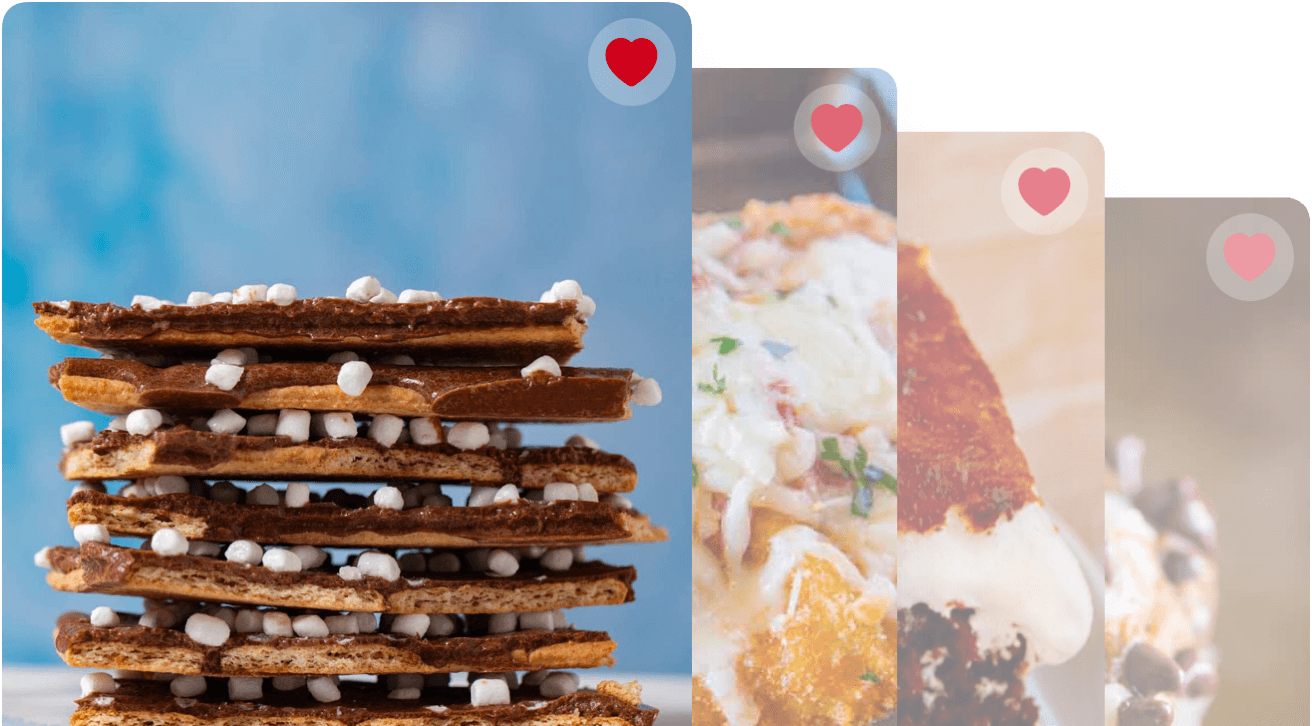 Key Ingredients
Olive Oil: Olive oil is used to infuse the chicken with extra moisture and fat so that it doesn't dry out as it's grilling. It also gives it more flavor and the high smoke point allows the skin to get extra crispy without burning. Use a good quality extra virgin olive oil for the best tasting chicken.
Lemon: Fresh lemon juice not only gives this chicken so much flavor, but the acid in the lemon juice breaks down the tough proteins. This not only tenderizes the chicken but it allows the other spices and oil to soak in and flavor the meat.
Spices: Tasty spices like garlic powder, onion powder, salt, and pepper are also whisked into the marinade to add some more flavor to the dish. It's a super simple spice mix that does a great job seasoning the meat without overpowering it.
Chicken Drumsticks: Of course, the most important part of the recipe is the chicken drumsticks. Drumsticks come from the lower part of chicken legs. Soaking them in marinade ensures the inside meat stays nice and tender while the oil seals in the juices for nice and crispy skin.
Can Grilled Drumsticks be made ahead of time?
Yes, you can absolutely prepare this Grilled Drumsticks recipe ahead of time, and you should plan at least a day in advance so they can marinate properly. The raw chicken can be in the marinade for up to 48 hours, however it's best within the first 6-24 hours. The marinade can be prepared up to a week in advance, and you can double it for other recipes, but store it separately and do not keep or reuse any marinade that had raw chicken in it.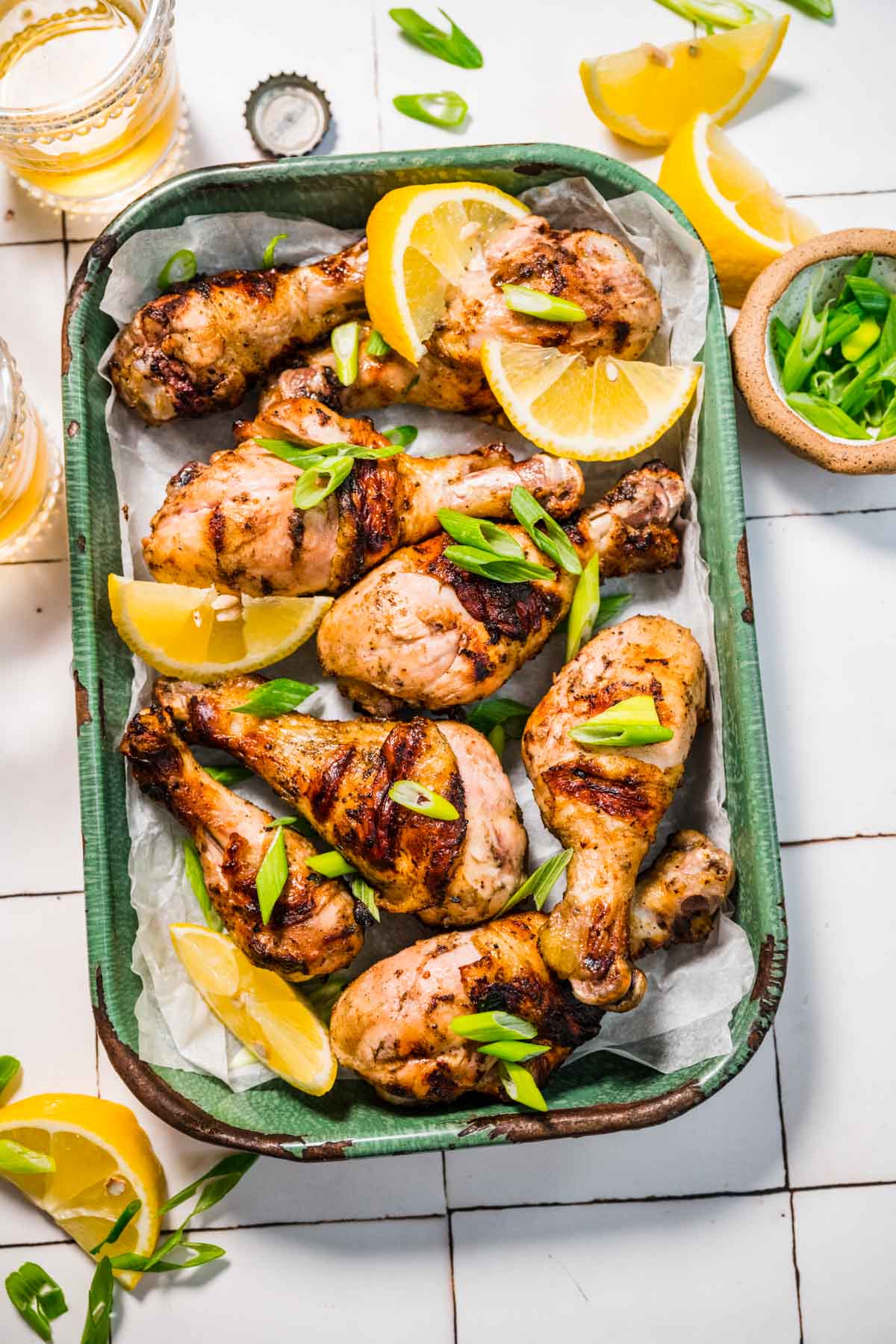 Variations
Honey BBQ: For a combination of sweet and savory flavor, you can marinate the grilled chicken in honey BBQ sauce. Mix together ½ cup BBQ Sauce, ½ cup honey, 2 tablespoons olive oil, 2 tablespoons lemon juice, 1 tablespoon hot sauce, and 3 cloves minced garlic.
Citrus: For some extra lemony flavor, use a basting brush to brush fresh lemon juice over the drumsticks every few minutes while you cook the chicken. You can also swap the lemon juice for lime juice, orange juice, or even grapefruit juice for a different citrus flavor.
Spicy: To add some amazing spicy flavor to your grilled chicken, you can add red pepper flakes, cayenne pepper, or a dash of hot sauce to the marinade mixture.
Italian: Make a fresh, herby Italian chicken seasoning by using Pesto Sauce instead of the spices and oil. Instead of pesto, you could also just add finely chopped fresh herbs like parsley, basil, or thyme.
Southwest: Make Mexican-inspired drumsticks by swapping the spices with Taco Seasoning and the lemon juice with lime juice. These would taste delicious with some Spanish Rice, salsa and warm tortillas!
Baked Chicken Drumsticks
Prepare the marinade and marinate the chicken legs for at least 6 hours, preferably overnight.
Preheat the oven to 425 degrees. Line a baking sheet with foil or spray generously with cooking spray.
Arrange the chicken in a single layer on the baking sheet without touching.
Bake chicken for 40-45 minutes, flipping halfway through, or until the internal temp reads 170 degrees and the juices run clear.
Remove the chicken and turn the oven to high broil.
Once hot, return the chicken and broil until the skin is crispy.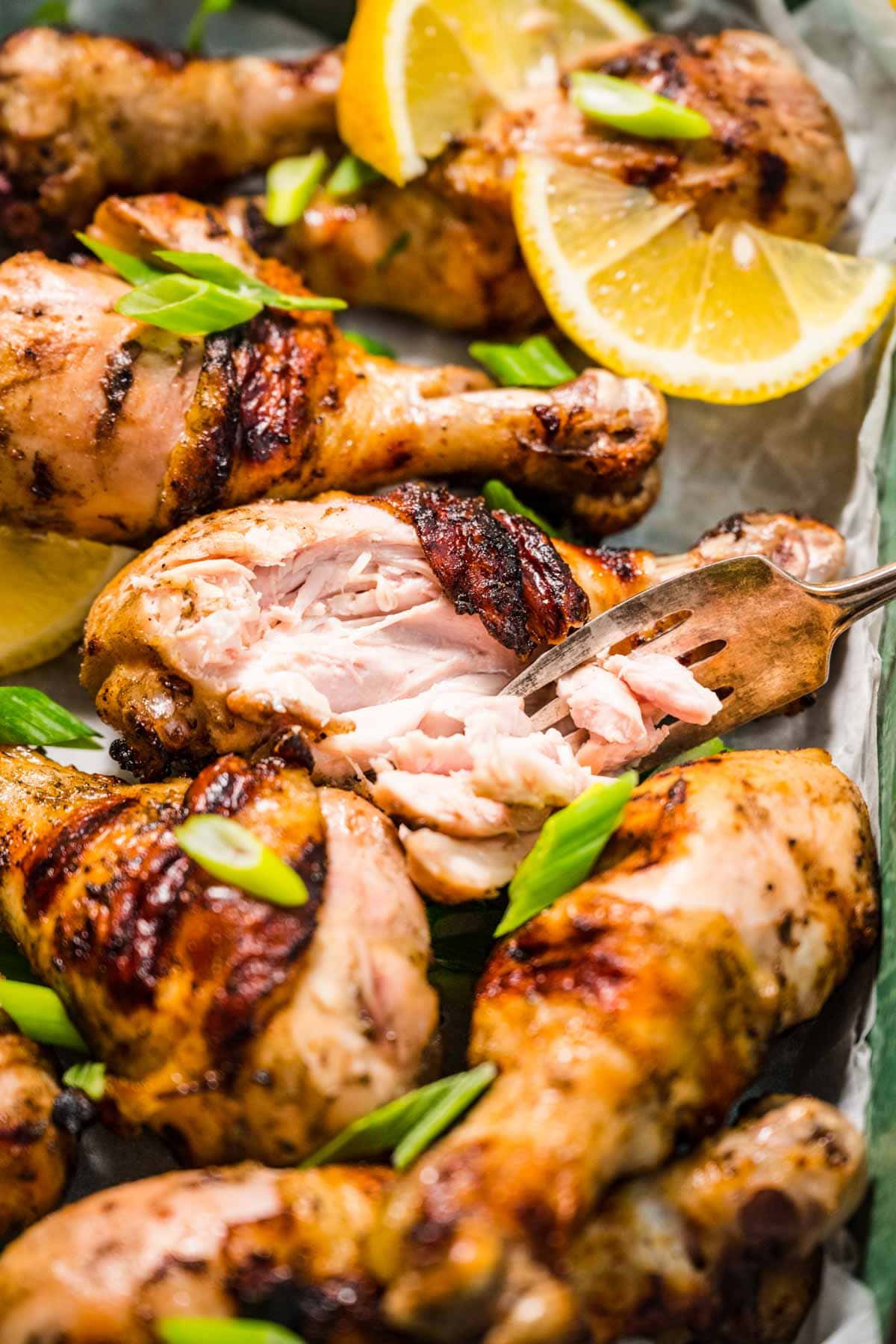 More Flavorful Grilled Chicken Recipes
How to Store
Store: If you have leftovers, transfer the cooked chicken to a zip lock bag or another airtight container to store in the fridge for 3-4 days. Do not leave chicken at room temperature for more than 2 hours.
Reheat: To keep the chicken from drying out, reheat it in the oven in a single layer at 350 degrees, flipping halfway through so it heats quickly and evenly.
Freeze: You can also freeze Grilled Chicken Drumsticks for up to 3 months. Freeze cooled drumsticks on a baking sheet in a single layer for at least an hour then transfer to a freezer safe bag.


Ingredients
1/2

cup

olive oil

1/3

cup

lemon juice

1

teaspoon

garlic powder

1

teaspoon

onion powder

1/2

teaspoon

kosher salt

1/4

teaspoon

coarse ground black pepper

8

chicken drumsticks
Instructions
In a small bowl whisk the oil, lemon juice, garlic powder, onion powder, salt, and black pepper until combined.

Pour ½ cup marinade into a large shallow dish.

Add chicken and turn to coat.

Cover dish and remaining marinade, refrigerate overnight.

Heat grill to medium-high heat.

Drain chicken and discard marinade from dish.

Place chicken on grill rack, cover and grill for

15 minutes

.

Flip chicken and grill until a thermometer reads 170 degrees, about

15-20 minutes

longer, basting occasionally with reserved marinade.
Nutrition
Calories:
244
kcal
|
Carbohydrates:
1
g
|
Protein:
13
g
|
Fat:
21
g
|
Saturated Fat:
4
g
|
Polyunsaturated Fat:
3
g
|
Monounsaturated Fat:
13
g
|
Trans Fat:
1
g
|
Cholesterol:
70
mg
|
Sodium:
225
mg
|
Potassium:
187
mg
|
Fiber:
1
g
|
Sugar:
1
g
|
Vitamin A:
36
IU
|
Vitamin C:
4
mg
|
Calcium:
10
mg
|
Iron:
1
mg