Authentic Chicken Korma recipe for an easy fragrant chicken curry with chicken thighs, tomato paste, Greek yogurt and lots of Indian spices.
Indian Cuisine is known for curries filled with prominent spice profiles and a creamy, velvety texture like Butter Chicken, Chicken Tikka Masala, and this amazing Indian Chicken Korma recipe.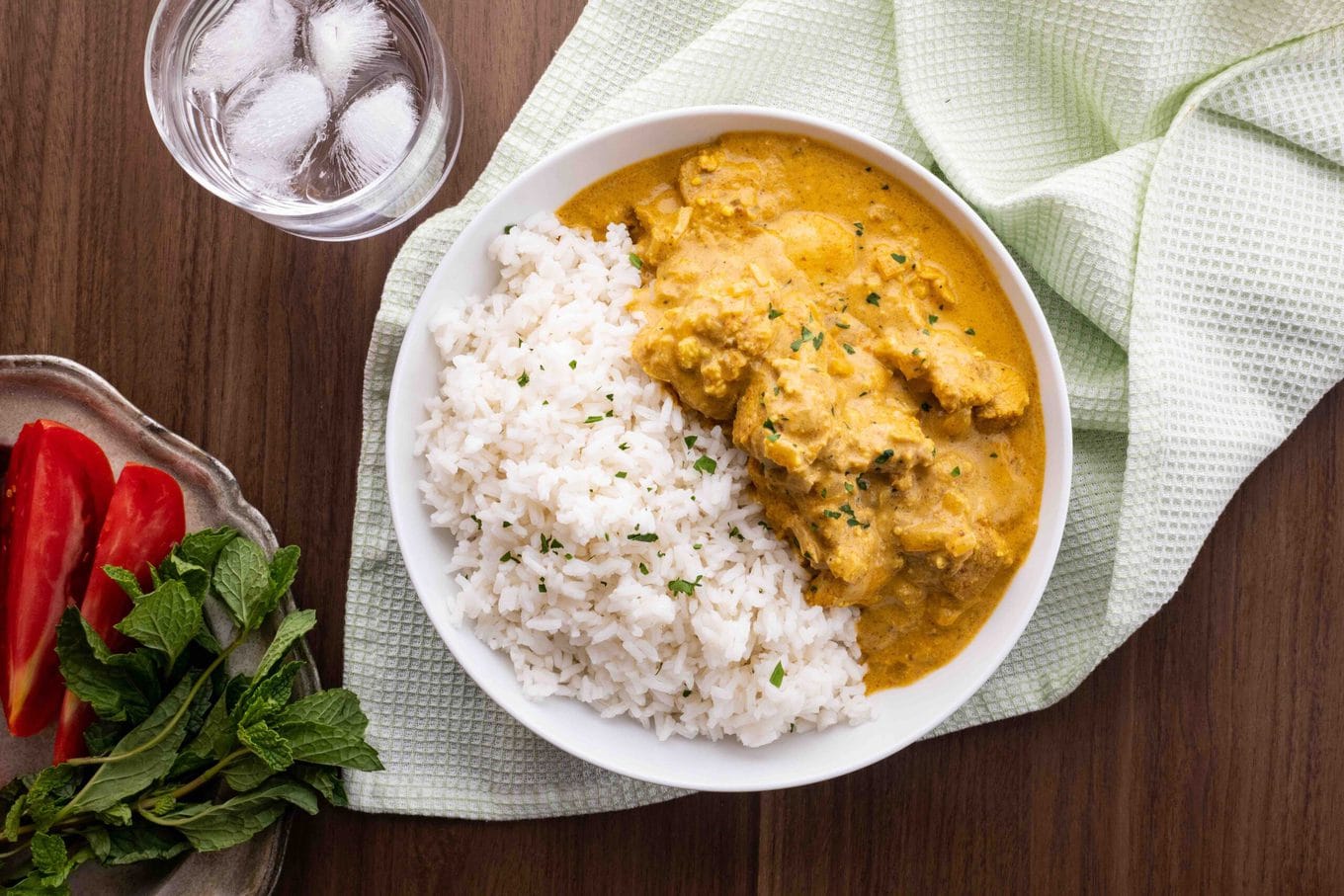 Authentic Indian Korma is a delicious dish made with Indian spices, yogurt, and almonds that is known for being mild yet indulgent, with layers of earthy warmth. It's definitely one of the more family friendly curry recipes and it's a great introduction to those just learning to cook Indian food. Make it a full meal and serve with other classic Indian recipes like Garlic Naan and Vegetable Biryani.
This easy Chicken Korma recipe starts with tender chicken pieces marinated in a creamy tomato paste and yogurt mixture. It is mild, but don't worry it's still packed with plenty of spice! The chicken marinade also has some raw almonds, fresh ginger, and garlic for more amazing flavor. It marinates for at least an hour to get pieces of chicken that are juicy and filled with that warm, rich and mildly-spiced flavor that makes this dish so amazing!
What really makes this easy homemade Chicken Korma recipe stand out from other Indian curry dishes is the loads of spices. It has garam masala, which is a classic spice blend in Indian cooking. Even more spices including paprika, red pepper flakes, and turmeric are added so there is plenty of spice, yet it balances out with the cream for a Chicken Korma sauce that is mild, indulgent with immense depth.
If you love the amazing flavor profile of Creamy Chicken Curry, try our Indian Butter Pot Roast or Indian Keema Aloo. Traditionally you serve curry over rice, but if you want your dinner to have more of that delicious, prominent spice profile, try sides like Indian Spiced Honey Roasted Carrots or Indian Bombay Potatoes and Peas. 
What is Chicken Korma?
Chicken Korma is a classic Indian recipe originating from the Mughlai cuisine of the Indian subcontinent. The dish has marinated chicken pieces that are cooked in a creamy sauce made with yogurt, cream, nuts, and Indian spices like garam masala, cardamom, and paprika. This curry recipe is known for being filled with warm, earthy creamy flavors and is milder than other Indian food. Like other Indian curry dishes, it is served over rice dishes like Basmati rice.
What is the difference between Butter Chicken and Chicken Korma?
While Butter Chicken and Chicken Korma share many similarities, they have distinct characteristics that set them apart. Butter Chicken, also known as Murgh Makhani, is a creamy tomato-based dish with a rich and tangy flavor. In contrast, Chicken Korma offers a more delicate and nuanced taste, thanks to the inclusion of almonds and a unique spice blend.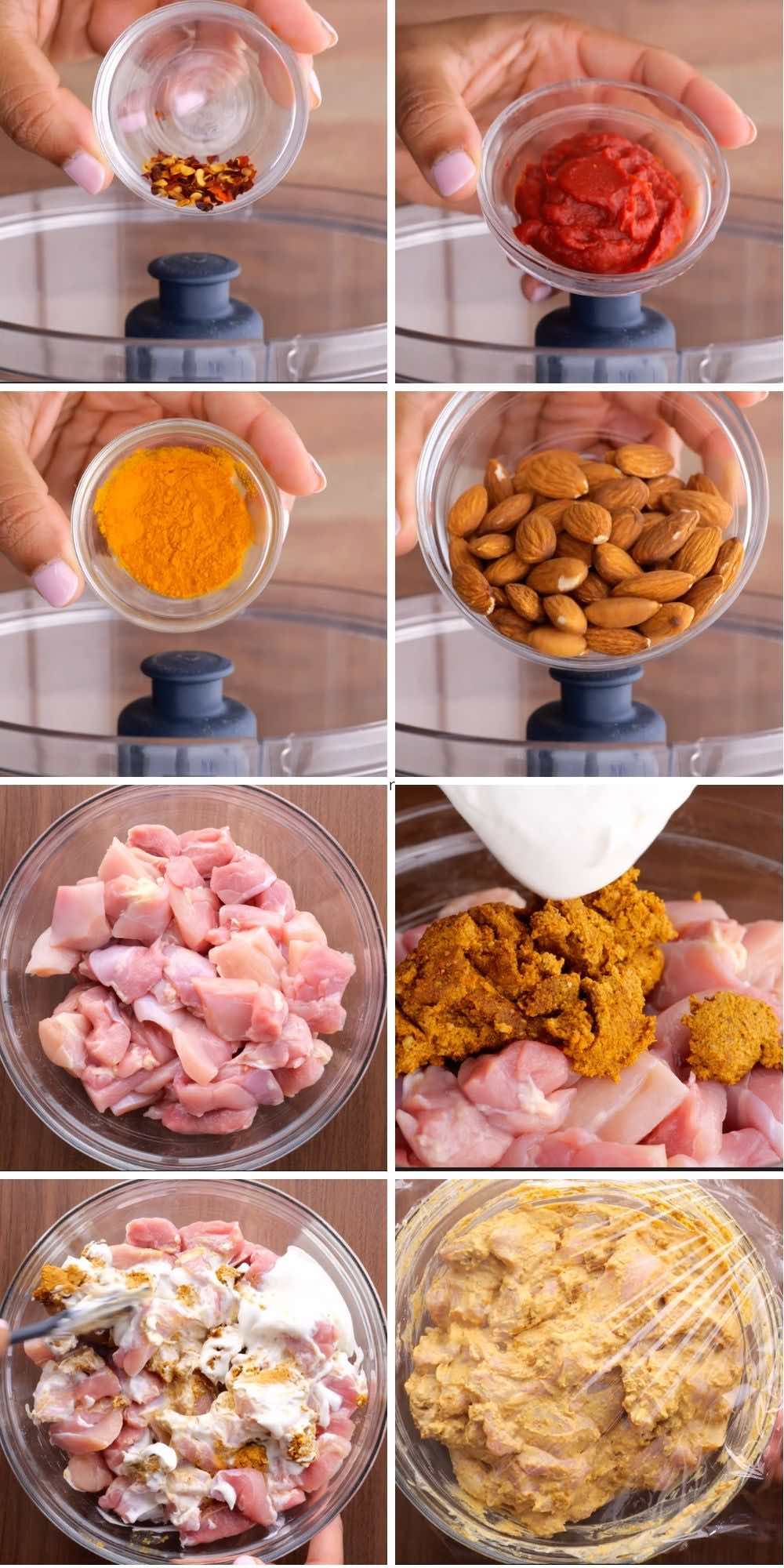 How to Make Chicken Korma
Prep: Dice the boneless chicken thighs into small pieces and place in a large bowl.
Marinade: Blend the tomato paste, ginger, garlic, garam masala, pepper, paprika, cardamom, salt, turmeric and almonds in a food processor on high speed until completely smooth.
Marinate: Toss chicken with marinade until well coated then cover and chill for at least 1 hour.
Onions: Heat the butter and oil in a large skillet over medium high heat. Cook the onions for 5-7 minutes, until they start to caramelize.
Chicken: Add the pieces of chicken and the marinade to the hot skillet with the onions. Cook for 12-15 minutes, stirring occasionally until the meat is cooked through.
Finish: Stir the heavy cream into the skillet until well mixed. Simmer another 3-4 minutes, then serve over rice with the sauce.
Amazing Indian Side Dishes
FAQs for Indian Chicken Korma
What is the difference between a korma and a curry?
Korma is actually an Indian curry dish, often made with yogurt, cream, nuts, and garam masala, resulting in a rich and mildly warm spiced sauce. On the other hand, curry is a broader term encompassing a wide range of spiced dishes with varying levels of heat and flavors, offering more diversity in ingredients and cooking styles.
What is the difference between Korma Chicken and Tikka Masala Chicken?
Korma Chicken is an authentic Indian dish known for its rich and creamy sauce, infused with a blend of aromatic spices, yogurt and cream with warm, mild spice. Tikka Masala Chicken is a tomato-based sauce with a tangy and slightly spicier flavor, and is actually a British-Indian fusion.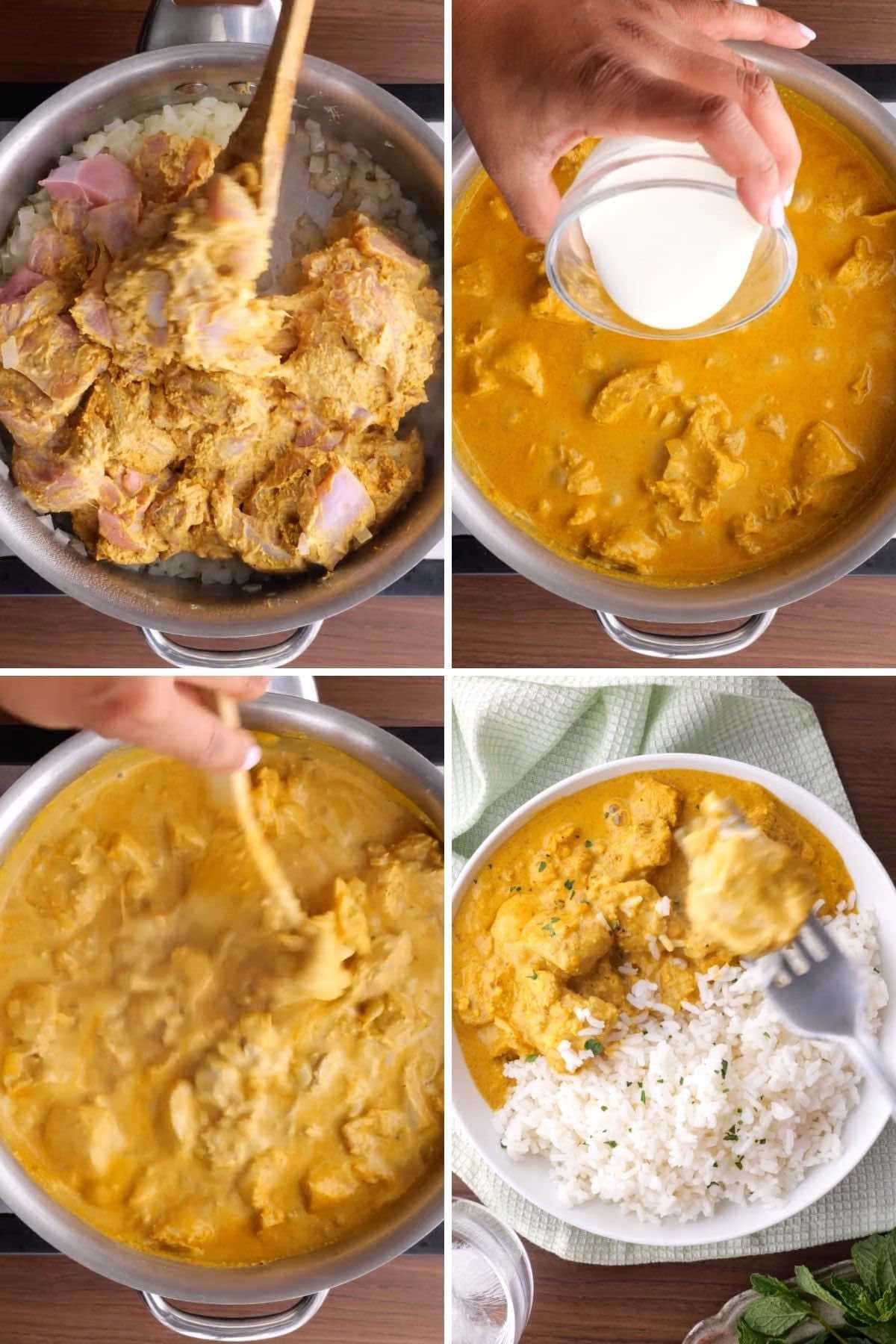 Create a free account to Save Recipes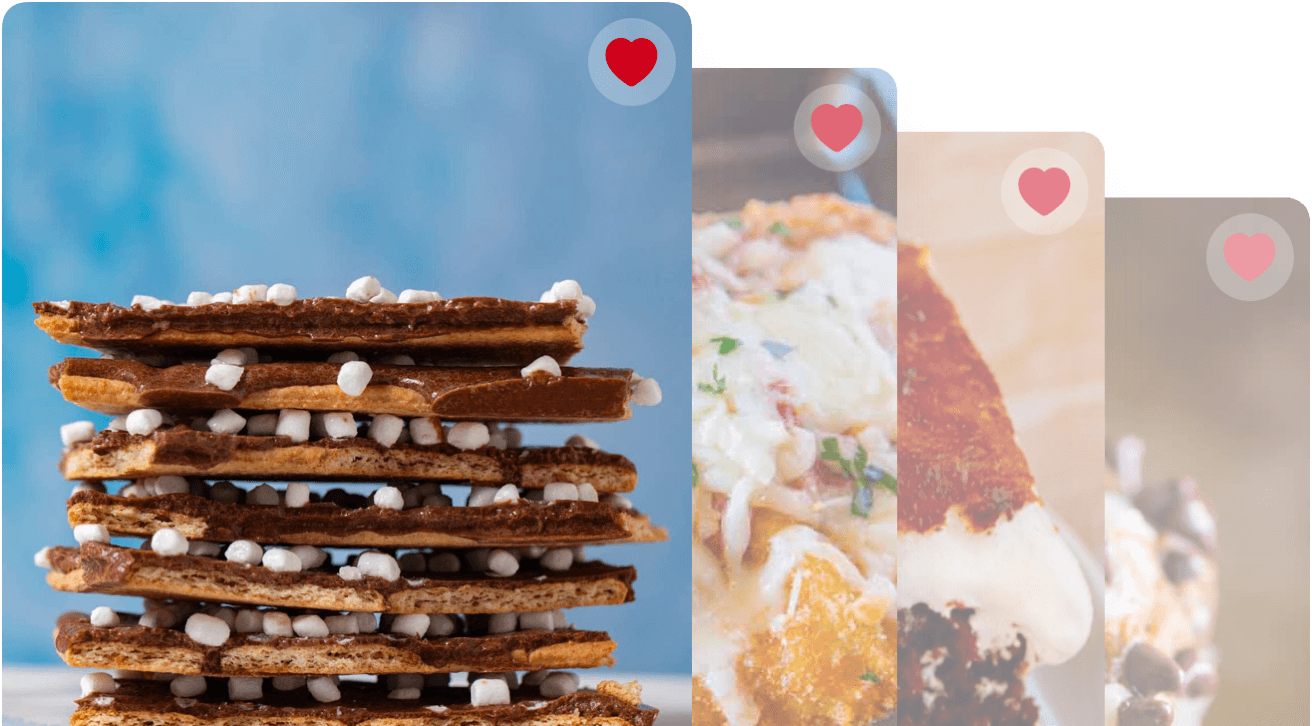 Key Ingredients
Garam Masala: Garam masala is a popular blend of spices commonly used in Indian curries. It adds complexity and depth of flavor, with its warm and aromatic notes of ground spices like cinnamon, cardamom, cloves, cumin, black pepper, and coriander. You can buy a premade blend or check out the recipe in this post if you have the powdered spices on hand.
Almonds: Almonds provide a creamy texture and subtle sweet nuttiness to the sauce. They enhance the richness of the dish and complement the blend of spices.
Greek Yogurt: Greek yogurt serves a dual purpose in Chicken Korma. Firstly, its tanginess helps tenderize the chicken, resulting in moist and succulent meat. Secondly, its creamy consistency adds richness to the curry sauce.
Turmeric: Known for its vibrant yellow hue, turmeric is not only a visual delight but also imparts a warm, earthy layer of flavor to Chicken Korma.
Cardamom: There is cardamom in garam masala, but this recipe adds an extra helping of the powdered spice to bring out more of its floral, warm sweet flavor.
Tomato Paste: Tomato paste serves as the base of the sauce, providing a tangy and slightly sweet flavor to the Chicken Korma curry. It adds a fresh layer of flavor to balance out all the warmth from the aromatic spices.
Fresh Aromatics: Fresh ginger brings a zesty punch of flavor with some spiciness and freshness, while garlic infuses its robust and pungent taste in this flavorful dish.
Additional Spices: There are plenty of spices in this flavorful, authentic korma dish. Paprika adds a mild smoky sweet flavor. For those who enjoy a hint of heat, crushed red pepper adds a subtle kick. Kosher salt is used to season the chicken and balance the flavors in the prominent spice profile.
Butter: Butter adds an indulgent velvety texture and buttery flavor to Chicken Korma curry. The combination of canola oil and butter creates a delightful balance between richness and lightness.
Onion: Yellow onion provide a savory and slightly sweet base for the sauce. When caramelized, they add depth and complexity to the authentic flavor profile of this Korma Chicken recipe.
Heavy Cream: Heavy cream lends a creamy and silky texture to the sauce. It also tames all the strong aromatic spices slightly so you end up with a rich and mildly-spiced flavor that is perfectly balanced and delicious.
Can you make Chicken Korma ahead of time?
Absolutely! In fact, the flavors of Chicken Korma tend to deepen and develop when prepared in advance. You can make the sauce ahead of time and marinate the chicken overnight. When ready to serve, cook the chicken in the preheated sauce, and voila! A delicious and effortless meal in minutes.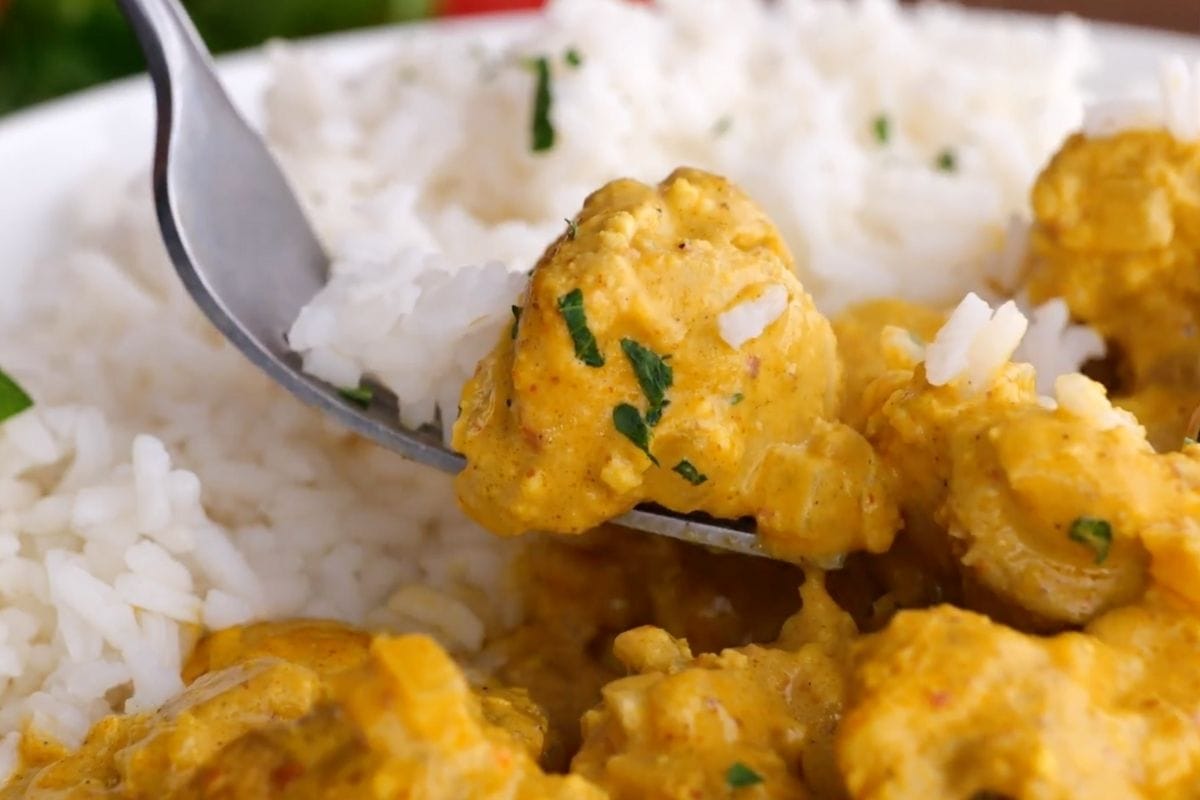 Variations
Veggies: The classic Chicken Korma recipe includes onions, garlic and ginger but red or green bell peppers, carrots, cauliflower, peas, or potatoes would work well in the dish as well as they'd complement the lighter flavors of the korma curry.
Coconut: You can swap the heavy cream for coconut milk for a similar creamy texture but a delicious sweet flavor. For more of the tasty coconut flavor, add some toasted coconut shreds. Make sure to use full-fat coconut milk for the best texture.
Nuts: You can use other nuts for creaminess like cashews, peanuts, or macadamia nuts. You could also use sunbutter, tahini, or sesame seeds soaked in water to replace the nuts.
Homemade Garam Masala
3 ½ tablespoons ground cardamom
2 ½ tablespoons cinnamon
½ teaspoon grated nutmeg
3 tablespoons ground cloves
3 tablespoons coarse ground black pepper
1 tablespoon ground cumin
1 ½ teaspoons ground coriander
Add the spices to a dry skillet and cook on medium heat, stirring frequently until you can smell the spices. Let them cool before adding them to an airtight container to use within 2 months.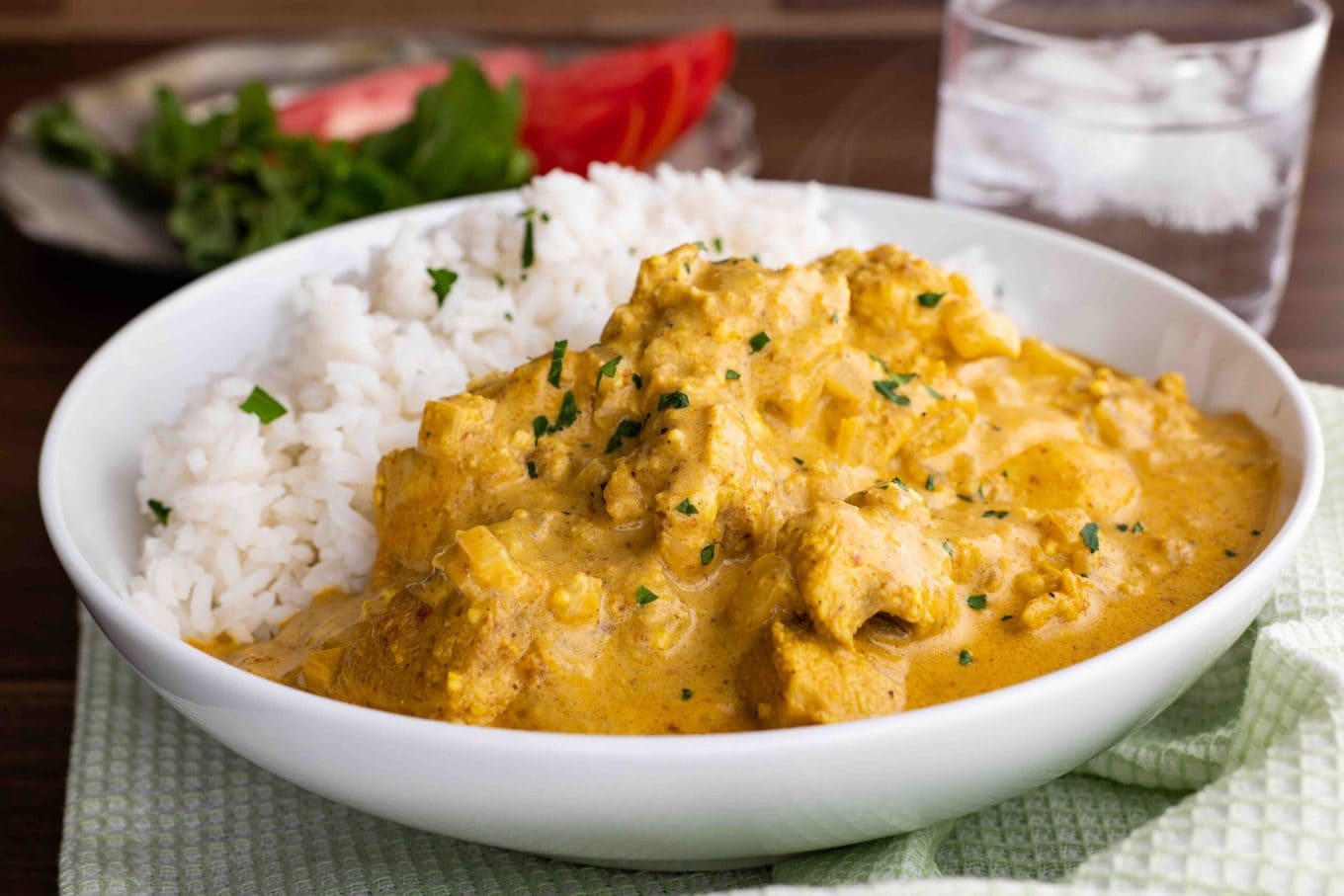 More Delicious Indian Chicken Dishes
How to Store
Store: Do not leave Chicken Korma at room temperature longer than two hours. Once it's cooled, store it in the fridge in an airtight container for up to 4 days.
Reheat: It's best to reheat curries slowly so that the cream doesn't curdle and the chicken doesn't dry out. Heat it over low heat in a deep skillet, or you could even make a big batch and reheat it in a slow cooker on low.
Freeze: Chicken Korma can be frozen for up to 2 months. Thaw in the refrigerator and reheat gently in a saucepan on the stove.


Ingredients
6

chicken thighs

, boneless and skinless

2

tablespoons

tomato paste

1

tablespoon

fresh ginger

, peeled

2

cloves

garlic

1

tablespoon

garam masala

1/4

teaspoon

crushed red pepper

1/2

teaspoon

paprika

1

teaspoon

ground cardamom

1/2

teaspoon

kosher salt

1/2

teaspoon

turmeric

1/2

cup

almonds

3/4

cup

greek yogurt

1

tablespoon

canola oil

3

tablespoons

butter

1

yellow onion

, diced

1/4

cup

heavy cream
Instructions
Cut the chicken thighs into small 1 ½ to 2 inch chunks and put them in a large bowl.

Add the tomato paste, ginger, garlic, garam masala, crushed red pepper, paprika, cardamom, salt, turmeric and almonds into a food processor on high speed until completely smooth.

Add the mixture to the bowl with the chicken along with the yogurt and mix well.

Cover and refrigerate for

1-2 hours

.

Add the canola oil and butter to a large cast iron skillet or heavy skillet on medium high heat.

Add the onions and cook for

5-7 minutes

, or until just caramelized.

Add in the chicken and cook for

12-15 minutes

or until the chicken is cooked through.

Add the heavy cream to the skillet and mix well, cooking for an additional

3-4 minutes

.
Nutrition
Calories:
682
kcal
|
Carbohydrates:
11
g
|
Protein:
36
g
|
Fat:
55
g
|
Saturated Fat:
17
g
|
Cholesterol:
210
mg
|
Sodium:
582
mg
|
Potassium:
658
mg
|
Fiber:
3
g
|
Sugar:
4
g
|
Vitamin A:
895
IU
|
Vitamin C:
4.3
mg
|
Calcium:
126
mg
|
Iron:
2.3
mg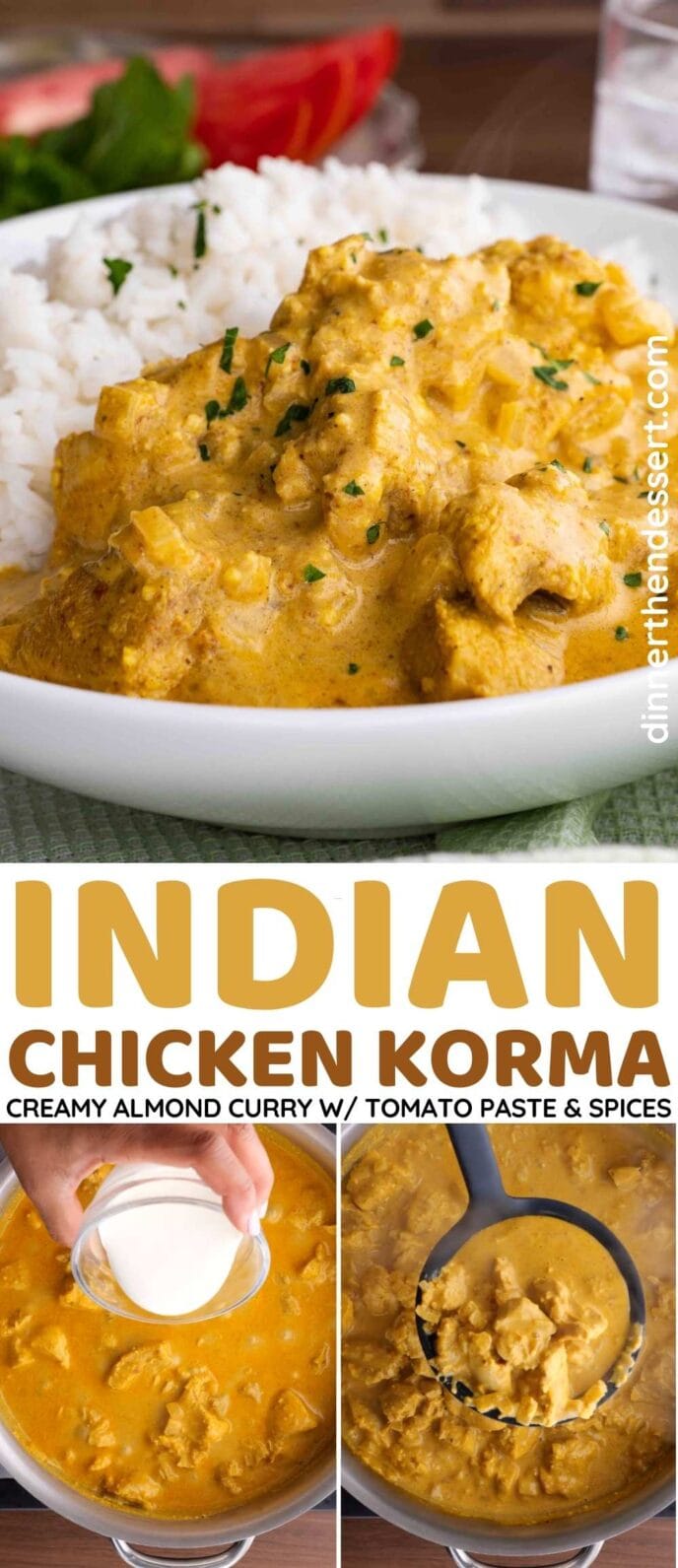 Photos used in a previous version of this post.