Lemon Blueberry Biscuits are the perfect buttery sweet biscuit recipe with made fresh blueberries and lemon zest plus a tangy lemon glaze.
A buttery, warm Buttermilk Biscuit is a classic side to savory Breakfast dishes, but if you're in the mood for something sweet and berry filled, then these Blueberry Lemon Biscuits are the perfect treat!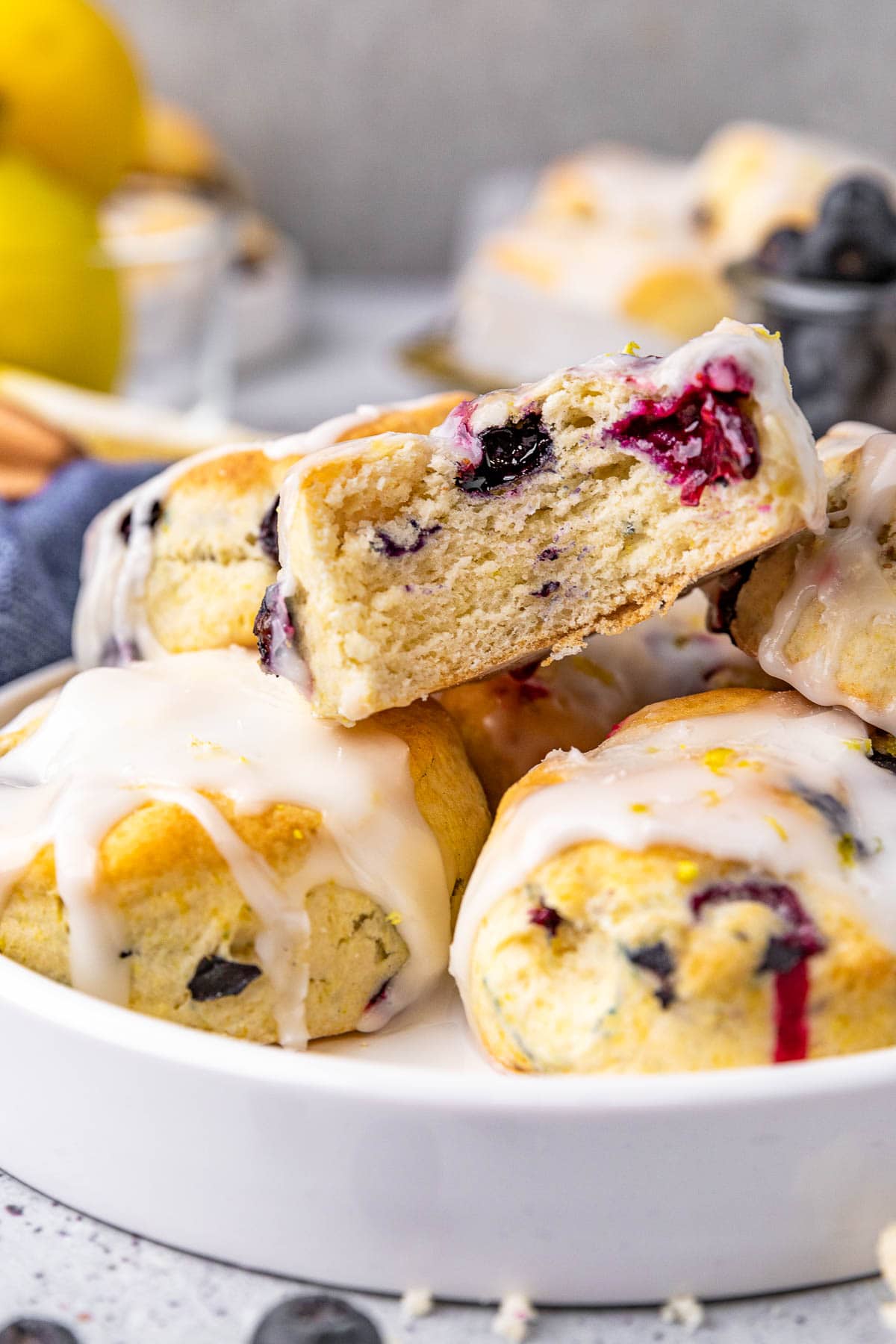 From Blueberry Pancakes to Blueberry Muffins, the sweet, fruity taste of fresh blueberries is a delicious way to start your day. Adding bright lemon to blueberry baked goods is an easy way to take them from pretty good to amazing. The tart and sweet flavor combination lemon blueberry is like warm happy sunshine in a bite!  This biscuit recipe is loaded with lemon-blueberry goodness, plus a crumbly texture, and a fantastic lemon glaze.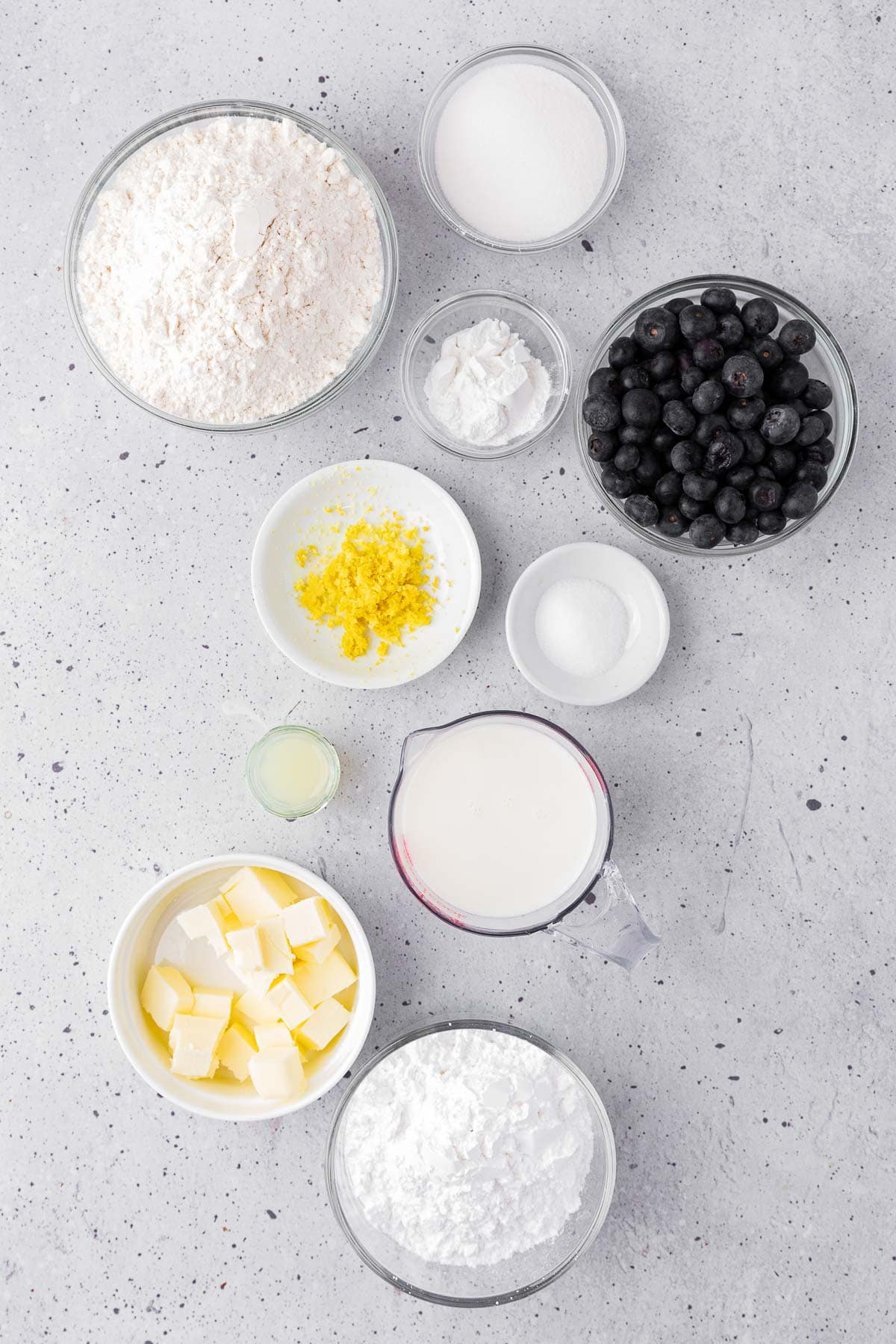 Not only are flaky Lemon Blueberry Biscuits the perfect breakfast, but they're ultra-easy to make. A food processor combines the simple dough ingredients in just a few minutes. After the dough is made, you add the fresh plump berries and shape the delicious biscuit. After that, it only takes about 15 minutes of baking and a couple minutes to whip up the sweet, tangy lemon glaze, then they are ready to serve!
These buttery, sweet Lemon Blueberry Biscuits are perfect for a weekend morning or fancy brunch. Thanks to the lemony glaze, and juicy blueberry mix-ins, these biscuits are moist and flavorful enough to eat as they are. However, you can also enjoy them with a pat of butter or cream cheese and Blueberry Jam spread in the middle.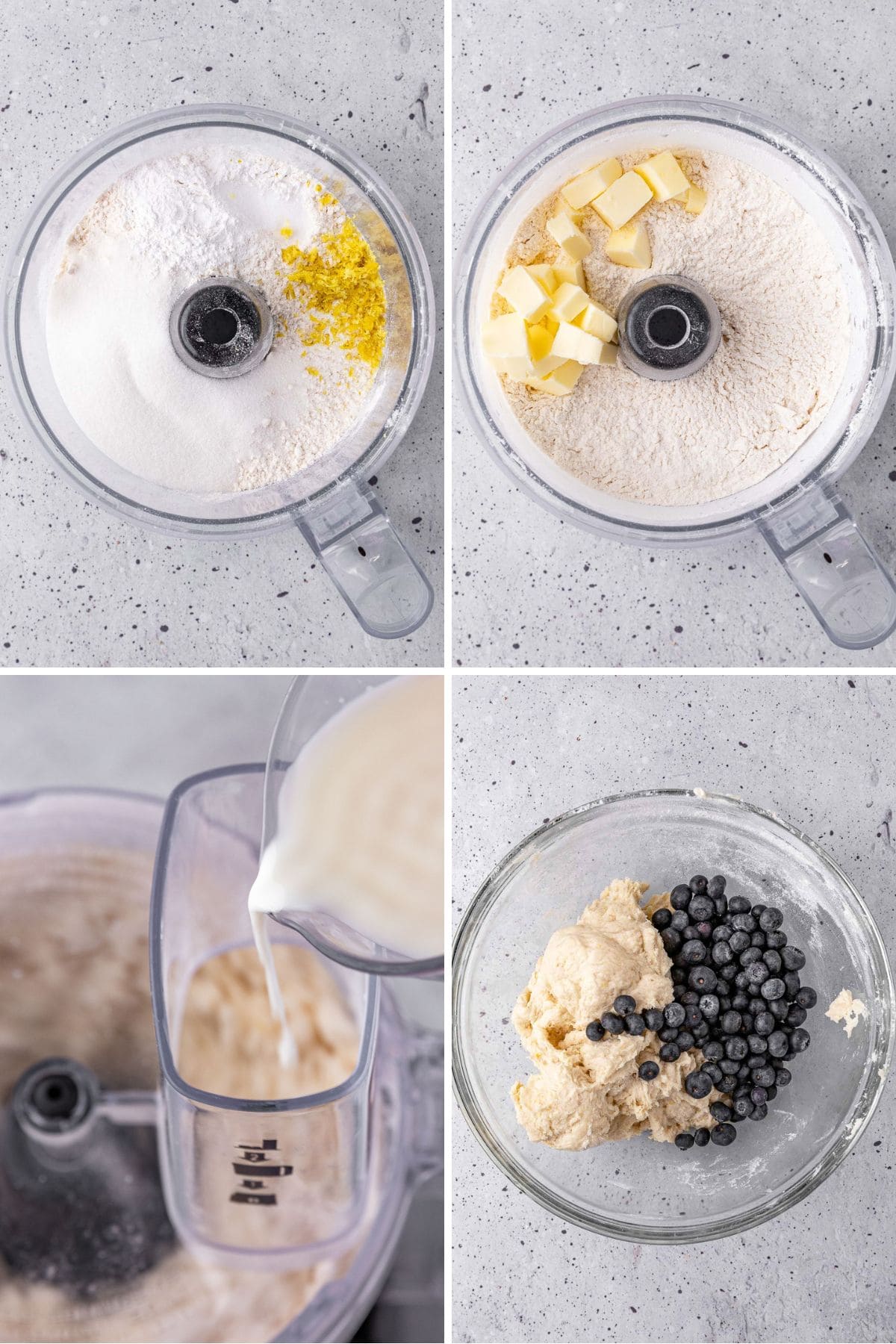 A great thing about these delicious biscuits is you can prep them the night before and might actually find that you like them better. They might turn out even more tender and fluffy since the butter is guaranteed to be cold after you chill them overnight! They may need a couple extra minutes of baking time if the tray is super cold, otherwise, they will bake as normal.
What is the difference between Lemon Blueberry Biscuits and Scones?
While they are both sweet, buttery bakery treats, there are a couple key differences between Lemon Blueberry Biscuits and Blueberry Scones. Biscuits have a lot more baking powder, aka the stuff that makes them rise. Scones are also made with cream and eggs, where biscuits don't usually have eggs and they are made with milk or buttermilk. These subtle changes make a big impact on the texture, giving you light, flaky biscuits versus rich, crumbly scones.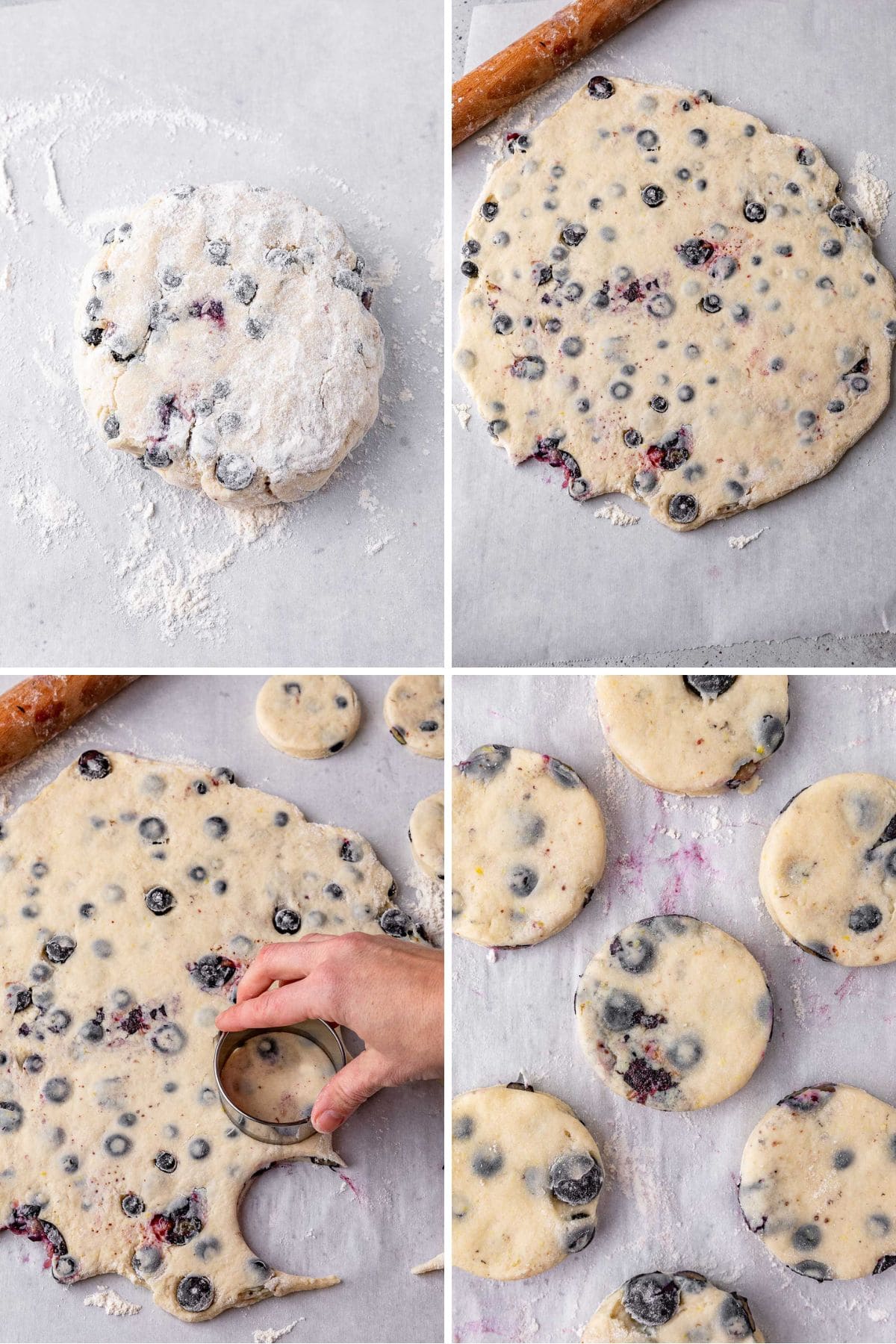 How to Make Lemon Blueberry Biscuits
Prep time: Preheat the oven and line a baking sheet with parchment paper.
Biscuit Dough: Add the flour, sugar, baking powder, lemon zest, and salt to a food processor. Pulse to combine the flour mixture, then add cold butter pieces. Pulse again until the mixture resembles coarse crumbs. Continue to pulse as you slowly stream in the milk until the dough is just moistened. Transfer mixture to a large bowl, and fold in the blueberries.
Form: Sprinkle a little flour over a clean counter or another flat surface and place the dough on the floured surface. Flour your rolling pin, then gently roll out the dough until it's about a ½ inch thick. Use a biscuit cutter or an inverted glass cup rim to cut out biscuits.
Bake: Place the biscuit dough circles onto the prepared baking sheet about an inch apart. Bake for about 15-18 minutes, until the biscuit tops are light golden brown. Transfer to a wire rack to cool.
Glaze: Let the biscuits cool for 5 minutes while you prep the lemon glaze. Combine the confectioners sugar, water, and fresh lemon juice in a small mixing bowl, stirring until smooth. Drizzle lemon glaze over baked biscuits and serve warm.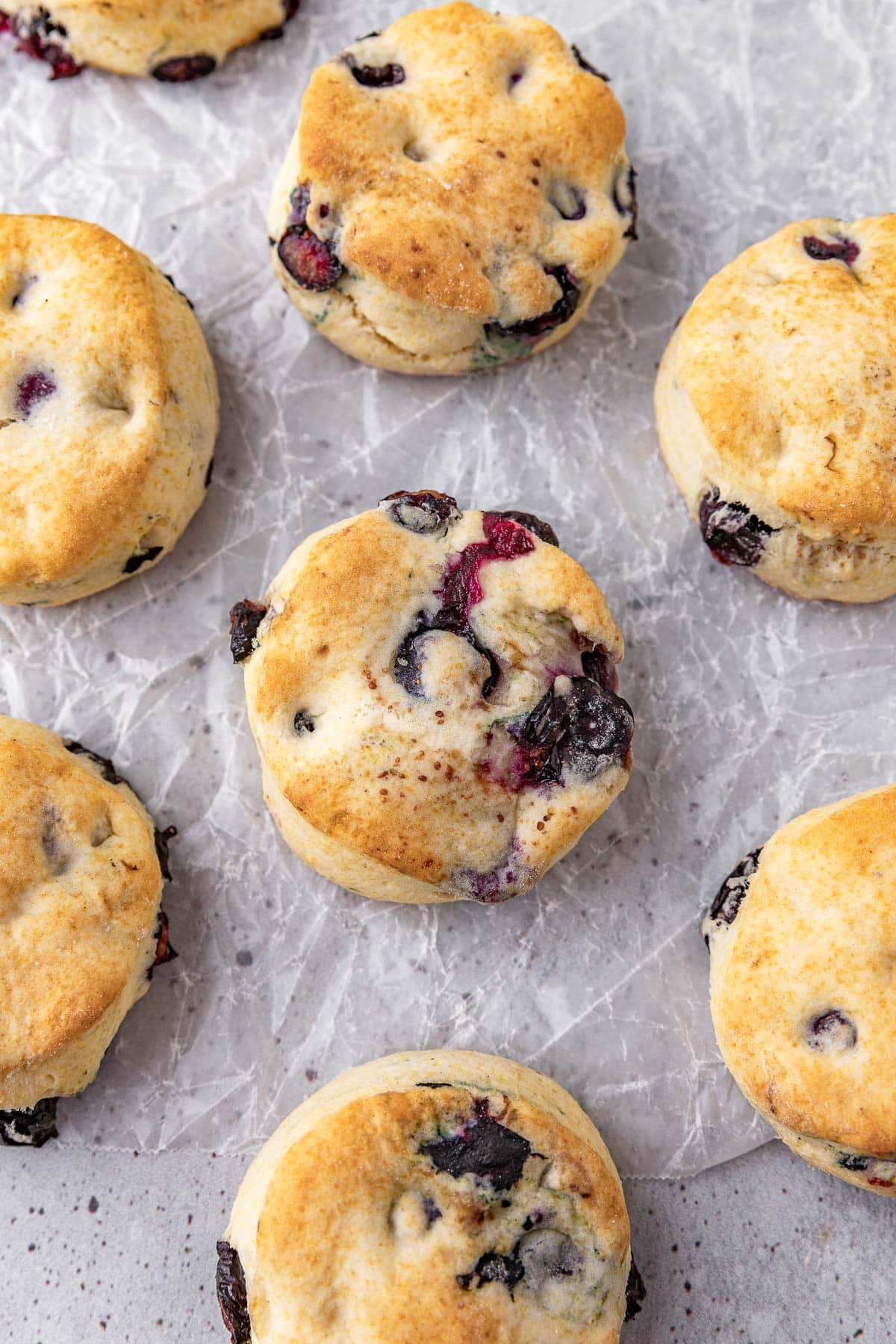 Classic Blueberry Breakfast Recipes
FAQs for Lemon Blueberry Biscuits
Can I use frozen blueberries?
Yes, just keep in mind that as they thaw in the oven, the blueberries will release more juice and will likely turn the biscuits a little blue-ish. To reduce the blueberry syrup that seeps into the batter, toss the frozen blueberries in flour before adding them to the biscuit batter.
Should biscuit dough be kneaded?
No, you don't really want to knead biscuit dough for two reasons. First, over-mixing the dough will make them tough and dense. Secondly, you want the butter to be as cold as possible for a fluffy, flaky texture and handling the dough with your hands will melt the butter. It is best to use a food processor or pastry cutter to combine the dough.
Why aren't my biscuits fluffy?
The number one culprit to dense biscuits is that your butter was too warm. You want the cold butter to melt while the biscuits bake because it releases steam into the dough, helping them rise for the lightest, fluffiest biscuits.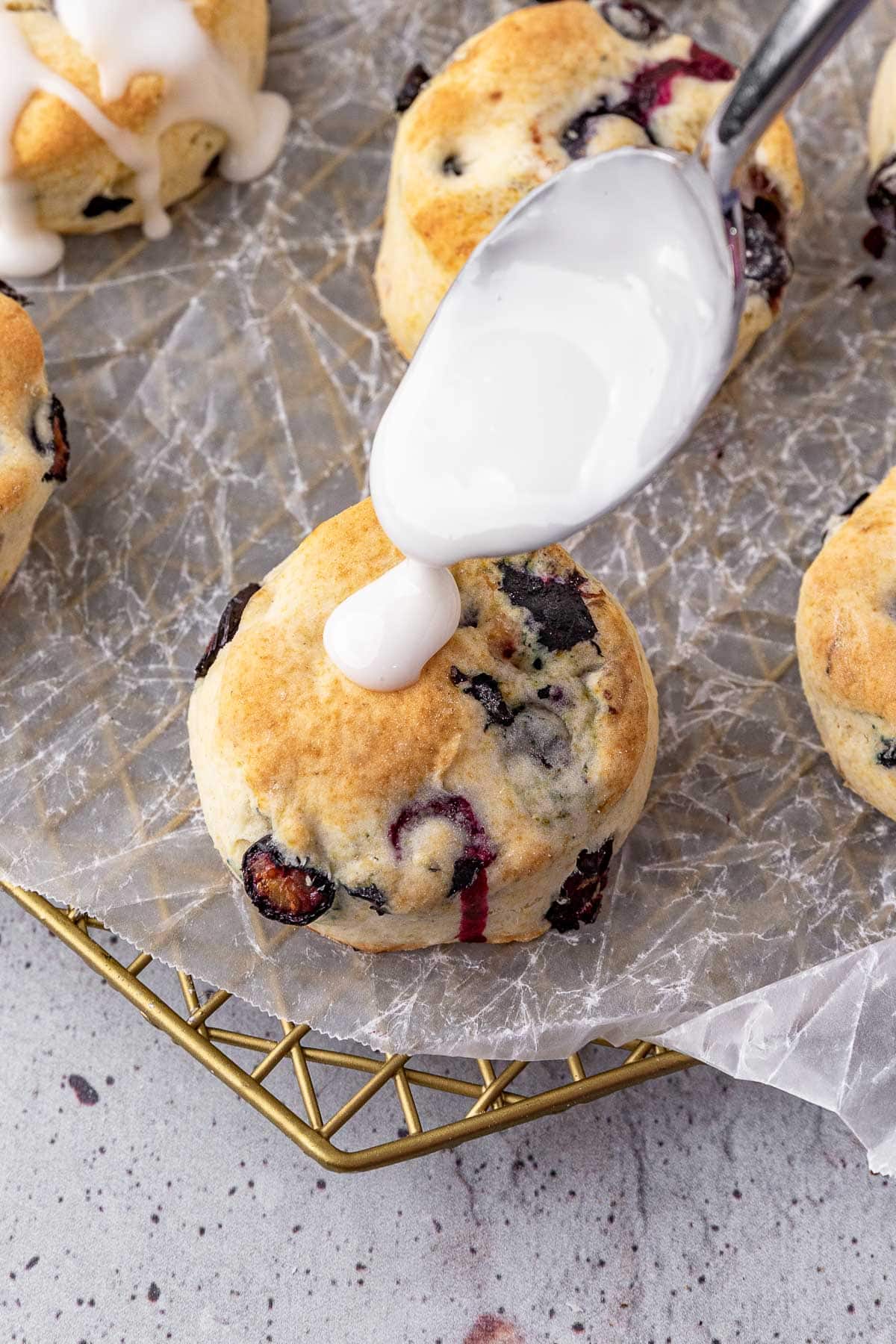 Create a free account to

Save Recipes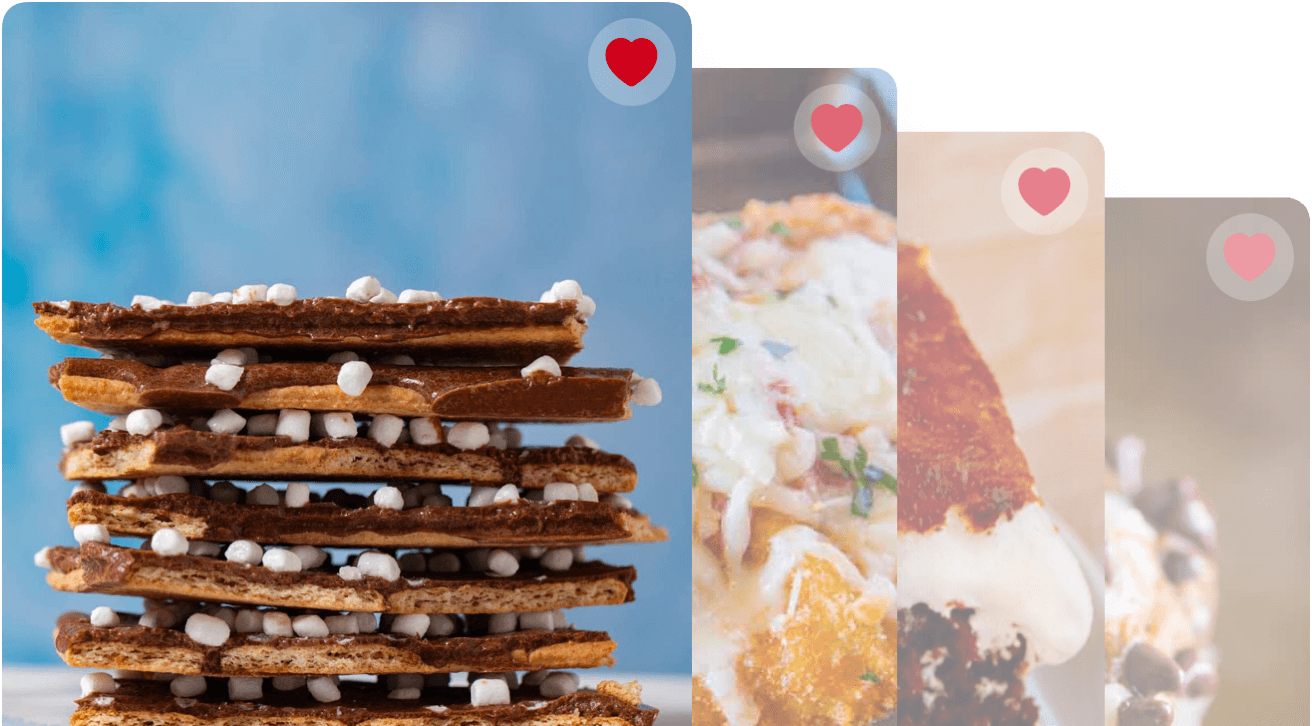 Key Ingredients
Butter: To give homemade biscuits the correct texture, it's essential to use cold butter. Add the unsalted butter to the dough in chopped pieces, then cut it into the mixture. That way, the butter will slowly melt while the biscuits bake. The steam it releases creates the air pockets to give biscuits their flaky consistency.
Lemon Zest: These tasty sweet biscuits are topped with a lemony glaze but the dough also has a bit of fresh lemon zest for a subtly citrus flavor. The zest has a grassy lemon taste that isn't as sour as the juice so you get the flavor without overpowering the berries or buttery biscuit.
Blueberries: Plump, juicy blueberries are plentiful for lots of sweet fruity bursts throughout the warm, buttery biscuit. It's always better to use ripe blueberries when possible because they give the baked goods a slightly fresher and richer flavor. However, if blueberries are out of season or if you just have frozen blueberries on hand, it's perfectly fine to use them instead.
Lemon glaze: For a quick and easy sweet lemon topping, all you need is powdered sugar, water, and lemon juice. Use this same simple recipe for all your berry filled baked goods like Blueberry Scones and Lemon Blueberry Bread.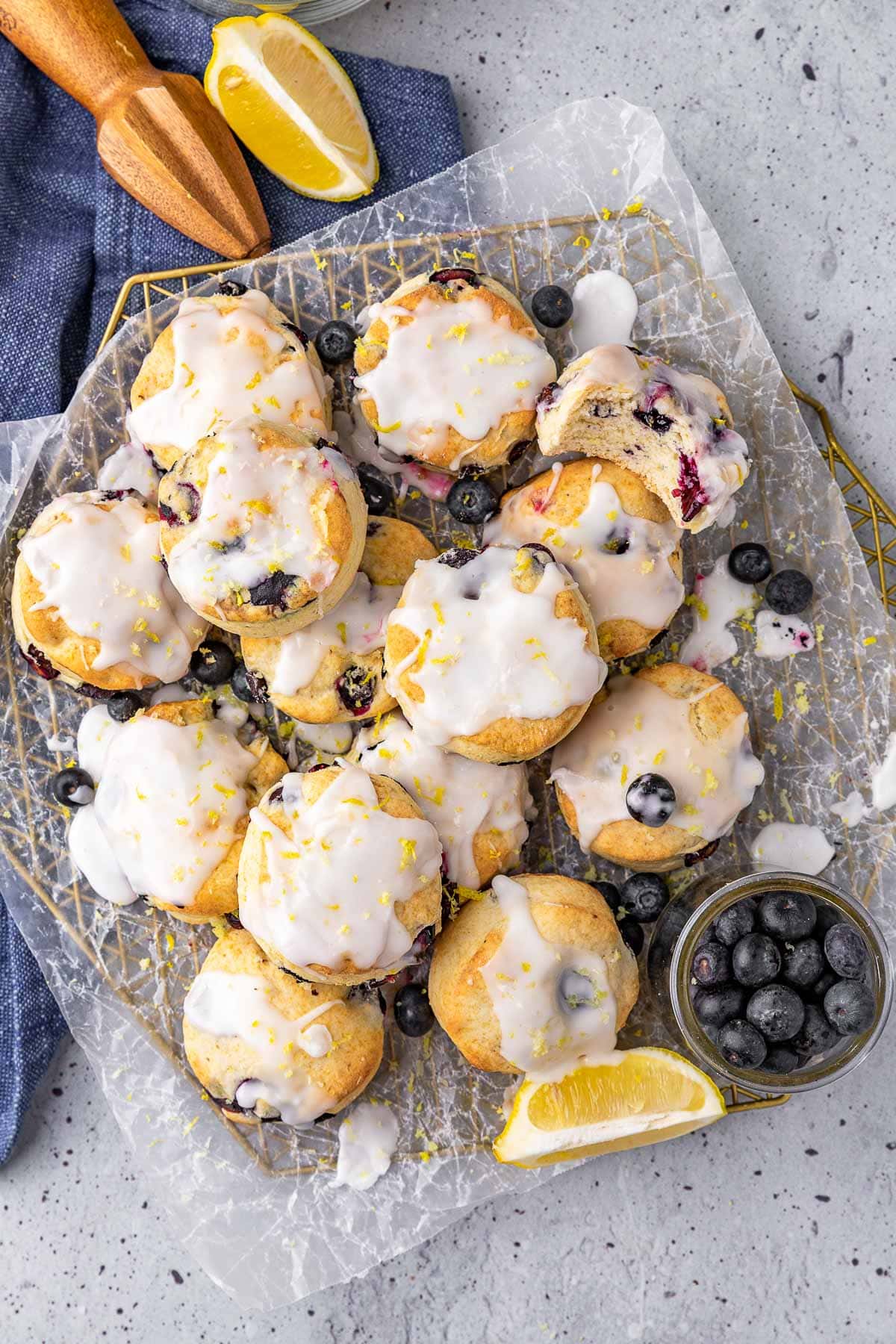 Can Lemon Blueberry Biscuits be made ahead of time?
Yes you can definitely make these Lemon Blueberry Biscuits ahead of time. Simply prepare the biscuit dough as usual and either cover the bowl to shape later, or shape biscuits and refrigerate on a covered baking sheet. The next day, roll out the biscuits, or pop the biscuits on the baking tray in the oven, and bake as usual. You can also freeze baked biscuits for up to 3 months, then thaw and warm up in the oven.
Variations
Milk: Instead of the regular milk, you can swap in buttermilk or use half and half for richer biscuits. You can also use non-dairy milk but they may not be as flaky or fluffy. The same goes if you use non-dairy butter substitutes.
Sugar: Instead of granulated white sugar, you can swap in brown sugar for another layer of warm flavor. You could also skip the glaze and give them a sugar topping. Brush the shaped biscuit dough with milk and sprinkle with coarse sugar then bake as usual.
Cranberry Orange: During the wintertime, make a classic holiday flavor by using fresh cranberries and orange instead of the lemon and blueberries. You can also skip the fruit and make orange dark chocolate with chocolate chips.
Mix-ins: You can swap half the blueberries for other mix-ins like white chocolate chips, chopped nuts, or other berries and fruit pieces. Try nuts like walnuts or pecans, or fruit like shredded coconuts, strawberries, or pear pieces.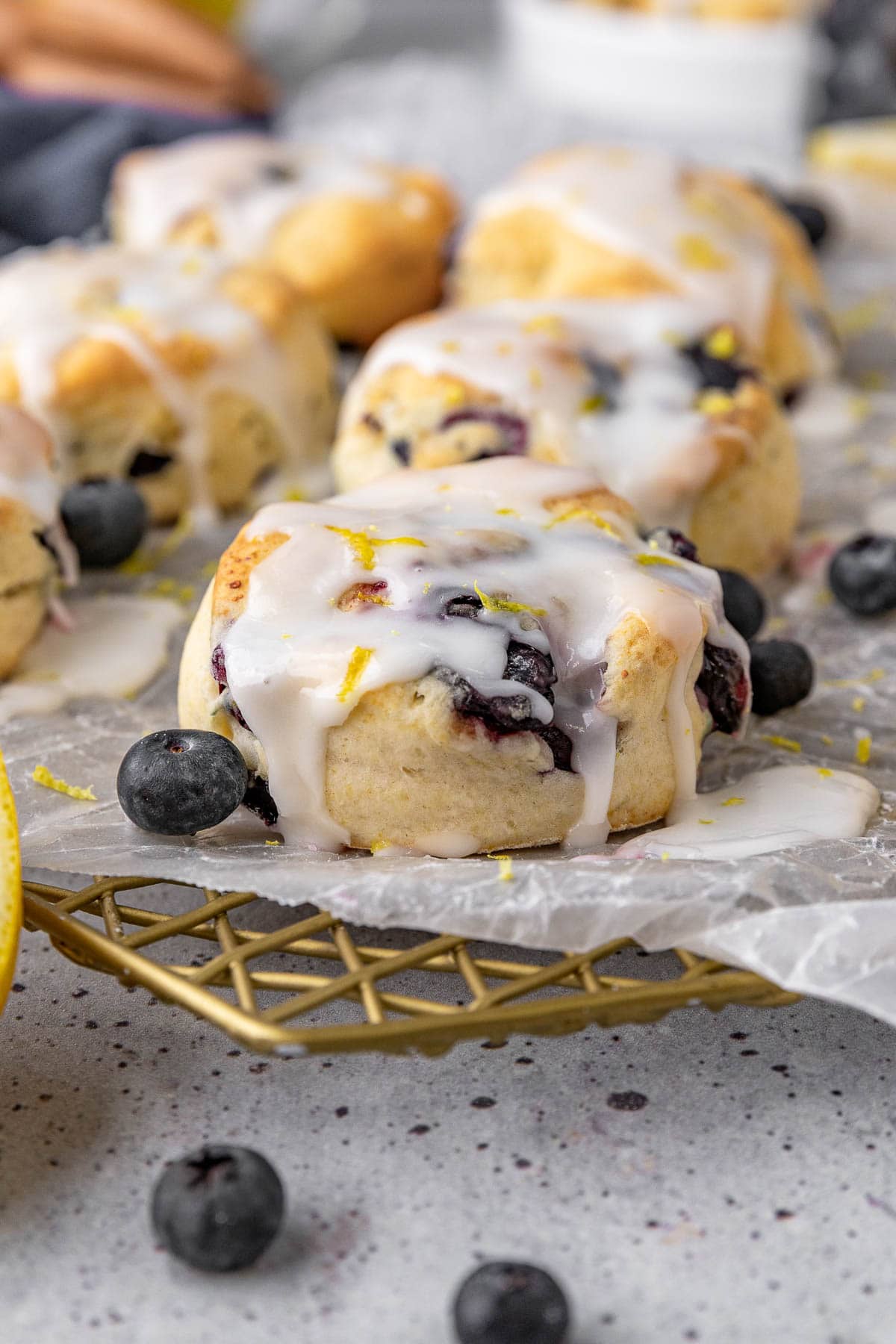 Delicious Lemon Blueberry Desserts!
How to Store
Serve: You can keep these delicious Lemon Blueberry Biscuits out at room temperature for up to 2 days. Just make sure to cover them in plastic wrap or foil to stop the biscuits from drying out.
Store: You can also transfer Lemon Blueberry Biscuits to an airtight container to store in the fridge for up to a week.
Freeze: After you've let the biscuits cool completely, wrap them individually in foil or plastic wrap. Store them in a freezer safe container in the freezer for 3 months. Thaw at room temperature or in the fridge, then warm in the oven to serve.


Ingredients
2

cups

Flour

1/3

cup

sugar

4

teaspoons

baking powder

2

teaspoons

lemon zest

1

teaspoon

salt

1/3

cup

unsalted butter

, chopped and frozen

1

cup

whole milk

6

ounces

fresh blueberries
Lemon Glaze
1 1/2

cups

powdered sugar

1

tablespoon

water

1

tablespoon

lemon juice
Instructions
Preheat the oven to 400 degrees.

In a large food processor add the flour, sugar, baking powder, lemon zest and salt, and pulse to combine.

Add the butter and pulse until it resembles coarse crumbs, about 10 times.

Add the milk in a slow stream and pulse until just moistened.

Move the mixture to a mixing bowl, add in blueberries and fold to combine.

On a large floured surface add the mixture.

Flour your rolling pin well and gently roll the mixture out 1/2" thick.

Cut with 2 ½ or 3 inch biscuit cutters.

Bake for

15-18 minutes

or until light golden brown.

Let biscuits cool

5 minutes

.

Mix powdered sugar, water and lemon juice.

Drizzle the mixture over the biscuits.
Nutrition
Calories:
223
kcal
|
Carbohydrates:
40
g
|
Protein:
3
g
|
Fat:
6
g
|
Saturated Fat:
4
g
|
Polyunsaturated Fat:
1
g
|
Monounsaturated Fat:
2
g
|
Trans Fat:
1
g
|
Cholesterol:
16
mg
|
Sodium:
205
mg
|
Potassium:
198
mg
|
Fiber:
1
g
|
Sugar:
23
g
|
Vitamin A:
198
IU
|
Vitamin C:
2
mg
|
Calcium:
87
mg
|
Iron:
1
mg