Palmiers are flaky, buttery French cookies and are much easier to make than you think! Crispy golden brown puff pastry layer cookies caramelized with sugar.
Like Coconut Macaroons, this is an easy, delicious Cookie Recipe made in about 30 minutes. You only need 3 ingredients to make these beautiful French puff pastry cookies.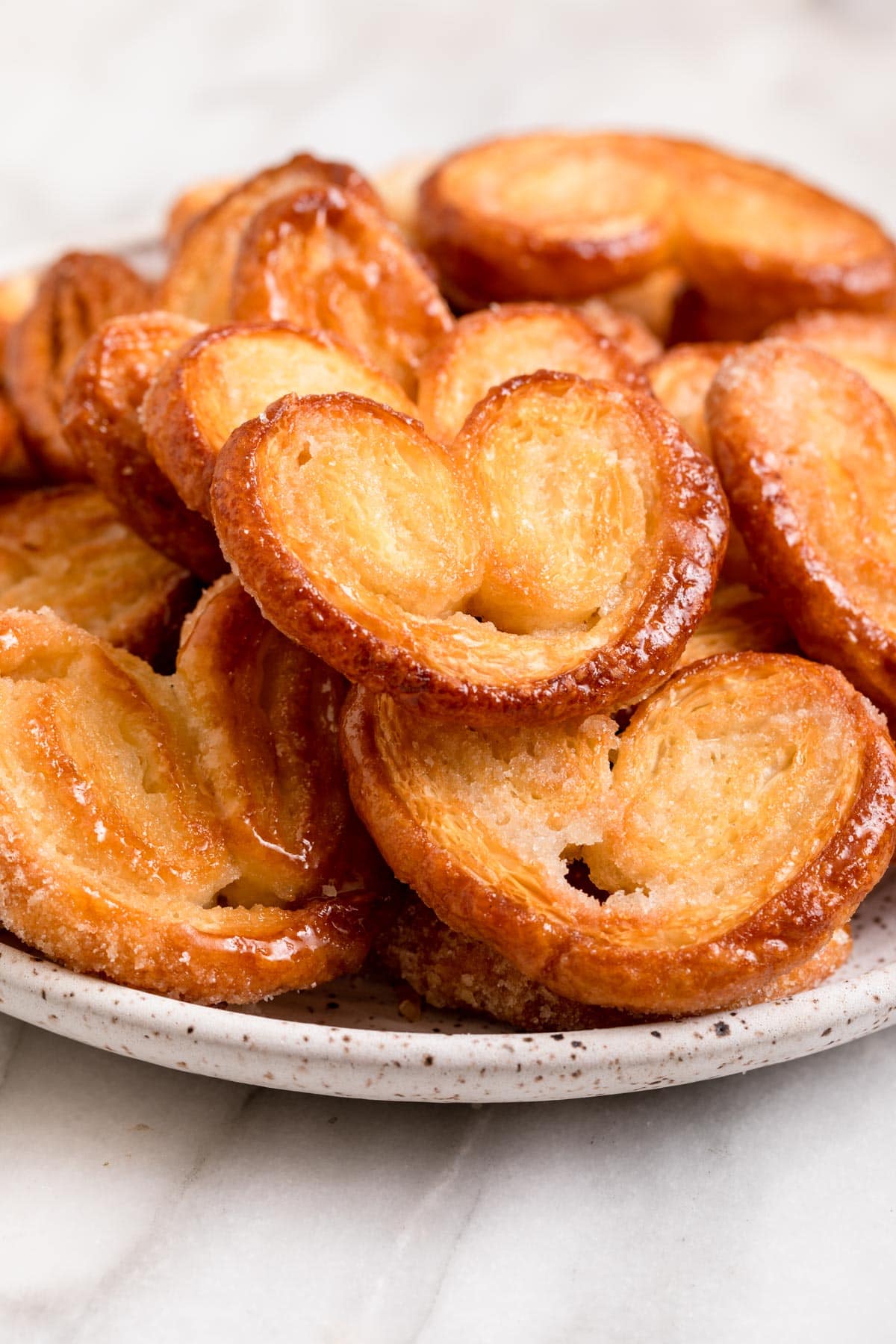 Palmiers are a delicate, crispy cookie that look a lot harder than they actually are. This fancy French cookie recipe is made easier by using frozen puff pastry. They take about 30 minutes to make but look like they took all day. Dress up any holiday cookie platter with this easy Palmiers recipe.
Palmiers are all about technique and patience. Each step is important for perfect Palmiers so you want to take your time working with the puff pastry and following the instructions in order. This easy Palmiers recipe walks you through each step for crispy, flaky cookies every time.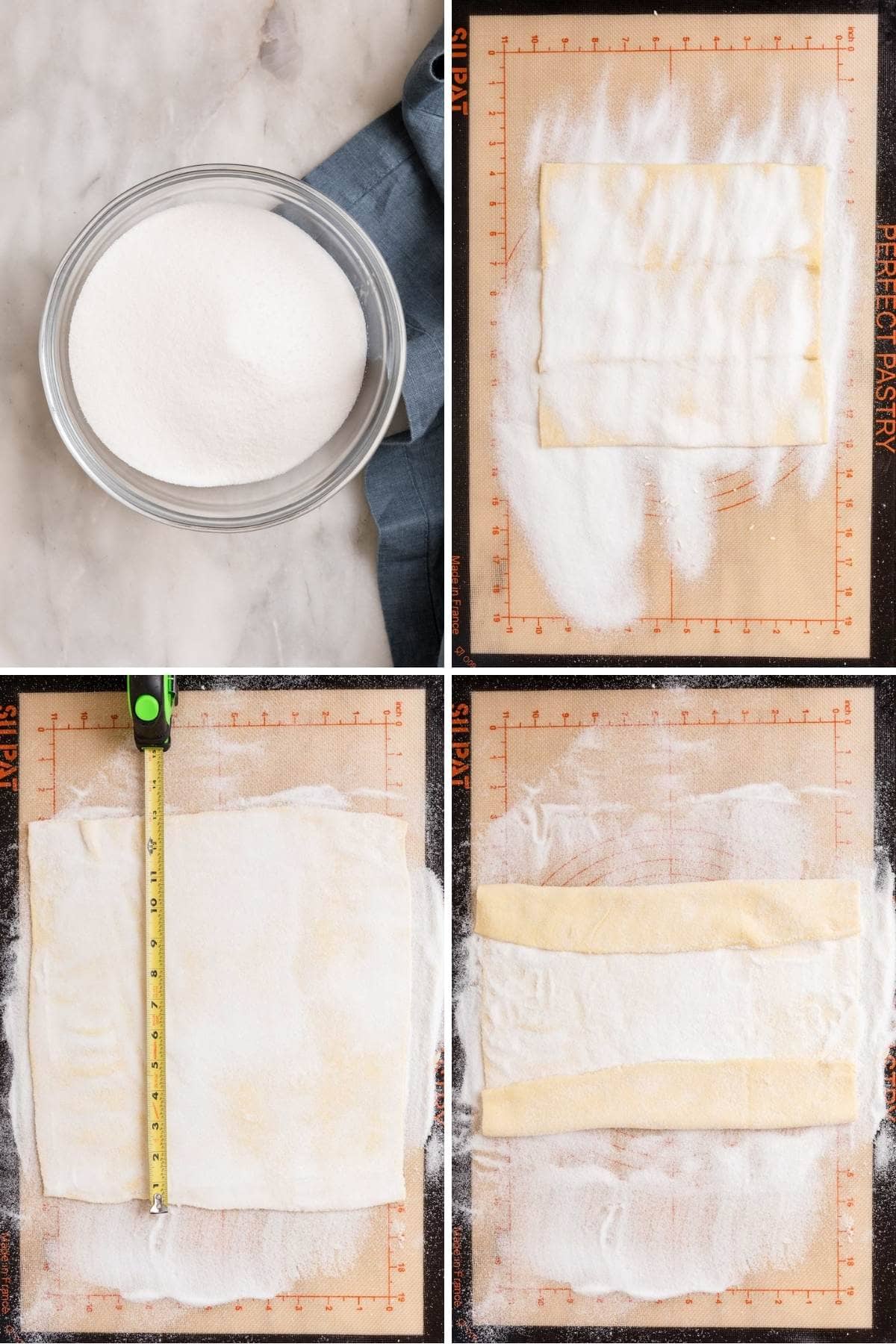 The baking part of Palmiers takes only a few minutes on each side, and yes you do need to flip them! Flipping them helps them bake all the way through so they are crispy and flaky. Plus, you get that beautiful caramelized golden brown on both sides of your Palmiers.
Don't skimp on the sugar, even if 2 cups of sugar seems like a lot! It's important you are not sprinkling like you would with cinnamon rolls. Covering the puff pastry completely with a good coat of sugar mixture fills every buttery pastry bite with sweetness and ensures they are evenly caramelized.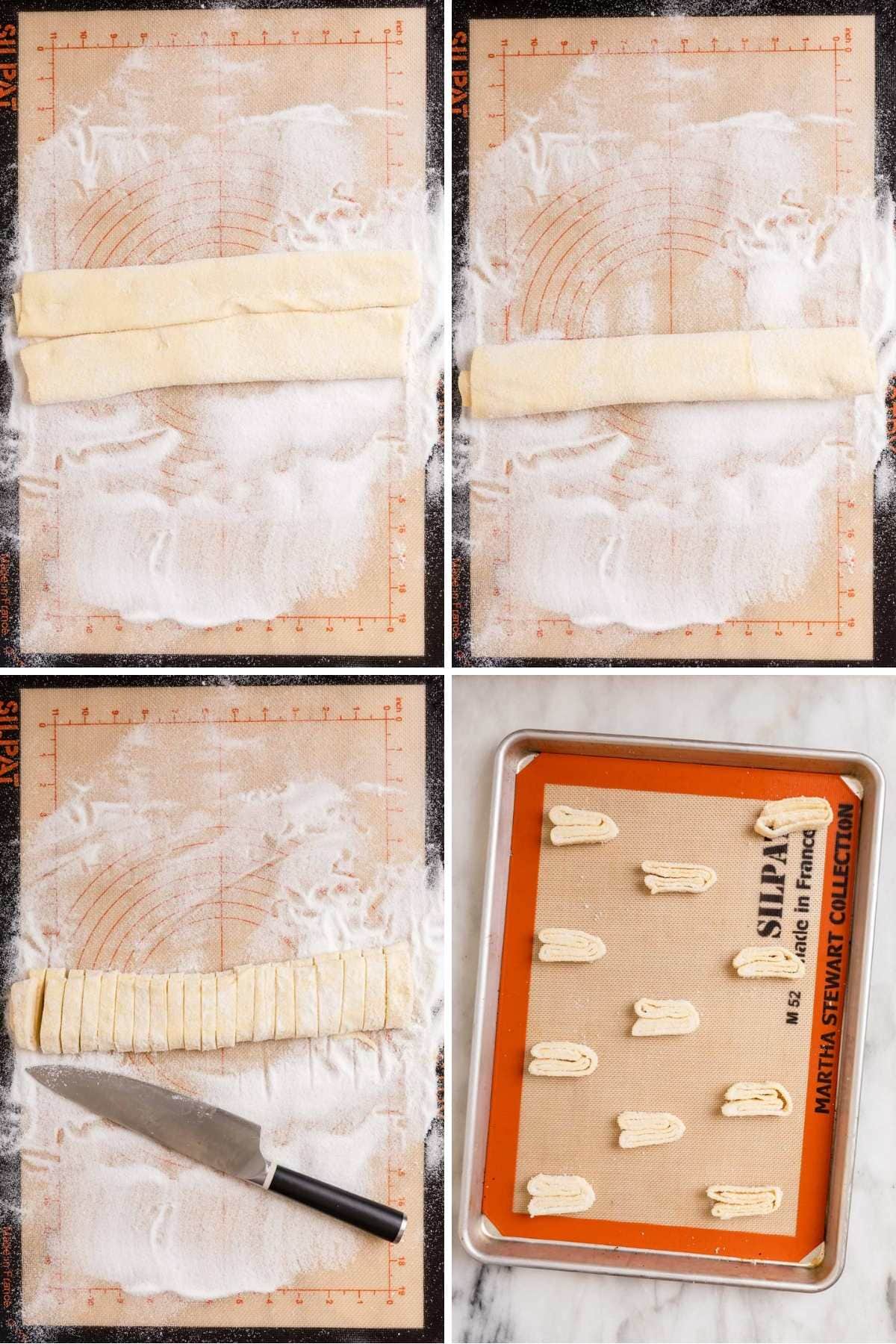 How to Make Palmiers
Prep: Spread 1 cup of combined sugar and kosher salt mixture onto your work surface and unfold one sheet of puff pastry on top of it. Next, spread ½ cup of the sugar mixture on top.
Roll: Roll the dough until 13- by 13-inches. First fold the sides of the square halfway toward the center. Next, fold them again so the two folds meet in the middle. Lastly, fold one half over the other half, and you will now have 6 layers.
Bake: Slice the dough into 3/8-inch slices and place them on parchment paper lined baking sheets. Bake for 6 minutes until brown, turn them and bake another 3 to 5 minutes so they're browned on both sides.
More Holiday Cookie Classics
Frequently Asked Questions About Palmiers
Why are Palmiers made with puff pastry?
Puff pastry is made with alternating layers of dough and butter. As those layers bake they puff up to create amazing flakiness. That texture is what makes Palmiers truly unique. You also get to start your cookies with a dough that is ready to go and what could be easier than that?
Why is sugar placed all over the dough when making Palmiers?
Puff pastry contains lots of butter. As the cookies heat up in the oven, the sugars in the layers made from rolling the dough will bubble and caramelize to create a sweet crispy sugar layer all over each cookie.
Are Palmiers known by other names?
You might hear or read about Palmiers called by other names. Elephant Ears, Shoe-Soles, Palm Trees, or Palm Leaves are some other names, but they all refer to these Palmier cookies.
Can Palmiers Be Made Ahead?
Make Palmiers ahead of time and freeze until you are ready to bake them. Prepare the Palmiers recipe as usual and freeze raw cookies on a baking sheet lined with parchment paper for an hour. Transfer to a freezer bag or container. When you're ready to enjoy some hot, crispy cookies just bake from frozen at 400 degrees for 15-18 minutes. Be sure to flip halfway through, until golden brown on each side.
Serving Ideas
Holiday Dessert: Serve your Palmiers as a tasty dessert on any special occasion like Easter or Christmas.
Cookie Parties and Platters: Add these Palmiers to a holiday cookie platter for gifts or to bring to a party. Palmiers would also be great for a cookie exchange.
Dunkers: You can also enjoy these puff pastry cookies with tea or coffee for a light, buttery breakfast treat. Go ahead and dunk them, you know you want to!
Toppings: For an extra-special dessert, top them with Vanilla Ice Cream and Hot Fudge for a crispy, flaky sundae!
Chocolate Dipped: To make Palmiers really decadent, try dipping them in melted chocolate. Dip cooled cookies in dark chocolate, milk chocolate, or white chocolate and lay them on wax paper to dry. The chocolate would also be a nice holder to sprinkle on nuts, dried fruit, or decorative sprinkles.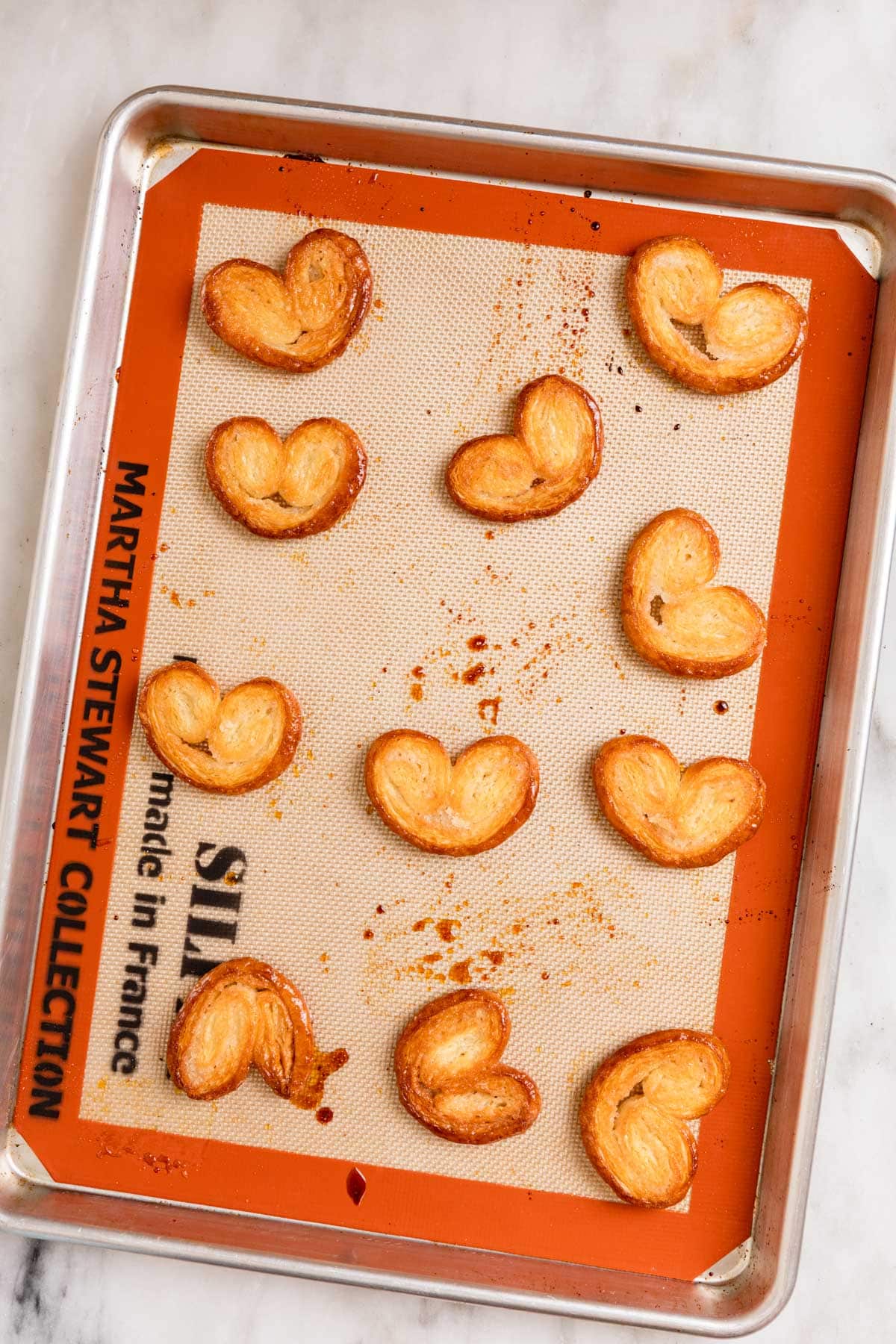 Create a free account to Save Recipes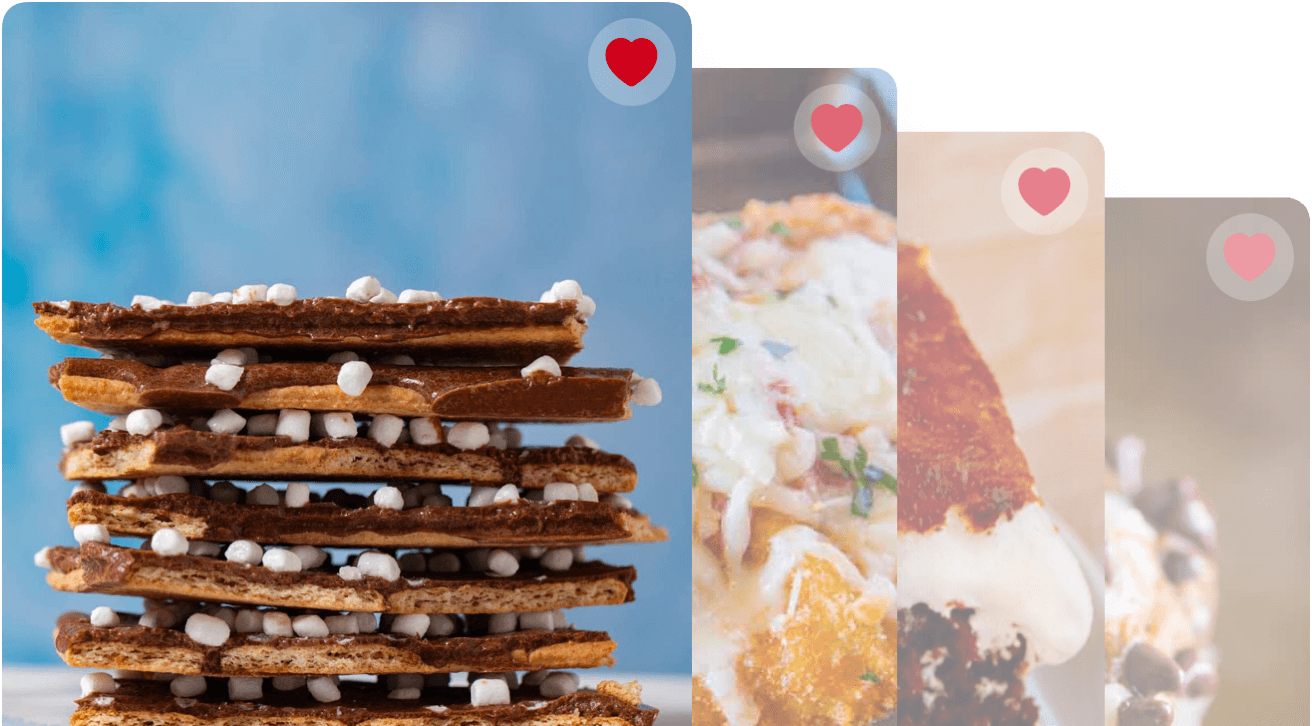 Variations on Palmiers
Cinnamon: Add a few tablespoons of ground cinnamon to the sugar mixture. Spread the cinnamon sugar as usual to make Cinnamon Palmiers.
Chocolate: Use a chocolate hazelnut spread to easily make Chocolate Palmiers. Instead of covering the puff pastry completely, leave a 1/4-inch border.
Lemon: Make tasty Lemon Palmiers by spreading Lemon Curd on your puff pastry sheets. Use a ½ cup sugar on your work surface, but not on the curd, to get that caramelized look.
Orange: Combine some orange zest with the sugar mixture to create orange Palmiers.
Savory: You can use savory fillings like cooked crispy bacon with an herbed cheese spread or Pesto to make Palmiers a buttery, flaky appetizer.
More Delicious Cookie Classics
How to Store Palmiers
Serve: Store Palmiers in an airtight container at room temperature for 3-4 days. Line the container with a paper towel to absorb moisture.
Store: You can keep Palmiers in the refrigerator but they are best at room temperature so the puff pastry stays flaky and crispy.
Freeze: Freeze these French cookies for up to 3 months in an airtight container. Heat the oven at 450 degrees for a few minutes until crispy again.


Ingredients
2

cups

sugar

1/8

teaspoon

kosher salt

2

sheets

puff pastry

, defrosted
Instructions
Preheat the oven to 450 degrees F.

Combine the sugar and kosher salt. Pour 1 cup of the sugar/salt mixture on a flat work surface.

Unfold one sheet of puff pastry onto the sugar and pour ½ cup of the sugar mixture on top, spreading it evenly on the puff pastry. This is not about sprinkling, it's about an even covering of sugar.

With a rolling pin, roll the dough until it's 13 by 13-inches square and the sugar is pressed into the puff pastry on top and bottom.

Fold the sides of the square towards the center so they go halfway to the middle.

Fold them again so the two folds meet exactly at the middle of the dough.

Then fold 1 half over the other half as though closing a book.

You will have 6 layers. Slice the dough into 3/8-inch slices and place the slices, cut side up, on baking sheets lined with parchment paper.

Repeat with the second sheet of pastry as above. Slice and arrange on baking sheets lined with parchment paper.

Bake the cookies for

6 minutes

until caramelized and brown on the bottom, then turn with a spatula and bake another

3 to 5 minutes

until caramelized on the other side.

Transfer to a baking rack to cool.
Nutrition
Calories:
101
kcal
|
Carbohydrates:
15
g
|
Protein:
1
g
|
Fat:
4
g
|
Saturated Fat:
1
g
|
Polyunsaturated Fat:
1
g
|
Monounsaturated Fat:
3
g
|
Sodium:
36
mg
|
Potassium:
7
mg
|
Fiber:
1
g
|
Sugar:
10
g
|
Vitamin A:
1
IU
|
Calcium:
1
mg
|
Iron:
1
mg