Popcorn Balls are sweet, crunchy treats perfect for holidays! Kid-friendly snacks with salted popcorn, butter, corn syrup, vanilla, and sugar.
Childhood favorites like Popcorn Balls and Rice Krispies Treats are quick and easy Desserts that you can enjoy at any age and for any occasion!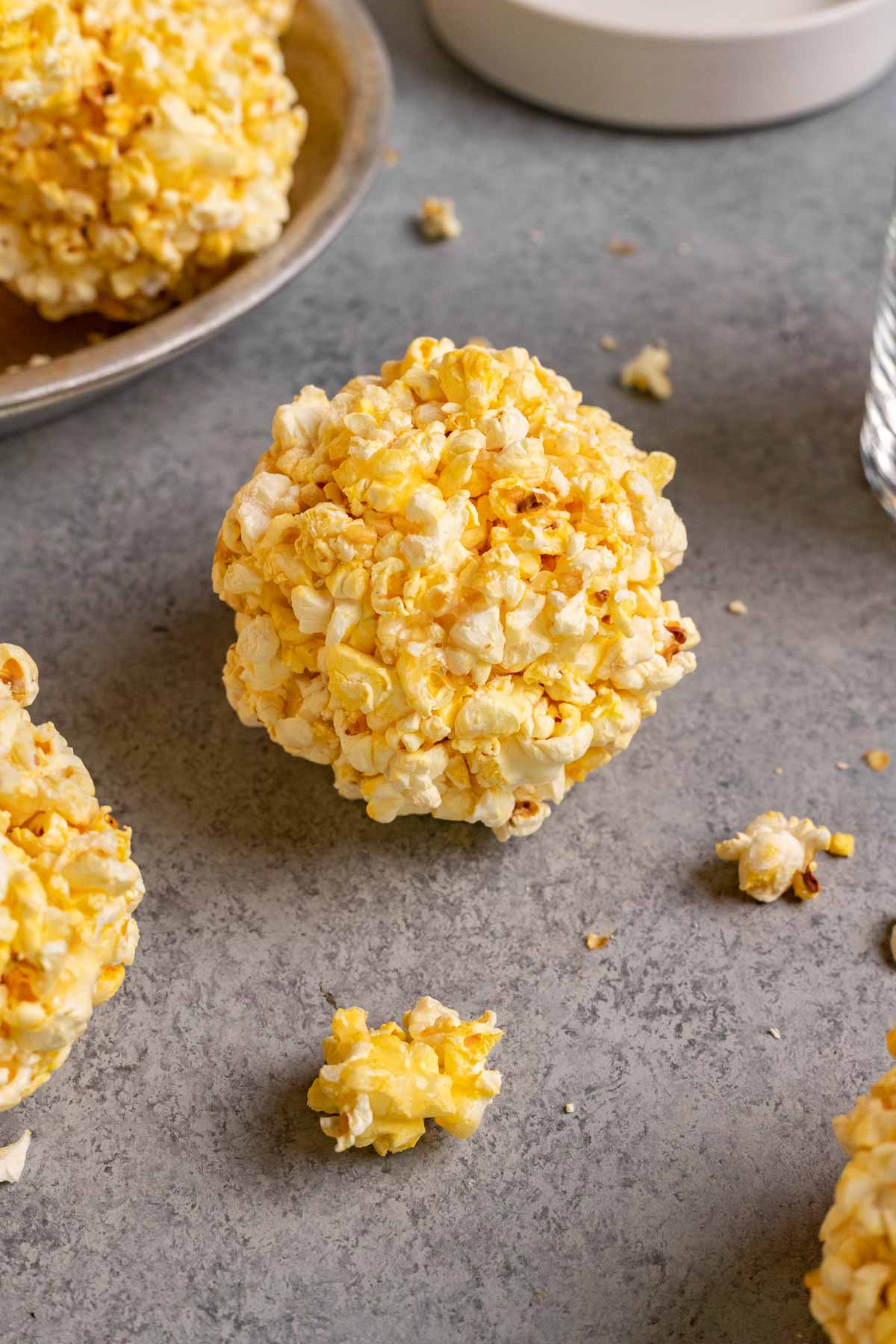 POPCORN BALLS
Whether as a fun treat for the weekend or a festive snack for the holidays, this recipe for Popcorn Balls is winner! These old fashioned Halloween favorites of crunchy popcorn covered with a sweet, buttery candy coating are great on their own or with any mix ins you can think of. Try them with candy, nuts, or even dried fruit – the sky is the limit.
This traditional Popcorn Balls recipe uses corn syrup instead of marshmallows for a sweet and crunchy texture. It's similar to a candy coating instead of the gooey marshmallow texture of a Rice Krispie Treat. The candy coating sticks the popcorn together better, so you get perfect Popcorn Balls that won't fall apart.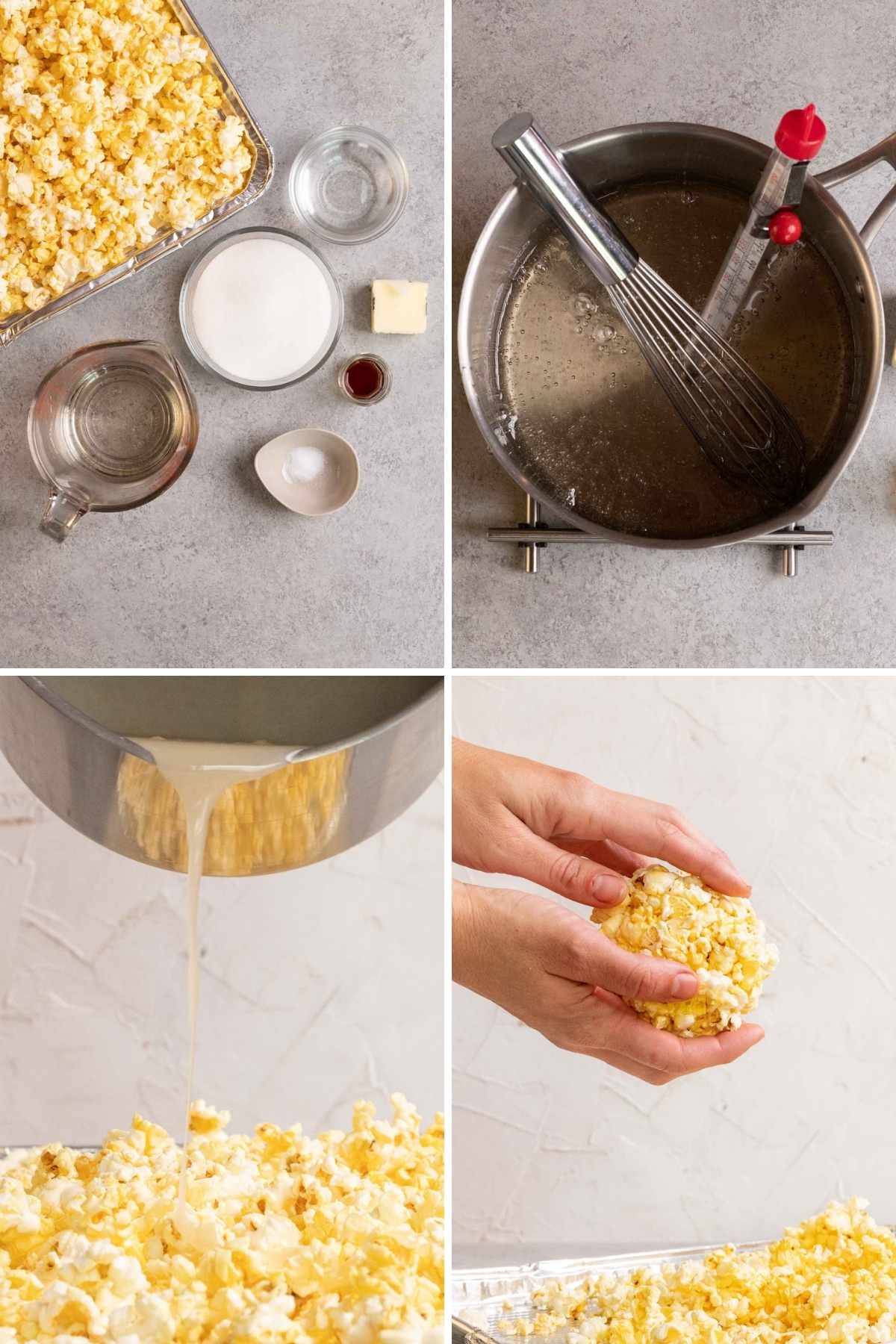 Popcorn Balls are a great party snack because you can make them ahead of time and they are usually allergy friendly. There are no nuts, popcorn is gluten free, and you could even swap out the butter for vegetable shortening to make them vegan! You can make festive Popcorn Balls, wrapped in colored cellophane, during the holidays for gifts. Make them golf ball size instead of softball size for bite sized treats!
The easiest way to make these Popcorn Balls is to simply use 2-3 bags of popcorn from the store, either buttered or plain flavored. If you want to use microwave popcorn or make your own fresh popcorn, we have tips to make sure they come out perfect every time.
MORE KID-FRIENDLY DESSERTS:
Tips for Making Fresh Popcorn
You don't need to pop the popcorn in oil, just heat a large pot (with lid) and once hot reduce to low heat. Add popcorn kernels and cover with lid. Shake pan every few seconds until time between popping is about 3 seconds.
Freeze popcorn kernels before popping your own corn to reduce the number of unpopped kernels. You can freeze kernels for up to 6 months and pop them from frozen.
Make popcorn in batches to keep the kernels from burning or crowding the pan and reducing the heat.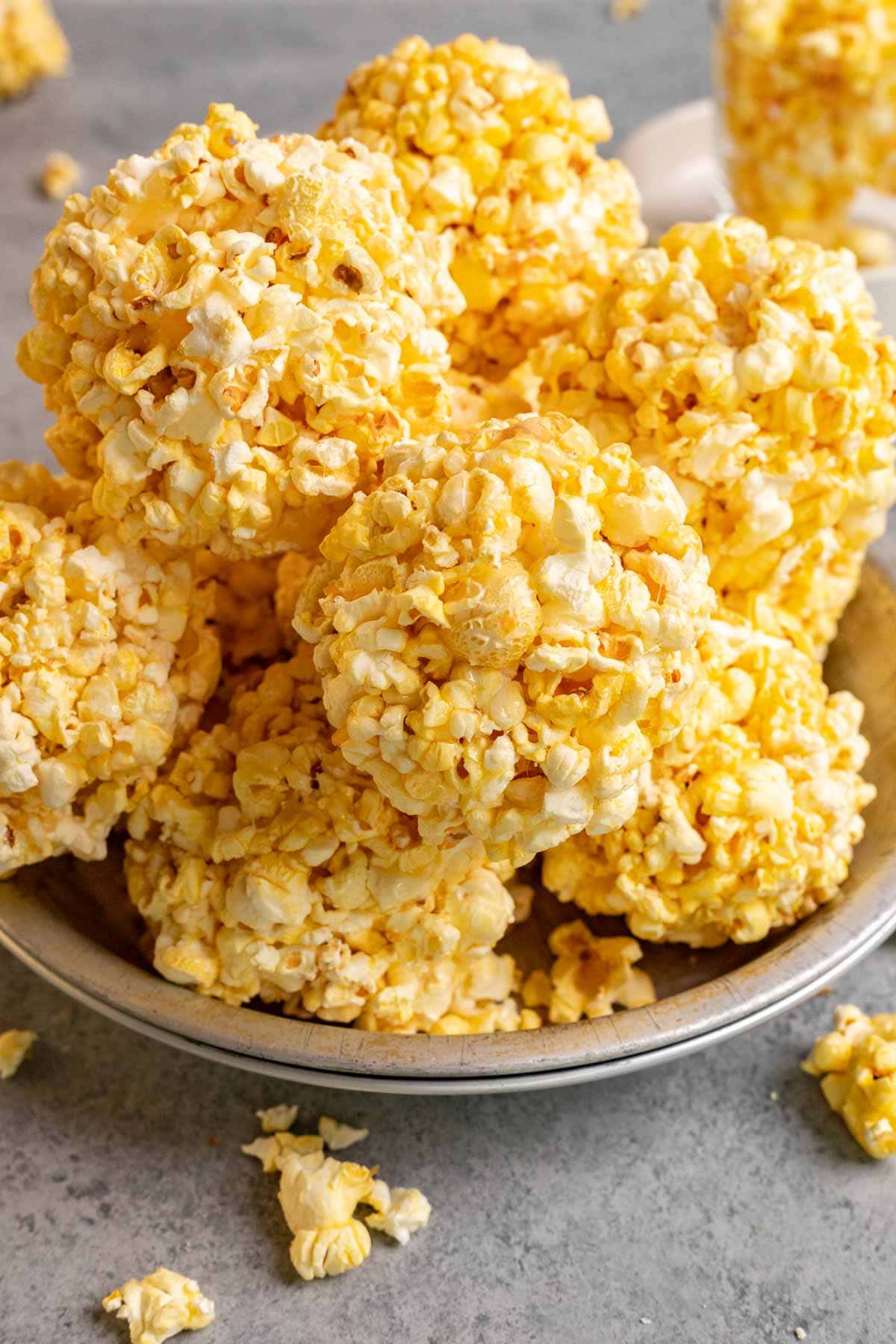 Create a free account to

Save Recipes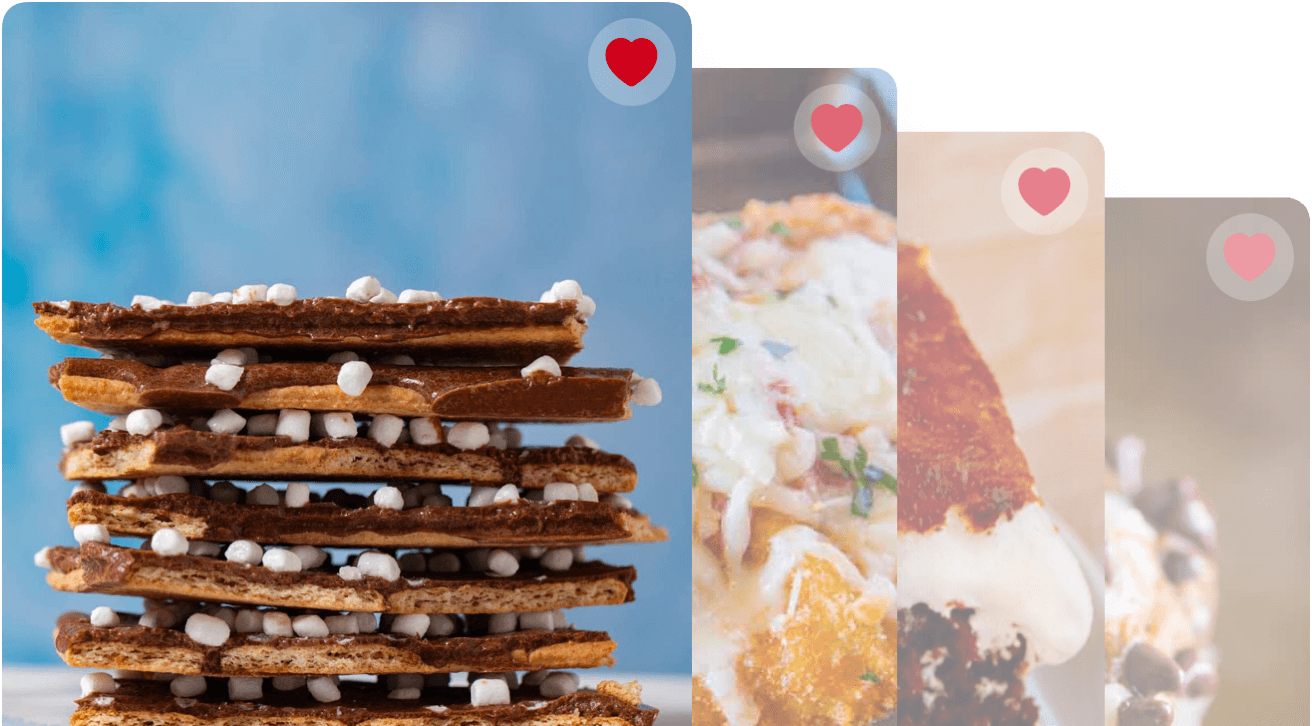 VARIATIONS ON POPCORN BALLS
Halloween Popcorn Balls: Mix in 1 cup candy corn or candy pumpkins to your popcorn mixture for fun Halloween Popcorn Balls. Make them even more fun with a few drops of orange food coloring when you add the vanilla.
Birthday Cake Popcorn Balls: Add in 1 cup white cake mix with the butter and vanilla and stir until smooth. Shape popcorn as usual and then roll in rainbow colored sprinkles or add sprinkles as you toss popcorn.
Chocolate Popcorn Balls: Pour butter-sugar mixture over popcorn and let cool a few minutes before stirring in 1 cup cocoa nibs or mini chocolate chips. Shape into balls.
Caramel: To make Caramel Popcorn Balls, add 1 cup brown sugar to sugar-syrup mixture. Once the hot mixture reaches the right temperature, add a can of sweetened condensed milk (14 ounces), butter, and vanilla extract and cook 1 minute. Pour in pans and shape popcorn into balls as usual.
Marshmallow: Reduce the corn syrup to ½ cup and add 1 cup mini marshmallows to the sugar mixture for extra gooey Popcorn Balls. For no corn syrup, use 10 ounces marshmallows, ½ cup butter, and ¼ cup sugar.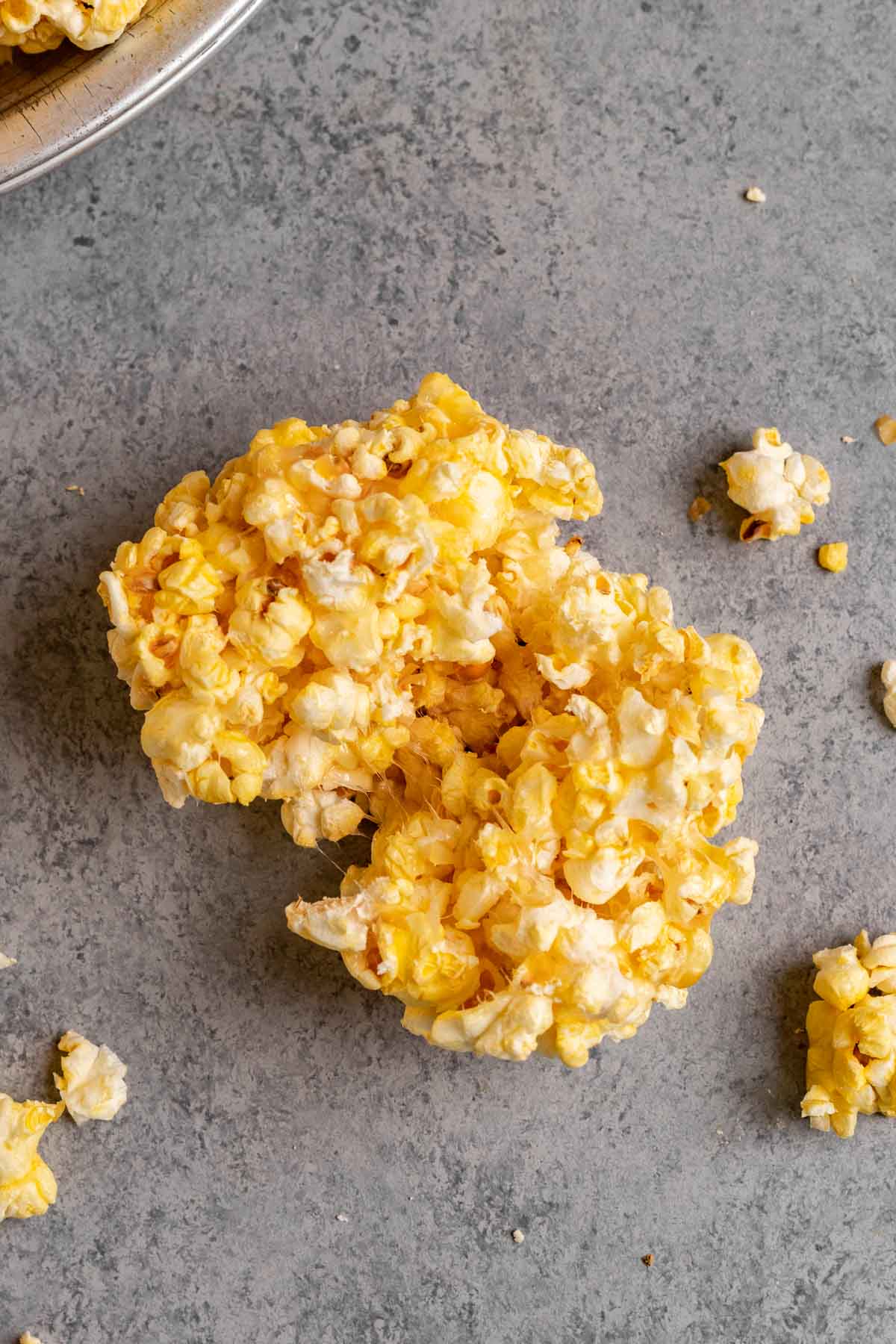 How to Use Microwaved Popcorn
If you want to use microwave popcorn, you'll need 3-4 bags depending on how many cups cooked popcorn each bag yields. Use a regular butter flavor microwave popcorn, versus the extra butter or kettle corn. Leave out the salt in this recipe because microwave popcorn tends to be plenty salty on its own.
MORE TASTY HOLIDAY SNACK RECIPES
HOW TO STORE POPCORN BALLS
Serve: Popcorn Balls can be kept in a sealed container or wrapped in plastic wrap for up to 1 week at room temperature. They are freshest and best eaten within the first 3 days.
Store: You can keep Popcorn Balls in an airtight container in the refrigerator for up to 2 weeks, but they are best the first week. Bring to room temperature to soften Popcorn Balls.
Freeze: Wrap each Popcorn Ball tightly in plastic wrap and store balls in a freezer safe zipper bag. Freeze Popcorn Balls for up to 1 month and thaw at room temperature to serve.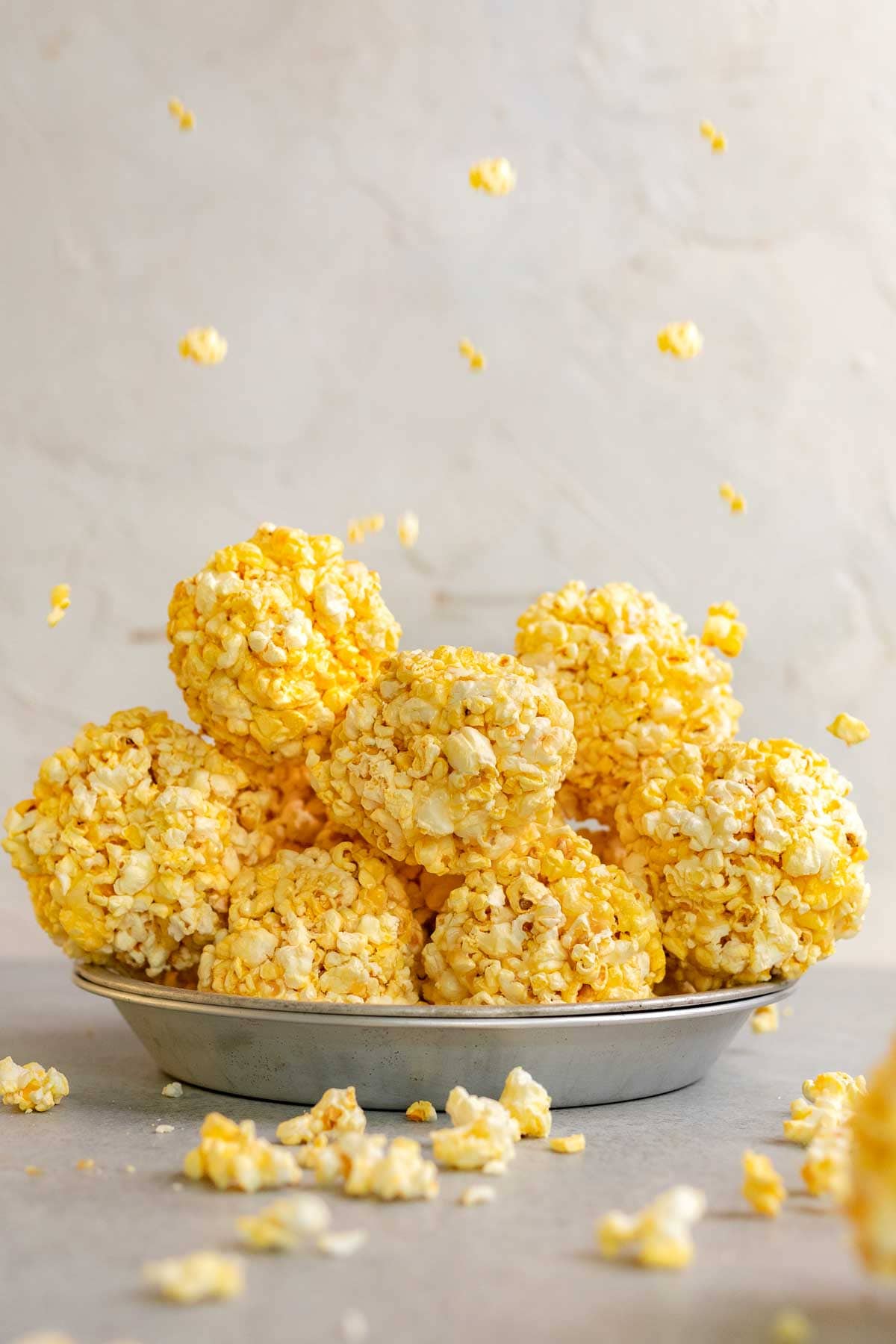 Instructions
Preheat oven to 200 degrees.

Line 2 baking sheets with wax paper.

Add popcorn to 2 disposable foil baking pans and place into oven to stay warm.

To a large saucepan add the sugar, corn syrup, water and salt, stirring well.

Cook to 235 degrees, whisking every few minutes.

Remove from heat and whisk in butter and vanilla extract.

Remove popcorn from oven and spread the sugar mixture over the two pans.

Toss popcorn well to coat.

Let cool for

2-3 minutes

(or until it is not too hot to handle) then form into 3-4 inch thick balls with your hands.

Place onto baking sheets to cool completely before storing in airtight containers.
Notes
Note: Wearing food safe plastic gloves and keeping them wet between each ball will help prevent sticking.
Nutrition
Calories:
270
kcal
|
Carbohydrates:
59
g
|
Protein:
3
g
|
Fat:
4
g
|
Saturated Fat:
2
g
|
Cholesterol:
8
mg
|
Sodium:
69
mg
|
Potassium:
84
mg
|
Fiber:
4
g
|
Sugar:
39
g
|
Vitamin A:
138
IU
|
Calcium:
6
mg
|
Iron:
1
mg