Rustic Peach Galette is a beautiful Summer dessert. The sweet peaches are flavored with vanilla and cinnamon, then baked in a flaky pastry crust with sugar.
This simple, sweet Dessert Recipe is similar to a classic Southern Peach Pie. The main difference is instead of baking it in a pie pan and forming the pie crust, it's all made as a free form pastry and baked on a sheet pan. It's a quick, hassle-free delicious Summer treat.
RUSTIC PEACH GALETTE
Easy Peach Galette is a recipe that just begs to be enjoyed in the warm months. The large peaches are the perfect seasonal fruit, and ripe peaches have so much sweet, tangy flavors that deserve to be enjoyed while at their most delicious. Along with the Georgia peaches, you get a flaky pastry, warm ground cinnamon, and vanilla for the perfect taste all in one easy galette.
It's the perfect, simple dessert, that you can dress up with delicious creamy toppings. There's just nothing better than a nice scoop of Vanilla Ice Cream melting over a flaky pastry crust. Top that off with Whipped Cream for the ultimate peach recipe.
Try making this Galette recipe as an easy Summer dessert for your next cookout, potluck, or family reunion. It's great to have an easy dessert recipe like this one up your sleeve when you have a crowd to feed. In fact, it's such an easy assembly, you could always make a second galette. Simply, double the recipe and lay out two butter pie crusts. You can serve both Rustic Peach Galettes on the same day if you have a lot of hungry mouths, or store one in the freezer for a delicious treat in a few months.
HOW TO MAKE YOUR OWN PASTRY DOUGH
This recipe calls for a store-bought crust, but if you don't want to run out to the grocery store, or just want to try your hand at making your own perfect crust, here's how:
You can make your dough using either a stand mixer, food processor, or just a mixing bowl and a pastry cutter. With any of them, the basic concept is the same.
Put 2 cups all-purpose flour, ½ cup cold unsalted butter (in butter cubes), 1 tablespoon sugar, and 1 teaspoon salt in a food processor, mixing bowl or KitchenAid.
Mix or pulse the dry ingredients with the cold butter, until it has a nice crumbly consistency.
Add 6 tablespoons cold water to the mixture and continue mixing until well combined.
Place the dough on a clean, lightly floured work surface. You want the dough to be in a ball at this point. Press down on the dough while on the floured surface to flatten it out a little.
Then take it from the floured surface and wrap it in plastic wrap.
Put the dough in the fridge for 1 hour.
Take the dough out, put it on your prepared baking tray, and roll it out with a rolling pin. Continue using the rolling pin until you have a nice even layer of pastry dough.
Add the fruit, fold, and bake for a flaky, buttery crust that's perfect for your Rustic Peach Galette.
MORE PEACH RECIPES
TIPS FOR MAKING PEACH GALETTE
Prep time: Make sure you prep the sheet pan with parchment paper and preheat the oven. To prepare the peaches peel them, slice them in half, and remove the pit. Then cut them into small enough pieces for the Easy Galette.
Peach mixture: Add the sliced peaches, sugar, cornstarch, vanilla, and cinnamon to a large bowl. Toss the ingredients together until the peaches are well coated. Strain the peach juices from the mixture.
Pie crust: Roll out the pie crust in an even layer on the baking sheet. Melt some butter in a small bowl in the microwave and brush it over the pastry. Add the fruit mixture to the center, but be sure to leave a 2-inch border to fold. You don't have to worry about being too neat when you fold the outer edge.
Egg wash: Separate the egg white from the egg yolk and whisk the egg white together. Brush that egg wash over the Peach Galette. The egg wash will make the coarse sugar topping stick to the pastry.
Baking time: Pop the Rustic Galette in the preheated oven and bake until golden brown. This should only take 25-30 minutes. When you take the Galette out of the oven you can leave it on the sheet to cool or transfer it to a wire rack.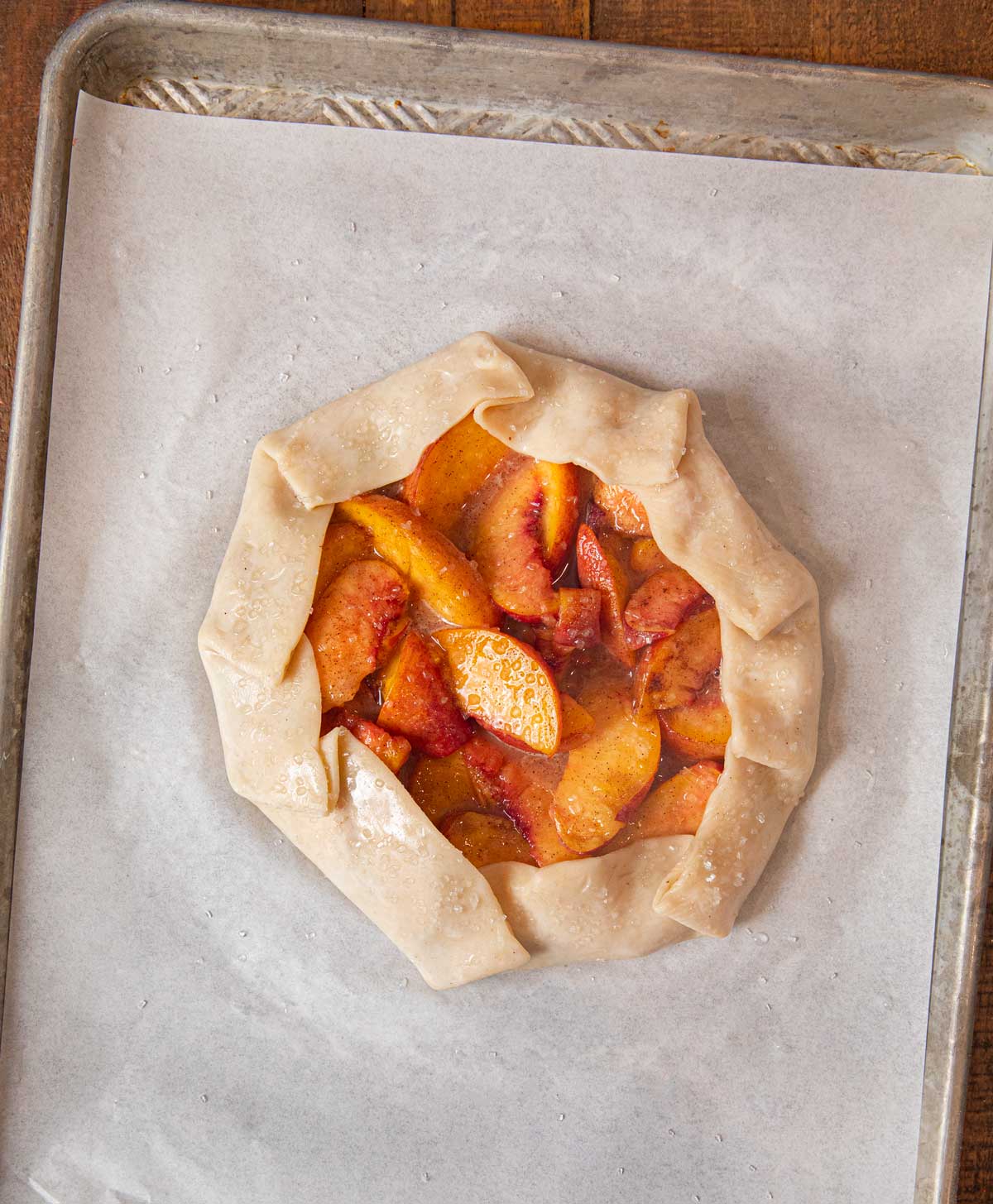 Create a free account to

Save Recipes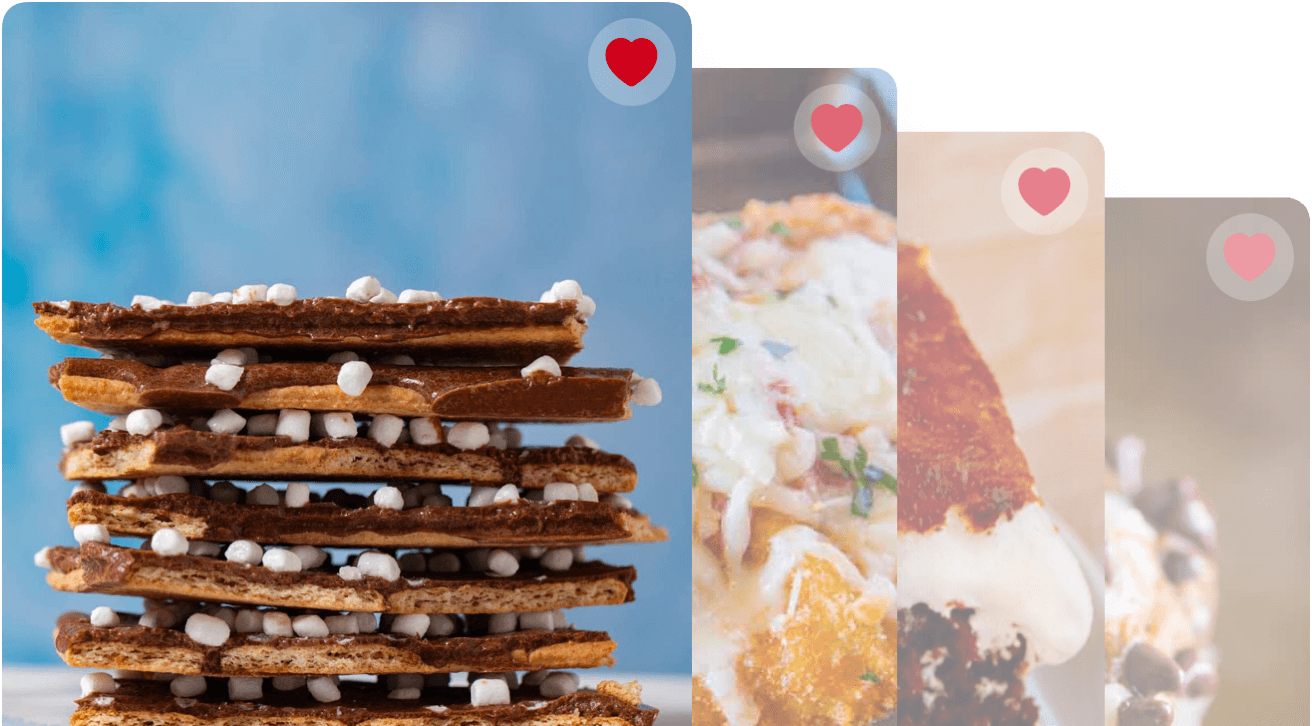 VARIATIONS ON RUSTIC PEACH GALETTE
Flavorings: There are plenty of different flavorings you can mix into your Rustic Peach Galette. For some extra tart taste add in some lemon Juice. About 2 tablespoons of lemon juice should be plenty. You could also mix in some nutmeg, ginger, extra brown sugar, or even fresh mint.
Thickener: If you don't have corn starch, you can always use all-purpose flour for the flour mixture. To keep it gluten-free try almond meal or arrowroot starch.
Sweetener: Instead of granulated sugar, you can use brown sugar, honey, or even confectioners sugar. For a healthy alternative to granulated sugar go with coconut sugar or honey.
Fruit: One of many great things about galettes is you can make the fresh fruit layer with most kinds of fruit. Try making a gorgeous and Rustic Blueberry Galette, or mixing blueberries with the peaches for a Blueberry Peach Galette. Some other options are using apricot preserves, fresh apricots, strawberries, raspberries, and cherries.
MORE DELICIOUS SUMMER DESSERTS
HOW TO STORE RUSTIC PEACH GALETTE
Serve: You can keep your easy Peach Galette at room temperature wrapped in plastic wrap for up to 2 days.
Store: You can also store the Rustic Galette in the fridge for 4-5 days.
Freeze: Or wrap and freeze this sweet dessert for up to 6 months.


Ingredients
4

peaches

, pitted and sliced

3/4

cup

sugar

1/4

cup

cornstarch

1

teaspoon

vanilla extract

1

teaspoon

cinnamon

2

tablespoons

unsalted butter

, melted

1/8

teaspoon

salt

1

refrigerated pie crust

1

large

egg white

, lightly beaten

1

tablespoon

coarse sanding sugar
Instructions
Preheat oven to 425 degrees and line a baking sheet with parchment paper.

Add the peaches, sugar, cornstarch, vanilla, and cinnamon, tossing the mixture well.

Add the pie crust to your baking sheet and brush with melted butter.

Drain all liquid from the peach mixture.

Top with the peaches, spread to 2" from the edge of the pie dough, evenly.

Fold the crust over in 2" sections, making overlapping folds as you go.

Brush with egg white, then sprinkle with coarse sanding sugar.

Bake for

25-30 minutes

until golden brown and bubbly.
Nutrition
Calories:
249
kcal
|
Carbohydrates:
42
g
|
Protein:
2
g
|
Fat:
9
g
|
Saturated Fat:
4
g
|
Cholesterol:
8
mg
|
Sodium:
131
mg
|
Potassium:
170
mg
|
Fiber:
2
g
|
Sugar:
27
g
|
Vitamin A:
332
IU
|
Vitamin C:
5
mg
|
Calcium:
11
mg
|
Iron:
1
mg