Salted Double Chocolate Shortbread Cookies gives a classic holiday cookie a chocolatey makeover. Cocoa powder, melty chocolate, and sea salt in one cookie.
Holiday baking is the perfect time to  give your favorite Cookie recipes a makeover like these double chocolate shortbreads. They take a Classic Shortbread Cookie dough and load it with cocoa powder and chocolate chips for the same crumbly texture with a new deep chocolate flavor.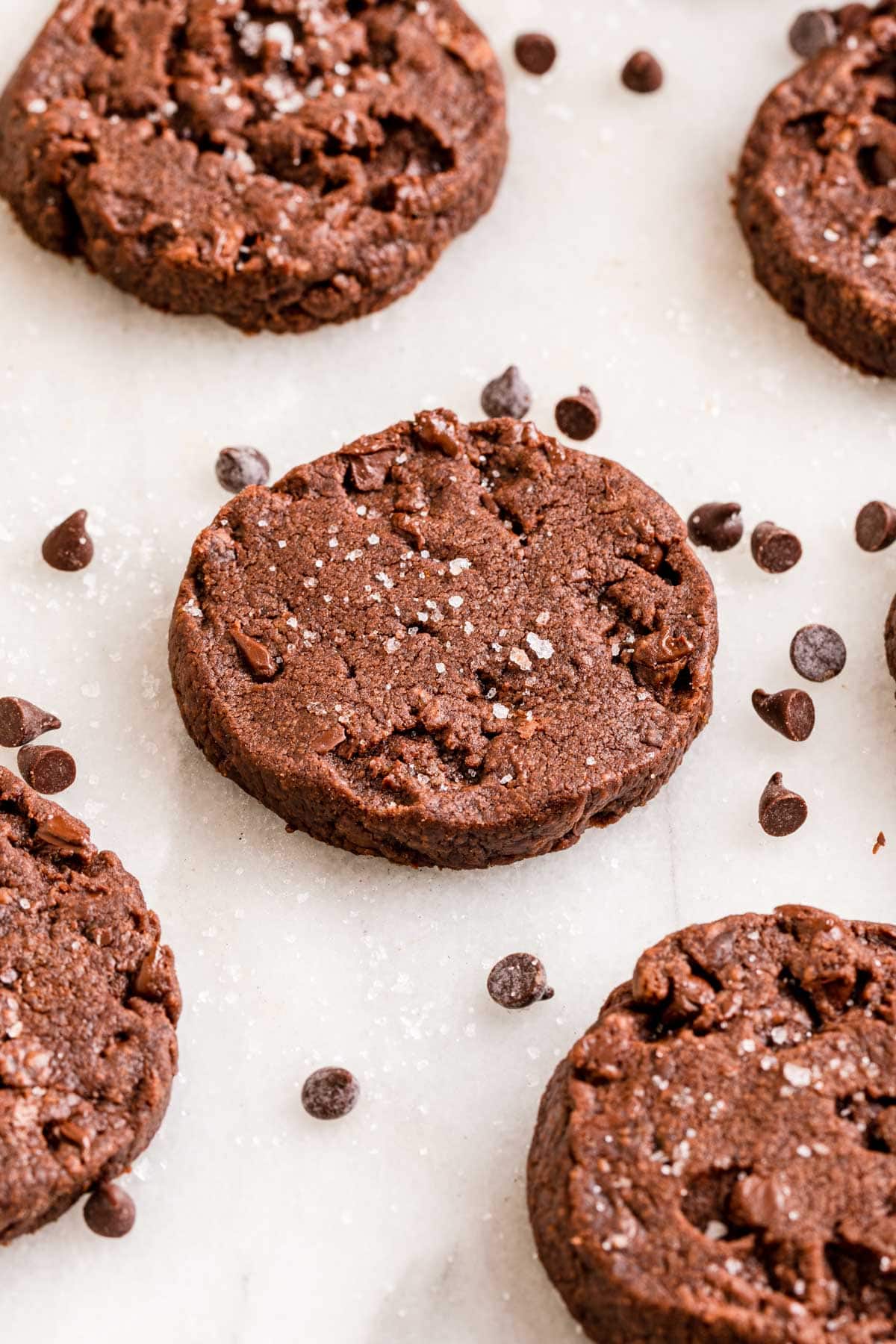 Buttery Shortbread Cookies are a staple in holiday baking. These melt in your mouth cookies are sweet, but not too heavy, with a crumbly tender texture. They are perfect to give as a homemade gift, put out on a tray at a party, or make ahead and store in the freezer. You can even dip them in tea, coffee or Hot Chocolate and enjoy them as a sweet indulgent breakfast.
Think of this chocolate variation of the buttery classic as a combination of Chocolate Chip Shortbread Cookies and Chocolate Cookies. It's the base dough recipe replaces some of the all-purpose flour with natural cocoa powder to give them a dark chocolate flavor. The chocolatey goodness doesn't stop there though, they are stuffed with melty chocolate chips to make them the most amazing double chocolate cookies. Finally, they get topped with some flaky sea salt to enhance all the melt in your mouth texture and deep chocolate flavor.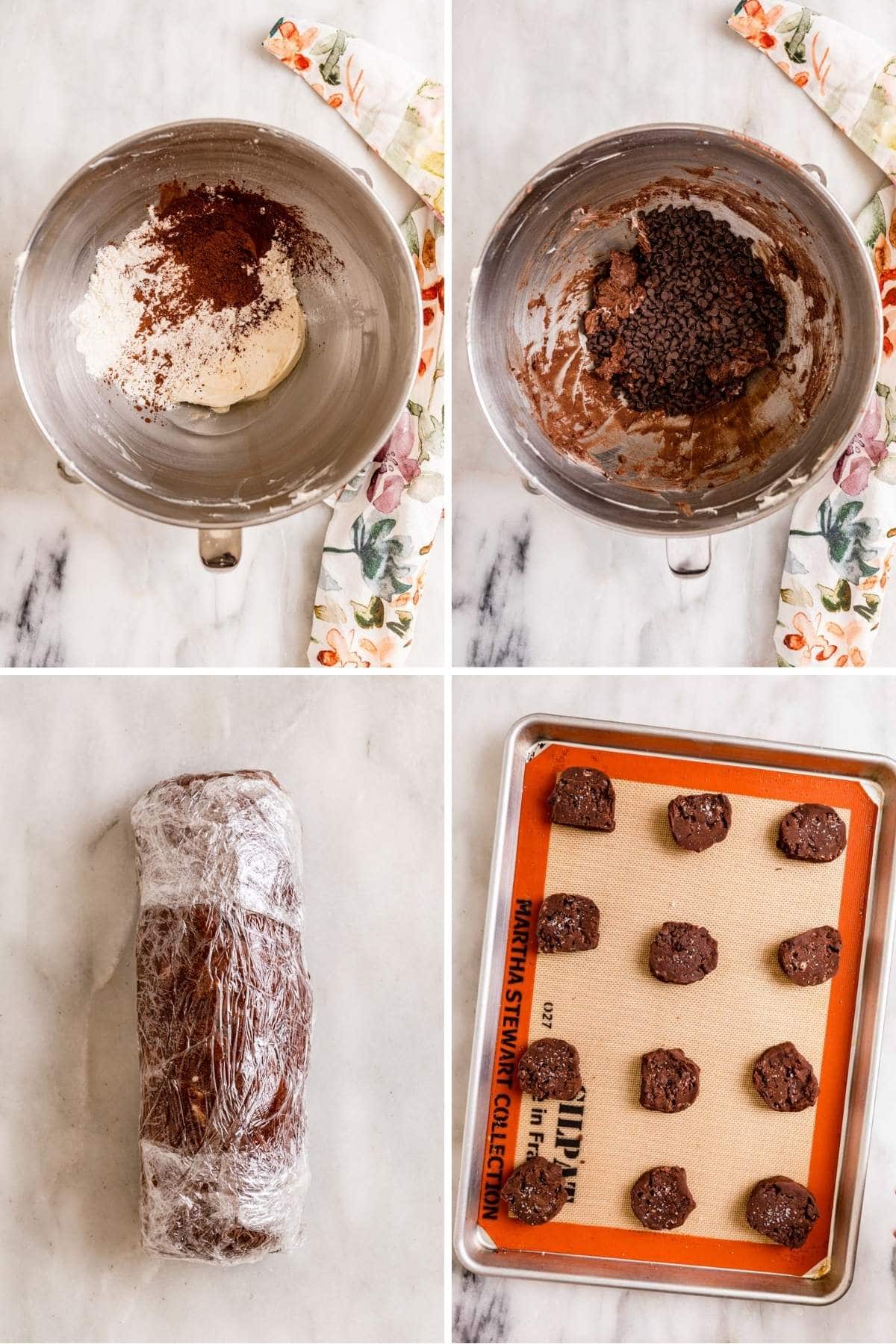 Just like classic shortbread cookies, these double chocolate cookies are great to tuck in your festive gift boxes during the holidays! For a more seasonal, decorative gift, top the cookies off with some holiday sprinkles at the same time you add the salt. Once they are cool, give them a drizzle of Chocolate Ganache, Salted Caramel, or melted white chocolate chips. Freeze them for an hour if you plan on putting them in a gift box so the sauce topping sets and they don't stick together.
What is the difference between a sugar cookie and a shortbread cookie?
Sugar cookies are typically softer and sweeter, with a more delicate crumb, and are usually made with a mix of all-purpose flour, baking powder or baking soda, vanilla extract, plus sugar and unsalted butter. Sugar cookies are often decorated with royal icing or Sugar Cookie Frosting. Shortbread cookies, on the other hand, are just a mix of butter, sugar and flour, and sometimes vanilla extract. They are denser  with a crumbly tender texture and a rich, buttery flavor, and they are not typically decorated.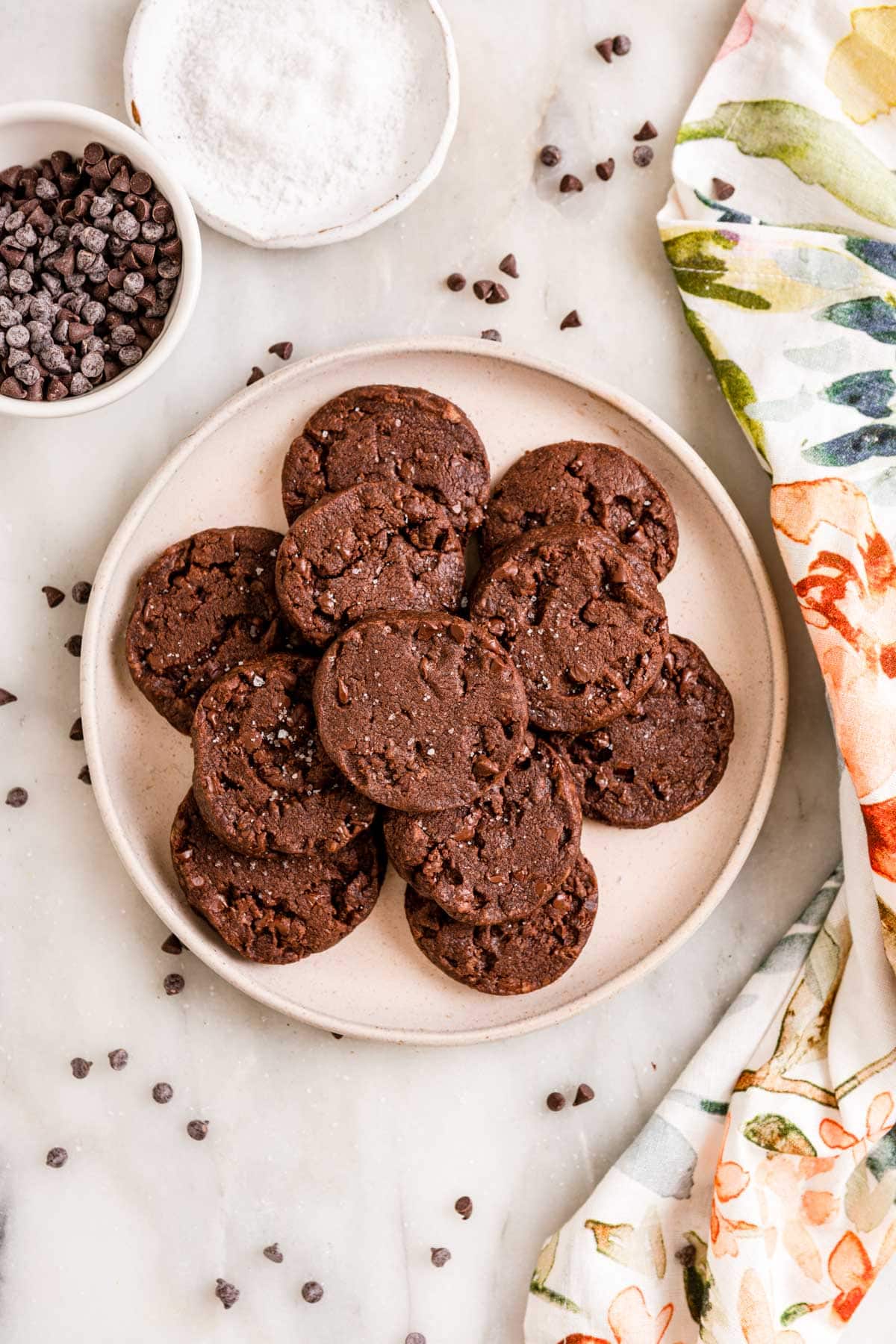 How to Make Salted Double Chocolate Shortbread Cookies
Prep: Preheat the oven and line a cookie sheet with parchment paper.
Wet ingredients: Cream butter, vanilla, and powdered sugar in a stand mixer on high speed for 1-2 minutes until light and fluffy.
Dry Ingredients: Lower speed to the lowest setting. Slowly add the flour and cocoa powder to the cream butter mixture until just combined. Gently stir in the chocolate chips.
Chill Dough: Form the chocolate dough into a 2 inch wide log shape and wrap with plastic wrap. Refrigerate cookie dough log for 30 minutes.
Bake: Remove dough from fridge and cut into ½ inch rounds. Place dough on parchment lined baking sheet and bake for 20 minutes, until edges are set.
FAQs for Chocolate Shortbread Cookies
Do I have to chill the shortbread dough before baking?
Yes. Chilling shortbread dough before baking helps to firm up the butter, which in turn helps the cookies hold their shape while baking. It also allows the flavors to meld and intensify, resulting in a richer, more buttery taste. Chilling also makes the dough easier to handle, so it can be sliced or shaped more easily before baking.
What defines a shortbread cookie?
A shortbread cookie is a type of biscuit traditionally made with three ingredients: butter, sugar, and flour. It is characterized by its crumbly, buttery texture and rich, slightly sweet flavor. It is often associated with Scotland, where it has been made for centuries.
Why add flaky sea salt to chocolate cookies?
Not only does larger flaky salt look beautiful, adding a nice sparkle to the rich color of the chocolate, but it also amplifies the taste of the cookie. Adding a little bit of flaky salt actually makes the chocolate taste even sweeter by blocking some of the bitter flavors of natural cocoa powder. It also gives a pop of salty crunch for a delicious mouth texture of soft buttery cookie and crisp flaky salt granules.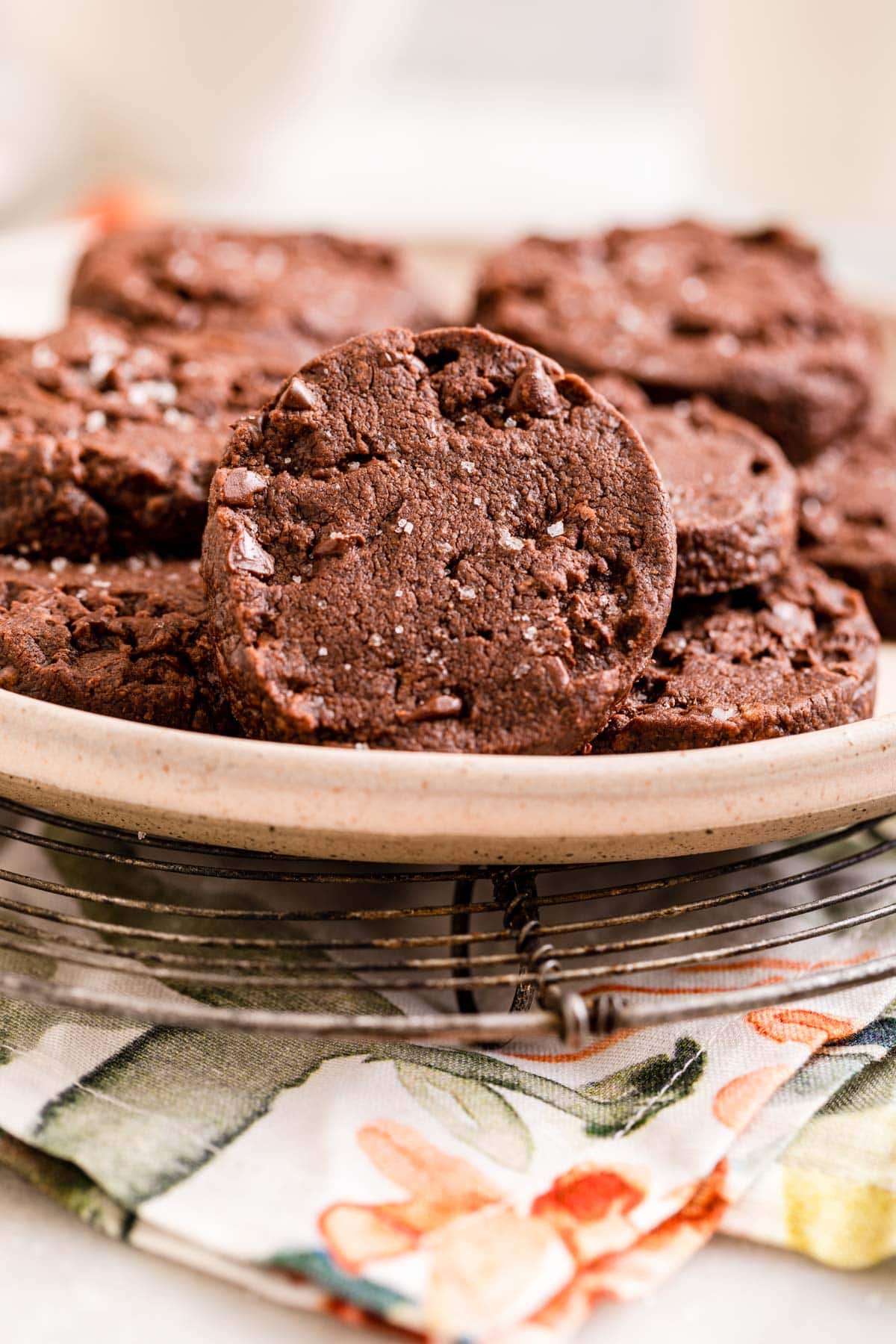 Create a free account to

Save Recipes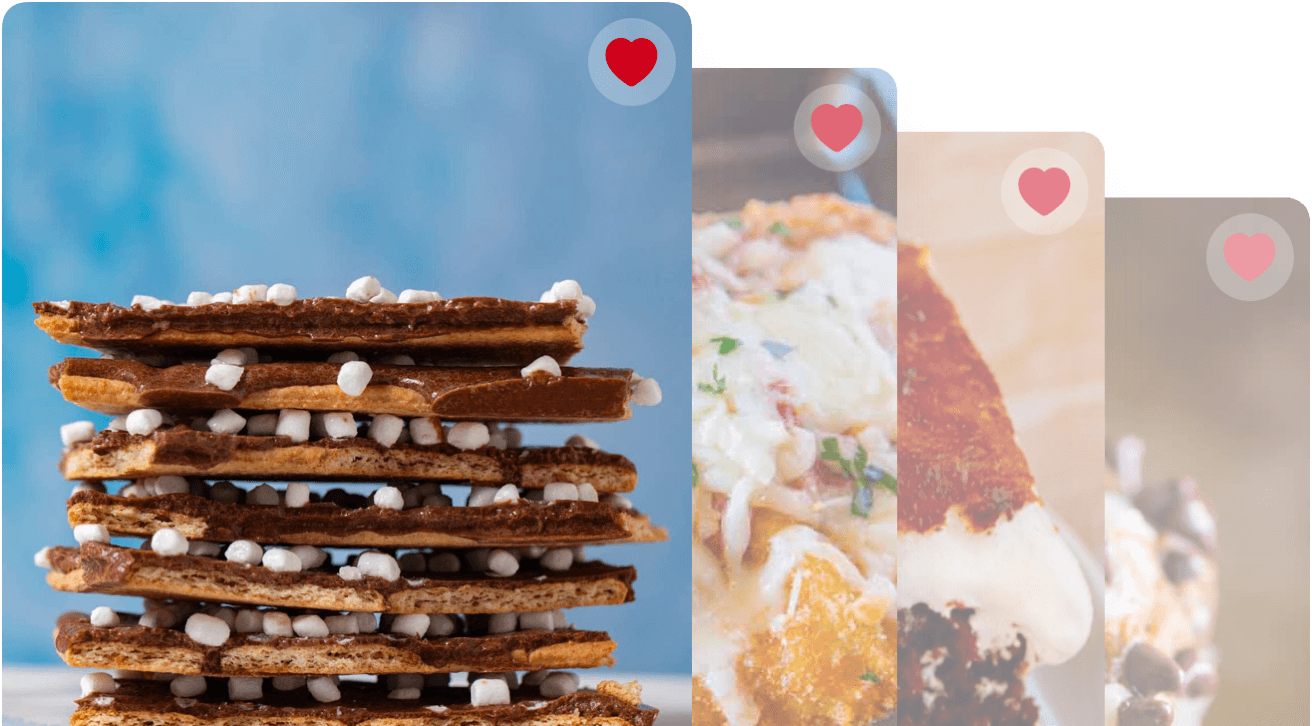 Key Ingredients
Butter – Unsalted butter adds richness, a ton of buttery flavor and gives these cookies that melt in your mouth texture. Whenever you cream butter, you want it to be softened to room temperature to create a lot of air for a more tender crumb.
Vanilla Extract: Vanilla adds a sweet, warm flavor to baked goods but it also compliments other flavorings and enhances them. Use pure vanilla extract whenever possible for the best taste and intensity of flavor!
Powdered Sugar: Instead of granulated sugar, this chocolate dough is made with powdered sugar. The fine white sugar provides a smooth, velvety sweetness to balance the rich butter flavor and helps create a cookie that is not too crumbly or dry.
Cocoa powder: You only need a bit of cocoa powder to give these buttery cookies a dark chocolate flavor. You can use natural cocoa powder or dutch-process cocoa powder, depending on the intensity of chocolate you want.
Mini Chocolate Chips: Mini semisweet chocolate ships create pockets of melted chocolate throughout the cookie. The mini chips tend to be best for shortbread cookies because they distribute more evenly for a more balanced melty chocolate chip to chocolate cookie ratio in every bite.
Sea Salt: Flaky sea salt enhances the chocolate flavor and provides a salty contrast to the sweet cookie. You want to use the large flaky salt granules, not table salt, or these cookies could be too salty.
Can these Salted Double Chocolate Shortbread Cookies be made ahead of time?
Yes, these Salted Double Chocolate Shortbread Cookies can be made ahead of time. Baked cookies can be frozen for up to 3 months. You can also freeze the dough, either as a whole cookie dough log or slice the dough first. To freeze the dough log, wrap the log in plastic wrap and then in foil before placing it in the freezer. Thaw the dough in the refrigerator before slicing and baking. For a grab and bake cookie, slice dough into rounds then freeze on a tray for 1 hour before transferring to a container for longer storage. Bake them from frozen, adding a few minutes to baking time as needed.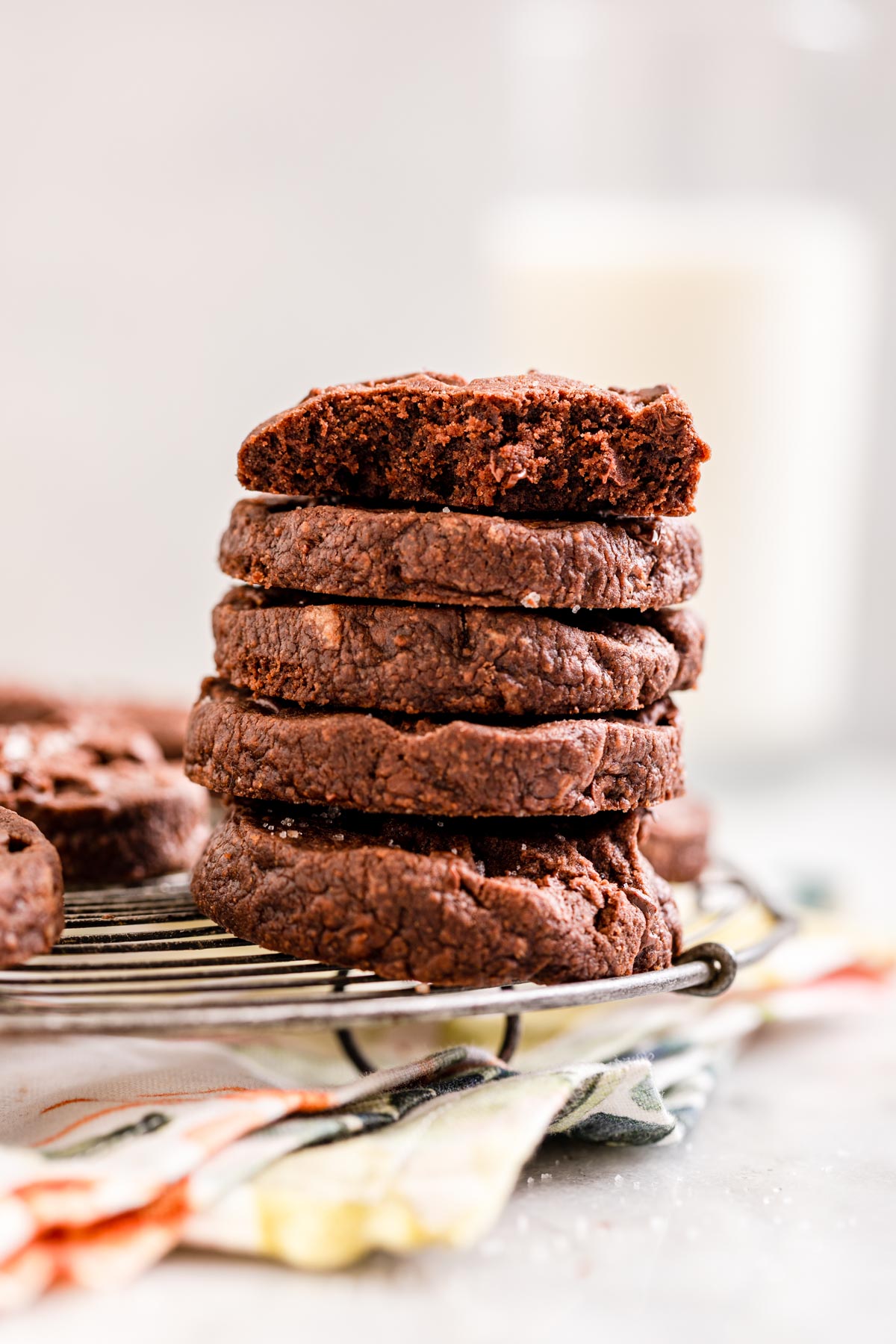 Variations
Chocolate Chips: Try changing up the chocolate in this recipe by using milk chocolate chips, white chocolate chips, chocolate chunks, or even adding in some butterscotch or cinnamon chips.
Add-ins: There are lots of different add-ins you can try like nuts, dried cherries, or crushed peppermints. You can also add spices like nutmeg, ginger, or cloves.
Cocoa: For a milder chocolate taste in Salted Double Chocolate Shortbread Cookies use dark cocoa powder instead of regular unsweetened cocoa powder. Dark cocoa powder is often sold as Dutch-processed or black cocoa powder.
More Rich Chocolate Dessert Recipes
How to Store
Serve: You can keep shortbread cookies in an airtight container at room temperature for up to 2 weeks. If you're in a humid area put a paper towel in the bottom of the container to absorb the moisture.
Store: Once the Chocolate Shortbread Cookies have cooled, you can store them in an airtight container in the fridge for up to a month. Put parchment paper between the layers of Salted Double Chocolate Shortbread Cookies so they don't get stuck together.
Freeze: If you made the shortbread cookies ahead of time, keep them in the freezer for up to 3 months. Leave them uncovered at room temperature to thaw.


Instructions
Preheat oven to 325 and line a half sheet pan with parchment paper.

Add butter, vanilla, and powdered sugar to a stand mixer and cream on high speed for

1-2 minutes

until light and fluffy.

Lower speed to the lowest setting and add in the flour and cocoa powder slowly until just combined.

Fold in the mini chocolate chips.

Roll the mixture into a 2-inch wide log and wrap with plastic wrap.

Refrigerate for

30 minutes

.

Cut into ½ thick slices, sprinkle with sea salt, and bake for

20 minutes

.
Nutrition
Calories:
153
kcal
|
Carbohydrates:
18
g
|
Protein:
2
g
|
Fat:
9
g
|
Saturated Fat:
5
g
|
Polyunsaturated Fat:
1
g
|
Monounsaturated Fat:
2
g
|
Trans Fat:
1
g
|
Cholesterol:
17
mg
|
Sodium:
154
mg
|
Potassium:
25
mg
|
Fiber:
1
g
|
Sugar:
11
g
|
Vitamin A:
202
IU
|
Vitamin C:
1
mg
|
Calcium:
17
mg
|
Iron:
1
mg