Slow Cooker Coq Au Vin has all the red wine braised chicken flavors with shallots, chicken, garlic, mushrooms and carrots in the classic French dish you love.
Slow Cooker Coq Au Vin
Slow Cooker Coq Au Vin is the day two of three of my favorite French dishes. Yesterday was Slow Cooker Beef Bourguignon and tomorrow is the final favorite, Slow Cooker French Onion Soup. As a college kid we had a restaurant in the neighborhood that had a three course meal, the first course of which was an option for French Onion Soup or Vegetable Beef Soup (my version is in the Slow Cooker), and Coq Au Vin was always the main course.
French food can come across intimidating to people (it certainly did to me when I was younger) but it doesn't have to! Great flavors don't need to take a ton of time in the kitchen.
Classic French flavors like these dishes are fantastic dinner party dishes too! Serve these main courses with crusty french bread, some good butter (I just found that Trader Joe's has French butter!) and a nice bottle of wine and you have a wonderful evening with friends. Bonus points if you guys wear berets and tie handkerchiefs around your necks.
Where does Coq Au Vin come from?
Coq Au Vin is a classic French dish of red wine braised roosters. The older the rooster the the more tough the meat would become so the more necessary the braise would become. The longer the braise the more tender the chicken would become. In today's reality most people use fryer chicken pieces, but the braising still makes things incredibly tender.
What kind of wine should I make Coq Au Vin with?
Classically Coq Au Vin is made with a variety of Pinot Noir called Burgundy Wine. These can be expensive, so choose a bottle of Pinot Noir you'd enjoy enough to drink (not the time for two buck chuck) and it will fit the bill perfectly.
What do you serve Coq Au Vin with?
Coq Au Vin is delicious served with Ultimate Slow Cooker Mashed Potatoes or egg noodles. You can also serve with Parmesan Garlic Crash Hot Potatoes for a less traditional option.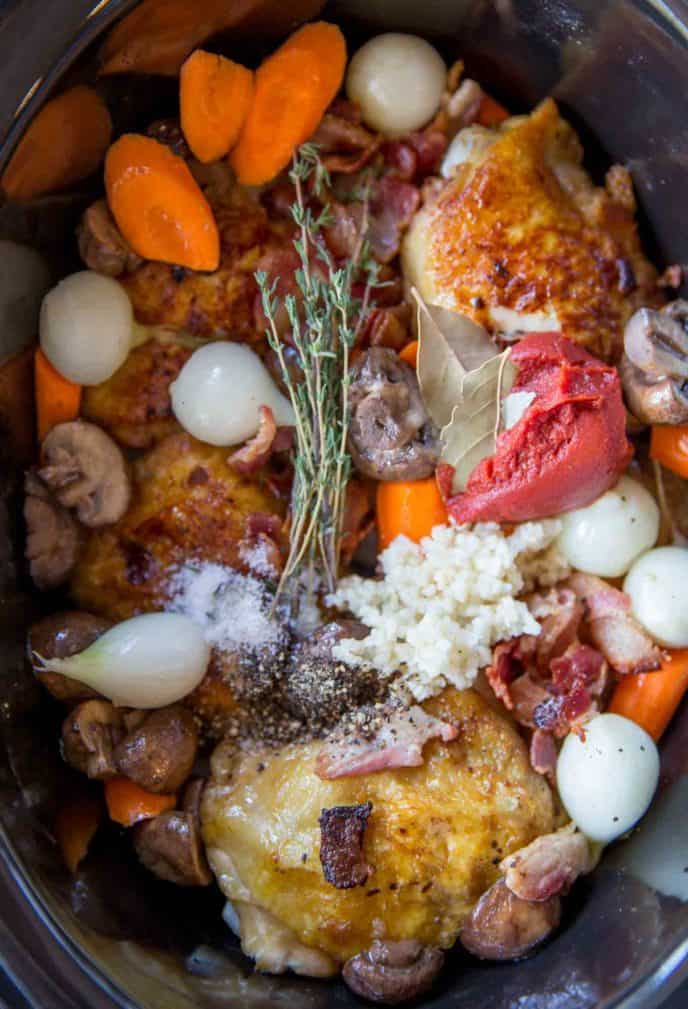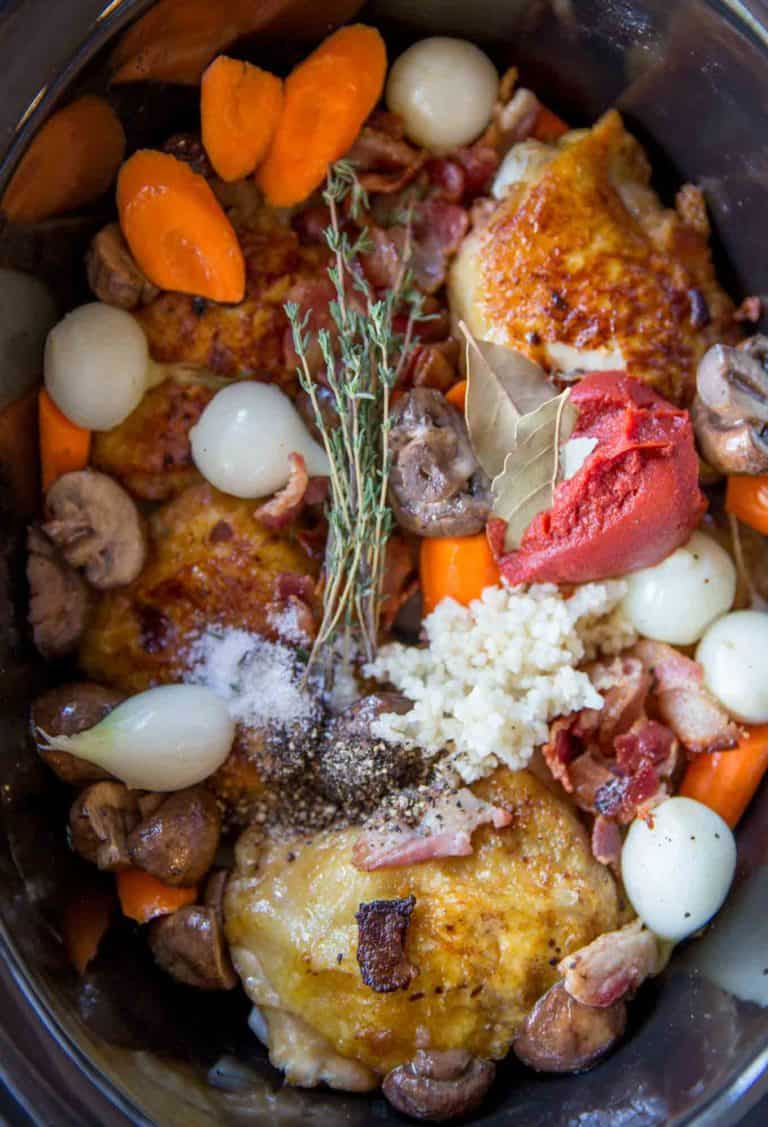 Tips for making this Slow Cooker Coq Au Vin:
Don't overcook the bacon, burnt bacon is bitter and the bacon will not stay crisp in the stew anway. Get a good crisp but don't stress perfection.
Make sure to brown the chicken well but don't burn the skin, the more brown the more flavor, plus browning the mushrooms and shallots in the chicken fat is very flavorful.
Crimini mushrooms add more flavor than white button and shouldn't be more than a couple cents a pound more expensive. You can use sliced too but cutting in half tends to help them stand out in the end dish better.
Pearl Onions are totally classic to the dish and I love them. I used fresh and I made a tutorial for how to peel them quickly.
I call for chicken broth in the recipe but I use chicken base in place of stock. I double the strength of it and add it to either water or more stock/broth.

Tools Used in making this Slow Cooker Coq Au Vin:
Slow Cooker: Love this slow cooker and how programmable it is, it has been a workhorse for me… until…
My New Slow Cooker: This recipe was made in this slow cooker. I brown the meat in the insert without losing a bunch of the flavor by transferring the meat and leaving the browned bits behind. If you're thinking of a new slow cooker, consider it if your budget is open.
Cast Iron Skillet: If you don't have a slow cooker with a stovetop friendly insert, this is my most used pan in my kitchen, heavy, keeps heat well and gives the BEST sear ever.
Chicken Base: I almost never buy boxes of broth because I keep the beef, chicken and vegetable version of this Better Than Bouillon.


Ingredients
1

bottle

Pinot Noir

8

ounces

thick-cut bacon

diced

5

chicken thighs

skin on and bone-in

1

teaspoon

Kosher salt

divided

1/2

teaspoon

coarse ground black pepper

1

pound

crimini mushrooms

halved

3

shallots

quartered

3

garlic cloves

minced

5

carrots

peeled and cut into 1 inch chunks

2

cups

chicken broth

3

tablespoons

tomato paste

5

fresh thyme sprigs

2

bay leaves

1/2

pound

white pearl onions

peeled

2

tablespoons

butter

unsalted

2

tablespoons

flour
Instructions
In a medium saucepan on high heat add the bottle of wine and boil for

15 minutes

until reduced to half the amount.

Cook the bacon until crisp, then remove.

Season the chicken with half the salt and the pepper.

Add to the skillet and brown on each side for

4-6 minutes

or until browned on each side.

Remove the chicken from the pan and add in the mushrooms and shallots and lower the heat to medium high.

Cook for

3 minutes

, stir then cook another

3 minutes

.

Into the slow cooker add the mushrooms, shallots, garlic, carrots, half the bacon, broth*, rest of the salt, tomato paste, thyme, bay leaf, pearl onions and the reduced red wine.

Stir all the ingredients until well mixed, nestle in the pieces of chicken and cook on low for

7 hours

.

In a small bowl mix the butter and flour and add it to the slow cooker and stir.

Cook an additional hour or until thickened.

Top with remaining bacon and stir before serving.
Nutrition
Calories:
578
kcal
|
Carbohydrates:
22
g
|
Protein:
29
g
|
Fat:
41
g
|
Saturated Fat:
14
g
|
Cholesterol:
152
mg
|
Sodium:
1363
mg
|
Potassium:
1219
mg
|
Fiber:
4
g
|
Sugar:
8
g
|
Vitamin A:
10630
IU
|
Vitamin C:
19
mg
|
Calcium:
80
mg
|
Iron:
2.6
mg