Stir-Fry Garlic Noodles an easy, quick noodle recipe for noodles and fresh veggies tossed in an Asian garlic sauce. Full of garlicky flavor!
Easy Asian noodles, like this Garlic Noodles recipe, make the perfect Side Dish to serve with your favorite Chinese Food like Teriyaki Chicken, Sweet and Sour Pork, and Honey Garlic Shrimp.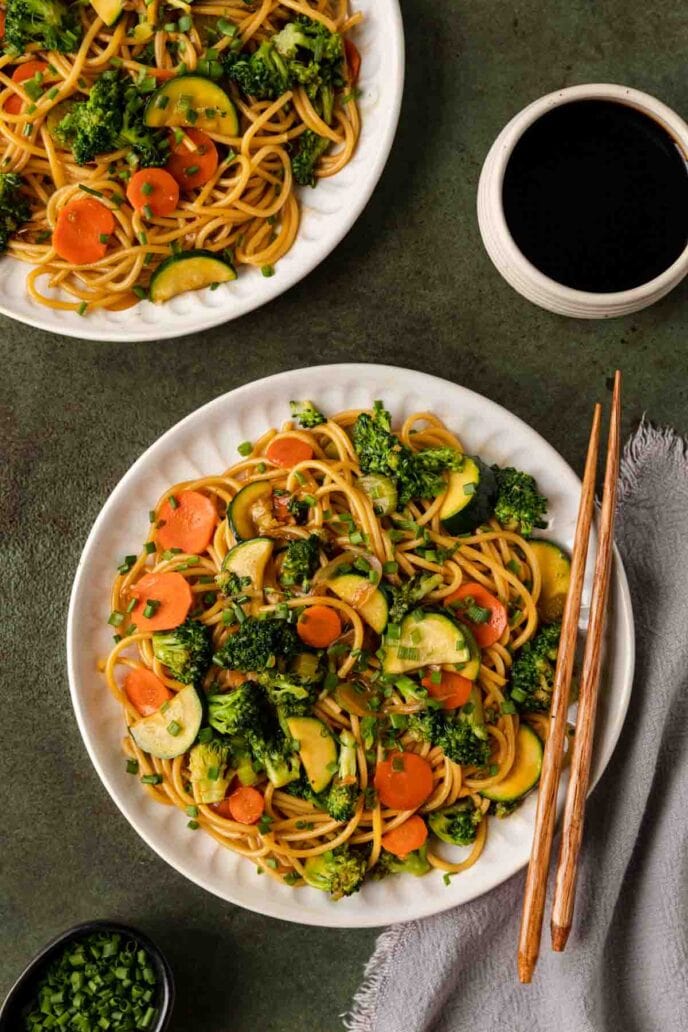 Stir-Fried Garlic Noodles are an amazing dish with plenty of bold Asian flavors. The noodles are cooked with fresh garlic, crisp veggies, hoisin sauce, and soy sauce. It's easy to toss all the ingredients together in a large pot and enjoy in a matter of minutes. It has a rich and authentic flavor that you love from your favorite Chinese takeout restaurant with half the cost and time.
The great thing about these delicious Stir Fry Noodles with Garlic, and stir-fried dishes in general, is that they're easy to toss together super quickly. The key is prepping ahead of time because once you start cooking, the time really flies. Make sure the vegetables are all sliced and the other ingredients are measured beforehand, then fire up your skillet and in less than 15 minutes dinner will be ready.
Stir-Fry Garlic Noodles are a delightful and straightforward recipe that brings together the flavors of Asian cuisine without fancy ingredients. You don't even need to get fancy noodles for this recipe, some spaghetti, or a similar type of noodle, in your pantry will work just fine! It has a good helping of common stir fry veggies like broccoli, carrots, zucchini, and onions. The flavorful sauce is made with garlic, hoisin sauce, and soy sauce. It's a simple combination that creates a burst of garlicky goodness.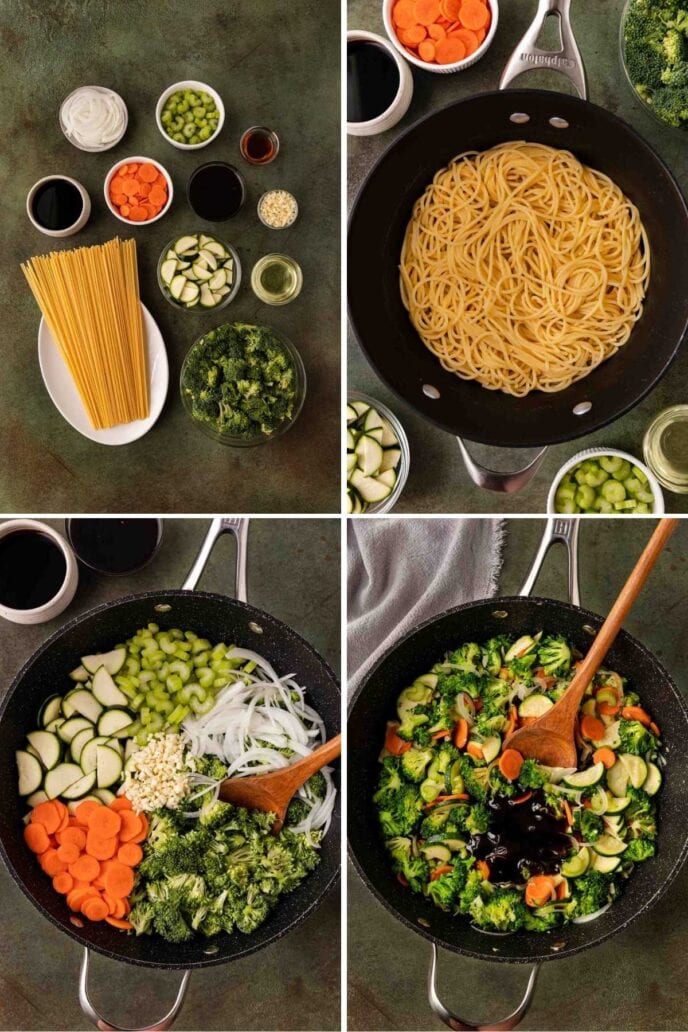 Whether you're looking for a quick weeknight dinner or a flavorful dish to impress dinner party guests, Stir-Fry Garlic Noodles are a fantastic choice. The garlic-infused aroma and the medley of fresh vegetables combined with a quick cook time is sure to make this a new favorite recipe. For more easy, stir-fried Chinese dinners, try Shrimp Stir Fry, and Tofu Stir Fry.
What are Garlic Noodles?
Stir-Fry Garlic Noodles are a delicious and flavorful dish that combines noodles, vegetables, and a garlicky sauce. The noodles, typically spaghetti or a similar type, are stir-fried with a variety of vegetables like broccoli, carrots, zucchini, and onions. The dish gets its distinctive flavor from minced garlic and a sauce made with ingredients like hoisin sauce and low-sodium soy sauce. The result is a satisfying and aromatic noodle dish with a perfect balance of savory, garlicky, and slightly sweet flavors.
How to Make Stir-Fry Garlic Noodles
Cook Pasta: Bring a pot of water to a boil and add in the dry noodles. Cook the pasta until about 1 minute shy of the box instructions. Then drain and toss the cooked pasta in sesame oil. Set the colander of pasta to the side and begin the rest of the recipe.
Veggies: Add vegetable oil to the base of a large skillet over medium heat. Then add the broccoli, carrot, zucchini, celery, onion, and garlic cloves to the pan. Stir well, and continue cooking the vegetables for 4-5 minutes until they've begun to soften.
Sauce Mixture: Add in the hoisin sauce, and soy sauce. Mix the sauce ingredients with the vegetables until well coated.
Finish: Finally, add the noodles and toss them with the garlic sauce. Serve while still warm.
Popular Chinese Main Dishes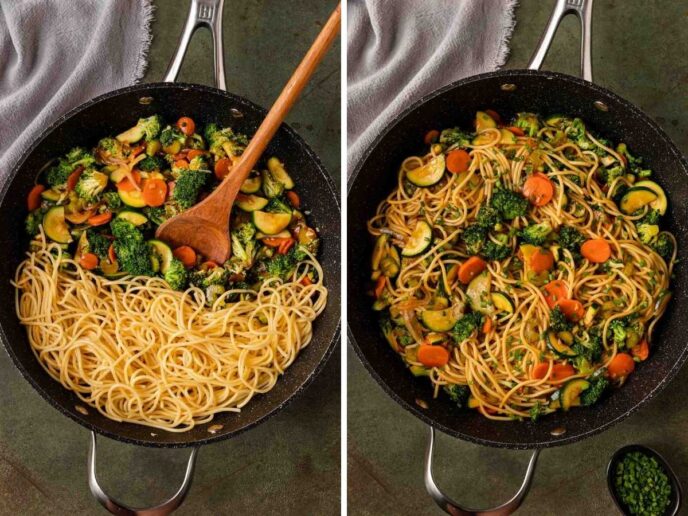 FAQs for Stir-Fry Garlic Noodles
What type of noodles should I use?
Spaghetti noodles are perfect for Stir-Fry Garlic Noodles. Spaghetti noodles because they stay firm when cooked a second time in the delicious garlic sauce. However, if you prefer a different type of noodle, such as udon, rice noodles, or even lo mein noodles, feel free to substitute them.
What goes with garlic stir fry noodles?
Garlic Stir-fry Noodles are a versatile and simple recipe that can be paired with various Asian main dishes. Try them with other takeout favorites like Orange Chicken or Mongolian Beef. They also pair really will with shrimp stir fry dishes like Dynamite Shrimp.
Are these Stir-Fry Garlic Noodles spicy?
This recipe for Stir Fry Garlic Noodles is not really spicy at all beyond the natural spiciness of garlic, but that is more of an earthy, pungent spicy flavor. You can add some chili sauce or red pepper flakes if you prefer spicy noodle dishes.

Create a free account to Save Recipes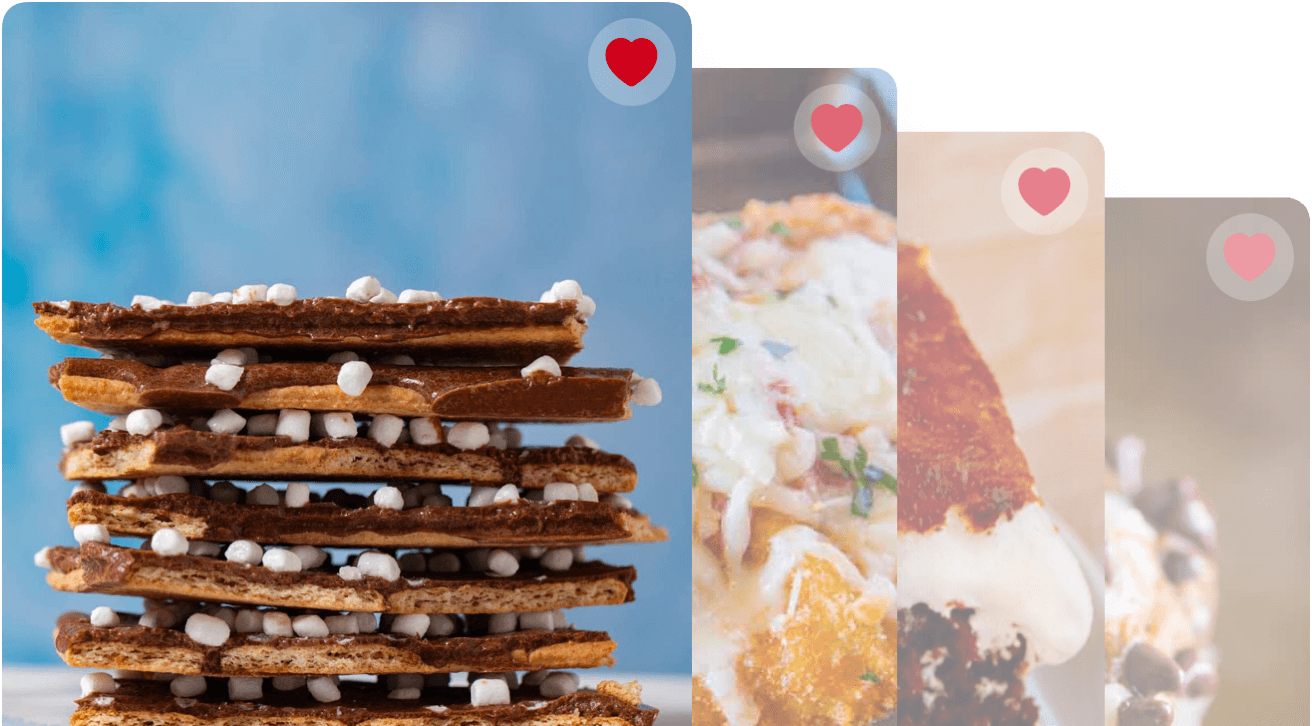 Key Ingredients
Pasta: This recipe is easy to make at a moment's notice because you don't need any specific kind of Asian noodles. Simple spaghetti-style Italian pasta does a perfect job cooking in the stir fry and soaking up the sauce flavors.
Stir-Fry Veggies: These delicious noodles are loaded with a combination of broccoli, carrots, and zucchini to make this a hearty vegetarian meal in addition to being a side dish. They are cooked just until they are crisp tender so they get a tasty flavor but still add some nice fresh crunch!
Aromatics: The aromatic onion, celery and garlic flavor give a sweet, earthy depth to the dish. Since these are Garlic Noodles, obviously there is plenty of fresh garlic, but you can adjust that to your preference.
Sauce: The entire recipe is tossed in hoisin sauce and soy sauce. Both are classic Asian ingredients that bring a combination of sweet and salty flavor to the dish.
Oils: There is a combination of oils used to make these stir fry noodles and veggies. Sesame oil has a really strong flavor so you add it more for flavor, where the vegetable oil is what you use to actually cook the ingredients.
Can Stir-Fry Garlic Noodles be made ahead of time?
Stir-Fry Garlic Noodles are best enjoyed fresh and hot. The noodles tend to absorb the sauce over time, potentially making them softer and less flavorful if made ahead of time. However, you can prepare the ingredients in advance, such as cutting the vegetables and mincing the garlic, to save time during cooking. When ready to serve, quickly stir-fry the noodles and vegetables together with the sauce for the best taste and texture.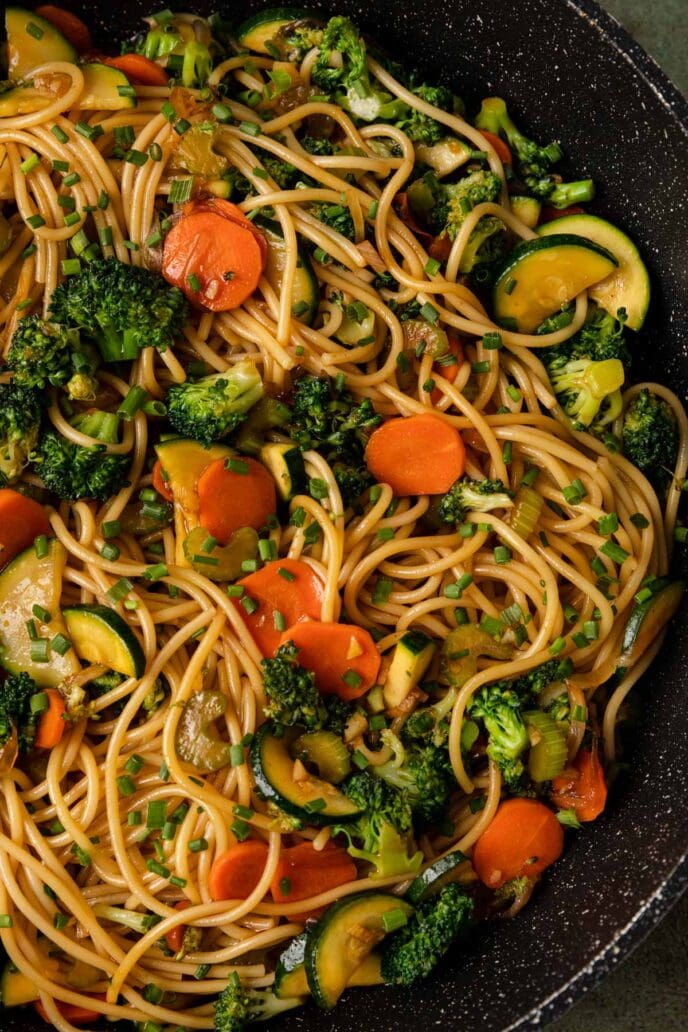 Variations
Chicken: If you want to make this dish into more of a main course, you can add some cooked pieces of chicken to the recipe. Mix cooked boneless chicken thighs or chicken breast with the noodles and cook until heated through.
Vegetables: For some extra veggies, add in green onion, sliced bell pepper, sugar snap peas, cauliflower, shiitake mushrooms, or brown button mushrooms.
Seasonings: You can add some spices to the recipe for extra flavors like red pepper flakes, white pepper, garlic salt, onion powder, celery salt, or cayenne pepper.
Broth: Instead of cooking the noodles in water, try cooking the spaghetti in chicken broth or vegetable broth to bring some extra flavor.
Spicy: Make these noodles spicy by adding chili oil, spicy sesame oil, red pepper flakes, or chili garlic paste to the sauce.
Pasta: There are different kinds of noodles you can use in this recipe like egg noodles, udon noodles, rice noodles, or angel hair pasta. To add some more nutrients to the recipe, you can also use wheat noodles instead of white pasta.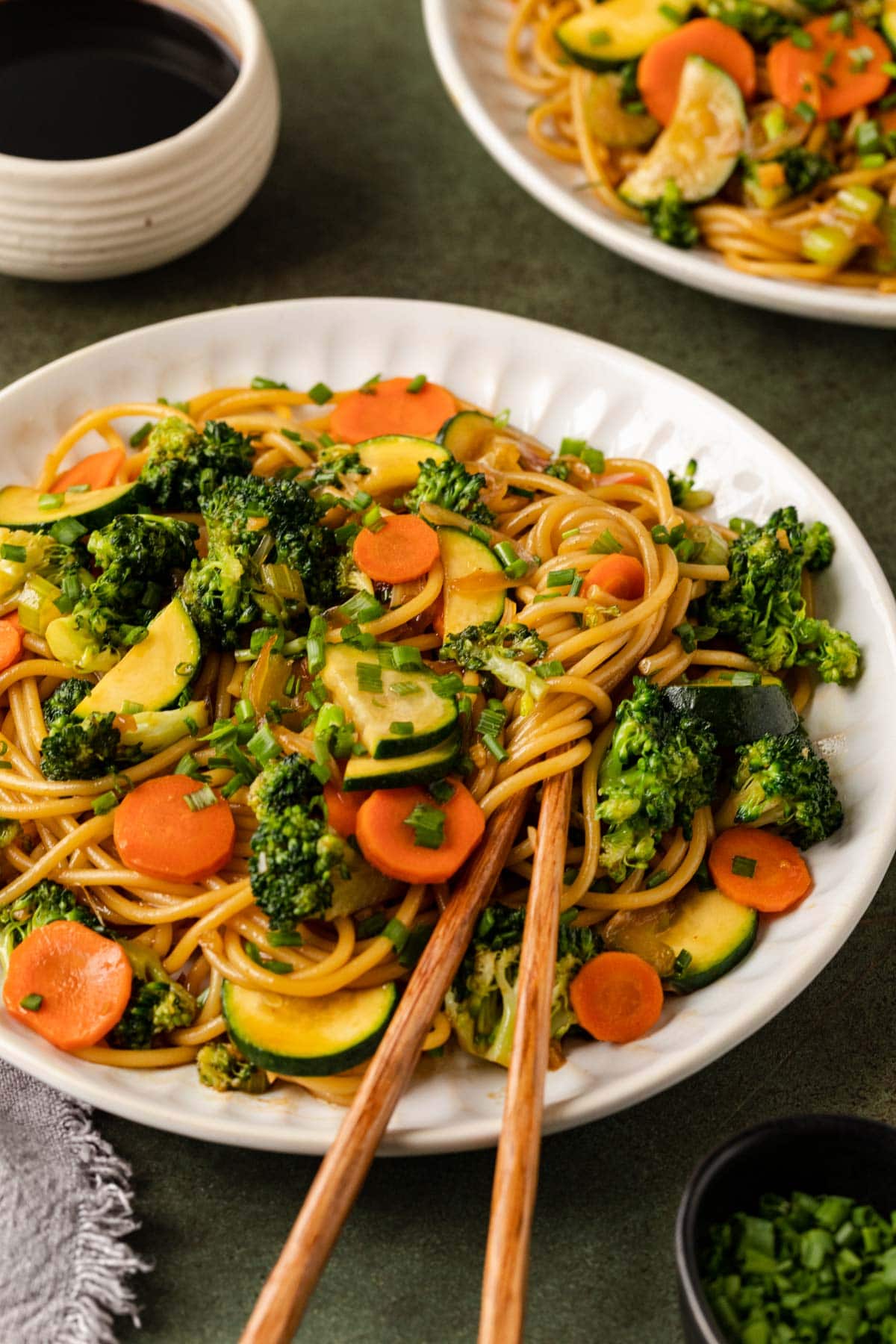 More Easy Asian Noodle Recipes
How to Store
Store: These Stir-Fry Garlic Noodles can be at room temperature for a couple hours, but they are best served hot and fresh. Store leftovers in an airtight container for up to 5 days in the refrigerator.
Reheat: Reheat in a hot skillet with a little bit of oil until they are warmed through, for about 2-3 minutes. You don't want to reheat them with too much oil or too low of heat or the noodles will get oily and mushy.
Freeze: You can freeze leftover Garlic Noodles for up to 3 months. The texture won't be quite the same for the veggies and pasta, but it will still taste good. Reheat as directed above after thawing overnight in the fridge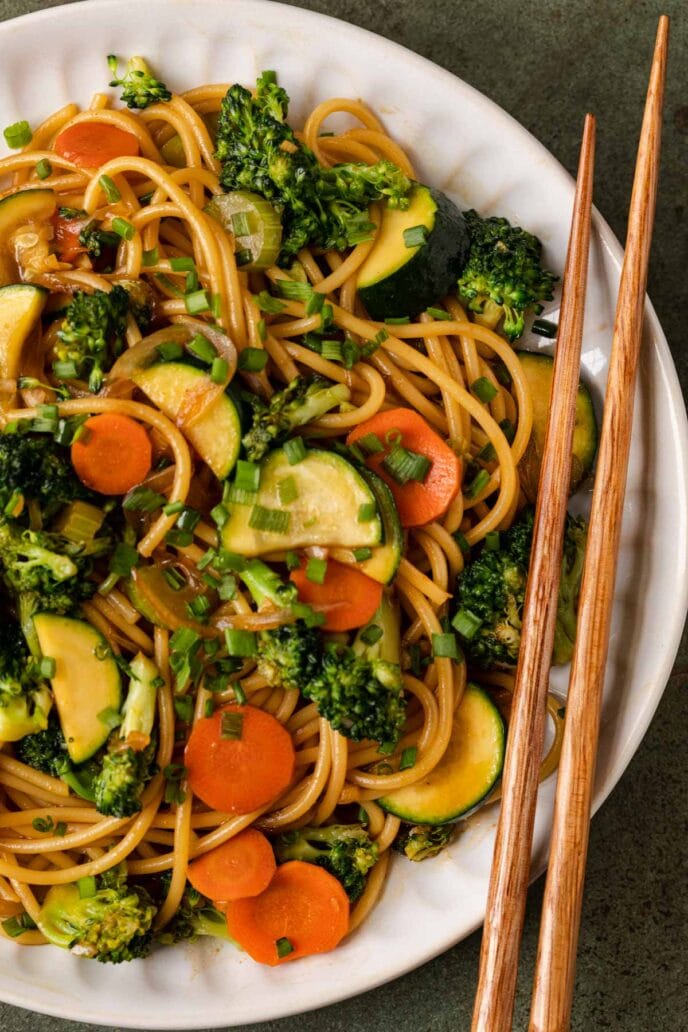 Ingredients
8

ounces

spaghetti

2

teaspoons

sesame oil

1/4

cup

vegetable oil

3

cups

broccoli florets

1

carrot

, thinly sliced

1

zucchini

, cut into ½ circles

1

celery stalk

, sliced

1/2

yellow onion

, thinly sliced

3

cloves

garlic

, minced

1/3

cup

hoisin sauce

3

tablespoons

low sodium soy sauce
Instructions
Cook pasta a minute shy of the directions, drain, and toss with sesame oil.

Add vegetable oil to large skillet on medium-high heat.

Add in broccoli, carrot, zucchini, celery, onion, and garlic, stirring well.

Cook for

4-5 minutes

until vegetables have begun to soften.

Add in hoisin sauce and soy sauce stirring well.

Add in pasta, toss well to combine.
Nutrition
Calories:
302
kcal
|
Carbohydrates:
42
g
|
Protein:
8
g
|
Fat:
12
g
|
Saturated Fat:
2
g
|
Polyunsaturated Fat:
6
g
|
Monounsaturated Fat:
3
g
|
Trans Fat:
1
g
|
Cholesterol:
1
mg
|
Sodium:
564
mg
|
Potassium:
413
mg
|
Fiber:
4
g
|
Sugar:
8
g
|
Vitamin A:
2051
IU
|
Vitamin C:
48
mg
|
Calcium:
50
mg
|
Iron:
1
mg