Easy Strawberry Muffins are the perfect sweet, quick breakfast with fresh strawberries and cinnamon baked in the best fluffy muffin recipe.
Quick and easy Strawberry Muffins make the perfect sweet Breakfast to go with your morning cup of coffee. For more delicious bakery-style Muffins, try Blueberry Crumb Muffins, Apple Muffins, and Peach Muffins.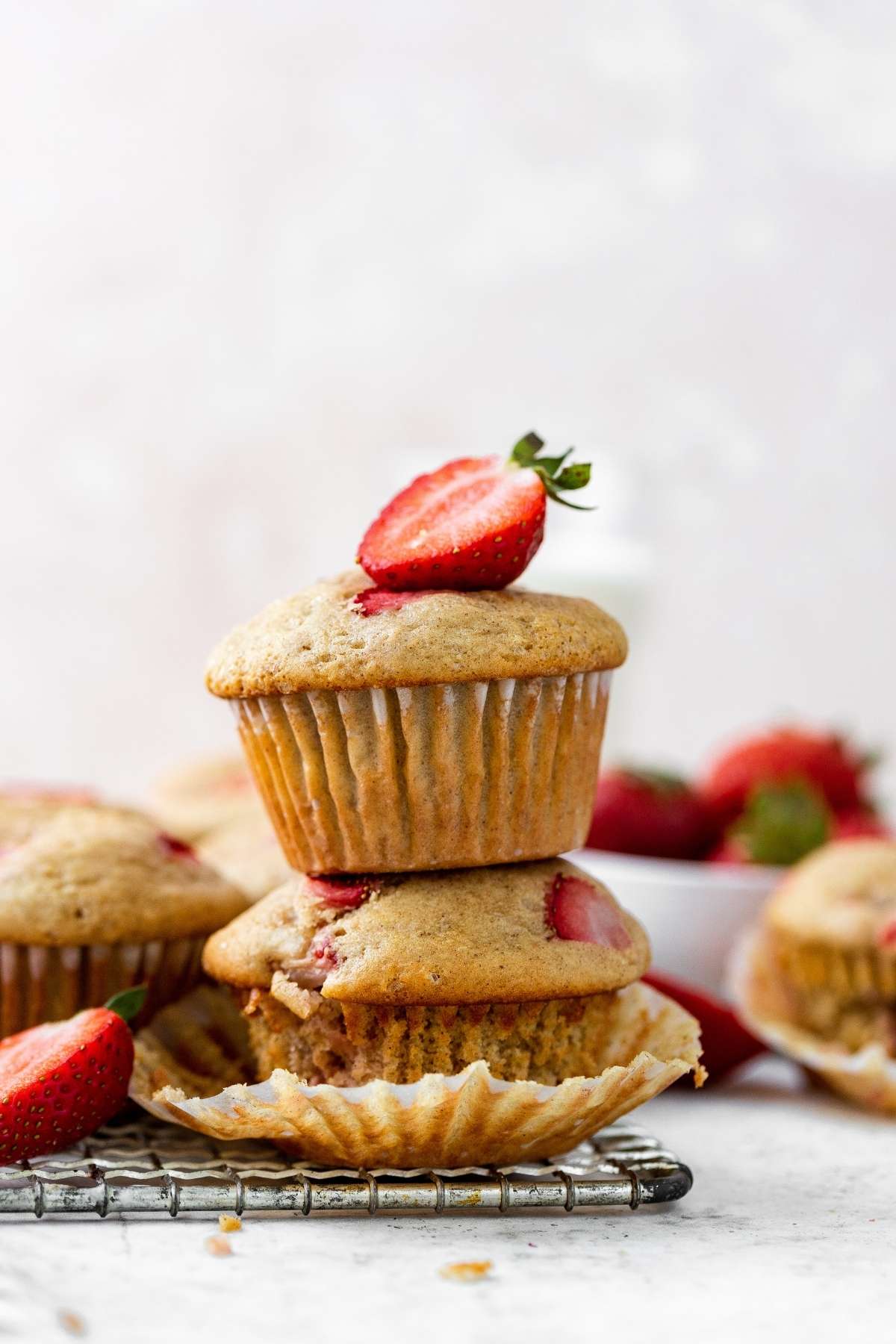 Strawberry Muffins are a delicious sweet morning treat that you can bake for a special breakfast or weekend brunch. This classic muffin recipe is also simple enough that you can make it for a more casual weekday breakfast too. It's the best berry-filled recipe for strawberry season or anytime you have an abundance of fresh strawberries.
These delicious Fresh Strawberry Muffins couldn't be any easier! All you have to do is whisk together the dry and wet ingredients, then combine them, fold in the diced berries, and pour the batter into muffin cups to bake. Just like that, you'll have the muffins ready to go in under a half-hour. It's a quick breakfast filled with fresh, berry flavor and just the right amount of sweetness!
The thing that really sets this muffin recipe apart is that it's absolutely bursting with fresh strawberry goodness. By dicing up sweet strawberries to mix directly into the batter you get the perfect fruity flavor. The strawberries are also in small enough pieces that you can taste the buttery, rich and moist muffin too. Plus they just look so pretty with the bright red berries speckled throughout.
You'll love to enjoy Strawberry Muffins fresh out of the oven and still warm with a pat of butter. If you want even more strawberry flavor, try cutting them in half and spreading some Strawberry Jam in the center too. Turn these berry muffins into buttery fresh strawberry-filled cupcakes by topping them with some Cream Cheese Frosting and a big strawberry slice for a simple summer dessert.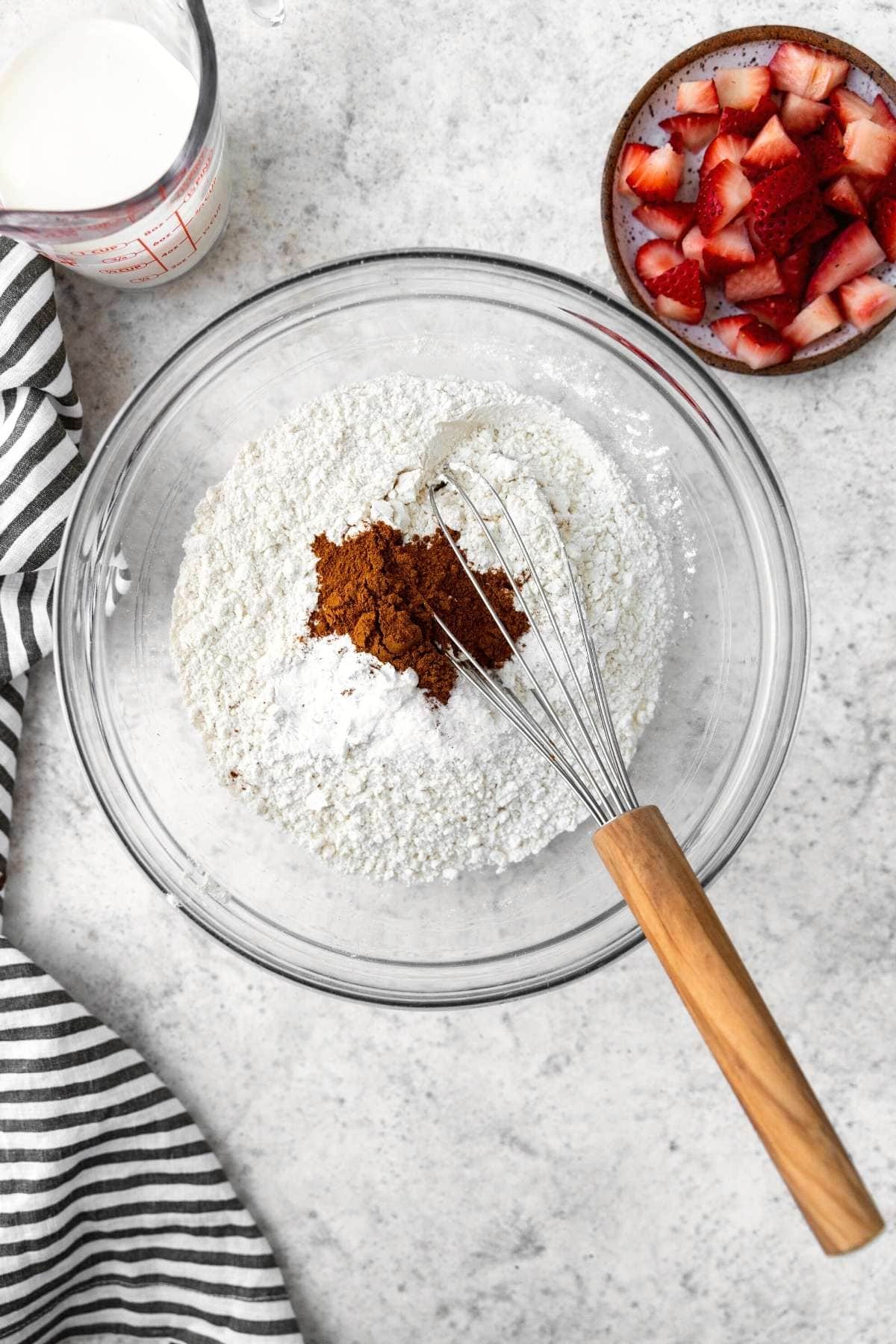 How to Make Strawberry Muffins
Prep time: Start by preheating your oven. Line two muffin tins with the 12 standard-size muffin cups. You may also want to hull and dice the strawberries at this point before starting the recipe.
Muffin batter: Add all-purpose flour, baking powder, baking soda, salt, and cinnamon to a large mixing bowl. Whisk the dry ingredients together. Add the eggs, melted butter, granulated sugar, and milk to a medium bowl, and whisk the wet ingredients together until smooth. Pour the wet mixture into the dry ingredients slowly, while whisking. You can also mix the muffin mixture in a stand mixer at medium speed with a paddle attachment. Make sure to stop once the muffin mixture is just combined without over-mixing. Finish the batter by folding in the fresh berries.
Baking time: Use an ice cream scoop or another similarly sized scoop to transfer the muffin mixture into the muffin tin. You want to make sure the muffin cups are about ¾ full. Bake for 18-22 minutes until the muffin tops are rounded and golden brown, and a toothpick comes out clean. Remove the muffins from the pan after no more than 10 minutes and finish cooling on a wire rack.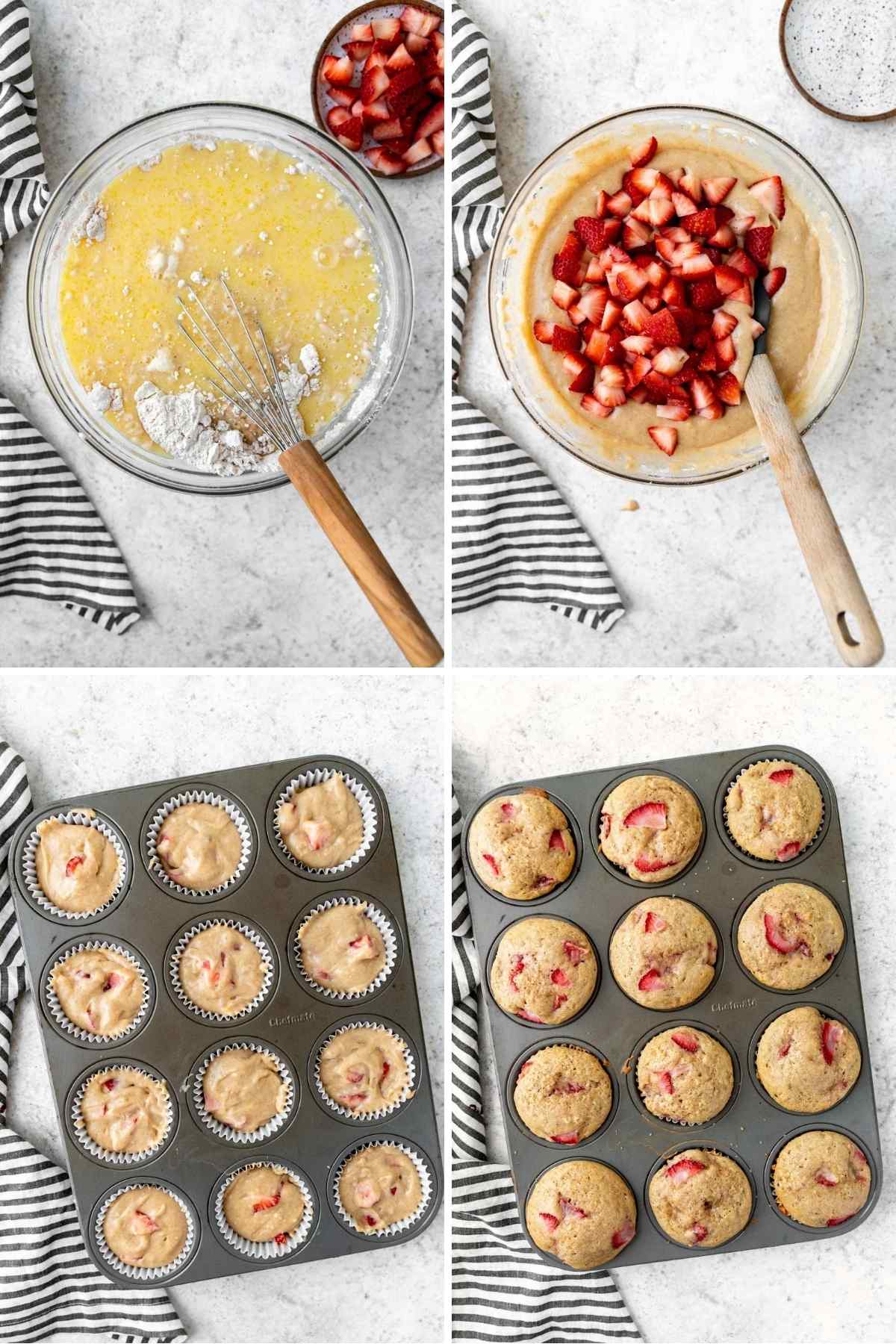 More Delicious Fruit Filled Muffins
FAQs for Strawberry Muffins
Can I use frozen strawberries?
While fresh strawberries are best for these delicious muffins, you can also use frozen strawberries if there aren't fresh available. You need to thaw and drain the excess juices completely so the muffins don't have too much liquid.
How to keep your muffins from being soggy?
The worst thing when fresh baked muffins turn soggy! You want to remove the muffins from the pan within 10 minutes and let them finish cooling outside of the pan. If you leave them in the hot muffin tin, steam will build between the paper liner and the pan and that steam will make your muffin bottoms soggy,
How can I make Healthy Strawberry Muffins?
If you want to make a healthier breakfast recipe, you can use wheat flour instead of all-purpose flour. The whole wheat Strawberry Muffins won't turn out quite as fluffy, but they'll still taste amazing. You can also exchange the white sugar for honey, agave, or brown sugar as the sweetener.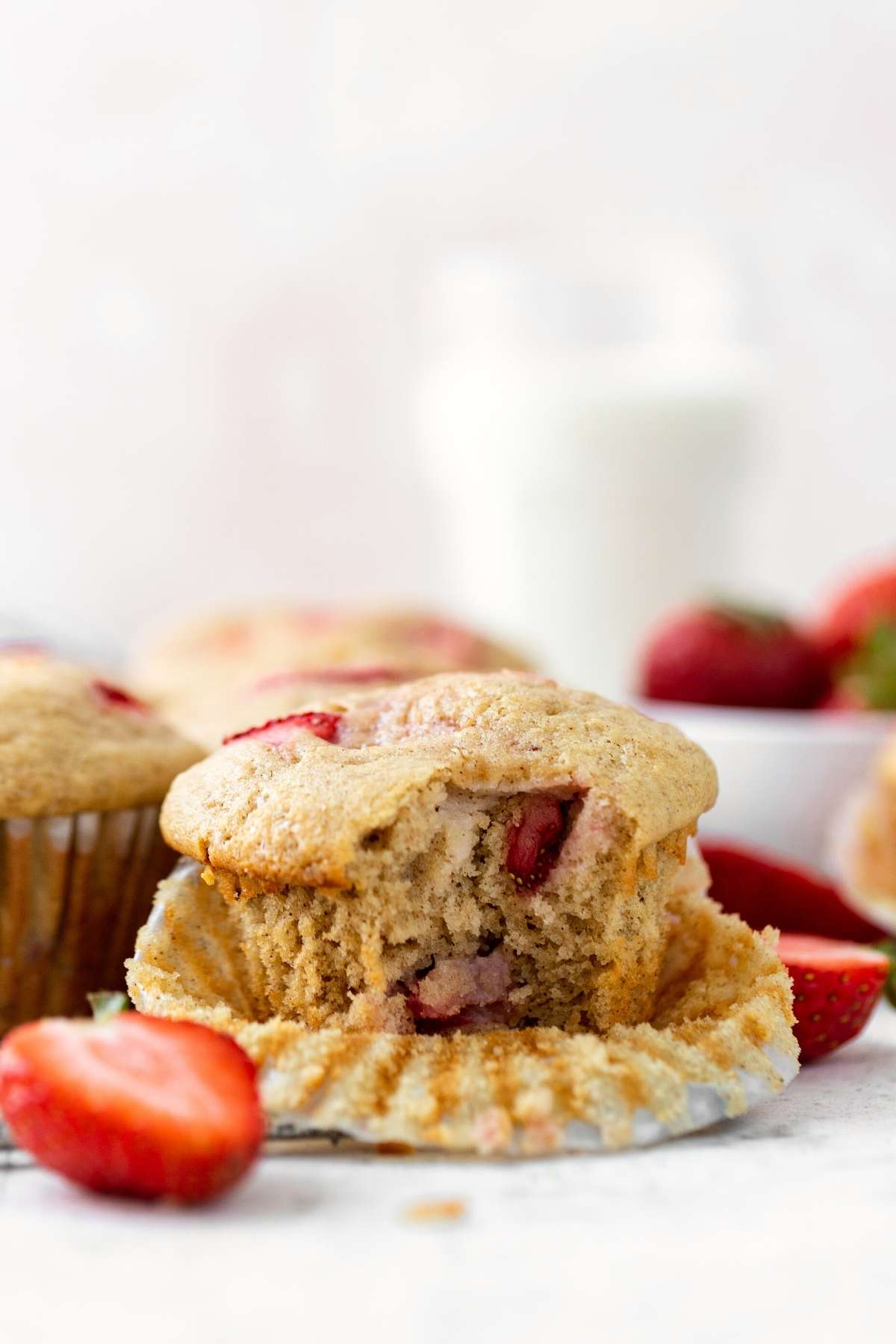 Create a free account to

Save Recipes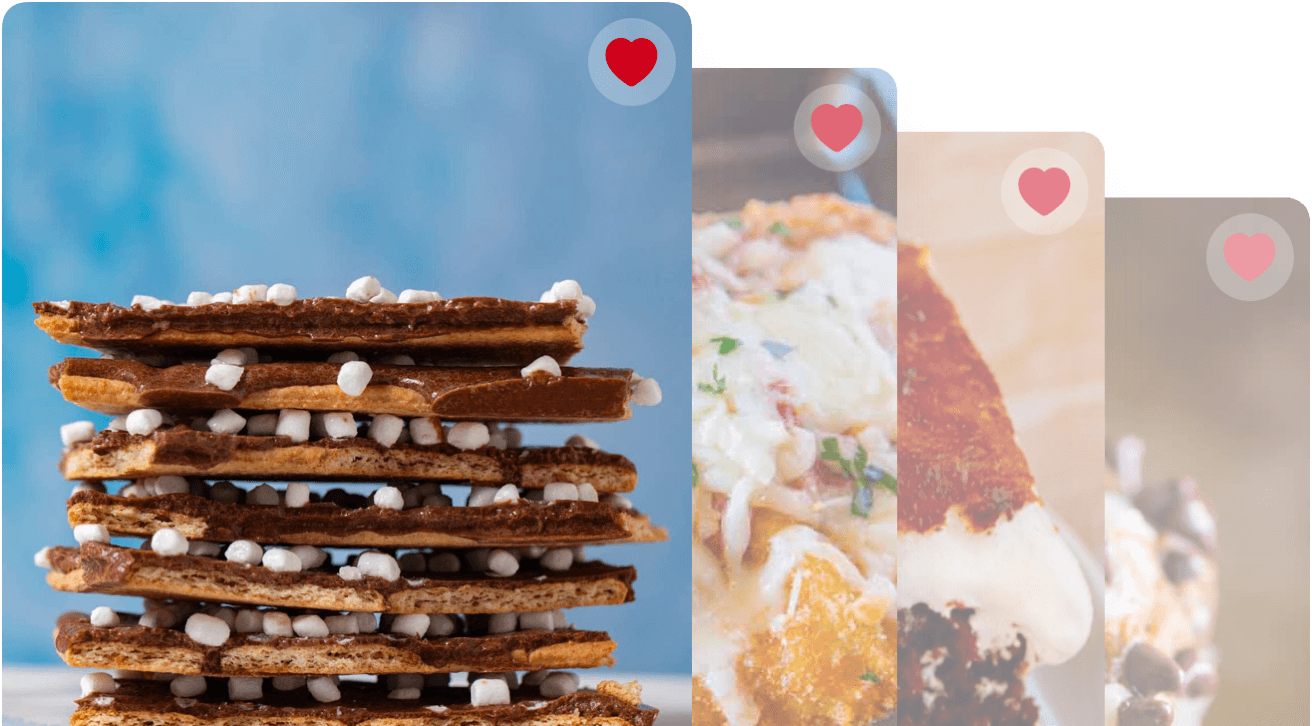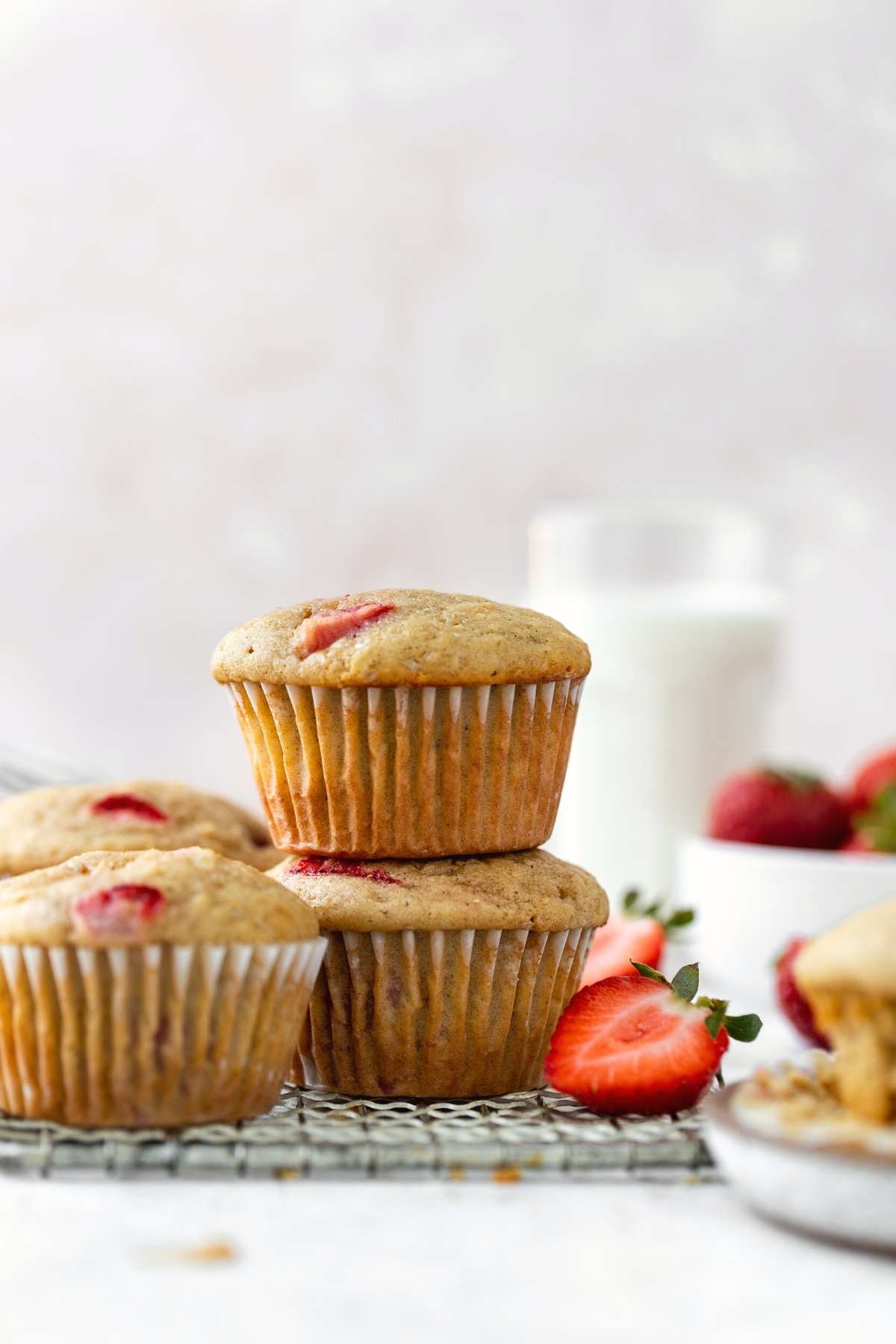 Key Ingredients
Fresh Strawberries: The best part of these tasty berry muffins of course is whole fresh strawberries. Before starting the recipe, slice and hull the strawberries. Dice them into fairly small pieces so they distribute evenly throughout the muffins.
Cinnamon: Adding just a dash of cinnamon to the muffin batter brings a lot more depth of flavor to the recipe. The warm spiced taste contrasts with the fresh, sweet fruit for a delicious combination of flavors.
Eggs: Eggs are whisked into the milk to make a thicker wet batter and they help hold all the ingredients together. The eggs also add a rich flavor and help make the muffins extra moist.
Sugar: Sugar sweetens the muffins and adds moisture. It also helps to brown the muffin tops and adds a delicious sweet crunch to the top. You can use regular sugar, brown sugar, or a blend of both to subtly change the flavors.
Milk: Milk provides additional moisture and helps create a tender crumb in the muffins. You want to use whole milk for a richer, more tender muffin.
Butter: These delicious muffins have a full cup of butter added so they are super rich and buttery, making these tender muffins just melt in your mouth.
Can I make Strawberry Muffins ahead of time?
Yes, you can make Strawberry Muffins ahead of time. They can be baked in advance and stored for later either in the fridge or in the freezer. Once the muffins have completely cooled, place them in an airtight container or plastic bag to maintain freshness. To freeze them, wrap them individually in plastic wrap so they don't get any freezer burn. Thaw them at room temperature or warm in the oven.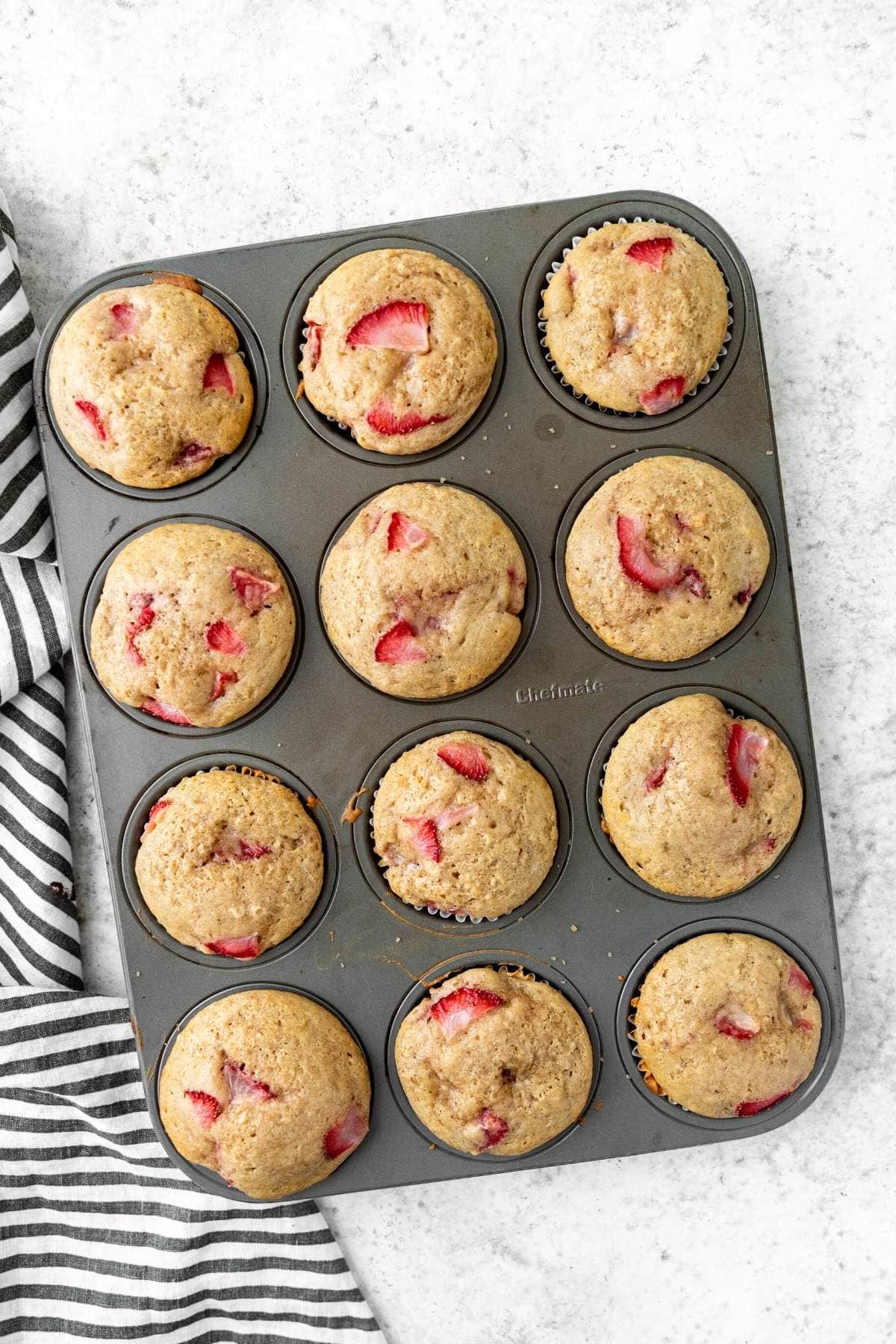 Variations
Crumb Topping: Turn these into bakery-style Strawberry Muffins with a crumb topping made with brown sugar, flour, salt, and cold butter. Cut the butter pieces into the sugar and flour until big crumbs form, then sprinkle the crumble on the muffin batter in the tin.
Mix-ins: Add some toasted nuts, white chocolate chips, or mini chocolate chips to these tasty Strawberry Muffins. You can also add a cube of cream cheese in the center of the batter for a creamy, delicious surprise.
Lemon: Some fresh lemon will make the best sweet, tart summer Strawberry Lemon Muffins. Add a tablespoon lemon juice and fresh lemon zest to the batter. Drizzle the baked muffins with a powdered sugar and lemon juice glaze.
Banana: Make Strawberry Banana Muffins by replacing 2 eggs with 3 mashed bananas and half the strawberries with diced bananas.
Berries: Try making berrylicious muffins with a variety of juicy berries like raspberries, blueberries, and blackberries. You can make mixed berry muffins or swap out the strawberries entirely. Other fruit like pineapple, apple, and peaches would all taste yummy with strawberries too!
Gluten Free: Another easy ingredient swap is using almond flour in the muffin recipe. This is a great option if you're baking Strawberry Muffins for someone with gluten intolerance.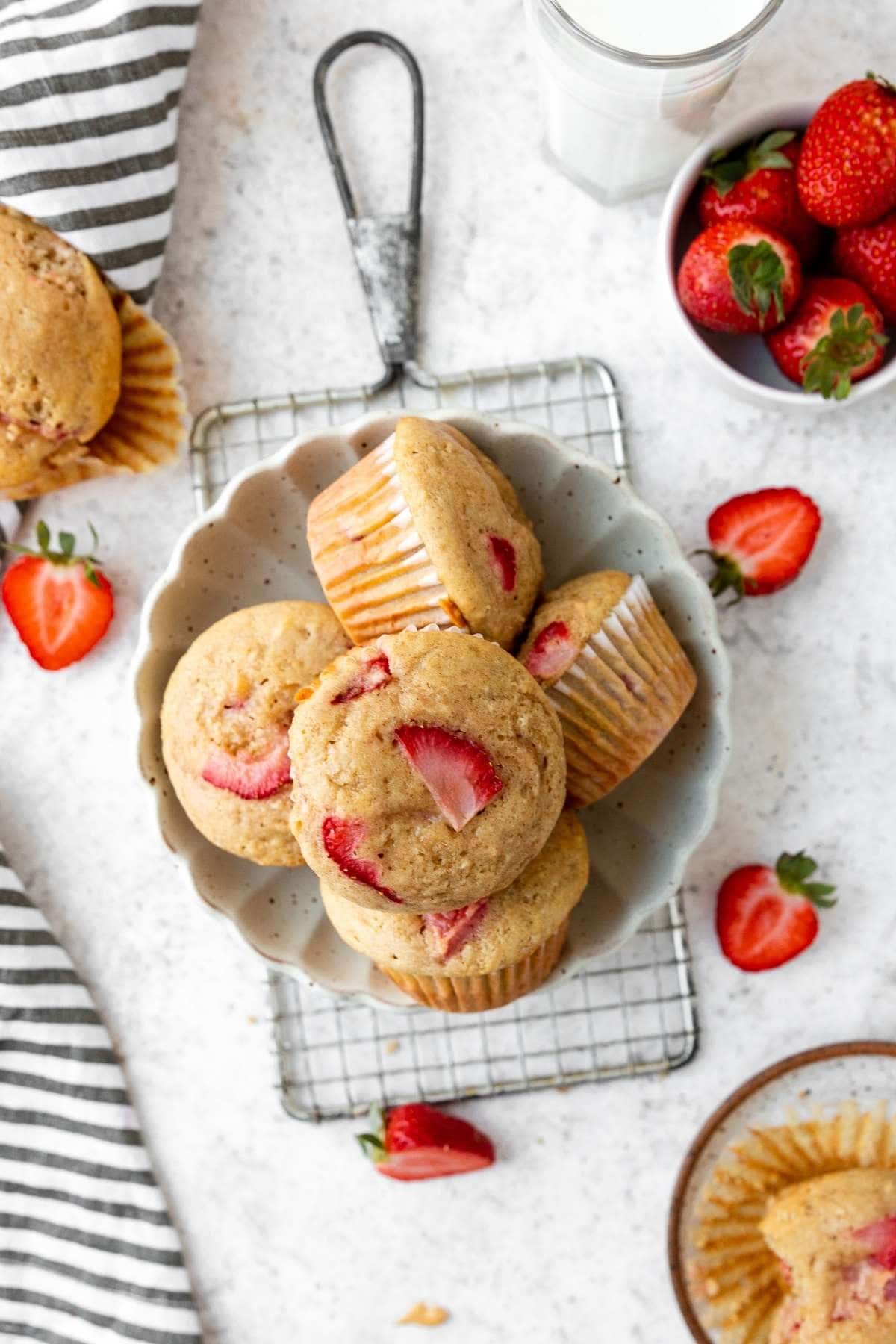 More Strawberry Breakfast Recipes
How to Store
Serve: After baking the Strawberry Muffin recipe, you can keep them out at room temperature for up to 2 days. Place a paper towel in the container to absorb extra moisture to keep them from getting soggy.
Store: To store leftover muffins, put them in an airtight container to store in the fridge for up to 1 week. You can warm them in the oven on low heat or in the microwave on 50% power in 30 second bursts.
Freeze: Wrap cooled muffins in plastic wrap and store them in a freezer bag in the freezer for up to 3 months. Take however many Strawberry Muffins you want out of the freezer, and put them in the fridge to thaw the night before you want to eat them or warm them in the oven.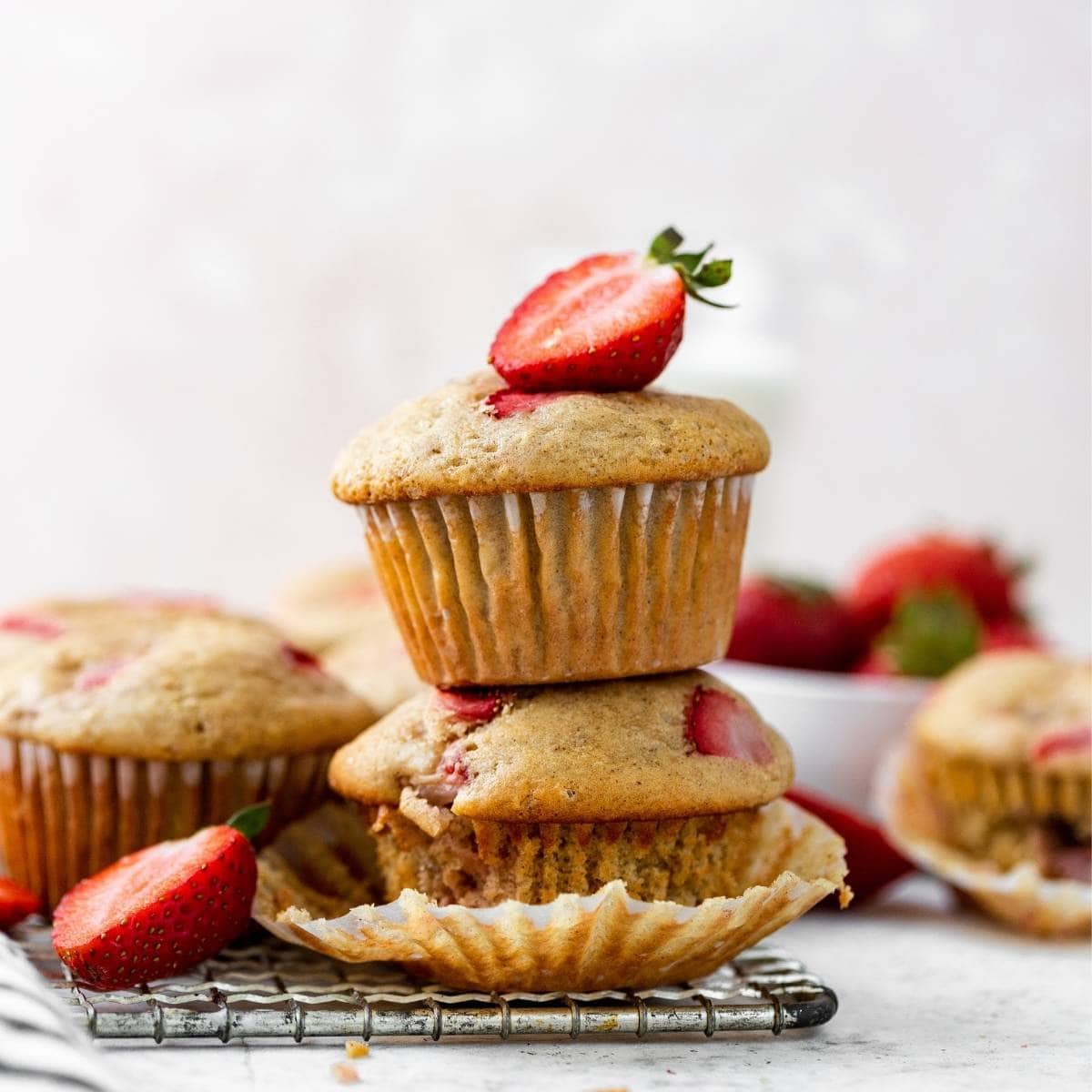 Ingredients
3

cups

flour

1

tablespoon

baking powder

1/2

teaspoon

baking soda

1/2

teaspoon

salt

2

teaspoons

cinnamon

3

large

eggs

, lightly beaten

1

cup

unsalted butter

, melted

1 1/4

cups

sugar

1 1/4

cups

milk

2

cups

strawberries

, hulled and diced (about 1 pound)
Instructions
Preheat the oven to 375 degrees and line two 12 cup muffin trays with paper liner cups.

In a large bowl whisk together the flour, baking powder, baking soda, salt and cinnamon until well combined (this will help the muffins be tender).

In a medium bowl whisk together the eggs, melted butter, sugar and milk.

Add the wet mixture to the flour mixture slowly while whisking.

Whisk until the mixture is just barely combined (do not overmix).

Fold in the strawberries.

Fill the muffin liners ¾ full and bake for

18-22 minutes

until a toothpick comes out clean.
Nutrition
Calories:
184
kcal
|
Carbohydrates:
24
g
|
Protein:
3
g
|
Fat:
9
g
|
Saturated Fat:
5
g
|
Polyunsaturated Fat:
0.5
g
|
Monounsaturated Fat:
2
g
|
Trans Fat:
0.3
g
|
Cholesterol:
44
mg
|
Sodium:
140
mg
|
Potassium:
67
mg
|
Fiber:
1
g
|
Sugar:
12
g
|
Vitamin A:
296
IU
|
Vitamin C:
7
mg
|
Calcium:
57
mg
|
Iron:
1
mg