Fresh Strawberry Bread is an easy quick bread recipe made with juicy, ripe strawberries. Tender, sweet bread recipe perfect for summer days!
Easy, fruity Quick Bread Recipes like Banana Bread are a quick and delicious Breakfast all year round. When it's strawberry season, though, there's nothing better than this sweet, fresh Strawberry Bread recipe!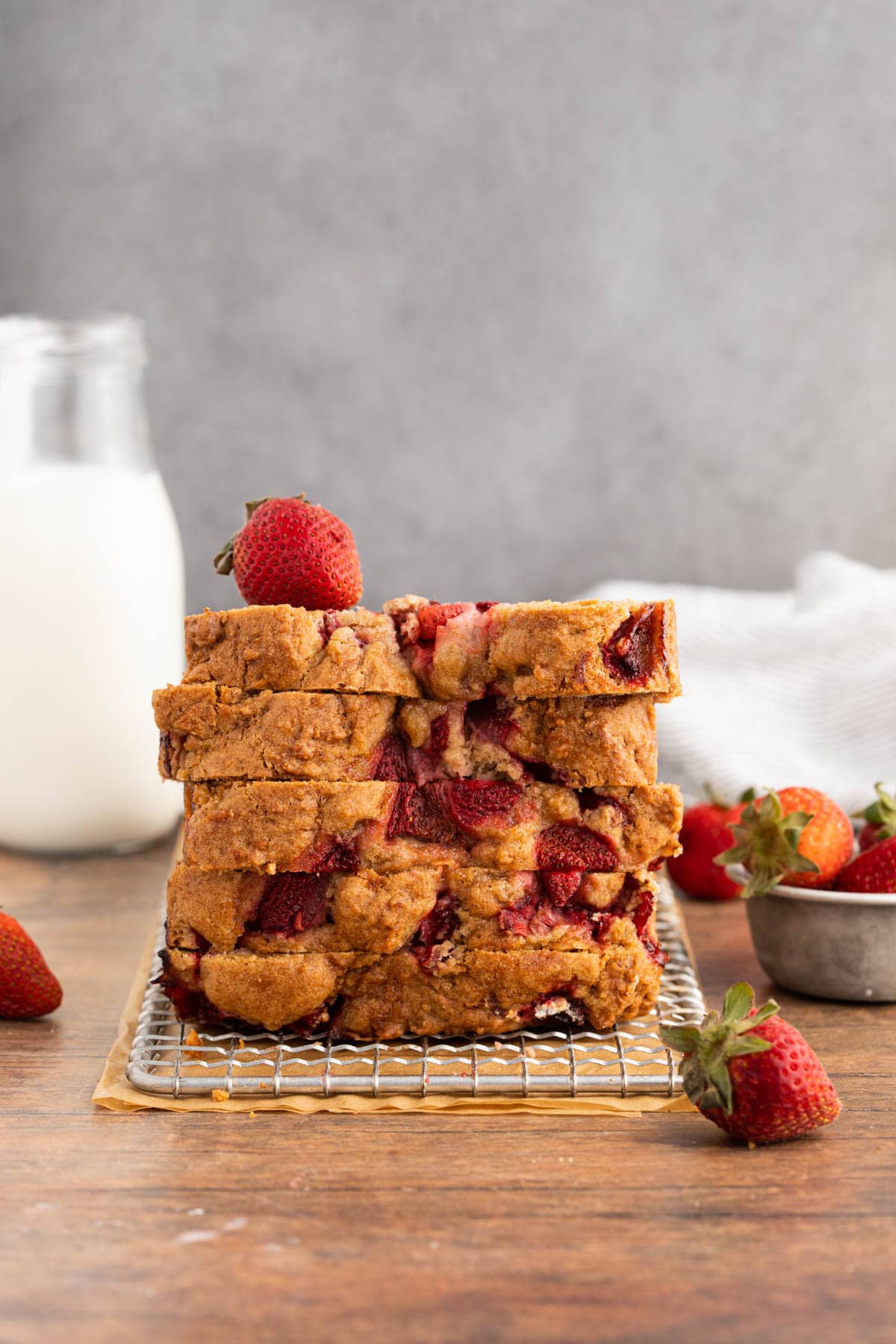 The natural sweetness of fresh strawberries, picked at the height of the season, makes any summertime treat that much better. There are lots of ways to use strawberries all summer long, but this beautiful Strawberry Quick Bread is great for breakfast on the go. It's easy to make and ready in about an hour so you can whip it up any time you see a pint of ripe strawberries on sale.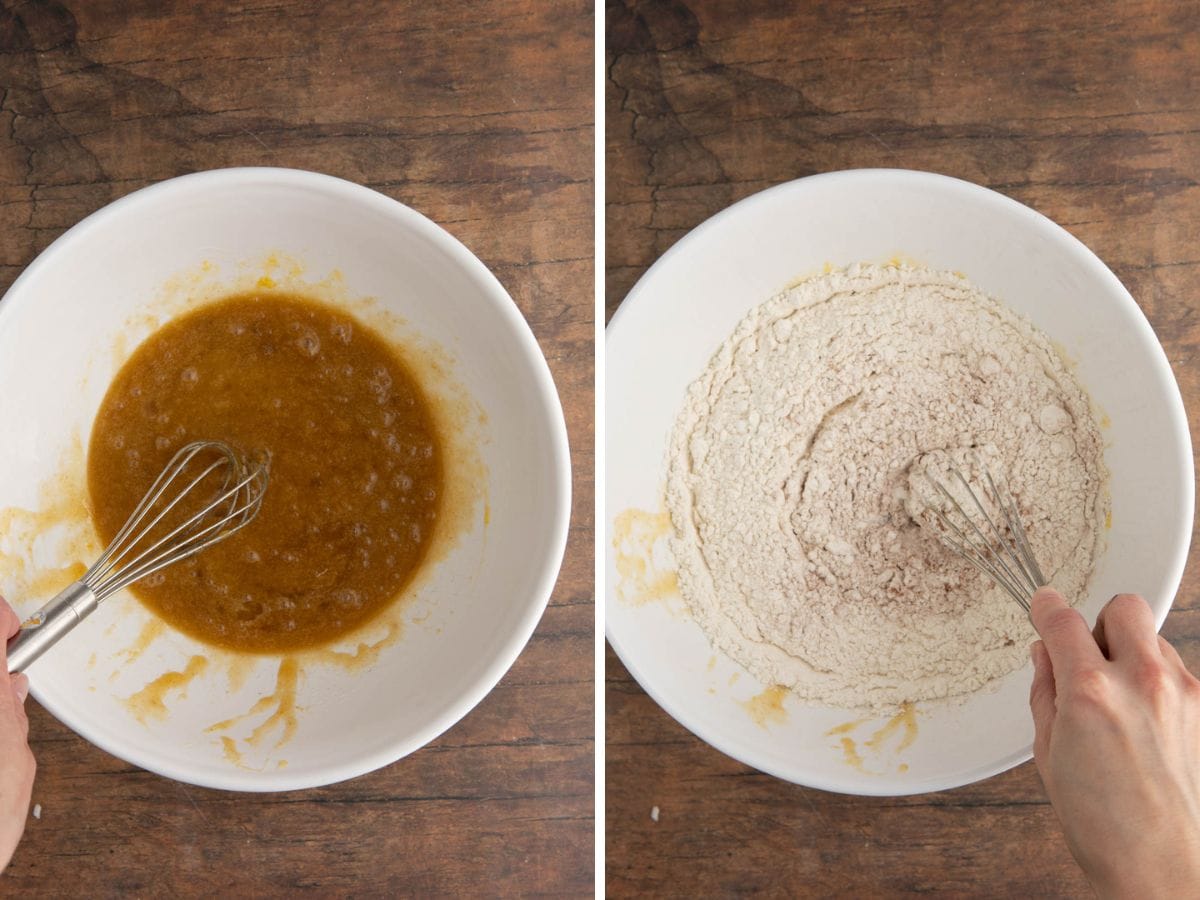 Using fresh ripe berries make this Strawberry Bread recipe extra moist and melt-in-your-mouth delicious. The sweet strawberries are bursting with fruity flavor in every bite of the golden brown tender loaf. Strawberry Bread is light and airy, more like a muffin texture than a dense pound cake.
A slice of warm Strawberry Bread with Strawberry Jam, with a cup of coffee, is the best summery breakfast ever. Serve this sweet bread for dessert or brunch too! You can top a warm slice with a scoop of Vanilla Ice Cream. Cool your loaf of Strawberry Bread completely before topping with Cream Cheese Frosting or make a strawberry flavor powdered sugar glaze.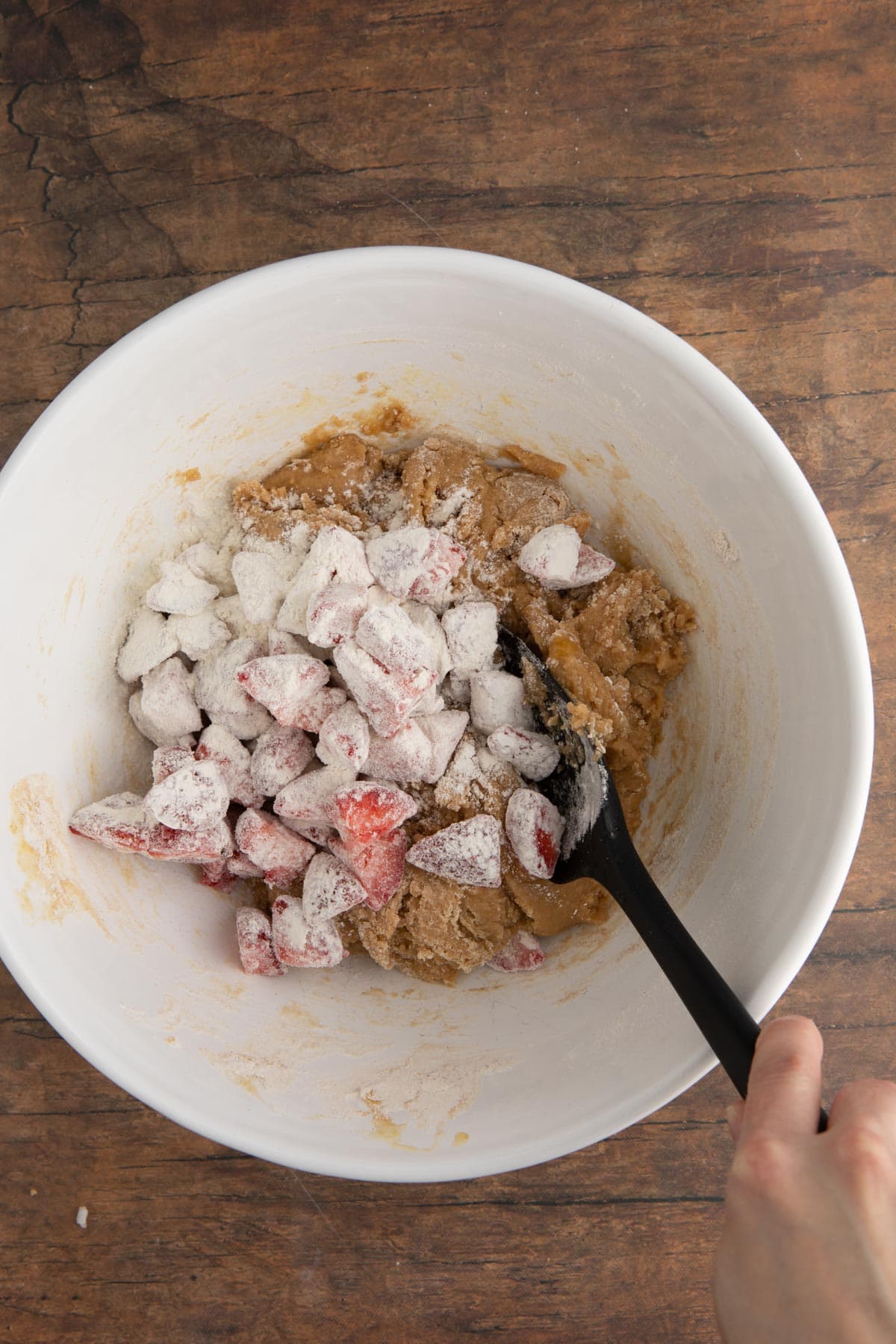 What is Quick Bread?
Quick bread is a type of bread that uses ingredients other than yeast, such as baking powder or baking soda, to help it rise. This category of bread gets its name because it's quick to make, with no kneading or rising time required. Quick breads encompass a wide variety of baked goods, including loaves, muffins, scones, and biscuits. They typically have a softer, denser texture than yeast breads. Examples of quick breads include Banana Bread, Zucchini Bread, Cornbread, and of course this amazing Strawberry Bread.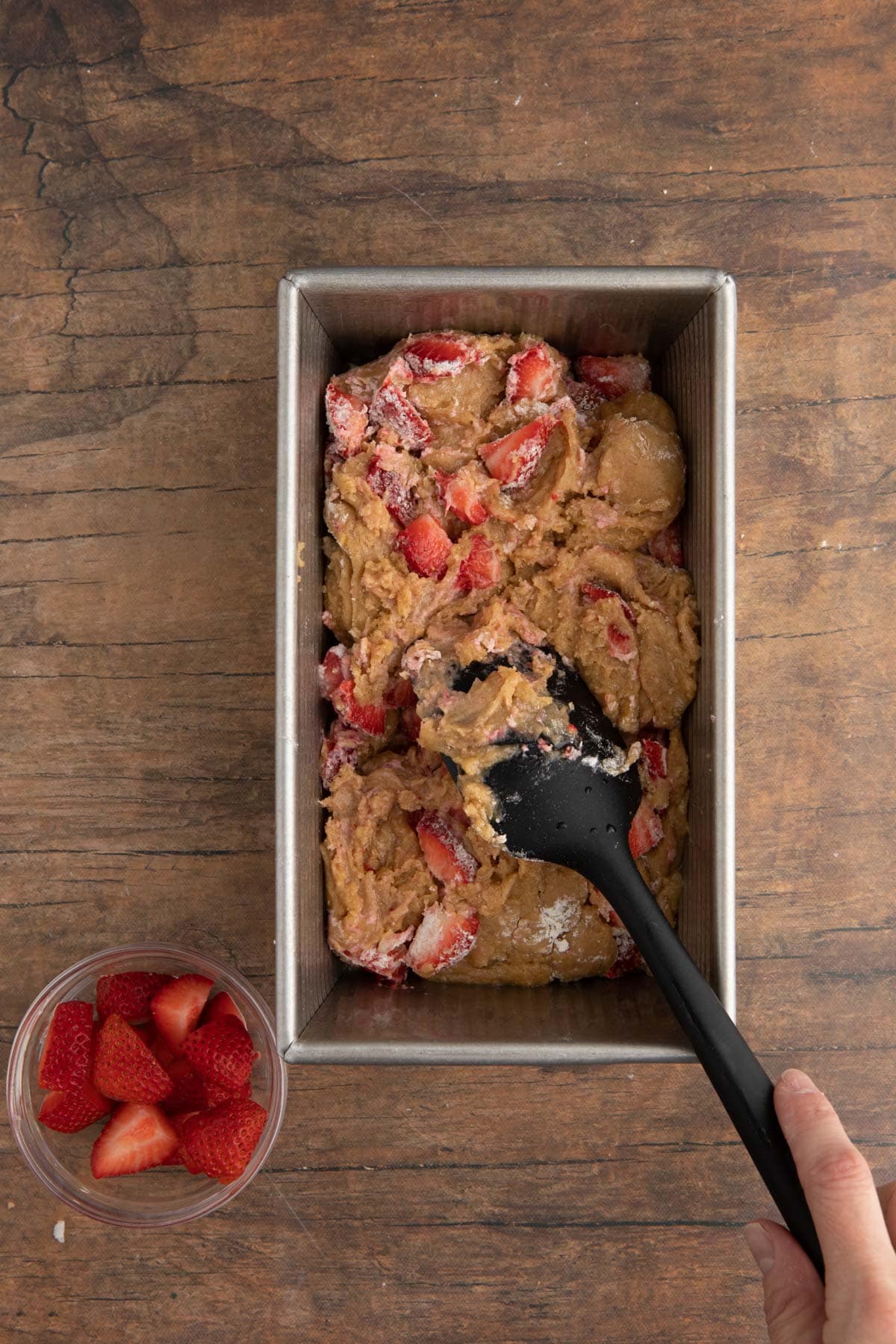 How to Make Strawberry Bread
Prep: Preheat your oven. Generously spray a 9×5 inch loaf pan with baking spray. You can also line it with parchment paper, leaving about an inch of paper over the sides to lift the loaf out of the pan.
Batter: In a large bowl, whisk the eggs, vegetable oil and sugar until combined. In a separate bowl, sift the flour, baking soda, salt, and cinnamon. Add the flour mixture to the egg mixture, whisking until just combined with a few dry steaks. Do not over mix.
Berries: Set aside a few strawberry slices. Toss remaining strawberries with flour then tap off any excess flour. Gently fold coated berries into the bread batter then pour the batter into the prepared loaf pan. Top the batter with the reserved strawberry slices.
Bake: Bake the bread in the center of the oven for 50-55 minutes, or until golden brown and an inserted toothpick comes out clean with moist crumbs. Cool the bread on a wire rack then remove from the pan to serve.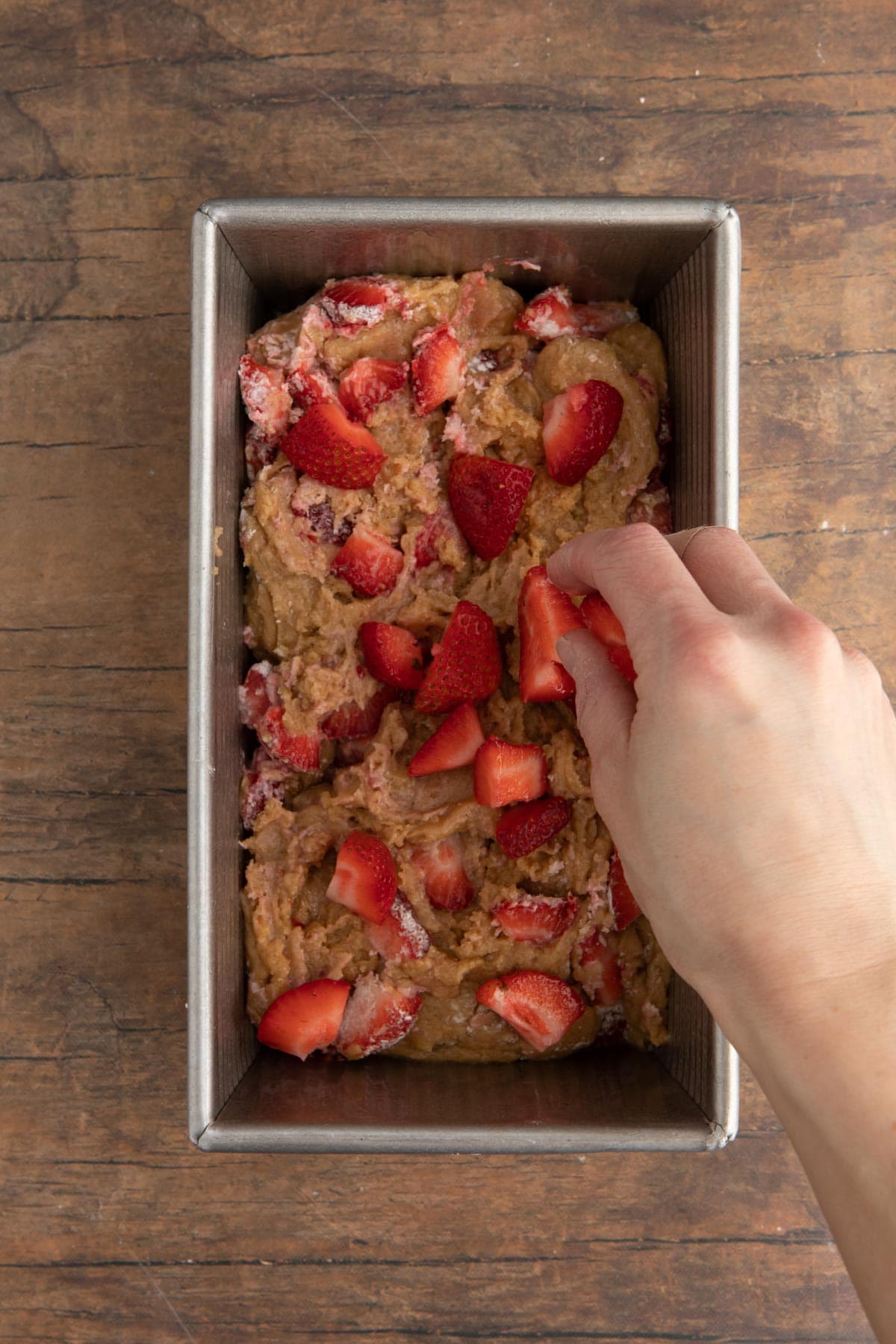 FAQs for Strawberry Bread
Can I use frozen strawberries?
We don't recommend that you use frozen strawberries in this Strawberry Bread recipe. The frozen berries will release too much moisture that causes steam and will make your bread soggy. If you do need to use frozen berries, thaw them completely first and drain any excess juices.
How do I keep berries from sinking in my homemade bread?
Tossing the strawberries in flour will keep them from sinking to the bottom of the loaf pan while the bread bakes. Once you coat strawberries, fold them into the bread batter right away so they don't have time to absorb the flour.
What is the key to making homemade quick bread?
A good quick bread recipe has a soft, tender texture that is light and moist. You want to have a good balance of moisture and fat to trap that moisture so it releases slowly. This bread uses whole eggs and vegetable oil which will give you tender, moist bread that will stay moist at room temperature for days. 
How do I keep my bread from sinking?
To keep your Strawberry Bread from sinking, don't over-mix the batter. Mix until no visible dry streaks and gently fold in the berries until just combined. Sifting the dry ingredients before adding to the wet ingredients helps you not to over-mix because it prevents clumps of dry mixture.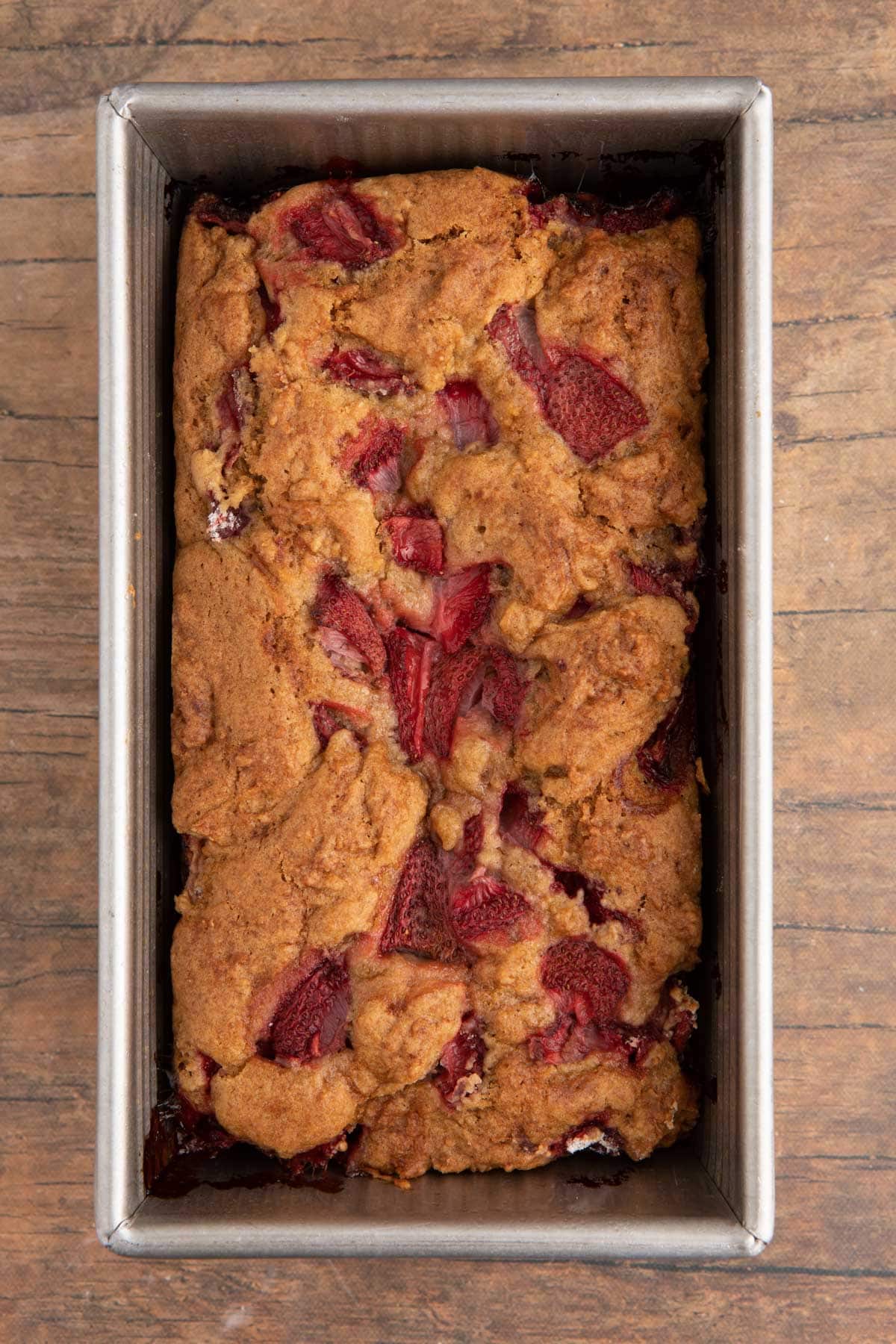 Create a free account to Save Recipes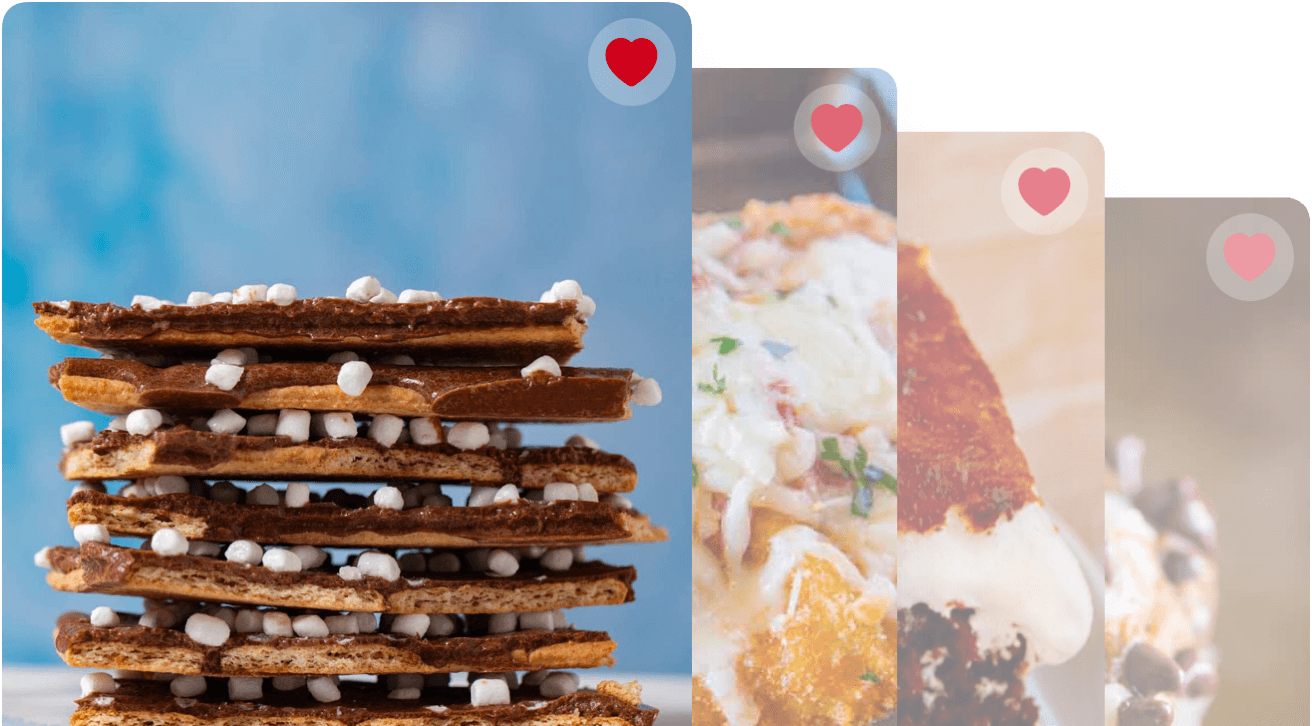 Key Ingredients
Eggs: Eggs serve as a binder in the bread, holding the other ingredients together. They also provide moisture and help the bread to rise.
Vegetable Oil: Vegetable oil is a fat that helps to moisten and tenderize the bread. It gives the bread a soft texture and keeps the bread moist longer after baking.
Sugar: This delicious bread has a blend of white sugar and brown sugar to make it sweet without being too sweet. Using both means you get a subtle molasses flavor from the brown sugar without overpowering the strawberry flavor.
Flour: In addition to the regular flour to make the bread, you need a bit more to coat the strawberries to prevent them from sinking during baking. Since this is a quick bread recipe, regular all-purpose flour works great, you don't need special bread flour.
Baking Soda: Baking soda acts as a leavening agent, reacting with the acidic ingredients (strawberries and brown sugar) to create carbon dioxide gas. This gas helps the bread rise and become light and fluffy.
Cinnamon: Ground cinnamon adds a warm, sweet-fragrant note that complements the sweetness of the strawberries and sugar. It gives homemade bread a bakery-style taste and aroma.
Strawberries: Fresh, juicy, ripe strawberries are the star of this mouthwatering Strawberry Bread. They add natural sweetness, a hint of acidity, and bursts of juicy flavor. Their vibrant color also makes the bread look beautiful. Make sure to reserve a few slices to place on top of the bread for a pretty finish.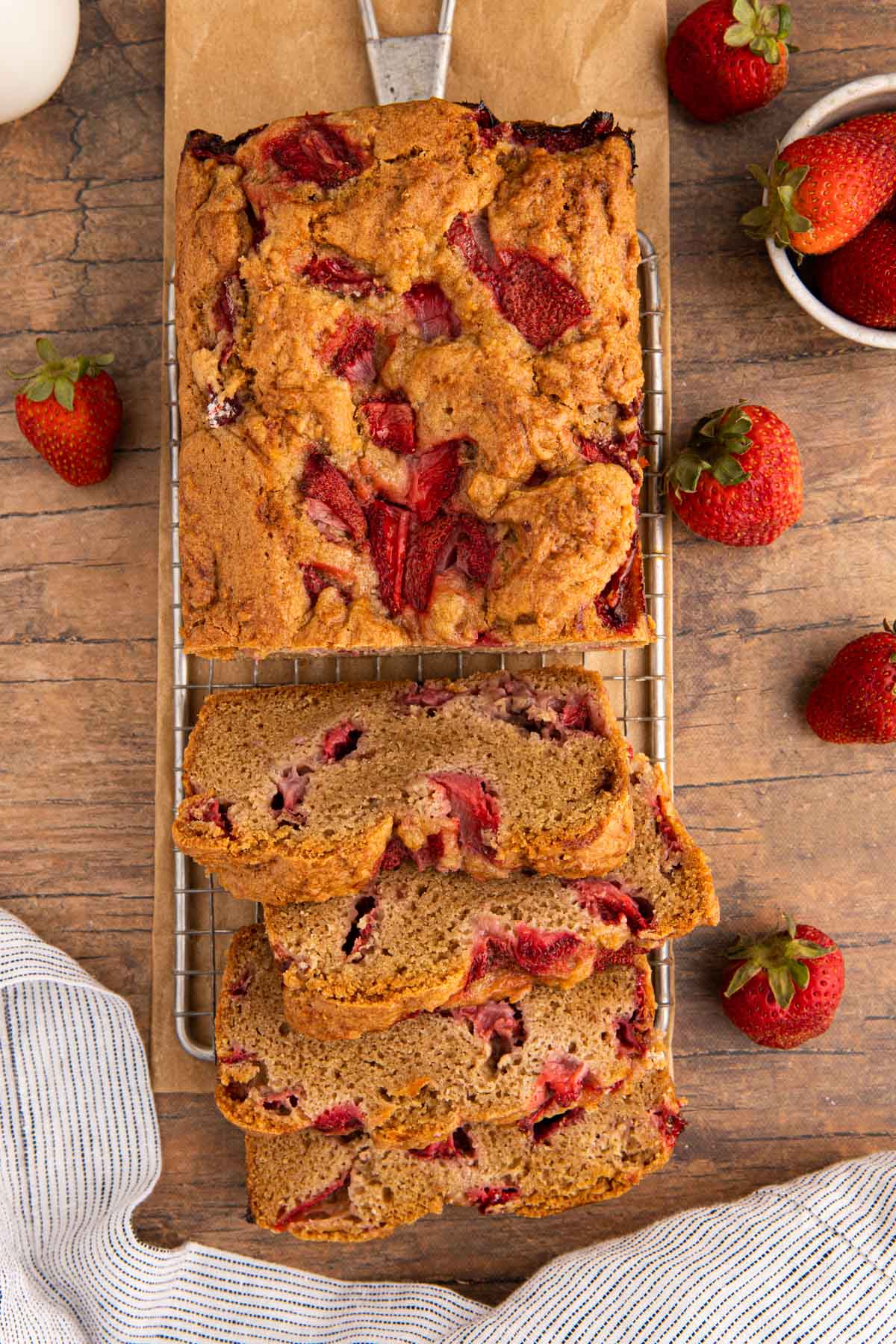 Can Strawberry Bread be made ahead of time?
You can freeze a loaf of Strawberry Bread for up to 6 months, so you can enjoy the fruity goodness all winter long. Just bake as usual, cool and remove from the loaf pan, and wrap tightly in plastic wrap to freeze. To keep your bread from getting soggy, unwrap and thaw overnight in the refrigerator before reheating.
Variations
Fruit and Berries: Try other fruits and berries in your Strawberry Bread. Replace ½ cup strawberries with diced fruit like apples, pears, and peaches, or whole berries like blueberries and cranberries.
Cream Cheese: Give this Strawberry Bread tasty cream cheese swirl filling. Cream together 4 ounces cream cheese, ½ cup powdered sugar, and 2 tablespoons milk. Add half the bread batter, then dollop cream cheese mixture. Gently swirl and top with remaining batter before baking.
White Chocolate: Fold in ½ cup white chocolate chips to the batter with the strawberries. You could also use semi-sweet chocolate chips or dark chocolate chips.
Banana: Make Strawberry Banana Bread by adding up to 2 ripe bananas. Mash bananas and add to the butter mixture with the eggs and vanilla.
Strawberry Muffins: Line a 12-cup muffin tin with cupcake liners. Divide the batter, filling muffin cups 2/3 full. Bake for 20-22 minutes at 350 degrees, until an inserted toothpick comes out clean.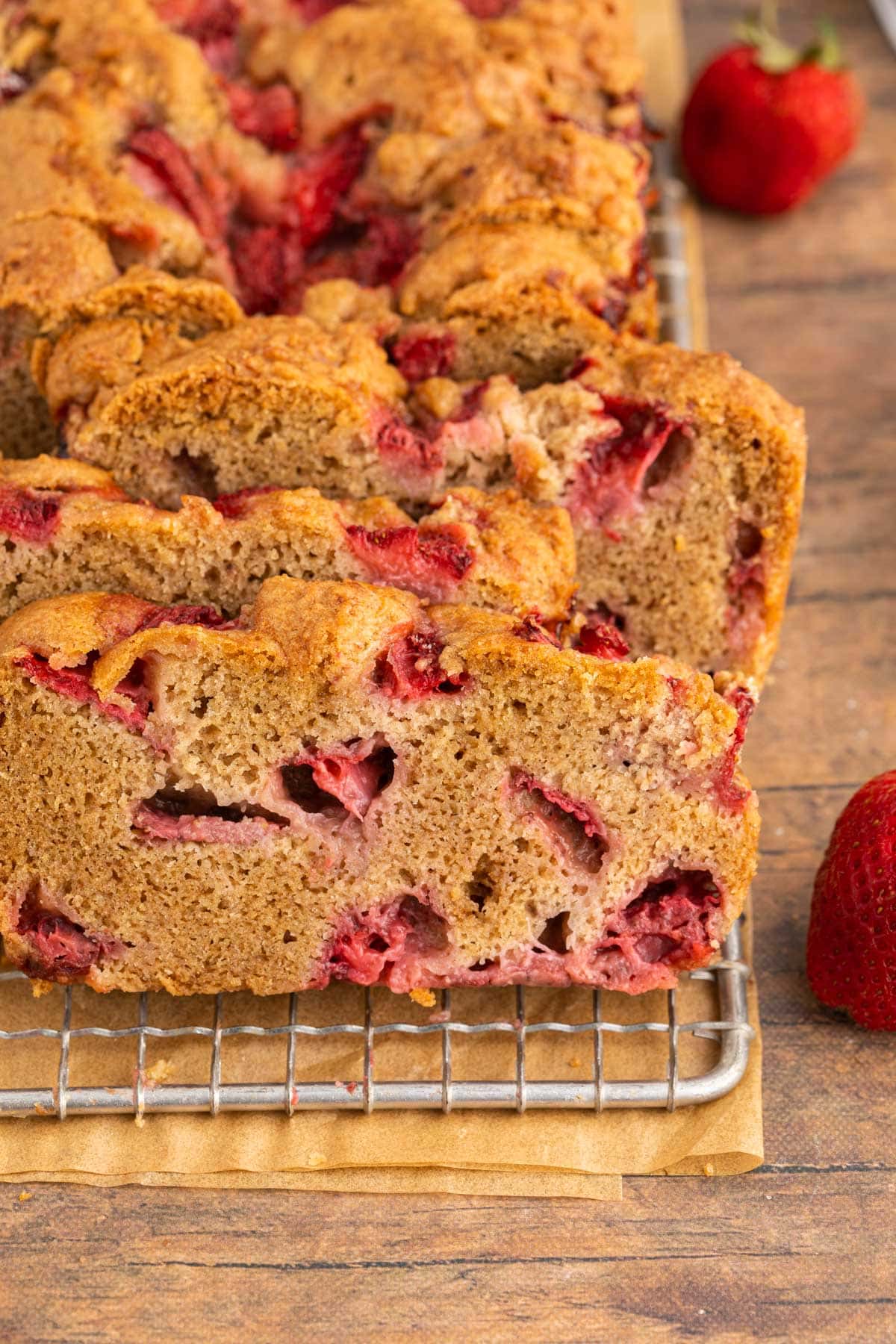 Fresh Strawberry Baked Treats
How to Store
Store: You can keep Strawberry Quickbread at room temperature for up to 4 days. Let the bread cool, then wrap in plastic wrap or foil, or store in an airtight container. Refrigerate cooled Strawberry Bread in an airtight container lined with paper towels, to absorb moisture, for about a week.
Reheat: Reheat the individual slices wrapped loosely in a damp paper towel in the microwave so it doesn't dry out. You could also warm up the Strawberry Loaf in the oven on low heat.
Freeze: Once cooled, wrap Strawberry Bread tightly in plastic wrap and then aluminum foil. Freeze loaf for up to 6 months and thaw overnight to serve. You can also wrap individual slices and freeze in a large freezer safe bag.


Ingredients
2

large

eggs

, beaten

1/2

cup

vegetable oil

1/2

cup

sugar

1/2

cup

brown sugar

, packed

2

cups

flour

1/2

teaspoon

baking soda

1/2

teaspoon

salt

1

teaspoon

ground cinnamon

2

cups

strawberries

, sliced

1/4

cup

flour
Instructions
Preheat oven to 350 degrees and spray a 9×5″ loaf pan with baking spray.

Whisk the eggs, oil and brown sugar and sugar together in a large bowl.

Sift together the flour baking soda, salt and cinnamon.

Add flour mix to the wet ingredients and whisk until just a few streaks of flour remain.

Toss the strawberries in the additional ¼ cup flour, tap off excess (reserve a handful of strawberry slices to top bread without coating them in flour).

Add in the strawberries (still reserving some to top the bread) and stir until just combined.

Pour batter into the loaf pan and top with remaining strawberries.

Bake for

50-55 minutes

or until a toothpick comes out clean from the center.

Cool completely on a wire rack before removing from loaf pan.
Nutrition
Calories:
303
kcal
|
Carbohydrates:
45
g
|
Protein:
4
g
|
Fat:
12
g
|
Saturated Fat:
2
g
|
Polyunsaturated Fat:
7
g
|
Monounsaturated Fat:
3
g
|
Trans Fat:
0.1
g
|
Cholesterol:
37
mg
|
Sodium:
189
mg
|
Potassium:
104
mg
|
Fiber:
1
g
|
Sugar:
22
g
|
Vitamin A:
58
IU
|
Vitamin C:
17
mg
|
Calcium:
26
mg
|
Iron:
2
mg