Sweet Potato Chocolate Chip Cookies are moist, buttery, and wonderfully chocolatey. The perfect Thanksgiving dessert with cinnamon and nutmeg.
There's a reason Chocolate Chip Cookies are the most popular Cookie Recipe out there. They're soft and chewy with melty chocolate chips. What's not to love? These Sweet Potato Cookies take everything you love about classic chocolate chip cookies, but with a more seasonal taste for Fall.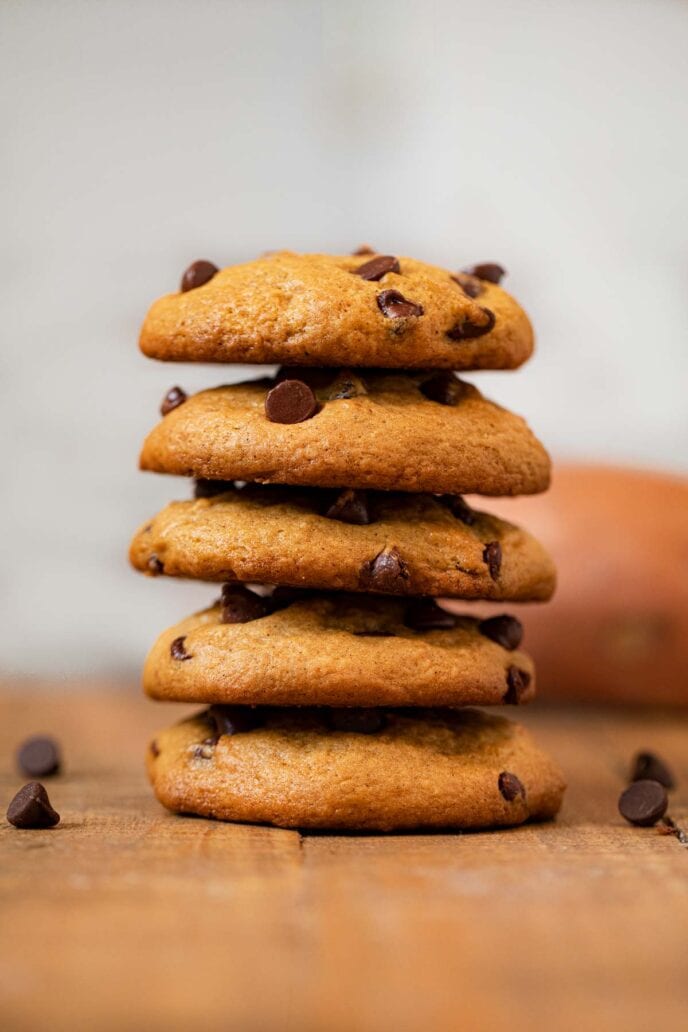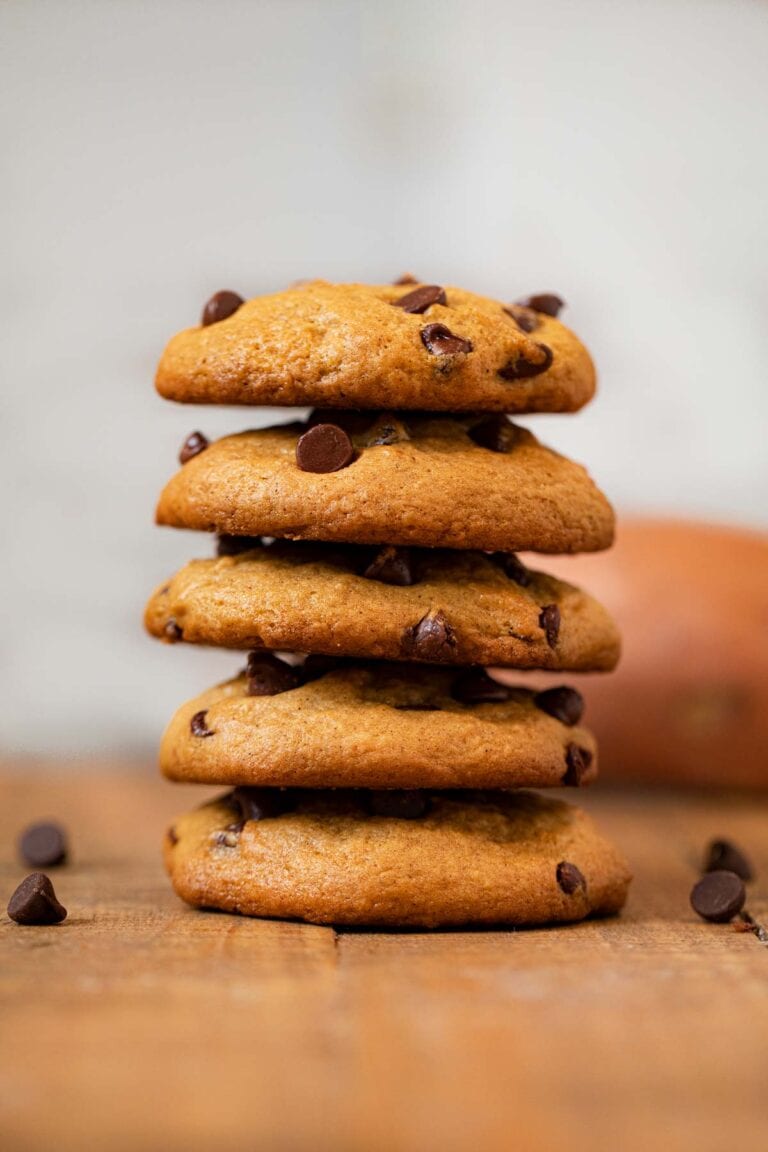 SWEET POTATO CHOCOLATE CHIP COOKIES
Most of us have tried Pumpkin Chocolate Chip Cookies, but perhaps you've never thought of trying sweet potatoes. Well, this recipe proves that sweet potatoes are just as festive as pumpkin. Chocolate Chip Sweet Potato Cookies are flavorful, chewy, a big hit with kids, and slightly more healthy than your typical cookie recipe.
Sweet potatoes are the ultimate ingredient you never knew you needed in holiday baking. Their natural sweetness blends perfectly with baked goods, and it adds some extra moistness to the cookies. They also have a mild enough flavor, that they don't interfere with the rest of the cookie ingredients. Serve them up to your holiday guests and see if any of them can guess your secret ingredient!
Sweet Potato Chocolate Chip Cookies are perfect to bake for the holidays. Not only are sweet potatoes a stable of Thanksgiving, but the cookies have other classic holiday flavors like nutmeg and cinnamon. Put them out on a cookie tray with other holiday classics like Butter Cookies and Gingerbread Cookies.
TIPS FOR MAKING THE PERFECT CHOCOLATE CHIP COOKIES
Here are some quick tips to make sure you get perfect Sweet Potato Chocolate Chip Cookies every time. You can use the same tips on any cookie recipe you make!
Cover your baking sheet with parchment paper. This will make sure the Sweet Potato Cookies don't stick and help them to spread out properly.
Don't skip refrigerating the dough! It's always so tempting to skip right over this step to make your cookies a little faster, but putting the cookie dough in the fridge for an hour makes a big difference. If the dough is too warm, it will spread faster and the cookies will end up too flat.
Be careful to measure the ingredients accurately. Use measuring cups and a butter knife to level out the top.
Check to make sure none of your ingredients are expired. It's common for cookies to turn out flat when you use old baking soda unknowingly.
Don't overmix your ingredients. When you combine the dry ingredients with the sweet potato and oil mixture, just mix the dough until it's combined. Don't put the stand mixer on a high speed or mix them too long.
Use an ice cream scoop to form the cookie dough balls. This will keep the cookies a consistent shape and size, and it makes scooping the dough faster.
Press a few chocolate chips into the top of the formed cookie dough. This makes sure there are pretty chocolate chips visible on top of the cookies instead of just baked into the dough.
More PERFECT HOLIDAY Cookie Recipes
MAKE-AHEAD COOKIE DOUGH
You can divide the cookie dough in half to bake some right away, and freeze the rest for later. The sweet potato cookie dough will keep well in the freezer, so you can bake them a month or so later.
To freeze the dough start by forming the cookie dough into balls and laying it out on a baking sheet as usual.
Put the Sweet Potato Chocolate Chip Cookie dough in the freezer on the baking sheet for about an hour.
After the hour the cookie dough balls will be fully formed, and you can transfer them to a freezer bag for more easy storage.
When the craving for Sweet Potato Cookies hits you again, take the cookie dough straight from the freezer and arrange them on a baking sheet.
Preheat the oven to 350 degrees, and add 2-3 minutes to the baking time for the frozen dough.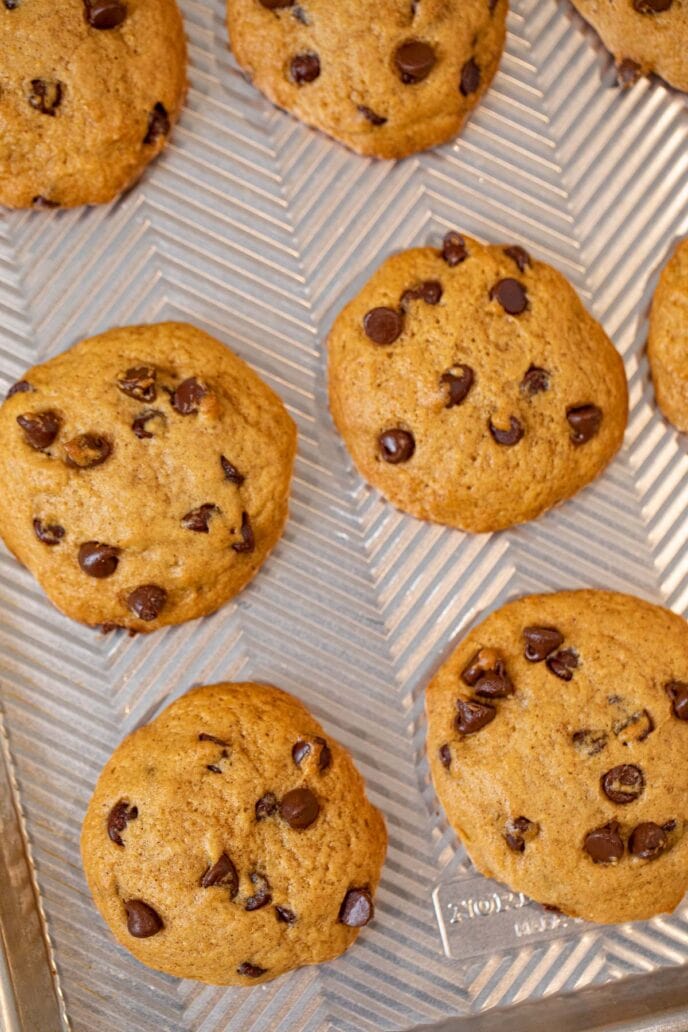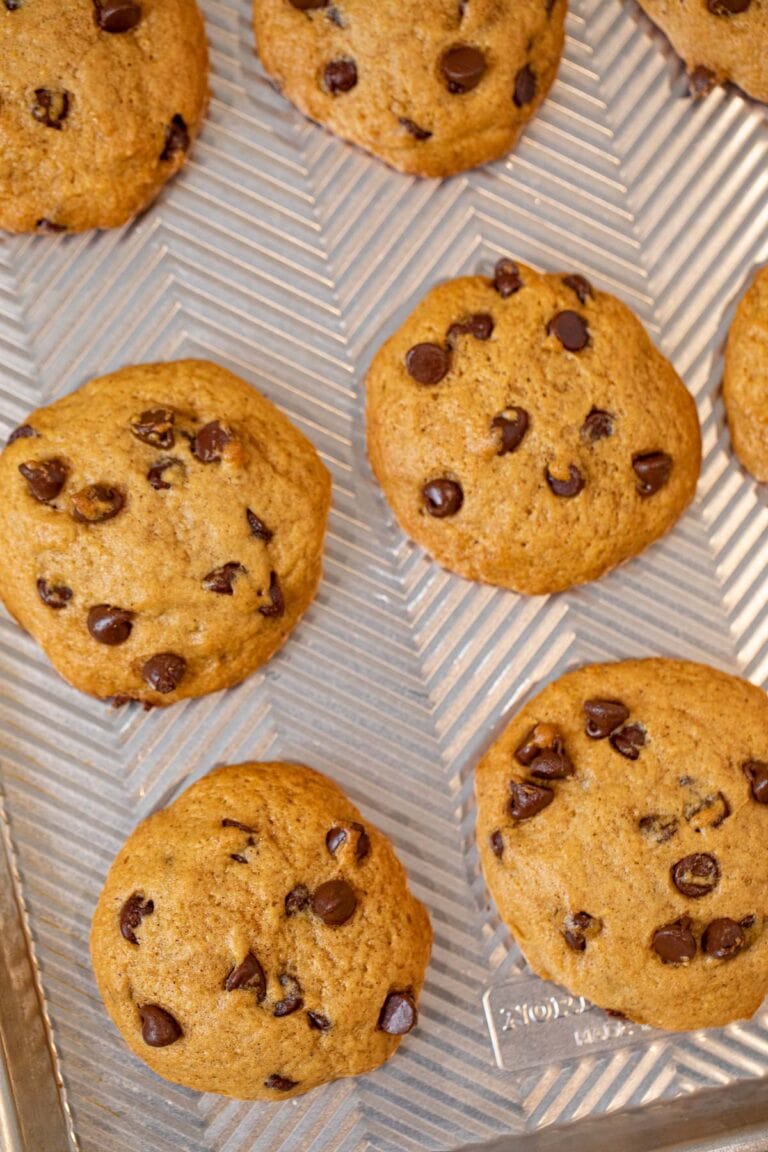 Create a free account to

Save Recipes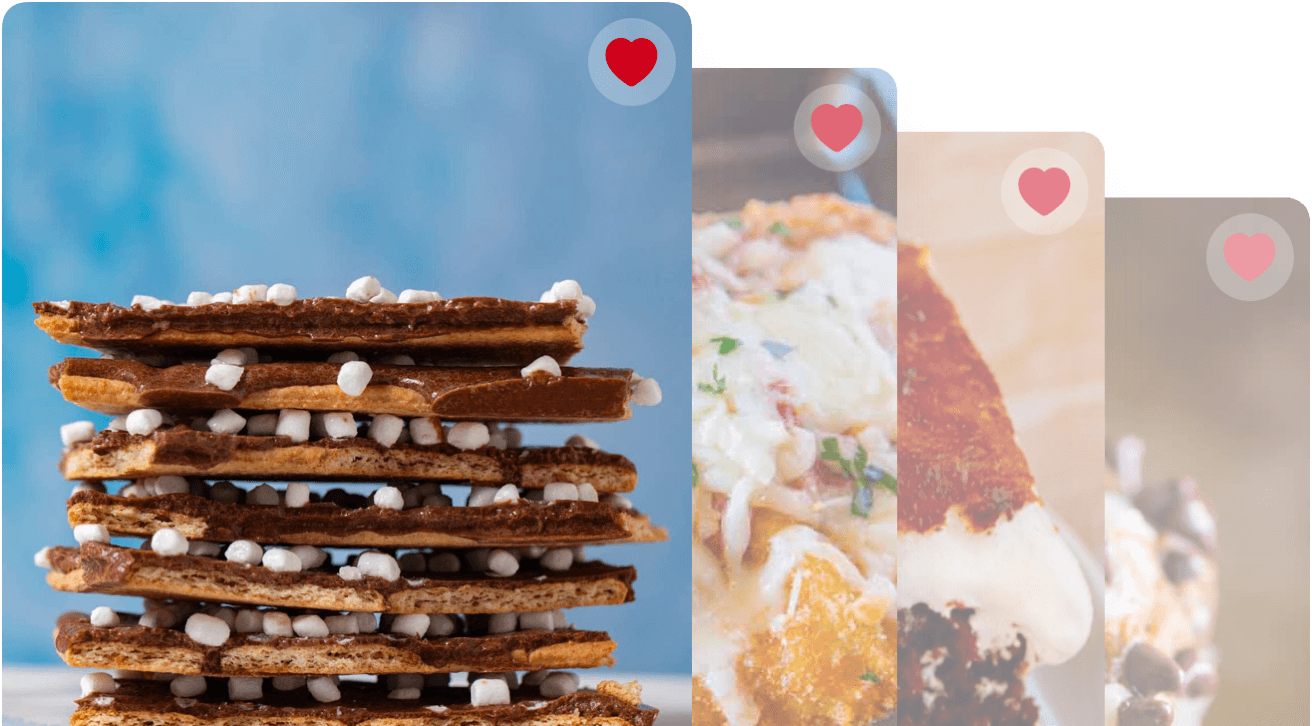 VARIATIONS ON SWEET POTATO CHOCOLATE CHIP COOKIES
Chocolate chips: You don't have to only use semi-sweet chocolate chips. Try dark chocolate, milk chocolate, white chocolate or a combination in your cookie dough. You can even use butterscotch or peanut butter chips.
More mix-ins: There are other add-ins, besides chocolate chips, you can throw in for some more texture and taste. Try different kinds of nuts like peanuts, chopped almonds, or walnuts for some crunchy texture. You could also toss in some dried fruit like raisins, dried cranberries, or dried blueberries. Cranberries are a great option if you make these cookies for the holidays.
Oatmeal: For some extra chewiness and fiber add in a cup of old fashioned oats to the cookie dough at the same time you add the chocolate chips.
Flour: You can exchange the all-purpose flour for whole wheat flour or other flour options. If you need gluten-free cookies try using almond flour, oat flour, or coconut flour.
More Chocolate Chip Cookie Recipes
HOW TO STORE SWEET POTATO CHOCOLATE CHIP COOKIES
Serve: Keep your chocolate chip cookies in a ziplock bag or airtight container at room temperature. They'll keep well for up to 3 days.
Store: After they've cooled, you can keep your cookies in an airtight container in the fridge for up to a week. To get the cookies warm and gooey again microwave them for 15 minutes.
Freeze: You can freeze the cookie dough or baked sweet potato cookies for up to 2 months.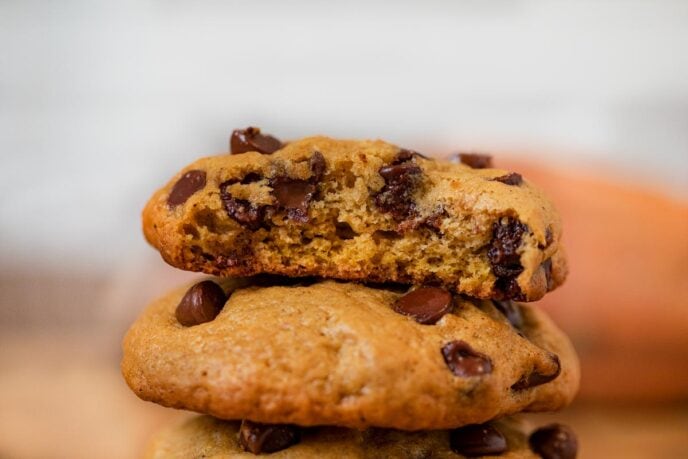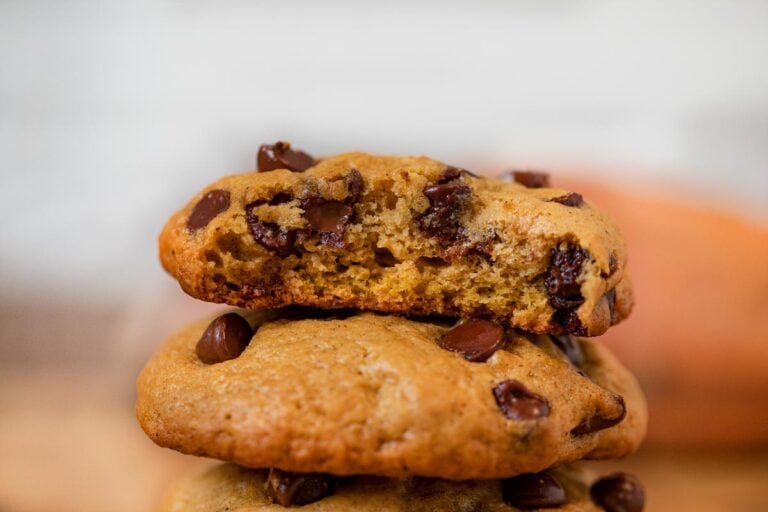 Ingredients
3/4

cup

sugar

1/2

cup

mashed sweet potato

1/4

cup

vegetable oil

1

large

egg

1 3/4

cups

flour

1/2

teaspoon

baking powder

1/2

teaspoon

baking soda

1

teaspoon

cinnamon

1/4

teaspoon

nutmeg

1/4

teaspoon

salt
Instructions
In a large bowl whisk together the sugar, pureed sweet potato, vegetable oil and egg until smooth.

Sift together the flour, baking powder, baking soda, cinnamon, nutmeg and salt.

Add the sifted dry ingredients and whisk together until just combined.

Fold in half the chocolate chips.

Cover and refrigerate for

1 hour

.

Pre-heat oven to 350 degrees.

Scoop 2 tablespoon sized scoops of cookie dough and press 2-3 chocolate chips into the top of each one to use remaining chocolate chips.

Place onto baking sheets 2 inches apart and bake for

10-12 minutes

until edges just start to brown.
Nutrition
Calories:
129
kcal
|
Carbohydrates:
18
g
|
Protein:
2
g
|
Fat:
5
g
|
Saturated Fat:
4
g
|
Cholesterol:
8
mg
|
Sodium:
53
mg
|
Potassium:
91
mg
|
Fiber:
1
g
|
Sugar:
9
g
|
Vitamin A:
1136
IU
|
Vitamin C:
1
mg
|
Calcium:
14
mg
|
Iron:
1
mg