Bakery-Style Chocolate Chip Cookies are buttery and thick with crisp edges, gooey centers, and melty chocolate chips throughout.
This recipe is similar to Classic Chocolate Chip Cookies, only made thicker and larger. Just like a rich Cookie Recipe that you could get at one of your favorite bakeries, however you can enjoy these for a fraction of the cost right out of the oven!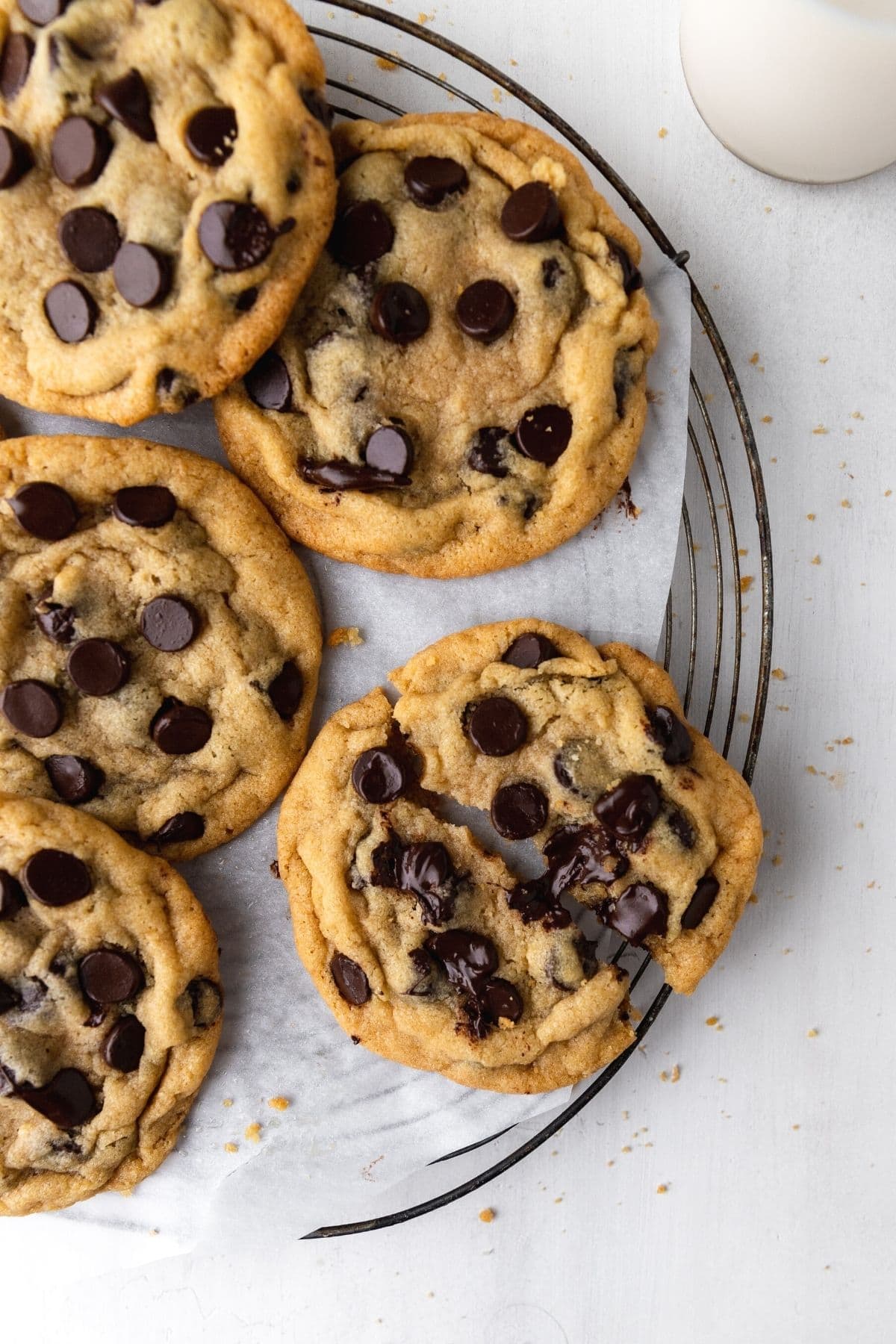 Bakery-Style Chocolate Chip Cookies are sure to be a favorite with the whole family, and they're ready in a matter of minutes. The combination of buttery sweetness in the cookie base and gooey chocolate throughout makes them the most perfect chocolate chip cookie ever!
Chocolate Chip Cookies are hard to get enough of. That's why readers enjoy everything from Oatmeal Chocolate Chip Cookies, to Coconut, to Peanut Butter, and now these delightful Chocolate Chip Cookies. Really, it's no surprise how much fun it can be experimenting with new versions. There's just nothing better than delicious, soft warm chocolate chip cookies.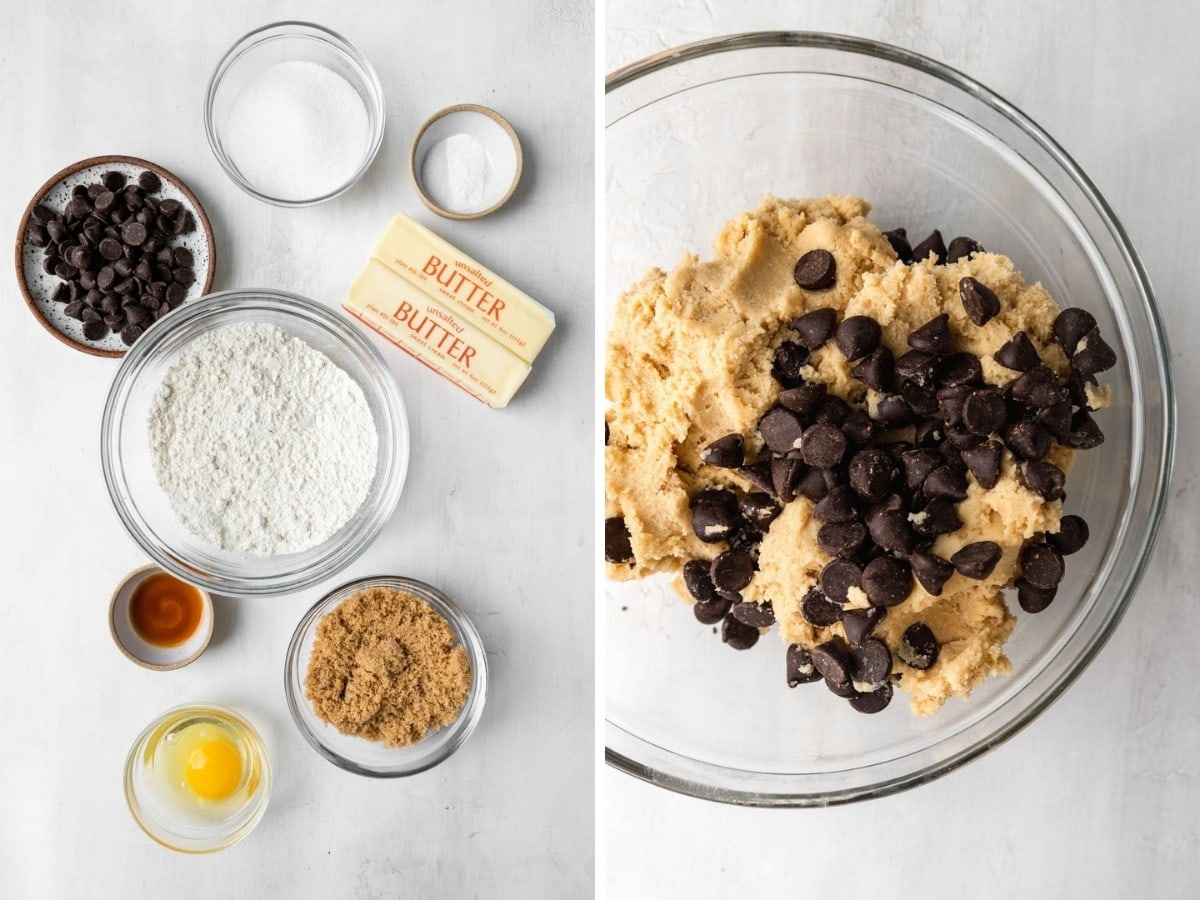 Make-Ahead Cookie Dough
Having cookie recipes prepped in advance makes things so easy. When you need a dessert, all you have to do is pop the dough in the oven. This recipe makes two batches, therefore you can bake one right away and freeze the other for later.
Start by making the dough as usual. Then form the cookie dough balls, and lay them over the cookie sheets.
If you want to have one batch right away, pop it in the oven. Put the other cookie sheet in the freezer for 1-2 hours.
Move hardened dough to a freezer bag for long-term storage. They'll stay good for up to 6 months.
When you're ready to bake, place the pre-scooped balls back on the baking sheet. You'll need to bake the dough for a few extra minutes so that it has time to thaw in the oven. Once they're done you'll have fresh, chewy chocolate chip cookies ready to go!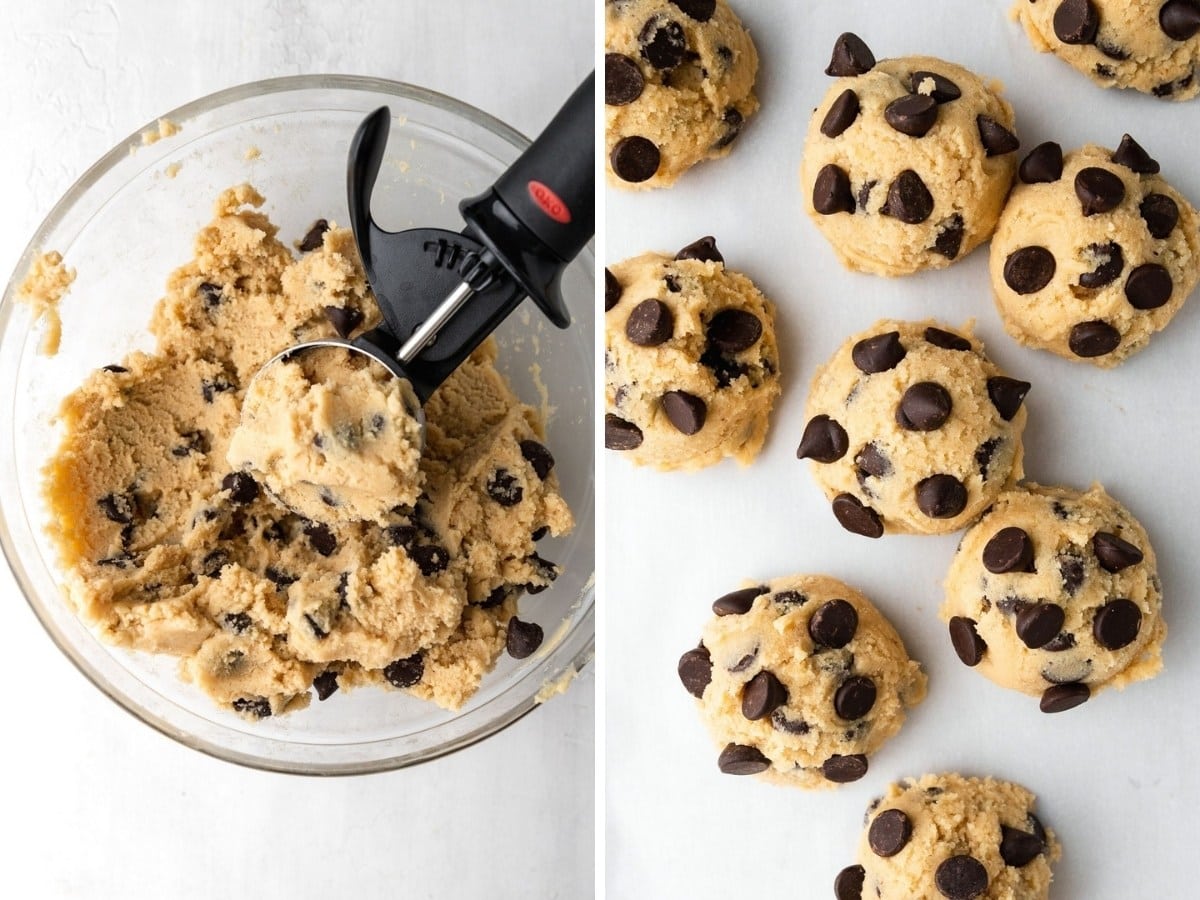 More Cookie Recipes
Frequently Asked Questions About Bakery-Style Chocolate Chip Cookies
Why does the butter have to be softened when making cookies?
The first step in Bakery-Style Chocolate Chip Cookies is to cream the butter and sugars together. The sugar granules will cut through the softened butter and will add a little bit of air while they do, allowing for the right consistency for your cookie dough to turn out just right. In order for the granules to penetrate the butter it has to be softened a bit, but not melted before you start mixing in the sugars.
Why do I need to let the Cookies sit for 5 minutes on the baking sheet after they're done?
When the cookies come out of the oven they will be very hot and gooey, and they will fall apart quite easily. Using even your most delicate spatula to transfer them to a cooling rack could make them fall apart. They would also be so gooey that they would take on the shape of your cooling rack on the bottom, causing lines or a grid shape under your cookies. As they cool they will be a lot less delicate and the consistency will firm up, so all you need is 5 minutes for them to cool down enough to move them.
How to Make Bakery-Style Chocolate Chip Cookies
Prep: Start the recipe by preheating the oven and lining each baking sheet with parchment paper. Set the baking trays to the side while you start the recipe.
Wet Ingredients: Add the softened butter, granulated sugar, and brown sugar to your stand mixer. Cream the sugar mixture at medium speed until it's light and fluffy. Then mix in the egg and vanilla extract.
Dry Ingredients: Sift together the flour, baking soda, and salt in a separate mixing bowl. Then slowly add the mixture to the stand mixer with it mixing at its lowest setting. Mix until just combined, then fold in 1 cup of chocolate chips.
Form: Use an ice cream scoop, or ¼ cup measure, to shape the dough into balls. Lay the dough balls on the prepared baking sheets with about 2 inches between them so that they have space for spreading. Then arrange the remaining chocolate chips on top. This is the secret to getting really beautiful cookies, because it makes sure not all the chocolate chips are hidden by the dough. That way they'll taste and look bakery-worthy!
Bake Time: Pop them in the preheated oven for a 13-15 minute bake time. You'll know they've had the correct baking time when they're golden brown with the edges slightly crisper. Give them 5 minutes to cool before you use a spatula to take them off the baking sheet.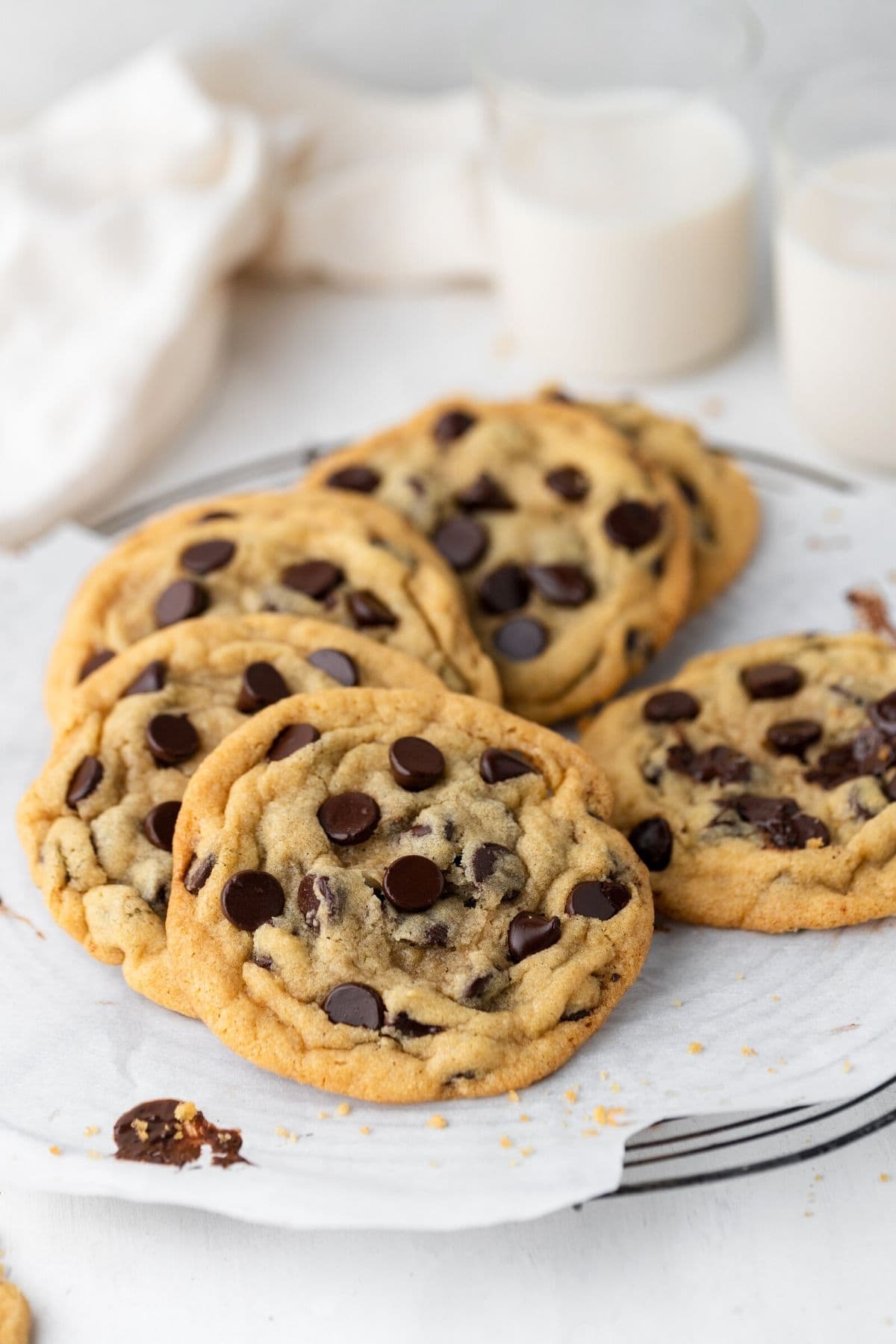 Create a free account to Save Recipes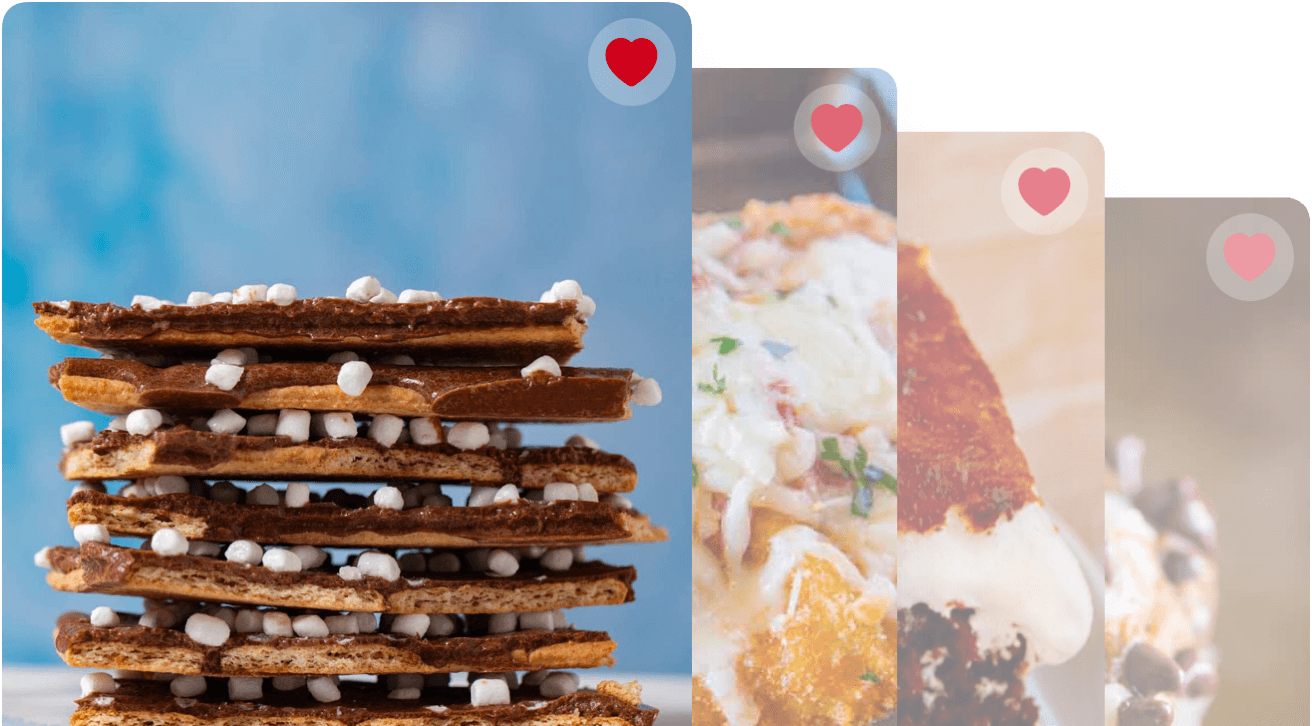 Variations on Bakery-Style Chocolate Chip Cookies
Chocolate Flavors: Experiment with this ultimate chocolate chip cookie recipe by trying out different kinds of chocolate chips. Instead of semi-sweet chocolate chips, you can try milk chocolate chips, dark chocolate chips, or white chocolate chips. You can also change up the size of the chocolates with mini chocolate chips or chunks of chocolate.
Salted Caramel Chocolate Chip Cookies: For some rich salted caramel cookies cut store-bought caramel pieces into quarters and mix them into the cookie dough. Once they're baked sprinkle flaky sea salt over the top.
Mix-Ins: There are plenty of amazing add-in ideas you can try with this simple cookie base. Try adding some crunch with pecans, almonds, cashews, or walnuts. You could also add some peanut butter flavor with peanut butter chips. Try your favorite candies like M&Ms, Reese's Pieces, or broken pieces of candy bars.
Orange Zest: Chocolate and Orange taste fantastic together. Try zesting an orange and adding a little bit into the dough for a unique twist on Chocolate Chip Cookies. You can even sprinkle a little zest over the tops before you put them into the oven so they will be visible to everyone who will enjoy them once they're done.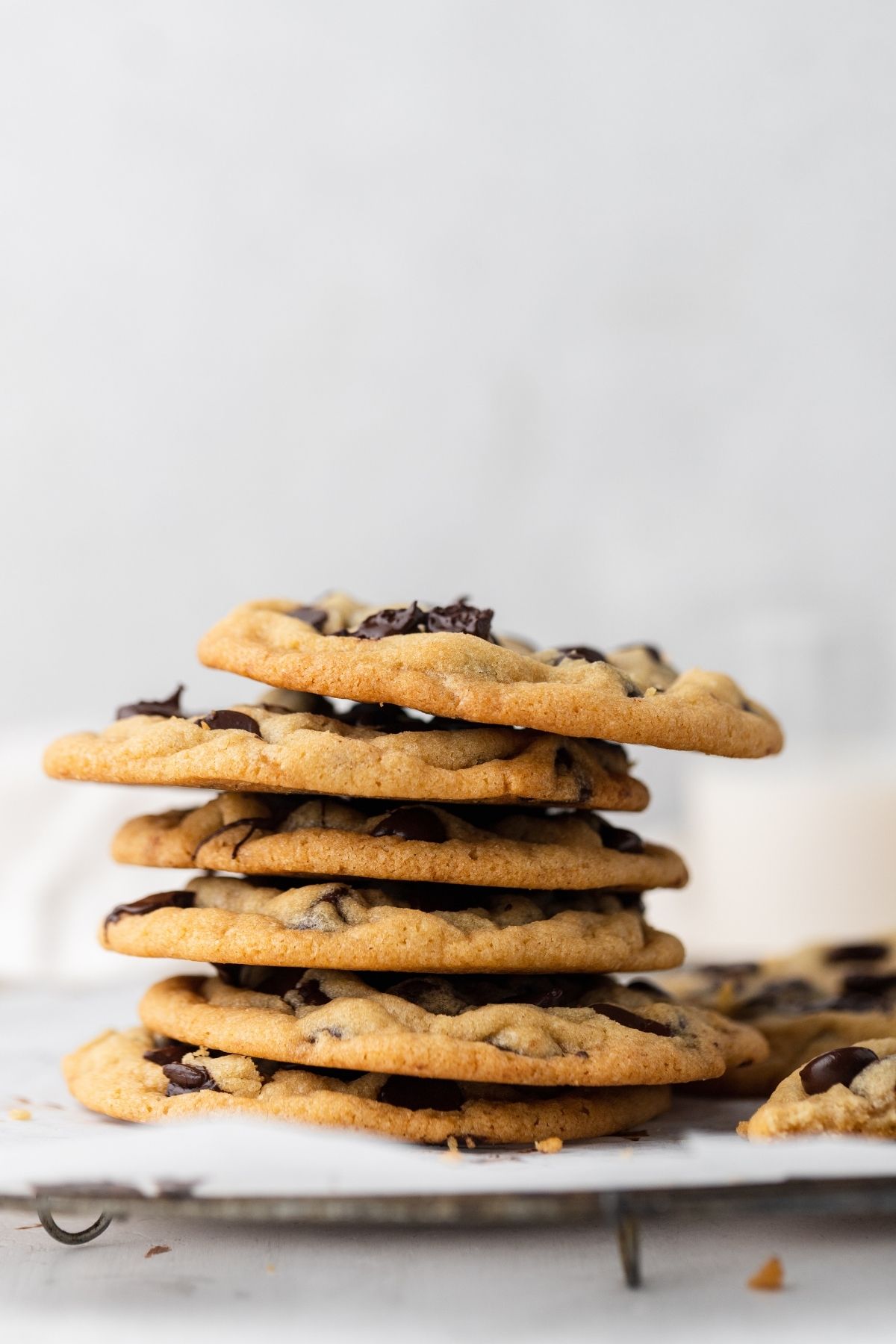 More Chocolate Chip Recipes
How to Store Bakery-Style Chocolate Chip Cookies
Serve: After baking, you can keep your Chocolate Chip Cookies at room temperature for 3-5 days. To make sure they stay moist cover them in plastic wrap or put them in an airtight container on the counter.
Store: Kept in the fridge, the cookies will be good for 2-3 weeks. Either eat them chilled straight from the refrigerator or pop them in the microwave for a few seconds until the chocolate chips are melty again.
Freeze: Frozen cookies can stay good for 6-8 months. Take them out of the freezer to defrost in the fridge overnight before serving.


Ingredients
1

cup

unsalted butter

, softened

3/4

cup

sugar

3/4

cup

brown sugar

, packed

1

large

egg

1

teaspoon

vanilla extract

2 1/2

cups

flour

1

teaspoon

baking soda

1/2

teaspoon

salt

1 1/2

cups

semisweet chocolate chips

, divided
Instructions
Preheat oven to 350 degrees. Line 2 baking sheets with parchment paper and set aside.

To your stand mixer add the butter, sugar, and brown sugar on medium speed until light and creamy.

Add in egg and vanilla extract until well mixed.

Sift together flour, baking soda, and salt.

Add dry ingredients to stand mixer slowly on the lowest speed setting.

Fold in 1 cup of chocolate chips.

Using an ice cream scoop (or ¼ cup measure), scoop the cookie dough onto a baking sheet 2″ apart.

Place the remaining chocolate chips onto the cookie scoops all over just before baking.

Use a large biscuit cutter to place over the cookies and swirl around to round the cookies out while still warm.

Let cool for

5 minutes

before removing from pan.
Nutrition
Calories:
234
kcal
|
Carbohydrates:
29
g
|
Protein:
2
g
|
Fat:
12
g
|
Saturated Fat:
7
g
|
Polyunsaturated Fat:
1
g
|
Monounsaturated Fat:
3
g
|
Trans Fat:
1
g
|
Cholesterol:
29
mg
|
Sodium:
101
mg
|
Potassium:
92
mg
|
Fiber:
1
g
|
Sugar:
17
g
|
Vitamin A:
253
IU
|
Calcium:
18
mg
|
Iron:
1
mg