Sweet and Sour Chicken with crispy chicken, pineapple and bell peppers just like your favorite takeout place without the food coloring.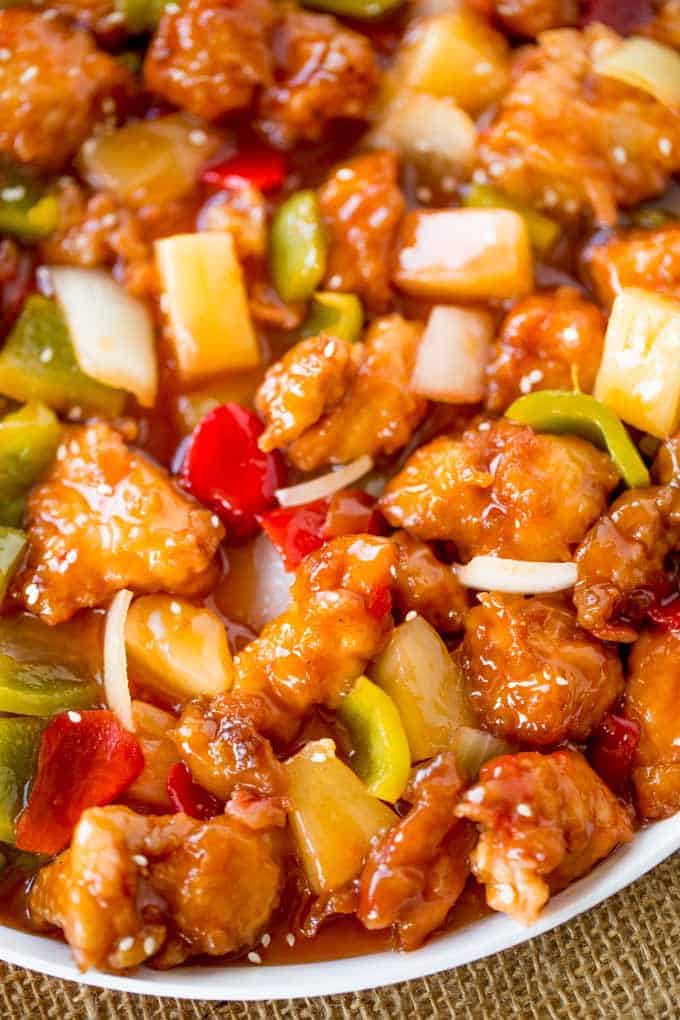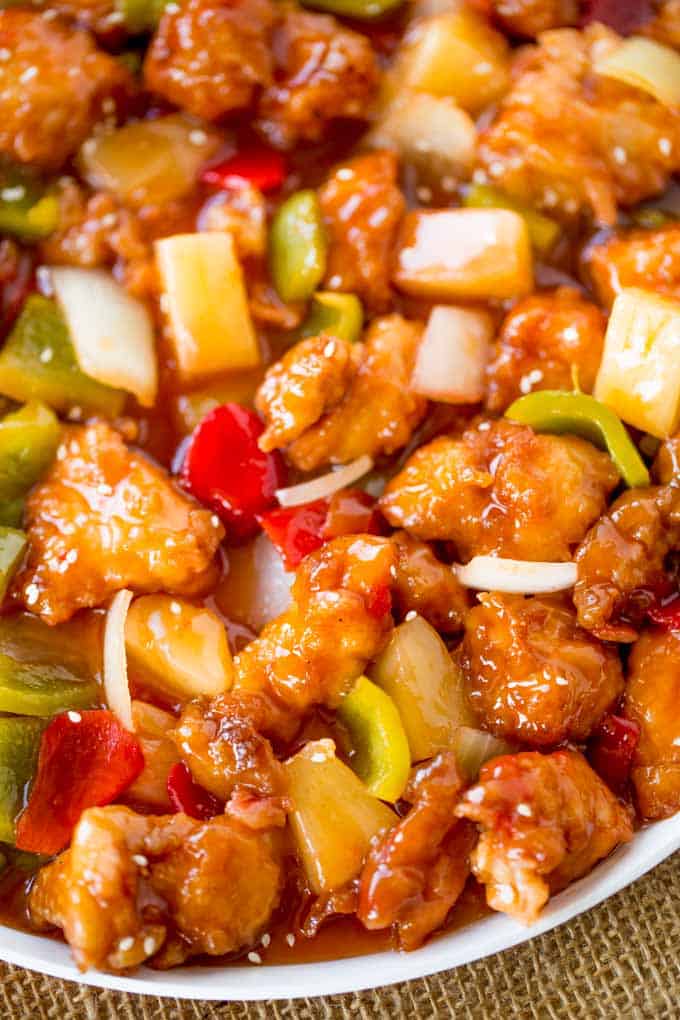 Sweet and Sour Chicken, A Classic
Sweet and Sour Chicken is a classic Chinese takeout option most of us are too afraid to make at home. Something about woks and cooking with pineapple make it intimidating for most, but it is so much easier to make than you would think.
Of the classic Chinese Recipes that most people ask for on my blog the one I hear about the absolute most is sweet and sour chicken. I totally get it, it isn't even just the recipe, but THAT SAUCE. When I was a teenager and I made this sauce for the first time I also actually started learning how to use chopsticks. So for a solid month (I kid you not, my mom was not thrilled with this), I used chopsticks for every meal and had a tiny little bowl of Sweet and Sour Chicken Sauce to dip everything into it.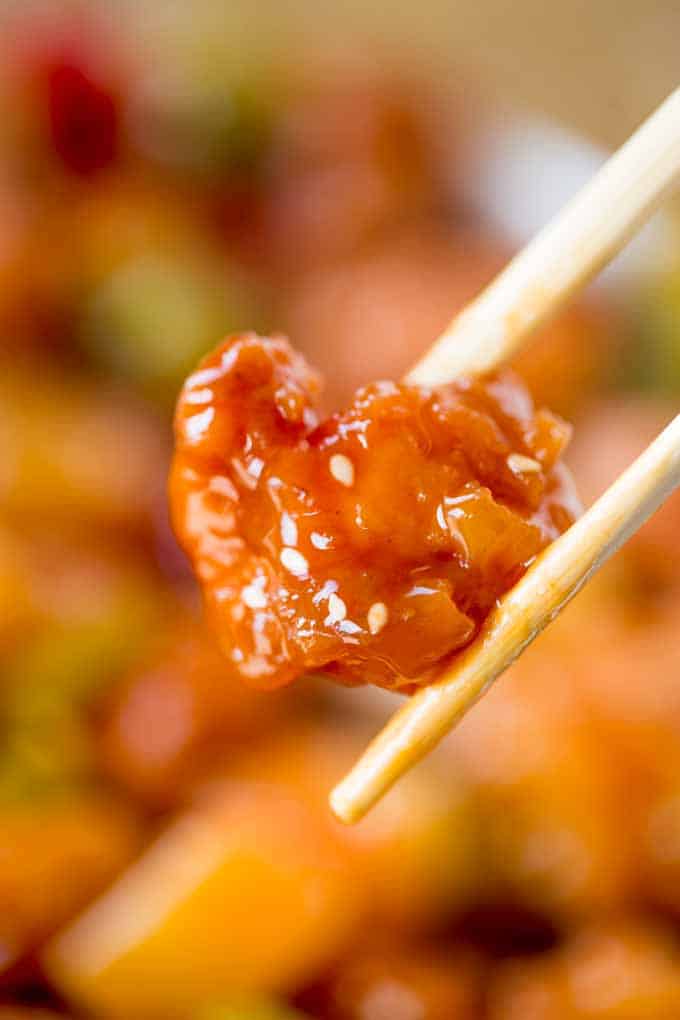 How to make Sweet and Sour Chicken
When it comes to making a good Sweet and Sour Chicken recipe there are a few tips I love to give out.
Keep the breading super crispy and light. I have experimented with this recipe both in a tempura batter and a straight cornstarch coating. I prefer cornstarch for ease of use, but either way, you don't want something doughy that will absorb your sauce like a sponge.
Make sure you're using GOOD pineapple chunks. I like either a super sweet fresh pineapple or the frozen chunks you get at Costco. They always have high quality frozen pineapple I've never been disappointed with.
Don't skip the onions. I know people may have aversions to them, but the onions and the bell peppers play an important role in balancing the flavors of the dish. Without them, you would have a completely sweet entree with only a sour punch from the pineapple. Adding a bit of bitter from the peppers and onions helps cut through the sweetness. Trust me, you'll be trying to snag extra onion pieces (assuming you don't already really hate onions).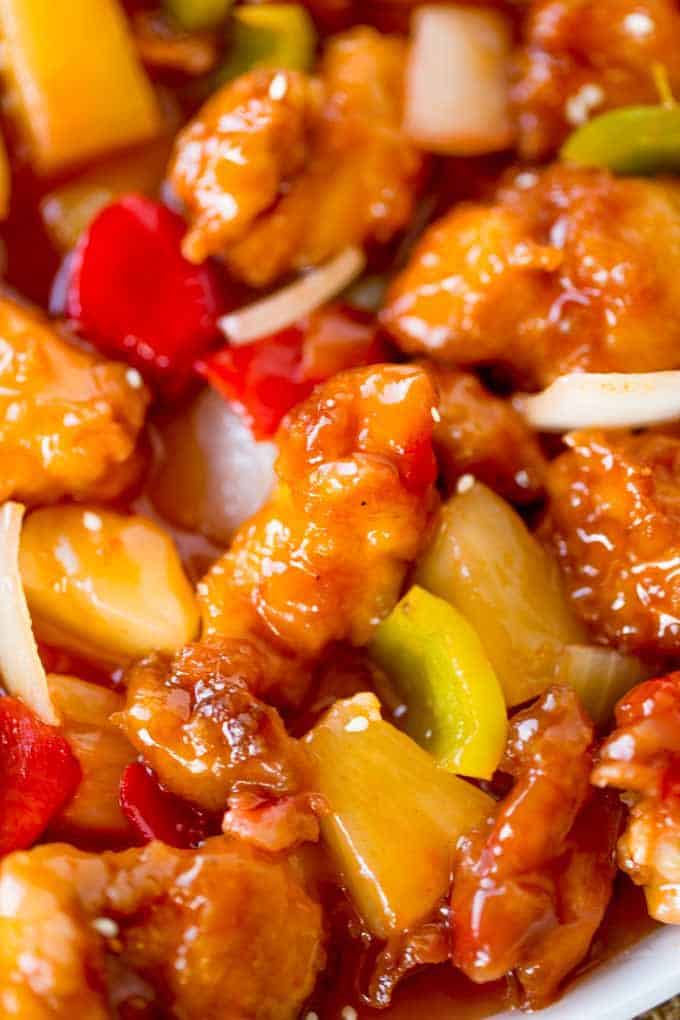 Want more Chinese Food Recipes?
Tools used in this Sweet and Sour Chicken recipe:


Ingredients
1 1/2

pounds

chicken breasts

cut into 1" chunks

1/2

cup

cornstarch

2

eggs

beaten

1/4

cup

flour

canola oil

for frying

1

cup

pineapple chunks

1

red bell pepper

cut into 1" chunks

1

green bell pepper

cut into 1" chunks

1/2

yellow onion

cut into 1" chunks

1/2

cup

sugar

1/4

cup

brown sugar

1/2

cup

apple cider vinegar

1/3

cup

ketchup

4

teaspoons

reduced sodium soy sauce

2

cloves

garlic

minced
Instructions
To make the sauce, whisk together the sugar, brown sugar, apple cider vinegar, ketchup, soy sauce and garlic into a small bowl.

Pour enough canola oil into a dutch oven or frying pan that is comes up from the bottom about an inch to an inch and a half.

Heat the oil on medium high to high heat, you're looking for the chicken to cook and brown in about

2-3 minutes

.

Add the cornstarch to a large ziplock bag.

Add the chicken pieces to the large ziplock bag and shake until all the pieces are well coated.

Dip the pieces into the egg, then into the flour before adding to the hot oil. Add chicken in batches so as not to have more than a single layer of it in the oil at a time.

Cook the chicken for

2-3 minutes

, until cooked through and crispy.

Remove to a cookie sheet (no paper towels!) and continue cooking the remaining batches of chicken pieces.

When done cooking remove all but a tablespoon of the oil.

Add the bell peppers, onion and pineapple and cook for

1-2 minutes

, until crisp-tender.

Add the sauce back in and stir to coat the pieces and cook for

30 seconds

to help the garlic warm through.

Add the chicken pieces back in and stir until the sauce has thickened and bubbling.

Serve immediately, with optional garnishes of sesame seeds or green onions.
Nutrition
Calories:
602
kcal
|
Carbohydrates:
92
g
|
Protein:
41
g
|
Fat:
6
g
|
Saturated Fat:
1
g
|
Cholesterol:
190
mg
|
Sodium:
588
mg
|
Potassium:
1082
mg
|
Fiber:
3
g
|
Sugar:
65
g
|
Vitamin A:
1385
IU
|
Vitamin C:
79.5
mg
|
Calcium:
67
mg
|
Iron:
2.4
mg