Turtle Cheesecake is a decadent creamy cheesecake recipe layered with homemade chocolate ganache, caramel sauce and chopped pecans!
A classic New York Cheesecake gets topped with the sweet flavor combination of Chocolate Covered Turtles in this showstopping, delicious Cheesecake Recipe. It looks just as amazing as it tastes so it's a perfect Holiday Dessert!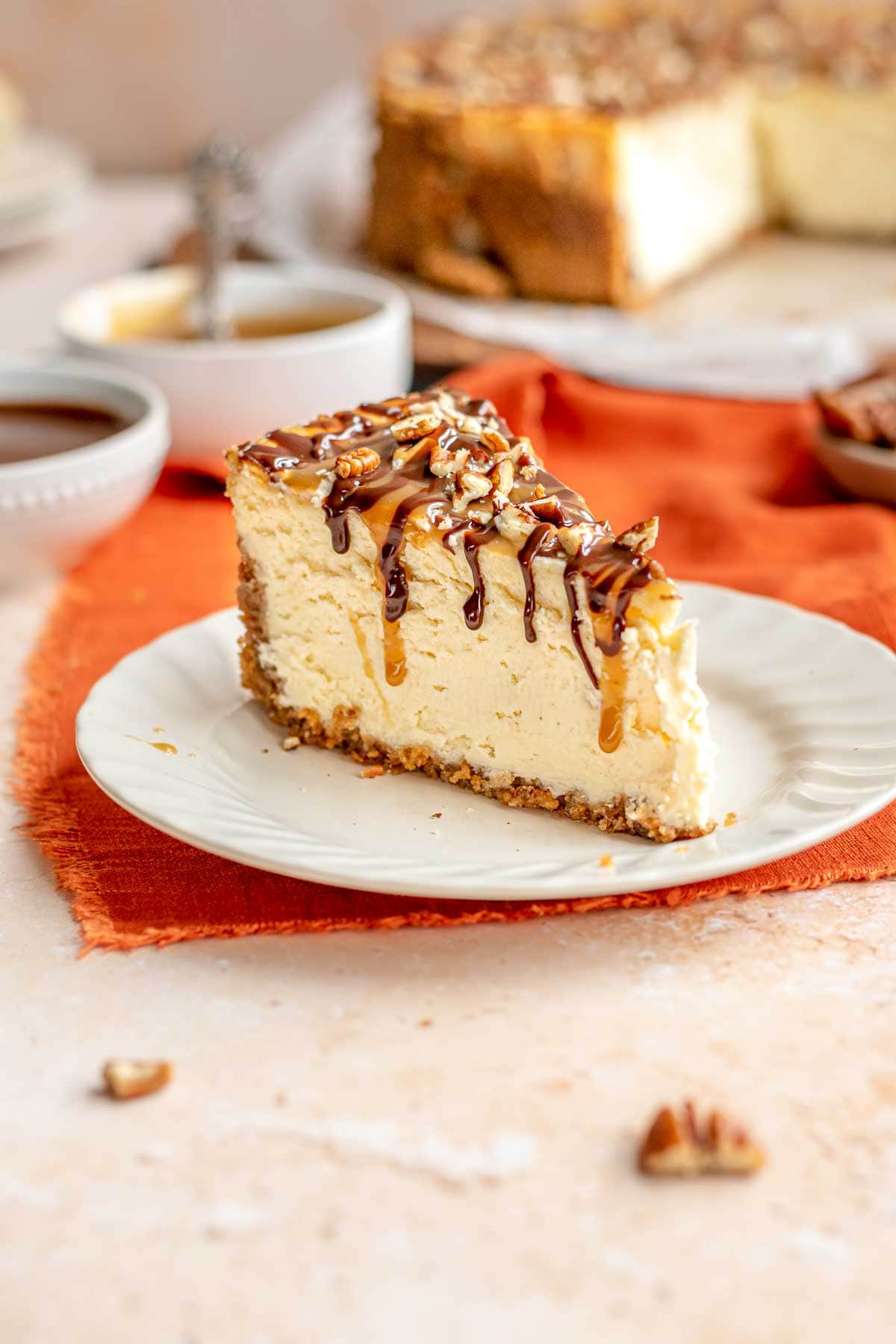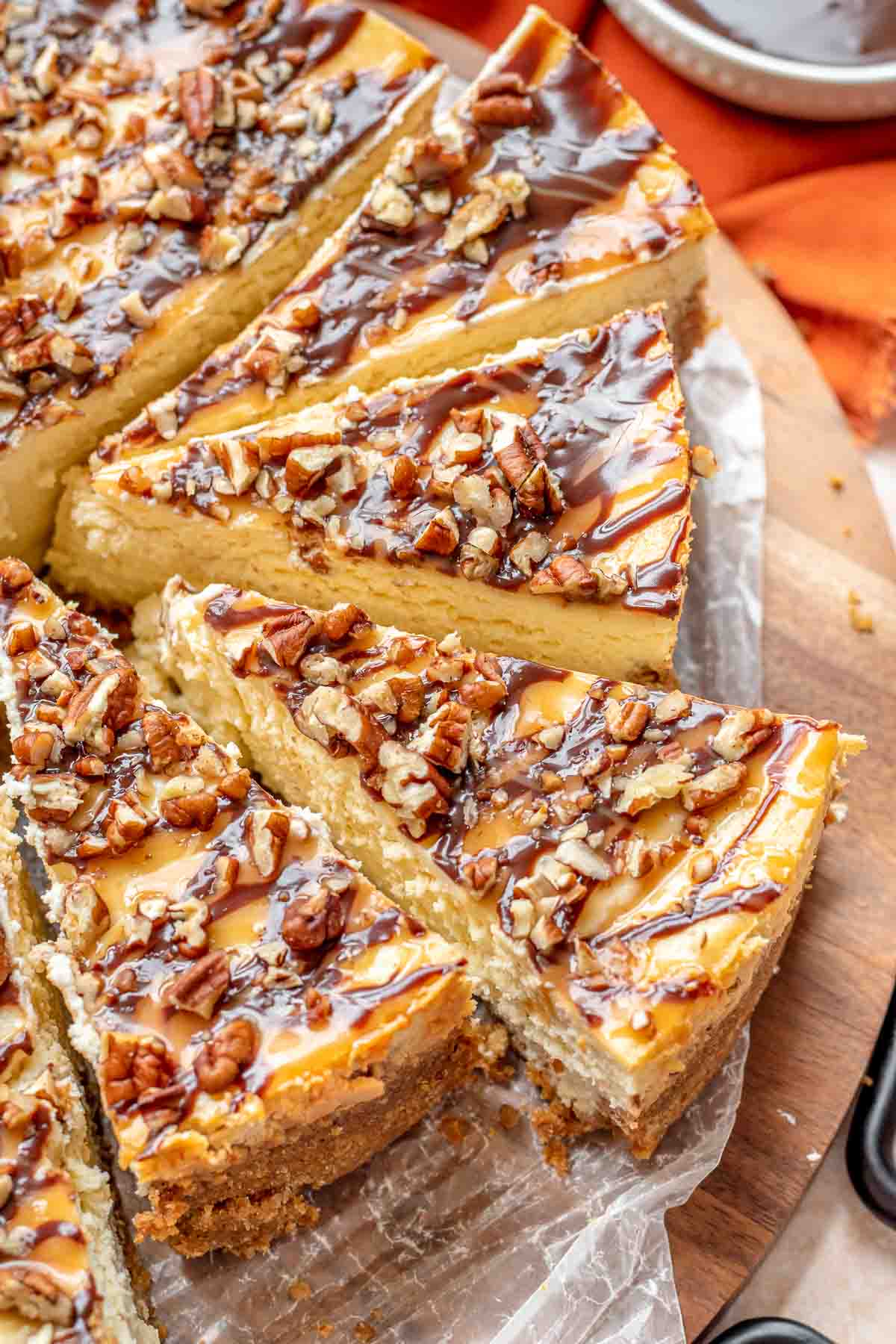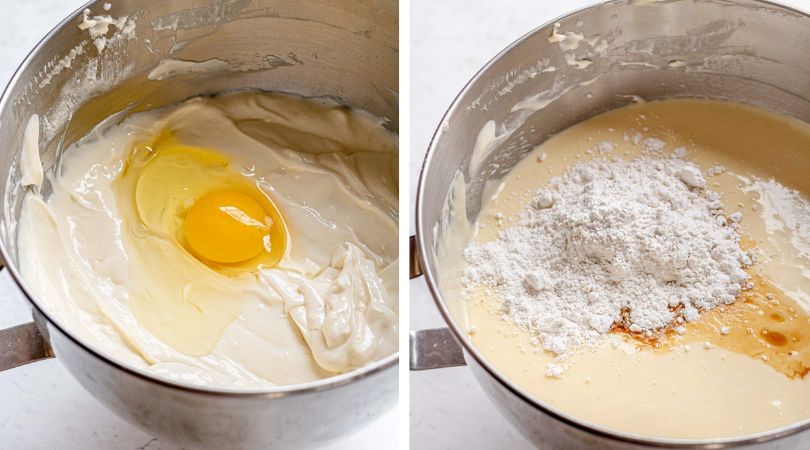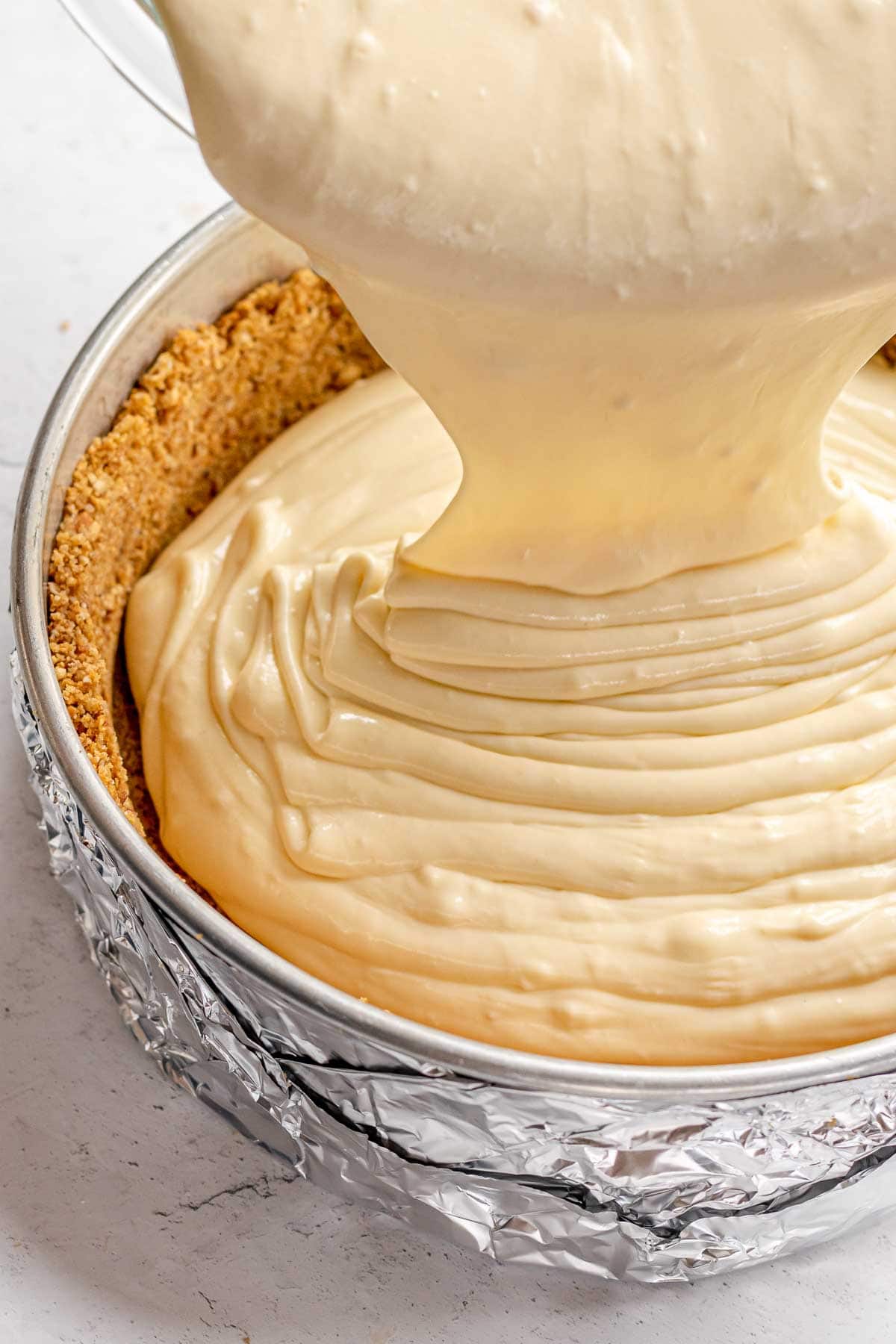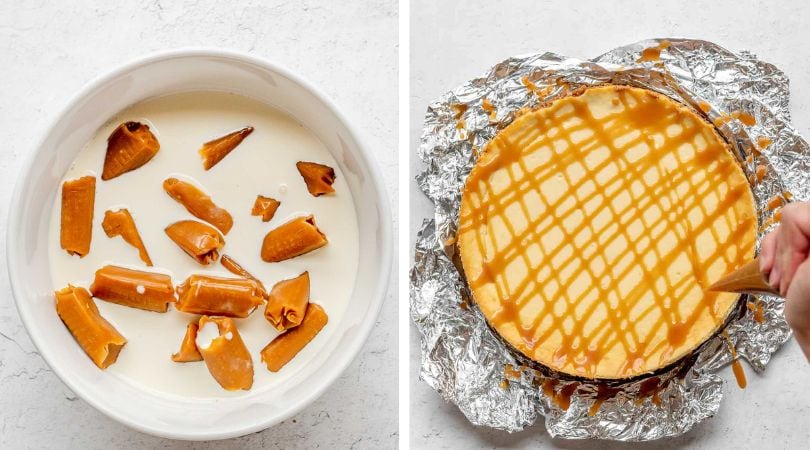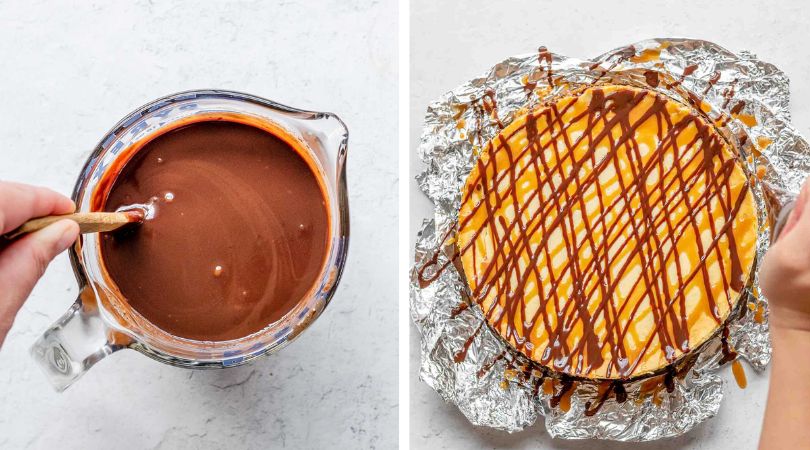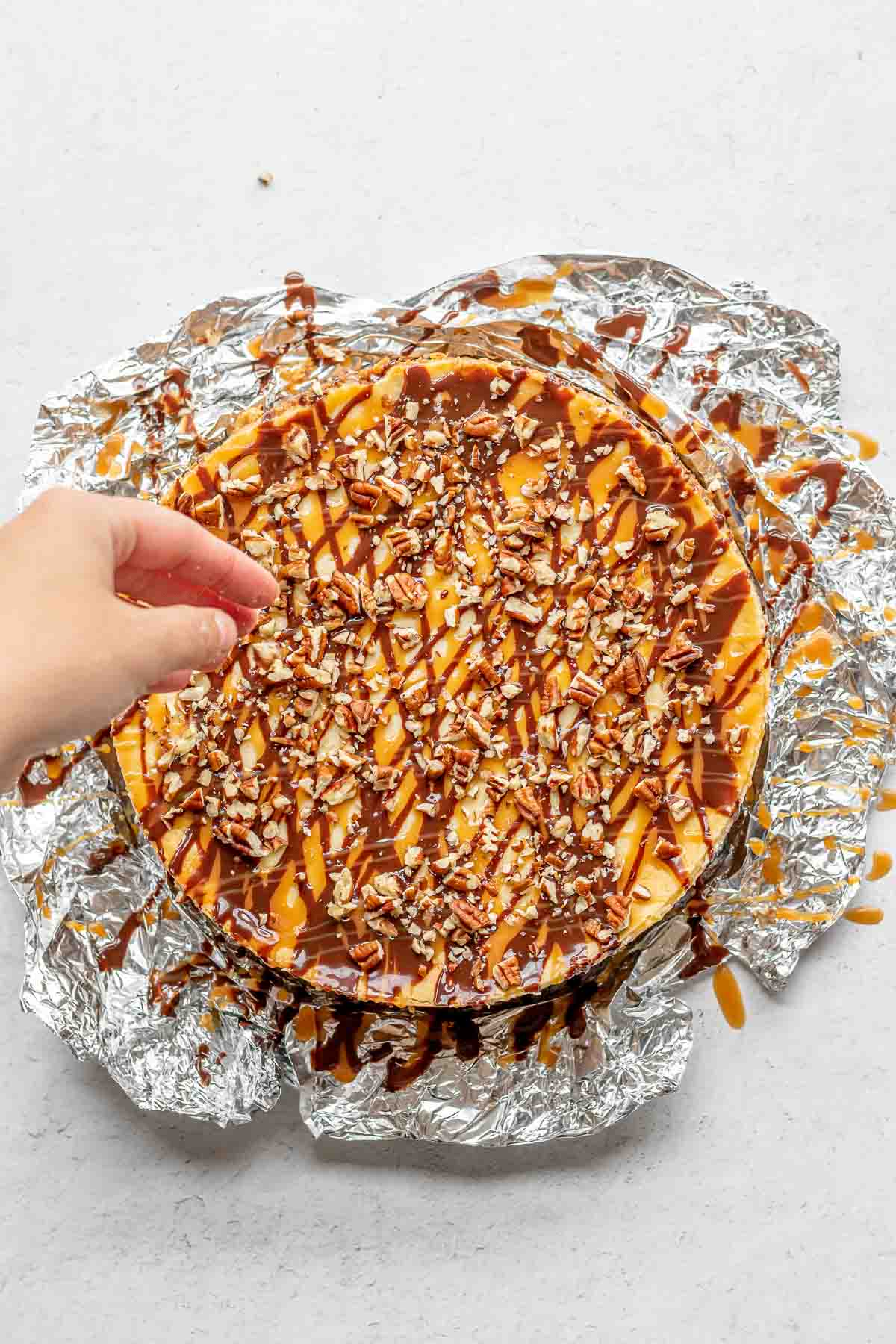 About our Turtle Cheesecake Recipe
Adding chocolate, caramel, and pecans is a guaranteed way to take a dessert from great to outstanding. There are so many ways to incorporate these flavors, but adding them on top of your favorite desserts is probably the easiest method. The delicate drizzles of silky Chocolate Ganache and buttery caramel turn a traditional baked cheesecake into a gorgeous dessert that looks like it belongs in a gourmet bakery.
This beautiful Turtle Cheesecake recipe may look difficult but it's actually pretty simple once you realize it's just 4 separate parts that get layered on top of each other. The most complicated layer is the baked cheesecake, but a water bath makes it come out perfectly even if it's your first time. It's topped with homemade sauces that you make in the microwave and the crust is just cookie crumbs with sugar and butter. Your guests will be wowed with this decadent cheesecake from the first glance to the last crumb.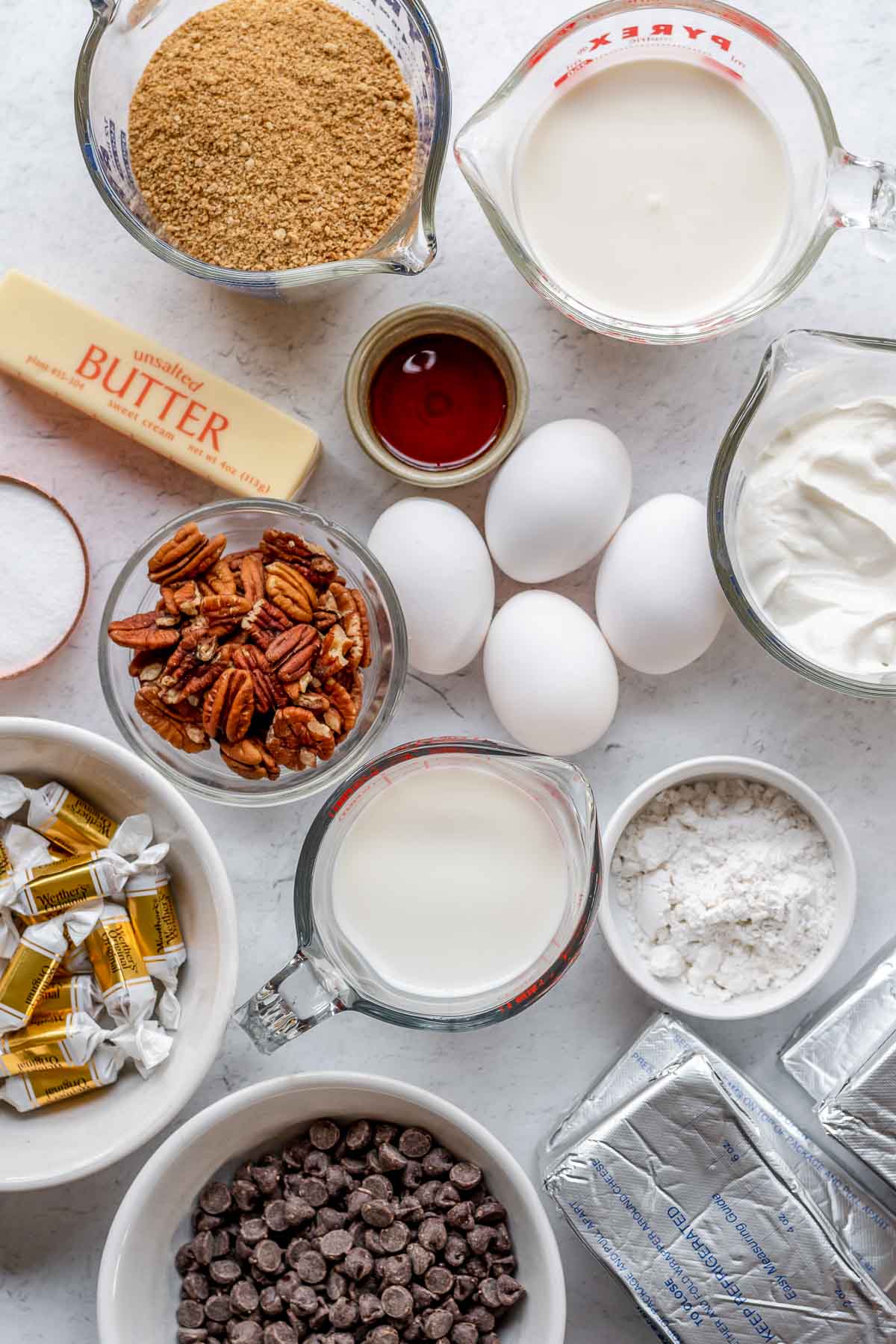 Turtle Cheesecake Ingredients
Graham Cracker Crust: A classic Graham Cracker Cookie Crust gets an upgrade with chopped pecans for extra flavor and crunch.
Baked Cheesecake: The cheesecake layer is a classic New York Cheesecake made with sour cream, eggs, and cream cheese. It's baked in a water bath so that you get a perfectly smooth, rich and creamy cheesecake worthy of a gourmet restaurant.
Caramel Sauce: This is the easiest caramel sauce you'll ever make, no need to worry about constantly whisking to keep your sugar from burning, you just melt soft caramels with heavy cream. If you want to make it from scratch though, this Homemade Salted Caramel Sauce recipe is the best ever with all the tips you need for perfect caramel sauce on your first try.
Chocolate Ganache: This is a simple, easy chocolate ganache recipe which is equal parts heavy cream and chocolate combined until smooth. The key to making smooth perfect ganache is to allow it to rest after you've heated it before stirring so everything gets to a consistent temperature.
Chopped Pecans: You can't have Turtle desserts without pecans! We like to chop whole pecans or pecan halves instead of pre-chopped nuts because they are fresher. If you want even more earthy pecan flavor, try toasting them first!
Kitchen Tools & Equipment
Water Bath: The most important tool to make this cheesecake is a water bath. To bake a cheesecake in a water bath, you are going to need a 9-inch springform pan, a large roasting pan, and aluminum foil. A turkey roaster works well because it's large enough that the sides of the cake pan don't touch the sides of the roaster. Wrap the outside of the spring-form pan with aluminum foil around the bottom and up the sides. If you are worried about leaks, you can cover the sides of the foil lined pan with a slow-cooker liner or a turkey roaster bag.
How to Make Turtle Cheesecake
Time needed: 9 hours and 30 minutes.
Prepare the Water Bath

Preheat the oven and wrap your cake pan with foil. Add the pan to the center of a roasting pan and add enough water to go halfway up the sides of the springform pan.

Make the Crust

Combine the graham cracker crumbs, pecans, sugar, and butter in a bowl then press into the prepared pan in an even layer and up the sides.

Make the Cheesecake Batter

Cream the sugar and cream cheese, then add the milk. Next add the eggs, sour cream, vanilla, and flour. Pour into the crust and bake.

Chill Cheesecake to Set

Once baked, turn off the oven and cool with the door cracked open a few inches. Then remove from the water bath and foil from outside of the pan. Refrigerate overnight.

Make the Caramel Sauce

Melt caramels with the heavy cream in increments in the microwave, stirring each time until smooth. Add sea salt if you want.

Make the Chocolate Ganache 

Microwave cream and chocolate in a bowl for 1 minute. Let sit for another minute then whisk until smooth.

Assemble the Cheesecake

Drizzle the caramel sauce in a zig zag pattern over the top of the cheesecake. Going the opposite way, drizzle the chocolate ganache to create a criss-cross pattern. Sprinkle with pecans. Serve chilled.
Nutritional Facts
Nutrition Facts
Turtle Cheesecake
Amount Per Serving
Calories 797
Calories from Fat 459
% Daily Value*
Fat 51g78%
Cholesterol 167mg56%
Sodium 435mg19%
Potassium 488mg14%
Carbohydrates 74g25%
Protein 14g28%
Vitamin A 1286IU26%
Vitamin C 1mg1%
Calcium 235mg24%
Iron 2mg11%
* Percent Daily Values are based on a 2000 calorie diet.
Baking Turtle Cheesecake Tips & Tricks
Crack-Free Perfect Cheesecake

Allowing the cheesecake time to cool slowly in the oven, preferably in a water bath, is how you prevent cracks on your cheesecake. You might think that since the top is covered with a layer of caramel and chocolate, cracks don't matter. However, cooling it slowly like this also prevents the center from sinking in and keeps the filling creamy and smooth.

Use a Water Bath

A water bath does SO much for a cheesecake, it's surprising no one has invented a kitchen gadget specifically for this purpose. A water bath provides gentle, even heat around the pan instead of uneven direct heat from the oven for a beautifully smooth and silky creamy texture. Maintaining an even internal temperature prevents the cheesecake from cooking too fast and curdling the eggs or browning the edges, as well as keeps it from cracking as it cools.
How to Store Turtle Cheesecake
Set: After it's done baking, this cheesecake needs to be chilled for at least 6-8 hours before serving to make sure it's set. Cheesecake is best kept cold so it doesn't melt and it can only be at room temperature for max of 2 hours.
Store: Cover the leftover cheesecake with plastic wrap or store in an airtight container and keep in the refrigerator. It will keep for about a week, but the toppings look and taste the best in the first 2-3 days.
Freeze: It's best to freeze the baked cheesecake base and then add the toppings the day you want to serve it. Wrap the baked and cooled cheesecake tightly in plastic wrap then store in a sealed container. Thaw the cheesecake overnight in the refrigerator, then prepare the toppings and serve.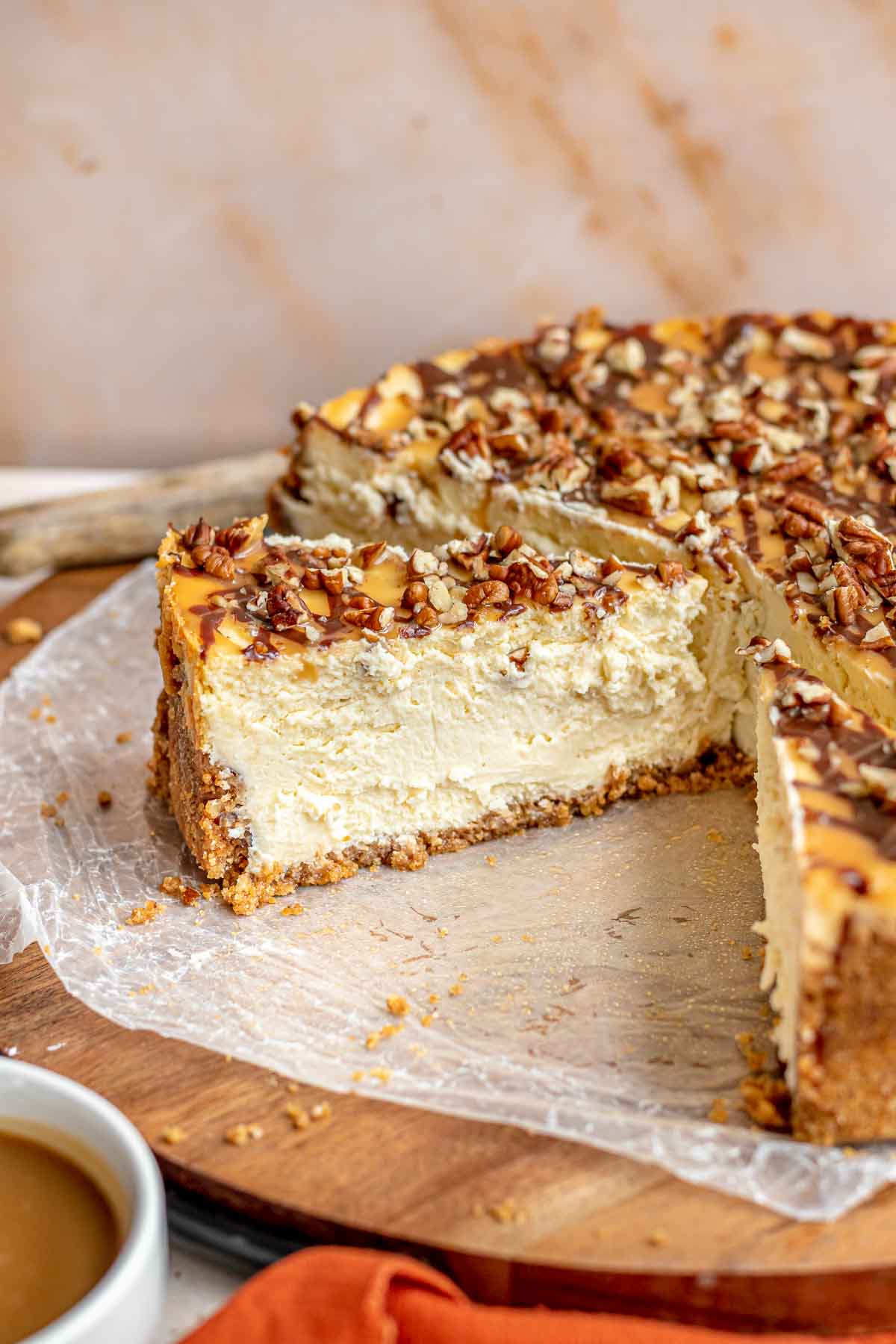 Alternative Turtle Cheesecake Cooking Techniques
Turtle Cheesecake Bars
These can easily be turned into layered Turtle Cheesecake Bars to serve a crowd. It also lets you skip the water bath if you make them into bars.
Preheat the oven to 325 degrees and spray a 13 x 9 baking pan with baking spray.
Prepare graham cracker crust and the vanilla cheesecake batter as usual.
Press the cookie crumb mixture into a well-greased 13 x 9 baking dish.
Pour the batter over the crust evenly and smooth as needed.
Bake for 40-45 minutes, until the cheesecake is firm and set, and no longer shiny on top.
Prepare the caramel sauce and chocolate sauce as usual.
Drizzle sauces over bars and sprinkle with pecans.
Allow sauces to set a few minutes before cutting into squares.
FAQ for Turtle Cheesecake
When is a cheesecake done?
There are two ways to test your cheesecake to make sure it's done cooking. The first is to jiggle the pan (carefully so no water splashes up into the batter) and if only a small bit in the center slightly jiggles, it is done. The other is to use an instant read thermometer and if the internal temperature is at 150 degrees, the cheesecake is done.
Can Turtle Cheesecake be made ahead of time?
This cheesecake needs at least 6 hours to set, but it's best if you let it chill overnight, so it's a perfect dessert to plan to make ahead. You can even freeze the base for up to 3 months in advance of when you want to serve it.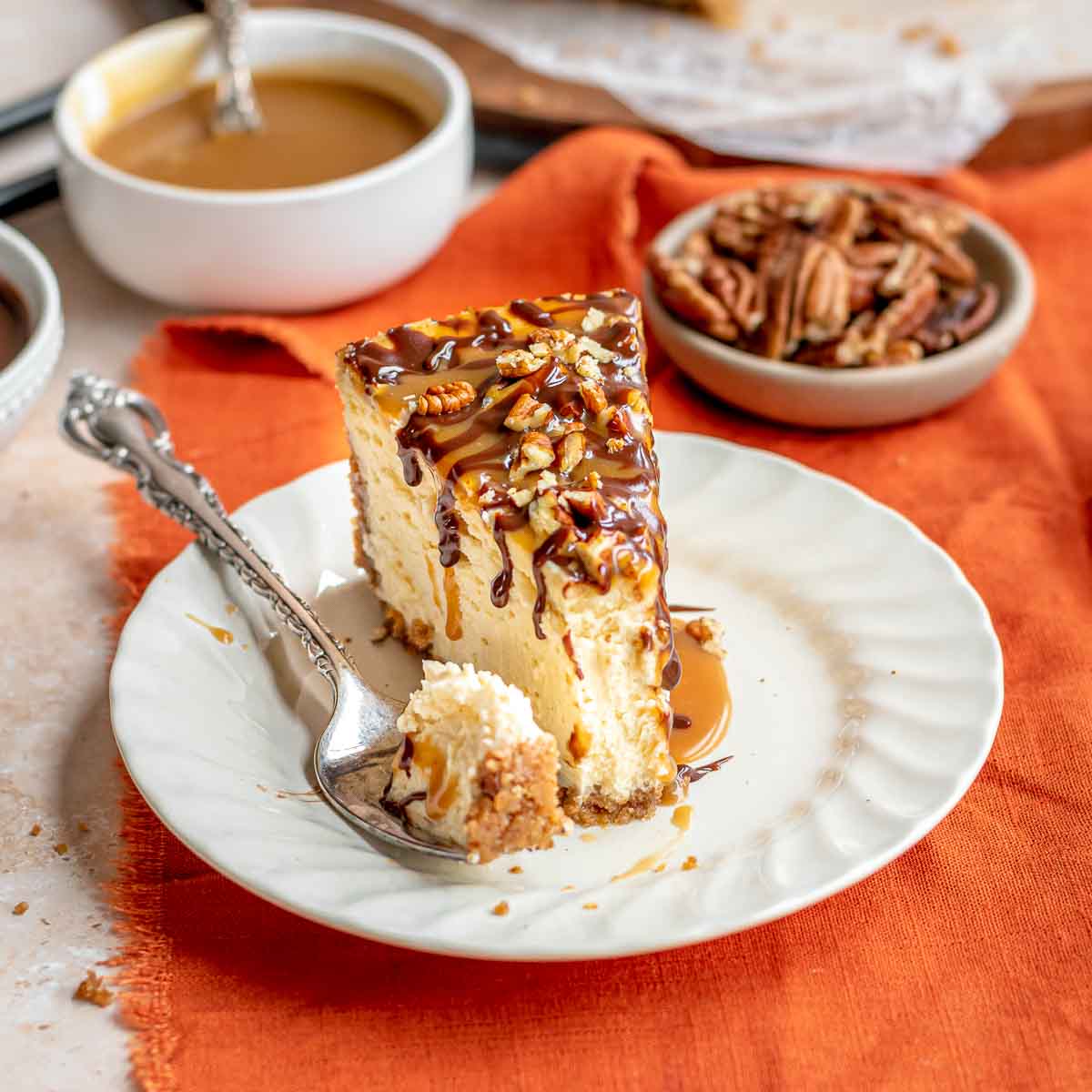 Recipe Card


Ingredients
Graham Cracker Crust:
1 1/2

cups

graham cracker crumbs

, 12 full crackers

1/3

cup

sugar

1/2

cup

pecans

, finely chopped

6

tablespoons

unsalted butter

, melted
Cheesecake:
32

ounces

cream cheese

, softened

1 1/2

cups

sugar

3/4

cup

whole milk

4

large

eggs

1

cup

sour cream

1

tablespoon

vanilla extract

1/4

cup

flour
Caramel Sauce:
1/2

cup

heavy cream

, at room temperature

1

cup

caramels

, unwrapped
Instructions
Graham Cracker Crust:
Preheat oven to 350 degrees and wrap a 9 inch springform pan in a large piece of foil to protect from the water bath and a large pan of water you can set the springform pan in to bake.

Mix the graham cracker crumbs, sugar, pecans and melted butter and press into the bottom of the springform pan and 1 inch up the sides.
Cheesecake:
In a stand mixer beat the cream cheese and sugar then add in the milk until combined.

Add in the eggs one at a time until fully combined then add in the sour cream, vanilla and flour until combined before pouring into the springform pan.

Pour filling into pan over the crust and spread evenly.

Place the pan in the water bath and bake for

1 hour

.

Turn off the oven, open the door a couple inches to let the heat out gently and let cool for

1 hour

.

Remove from oven, discard the foil and refrigerate overnight before serving.
Caramel Sauce:
Add caramels and heavy cream to a microwave-safe bowl.

Melt on 50% power in

30-second

increments until smooth and creamy.

Let sit

15 seconds

between each time you microwave.

Sprinkle flaky sea salt over caramel sauce if desired.
Chocolate Ganache:
Add chocolate and heavy cream to a bowl and microwave for

1 minute

then let sit for

1 minute

.

Now let it hang out for

1 minute

, then whisk together for

30 seconds

.
To Finish:
In a zig zag pattern, add the caramel sauce and chocolate sauce over the cheesecake.

Top with chopped pecans.
Nutrition
Calories:
797
kcal
|
Carbohydrates:
74
g
|
Protein:
14
g
|
Fat:
51
g
|
Saturated Fat:
25
g
|
Polyunsaturated Fat:
5
g
|
Monounsaturated Fat:
16
g
|
Trans Fat:
0.2
g
|
Cholesterol:
167
mg
|
Sodium:
435
mg
|
Potassium:
488
mg
|
Fiber:
3
g
|
Sugar:
59
g
|
Vitamin A:
1286
IU
|
Vitamin C:
1
mg
|
Calcium:
235
mg
|
Iron:
2
mg
Turtle Cheesecake Variations
Crust: Try different crushed crunchy cookies instead of graham cracker crumbs in this cheesecake crust. Try vanilla wafer cookies, Biscoff cookies, or gingersnaps. Chocolate sandwich cookies add another chocolate layer to the turtle flavor. For a sandwich cookie crumb crust, you can use the filling, just reduce the sugar so it isn't too sweet.
Chocolate Swirl: Reserve 1 cup of vanilla cheesecake batter and pour the rest of the batter into the pan. Melt ½ cup chocolate chips in the microwave until smooth, then stir into the reserved batter. Add dollops of chocolate batter over the vanilla batter and gently swirl with a knife, then bake as usual.
Brown Sugar: Bring out the caramel flavor in this cheesecake by swapping the white sugar with brown sugar in the cookie crumb crust and in the cheesecake filling.
Mix-Ins: You can fold up to ½ cup mix-ins into the cheesecake batter. Try mix-ins like mini chocolate chips, toffee bits, toasted chopped pecans or almonds, caramel chips, or white chocolate chips.
Related Recipes
More Decadent Cheesecake Recipes