Chocolate Chip Cheesecake is rich, creamy, full of chocolate chips with a texture of New York Cheesecake that is easy to make and impressive to serve!
If you love looking at the Dessert Recipes on this site, you'll love this Chocolate Chip Cheesecake. If you are in the mood for more chocolate chips, definitely try our Chocolate Chip Cookies and Chocolate Chip Pound Cake.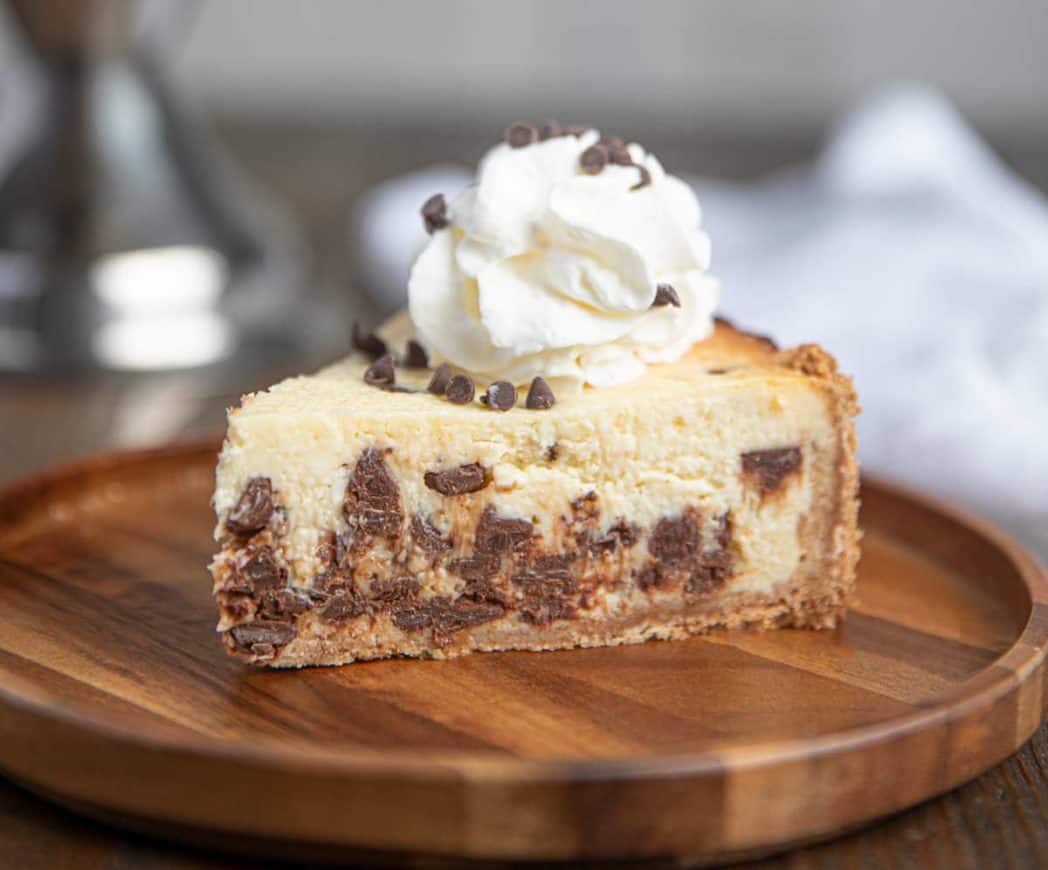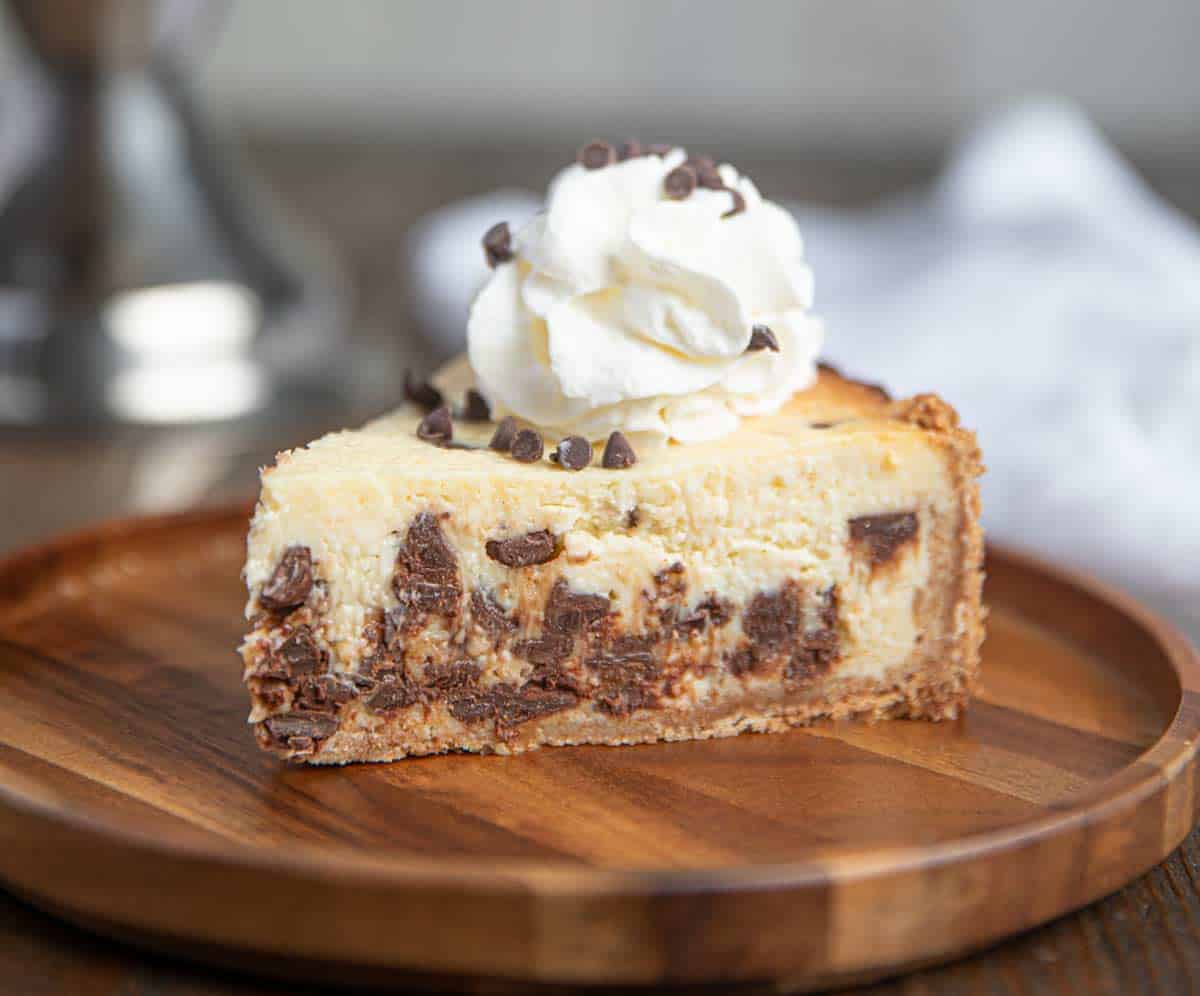 CHOCOLATE CHIP CHEESECAKE
Cheesecake is amazing, I think we can all agree on that, but chocolate chip cheesecake takes it to the next level. It's thick, rich, chocolatey and delicious, and you don't need to work over a hot stove all day to get it to turn out.
Plus all the chocolate chips studded throughout the cheesecake give it a level of fancy that means you don't need a topping like Easy Strawberry Topping to pour over your cheesecake (although c'mon, that would be delicious). Top this cheesecake with Easy Whipped Cream or Homemade Cool Whip for a stunning dessert presentation.
If you love cheesecake but are looking for a more snackable version to serve at a party, try my Sopapilla Cheesecake Bars. They're out of the oven in under an hour and who doesn't love cheesecake wrapped in a cinnamon sugar pastry?
MORE CHEESECAKE RECIPES TO TRY
HOW DO YOU MAKE CHOCOLATE CHIP CHEESECAKE?
Preheat the oven and get springform pan and pan for water bath.
Make a Graham Cracker Crust (mix graham crackers, butter and sugar)
Press the crust mixture into the bottom of a springform pan.
Beat cream cheese until fluffy then add in condensed milk until combined.
Add in eggs, vanilla, flour and chocolate chips.
Pour into pan, sprinkle on extra chips and place pan into water bath.
Bake for 55-60 minutes then let cool gently in slightly open oven.
Refrigerate until completely chilled before serving.
HOW TO MAKE A WATER BATH
A water bath is essential if you want your cheesecake to come out moist and without cracks. The water bath makes a barrier around the outside of the cake pan and keeps the temperature even because the water will not get hotter than 212 degrees F (100 degrees C). This makes the cheesecake bake slowly and keeps it from cracking. Don't be tempted to take shortcuts and skip the water bath, or your cake may not turn out.
Take your cake pan and wrap the bottom in aluminum foil.
In a much larger pan (a deep baking pan works really well), set the foil-wrapped cake pan in the center and pour water into the surrounding pan. You don't need to fill it up very high, just enough to insulate the bottom inch of the cheesecake.
Be careful when you pull your cheesecake out of the oven. Even after you've given it time to cool, your cheesecake is still sitting in a moat of hot water.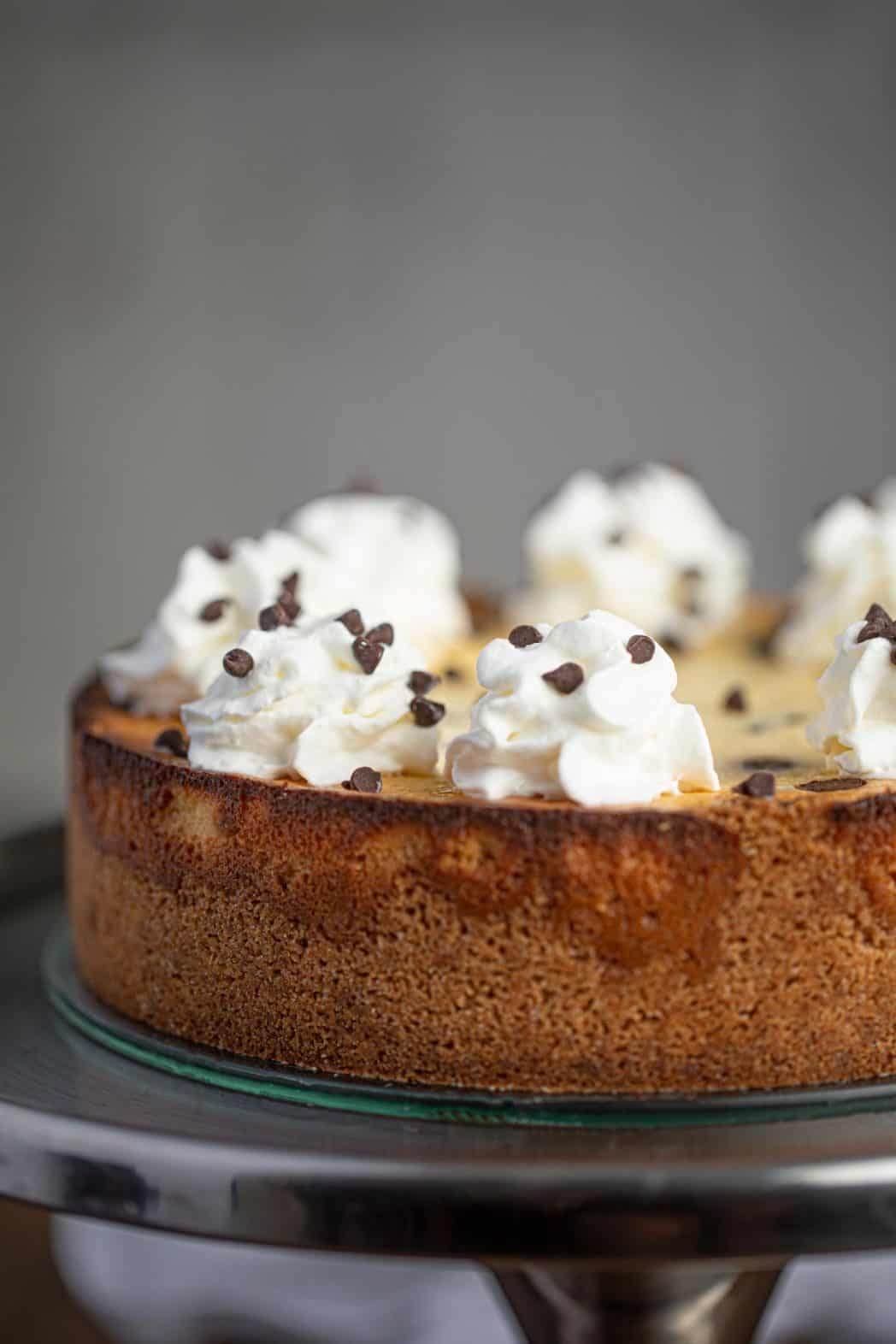 Create a free account to

Save Recipes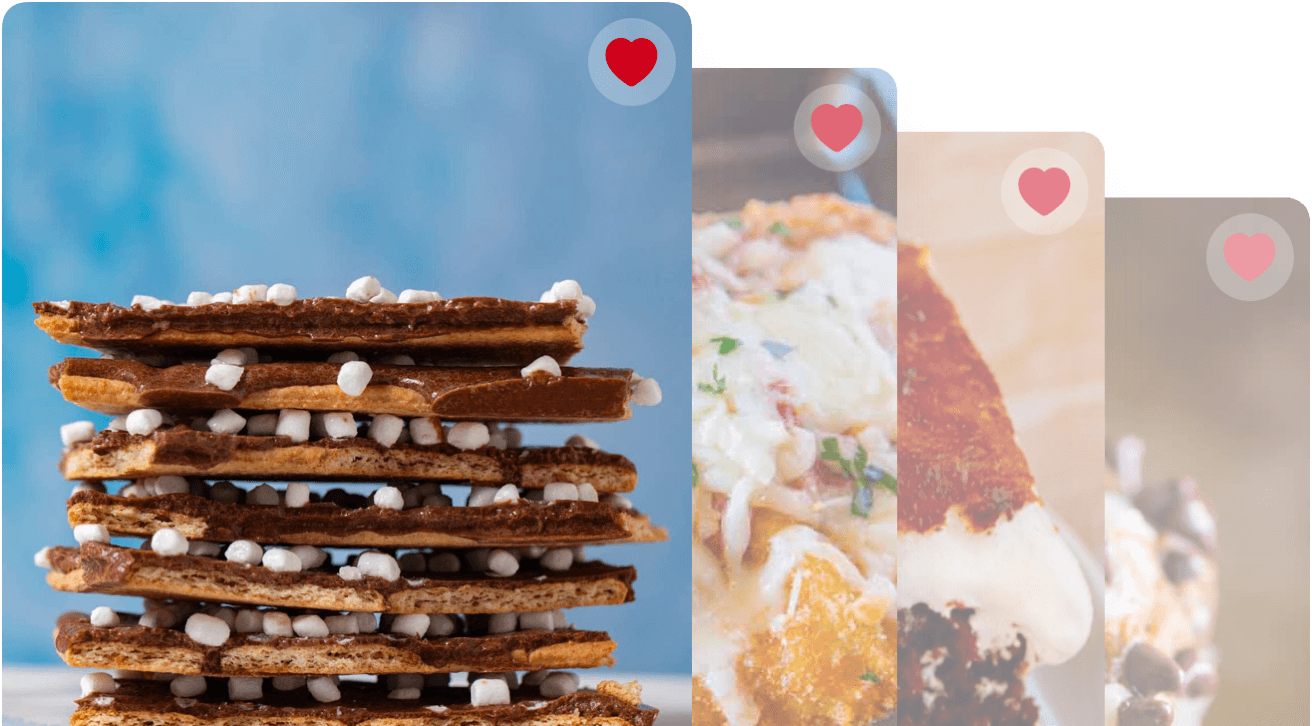 WHAT IF I DON'T HAVE A SPRINGFORM PAN?
Don't panic. Instead, line the base of a cake pan with parchment paper, leaving enough hanging out of the top for you to get a good grip. Once the cake is ready to be taken out of the pan, slowly lift it out with the parchment paper so that it ends up looking perfect every time.
CHEESECAKE IS AMERICA'S FAVORITE DESSERT
No, really. According to the TLC Network's research, cheesecake clocks in at first place for most Americans. The top five desserts for the United States are:
Cheesecake
Jello
Apple pie – Try my Legendary Apple Crisp Pie
Chocolate Cake – Try my Easy Chocolate Cake
Ice cream – Try my Homemade Vanilla Ice Cream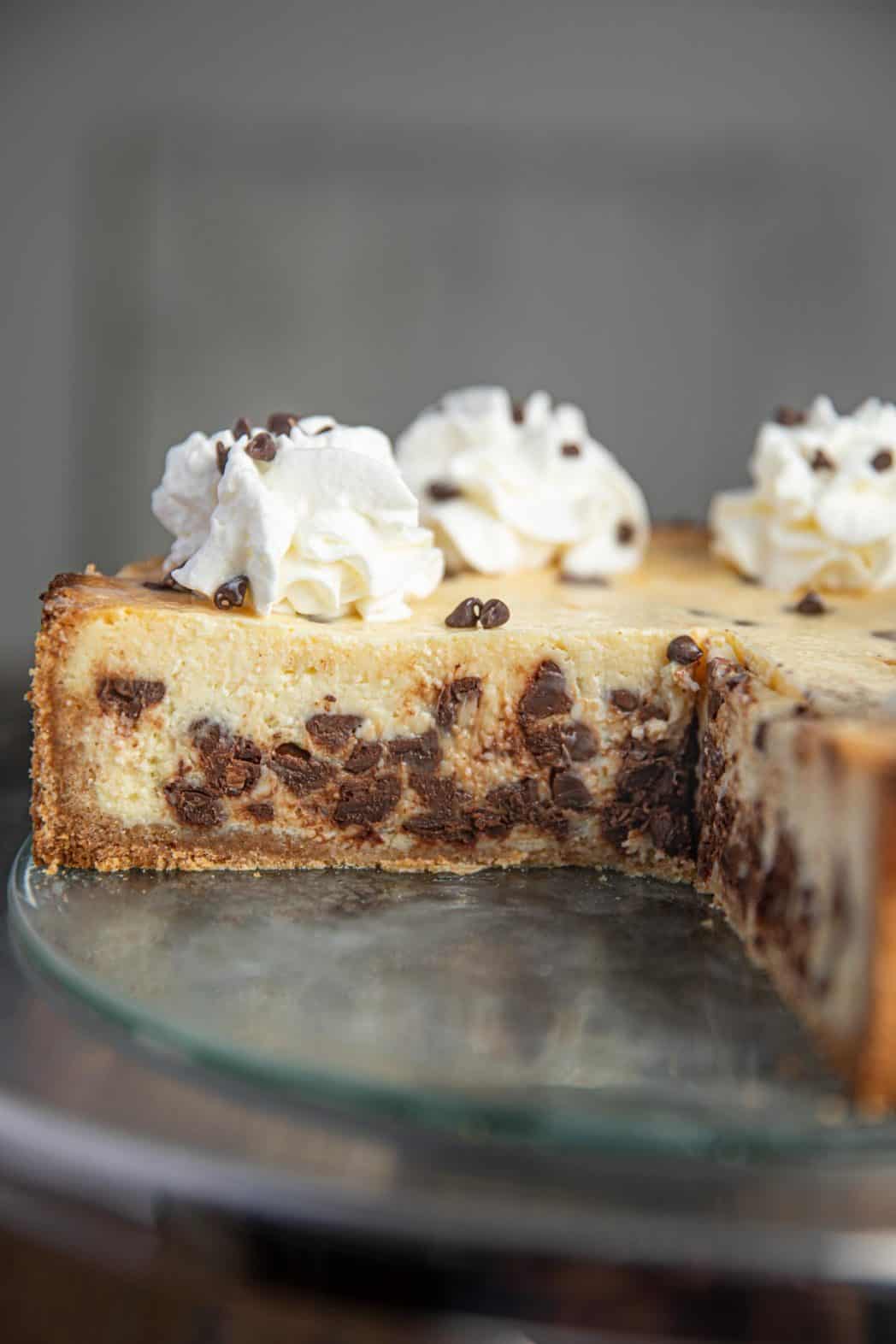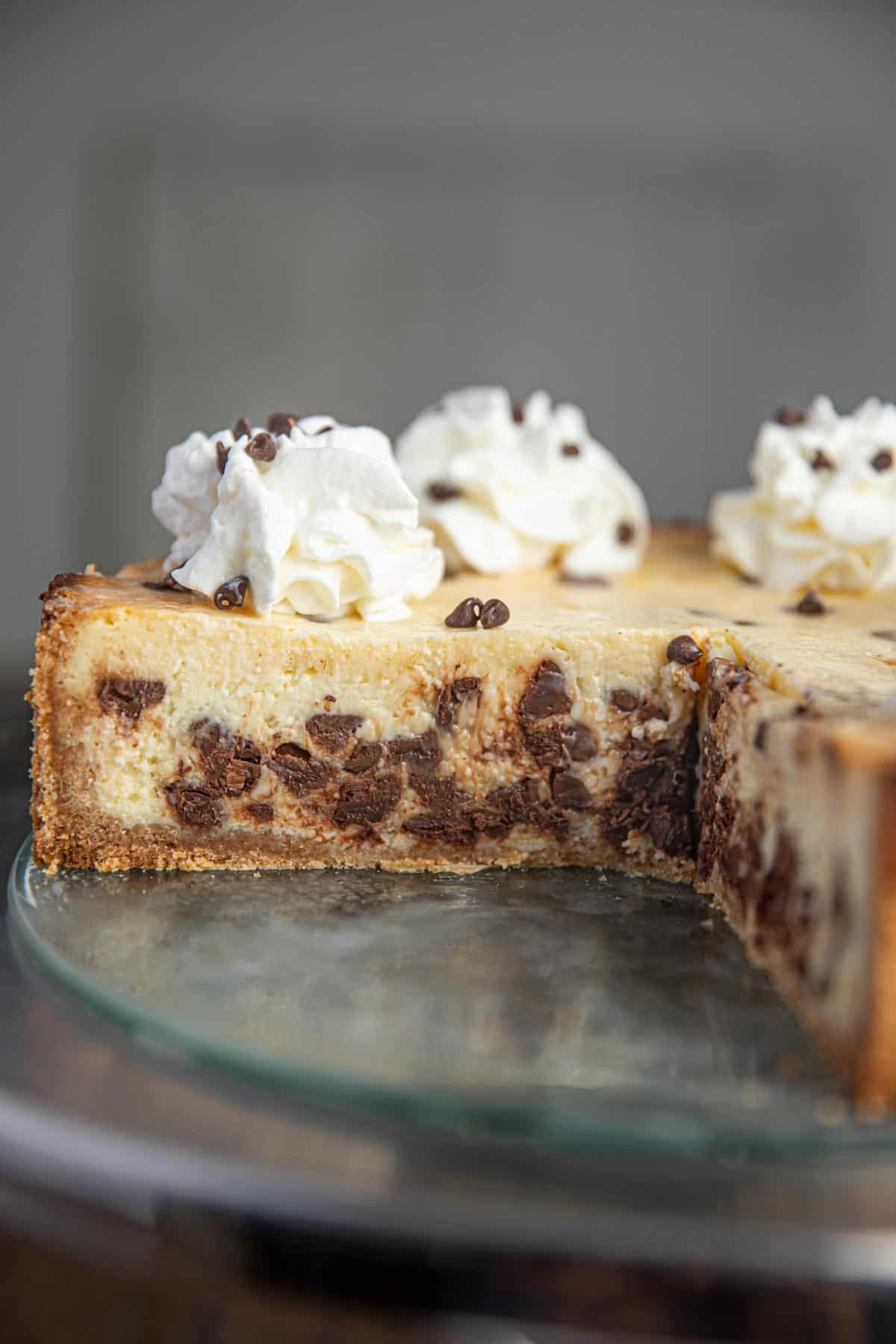 HISTORY OF CHOCOLATE CHIPS (FUN FACTS)
An American chef, author, business owner and culinary educator named Ruth Graves Wakefield invented the chocolate chip in 1937. She owned a small inn with her husband which was called the Tollhouse Inn (ring any bells?) She started making butter cookies and then on a whim chopped up a bar of Nestle semi-sweet chocolate and added the chips to her recipe.
The recipe caught on fast, and during WW2 families across America started getting letters from GI's asking them to send Wakefield's cookies by name. Nestle finally approached her about packaging and selling her concept. They offered to print her cookie recipe on their packaging and she agreed in exchange for a lifetime supply of chocolate. That may sound like a one-sided deal, but considering how many chocolate chip cookies she was selling, she must have been spending a fortune on chocolate.
MORE CHOCOLATE CHIP DESSERTS
HOW LONG DOES CHEESECAKE LAST
Serve: you shouldn't leave a cheesecake out at room temperature for longer than 6 hours, but I don't recommend keeping it out for longer than about 4. The cheesecake gets sweaty and weird.
Store: your leftovers will be good in the fridge for about 5 days.
Freeze: if you aren't ready to say goodbye to your dessert, you can freeze if for up to 6 months.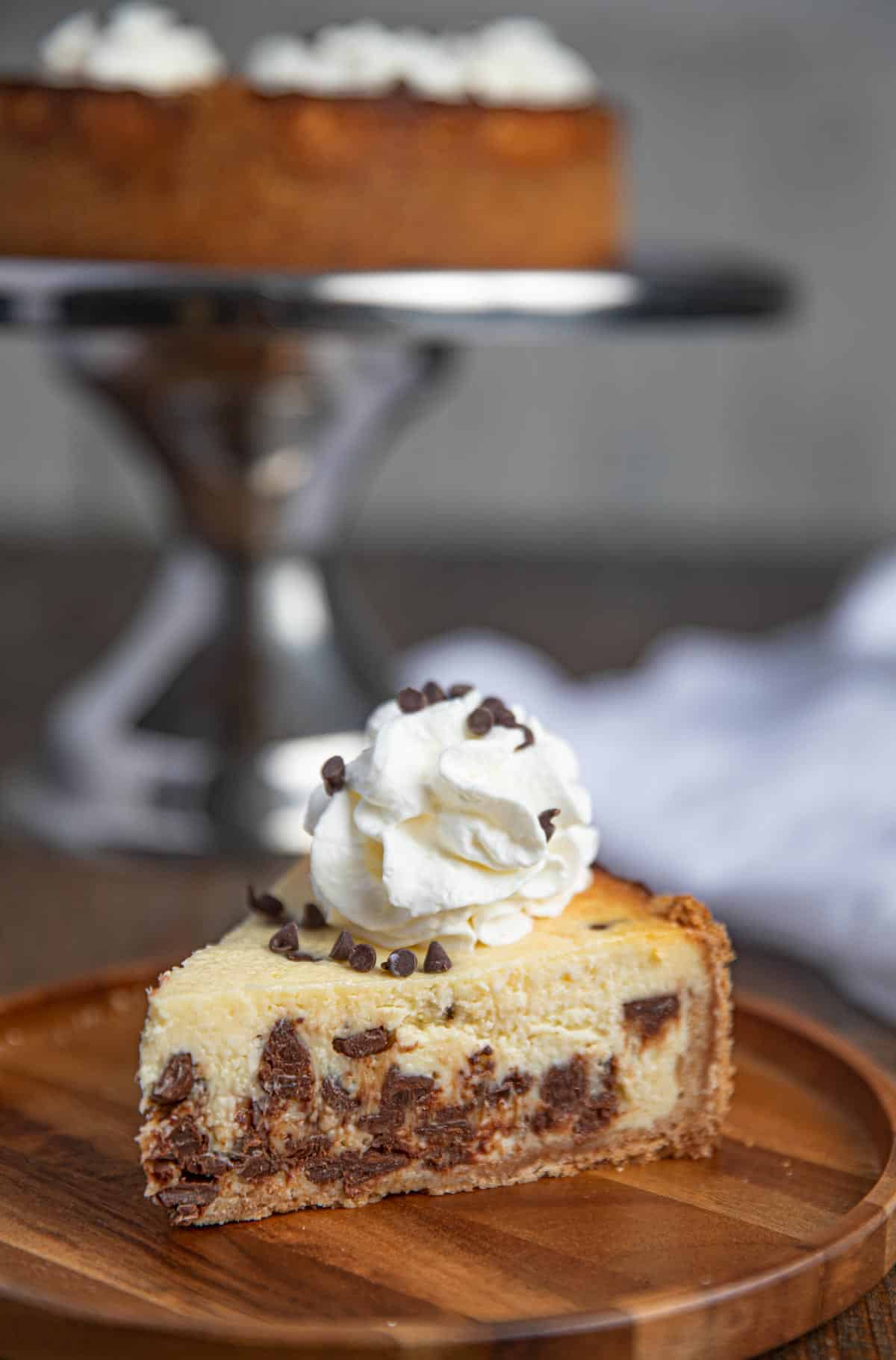 Ingredients
1 1/2

cups

graham cracker crumbs

, (12 full crackers)

1/3

cup

white sugar

1/3

cup

butter

, melted

24

ounces

cream cheese

, 3 packages

14

ounces

sweetened condensed milk

, 1 can

3

large

eggs

1

tablespoon

vanilla extract

1

tablespoon

flour

2

cups

semi-sweet chocolate chips
Instructions
Preheat oven to 300 degrees.

Mix the graham cracker crumbs, ⅓ cup sugar and 6 tablespoons melted butter and press into the bottom of the springform pan and 1 inch up the sides.

In a stand mixer beat the cream cheese until fluffy then add in the condensed milk until combined.

Add in the eggs one at a time until fully combined then add in the vanilla, flour and chocolate chips until combined before pouring into the springform pan.

Place the pan in the water bath (water 1 inch up the sides of the cheesecake pan) and bake for

1 hour

.

Turn off the oven, open the door a couple inches to let the heat out gently and let cool for an hour then remove from the oven.

Remove the foil and refrigerate until completely chilled before serving.
Nutrition
Calories:
611
kcal
|
Carbohydrates:
50
g
|
Protein:
10
g
|
Fat:
41
g
|
Saturated Fat:
23
g
|
Cholesterol:
142
mg
|
Sodium:
362
mg
|
Potassium:
409
mg
|
Fiber:
3
g
|
Sugar:
39
g
|
Vitamin A:
1100
IU
|
Vitamin C:
0.8
mg
|
Calcium:
186
mg
|
Iron:
2.9
mg