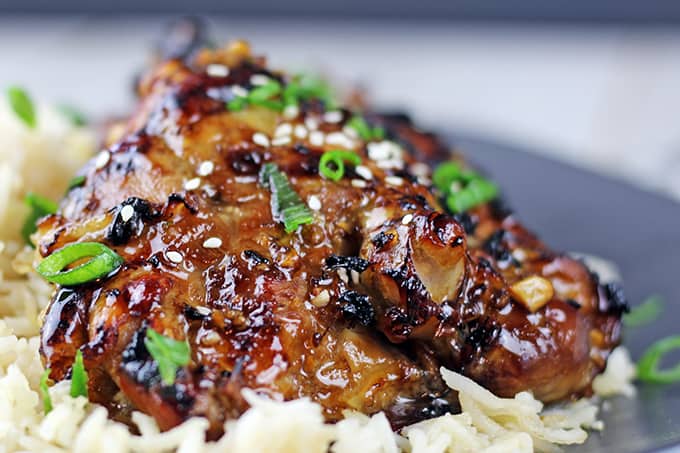 5 Ingredient Sticky and sweet, this chicken is roasted in the oven covered in a Honey-Soy sauce with ginger and garlic and is ready in 30 minutes! Serve with steamed rice for the perfect quick and easy meal!
Summer is coming to a rapid end even though the weather seems to have no idea about it. As we go into the fall season and life gets busier we look to recipes like this one to cut down on time in the kitchen. If you are gearing up for back to school, you'll appreciate this dish for its ease and simplicity. You can also marinade it ahead and freeze it for later. This dish is perfect to add to your list if you prep your meals on the weekends or if you do large batch freezer meals.
This also happens to be one of my favorite Ina Garten recipes which is pretty impressive given her recipes tend to be American/French in general. This recipe also gets a ton of brownie points for being one of the easiest no fuss recipes we rotate through. I reserve it for nights where I genuinely don't feel like cooking since it is so hands off. I even get lazy and throw the garlic and chunks of ginger in my mini food processor.
I posted the recipe in the most basic version even though we often change it up. This is because the recipe is so simple you can alter it with anything you've got on hand. This also gives you an idea how often we make the dish! We love playing with the ingredients and flavors to mix it up.
There aren't any step by step photos because the recipe is so incredibly easy so I am including a list of variations we do to this recipe in case you want to change it up a bit. (Please try it the original way first, it is FANTASTIC as is).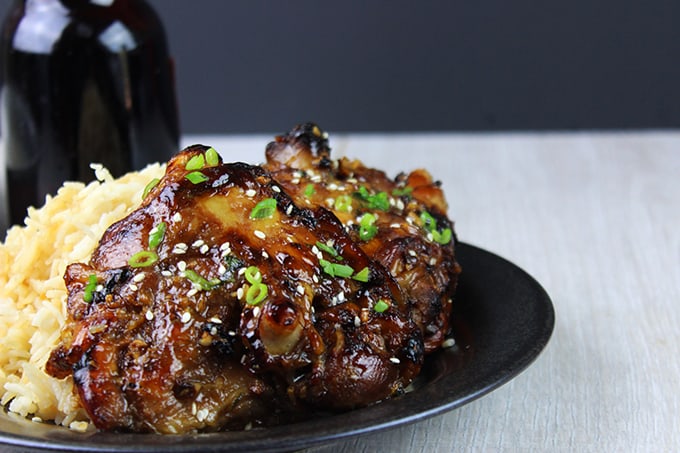 Marinade the chicken in the sauce overnight. Flavor will be much deeper.
½ tbsp Sriracha  or ½ teaspoon crushed red pepper in the marinade mix.
Add large chunks 2″ of pineapple to mix and roast together.
A red bell pepper cut into large chunks and tossed with chicken and roasted in same pan.
2-3 inch chunks of green onions tossed with chicken and roasted in same pan.
1 large zucchini sliced in half moon shapes, tossed with chicken and roasted in same pan.
3 baby bok choy, sliced in 1 inch chunks, added to bottom of dutch oven. Cover with chicken and roast.
Served with Coconut Rice.
Marinade with chicken breasts overnight, slice and cook in skillet.
Cook the night before, cut into chunks and put in fridge. This works great cold in lunches!
Instead of 1 cup honey: ½ cup honey, ½ cup of pineapple juice.
Instead of 1 cup honey: ½ cup honey, ½ cup of orange juice.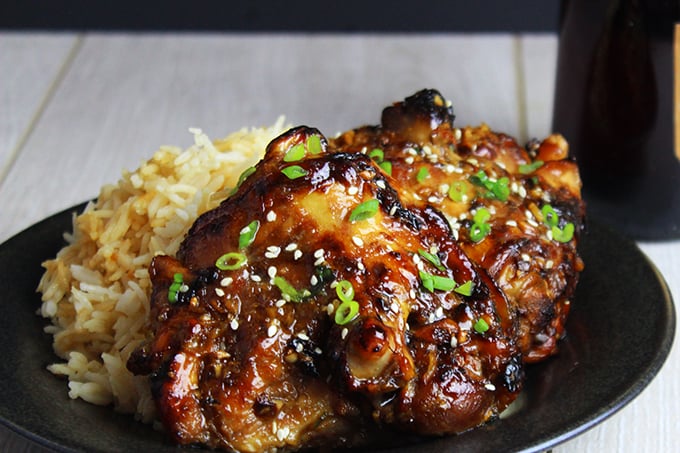 Ingredients
1

cup

honey

(¼ cup of it reserved)

3/4

cup

soy sauce

1/4

cup

minced garlic

(8 to 12 cloves)

1/2

cup

fresh ginger

, peeled and grated

3

lbs

chicken thighs

, with skin and bone on
Instructions
Preheat oven to 375 degrees.

Mix ¾ cup honey, soy sauce, ginger and garlic together.

Toss with the chicken and put a foil sheet on a baking pan. This dish is very sticky.

Put chicken, skin side up onto the foil.

Take chicken out and toss with remaining ¼ cup of honey.
Nutrition
Calories:
376
kcal
|
Carbohydrates:
31
g
|
Protein:
21
g
|
Fat:
19
g
|
Saturated Fat:
5
g
|
Cholesterol:
113
mg
|
Sodium:
1064
mg
|
Potassium:
325
mg
|
Fiber:
1
g
|
Sugar:
28
g
|
Vitamin A:
90
IU
|
Vitamin C:
1
mg
|
Calcium:
21
mg
|
Iron:
1
mg