Banana Crumb Muffins are a delicious muffin recipe with sweet banana flavor from real bananas plus a cinnamon brown sugar crumb topping.
Banana Bread isn't the only easy, delicious Baked Good Recipe that you can make with ripe bananas and common pantry items! These bakery style banana Muffins are just as quick, easy, and tasty!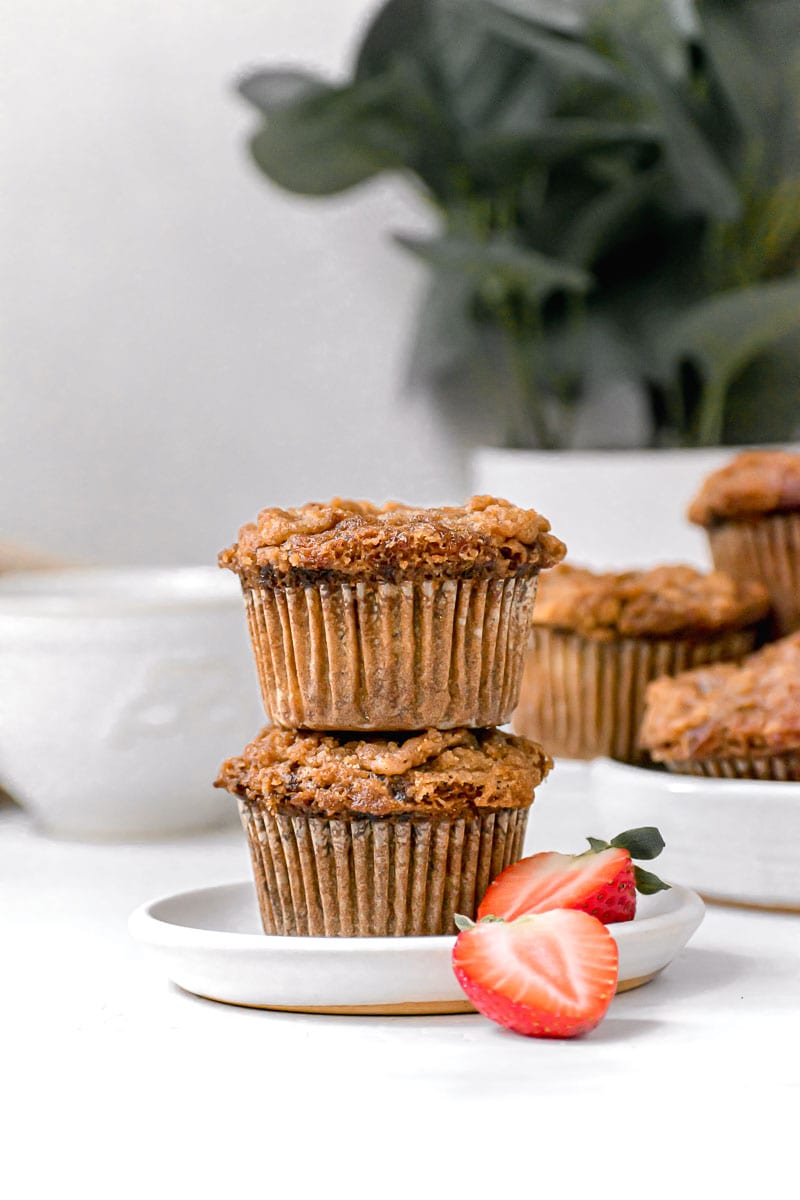 With a cinnamon spiced crumb topping and tender cake, these banana muffins are an instant favorite. The buttery sweet streusel is so easy and addicting, you can put it on all of your classic baked goods and muffin recipes. From Blueberry Muffins to French Toast Bake to these Banana Muffins, a crumb topping is the easiest way to transform any breakfast recipe into a new favorite.
Perfect for a lazy weekend breakfast, these tasty Banana Crumb Muffins are ready in less than an hour. Clean up is a breeze with just two mixing bowls, no beaters or stand mixer needed. It's easier to mix dry ingredients together in a small bowl before adding so the batter doesn't get over-mixed. If you want make this a one bowl recipe, whisk in the dry ingredients individually, careful not to over-mix.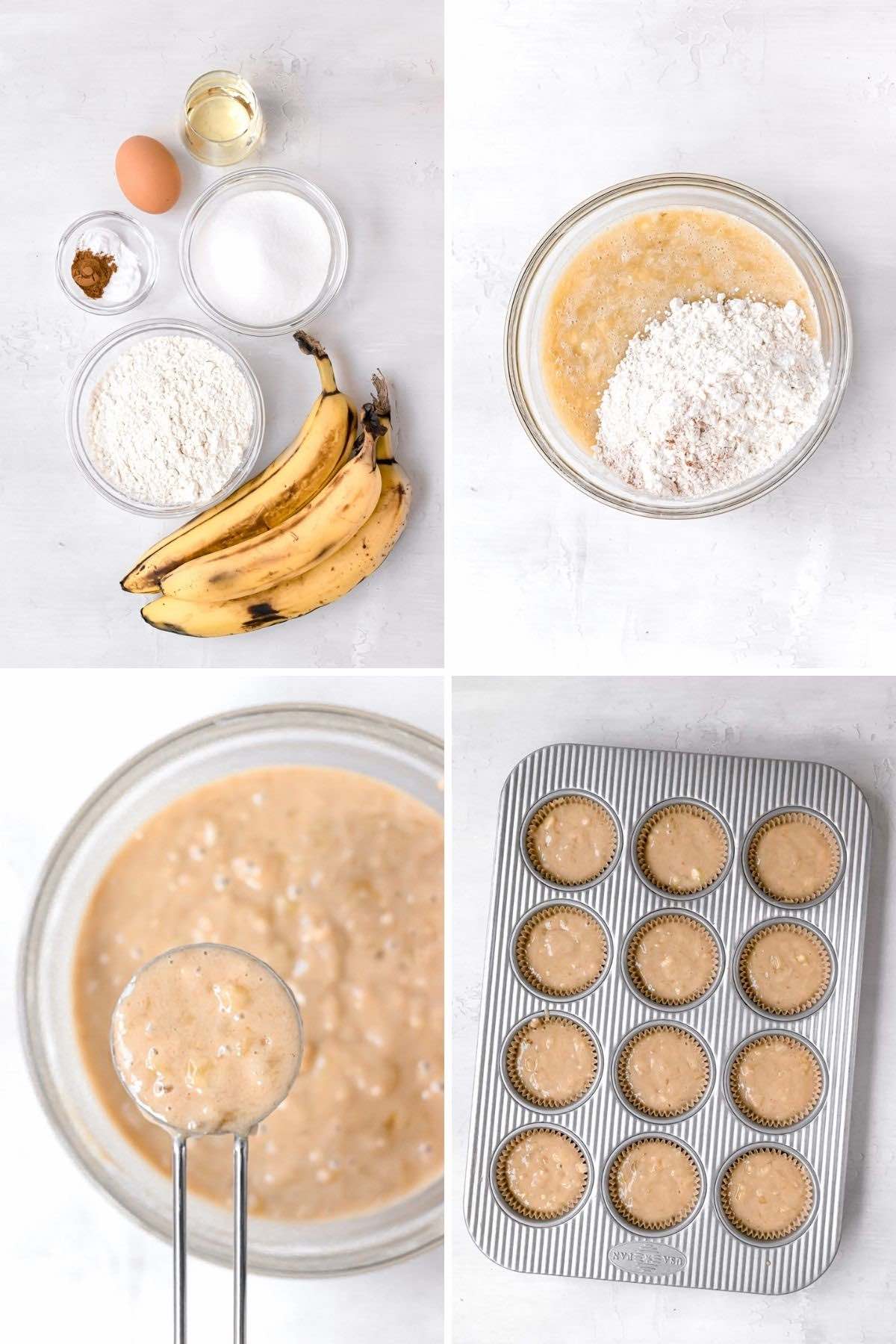 Banana Crumb Muffins are a great recipe for ripe bananas that take half the time of any quick bread. The tender, fluffy cake-like muffin is made with common pantry ingredients and is moistened with mashed bananas. If your bananas aren't ripe enough and you don't want to wait to make this recipe you can roast them, just check out the variation section for instructions!
These delicious banana muffins with a cinnamon sugar crumb topping go great with a cup of coffee and a little bit of butter. Banana Crumb Muffins are a go-to brunch recipe since they can be made a couple of days in advance. You can make them extra special with a drizzle of Salted Caramel Sauce. The sweet and salty caramel go perfectly with the cinnamon and banana flavors!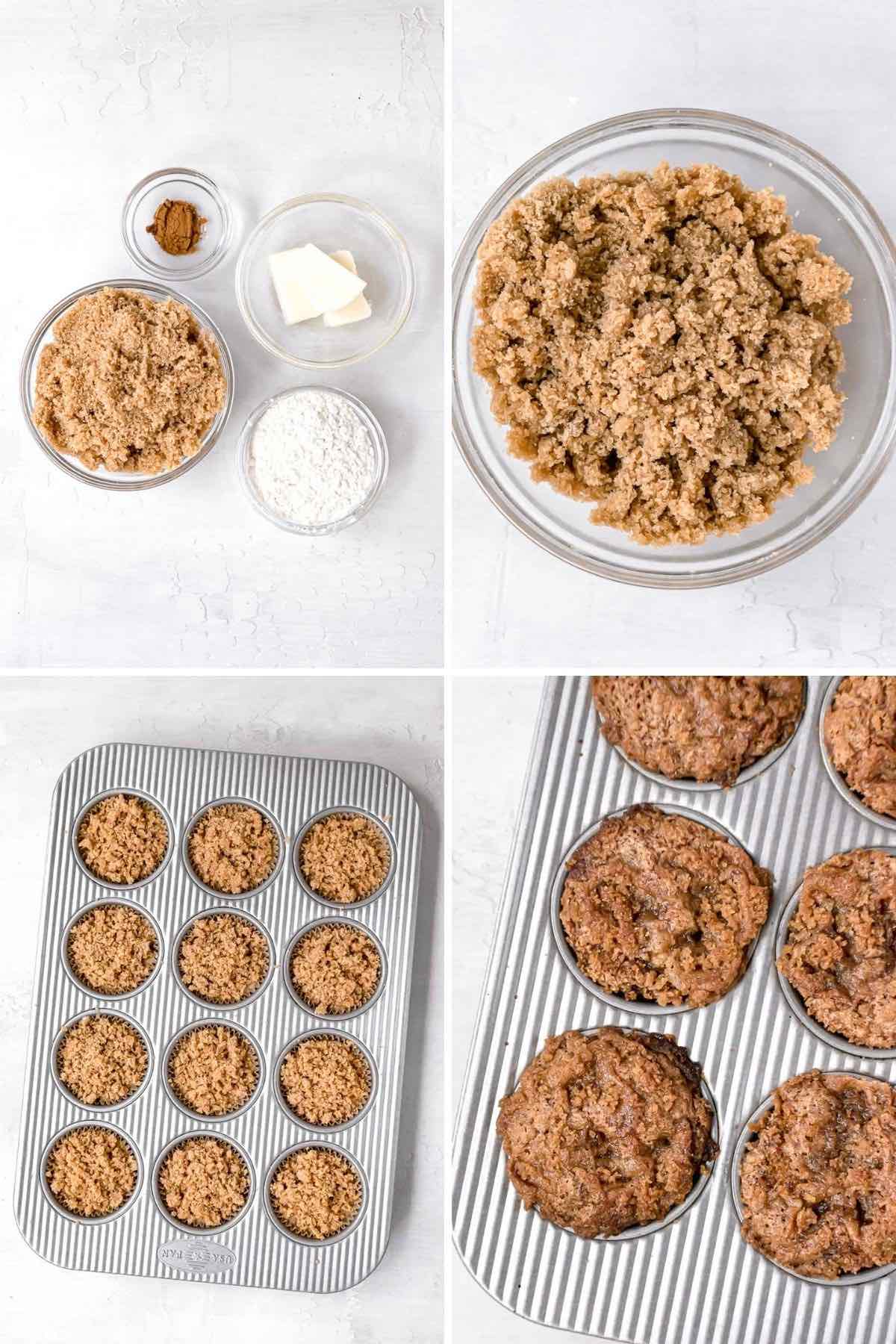 How to Make Banana Crumb Muffins
Prep: Preheat your oven and grease a muffin pan or add paper liners.
Sift: Sift the flour, baking soda, baking powder, cinnamon and salt in a bowl.
Mix: Whisk the bananas, eggs, sugar, vanilla, and oil together until smooth in a big bowl.
Combine: Gently stir the dry ingredients into the banana mixture until no dry streaks. Don't over-mix.
Topping: Mix the brown sugar, flour, and cinnamon together in a bowl. Mash in the butter until a crumble forms.
Fill: Add ¼ cup of batter into each muffin cup. Top with the crumb mixture.
Bake: Bake the muffins until an inserted toothpick comes out clean, about 20 minutes
More Tasty Banana Muffin Recipes
FAQs for Banana Crumb Muffins
What's the secret to a streusel topping?
The secret to a streusel topping is using really cold butter. Cutting the cold butter into the flour and sugar forms chunks that keep their shape instead of just melting into the batter. This gives you big bursts of sweet, buttery goodness.
Why do you want to use bananas that are overripe? 
Using overripe bananas in recipes, such as Banana Crumb Muffins, is better because they are sweeter and have a softer texture. Additionally, their softness makes them easier to mash and mix into the batter.
Can I use frozen bananas for these muffins?
Yes, you can use frozen bananas for these muffins. Thaw the frozen bananas and drain any excess liquid before mashing them. Frozen bananas will still contribute sweetness, moisture, and flavor to the muffins, but their texture will be slightly different from fresh bananas.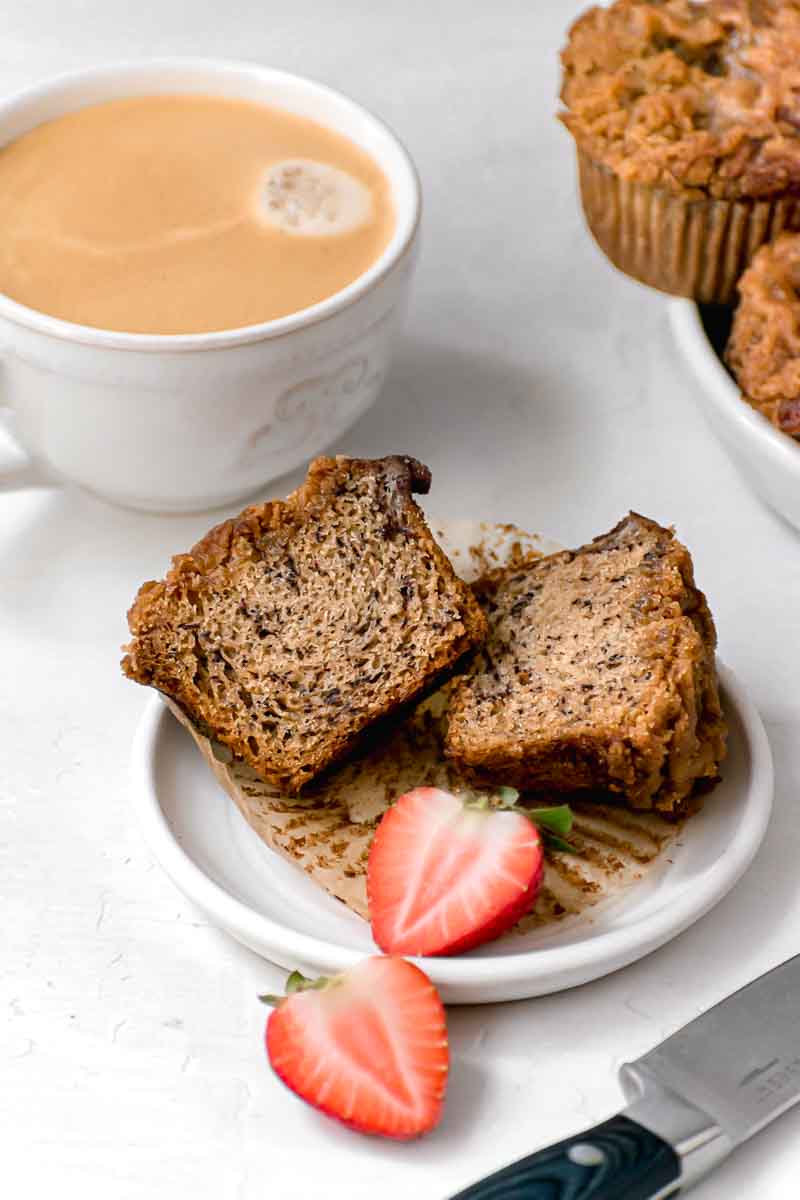 Create a free account to

Save Recipes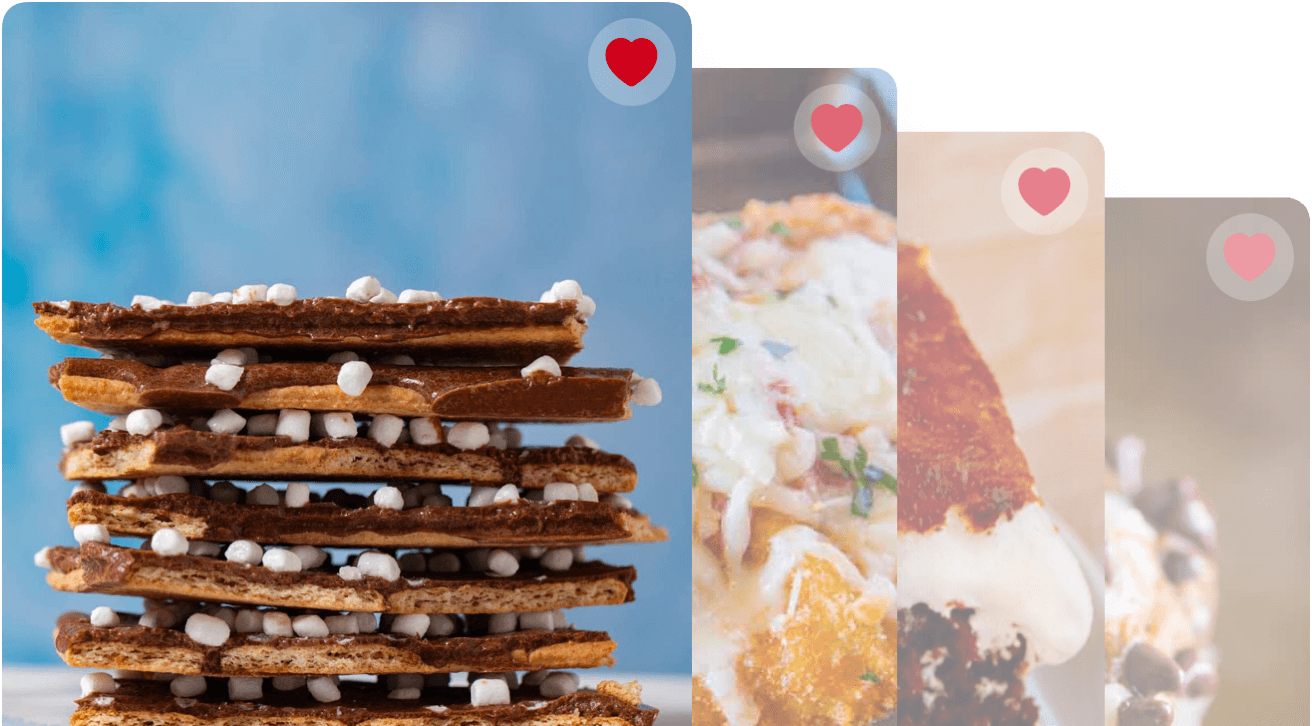 Key Ingredients
Bananas: These amazing Banana Crumb Muffins are packed with banana flavor thanks to using 1 ½ cups of overly ripe bananas. Overripe bananas are sweeter than just turned ripe ones and they have much more liquid to make these muffins super tender and moist. They mash up easier for a smoother batter that mixes easily.
Flour Mixture: The dry flour mixture of baking powder, baking soda, and salt are a great base for simple baked goods like muffins. You want to mix them with a fork or whisk beforehand to remove any clumps and make sure the leavening agents are distributed evenly. This makes the flour mixture easier to combine with the wet batter ingredients so you don't over-mix the batter and your muffins are perfectly light and fluffy.
Vanilla: Vanilla extract is the perfect flavoring to add to sweet baked goods because not only does it add it's own warm, floral notes but it also enhances all the other flavors.
Cinnamon: Cinnamon adds a spiced warmth that compliments the sweetness of bananas and creates a delightful bakery aroma. Cinnamon also has a slightly spicy woody undertone that adds balance so the muffins aren't overly sweet.
Sugar: This recipe uses both white and brown sugar, with the regular sugar in the muffin batter and the brown sugar in the crumble topping. The molasses in the brown sugar makes it more sticky to help hold the crumble pieces together instead of melting plus it gives the topping a slight caramel flavor.
Egg and Oil: The egg and the canola oil are the fats for this recipe that serve a couple purposes. The egg helps bind everything, locks in moisture and adds richness. The oil also makes these muffins moist and since it doesn't become solid, your muffins stay moist at room temperature for longer.
Butter: The butter adds richness and using cold butter helps create a crisp, crumbly texture when combined with the brown sugar and flour. The coldness is key because it keeps the crumb pieces together instead of melting or falling apart.
Can Banana Crumb Muffins be made ahead of time?
You can sort of make Banana Crumb Muffins ahead of time. You can definitely bake the muffins and store them in the fridge or freezer, then warm them up when you are ready to serve them. However, once you make the batter, you need to bake it right away or you will have dense muffins. You can prep the crumble topping and refrigerate it for 2 days beforehand, or you can freeze it for up to 3 months.
Variations
Chocolate: Chocolate makes the best Banana Crumb Muffins even better. Stir in ½ cup semi sweet, dark, or white chocolate chips before baking.
Fruit: For more natural sweetness, fold in chopped fruit or berries to the muffin batter. Strawberries, apples, blueberries, and peaches all taste great with banana!
Add-ins: For a crunch like in Banana Bread Muffins, add ½ cup chopped walnuts. You can also add-in other nuts, shredded sweetened coconut, or peanut butter chips for more flavor.
Healthy: Make these Banana Muffins extra healthy with whole wheat or whole grain flour and swapping the oil with applesauce. Use the same measurements in a one-to-one healthy swap.
Mini Muffins: To make mini muffins, spray a 24 cup mini muffin tin or line with paper liners. Fill muffin cups ¾ full with batter and bake at 350 degrees for 14-16 minutes.
Roasted Bananas: If you've never heard of roasting bananas to ripen them, be prepared to have your mind blown. They are a way to use bananas that aren't ripe yet plus roasting bananas brings out more banana flavor and sweetness! Roast the bananas (don't remove the peel) at 400 degrees for about 20 minutes, until they are blackened then peel and use as usual.
More Easy Banana Breakfast Recipes
How to Store
Serve: Keep your Banana Crumb Muffins at room temperature for up to 4 days in a paper towel lined plastic bag or container to absorb moisture and keep the streusel from getting soggy.
Store: These Banana Crumb Muffins will stay fresh in the refrigerator for up to 1 week. Store in an airtight container and bring to room temperature to serve, or pop them in the oven to warm them back up.
Freeze: Cool the muffins completely before freezing in a freezer safe bag for up to 3 months. To reheat easily, wrap individual muffins in aluminum foil before freezing. Pop foil wrapped muffin in oven until warm.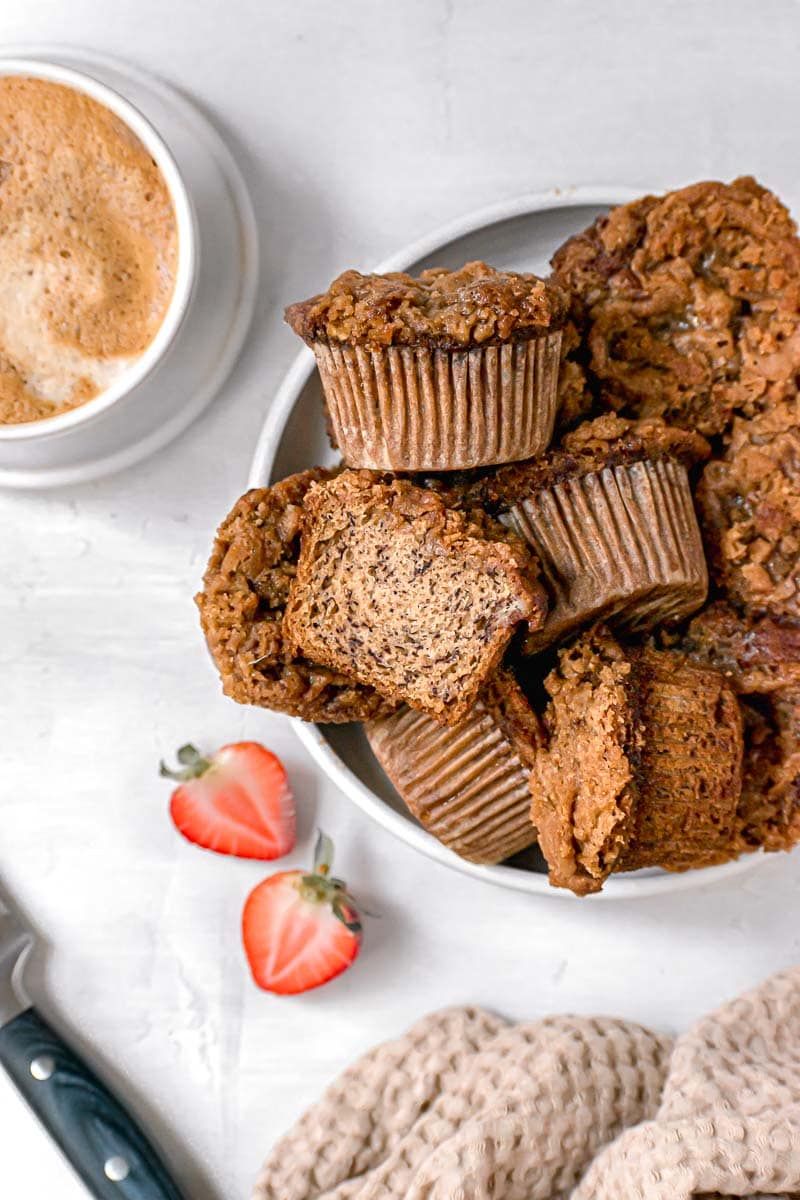 Ingredients
BANANA MUFFIN
1 1/2

cups

flour

1

teaspoon

baking soda

1

teaspoon

baking powder

1

teaspoon

vanilla extract

3/4

teaspoon

cinnamon

1/2

teaspoon

salt

3

medium

bananas

, mashed (about 1 ½ cups)

3/4

cup

sugar

1

large

egg

1/3

cup

canola oil
CRUMB TOPPING
2/3

cup

brown sugar

, packed

1/4

cup

flour

1/4

teaspoon

cinnamon

2

tablespoon

unsalted butter
Instructions
Preheat oven to 375 degrees. Spray a muffin pan with baking spray or line with 12 cupcake liners.

In a large bowl, mix together 1 ½ cups flour, baking soda, baking powder, cinnamon and salt.

In a second bowl, mix together bananas, sugar, egg, vanilla and canola oil.

Add the dry ingredients to the wet until just combined.

Using a ¼ cup measure, put the batter in the cupcake liners.
Crumb Topping:
In a small bowl, mix together brown sugar, ¼ cup flour, and cinnamon.

Mix in tiny cubes of butter until mixture resembles a pea sized mixture. Crumble over muffins.

Bake for

18 to 20 minutes

, until the cake springs back when lightly touched.
Nutrition
Calories:
266
kcal
|
Carbohydrates:
45
g
|
Protein:
3
g
|
Fat:
9
g
|
Saturated Fat:
2
g
|
Cholesterol:
19
mg
|
Sodium:
215
mg
|
Potassium:
177
mg
|
Fiber:
1
g
|
Sugar:
28
g
|
Vitamin A:
97
IU
|
Vitamin C:
3
mg
|
Calcium:
32
mg
|
Iron:
1
mg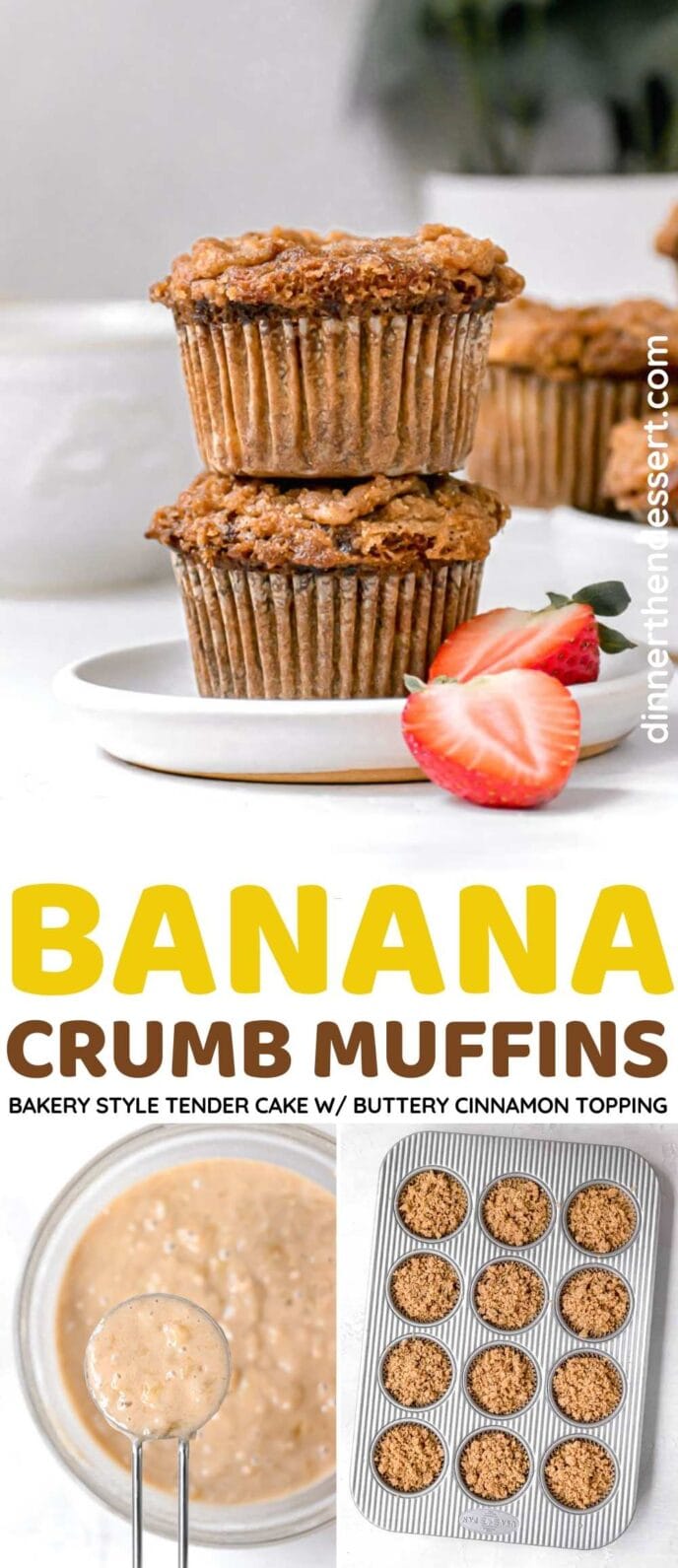 Photos used in a previous version of this post.