This Big Mac recipe makes the ultimate hamburger with homemade Big Mac sauce and two beef patties just like the classic fast-food burger.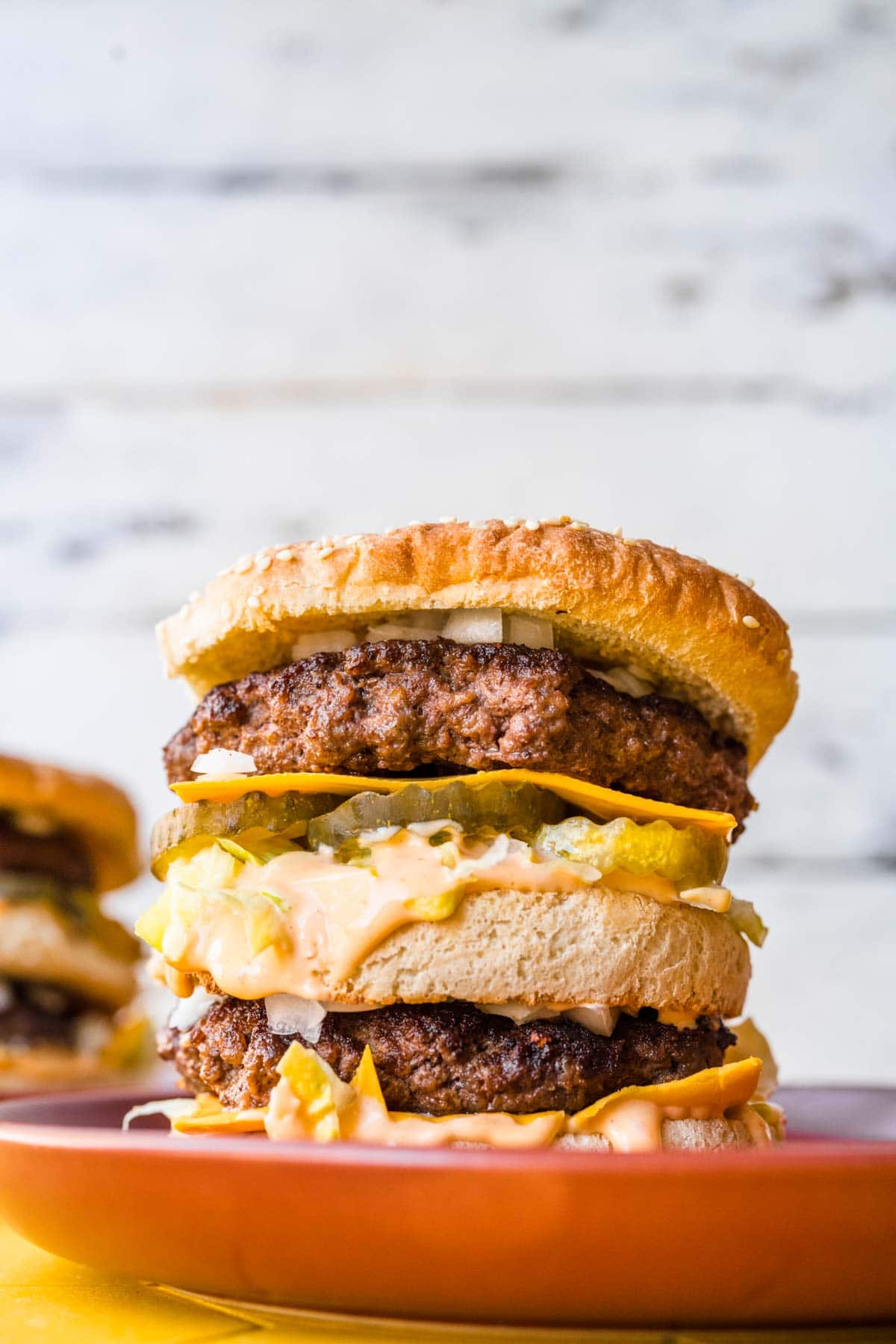 We've all had those moments where you're just craving a classic fast-food burger, but who wants to drive out to the nearest drive-thru and wait in line? With this easy recipe, you can make a delicious Sandwich with all the flavors and ingredients of a classic McDonald's burger. For more fast food copycats try Taco Bell Burrito Supreme and Carl's Jr. Breakfast Burger next.
You might be wondering if making this recipe yourself is really worth it. After all, one of the most appealing things about fast food is that it's quick and easy. However, you can be sure this Big Mac recipe is worth trying yourself. It only takes a few minutes to prep and cook the basic recipe. It can honestly take less time than driving to McDonald's and waiting in line. Plus you can enjoy the food fresh, so it tastes even better.
On top of that, making this beef burger from home means you don't have to worry about any artificial flavors or wonder what ingredients are in it. You can also easily adjust ingredients to match your taste.
If you're worried this copycat version won't taste the same, you don't have to. We've included the secret recipe for the McDonald's special sauce in this post. That's what gives the burger chain patties their amazing, juicy flavor, and now you can make it yourself! To make a complete restaurant meal at home, be sure to serve the delicious burger up with some Shoestring French Fries. You can even make extra Big Mac Sauce to dip the fries in if you want.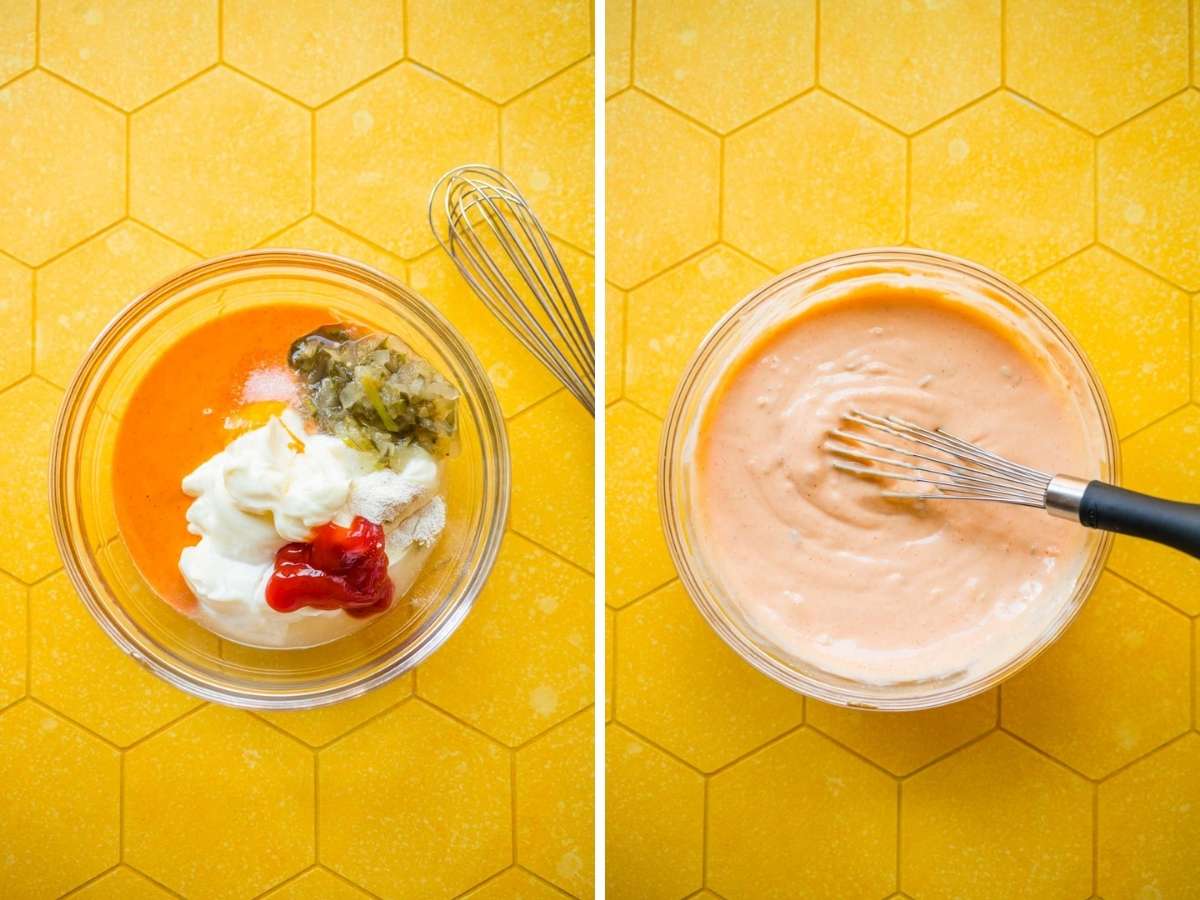 Frequently Asked Questions
What makes Big Macs different?
A few elements set this iconic burger apart from regular burger recipes. First of all, they're a bigger, double-patty hamburger. You make two juicy patties for each sandwich with a middle piece to separate the two Big Mac patties. Thanks to the homemade special sauce, the recipe also has an amazing flavor combination. 
How old is the Big Mac?
The Big Mac was first served in 1967 near Pittsburg. It became available nationwide in 1968, so at the time of this writing it is 54 years old!
Burger Recipes
Key Ingredients
Beef Mince: Beef mince is similar to ground beef, but not exactly the same. Mince beef has a little more texture than ground beef, but you can use ground beef if that is what you have. 
Sesame-Seed Bun: You'll only need 2 sesame seed burger buns, but to make classic 2-layer Big Mac burgers, you have to slice each bun into 3 sections. 
Slice of Cheese: Add a slice of cheese over the minced meat patty so that it can melt in the sandwich. Cheddar cheese or American cheese go great with this recipe. 
Fillings: For the remaining sandwich fillings, you can add finely chopped onion, shredded lettuce, and sharp pickles. Feel free to add more veggies or take some out, depending on what filling ingredients you like. 
Big Mac Sauce: To make the Big Mac Sauce, all you need is mayonnaise, gherkin relish, white vinegar, white pepper, mild mustard, garlic powder, onion powder, and smoked paprika. It adds a nice bit of moisture and lots of flavor to the sandwich.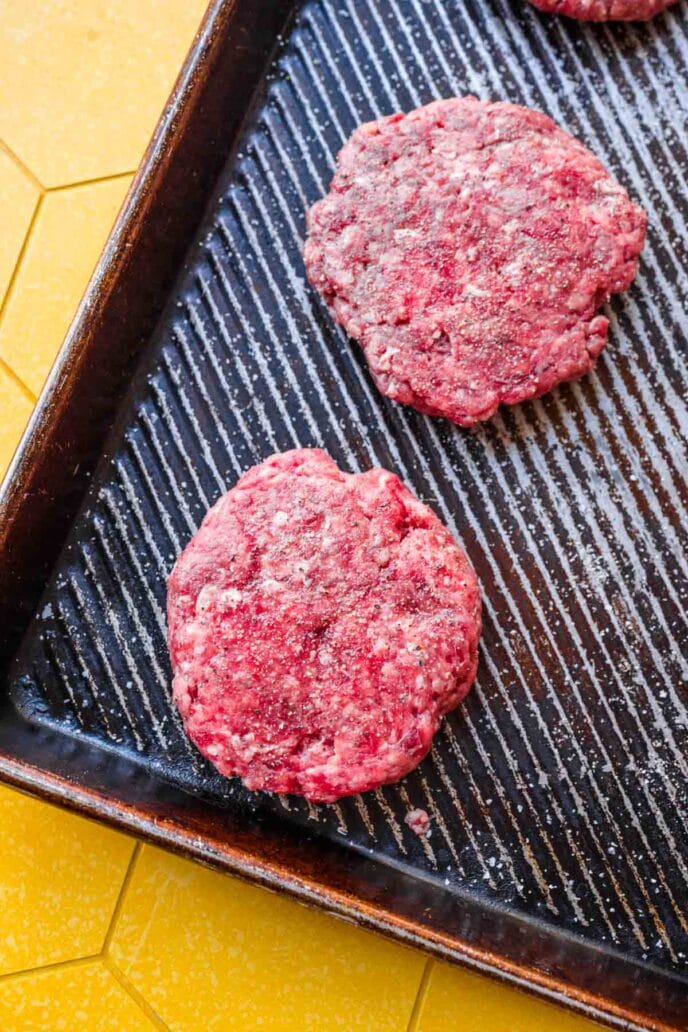 How to Make
Big Mac Sauce: To make the sauce, add mayonnaise, relish, white vinegar, salt, pepper, mild yellow mustard, onion powder, garlic powder, and smoked paprika to a mixing bowl. Whisk all the ingredients together until smooth. Then cover the bowl, and put the special sauce in the fridge until ready to use. 
Form Burger Patties: If your beef mince is frozen, make sure you take it out in enough time to thaw it. Once the beef is ready to use, season it with kosher salt and pepper. Next form it into 4 balls, about ⅓ cup each. Place each ball on a square of baking paper, and flatten until they're each a 4x 15 cm circle. 
Cooking Time: Heat the oil in a large frying pan over high heat. Cook two patties at a time for 1-2 minutes on each side until charred and cooked through. Remove the patties from the oil. Tent them in foil to stay warm. Then repeat the process with the remaining two patties. 
Burger Buns: Carefully slice each burger bun into three circular pieces using a sharp serrated knife. Then lightly toast the sesame seed bun until golden. 
Assemble: Spread the Big Mac Sauce over the bottom bun piece. Then top that with chopped onion, shredded lettuce, a slice of American cheese or cheddar cheese, one patty, and some pickle slices. Top with the center bun piece. Spread the top of that bun with Big Mac Sauce, more onion, lettuce, pickle, and the second beef patty. Finish it off with a little more sauce, then top it with the burger lid to finish. Repeat for the second Big Mac, and enjoy!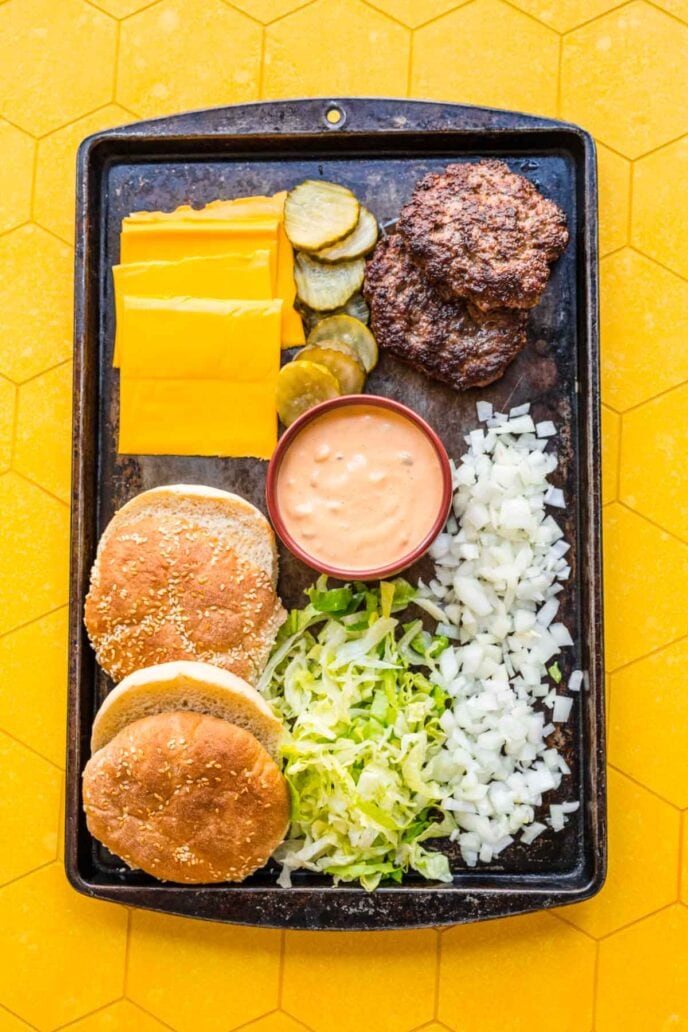 Create a free account to

Save Recipes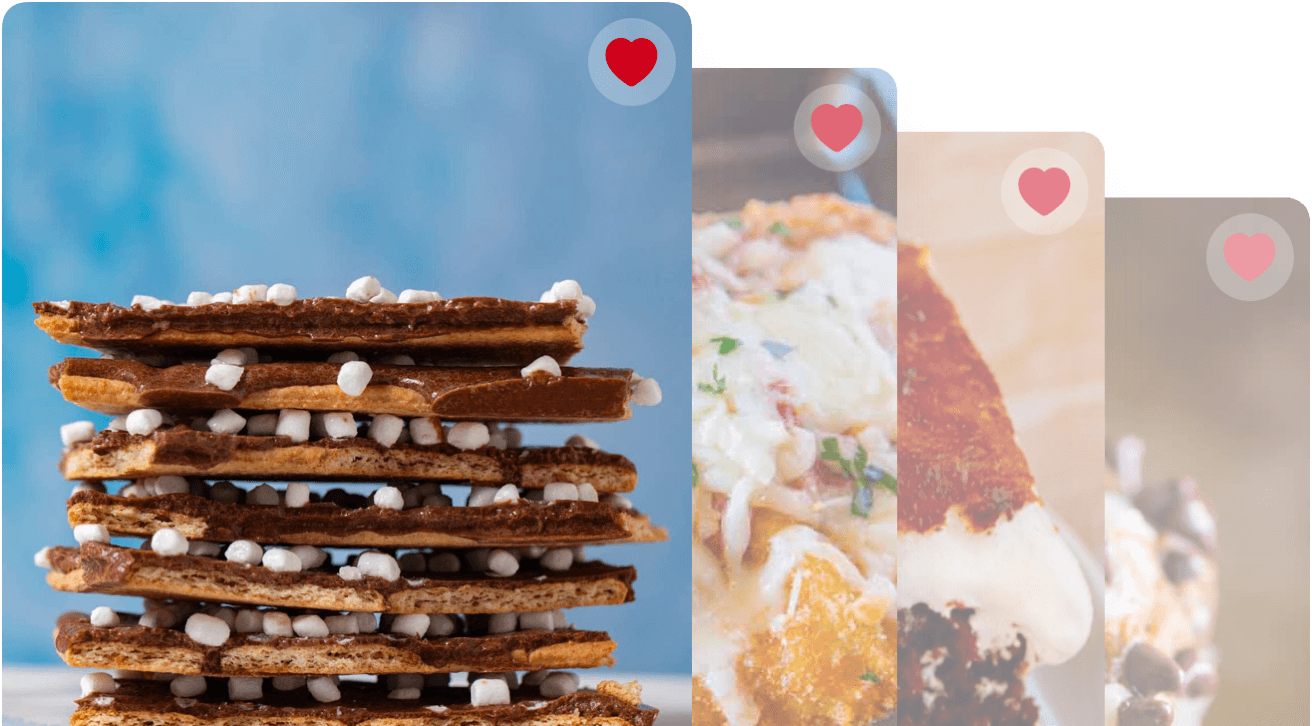 Variations
Turkey Burger: If you want to make a healthier version of this recipe, you can replace the classic beef burger with a turkey burger. Just use ground turkey meat in place of the beef mince.
Cheese: To get closest to the McDonald's flavor, I'd recommend using American cheese or cheddar cheese on your Big Mac. However, you can experiment with other kinds of cheeses like Swiss, provolone, Monterey Jack, or Pepper Jack depending on the flavor combination you want. 
Burger Size: Because there are two patties in each sandwich, the patties themselves are quite thin. However, if you don't care to do the two layers, you can make a heftier patty and skip the middle piece of bread.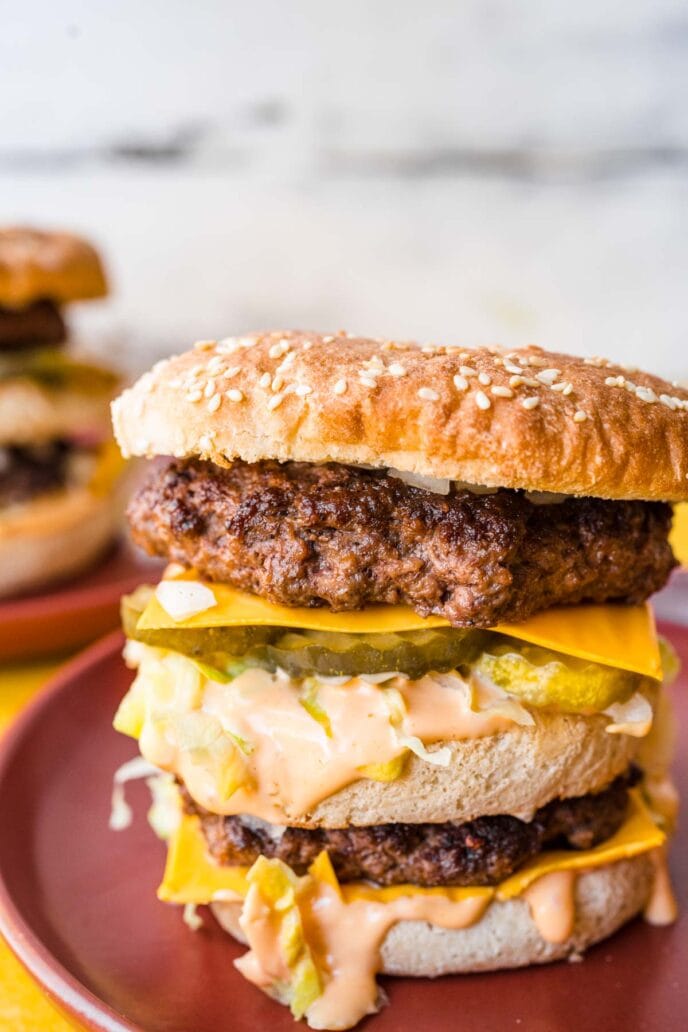 Side Dishes
How to Store
Serve: This recipe is easy to make just a few minutes before dinner or lunch time to have a delicious and fresh burger. Once it's ready, make sure not to leave your Big Mac recipe out for more than 2 hours at a time.
Store: If you don't finish the sandwiches, you can store them for later. I'd recommend separating the patties from the fillings and the buns. That way, the buns don't get soggy while storing. Put the meat patties in a ziplock bag and store them in the fridge for 3-4 days. Then assemble the sandwich with fresh bread and fillings before serving. 
Freeze: You can also seal the Big Mac patties in a freezer bag and keep them frozen for up to 4 months. To make sure the patties don't freeze together, put a square sheet of parchment paper between each one.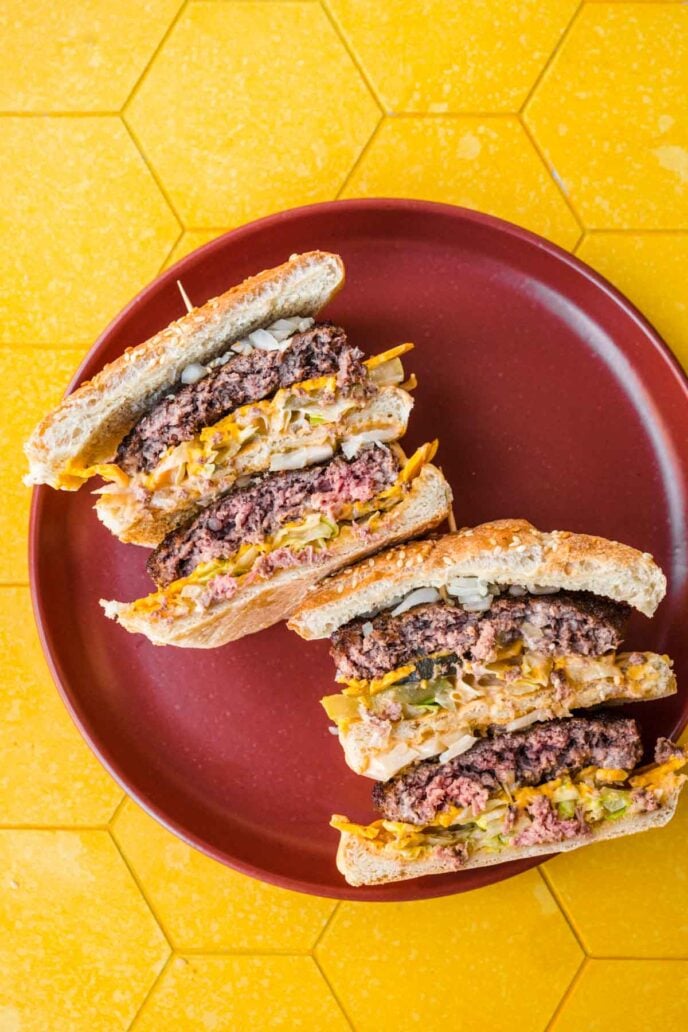 Ingredients
Ingredients
400

g

beef mince

2

tbs

extra virgin olive oil

2

sesame seed burger buns

½

white onion

, finely chopped

¼

head iceberg lettuce

, finely shredded

2

slices

tasty cheese

2

large

dill pickles

, thinly sliced
Big Mac Sauce
1

cup

mayonnaise

1

tbs

gherkin relish

2

tsp

white vinegar

Pinch

white pepper

2

tsp

mild mustard

1 ½

tsp

onion powder

1 ½

tsp

garlic powder

½

tsp

sweet smoked paprika

, pimento
Instructions
For the Big Mac sauce, combine all the ingredients in a bowl, season with salt, and chill until ready to use.

To make the patties, season the mince with salt and pepper and form into 4 balls using about ⅓ cup mince each.

Place each onto a square of baking paper and flatten to form into four x 15cm circles.

Heat oil in a large frypan over high heat. In 2 batches, cook beef patties for

1-2 minutes

each side until lightly charred and cooked through.

Remove from heat and keep warm. Repeat with remaining two patties.

Carefully slice each burger bun into three across ways, then lightly toast.

To assemble the burgers, spread a little Big Mac sauce over the bottom base.

Top with some chopped onion, shredded lettuce, slice of cheese, beef patty and some pickle slices.

Top with the middle bun layer, and spread with more Big Mac sauce, onion, lettuce, pickles, beef patty and then finish with more sauce.

Top with burger lid to serve.
Nutrition
Calories:
843
kcal
|
Carbohydrates:
18
g
|
Protein:
25
g
|
Fat:
75
g
|
Saturated Fat:
18
g
|
Polyunsaturated Fat:
27
g
|
Monounsaturated Fat:
25
g
|
Trans Fat:
1
g
|
Cholesterol:
109
mg
|
Sodium:
1281
mg
|
Potassium:
485
mg
|
Fiber:
2
g
|
Sugar:
5
g
|
Vitamin A:
601
IU
|
Vitamin C:
3
mg
|
Calcium:
204
mg
|
Iron:
4
mg