Birthday Cake Pie is a fun dessert with a no-bake cake batter flavored pudding filling in a classic pie crust that says "happy birthday" in an original way.
There are so many ways to say " happy birthday" with desserts other than cake. For example, there are Birthday Cake Cookies, Cake Balls, and Belgian Rainbow Waffles that are all equally festive and delicious, but if you want something a little more original that still involves cake batter, try out this recipe.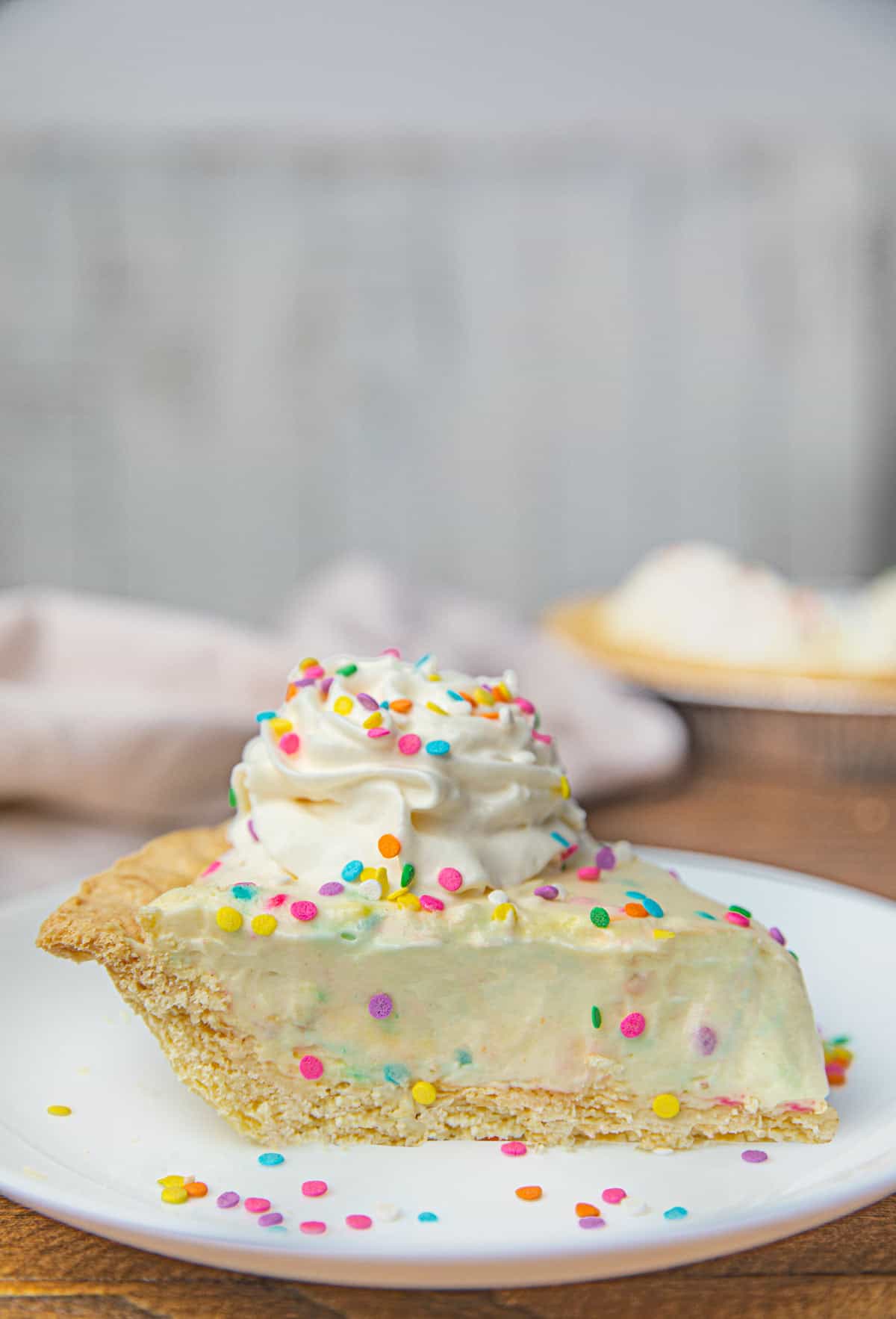 BIRTHDAY CAKE PIE
We're not trying to reinvent all things birthday with this pie, but you can't tell me just looking at this beautiful pie doesn't make you smile!
The song "Happy Birthday to You" was written in 1893 by two sisters, Patty and Mildred J. Hill, and it is the single most recognized song in the English language. It was also considered copyrighted up until 2016, so you can now feel free to sing it any time you want.
Almost as iconic as the song is the cake, but you can have too much of a good thing. Why not try an unusual, original take on birthday cake and make it into a pie instead? It's fun, easy, you can still put candles in it and you'll be the most original chef at the party.
Like this recipe and want more fun, unusual desserts? Try my recipe for Snickers Salad, Buckeye Balls and a Banana Split Ice Cream Burger. 
HOW TO MAKE BIRTHDAY CAKE PIE
Put your pie crust into a pie pan and bake it until it turns golden brown.
Beat heavy cream to stiff peaks
Add the pudding mix to your milk and let thicken.
Add the thickened pudding to your whipped cream and sprinkles.
Spread pudding filling into pie crust then refrigerate for at least 4 hours.
VARIATIONS
Oreo: crush up some Oreos and mix into the pie filling before chilling for a rich, crunchy dessert.
Chocolate chips: you can use white, dark or milk chocolate chips and stir them into the birthday pie to make it fun and delicious.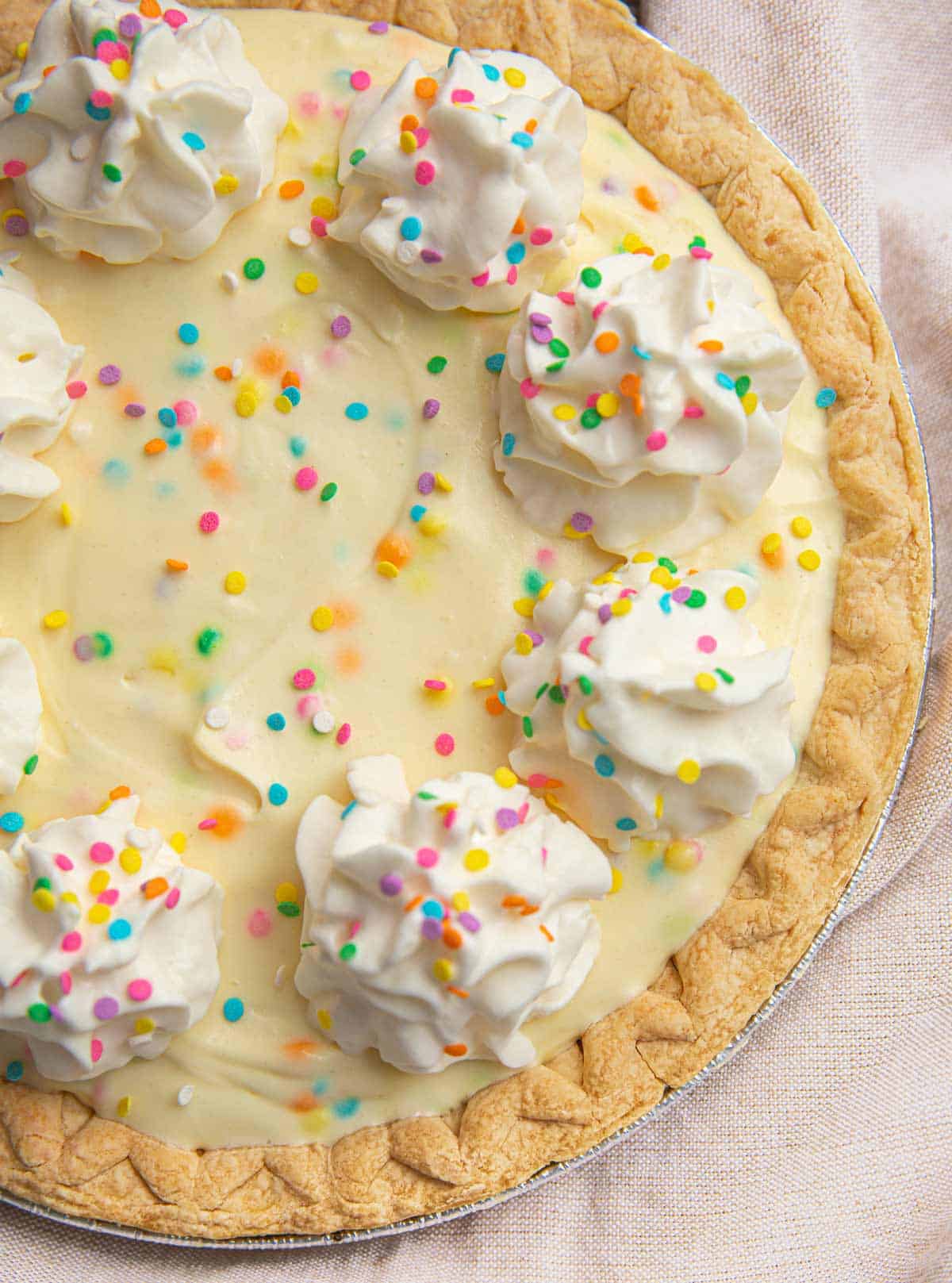 Create a free account to

Save Recipes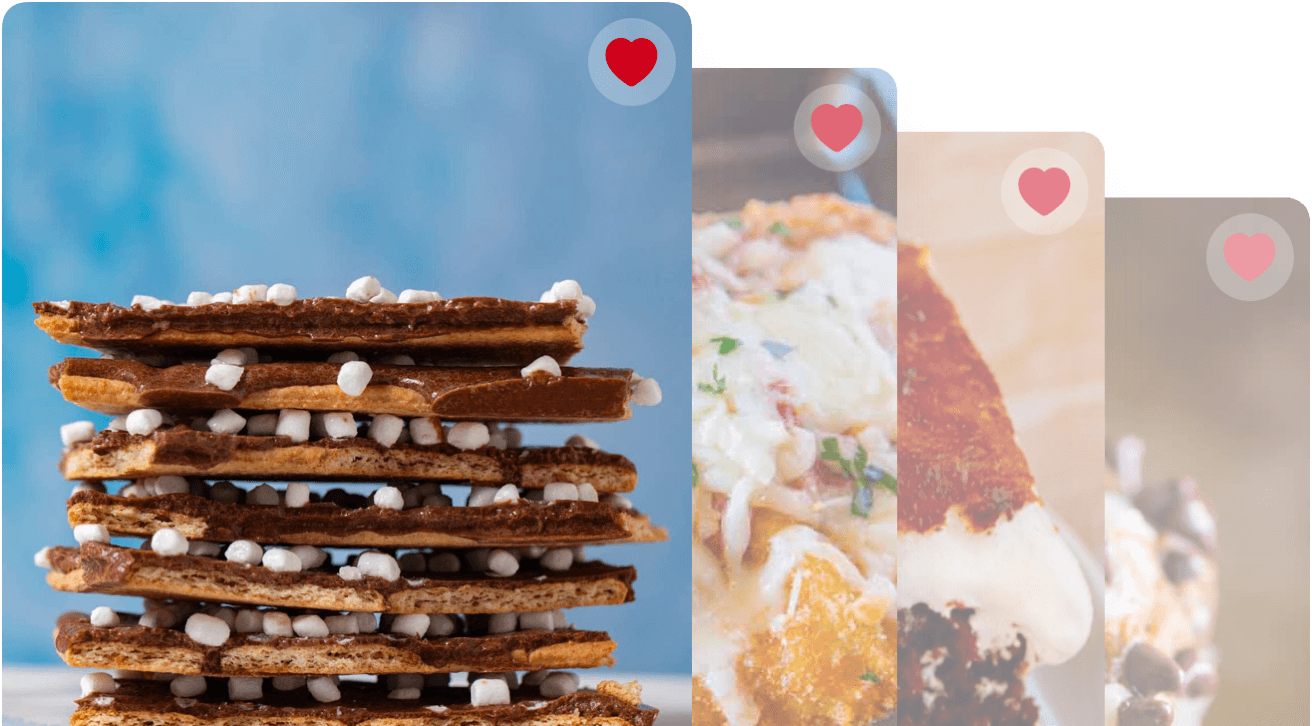 SERVE WITH
Homemade Vanilla Ice Cream: no matter whether you serve cake or pie at a birthday party, ice cream goes with everything.
Homemade Cool Whip: Can't go wrong with cool whip, especially if you make it yourself!
Homemade Whipped Cream: whipped cream is to pie as frosting is to cake, and this whipped cream is sure to impress any birthday guests you have over.
Birthday Cake & Pie Trivia 
Are you looking for some facts you can whip out at your next birthday party to sound super smart? Here are some great ones.
The ancient romans came up with the idea of birthday cakes and wedding cakes.
The modern birthday cake as we know it started in Germany in the 15th century.
The most expensive cake in the world cost (wait for it) $35 million.
Paling by comparison is the world's most expensive pie, which was worth only $9,500.
About 7% of Americans polled admitted to buying a pie at the store and trying to pass it off as homemade. The rest are probably lying.
National Cake Day is November 26th, but pie gets 3 national days! December 1st and January 23rd are both National Pie Day, and March 14th is Pi Day (in celebration of the ratio Pi which goes on for ever but the first few digits of it are 3.14159265358979323. That's why Pi Day is March 14th, because the date is 3/14.) People generally celebrate Pi Day by eating pie (go figure.)
How to Store Birthday Cake Pie:
Serve: you shouldn't leave your birthday pie out at room temperature for longer than two hours due to the eggs and milk (plus it tastes so much better fresh out of the fridge.)
Store: you can keep your cake leftovers in the fridge for up to 4 days before its time to throw it out and start planning the pie for next year.
Freeze: you can freeze birthday cake pie for up to 3 months, but I'd recommend enjoying it well before that point.
Very Important Notes:
We use confetti sprinkles in this recipe for a very specific reason, they don't bleed color nearly as quickly as jimmies/regular sprinkles. If you use regular sprinkles they will start to bleed color almost as soon as you start mixing them.
If you are using a homemade pie crust or a rolled pie crust you put into a pie plate you must use pie weights to keep the pie crust in place while baking so it doesn't shrink.
If you use a frozen pie crust you don't need to use pie weights.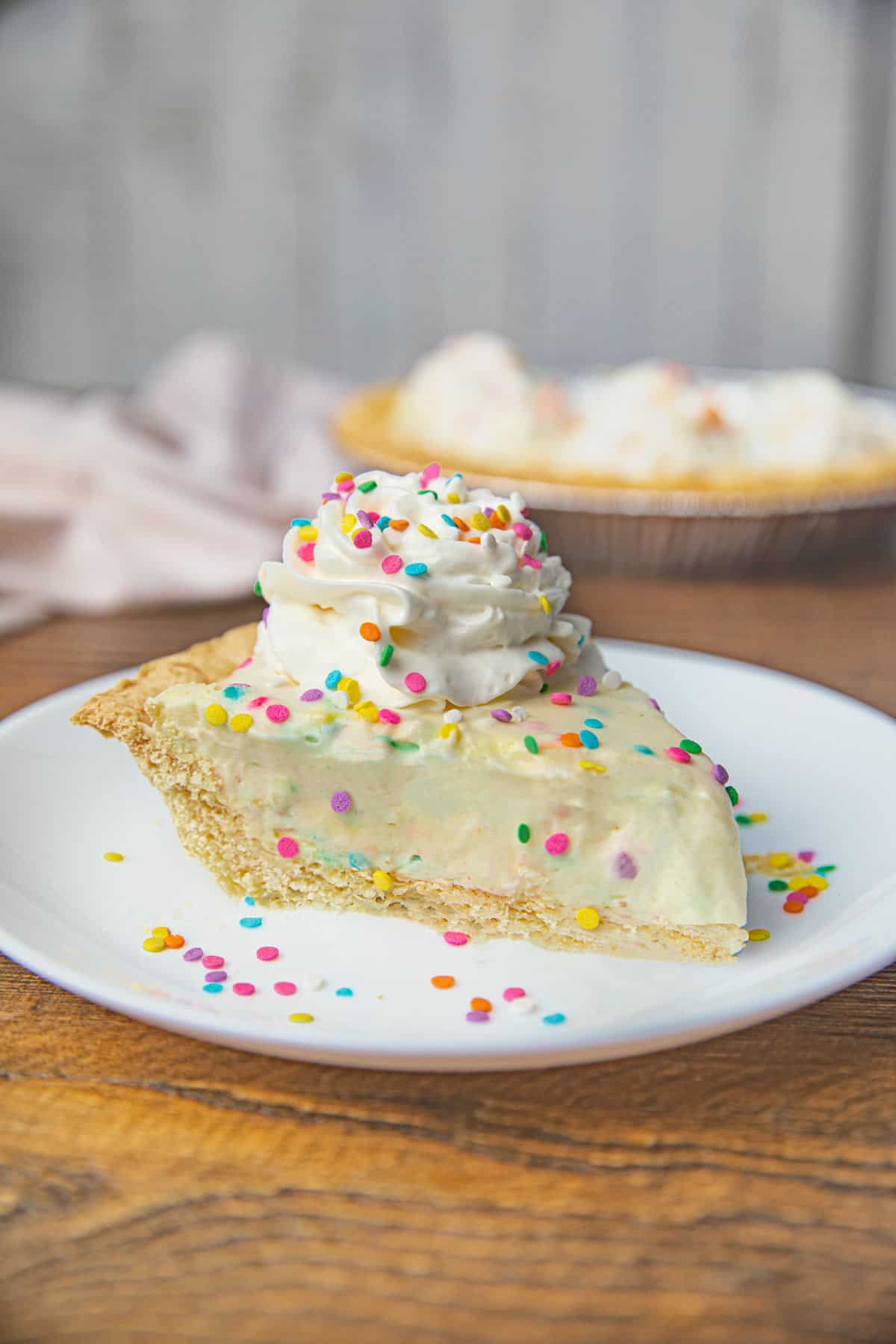 Ingredients
1

deep dish pie crust

1

cup

heavy cream

3/4

cup

vanilla cake mix

3.4

ounces

instant vanilla pudding mix

1 1/2

cups

cold milk

3

tablespoons

confetti sprinkles

, (See note above recipe)
Instructions
Bake pie crust at 375 degrees in pie pan it until it turns golden brown, about

18-20 minutes

.

Add heavy cream to your stand mixer on high speed for

1-2 minutes

until they reach stiff peaks. Add in cake mix until stiff peaks form, about

2 minutes

more.

In a large bowl add the pudding mix to your milk and let thicken for five minutes.

Fold the whipped cream into your pudding mix then finally fold in your confetti sprinkles.

Spread pudding filling into pie crust then refrigerate for at least

4 hours

.
Nutrition
Calories:
463
kcal
|
Carbohydrates:
65
g
|
Protein:
4
g
|
Fat:
21
g
|
Saturated Fat:
10
g
|
Cholesterol:
41
mg
|
Sodium:
528
mg
|
Potassium:
78
mg
|
Fiber:
1
g
|
Sugar:
30
g
|
Vitamin A:
435
IU
|
Vitamin C:
0.2
mg
|
Calcium:
133
mg
|
Iron:
1.6
mg