Buttery Garlic Quinoa is an easy, flavorful, fluffy side dish that you can quickly make to serve with any of your favorite main dishes.
Quinoa is a simple Side Dish with a mildly sweet and nutty taste. It is similar to Brown Rice in that it's a great base recipe to which you can add a variety of ingredients and flavors. However, quinoa has more dietary fiber and protein than rice does, so it's perfect for healthy meals.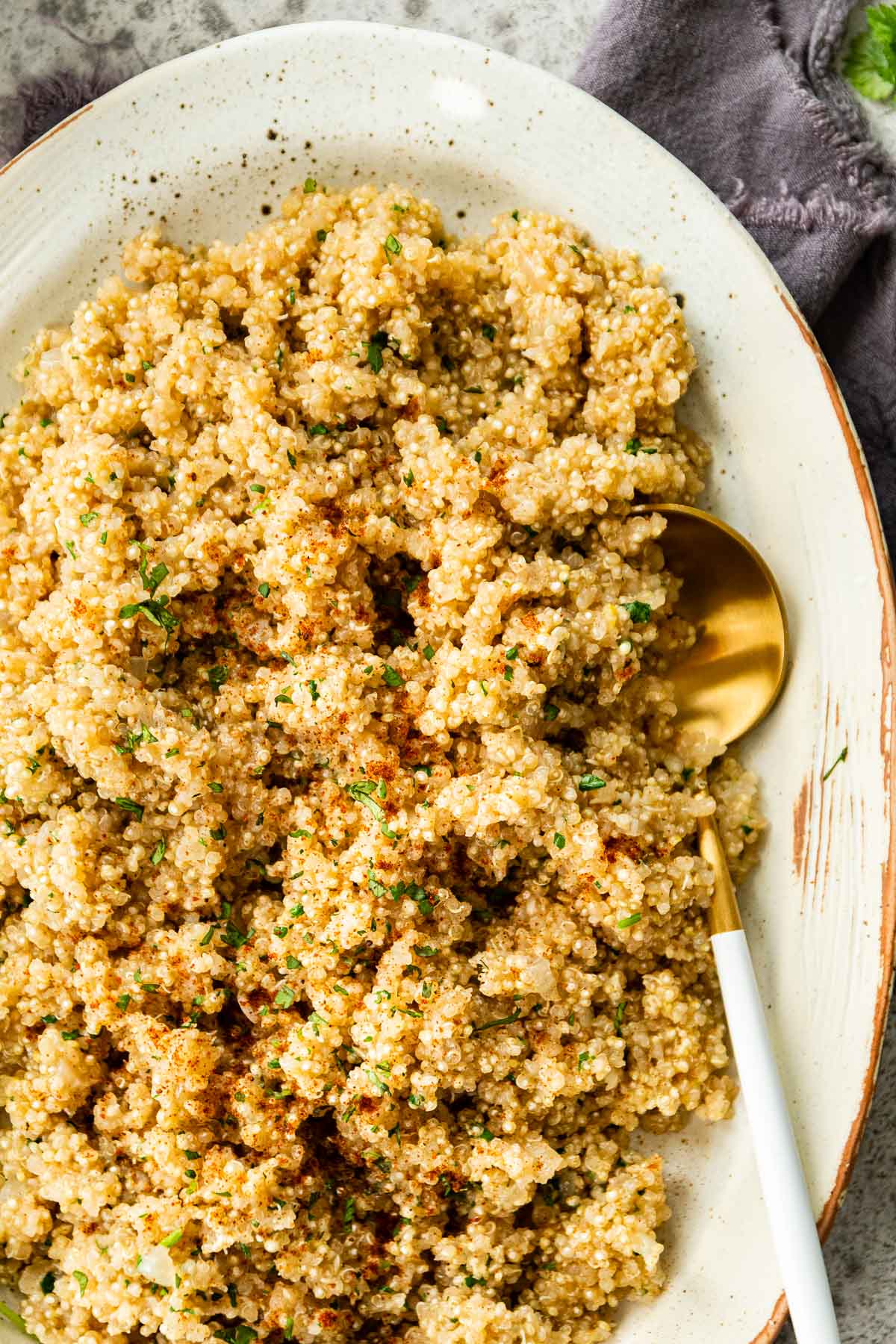 Quinoa is a versatile dish that's great to add to your daily diet. It is simple to make with a chewy, fluffy texture that pairs perfectly with a variety of food. Quinoa is also wonderfully healthy as it's packed with nutrients, fiber, and minerals. Plus, it's gluten-free so it is a great choice for anyone on gluten-free diets.
For this version, we've added some buttery garlic flavor to typical quinoa for some more interest in your meal. Buttery Garlic Quinoa is perfect to serve with any of your favorite weeknight meals. Just serve your favorite meat dishes over a bed of Buttery Garlic Quinoa. It would go well with Slow Cooker Tikka Masala Chicken, Brown Sugar Sriracha Chicken, or any number of delicious family dinners. Essentially, any recipe where you'd typically serve rice would also taste amazing with Buttery Garlic Quinoa.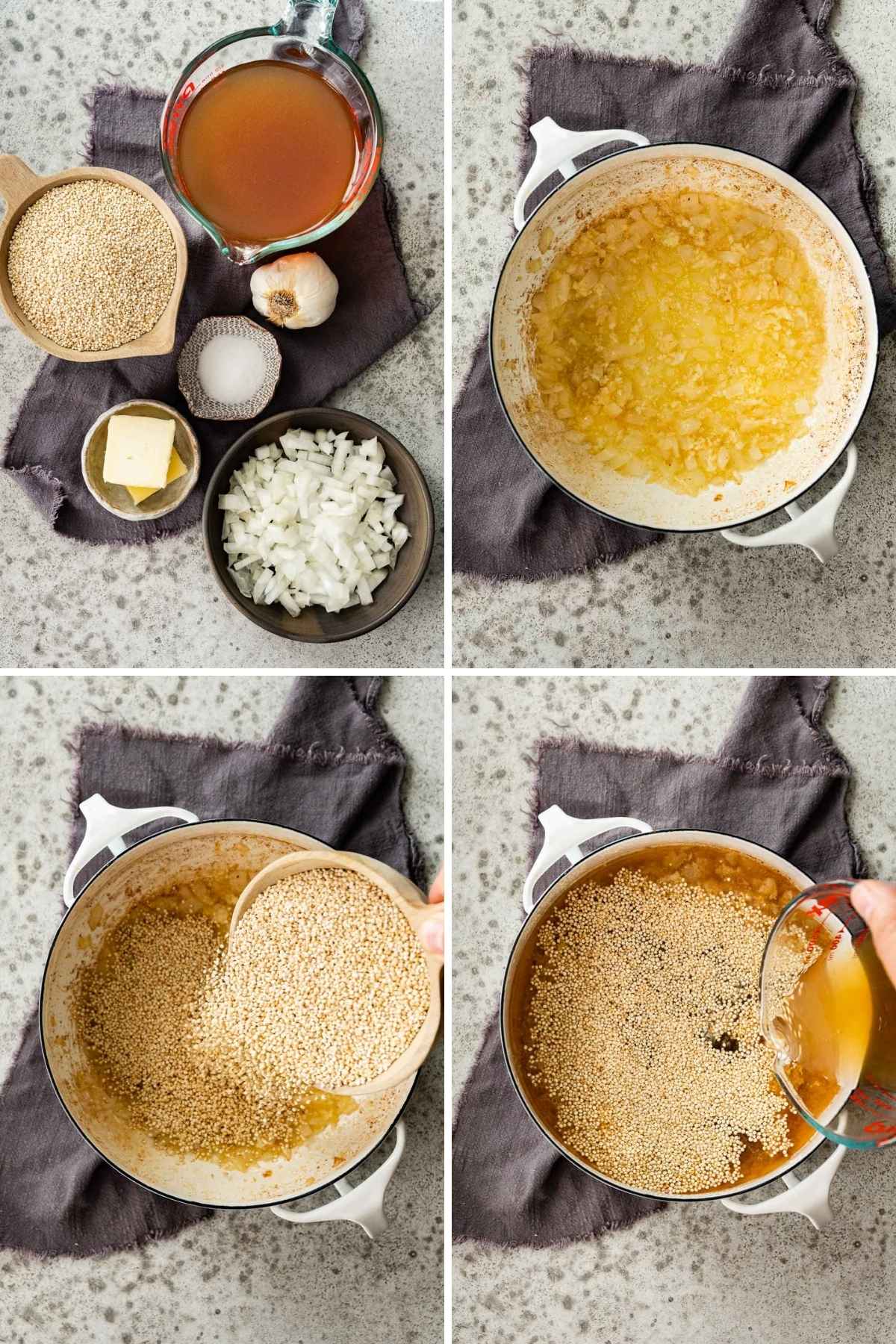 You can also stir quinoa into your favorite soup recipes to make them more filling. Or, serve it up in a protein-rich bowl of beans and veggies for an easy side or lunch dish.
Quinoa is also a good base for a salad. Cook the Buttery Garlic Quinoa as usual, then toss your favorite green salad with leafy veggies like spinach or kale. Add in some diced tomatoes, cucumber, bell pepper, onions, and any other vegetables you like. Toss the whole salad with your quinoa and enjoy!
More Easy Side Dish Recipes
Cooking Tips for Buttery Garlic Quinoa
Onions and garlic: Add the butter to your saucepan over medium heat. Once it's melted add the chopped onions. Continue cooking the onions, while stirring for 5-6 minutes until translucent. Then add in the garlic, and cook for an additional 30 seconds.
Quinoa: Add the chicken broth, a cup of quinoa, and salt to the pot. Stir the uncooked quinoa well. Bring to a boil over medium-high heat. Then lower the heat to let it simmer for the next step. Add a tight-fitting lid to keep the steam inside the pot and cook for 15-18 minutes until the broth is absorbed.
Serve: Fluff the Buttery Garlic Quinoa with a fork, add any additional toppings you want, and serve with your meal.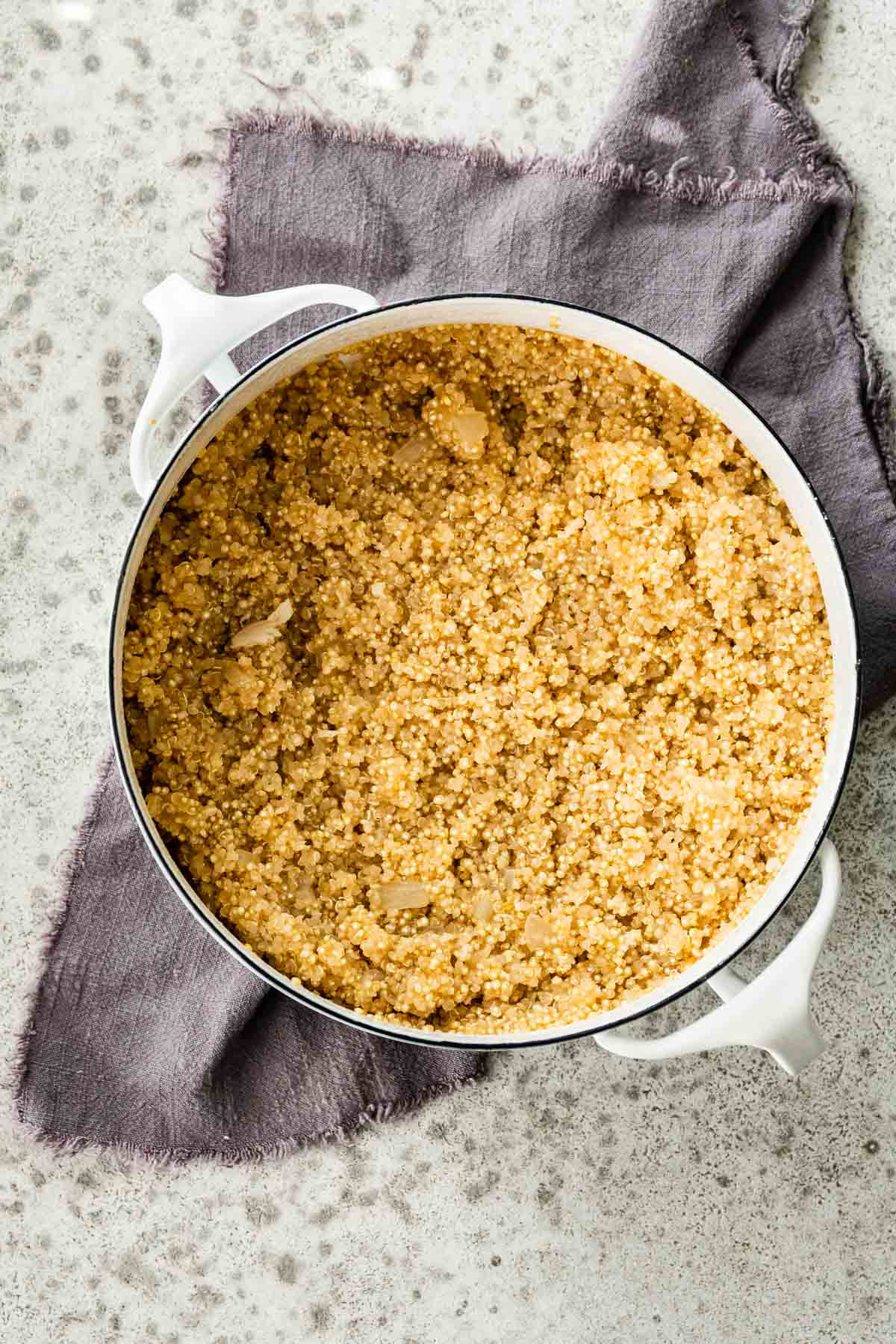 Create a free account to

Save Recipes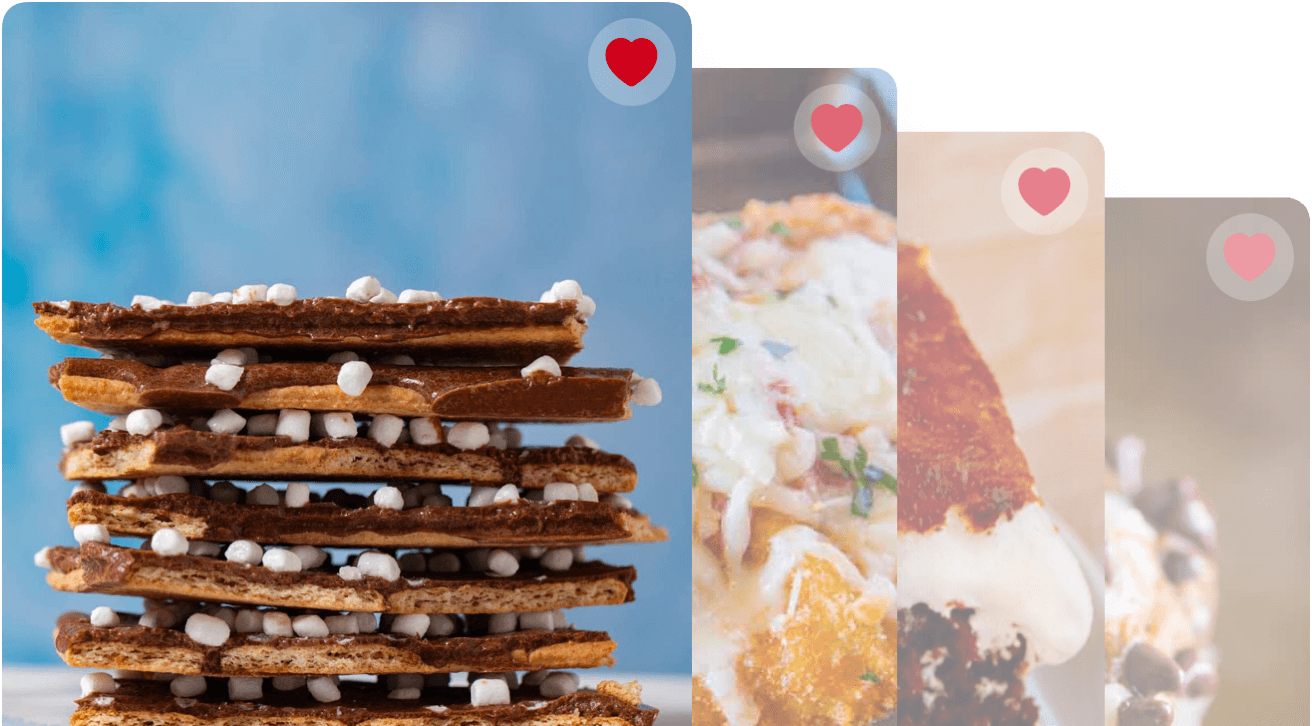 Frequently Asked Questions
Can I add mushrooms to quinoa?
For some extra texture and flavor, add sautéed mushrooms to the mix. Slice the mushrooms and sauté them in a separate pan. When the quinoa is done, mix the mushrooms in before serving.
What vegetables are good added to quinoa?
There are a variety of other roasted vegetables you can add like green peppers, roasted asparagus, carrots, broccoli, or peas. Chop your choice of roasted vegetables into bite-sized pieces and stir them with the Buttery Garlic Quinoa before serving.
What seasonings could I use with Buttery Garlic Quinoa?
You can add a variety of herbs and spices for some extra flavor in the recipe. Try mixing in fresh parsley, black pepper, rosemary, cilantro, basil, bay leaves, or thyme.
Can I add cheese to this quinoa recipe?
A great way to add some melty texture and more savory flavor is to top your quinoa off with some extra cheese. Parmesan, mozzarella, provolone, or cheddar cheese would taste great.
Does lemon go well with quinoa?
For some refreshing, citrus flavor, squeeze fresh lemon juice over the top of the quinoa before serving.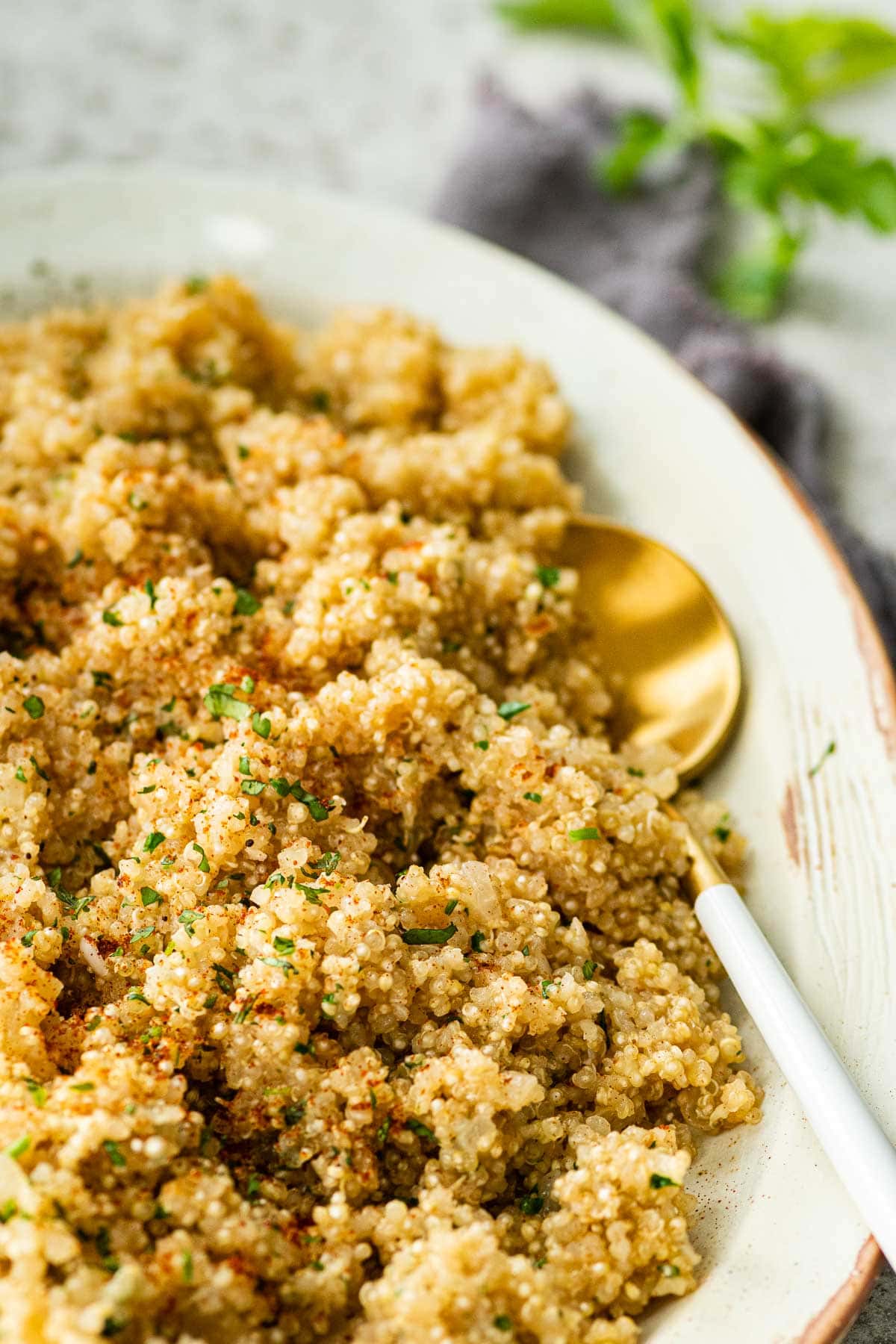 Dishes to Serve with Buttery Garlic Quinoa
How to Store Buttery Garlic Quinoa
Serve: Don't leave cooked Buttery Garlic Quinoa at room temperature for more than 2 hours.
Store: Seal the dish in an airtight container to store in the fridge for up to 7 days.
Freeze: You could also seal and freeze the quinoa for up to 3 months.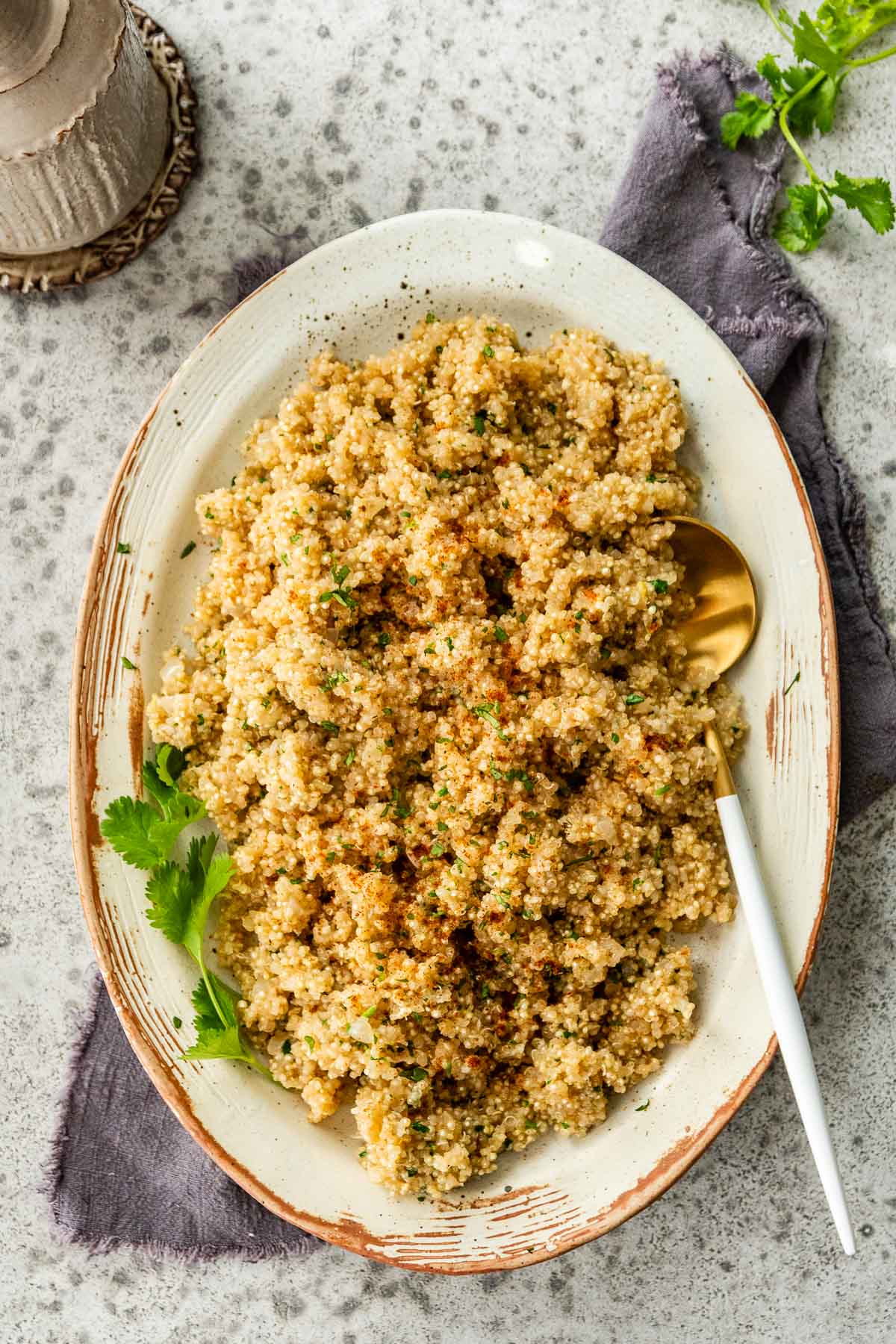 Ingredients
2

tablespoons

unsalted butter

1/2

cup

onion

, chopped

4

cloves

garlic

, minced

1

cup

quinoa

, rinsed well, and drained

2

cups

chicken broth

1/2

teaspoon

salt
Instructions
Add butter to a medium saucepan on medium heat.

Add onion, cooking for

5-6 minutes

until onions are translucent.

Add in garlic, stir and cook for

30 seconds

.

Add quinoa, chicken broth, and salt, stir well.

Bring to a boil, then reduce to a simmer.

Cook, covered, for

15-18 minutes

until broth is absorbed.

Fluff with a fork before serving.
Nutrition
Calories:
112
kcal
|
Carbohydrates:
15
g
|
Protein:
3
g
|
Fat:
4
g
|
Saturated Fat:
2
g
|
Trans Fat:
1
g
|
Cholesterol:
8
mg
|
Sodium:
362
mg
|
Potassium:
188
mg
|
Fiber:
2
g
|
Sugar:
1
g
|
Vitamin A:
92
IU
|
Vitamin C:
5
mg
|
Calcium:
19
mg
|
Iron:
1
mg