Sriracha Brown Sugar Chicken is a quick and easy meal that needs only 5 ingredients and 1 one pan, with a touch of sweetness and a hot finish.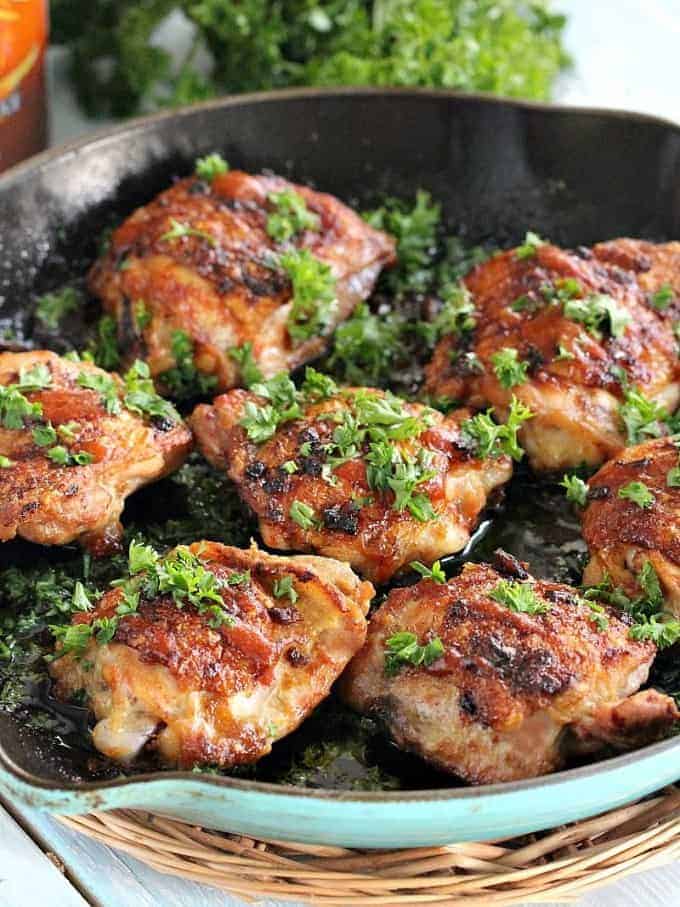 Sriracha Brown Sugar Chicken felt like the perfect introduction to you all from my awesome friend Katalina, who has the most beautiful blog you all need to visit. With life as absolutely hectic as it is right now with it being high season for clients, a move in the works (talk about stress!) and two fully mobile and tornado-like toddlers in the house, Katalina is saving the day by so graciously contributing to the blog. Take it away Katalina!
Hello new friends! My name is Katalina and I am the creator and blogger behind Peas & Peonies, where you will find me cooking in style. I want to thank my beautiful and talented friend Sabrina for letting me share my recipes with you. I am beyond excited to be a contributor to her blog, as I am a huge fan of her mouth watering recipes. Today I am going to share with you a Sriracha Brown Sugar Chicken recipe that is a huge success with my family every time I make it.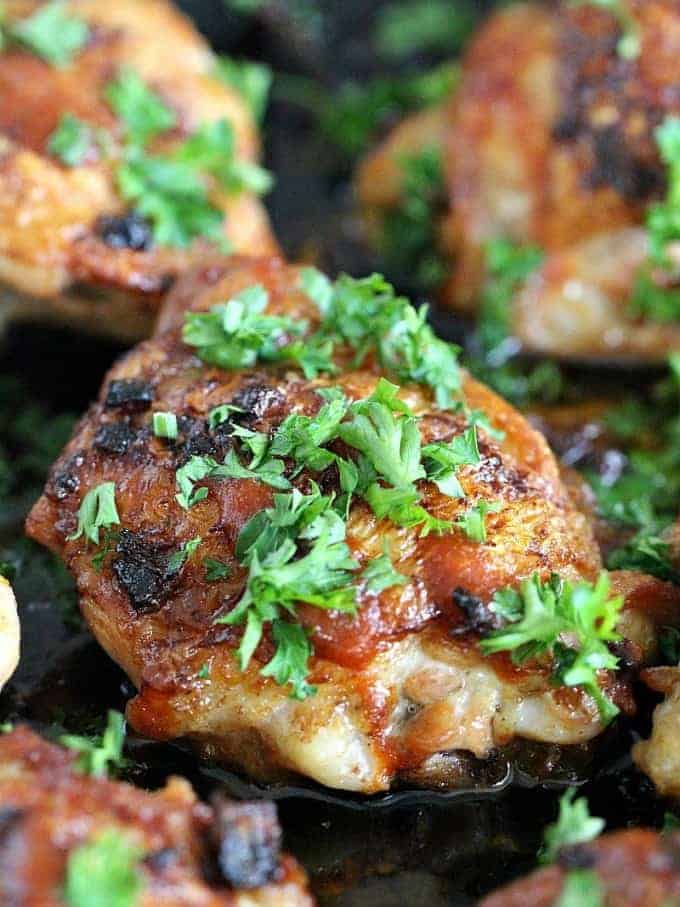 This Sriracha Brown Sugar Chicken is amazing and incredibly easy to make. Also, I love the sweet and savory combo, especially with that hot finish from the Sriracha sauce. I have been lately on a hot sauce kick, I add it to everything, thanks God I am not adding it to coffee, but that may happen soon too! I also love anything made with the heavenly and holly butter and brown sugar combo. The flavor that you get is absolutely divine, a beautiful, subtle caramel like flavor.
Don't you worry, this Sriracha Brown Sugar Chicken is not overly sweet, sorry to disappoint you, but this is not dessert. Just kidding here, I usually pretend I am good at making funny jokes:) The brown sugar adds just enough sweetness, that compliments nicely the garlicky hot sauce.
The chicken is tender and juicy, with a perfectly crisp top, and since it's so incredibly easy to make, its fit for a weeknight dinner that will be a success with your family, especially if you add to it one of Sabrina's sides.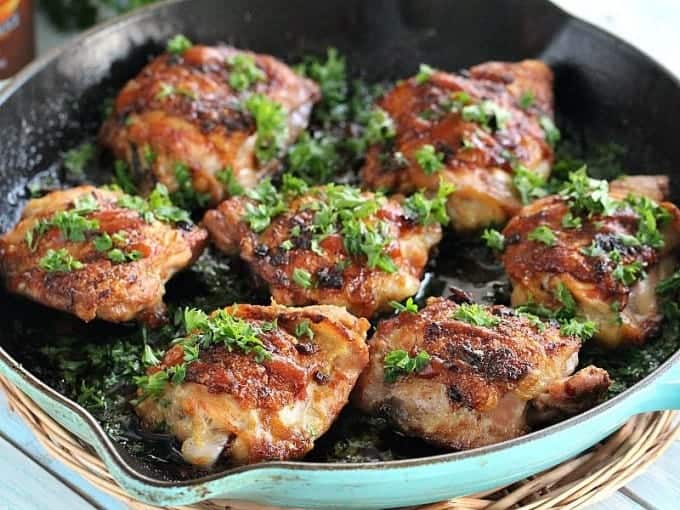 Recipe
Save

Recipe
Sriracha Brown Sugar Chicken
Yield:

8

Course: Dinner
Cuisine: American
Author: Sabrina
Easy, 5 ingredients only, Sriracha Brown Sugar Chicken is tender, crispy and juicy, with a touch of sweetness and a hot finish.
Ingredients
6 - 8

bone-in

, skin-on chicken thighs

6

tablespoons

unsalted butter

, divided

8

cloves

garlic

, minced

1/4

cup

brown sugar

, packed

4

tablespoons

Sriracha Sauce

Kosher salt and black pepper

, to taste

Optional:

chopped fresh parsley for garnish
Instructions
Note: click on times in the instructions to start a kitchen timer while cooking.
Preheat oven to 400 degrees F.

Season chicken thighs with salt and pepper, to taste.

Place a large cast iron skillet over medium high heat, and add 3 tablespoons of butter.

When butter has melted, add the seasoned chicken, skin-side down, and sear on both sides until golden brown, about 2-3 minutes per side. Set aside.

Add the remaining 3 tablespoons of butter to the skillet and melt. Add garlic and cook for about 1-2 minutes, stirring frequently.

Remove skillet from heat and stir in Sriracha sauce and brown sugar until melted.

Return chicken to the skillet, skin side up.

Place into the hot oven and roast until completely cooked through about 25-30 minutes.

Garnish with chopped parsley and serve.
Nutrition Information
Yield: 8 , Amount per serving: calories
All images and text © for Dinner, then Dessert.
Save

Recipe