Chewy Chocolate Oat Bars are made with simple brown sugar, vanilla, and oatmeal mixture with rich chocolate in the middle. It's the perfect on-the-go snack!
If you like Oatmeal Chocolate Chip Cookies, then you're sure to love this Delicious Bar Recipe. In this recipe, chocolate chips are melted down into a thick creamy layer sandwiched between two layers of old-fashioned oats mixture. You get the same flavors of oatmeal chocolate chip cookies but baked into easy bars that are like homemade granola bars.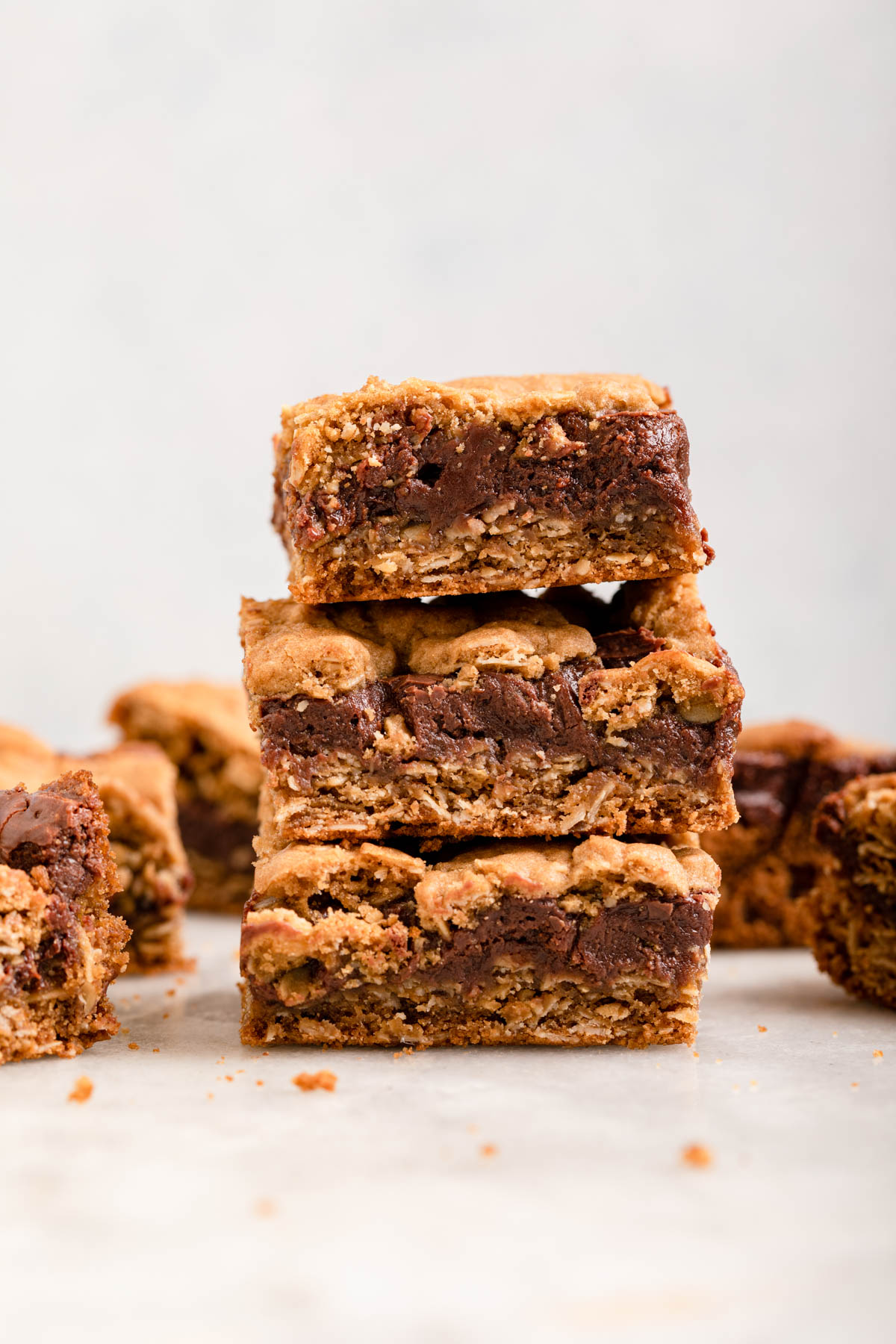 If you only think of healthy breakfast when you think of old-fashioned rolled oats, then you're in for a surprise with these chocolate oatmeal bars. The chewy bars make a great sweet breakfast, on-the-go snack, and after-school treat. Or, you can make them into a more rich dessert by topping the delicious bars with a scoop of Vanilla Ice Cream. 
These homemade bars are like the dessert version of Chewy Chocolate Chip Granola Bars, and since you make them yourself you know exactly what goes into them and don't have to worry about any artificial ingredients. The chocolate granola bars are just made with simple and wholesome ingredients like old-fashioned oats, chocolate chips, brown sugar, eggs, and a little salt. It's a nutritious way to satisfy your sweet tooth that's somewhere between dessert and granola bars.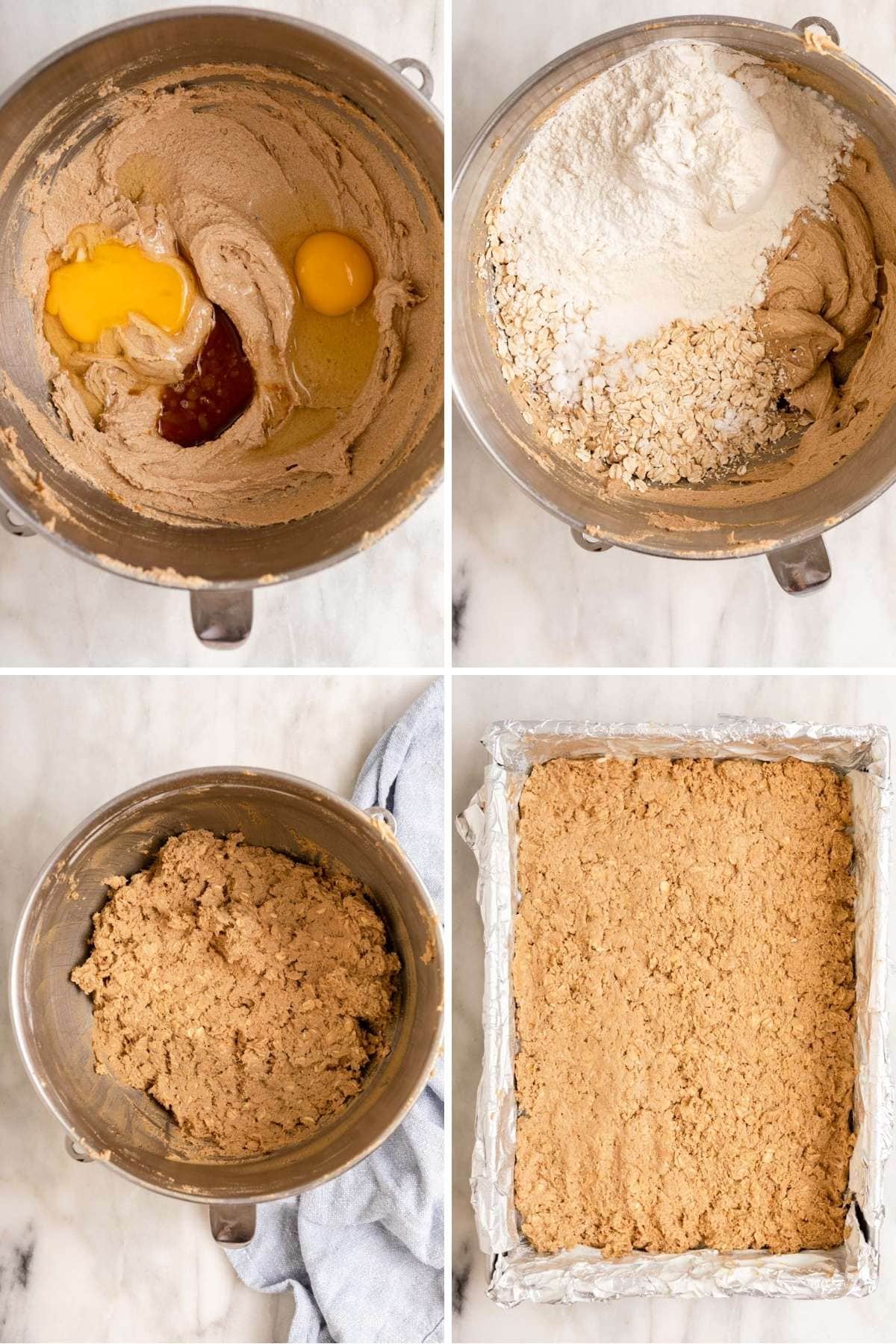 Once you've made the Chocolate Oat Bars, you can serve them up right away or store them in the refrigerator for snacks throughout the week. Cut the bars into individual pieces about the size of granola bars. Then you can wrap them individually in parchment paper and put all of them in a zip lock bag. Right before you head out the door, just grab one of the individually wrapped chocolate granola bars to toss in your lunch or eat on the road. It's the perfect sweet snack to keep you going throughout the day. 
Next time you need easy on-the-go snacks, try making Peanut Butter and Jelly Cereal Bars, Tropical Oatmeal Bars, or Caramel Nut Crumb Bars.
What is the difference between rolled oats and quick cook oats?
Rolled oats, also known as old fashioned oats, are processed by removing the tough husk, steaming, and rolling flat. This makes them cook up in about 10 minutes on the stove, and they still maintain a nice chewy texture that is perfect for baking recipes. Quick Cooking oats have been additionally steamed and rolled even more to make them thinner, softer, and able to cook in about a minute. Quick cook oats tend to me mushier and are not ideal for using in recipes.
How to Make Chewy Chocolate Oat Bars
Prep time: Take your butter from the fridge so that it has time to soften before you start the recipe. Then preheat your oven and spray a 9×13 inch baking dish with cooking spray so that the Chewy Oat Bars won't stick to the pan.
Oat mixture: Add the softened butter and brown sugar to your stand mixer. Beat them together on medium speed until they're creamy and fluffy. It should take about 2-3 minutes. Then add the egg and vanilla extract. Continue mixing until creamy. Add the oats, flour, baking soda, and salt. (Make sure to use old-fashioned oats in the granola mix, not quick oats.) Mix until just combined. No need to overmix. Pour half the granola mixture into the baking pan and use your hands to press it down evenly.
Chocolate filling: Add the chocolate chips, condensed milk, butter, and salt to a large microwave-safe mixing bowl. Microwave in 30-second increments, stirring between each session. Continue microwaving and mixing until the chocolate is smooth. Use a rubber spatula to spread the chocolate over the oats in the pan.
Bake: Sprinkle the remaining oat mixture over the top, and then bake the granola bars for 35-40 minutes until golden brown on top. Let the bars cool completely before serving them. You can put them in the fridge to speed up the process. Use a sharp knife to slice the pan into individual bars and serve.
More Chewy Oat Desserts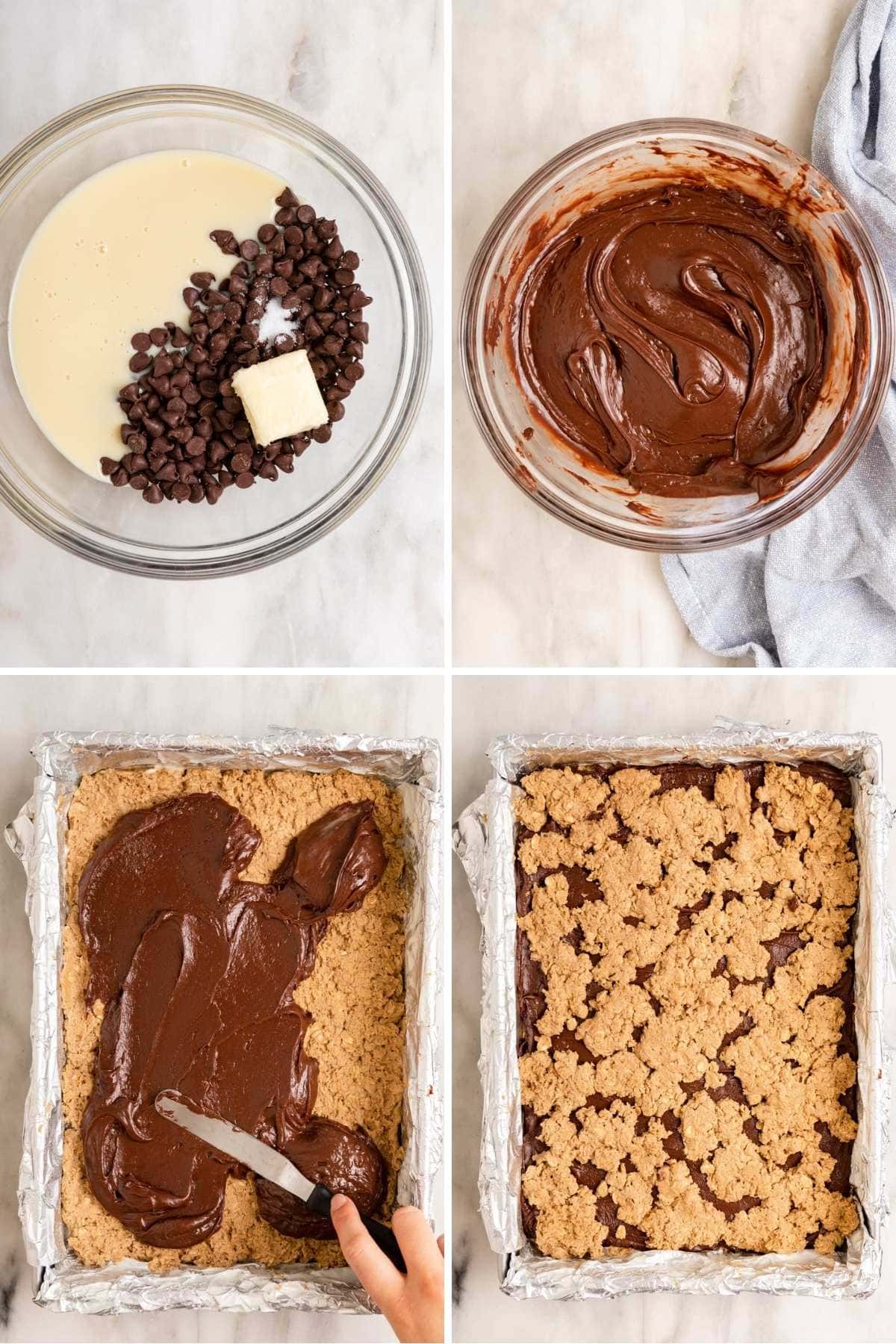 Frequently Asked Questions
Can I melt chocolate in the microwave?
Yes, just make sure you microwave it in 30 second increments, stirring each time. Melting the chocolate together with condensed milk and butter will help to keep it from scorching and let it melt smoothly. You can use this method to melt regular chocolate chips too for any recipe calling for melted chocolate.
Are chewy chocolate oat squares gluten free?
Oats are naturally gluten free, but you still want to make sure that you're buying a package that is labeled as gluten free to ensure they are processed in a gluten free facility. Substitute the wheat flour in the recipe for a gluten free alternative, such as almond flour, for a completely gluten free oat bar recipe.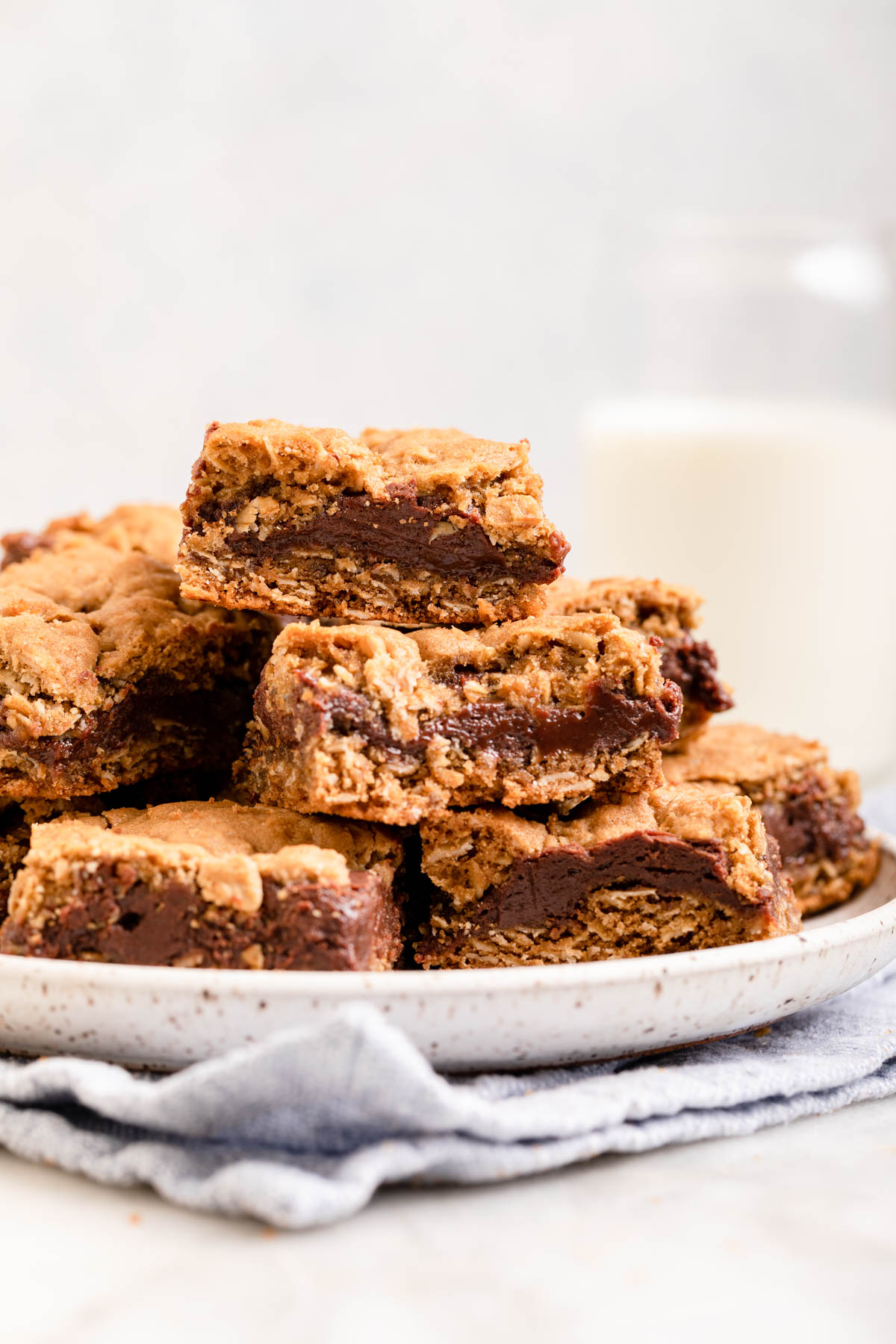 Create a free account to

Save Recipes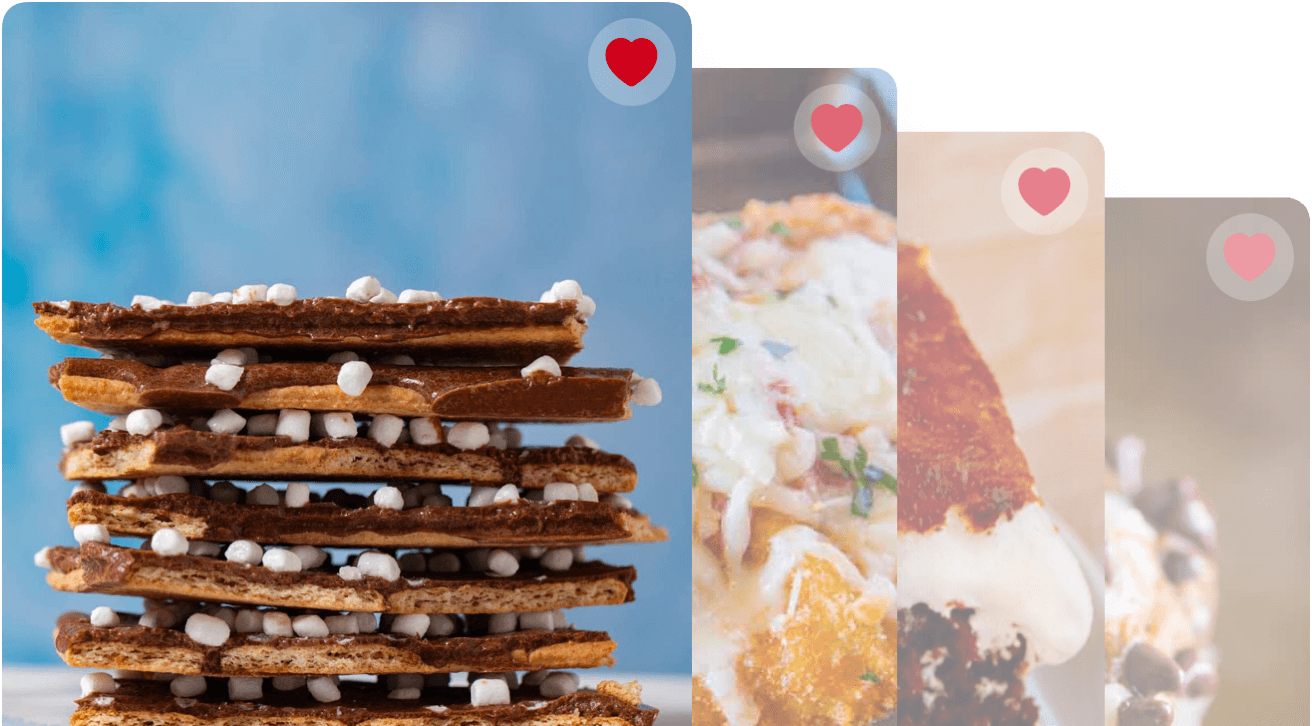 Key Ingredients in Chewy Chocolate Oat Bars
Rolled Oats: Make sure to buy old fashioned oats or rolled oats for the best chewy chocolate granola bar texture. Quick cook oats will not work as well.
Semisweet Chocolate Chips: Semisweet chocolate chips will give these chocolate oatmeal cookie bars the perfect balance of sweet and slightly bitter.
Brown Sugar: Brown sugar contains molasses, which is what keeps it moist and lends the deep, rich sweetness. Brown sugar goes particularly well with oats (it's one of oatmeal's most popular toppings) which makes it the perfect sweetener for Chewy Chocolate Oat Bars.
Unsalted Butter: Use a good quality, unsalted butter for baking recipes. This way, you can add as much or as little salt as you want to the recipe without the butter overwhelming the flavor of your dish.
Variations on Chewy Chocolate Oat Bars
Chocolate Peanut Butter Oatmeal Bars: Try adding some peanut butter flavor to your crunchy oat bars by mixing ½ cup creamy peanut butter into the oat mixture. You could also use almond butter or sunflower seed butter instead of peanut butter. 
Add-ins: Try mixing some extra ingredients into the chewy granola bars. Dried cranberries, mini marshmallows, coconut flakes, cinnamon chips, mini chocolate chips, crushed pretzels, or toffee bits would all make tasty additions to the oat mixture. 
Nuts and Seeds: Pack a nutritious punch by adding chopped nuts such as peanuts, pecans or almonds. Add even more fiber and and protein to your chewy granola bars by mixing in ground flax seeds, hemp seeds, or chia seeds.
Oatmeal Raisin Oat Bars: If you like Oatmeal Raisin Cookies, then you're sure to love this recipe with some raisins and a bit of cinnamon mixed into the oats. 
Chocolate: Instead of semisweet chocolate chips, try using milk chocolate chips, dark chocolate chips, or white chocolate chips. 
Candies: Mix in your favorite candy to add colorful, crunchy flavor. Try adding M&Ms, Reese's Pieces, or chop up your favorite chocolate bar like Snickers, Butterfingers, or Kit Kat. 
Sweetener: Instead of brown sugar, you can try using maple syrup in the Chocolate Oatmeal Bars. Using maple syrup in place of brown sugar is just a 1 to 1 exchange.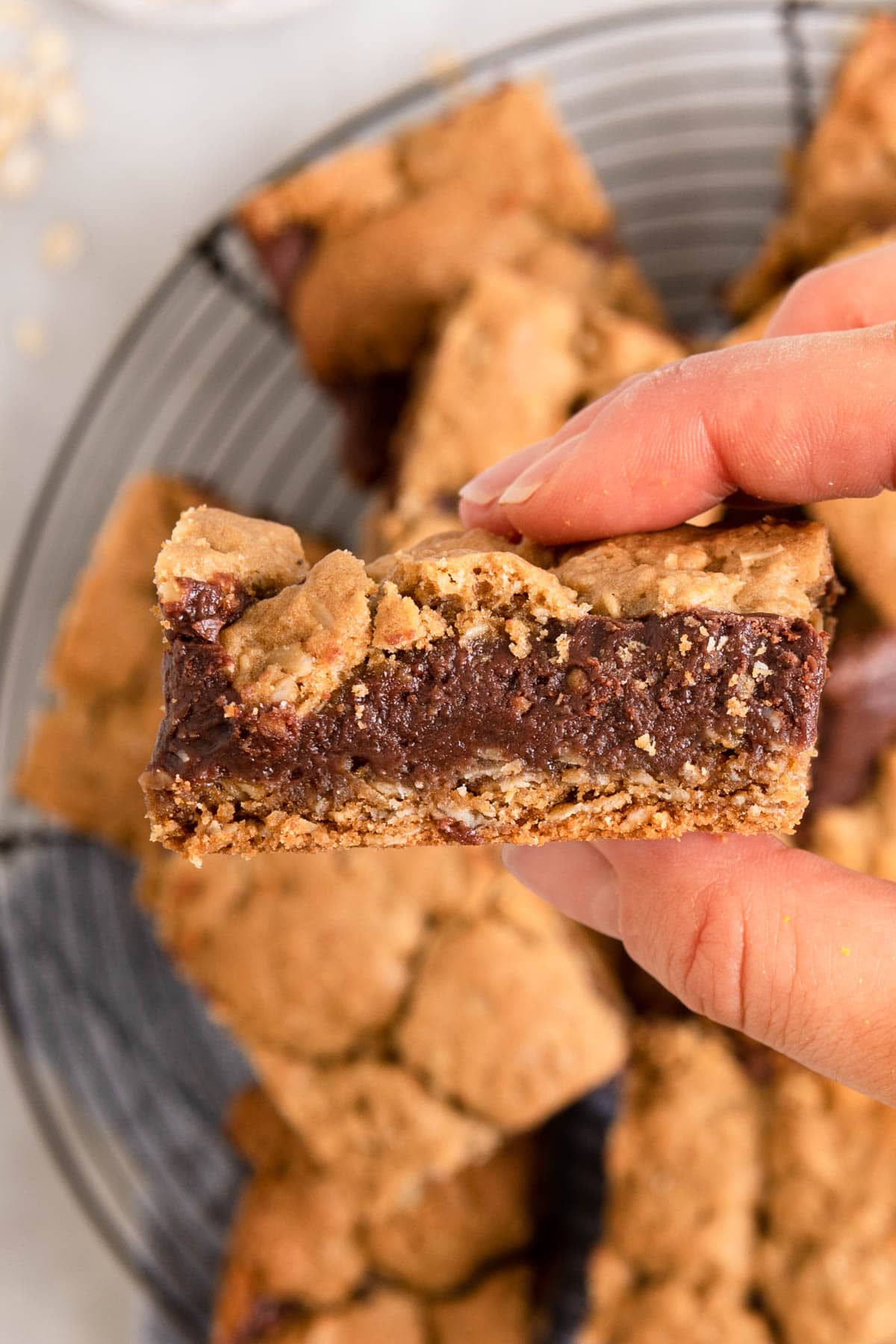 More Delicious Bar Recipes
How to Store Chewy Chocolate Oat Bars
Serve: You can keep homemade Chocolate Granola Bars covered in plastic wrap at room temperature for up to 5 days. If it's too warm in your house and will melt the chocolate put it in the fridge.
Store: If you're putting the Oat Bars in the refrigerator, cut them into squares and store them in a zip lock bag or another airtight container. Separate the layers of bars with parchment paper. They'll be good for up to 1 week.
Freeze: You can also freeze the bars for 2 months. Let them thaw on the counter before eating.


Ingredients
Chewy Oat Bars:
1

cup

unsalted butter

, softened

2

cups

brown sugar

, packed

2

large

eggs

2

teaspoons

vanilla extract

3

cups

rolled oats

2 1/2

cups

flour

3/4

teaspoon

baking soda

1/2

teaspoon

salt
Chocolate Layer:
12

ounces

semi-sweet chocolate chips

, (about 2 cups)

14

ounces

sweetened condensed milk

2

tablespoons

unsalted butter

1/4

teaspoon

salt
Instructions
Preheat the oven to 350 degrees and spray a 13×9 baking dish with baking spray.

To your stand mixer add the butter and brown sugar and cream on medium speed until fluffy, about

2-3 minutes

.

Add in eggs and vanilla extract until creamy.

Add rolled oats, flour, baking soda, and salt until just combined.

Spread about half the mixture into the baking dish and press gently.

In a large microwave-safe bowl add the chocolate chips, condensed milk, butter, and salt until smooth and creamy.

Spread chocolate mixture over the oat mixture.

Sprinkle the remaining crumb mixture over the chocolate mixture.

Cool completely before slicing.
Nutrition
Calories:
374
kcal
|
Carbohydrates:
51
g
|
Protein:
5
g
|
Fat:
17
g
|
Saturated Fat:
10
g
|
Polyunsaturated Fat:
1
g
|
Monounsaturated Fat:
5
g
|
Trans Fat:
1
g
|
Cholesterol:
45
mg
|
Sodium:
142
mg
|
Potassium:
226
mg
|
Fiber:
3
g
|
Sugar:
32
g
|
Vitamin A:
339
IU
|
Vitamin C:
1
mg
|
Calcium:
83
mg
|
Iron:
2
mg