Chocolate Chunk Gingerbread Cookies are the ultimate Christmas sweet. Classic spices like ginger, cinnamon, and nutmeg are mixed with rich chocolate.
When you're planning your holiday baking, be sure to add this Cookie Recipe to your list. The chewy, spiced, chocolatey cookie is the perfect combination of a Chocolate Cookie and an Award Winning Gingerbread Cookie. What could be better?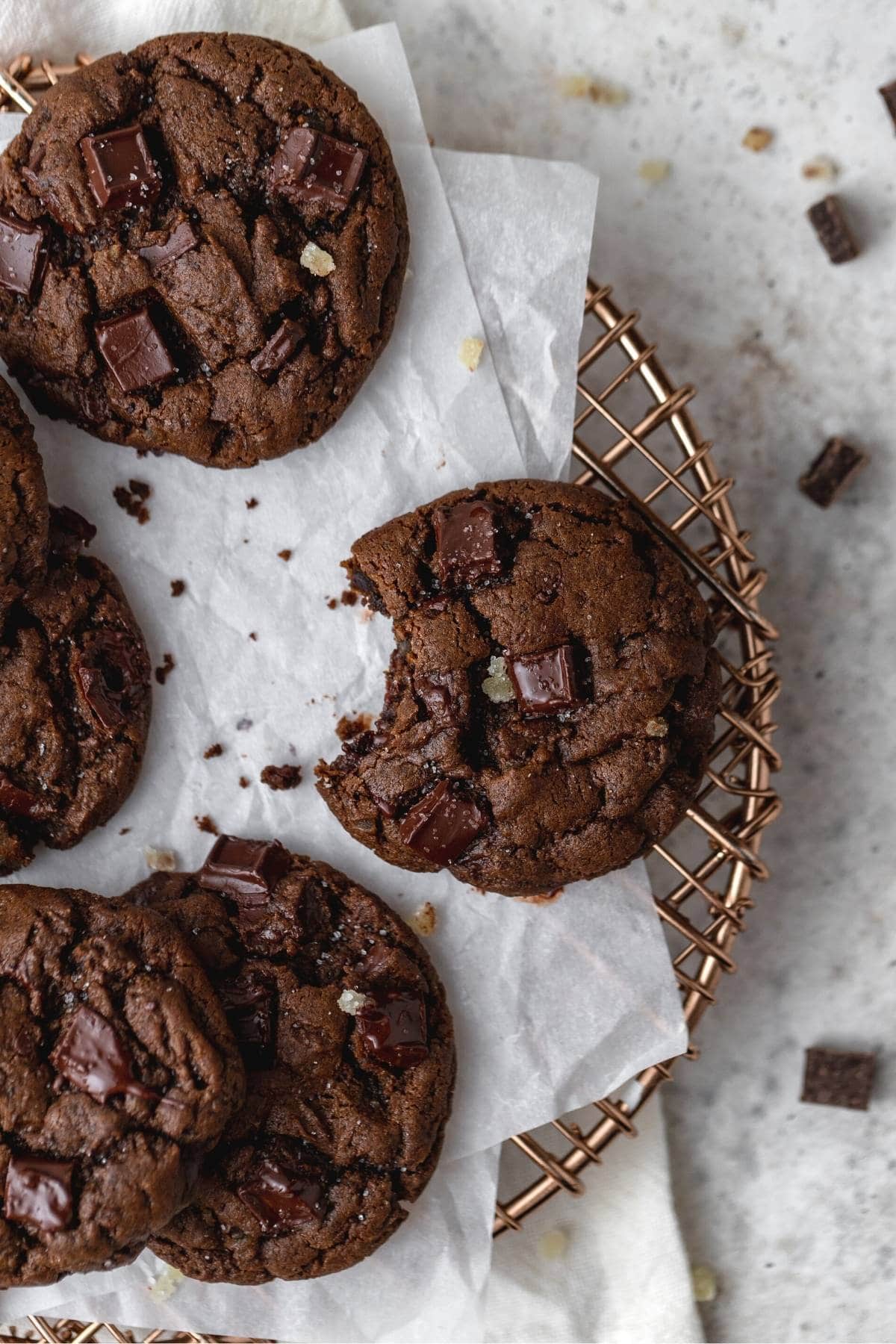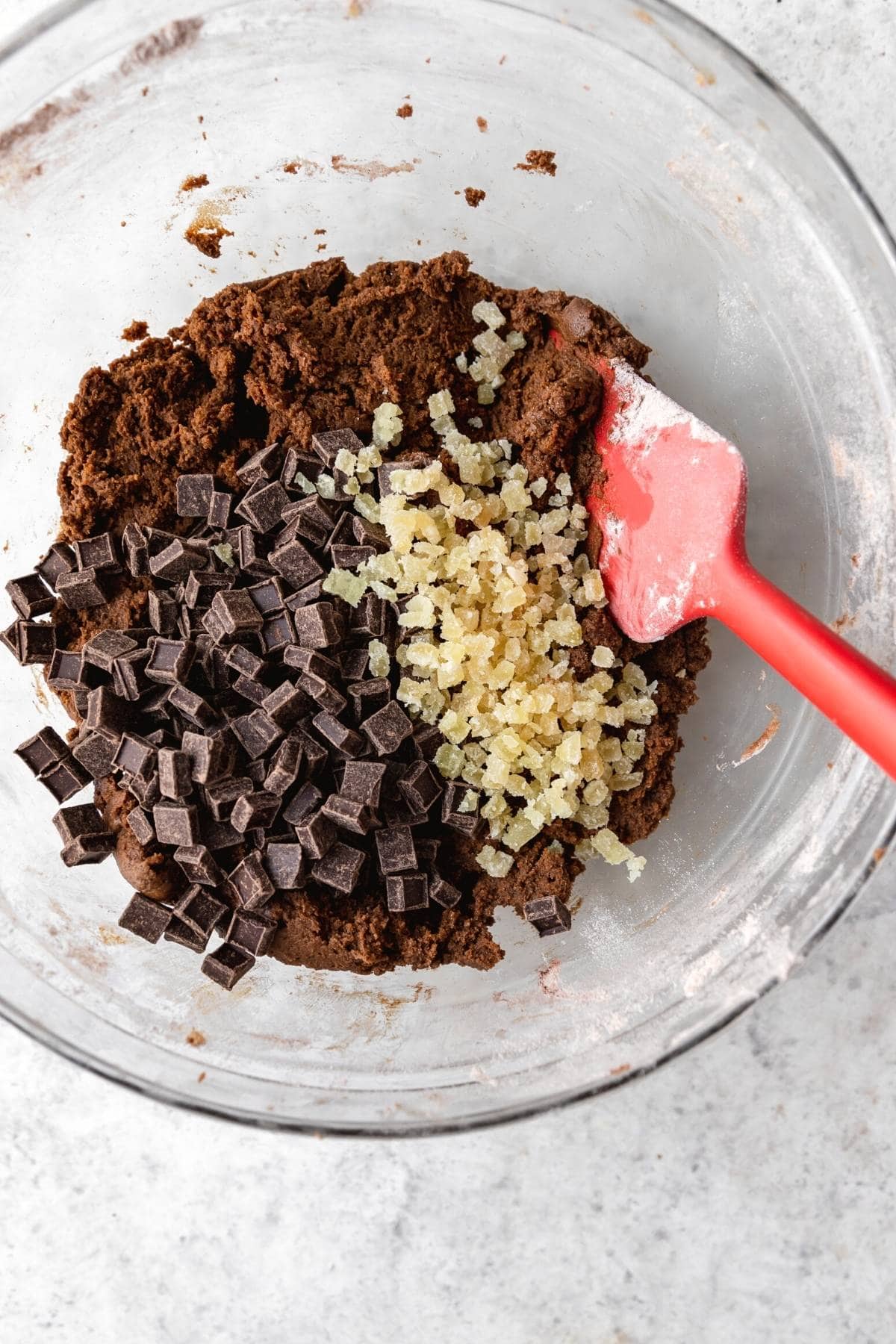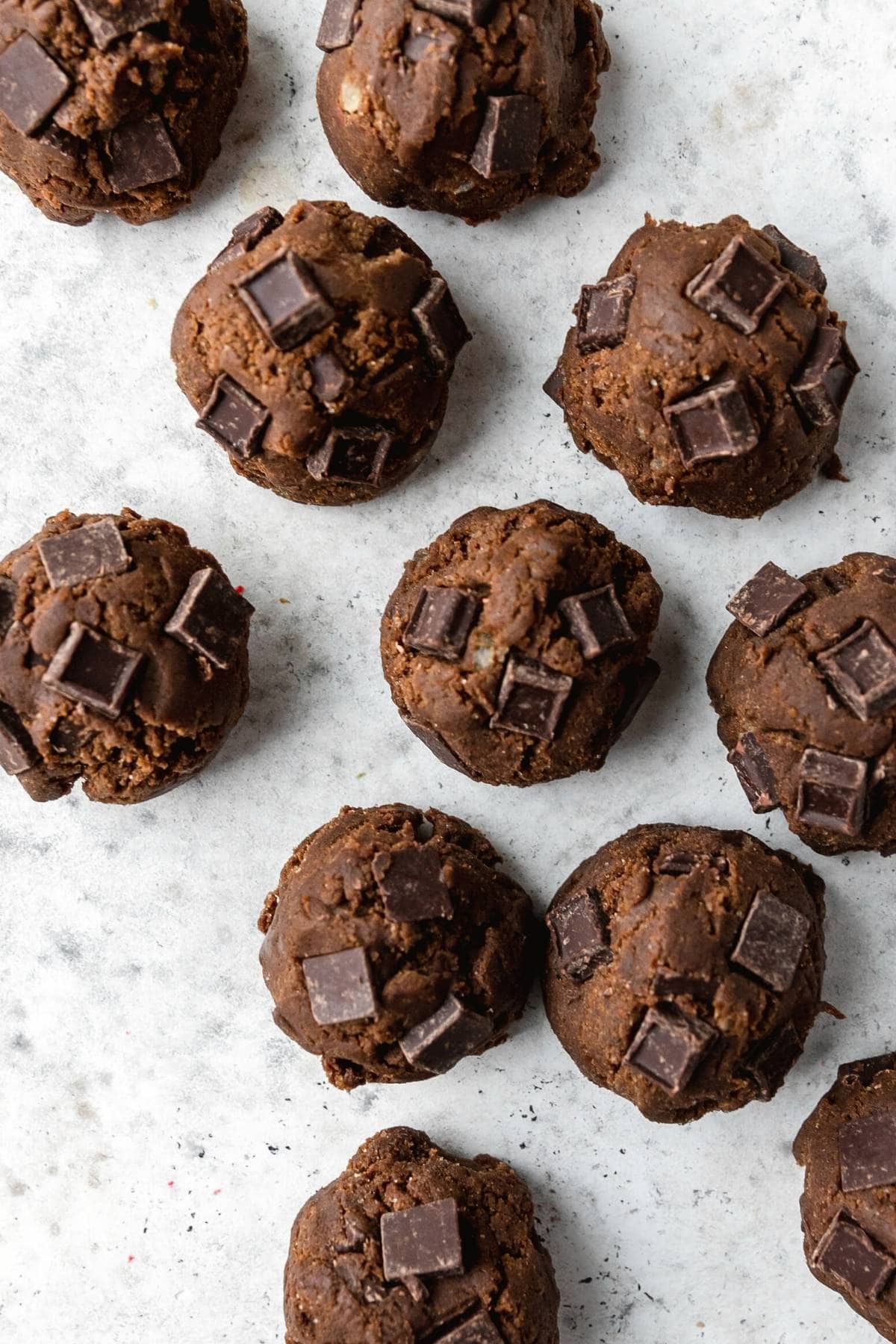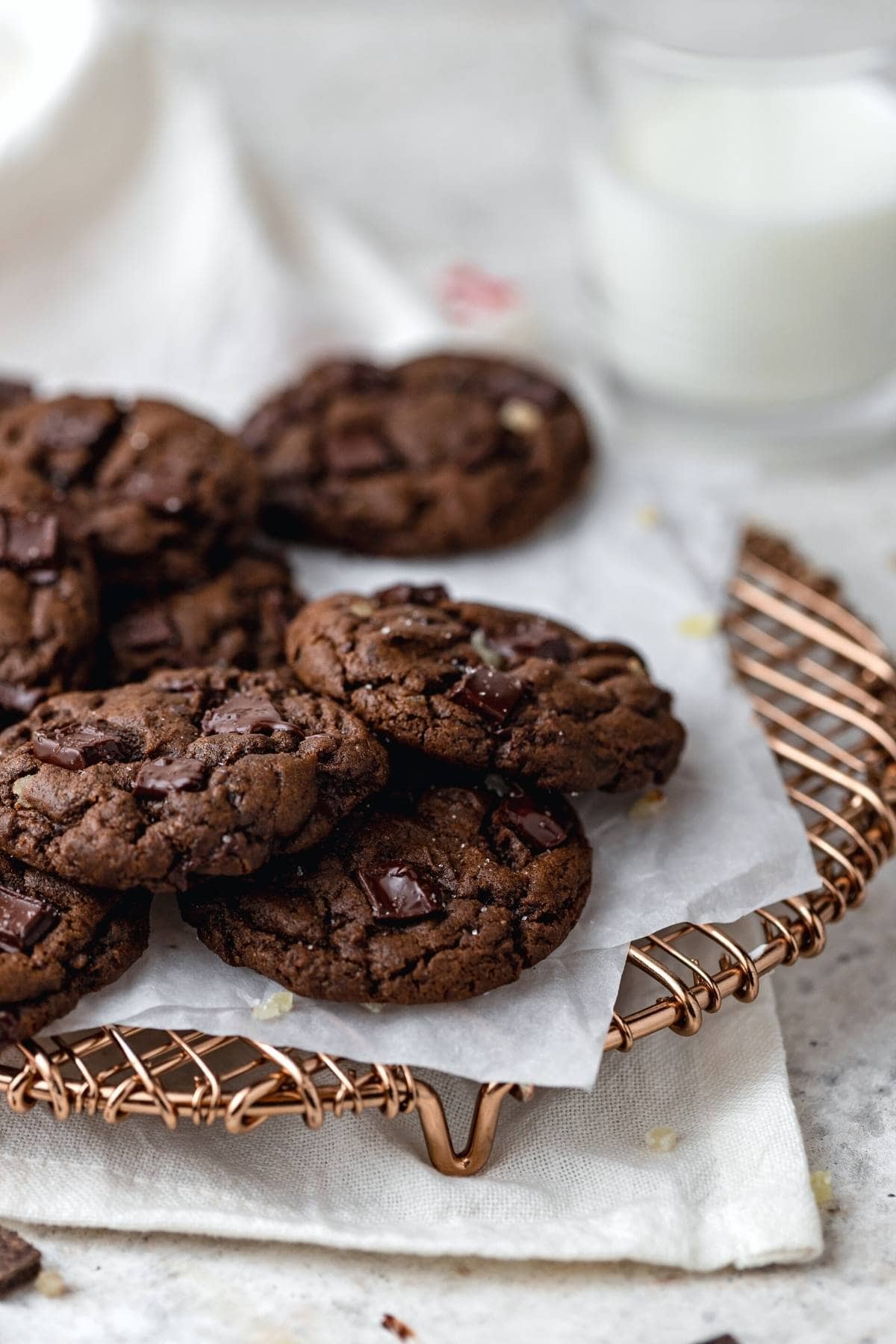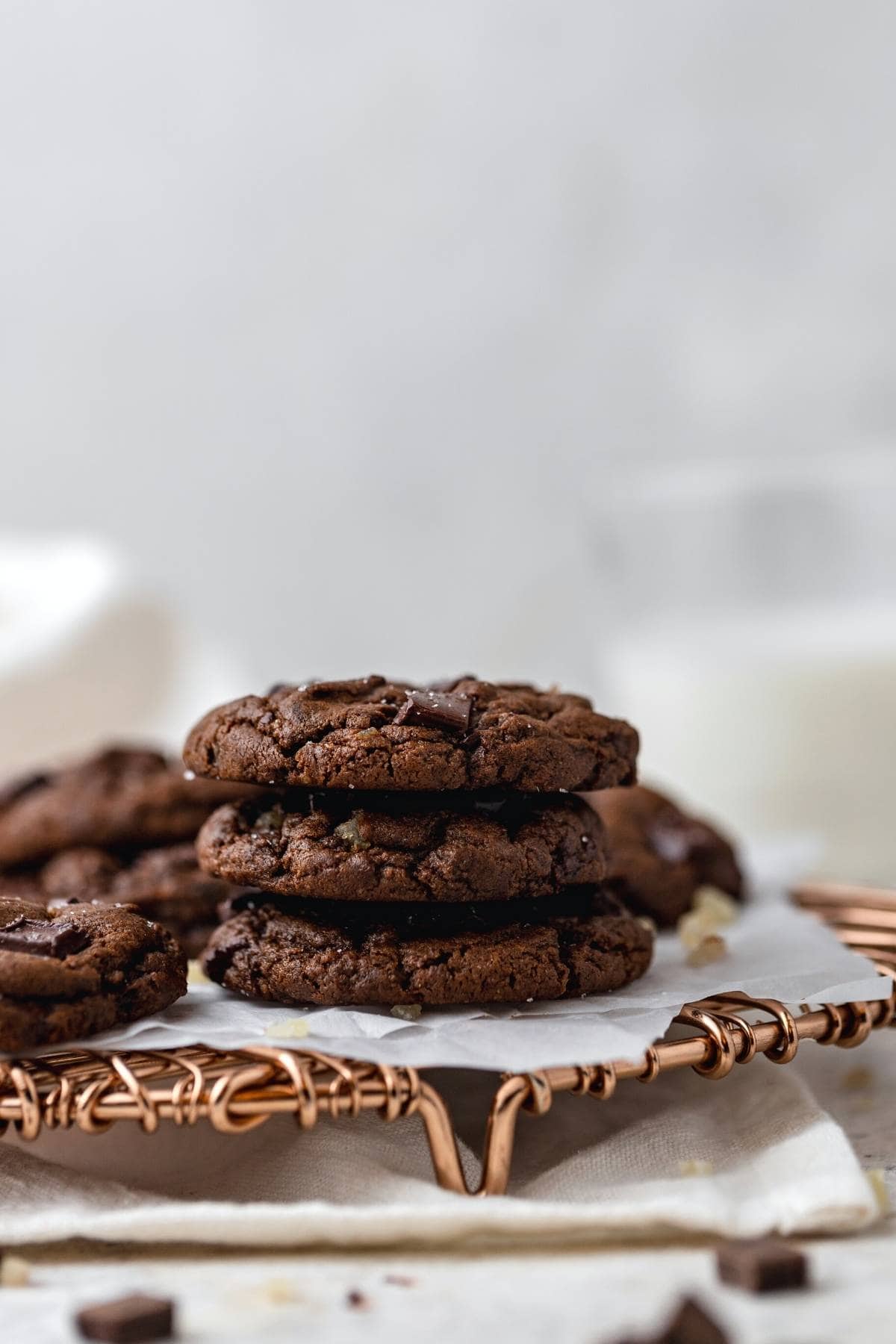 About Our Chocolate Chunk Gingerbread Cookies Recipe
It's that time of year again! The holiday excitement is likely in full swing in your house, and with that comes lots of baking. Our readers love making delicious cookies to give as gifts and to enjoy ourselves.
There are a few recipes like Ginger Cookies, Rolled Sugar Cookies, and Brown Sugar Cookies that folks are sure to make every year. The holiday cookie plate just isn't complete without them. This season is perfect to make Ginger Chocolate Chunk Cookies for the first time. You can bet they'll be an annual addition to holiday baking in your house.
These beautiful cookies are sure to be a favorite this winter. They're the ultimate soft batch gingerbread cookie, and they just melt in your mouth. The festive spices and crystallized ginger bring cozy flavors that are sure to put you in the holiday spirit. Then the chocolate chunks bring extra sweetness. Make yourself a mug of Hot Chocolate and enjoy one or two of these cookies for the perfect winter snack.
Chocolate Chunk Gingerbread Cookies Ingredients
½ cup unsalted butter: You need butter as the fat to bind all of your ingredients together. Taking the unsalted butter out of the fridge to soften allows you to easily cream it together with the sugar.
½ cup brown sugar: Brown sugar brings extra flavor as it contains molasses, which is what makes it brown. Light brown sugar is the best choice for this recipe. Dark brown sugar contains more molasses, however you're going to add some more molasses next.
½ cup molasses: Here comes some big flavor in your cookies with the addition of molasses. It brings rich, warm, sweet flavor.
2 tablespoons unsweetened cocoa powder: The cocoa powder is how you'll bring chocolate flavor throughout your cookie dough.
1 teaspoon baking soda: In order for your cookies to rise you will need a leavening agent. Baking soda will make them chewy and slightly puffy.
Spices: To bring that classic gingerbread flavor you will add 2 teaspoons ground ginger, 1 teaspoon cinnamon, ¼ teaspoon cloves, and ¼ teaspoon nutmeg.
½ teaspoon salt: Salt will enhance the sweet flavors of the chocolate, molasses, and spices.
1 cup dark chocolate chunks: While the cocoa carries chocolate throughout the dough, some dark chocolate chunks will bring that punch of chocolate flavor in each bite.
¼ cup minced candied ginger: Mixing in candied ginger will add both crunchy texture and ginger flavor to these chewy, delicious cookies.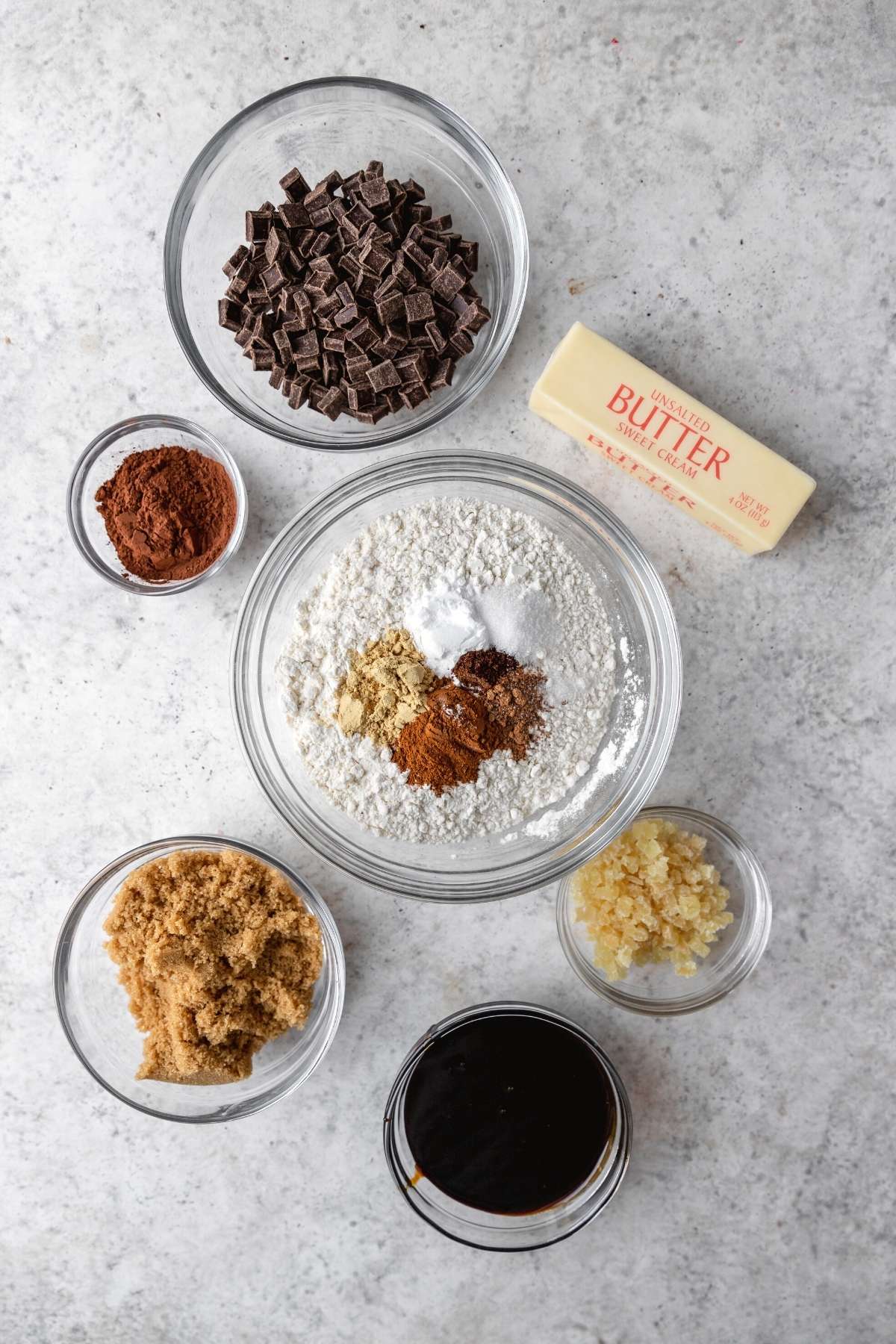 Kitchen Tools & Equipment
Stand Mixer: An electric mixer with a mixing bowl and paddle attachment will make preparing your cookies so easy. If you don't have a stand mixer you could use a handheld electric mixer. You can also mix by hand if you need to.
Measuring Cup: Use your favorite measuring cup to measure out all of your ingredients.
Sifter: Using a sifter will allow all of your dry ingredients to blend together seamlessly, ensuring the flavors and leavening agents are well distributed.
Spatula: One of the last steps in mixing your ingredients is to fold in chocolate chunks and candied ginger. Grab a spatula to help accomplish folding without over-mixing your dough.
Cookie Sheet: Use a standard 13×18-inch cookie sheet for baking.
Parchment Paper: Line your baking sheet with parchment paper so your cookies won't stick to the pan. Cut the paper to fit.
How to Make Chocolate Chunk Gingerbread Cookies
Time needed: 1 hour and 21 minutes.
Prep for Baking

Start by taking the butter out of the fridge a few hours in advance to make sure it softens.

Wet Ingredients

Add the softened butter and brown sugar to your electric mixer. Make sure to pack the brown sugar into your measuring cup. Put the mixer on medium-high speed and continue mixing for 1-2 minutes. You want to cream the sugar and butter together until they're nice and fluffy. Next, add in the molasses to the butter mixture, and mix again until creamy. If you don't have a stand mixer use a hand mixer and combine them in a large bowl.

Dry Ingredients

Slowly sift together the flour, cocoa powder, baking soda, ground ginger, cinnamon, salt, cloves, and nutmeg. Put the dry ingredients into the mixer. Stir on its lowest speed until just combined. Be careful not to over-mix. To finish off the cookie dough, fold in the chocolate chunks and candied ginger.

Chill

Make sure to leave the dough in the refrigerator covered for a full hour. This cooling time will stop the dough from spreading.

Bake

While the chocolate ginger cookie dough is in the fridge, preheat your oven and line your cookie sheet with parchment paper. Roll dough into 1-inch balls and place them 2 inches apart on the prepared baking sheets. Bake for 11-13 minutes, until the tops of the Chewy Ginger Cookies are just starting to crack.

Serve

Let the cookies cool for 5 minutes before moving them from the cookie sheet to a wire rack.
Nutritional Facts
Nutrition Facts
Chocolate Chunk Gingerbread Cookies
Amount Per Serving
Calories 164
Calories from Fat 63
% Daily Value*
Fat 7g11%
Cholesterol 10mg3%
Sodium 101mg4%
Potassium 183mg5%
Carbohydrates 24g8%
Protein 2g4%
Vitamin A 121IU2%
Vitamin C 0.01mg0%
Calcium 28mg3%
Iron 2mg11%
* Percent Daily Values are based on a 2000 calorie diet.
Baking Tips & Tricks
Get your cookies just right every time with these tips!
Avoid over-mixing dough

Over-mixing can lead to dense baked goods. Mix just until the ingredients are combined for the best results.

Bake to the ideal texture

Bake your cookies for 11 minutes for a chewy texture. Leave them in closer to 13 minutes for a slightly crispier cookie.
How to Store Chocolate Chunk Gingerbread Cookies
Serve: You can keep fresh cookies at room temperature for up to 3 days. After baking cookies let them cool, then put them in a ziplock bag or other airtight container to store in your pantry.
Store: Kept in an airtight container, you can store these cookies for up to 2 weeks in the fridge.
Freeze: You can also freeze Chocolate Chunk Gingerbread Cookies for up to 3 months.
Ideas to Serve Chocolate Chunk Gingerbread Cookies
Holiday Cookie Platter: Add these Chocolate Chunk Gingerbread Cookies to your holiday cookie platter that you set at at your holiday party, bring to the office, or give as gifts.
Potluck: Bring these cookies to your next potluck. They are sure to be a hit, especially when everyone smells and tastes that awesome Gingerbread flavor.
Cookie Swap: Attend or host your own cookie swap! This is a party where everyone brings a batch of cookies and all attendees get to share and swap cookies so you'll get to try lots of different kinds.
FAQ for Chocolate Chunk Gingerbread Cookies
Why are my cookies becoming flat?
If you notice that your cookies are flattening and spreading too much during baking, it could be for a few reasons. Check the temperature of your oven to make sure if it is correct, make sure you didn't over-mix the ingredients, and ensure you let the cookies refrigerate for long enough so that the fats become firm.
Can I freeze Chocolate Chunk Gingerbread Cookies dough?
Yes, this is a great holiday recipe to prep in advance and bake later. Spoon dough balls onto a parchment-lined baking sheet and flash freeze until hardened. Then, transfer the cookie dough to a freezer bag until you're ready to bake from frozen.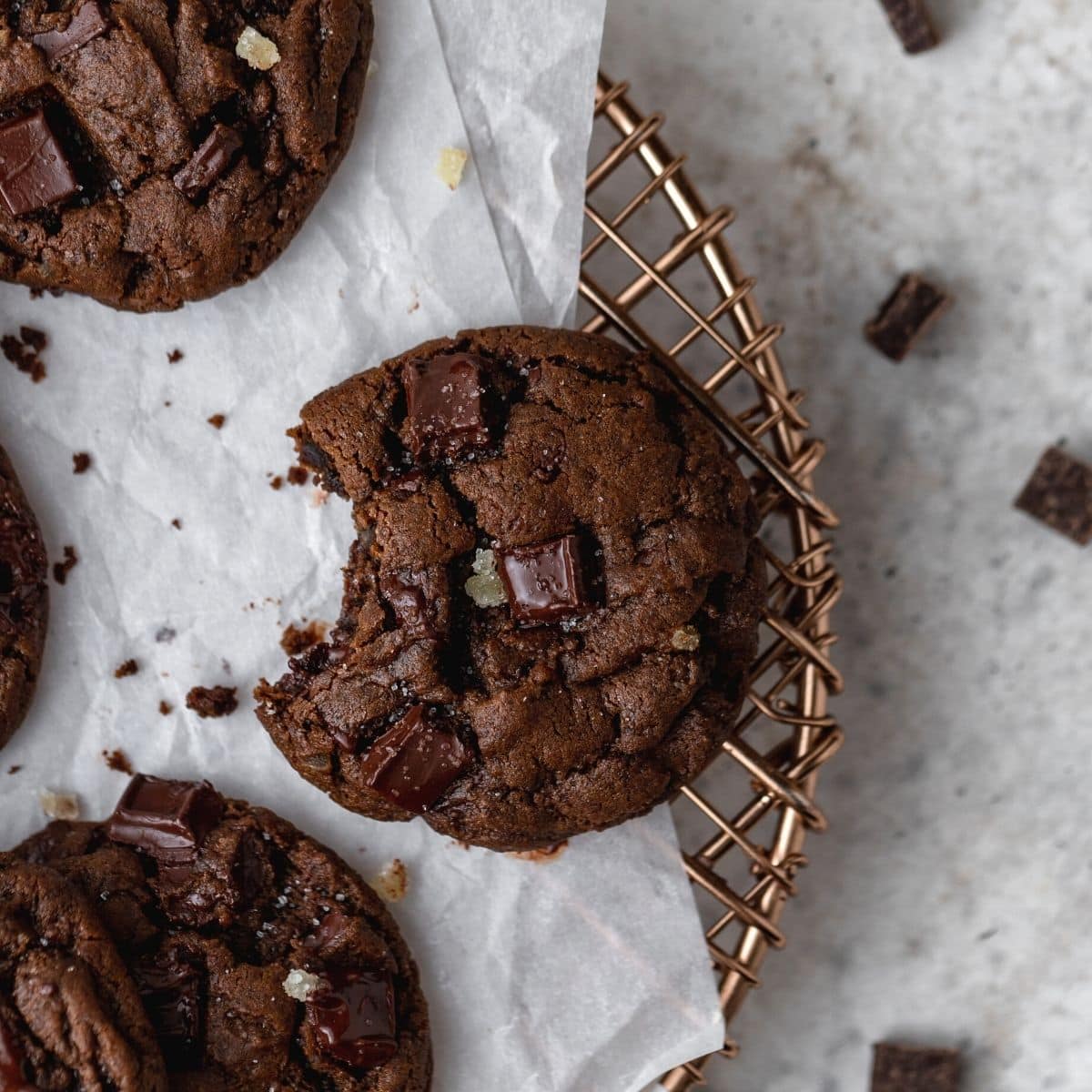 Recipe Card


Ingredients
1/2

cup

unsalted butter

, softened

1/2

cup

brown sugar

, packed

1/2

cup

molasses

2 1/4

cups

flour

2

tablespoons

unsweetened cocoa powder

1

teaspoon

baking soda

2

teaspoons

ground ginger

1

teaspoon

cinnamon

1/2

teaspoon

salt

1/4

teaspoon

cloves

1/4

teaspoon

nutmeg

1

cup

dark chocolate chunks

1/4

cup

candied ginger

, minced
Instructions
To your stand mixer add the butter and brown sugar on medium-high speed until light and creamy, about 1-2 minutes.

Add in the molasses until creamy.

Sift together flour, cocoa powder, baking soda, ginger, cinnamon, salt, cloves, and nutmeg.

Add on the lowest speed setting to your stand mixer until just combined.

Mix in the chocolate chunks and candied ginger.

Refrigerate dough for 1 hour, covered.

Preheat the oven to 350°F and line baking sheets with parchment paper.

Roll cookie dough into 1″ balls and place 2 inches apart.

Bake for 11-13 minutes until the tops just begin to crack.

Let cool

5 minutes

before removing from the baking sheet.
Nutrition
Calories:
164
kcal
|
Carbohydrates:
24
g
|
Protein:
2
g
|
Fat:
7
g
|
Saturated Fat:
4
g
|
Polyunsaturated Fat:
0.3
g
|
Monounsaturated Fat:
2
g
|
Trans Fat:
0.2
g
|
Cholesterol:
10
mg
|
Sodium:
101
mg
|
Potassium:
183
mg
|
Fiber:
1
g
|
Sugar:
13
g
|
Vitamin A:
121
IU
|
Vitamin C:
0.01
mg
|
Calcium:
28
mg
|
Iron:
2
mg
Chocolate Chunk Gingerbread Cookies Variations
Sweetener: Instead of using brown sugar, you can replace it with equal parts of granulated sugar. Brown sugar has more moisture than white sugar, so they may not turn out as chewy. You can mix in some extra butter or a little coconut oil to make up for this.
Chocolate: If you don't have dark chocolate chunks, you can use chocolate chips instead. You can fold in white chocolate, milk chocolate, or dark chocolate chips to make Chocolate Chip Ginger Cookies.
Ginger: If you don't have crystallized ginger, you can use freshly grated ginger. Grated ginger is quite strong so only add a little at a time.
Gluten-free: If you don't want gluten in the cookie recipe, replace the all-purpose flour with a gluten-free alternative. Try oat flour, almond flour, cornflour, or coconut flour for the flour mixture.
Cocoa Powder: To make the cookies chocolatey, this recipe calls for regular cocoa. If you'd like a milder chocolate taste use dutch powder.
Mix-ins: There are plenty of other ingredients you can add to the recipe. Try mixing in a teaspoon vanilla extract. You can also add dried cherries for Cherry Chocolate Chunk Ginger Cookies. Or mix in some almonds, pecans, or walnuts for Chocolate Ginger Nut Cookies.
Related Recipes
More Gingerbread Desserts