Chocolate-Dipped Coconut Macaroons are the BEST combo of sweet chocolate and chewy coconut cookies, made with almond and vanilla flavors, ready in under 30 minutes!
We love taking our favorite classic desserts and dipping them in melted chocolate, like these Mint Chocolate Covered Oreos, Chocolate Covered Caramels, and Chocolate Covered Graham Crackers!
CHOCOLATE-DIPPED COCONUT MACAROONS
Chocolate-Dipped Coconut Macaroons take one of my all-time favorite cookie recipes, Coconut Macaroons, and dips them in sweet melted chocolate for the ultimate dessert experience. This recipe is incredibly EASY to make, because you don't have to worry about egg whites or cocoa powder. They're also really kid friendly because they love dipping the cookies into the chocolate at the end. They're so much fun to make that you'll never want to get store-bought again!
These macaroons are chewy and made with shredded coconut, not to be confused with macarons, which is a totally different dessert. This recipe is incredibly EASY to make, because you don't have to worry about egg whites or cocoa powder. They also use almond and vanilla extract, but you can make different variations with different flavors.
ARE CHOCOLATE-DIPPED COCONUT MACAROONS SUPPOSED TO BE CHEWY?
Chocolate-dipped macaroons have a sweet and chewy texture, with a layer of melted chocolate on the bottom. This texture comes from the coconut flakes, which makes up the bulk of these cookies.
WHAT IS THE DIFFERENCE BETWEEN MACAROONS AND MACARONS?
Macarons and macaroons sound alike, but that's about where the similarities end. You might find some of the same ingredients in macarons and macaroons, but the cookies themselves have some big differences in flavor, texture, and techniques.
Macarons are an almond-flour and egg white based cookie, with a creamy center usually made from ganache or buttercream. There's a few different ways to make macarons, the most popular styles being French macarons and Italian macarons. Macarons have a soft, slightly chewy texture. They also rely heavily on egg whites to give the cookie its signature rounded shape.
Macaroons are made from a little bit of flour, and mostly coconut flakes. Unlike macarons, macaroons are mostly chewy in texture and often toasted on the top, sometimes dipped in chocolate. You also don't have to worry about egg whites with this chocolate macaroon recipe, but you can sometimes find recipes that use an egg white meringue.
HOW LONG CAN YOU KEEP CHOCOLATE-DIPPED COCONUT MACAROONS?
You can keep chocolate macaroons at room temperature, in an airtight container, for about 3-4 days. You can also refrigerate them for a few weeks, but they may harden slightly when cold. I recommend bringing them back to room temperature before serving.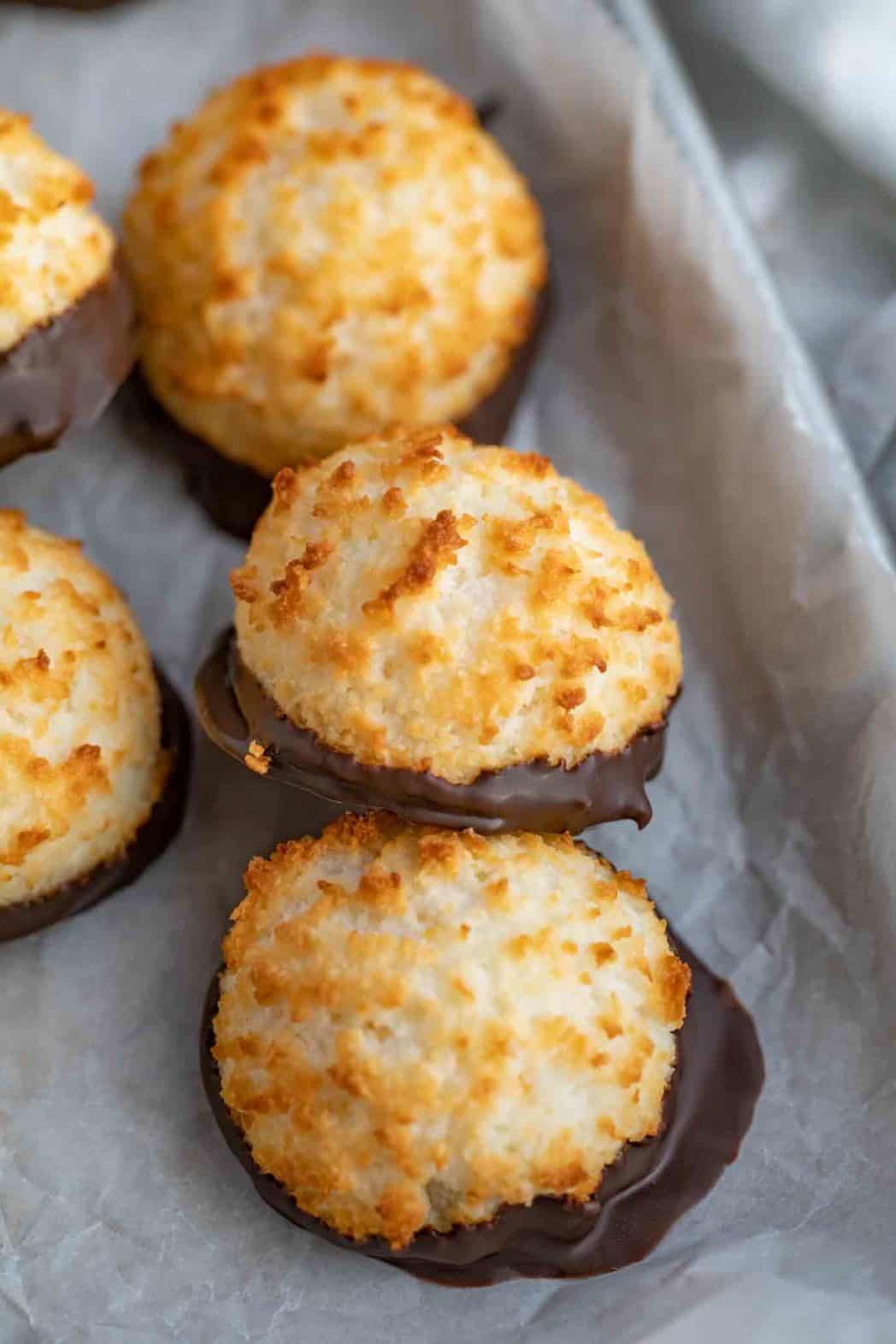 Create a free account to

Save Recipes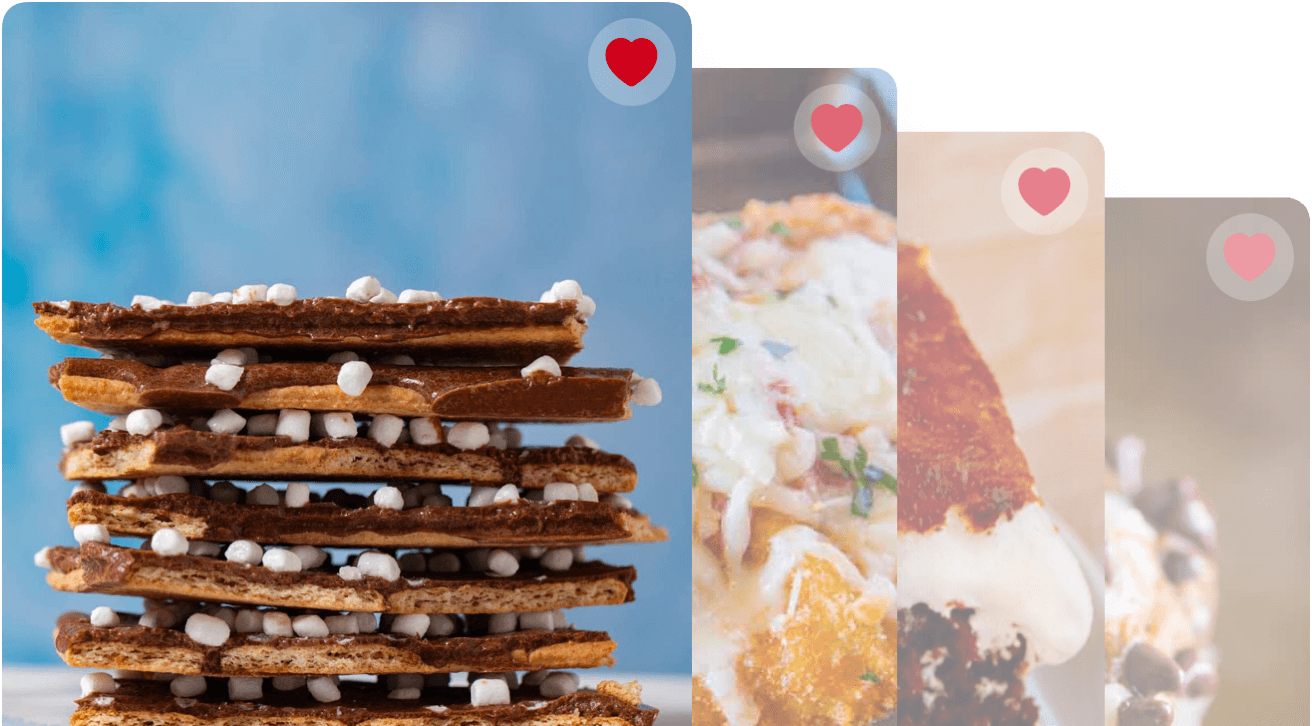 WHY DO MY CHOCOLATE MACAROONS COME OUT FLAT?
Chocolate macaroons can flatten when they're baked for a few reasons. First, make sure you're not over-mixing, and measuring all of the ingredients correctly. Next, don't skip the refrigeration step! Macaroons need to be cold when they go into the oven, or they'll drop too much.
DO CHOCOLATE-DIPPED COCONUT MACAROONS FREEZE WELL?
Chocolate macaroons will last in the freezer for 3-4 months in an airtight container. I recommend layering them with parchment paper, to keep the macaroons from sticking together. Defrost them on the counter for a few hours before serving, until they are room temperature.
MORE COOKIE RECIPES
TIPS FOR MAKING CHOCOLATE-DIPPED COCONUT MACAROONS
If you want all of your cookies to be the same size, use a small ice cream scoop when scooping them onto the baking sheet. This is a trick I use with a lot of my dessert recipes! But if you don't have a preference, you can use a spoon and just make sure they're rounded when you put them on the baking sheet.
Once coconut starts browning on the top, watch the cookies really closely because from there they can easily burn.
If your melted chocolate is a little lumpy, add a few drops of coconut oil and stir until smooth. Be careful not to take it too far in the microwave, chocolate can burn easily.
Decorate these chocolate macaroons further by drizzling with extra melted chocolate.
Replace 2 tablespoons of the flour with cocoa powder to give these macaroons extra chocolate flavor!
If you don't have chocolate melting disks, you can use semi-sweet chocolate chips. Personally, I think the melting disks turn out smoother, so they are my preference.
If you want to cut down on the sweetness in these macaroons, try using shredded coconut that is unsweetened. You will still get some sweetness from the condensed milk. You can also use unsweetened dark chocolate, but keep in mind that unsweetened dark chocolate will have a more bitter flavor than regular chocolate.
These are macaroons not macarons, but you can still add some macaron filling with a piping tip if you want to, like buttercream or chocolate ganache. If you have cocoa powder you can also make my chocolate frosting.
I usually dip the bottom of the macaroon in chocolate, but you can technically cover the entire thing if you want to.
If you don't want to microwave the chocolate, you can melt it by whisking it in the double boiler on the stovetop.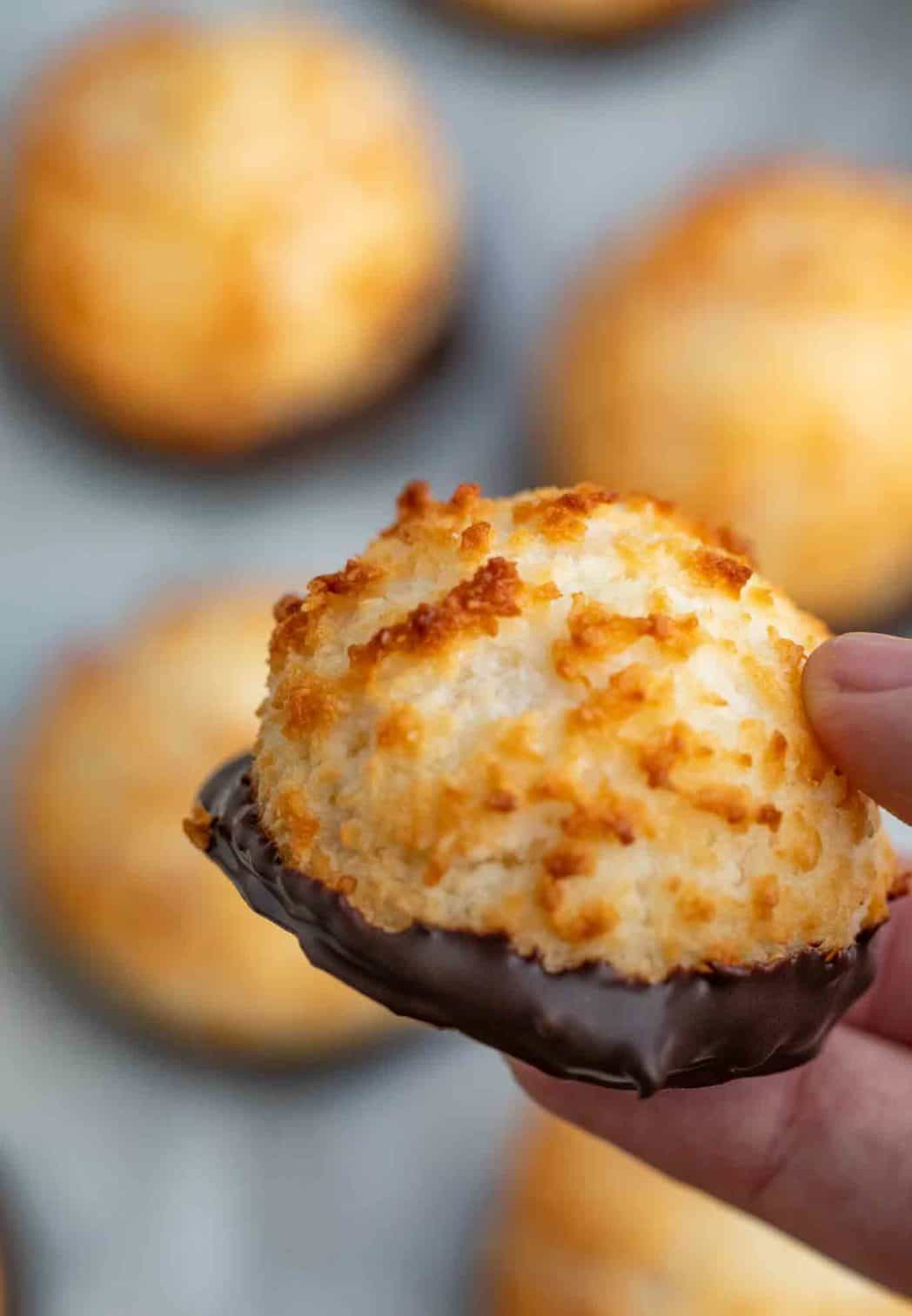 Ingredients
14

ounces

sweetened condensed milk

1

teaspoon

vanilla extract

1

teaspoon

almond extract

2/3

cup

flour

5 1/2

cups

sweetened coconut flakes

14 ounce bag

1/4

teaspoon

kosher salt

6

ounces

semisweet chocolate melting disks
Instructions
Mix the extracts in with the condensed milk before adding in the flour, coconut flakes and salt and mixing well.

Refrigerate for one hour before using ice cream scoop to scoop 18 macaroons onto parchment paper and baking in a 350 degree preheated oven for

15 minutes

.

Once cooled melt the chocolate in a microwave safe bowl in 30 second increments until completely smooth.

Dip the bottom ½ inch of the macaroons in the melted chocolate and place back onto the parchment paper and let harden.
Notes
Note: click on times in the instructions to start a kitchen timer while cooking.
Nutrition
Calories:
262
kcal
|
Carbohydrates:
34
g
|
Protein:
3
g
|
Fat:
12
g
|
Saturated Fat:
10
g
|
Cholesterol:
8
mg
|
Sodium:
135
mg
|
Potassium:
234
mg
|
Fiber:
3
g
|
Sugar:
25
g
|
Vitamin A:
65
IU
|
Vitamin C:
0.6
mg
|
Calcium:
72
mg
|
Iron:
1.2
mg