Chocolate Peppermint Lava Cakes is the most indulgent winter dessert in serving sizes with a molten chocolate middle and peppermint flavoring.
This amazing Dessert Recipe adds a holiday twist to classic Chocolate Lava Cakes. The peppermint adds the perfect festive flavor to make this the ultimate holiday dessert for after Christmas dinner.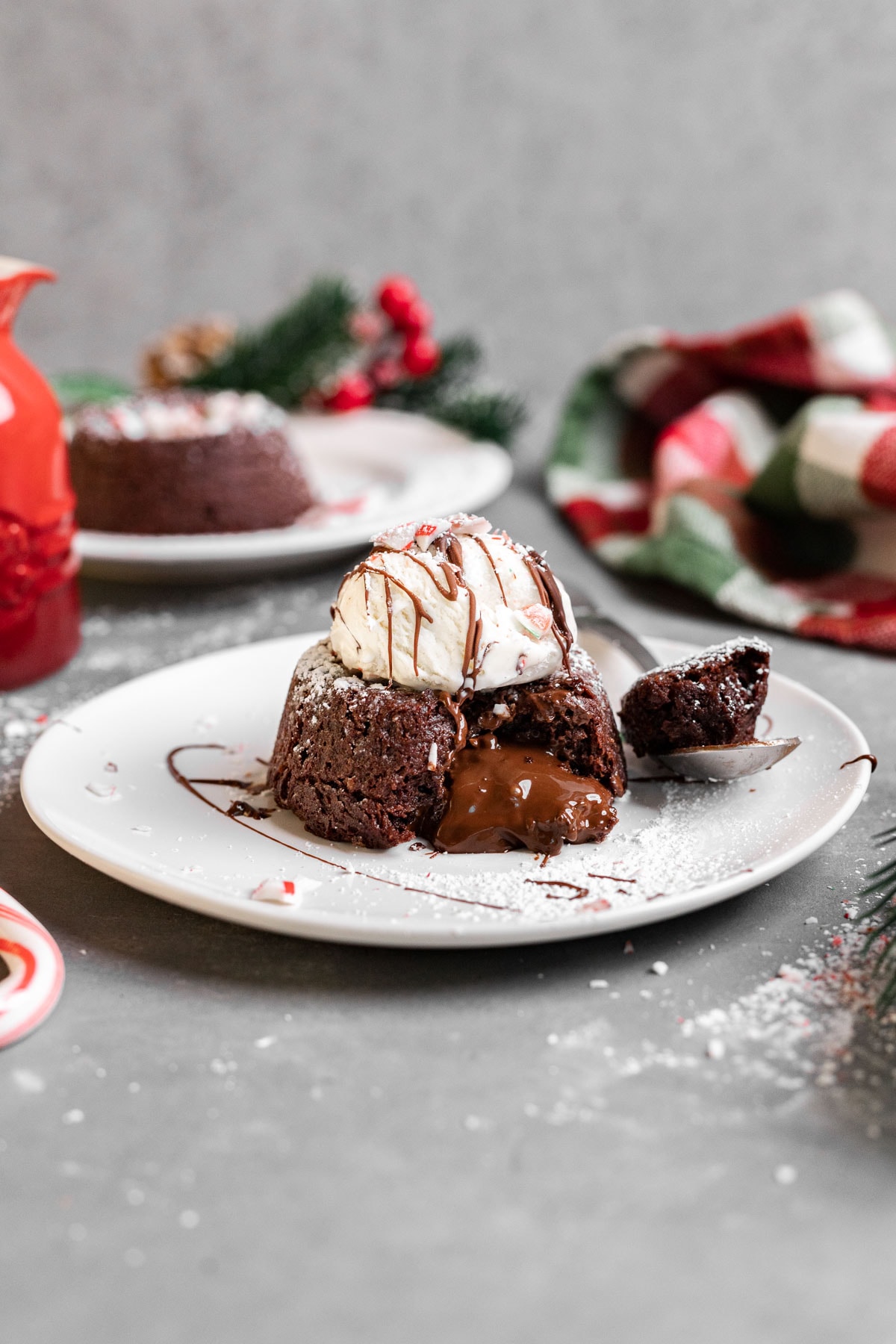 CHOCOLATE PEPPERMINT LAVA CAKES
Molten Lava Cakes get their name because of their hot, melted, gooey center. When you take a first bite of the decadent chocolate cake, it breaks open to reveal the warm chocolate sauce in the middle. The chocolate center makes molten chocolate cake an instant favorite with chocolate fans. This version adds a little bit of holiday cheer to the classic cake with its ooey-gooey peppermint dark chocolate interior flavored with peppermint extract.
If you're looking for a decadent dessert to serve on Christmas or at a holiday party, these delicious single-serving chocolate cakes are sure to impress. Instead of making the cake in normal-sized baking dishes, each of the chocolate desserts gets its own ramekin so you have multiple mini cakes. It's the perfect way to finish a fancy dinner with miniature cakes on each dessert plate.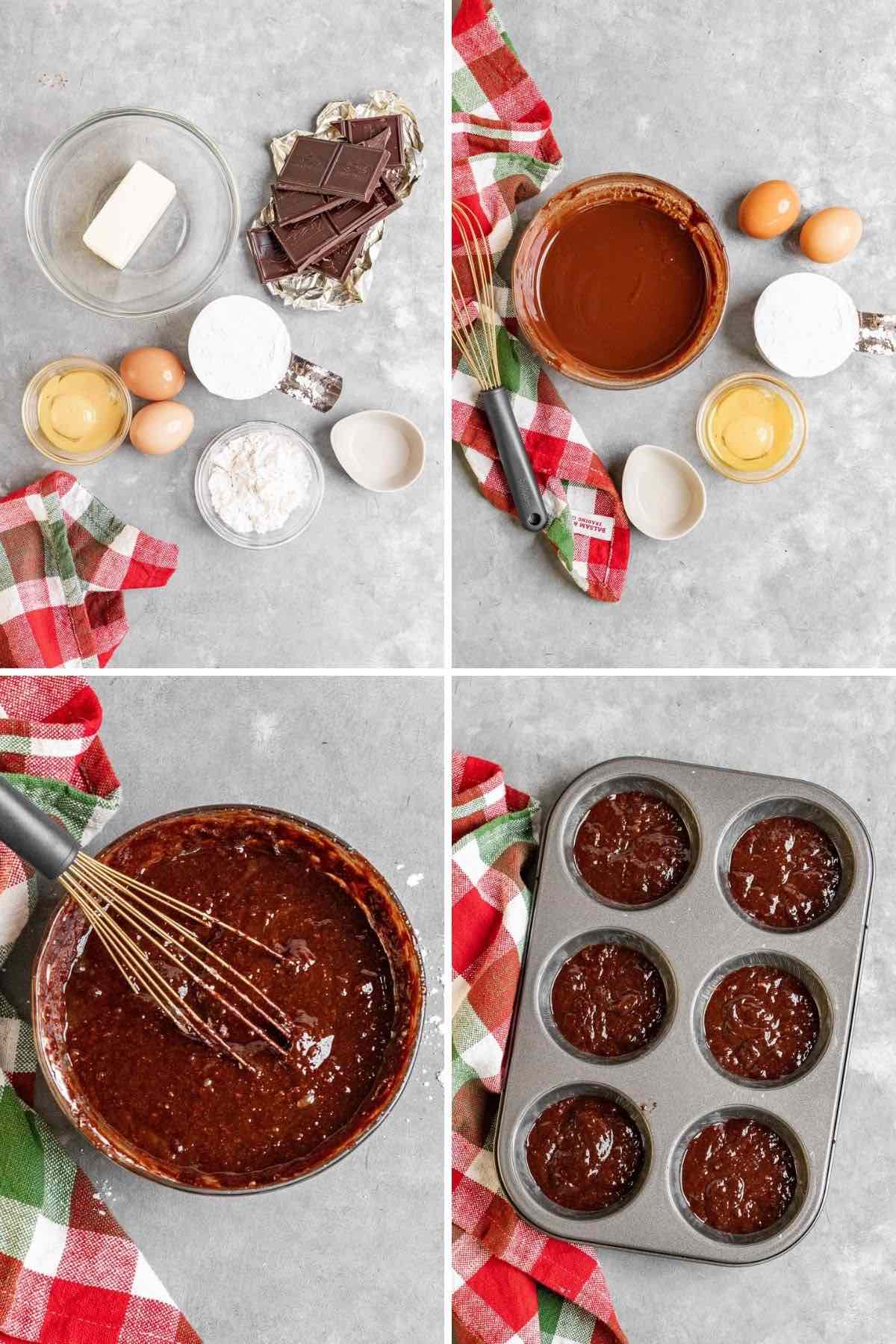 OPTIONAL TOPPINGS
These gooey peppermint chocolate cakes are perfect topped off with a scoop of Vanilla Ice Cream. The melty dark chocolate flavor is perfectly complemented by the creamy vanilla. We also like to sprinkle on some broken peppermint candy pieces for a pretty presentation.
There are lots of other ways you can top off the dish depending on your taste. Try drizzling some Chocolate Ganache or chocolate sauce over the top of the ice cream. You could also add a dusting of cocoa powder or powdered sugar. Or, instead of broken candy canes, try breaking pieces of Peppermint Bark and using the chocolate bark for topping off the cake. There are really endless options for how you can decorate these beautiful Chocolate Peppermint Lava Cakes.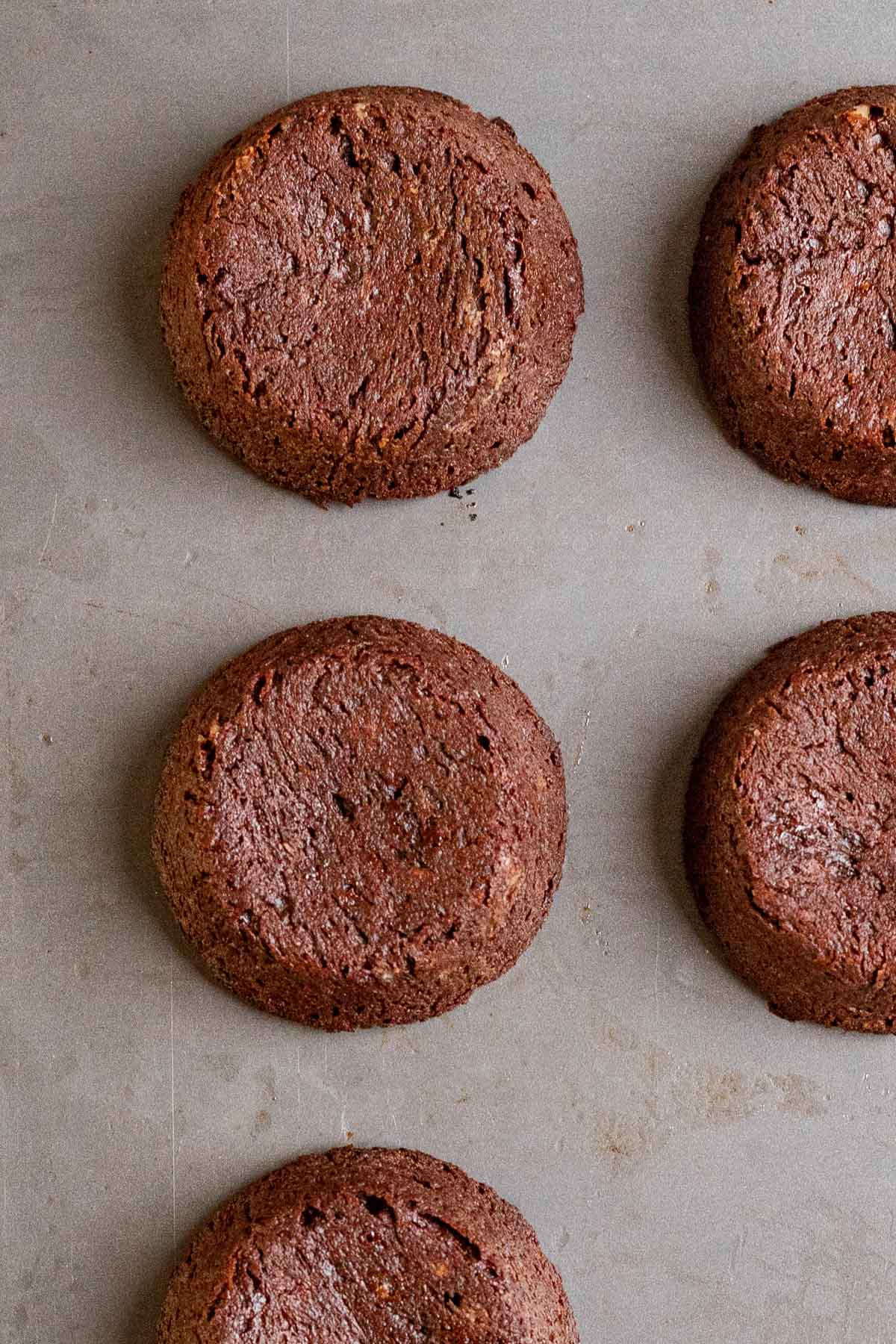 MORE CHOCOLATE CAKE RECIPES
TIPS FOR MAKING CHOCOLATE PEPPERMINT LAVA CAKES
Prep time: Start by preheating the oven and greasing your ramekins. You can spray the ramekins with nonstick cooking spray or use butter. No matter what method you use, it's important that they be well coated, otherwise the edges of cake will stick to them and break before you can serve them. You can also use a large muffin tin if you don't have dessert ramekins.
Cake batter: Add the butter and chocolate to a microwave-safe bowl. Melt them together in 30-second increments, stirring between each session until smooth. Let the chocolate mixture cool for 2 minutes before you add the powdered sugar, whole eggs, egg yolks, and peppermint extract. Whisk the batter together, then finish by sifting in 6 tablespoons all-purpose flour.
Baking time: Pour the batter evenly into each muffin cup or ramekin. Bake for 12-14 minutes. You want the edges to be set, but the middle to remain slightly jiggly. Take them from the oven and let them cool for 1 minute.
Serving: If you used separate ramekins put an inverted plate on top of each of them, and flip to remove them. If you used a muffin tin, put a cookie sheet over the top, and flip. Then move them to a dessert plate. Top each cake off with ice cream and peppermint candies before serving.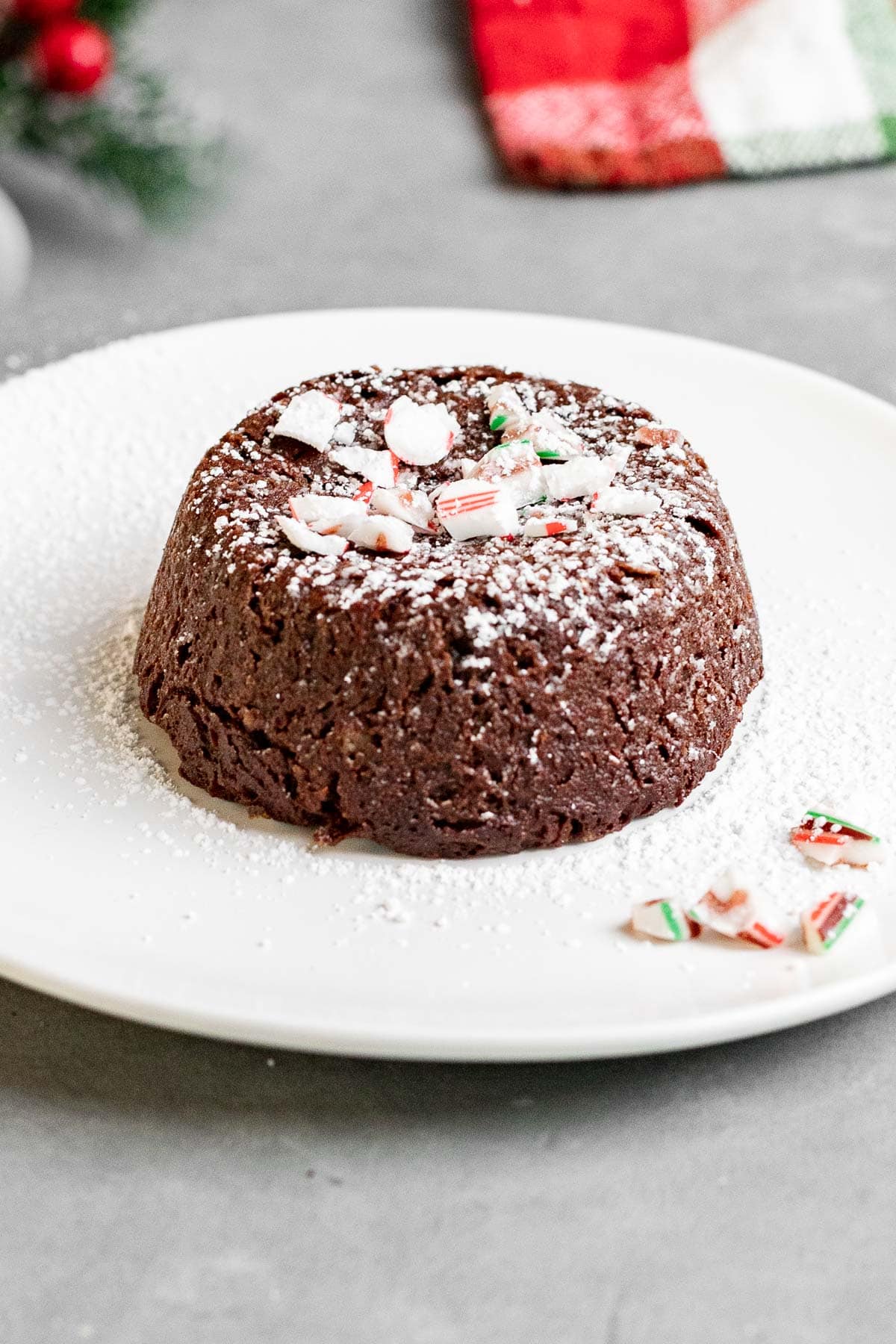 Create a free account to

Save Recipes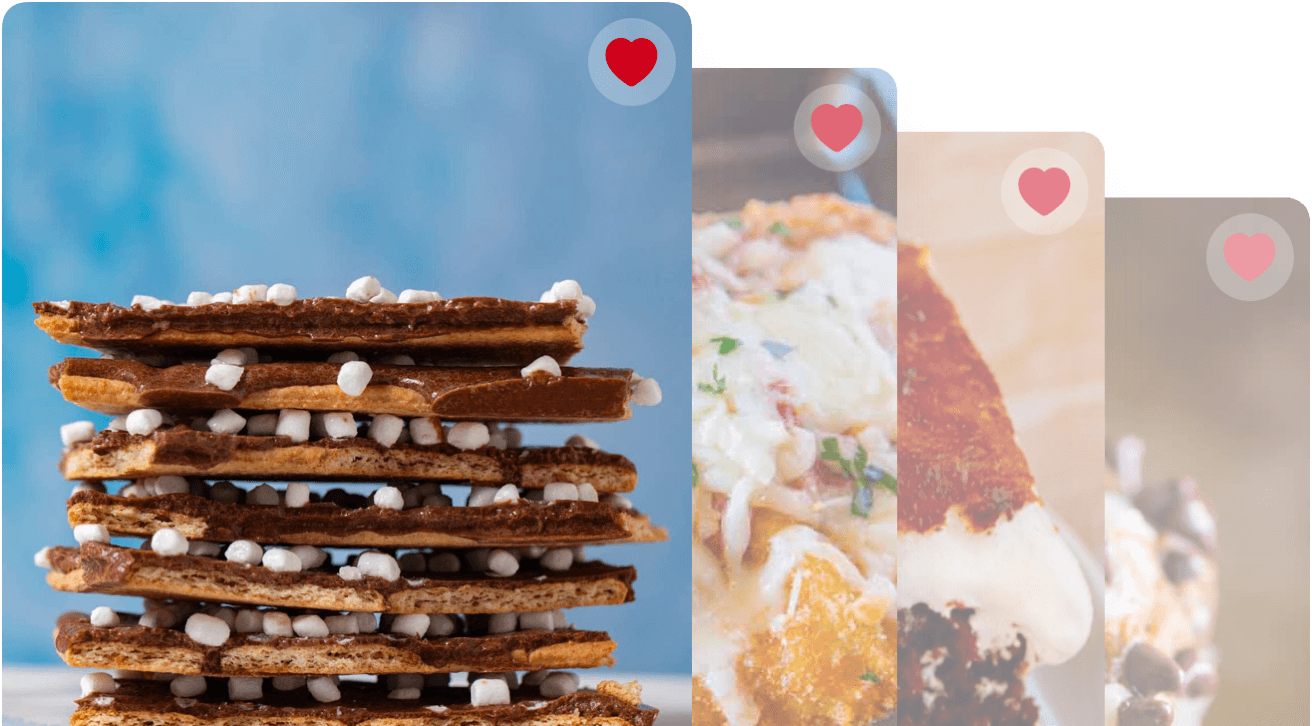 VARIATIONS ON CHOCOLATE PEPPERMINT LAVA CAKES
Chocolate: For even more chocolatey flavor added to this perfect dessert, you can add some chopped chocolate pieces or mini-chocolate chips to the batter. Semi-sweet chocolate chips or pieces of chocolate mint candy (like Andes mints) would taste amazing.
White chocolate peppermint glaze: Try making a white chocolate peppermint glaze to top off this perfect dessert. To make the glaze, bring ¼ cup of heavy cream to a boil. Then remove from heat and 1 cup white chocolate chips. Cover and let sit for a few minutes before stirring until smooth. Then add in 1 teaspoon peppermint extract and 1 teaspoon vanilla extract. Let the glaze cool before pouring it over the Chocolate Lava Cakes.
Peppermint mocha cakes: To add some coffee flavor to the recipe, mix 1 tablespoon instant espresso powder in with the chocolate cake batter.
MORE PEPPERMINT DESSERTS
HOW TO STORE CHOCOLATE PEPPERMINT LAVA CAKES
Serve: After baking, you don't want to leave this holiday dessert at room temperature for more than 2 hours.
Store: Let the lava cakes cool down then cover them in plastic wrap or put them in an airtight container to store for up to 3 days.
Freeze: As long as they're properly sealed, Chocolate Peppermint Lava Cakes can also stay good in the freezer for up to 3 months.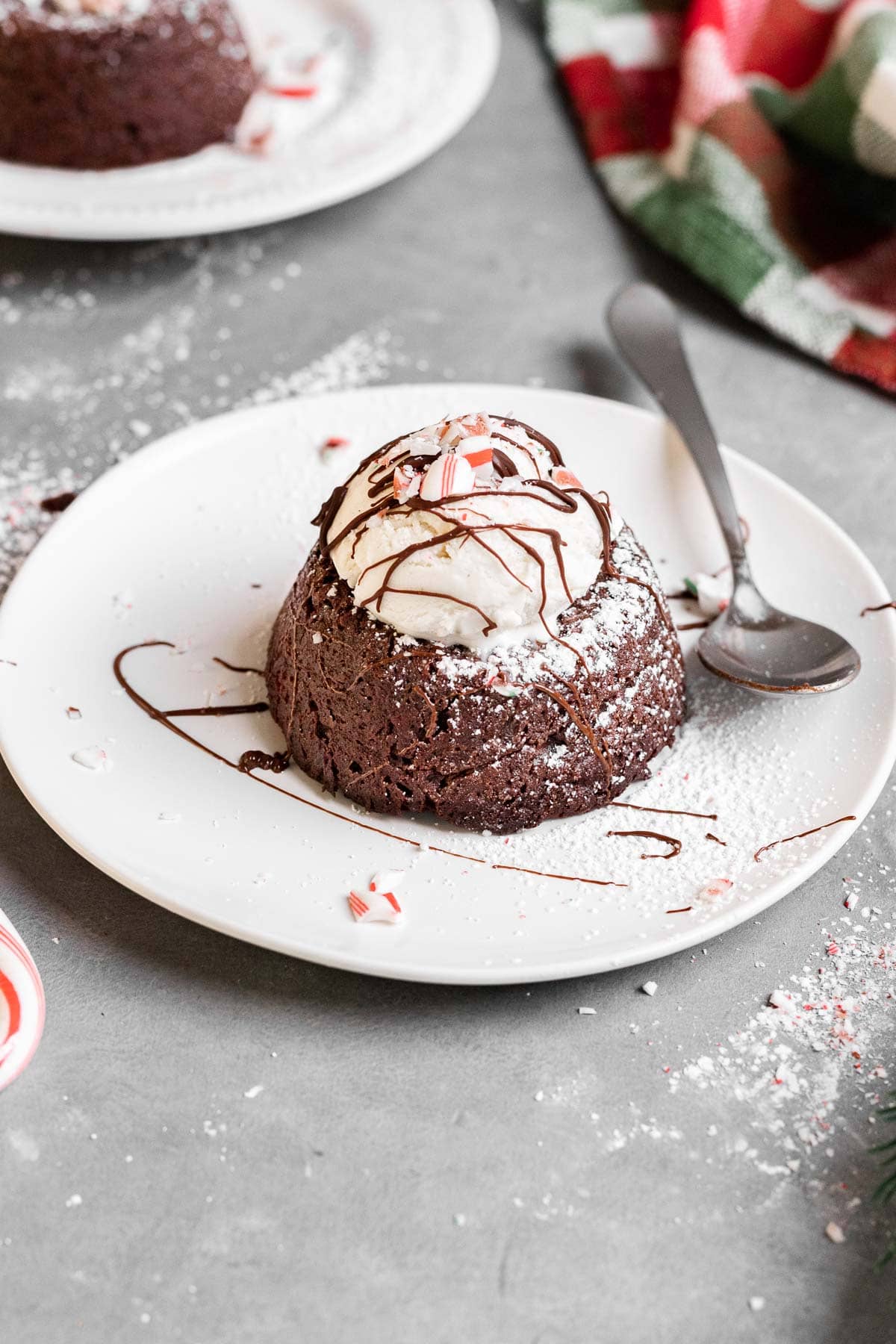 Instructions
Preheat the oven to 400 degrees.

Butter your ramekins, or use a large muffin tin.

Melt the butter and chocolate in a microwave-safe bowl in

30-second

increments until smooth.

Let the chocolate cool for

2 minutes

, then add in the powdered sugar, whole eggs, egg yolks, peppermint extract and whisk well.

Sift in the flour and whisk until just combined.

Add the batter evenly to the muffin tins.

Bake for

12-14 minutes

or until the sides are set and the middle is still slightly jiggly.

Let them rest for

1 minute

then add a cookie sheet on top of the muffin tin then flip over.

Serve with ice cream and crushed peppermint candies.
Nutrition
Calories:
504
kcal
|
Carbohydrates:
46
g
|
Protein:
6
g
|
Fat:
33
g
|
Saturated Fat:
19
g
|
Trans Fat:
1
g
|
Cholesterol:
166
mg
|
Sodium:
33
mg
|
Potassium:
257
mg
|
Fiber:
3
g
|
Sugar:
34
g
|
Vitamin A:
663
IU
|
Calcium:
46
mg
|
Iron:
3
mg