5 Crispy Slow Cooker meals that have a short ingredient list and taste amazing with crispy skin. The perfect recipes to eat for dinner and then use the leftovers all week in different recipes.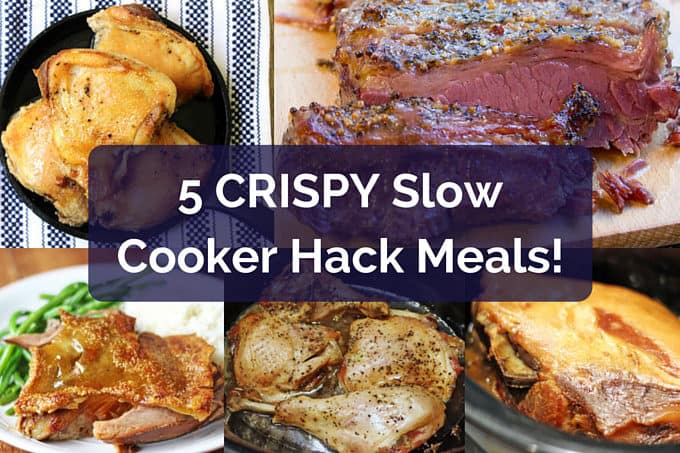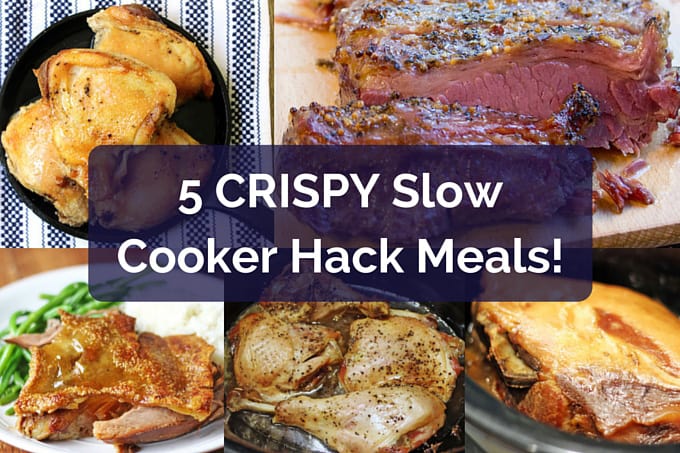 Slow cooker meals haven't been a frequent recipe choice for the blog to date and I realized that when I was looking through the numbers of what the most popular posts were that outside of Panda Express meals, as a whole slow cooker recipes were your favorite ones to look at.
My ingredients list with slow cooker meals is normally minimal because I find that I can use slow cooker meats in other recipes.
Every Saturday night (seriously, every single one) we put a pack of bone-in, skin-on chicken thighs in the slow cooker to make Crisp and Juicy Slow Cooker Chicken:
2. Chicken is great and all but we are totally POPs in this house (Pals of Pork 😉 ) and when I find a good price, we LOVE pulled pork, again made minimally with almost no ingredients in this Hawaiian Slow Cooker Luau Pork: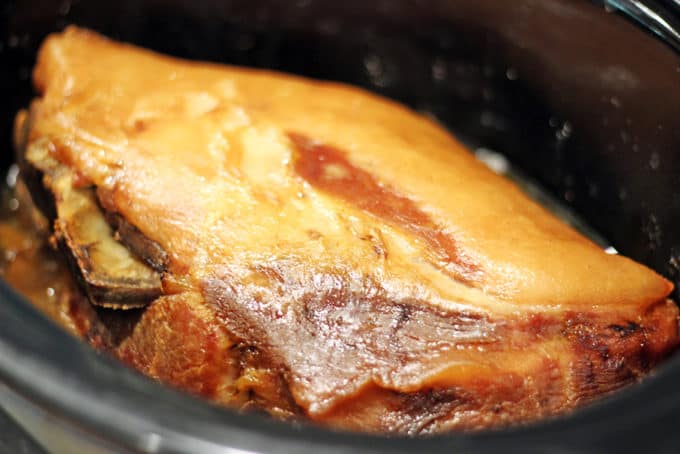 3. Then one day I bought a pork butt that had skin on, not just a fat cap like the Luau Pork above. Oh my goodness, it was AMAZING. A combination of slow cooker and a quick minute under a broiler made for the most amazing Crispy Cracklin' Pork Shoulder: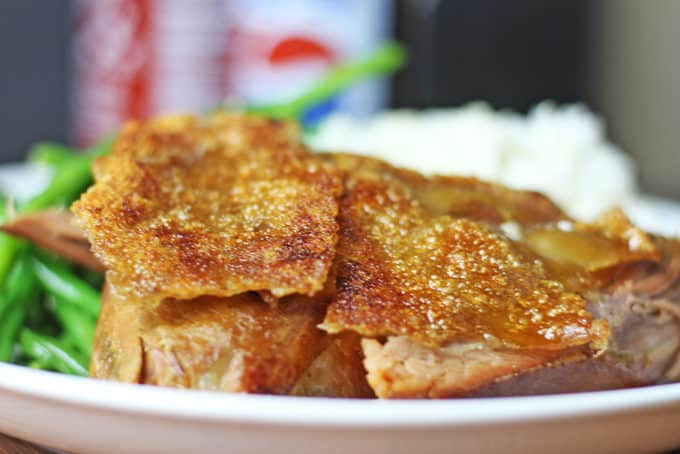 4. Chicken and pork are pretty well known for being amazing slow cooker meats…but have you tried turkey? A few times a year I'll make Thanksgiving dinner for us and I always do it with thighs and legs in the slow cooker. Easiest ever, tender turkey meat. Plus the whole dinner is 7 ingredients…so easy! (Man, now I'm craving it!). Slow Cooker Turkey: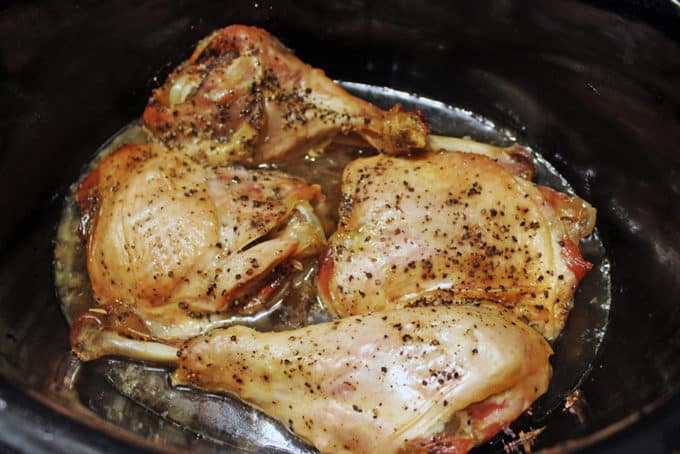 5. Finally, beef. Not just beef like this Chipotle Barbacoa Beef (also from a slow cooker), but easiest put it in the slow cooker with the packet and a couple ingredients Slow Cooker Corned Beef. We make this once a month and then cool it completely and slice for sandwiches. Not going to lie, my husband's coworkers have even commented on the "crazy deli sandwiches" and ask where he gets them. Right here! Crispy Slow Cooker Corned Beef: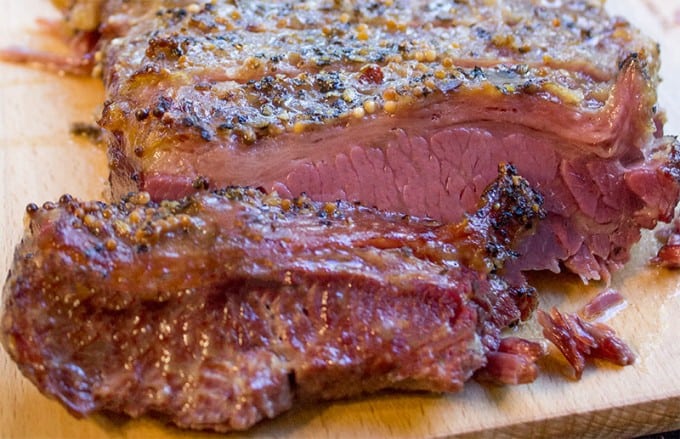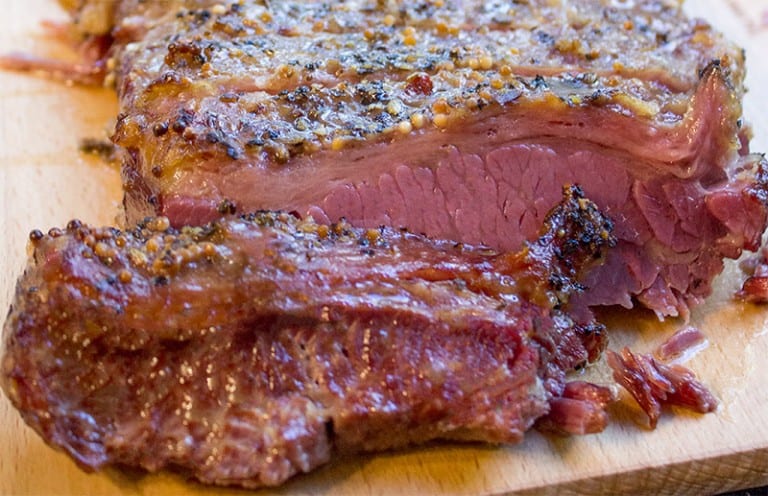 The things they all have in common is my slow cooker secret I sort of stumbled on 5 or so years ago. NO LIQUIDS. The thing about meats in the slow cooker are you're using fattier cuts because they stay tender. So since meats have:
A. Extra fat that renders in the slow cooker, so think of it like a poor man's confit. Delicious fat slowly cooking the meat until it is fall apart tender.
B. Solution added! Unless you're buying pretty high quality meat, your meat (especially chicken) is pumped with solution to add weight. In the slow cooker all of that will render out, adding more liquid to the slow cooker.
So just to be clear, you start with the meat of choice and it looks crazy to not add liquid, you cook it on low and then at the end you come back to….. A slow cooker with meat half submerged in liquid with delicious crispy layers on top.
Are there other slow cooker meals you'd like to see on the site? I'd love to hear about it either in the comment section or via email at contact @ dinnerthendessert.com.