Dry Buttermilk Ranch Mix is a homemade ranch salad dressing blend of buttermilk powder, dry herbs and spices. Great for dips and recipes too!
Save money and a trip to the store by stocking your refrigerator with easy homemade Sauces and Dressings like BBQ Sauce, Ranch Dressing, and this dry seasoning blend.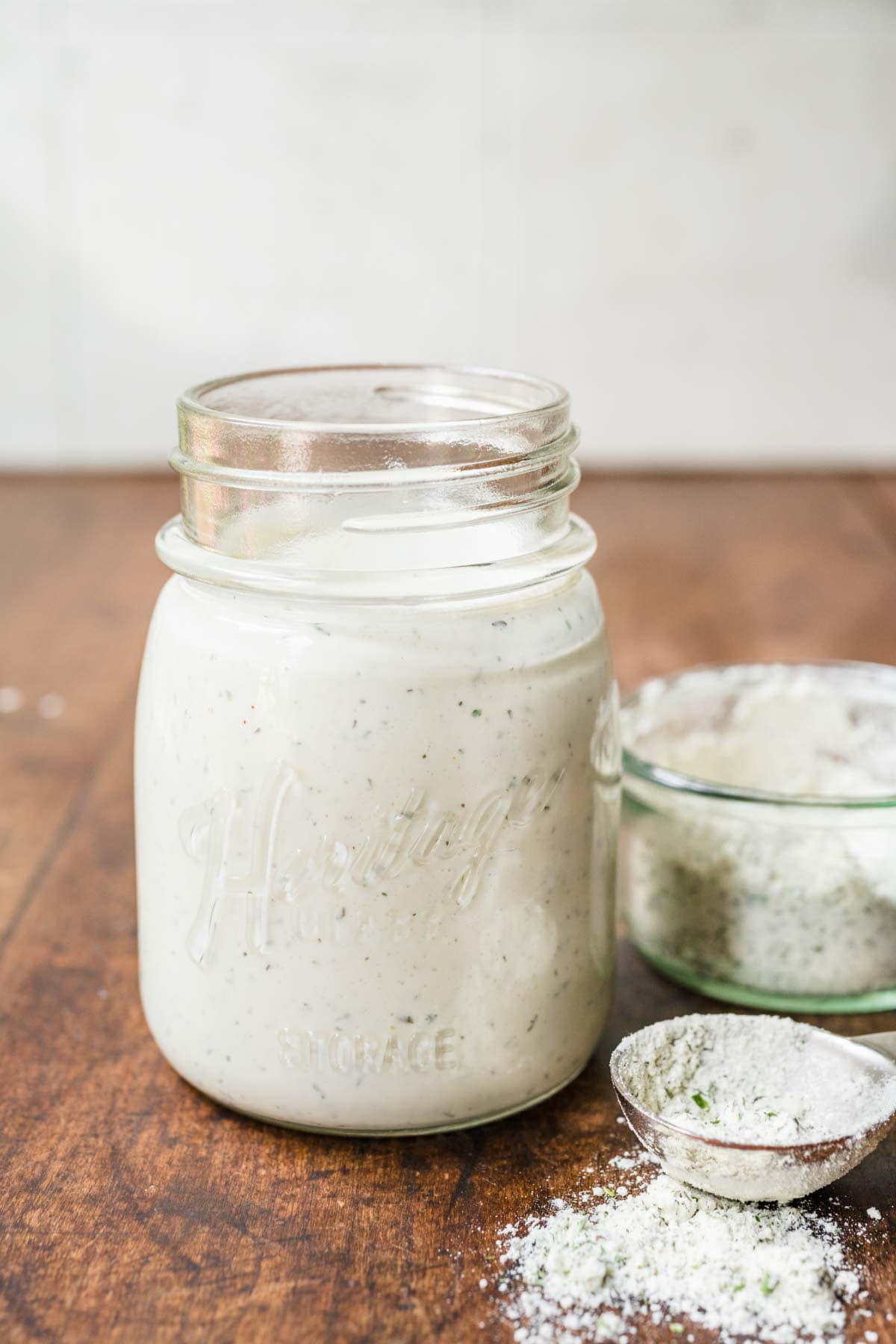 Homemade Dry Buttermilk Ranch Mix is can be a staple in your household once you see how quick and easy it is. It comes together with dry seasonings you may already have on hand or can easily find in the store. You can use it as a dip or dressing, or swap out a couple tablespoons of homemade ranch mix for a packet of store-bought in your favorite recipes.
This recipe for Dry Buttermilk Ranch Mix tastes just like Hidden Valley Ranch, so no need to run to the grocery store and buy a bottle or packet. Making your own is a lot healthier for you and you can customize the flavor to fit your tastes perfectly. The mix will last in the fridge for about 3 months without any added preservatives. If you have a pantry full of spices, this is an absolute breeze to make. It's also gluten free and vegetarian friendly.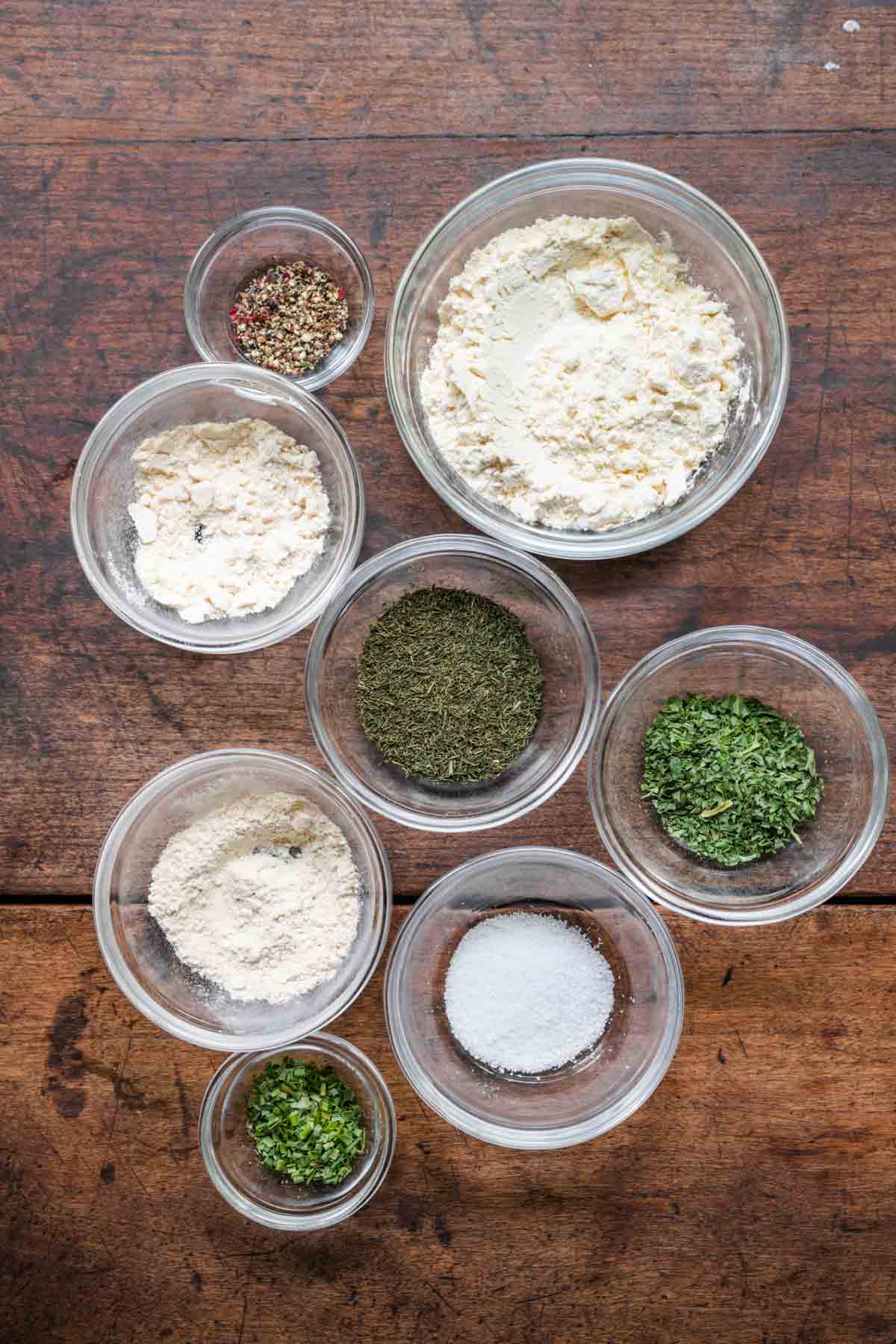 Even though it's a dry mix, you will have to refrigerate the dressing mix as well as the buttermilk powder. Buttermilk powder is a dehydrated form of milk that lasts for months in the refrigerator and makes dressing recipes much more convenient. It gives you the rich flavor of buttermilk ranch dressing without having to buy a full gallon of buttermilk or finding a substitute.
This salad dressing mix is delicious on a leafy green salad, but you can use it any time you need a side of ranch. Dunk Buffalo Wings in it, serve it with veggies, drizzle over Baked Potatoes, or spread it on sandwiches.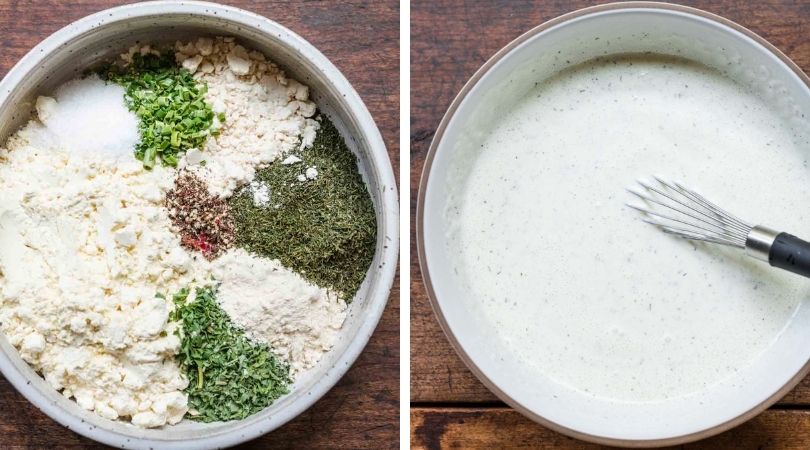 Game Day Dipper Recipes
How to Mix for Salad Dressing
To turn your blend of spices into ranch dressing just follow these simple directions. You'll love having fresh salad dressing that you can whip up whenever you need it rather than having it take up space in your fridge.
In a bowl, add 1 cup milk and 1 cup mayonnaise with 3 tablespoons of Homemade Ranch Dressing Mix and whisk until well combined.
Refrigerate for an hour before using. Serve over salads or with Buffalo Wings.
For a thicker, vegetable dip consistency for vegetable trays, replace ½ cup mayonnaise and ½ cup milk (1 cup total) with sour cream. If it's too thick, add milk 1 tablespoon at a time until desired consistency is reached.

Create a free account to

Save Recipes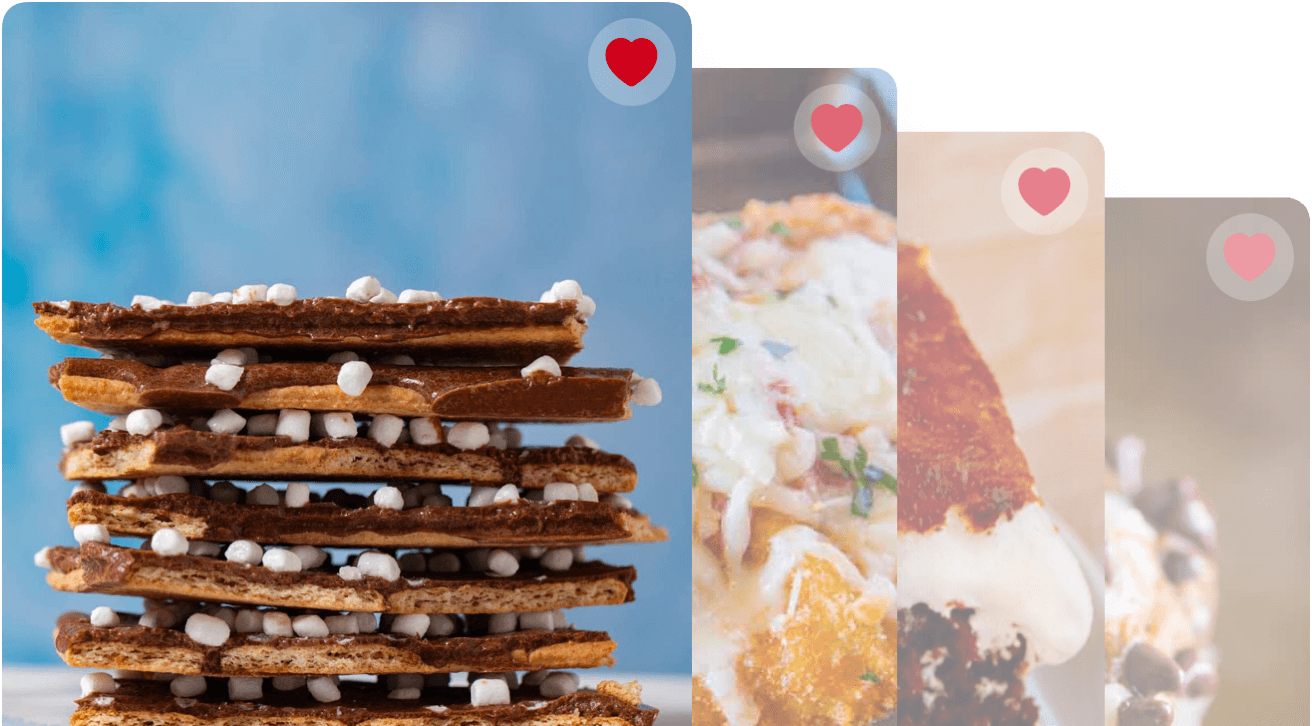 Variations
Dairy: Play with the flavor and consistency of ranch dressing by swapping in sour cream, Greek yogurt, or fresh buttermilk. You can also use non-dairy milk, just keep in mind that buttermilk powder is made with milk.
Spicy: Make a spicy ranch dressing mix by adding up to ½ teaspoon cayenne pepper to the seasoning blend. A little cayenne goes a long way, so start ¼ teaspoon and adjust as needed. Try adding ½ teaspoon chipotle powder for Chipotle Ranch Dressing Mix.
More Flavors: Adjust or swap the seasonings to make different flavors of ranch. Swap ground pepper with fresh cracked peppercorns for a steakhouse ranch. Add cumin and chile powder for a smokier, southwest flavor.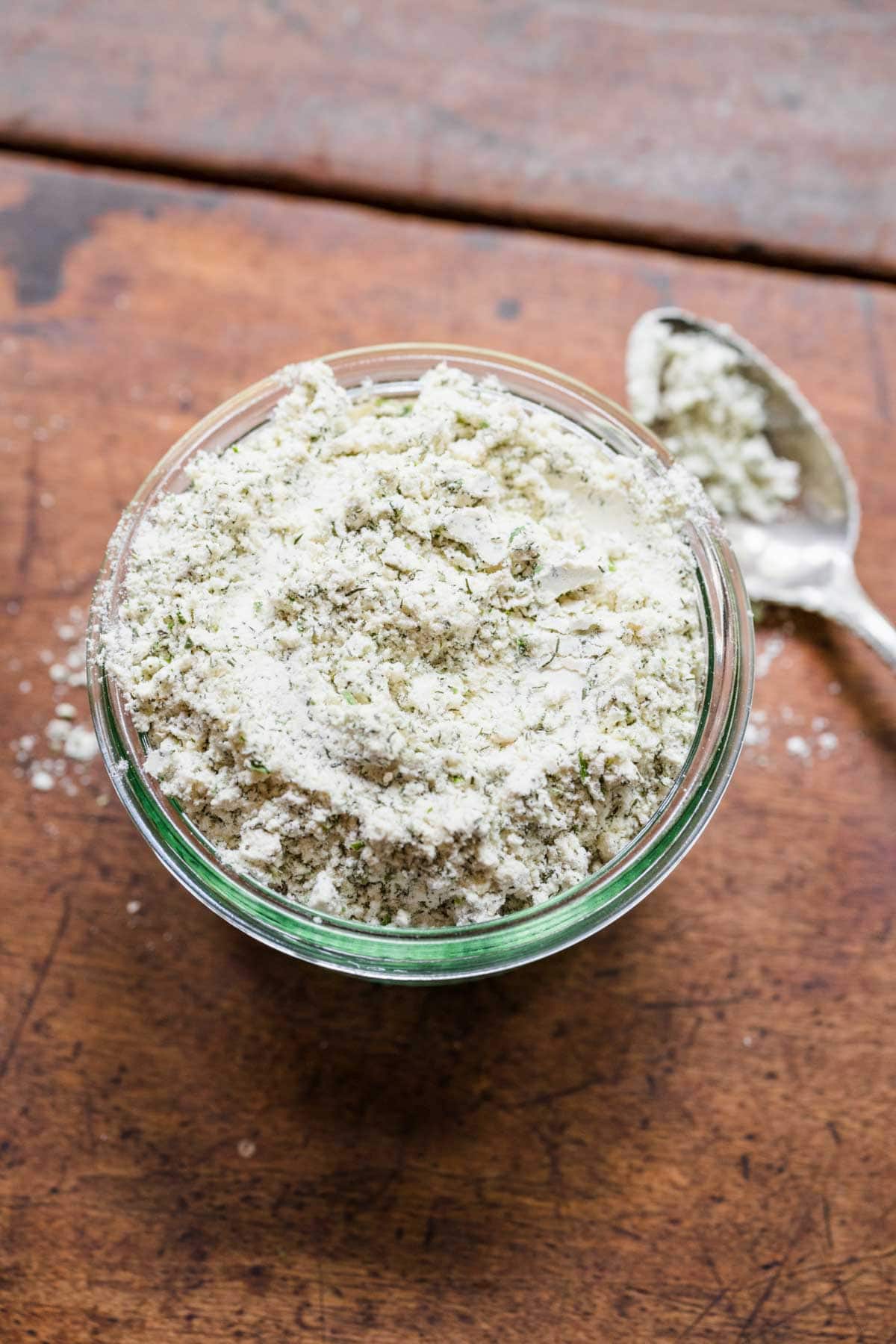 More Homemade Sauces and Dressings
How to Store
Store: Keep Buttermilk Ranch Mix in an airtight container in the fridge. You will also want to refrigerate leftover dry buttermilk in a separate container. They will stay good in the fridge for up to 3 months. Prepared dressing will stay fresh up to 1 week and is best stored in a glass container like a mason jar.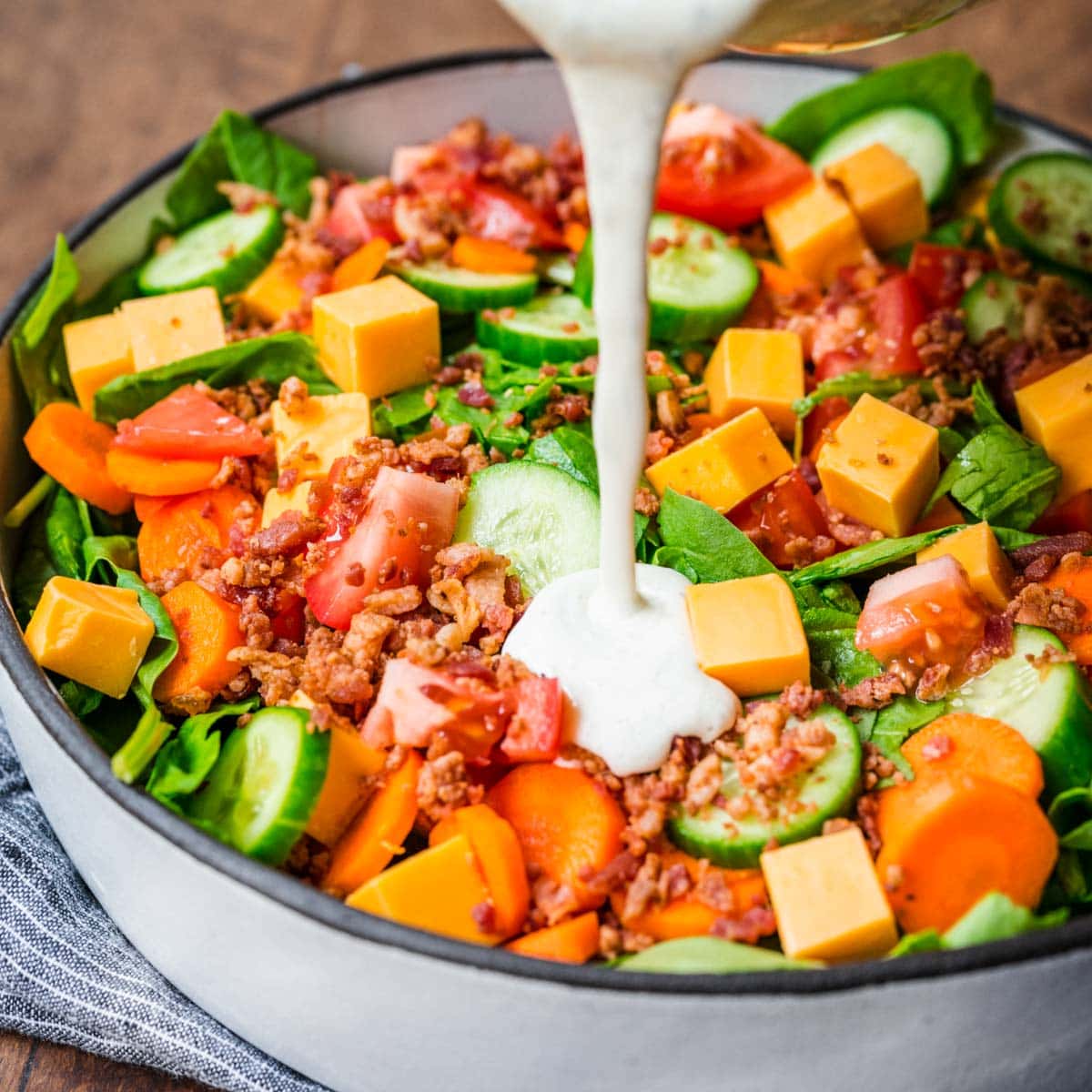 Ingredients
1/2

cup

dry buttermilk powder

1 

tablespoon 

dried parsley

2

teaspoons

dried dill weed

1

teaspoon

dried chives

1

tablespoon

garlic powder

1

tablespoon

onion powder

1

teaspoon

Kosher salt

, or sea salt

1/2

teaspoon

ground black pepper
Instructions
Pulse all the ingredients together in a small food processor.

Store in a glass jar in the refrigerator.
To Make into Dressing and Ranch Salad:
In a bowl, add 1 cup milk and 1 cup mayonnaise with 3 tablespoons of Homemade Ranch Dressing Mix and whisk until well combined.

Refrigerate for

1 hour

before using.

Serve over salad of lettuce, carrots, cucumbers, tomatoes, bacon crumbles and cubed cheddar cheese.
Nutrition
Calories:
29
kcal
|
Carbohydrates:
4
g
|
Protein:
2
g
|
Fat:
1
g
|
Saturated Fat:
1
g
|
Cholesterol:
3
mg
|
Sodium:
227
mg
|
Potassium:
144
mg
|
Fiber:
1
g
|
Sugar:
3
g
|
Vitamin A:
323
IU
|
Vitamin C:
5
mg
|
Calcium:
82
mg
|
Iron:
1
mg