Easy Chicken Fajita Rice Bowls are healthy and quick to make, they're like your favorite fajitas but without the tortillas and easy to pack for lunch!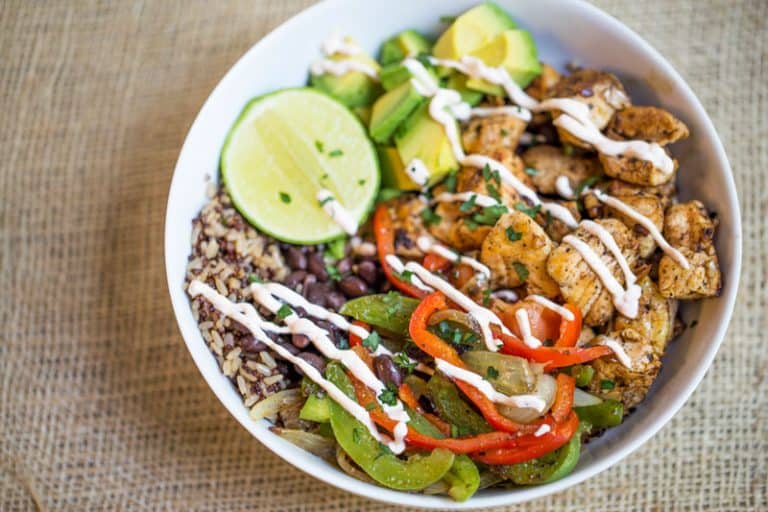 Easy Chicken Fajita Rice Bowls are a staple in our household for dinners,  but even more importantly for lunches! It takes just 15-20 minutes to cook the chicken and the vegetables and you've got an easy lunch you can pack ahead for or freeze. Big thanks to our favorite lunch secret, Minute® Ready to Serve Rice for sponsoring this post. We always have a huge stock of them in our pantry for quick meals.
I routinely make a double batch of the recipe so we can enjoy them for dinner, for a couple of lunches that week and I freeze the remaining chicken and vegetables in portioned out containers so I can grab one along with a Ready to Serve Rice Cup to go for a quick lunch.
We're huge fans of Mexican food in our house and I'm an even bigger fan of food that can be served out of a bowl. These Chicken Fajita Rice Bowls combines my favorite crispy pan seared seasoned chicken with a quickly sautéed peppers and onions and the best shortcut ever, Ready to Serve Rice.
I think another reason I love making this so much is because it reminds me of my favorite chopped chicken and rice meal ever, Halal Cart's Middle Eastern Chicken and Rice. In that case Turmeric Seasoned rice is served with spiced chicken with a spicy yogurt sauce on top. You can absolutely use these cups to make that meal too, adding just a pinch of the spices and butter to the rice cups before microwaving. I would use the Basmati Rice flavor for that recipe.
Ready to Serve Rice is one of our favorite lunch time items to pack. I've previously made One Minute Brown Rice Risotto using them and now my husband enjoys it for lunch on a regular basis.
The great thing about them is they're portioned so you can just grab one and go, and take just a minute in the microwave. You can mix in quick flavors like I did for the risotto or you can add them to an otherwise prepared dish like the chicken and fajita vegetables in this recipe.
They also come in a large variety of flavors that include brown rice, including Brown Rice (which we love and it is also the flavor used in the risotto recipe) Brown & Wild Rice and Multi-Grain Medley (which we use pretty regularly because it saves me from having to cook wild rice which I have never been a fan of!) along with the Brown Rice and Quinoa I used in this recipe. They do also have white rice varieties so you can always have a huge variety of flavors to work with
The seasoning of the Chicken Fajita Rice Bowls is super simple and made up of pantry spices and the most important part is just getting a super hot cast iron skillet (I think I link to that skillet in almost every post, I have an unhealthy obsession with my cast iron skillet).
Because you want that awesome sear on the veggies and chicken without really cooking them for long. You'll end up with super flavorful, moist chicken and crunchy but caramelized peppers and onions. My favorite part of this dish is probably the crema because I use it liberally on everything until I run out. For day's I'll have it on eggs, on steak, on roasted potatoes or even on soups.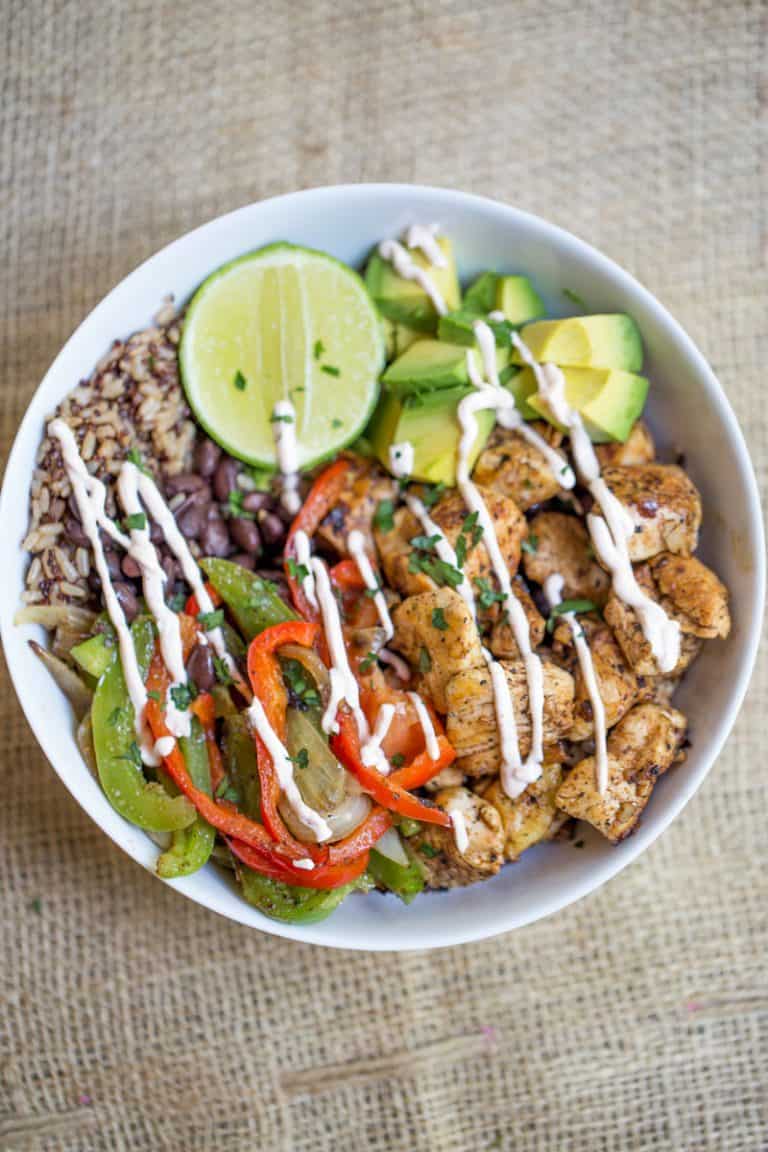 Tools used in the Making of this recipe:
Cast iron skillet: Nothing better for getting a good hot sear on your ingredients and holds heat so well, I love this pan!
Minute Ready to Serve Rice: There's a page full of easy options you can even order online. We love these for quick meal fixes.
Favorite Bento Box for Lunch: This lunch box will store all your chicken and veggies for the perfect lunch you can add the rice to. We have a whole stack of these at home.


Ingredients
1

medium white or yellow onion

, sliced

1

red bell pepper

, sliced

1

green bell pepper sliced

1

pound

chicken breast

, sliced into 1 inch pieces

1

tablespoon

cumin

1/2

teaspoon

cayenne

1

teaspoon

oregano

1/2

teaspoon

garlic powder

1/2

teaspoon

kosher salt

1/4

teaspoon

black pepper

4

tablespoons

canola oil

, divided

1

cup

greek yogurt or sour cream

1

tablespoon

taco sauce or Mexican hot sauce

Minute Rice Ready to Serve Brown Rice and Quinoa

1

avocado

, diced

1

lime

, quartered

1/4

cup

cilantro

, minced

1

can

black beans
Instructions
In a small bowl combine the cumin, cayenne, oregano, garlic powder, salt and black pepper and combine half of it with the sliced vegetables and half with the sliced chicken.

in a second small bowl combine the yogurt or sour cream with the hot sauce and stir to make your spicy crema.

In a VERY hot skillet, put two tablespoons of canola oil.

Add the chicken and cook on high heat, searing the outside for

1-2 minutes

, then turning and cooking for one more minute.

Remove the chicken from the pan and add in the onions and bell peppers.

Cook on high for

1-2 minutes

until the edges are slightly browned but they are still crisp.

Serve over Minute Rice Ready to Serve Brown Rice and Quinoa, spoon on some of the vegetables, then the chicken and the avocado.

Add some parsley and the spicy crema and serve with a wedge of lime.
Nutrition
Calories:
486
kcal
|
Carbohydrates:
30
g
|
Protein:
37
g
|
Fat:
25
g
|
Saturated Fat:
2
g
|
Cholesterol:
75
mg
|
Sodium:
537
mg
|
Potassium:
1154
mg
|
Fiber:
11
g
|
Sugar:
5
g
|
Vitamin A:
1340
IU
|
Vitamin C:
77.9
mg
|
Calcium:
120
mg
|
Iron:
3.6
mg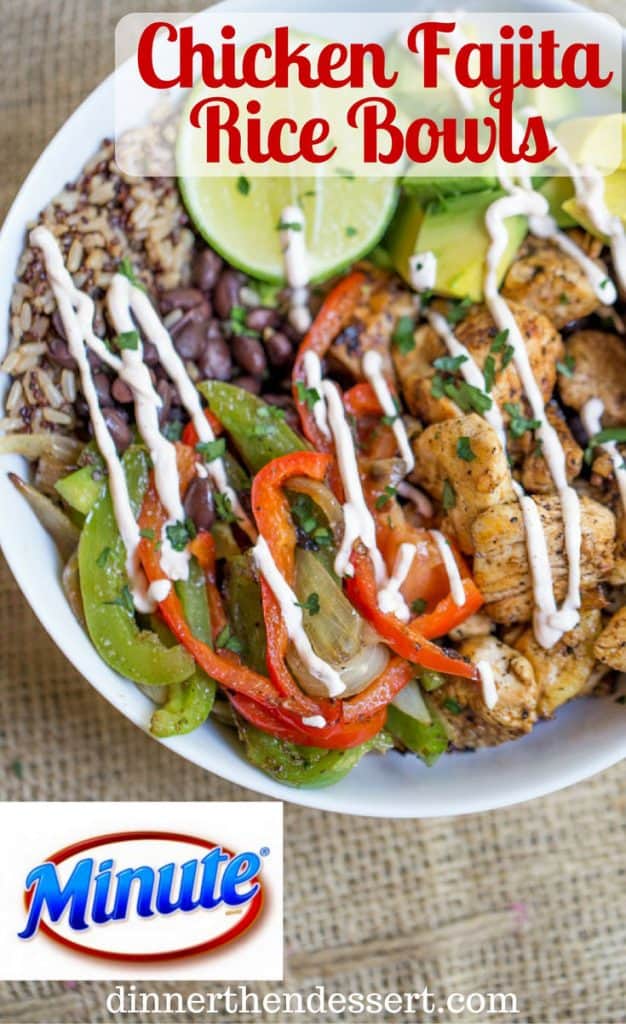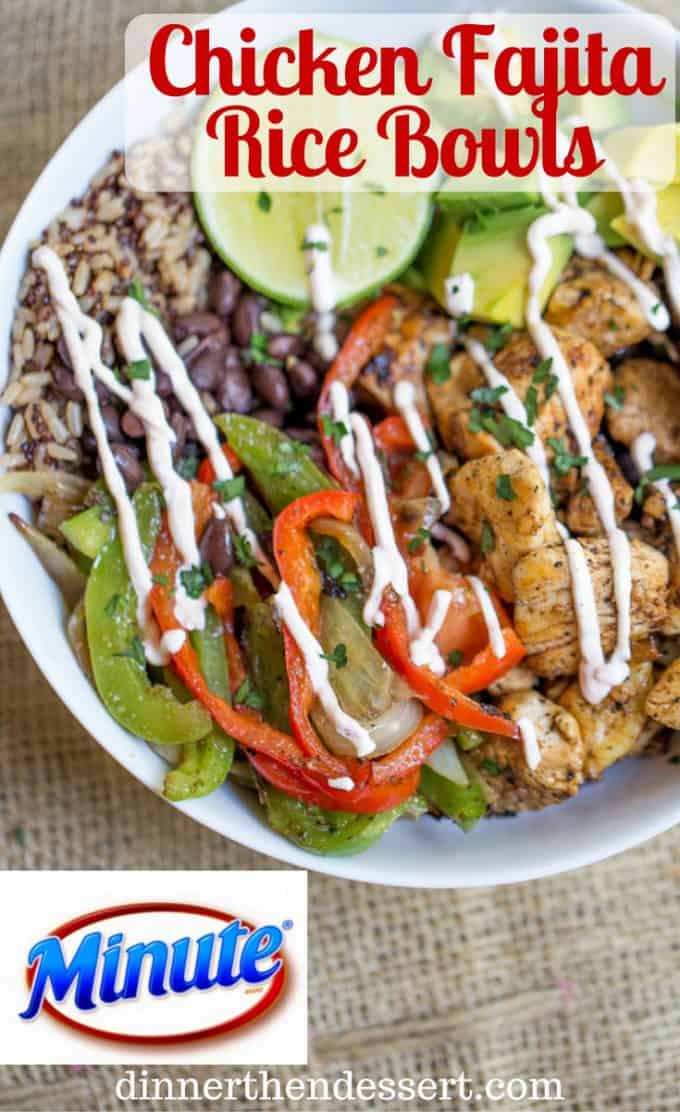 Thanks again to Minute® Ready to Serve Rice for sponsoring this post.