Gingerbread Dipped Biscotti Cookies are an ideal holiday treat with warmly spiced, crumbly cookies dipped into white chocolate.
This is the perfect Breakfast treat to enjoy during the holiday season. The crunchy Gingerbread Biscotti has the same spiced flavor and white chocolate coating as classic Gingerbread Cookies. They're just as delicious, but while the cookies are soft and chewy, biscotti are wonderfully crisp.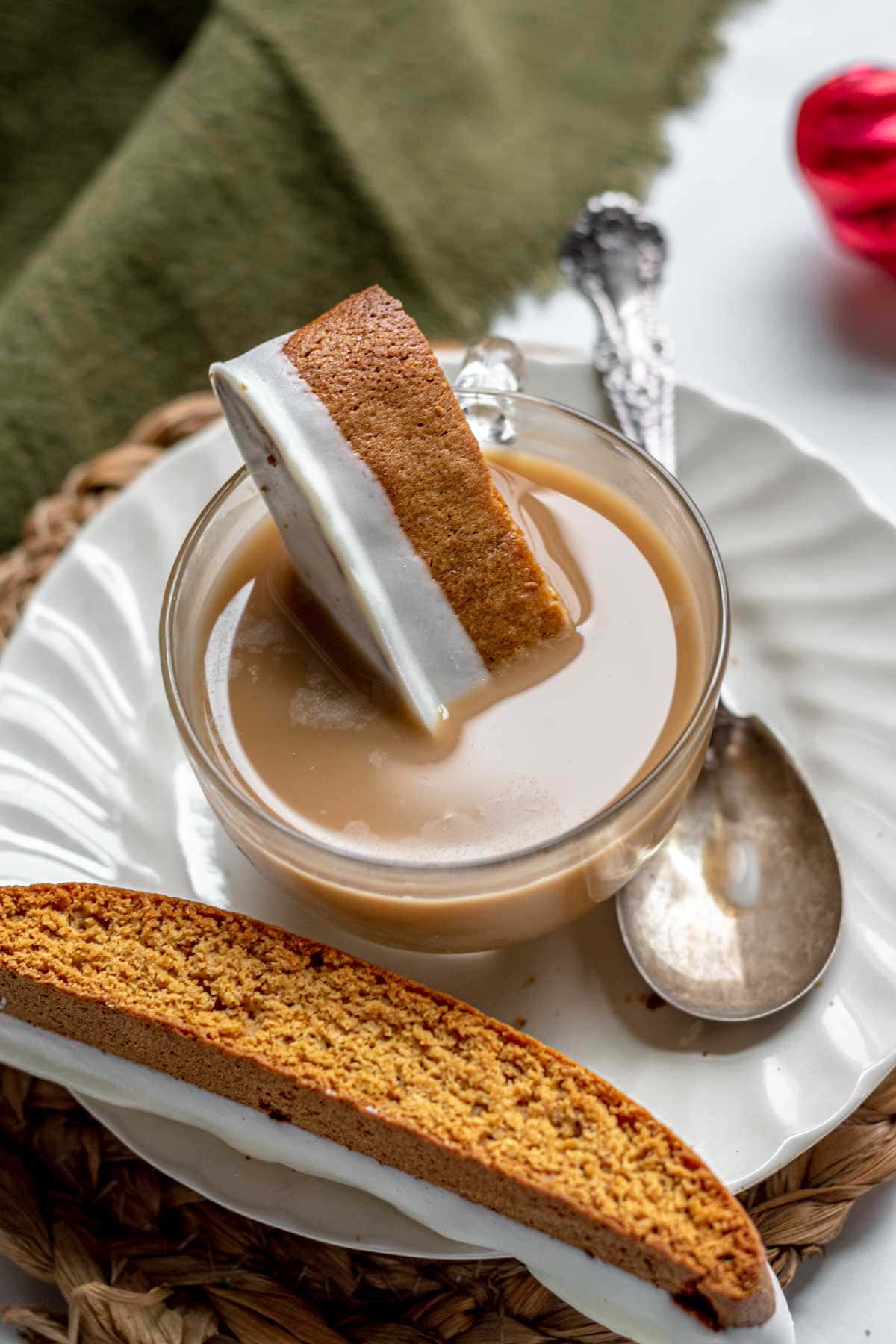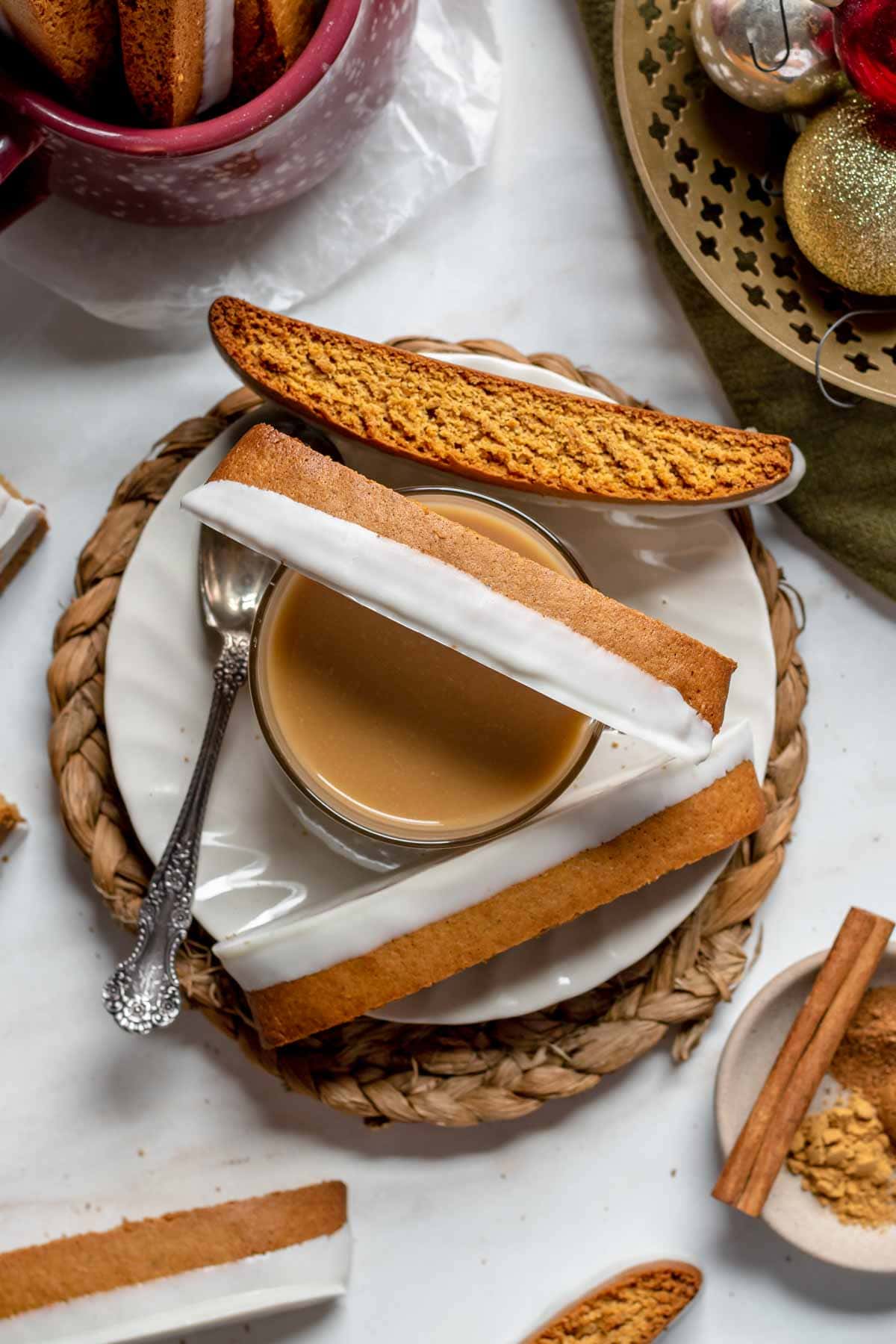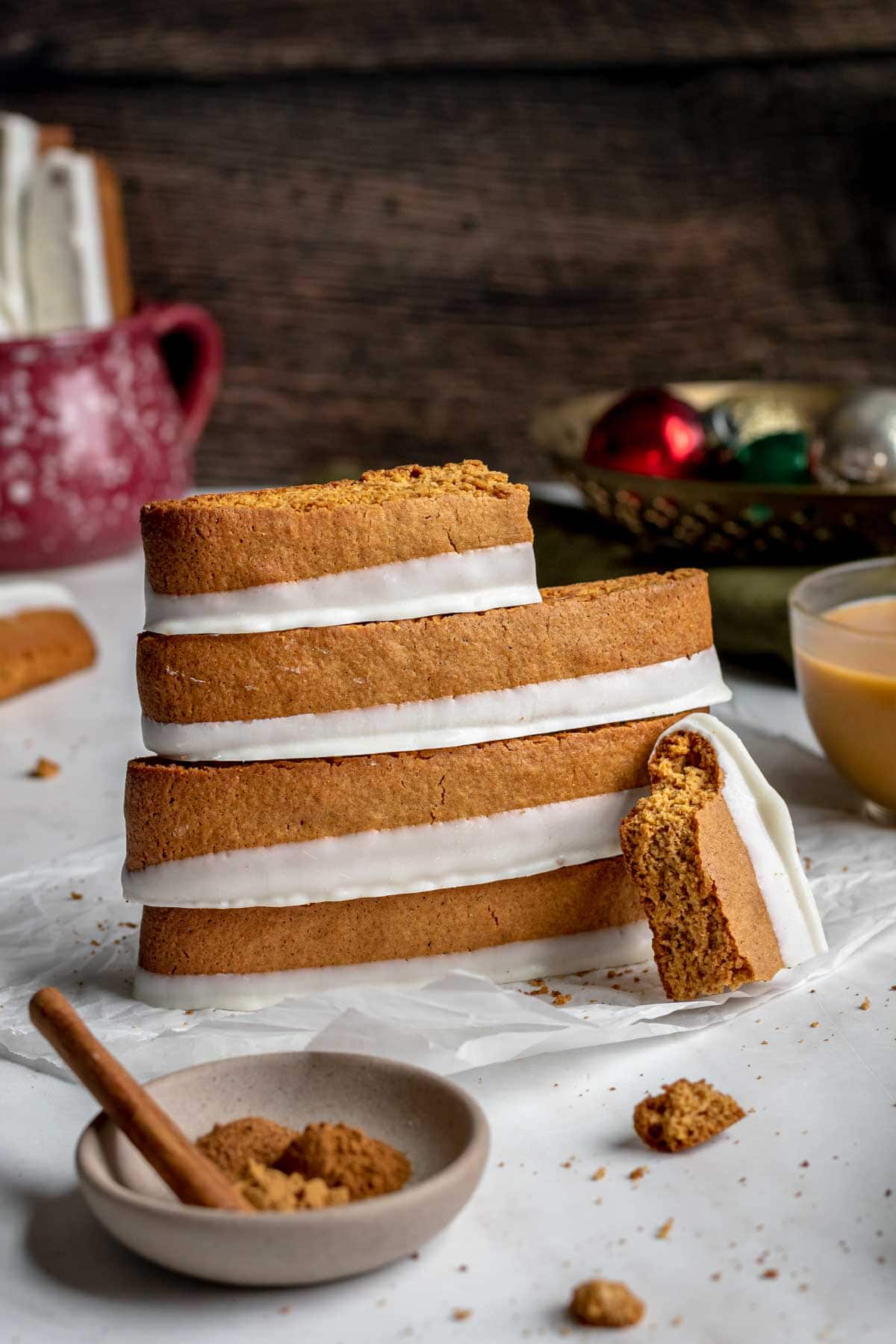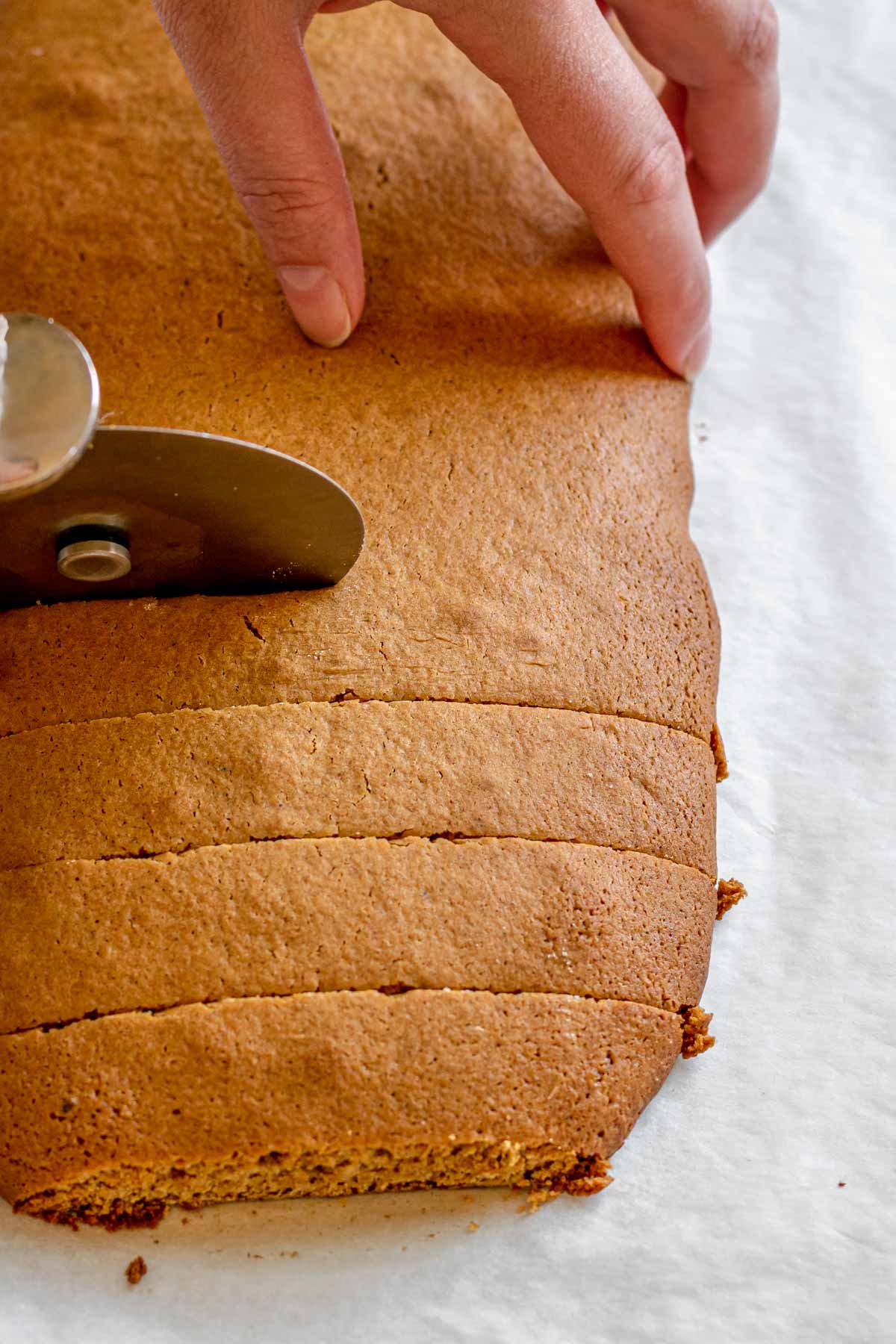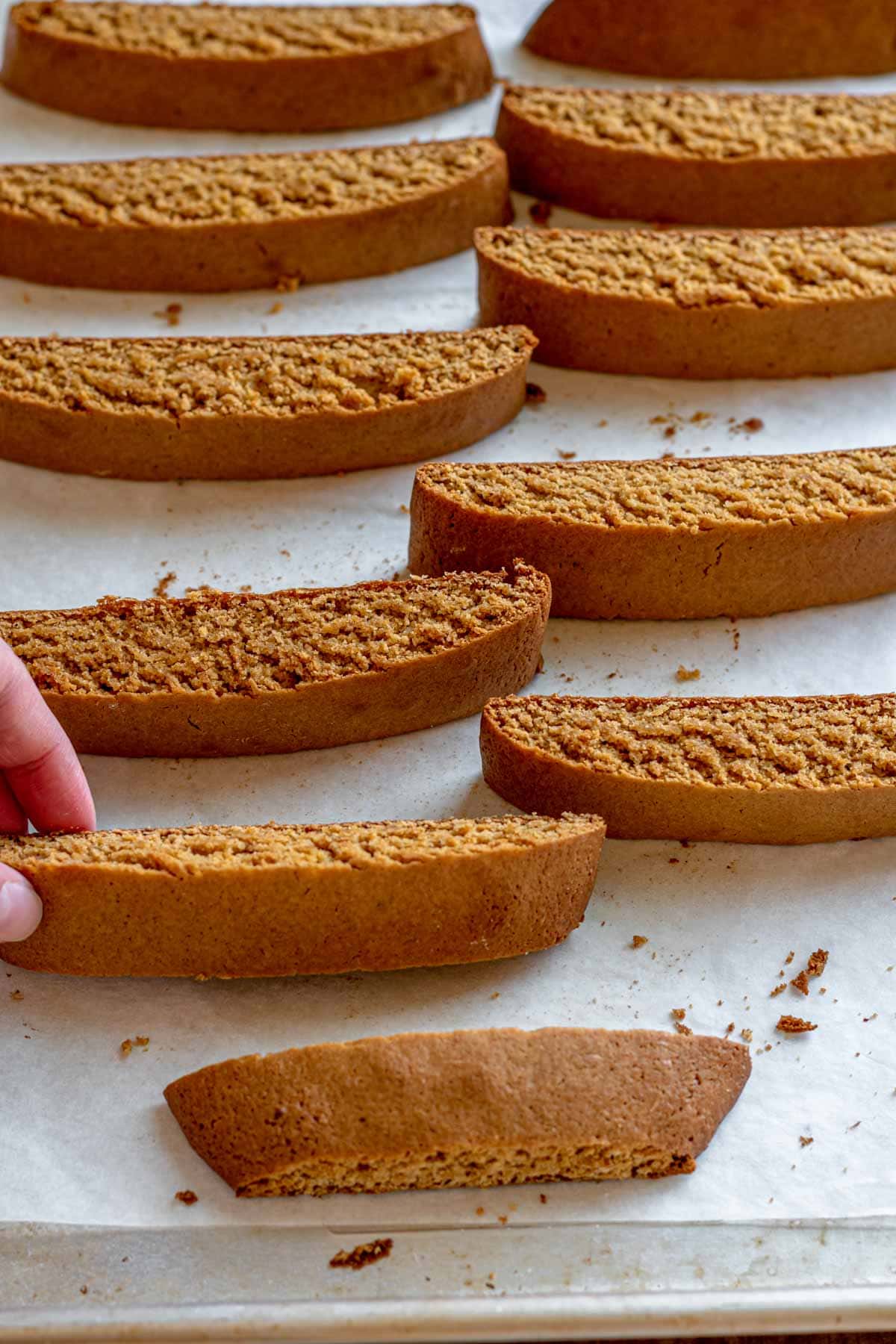 About Our Gingerbread Dipped Biscotti Cookies Recipe
Biscotti Cookies are a classic Italian treat typically served with a cup of coffee. Since the sweet cookies are baked into a hard biscuit-like consistency, they're perfect for dipping into your morning coffee and letting them soak up the flavor.
Great care is taken to get these biscotti cookies just right, from being twice-baked, to slicing with precision, to the beautiful white chocolate dip that not only adds flavor and texture, it also makes the Cookies look beautiful. These Gingerbread Biscotti Cookies would be a hit anywhere you serve them.
"Can Gingerbread Dipped Biscotti Cookies be made ahead?"
Biscotti Cookies are a great choice to make ahead whether you're storing them to eat throughout the week, or making them ahead for a party. Seal the white chocolate-dipped Gingerbread Biscotti in an airtight container as soon as they cool to retain freshness. Take them out right before your gathering and they'll be a crowd-pleaser.
Gingerbread Dipped Biscotti Cookies Key Ingredients
Sugar: Most biscotti recipes only use white sugar. However, for this recipe to have a rich, dark gingerbread taste, you'll use ½ cup white sugar and ½ cup brown sugar.
3 tablespoons Molasses: Along with the brown sugar, gingerbread is made with rich molasses. This recipe only calls for 3 tablespoons so that there isn't too much excess liquid in the biscotti dough. You'll find that's plenty to add a warm, dark, slightly smoky flavor to the Gingerbread Dipped Biscotti Cookies.
Spices: The final piece to the classic gingerbread taste is the blend of seasonal spices. Add 1 tablespoon ground ginger, ¾ teaspoon ground cinnamon, ½ teaspoon ground nutmeg, and ¼ teaspoon ground cloves.
12 ounces White Chocolate melting disks: Sweet, pure white chocolate is the perfect addition to the spiced biscotti cookies. Just melt the creamy chocolate, and dip the Gingerbread Biscotti in to finish them.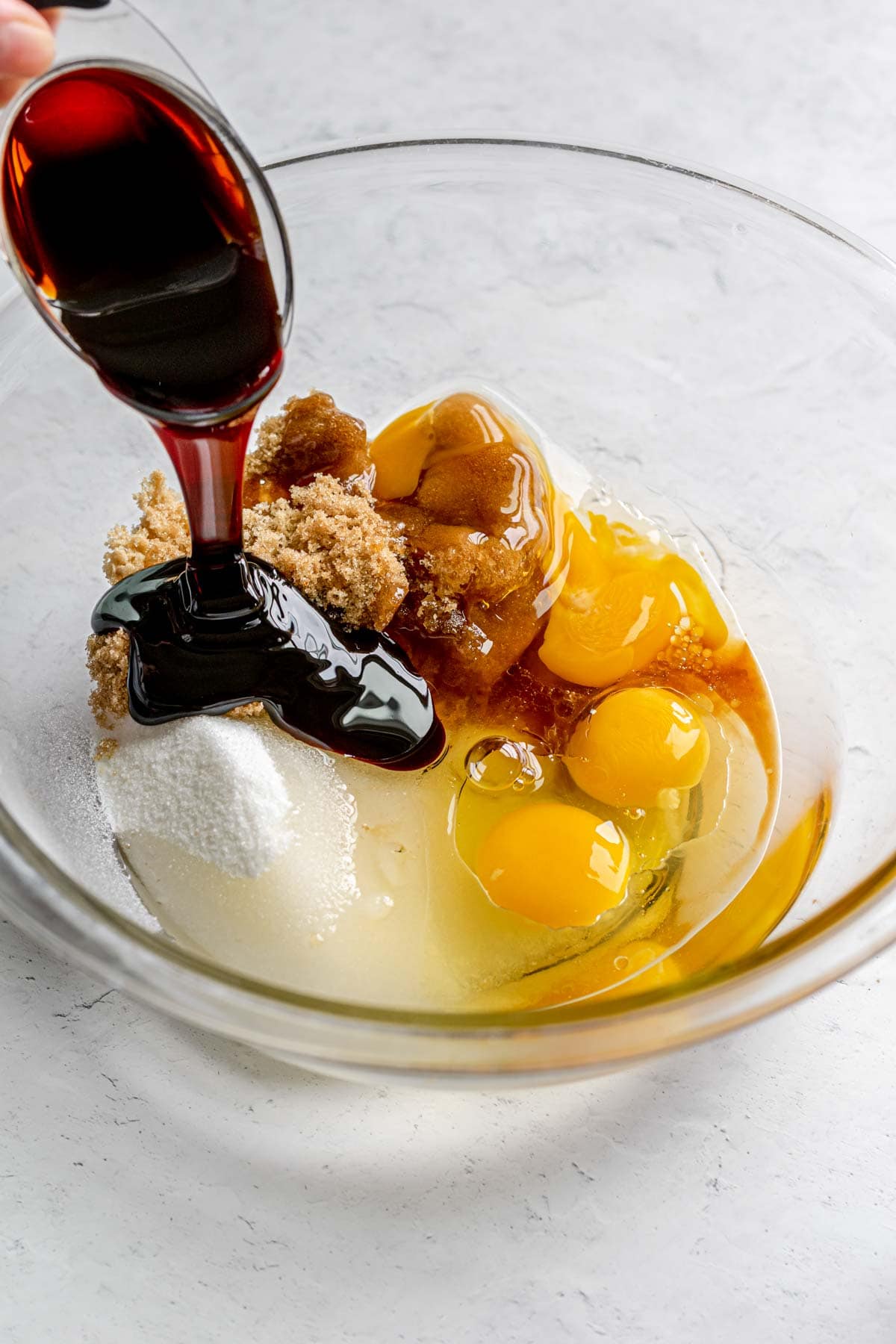 Kitchen Tools & Equipment
Baking Sheets: You can use two standard baking sheets so you can fit more cookies in the oven at once.
Parchment Paper: Line the baking sheets with parchment paper so your cookies won't stick.
Mixing Bowl: You'll need a large mixing bowl to mix your cookie dough. Make sure it is large enough to fit the ingredients with room to mix without spilling.
Whisk: Use a whisk to combine your ingredients. A wire whisk will hold up to the dough best, but a silicone whisk would work too.
Rolling Pin: Grab a rolling pin so you can roll your dough out into two logs for the first bake.
Pizza Cutter: In order to get clean, straight cuts, a pizza cutter is the best tool to use. If you don't have one, you could also use a serrated knife to cut your biscotti cookies.
Cooling Racks: Use a couple of cooling racks to cool your cookies when they come out of the oven. They will make the cooling faster so you can get to dipping and eating even faster.
Medium, Microwave-Safe Bowl: Lastly you will need a microwave-safe bowl to melt the white chocolate. Choose one that is wide enough to dip your cookies.
How to Make Gingerbread Dipped Biscotti Cookies
Time needed: 58 minutes.
Prep Time

Preheat the oven temperature to 375 degrees. Then line two baking sheets with parchment paper.

Wet Ingredients

Add the vegetable oil, granulated sugar, brown sugar, eggs, molasses, and vanilla to a large mixing bowl. Then whisk the wet ingredients until well blended.

Dry Ingredients

Add the all-purpose flour, baking powder, ginger, cinnamon, nutmeg, and cloves. Whisk in the flour mixture, being careful not to over-mix the dry ingredients.

Shape Dough

Divide the mixture into two even pieces, then roll them into logs about as long as the baking trays. Place each piece of dough onto a prepared baking sheet. Continue rolling the dough until each log is ½ inch thick and 4 inches across. It's okay if you have to shorten the length to get the thickness and width right.

Baking Time

Put the sheets in the preheated oven for 20-22 minutes or until golden brown. Once they're cool enough to handle, but still warm, use a pizza cutter or serrated knife to cut into ½ inch slices. Turn the biscotti slices cut-side up, and continue baking for 8-10 minutes or until golden brown.

White Chocolate

Let the Gingerbread Biscotti cool on wire racks. Then melt white chocolate disks in a medium microwave-safe bowl. Melt in 30-second increments, stirring between each cooking time until smooth. Then dip biscotti cookies into the chocolate, cut-side down, and about ¼ inch deep. Let excess chocolate drip off and place them dipped side down on a piece of parchment paper.

Finish

Let the Gingerbread Dipped Biscotti Cookies dry for 20 minutes. Do not serve until the white chocolate has hardened. Then eat right away or store in an airtight container.
Nutritional Facts
Nutrition Facts
Gingerbread Dipped Biscotti Cookies
Amount Per Serving
Calories 235
Calories from Fat 90
% Daily Value*
Fat 10g15%
Cholesterol 26mg9%
Sodium 77mg3%
Potassium 115mg3%
Carbohydrates 33g11%
Protein 4g8%
Vitamin A 38IU1%
Vitamin C 0.1mg0%
Calcium 74mg7%
Iron 1mg6%
* Percent Daily Values are based on a 2000 calorie diet.
Recipe Tips & Tricks
Proper Storage: It is important to keep Gingerbread Biscotti Cookies stored in a sealed container. These Cookies are already dry, by nature. They will become too dry if left out for very long.
Don't Over-Mix: Be careful not to over-mix your dough, as the cookies can become too dense.
What to Pair With Gingerbread Dipped Biscotti Cookies
You will love serving up this Gingerbread version of biscotti with a favorite holiday beverage. Whether that's Hot Chocolate, peppermint mocha, or Eggnog, the seasonally spiced biscotti tastes terrific. You can also serve the Dipped Biscotti with your favorite cup of tea for a great afternoon snack.
How to Store Gingerbread Dipped Biscotti Cookies
Serve: Let the twice-baked biscotti cookies cool completely before you serve or store them. Do not let them sit out for more than 2 hours or they will start to dry out.
Store: To store the cookies, put them in an airtight container. They can stay good at room temperature for up to 1 month.
Freeze: You could also freeze Gingerbread Dipped Biscotti Cookies for up to 3 months. Lay the cookies out in a single layer on a parchment-lined baking sheet. Then freeze them for about an hour or until they're hardened. Transfer the frozen cookies to a freezer bag for long-term freezer storage.
Ideas to Serve Gingerbread Dipped Biscotti Cookies
The addition of molasses, brown sugar, and the white chocolate dip makes the biscotti a little less dry. So, you don't necessarily have to serve them with a drink. They'd make a unique addition to your holiday cookie tray on their own. Put them out at your next holiday party, bring them to a cookie exchange, or put them out as a sweet treat to munch on throughout Christmas day.
FAQs for Gingerbread Dipped Biscotti Cookies
Why bake biscotti twice?
It's essential to bake any Biscotti recipe twice. During the first baking time, leave the dough in a large loaf. Then slice it diagonally, and bake the biscotti again. The two baking times allow the Gingerbread Biscotti recipe to develop its crumbly, crunchy texture.
Why does my biscotti crack?
If you aren't careful, biscotti can crack when you slice it. To avoid that, make sure you're using a sharp knife or pizza cutter. It's also important to give the dough log a few minutes to cool. Otherwise, it can crumble. However, if you wait too long, it will harden and crack. So, give it a couple of minutes before you slice it diagonally into the ½ inch biscotti cookies.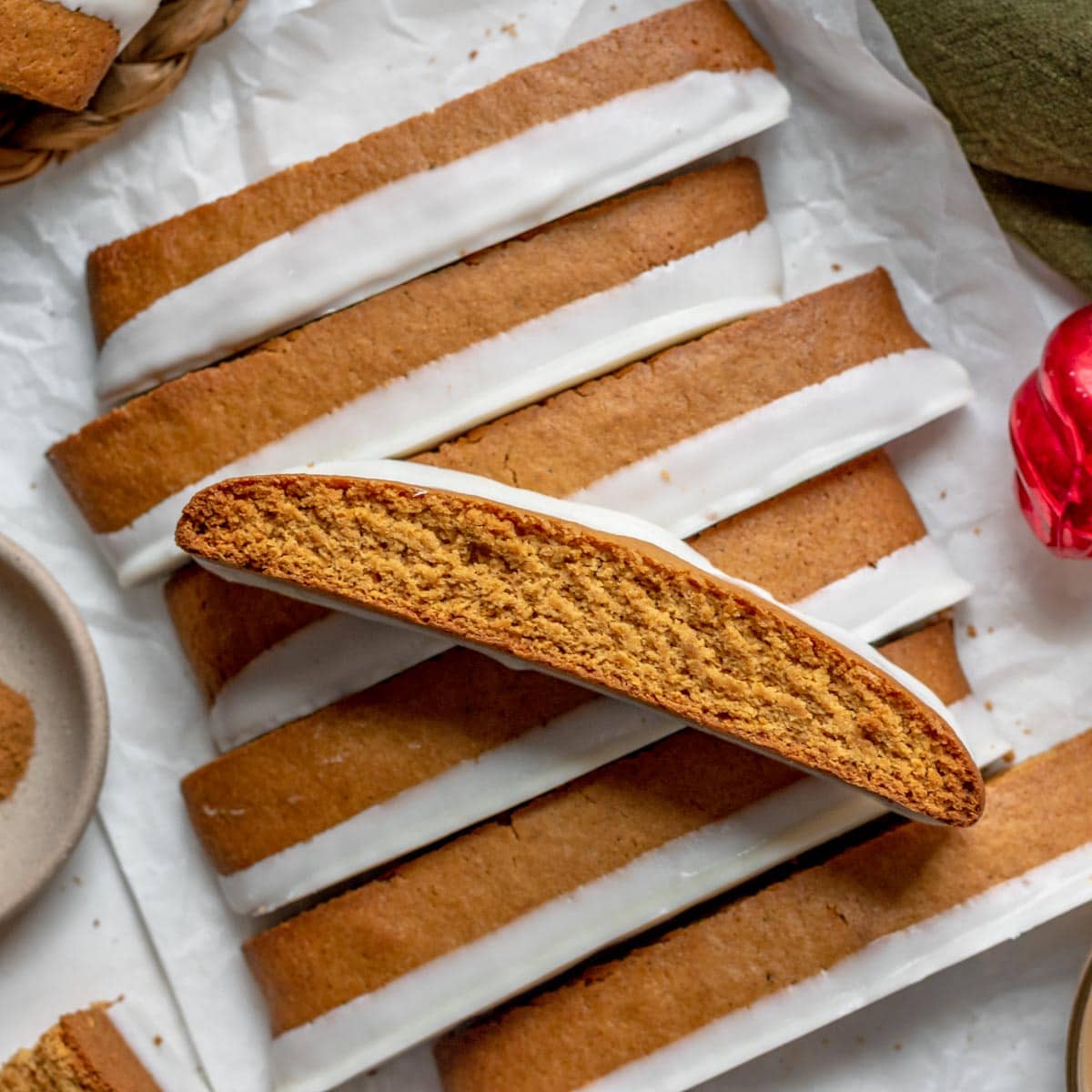 Recipe Card


Ingredients
1/2

cup

vegetable oil

1/2

cup

sugar

1/2

cup

brown sugar

, packed

3

large

eggs

3

tablespoons

molasses

2

teaspoons

vanilla extract

3 1/2

cups

flour

1

tablespoon

baking powder

1

tablespoon

ground ginger

3/4

teaspoon

ground cinnamon

1/2

teaspoon

ground nutmeg

1/4

teaspoon

ground cloves

12

ounces

white chocolate melting disks
Instructions
Preheat oven to 375 degrees and line two baking sheets with parchment paper.

In a large mixing bowl, whisk together oil, sugar, brown sugar, eggs, molasses, and vanilla extract.

Add in the flour, baking powder, ginger, cinnamon, nutmeg, and cloves whisking until just combined.

Divide the dough into two pieces, almost as long as the baking sheets.

Place the dough on the baking sheets and roll to about ½ inch thick, about 4 inches across.

Bake for

20-22 minutes

or until golden brown.

Once cool enough to handle, roll the pizza cutter across the log in 1/2-inch slices.

Turn the cookies to show the cut side up and bake it an additional

8-10 minutes

until the tops are slightly golden brown.

When cookies have cooled, melt the white chocolate disks in a medium microwave-safe bowl.

Cook in

30-second increments

, stirring in between each cooking until smooth.

Dip the cookies, cut side down about ¼ inch deep, and let chocolate drip off, scraping some of the chocolate off the bottom against the bowl if necessary (if the chocolate is too thick, this is an easy way to thin out the layer).

Place dipped side down on the parchment paper.

Let dry for

20 minutes

before storing.
Notes
Note: If you need the log to be shorter to make it still 4 inches wide and ½ tall, then shorten the log.
Nutrition
Calories:
235
kcal
|
Carbohydrates:
33
g
|
Protein:
4
g
|
Fat:
10
g
|
Saturated Fat:
4
g
|
Polyunsaturated Fat:
3
g
|
Monounsaturated Fat:
3
g
|
Trans Fat:
0.03
g
|
Cholesterol:
26
mg
|
Sodium:
77
mg
|
Potassium:
115
mg
|
Fiber:
1
g
|
Sugar:
19
g
|
Vitamin A:
38
IU
|
Vitamin C:
0.1
mg
|
Calcium:
74
mg
|
Iron:
1
mg
Gingerbread Dipped Biscotti Cookies Variations
Chocolate Chips: Along with the chocolate coating, you could also mix ½ cup white chocolate chips into the dough mixture. Mini chocolate chips would be the best choice. Otherwise, the chocolate will be less evenly distributed, and some bites will be too sweet.
Cranberry Orange Ginger Biscotti: Another classic holiday flavor is cranberry. To make Cranberry Ginger Biscotti, leave out most of the spices other than the ginger. Add a tablespoon of orange zest and ½ cup dried, chopped cranberries into the dough. If you go with this fruit biscotti option, you may want to skip the white chocolate coating.
Wheat Biscotti: If you want to make the Gingerbread Dipped Biscotti Cookies slightly healthier, you can use wheat flour. However, wheat makes cookies denser, so you can do half wheat and half white flour to avoid that.
Related Recipes