Homemade Granola Bars with chocolate chips and marshmallows are a chewy, easy to make and no-bake are a winning combination and kid favorites. Perfect for packing for school or an afternoon snack.
We love all snacks with chocolate including Chocolate Covered Almonds, Chocolate Covered Pretzels and Chocolate Chip Cookies.
Granola Bar Recipe
Homemade Granola Bars have had a pretty harsh reputation for a while. People either think they're too hard to make or just overall more expensive to make than the packaged variety. Neither of those things has to be true! This recipe is quick-cooking (as easy as making rice krispies treats) and makes so many granola bars you'll save much more money and they taste better than any packaged variety of granola bar I've ever tasted.
They're an easy go-to snack you can make ahead of time once a month and have frozen and ready to pop into your child's lunches.
This recipe makes a healthy snack your kids will love that is an old-fashioned great recipe I've been using since I was in junior high. This was actually formed from a recipe I was given in a home economics class in my junior high school and we made the recipe for our back-to-school night to share with our parents to show them how well we were doing in class (marshmallows not included, I added those in later to the recipe).
Homemade Granola doesn't have to be hard and homemade granola bars are really only one extra step of bringing a bit of moisture out of your honey to create a combination that can form a cohesive bar shape. If you don't cook the honey you'll end up with a sticky mixture that isn't able to be picked up and if it gets cooked too much it would end up crunchy.
This recipe is nut free but you can of course add nuts to the recipe as you'd like, I included some more varieties below for more fun options. You can also dip these bars in melted chocolate, if you've been around the site for a while you know I love dipping almost everything in chocolate (see chocolate dipped recipes here).
You can also use sunbutter, nut butter of all types, sunflower seeds, pepitas, cashew, macadamia or brazil nuts in making these granola bars your own. There is no end to the amount of mix-ins you can use.
What kind of chocolate is best in chewy granola bars:
Based on your additional ingredients you'll select the best flavor of chocolate. I use semi-sweet as it provides a lot of flavor, but if you are making this for very young children you can use milk chocolate. If you are making these for more adult palates you can use dark chocolate.
Can I use Instant Oats in Granola Bars?
Do not use instant oats in the recipe instead of the rolled oats. The rolled oats help to give the bars some body and some chew. Instant oats would not provide enough stability and support to the granola bars.
How do you store homemade granola bars?
Make sure you store these granola bars in an airtight container in a temperature controlled room. If the room is too warm the honey will melt and the stability will be compromised. The chocolate will also melt.
These bars can be kept for up to a week at room temperature or you can refrigerate them for up to 2 weeks. Because they aren't store-bought you have ingredients that are going to spoil if left out any longer than a week. If you can't eat the granola bars in that time you can freeze them for up to 3 months.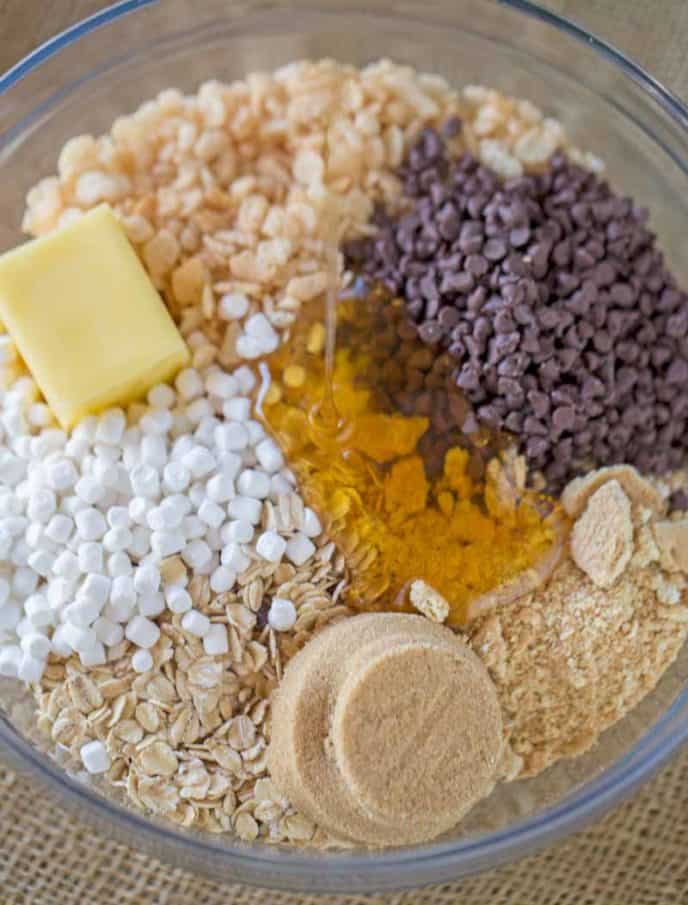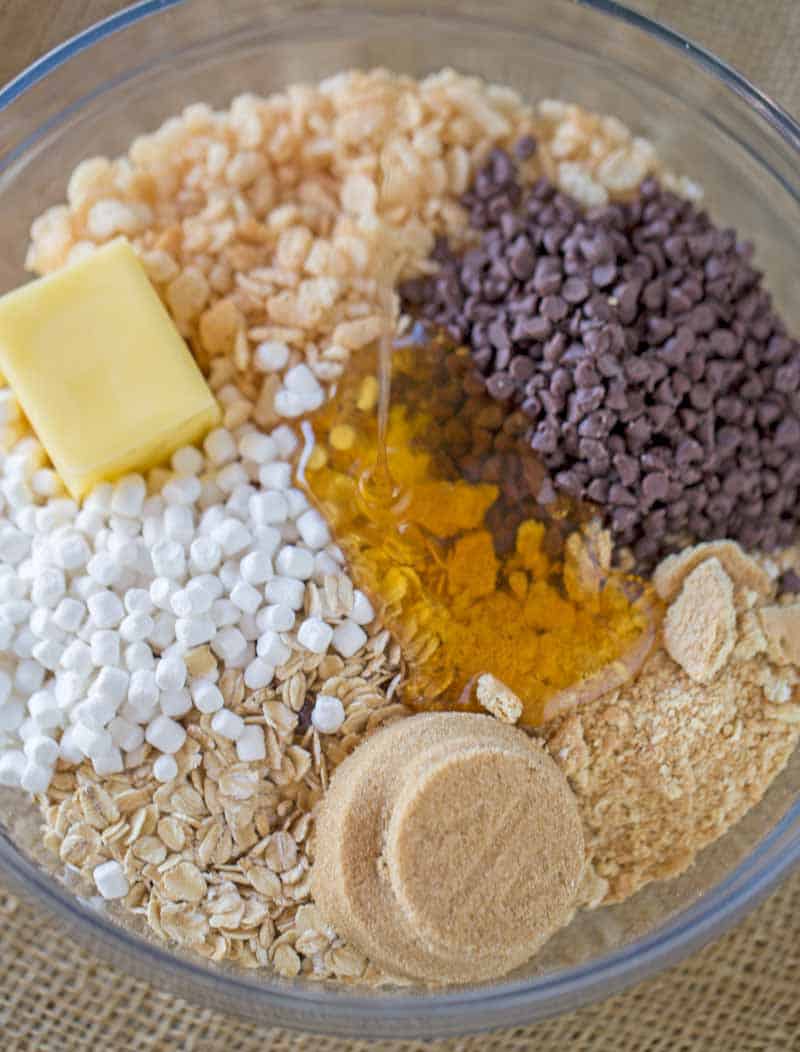 Create a free account to Save Recipes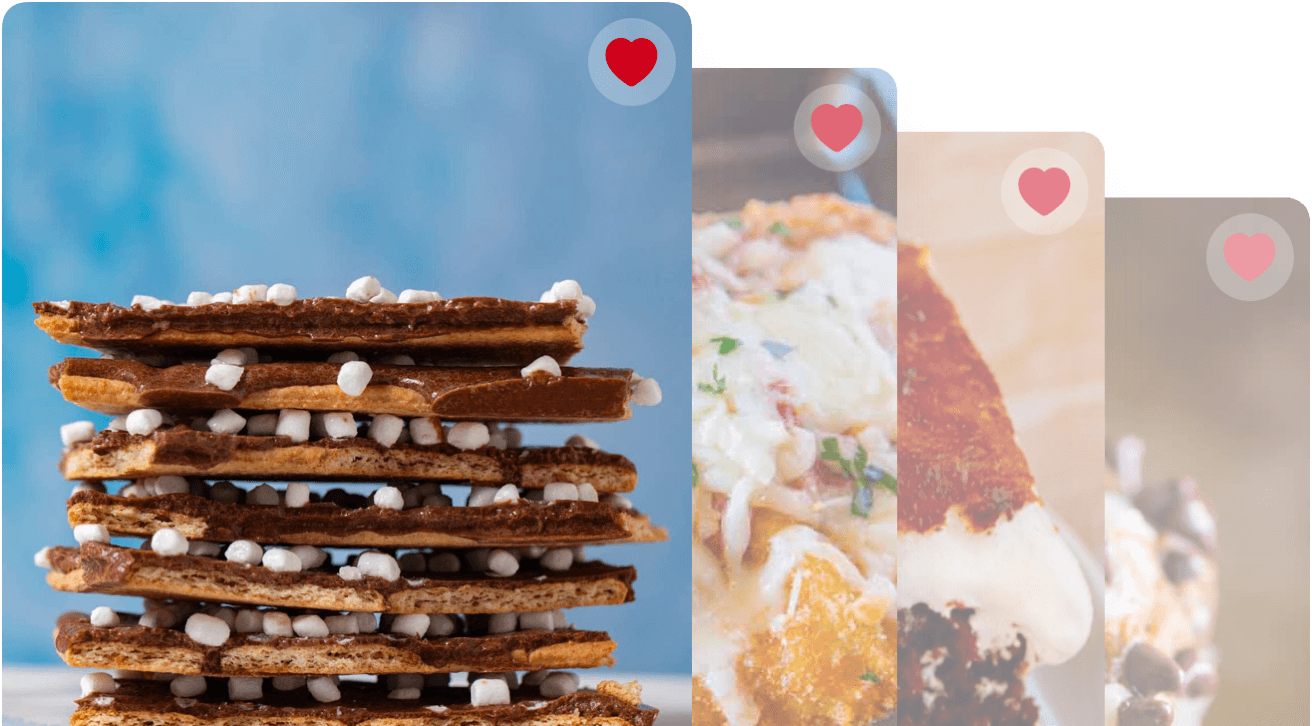 Can I swap out the honey altogether with peanut butter or almond butter?
No, you're going to need a sweetened binding agent to keep these bars together and while you can cut back slightly on the honey in the peanut butter granola bars variation below you cannot remove the honey/maple syrup/brown rice syrup altogether because the bars will not stay together if you do.
Can I bake this into granola? Will it become dry granola?
No, in testing this isn't the right ratios for you to put into the oven to bake into crunchy granola or a standard dry granola recipe.
Did I mention they taste like S'mores Granola Bars? They're pretty kid-friendly.
Yeah, they're that good.
If you aren't a huge fan of s'mores don't worry I've got some other flavor combinations for you too:
Granola Bar Flavor Variations:
Oreo Granola Bars: Swap Oreo crumbs in place of the graham cracker crumbs and white chocolate chips in place of the semi-sweet chocolate chips.
Oatmeal Raisin Granola Bars: Add 1 cup raisins, 1 teaspoons cinnamon and ¼ teaspoon nutmeg in place of the chocolate chips and marshmallows.
Chocolate Chip Granola Bars: Double the chocolate chips, increase rice cereal to 2 cups and skip the marshmallows and graham cracker crumbs.
Monster Granola Bars: Swap marshmallows for ¼ mini m&ms and ¼ cup chopped peanuts.
Turtle Granola Bars: Swap marshmallows for chewy caramel bits and pretzel crumbs instead of graham cracker crumbs.
Peanut Butter Granola Bars: Add half peanut butter and half honey, swap peanut butter chips for chocolate chips and chopped peanuts for marshmallows for the ultimate peanut butter granola bars (this recipe can also be made with Almonds using almond butter and chopped almonds).
Dark Chocolate Cherry: Swap out the marshmallows for dried cherries, the semi-sweet chips for chopped dark chocolate and increase rice cereal to 2 cups and skip graham cracker crumbs.
Tips for the Easiest Granola Bars Ever:
If you'd like you can use coconut oil in place of butter.
Vanilla extract, almond extract or peppermint extract are easy ways to add quick flavor.
In place of honey you can also use brown rice syrup or maple syrup.
You can add chia seeds or flax seeds to the recipe to make them a bit healthier too.
Make sure you let the mixture cool completely before adding in the marshmallows or chocolate chips or the chocolate will become very messy.
If you're looking for a way to speed up the cooling process before adding the chips and marshmallows you can refrigerate the mixture briefly, but if you leave it in for too long it will harden to the point that you cannot add anything in anymore. Do not freeze the mixture for any period of time.
Make these into chewy granola muffins instead by pressing them into muffin tins instead of a prepared pan you'd have to slice into bars.
Make these into chewy bites if you use mini muffin tins and you can store them in a large air-tight ziplock bag since they are small enough they won't likely stick together.
Looking for more snack recipes?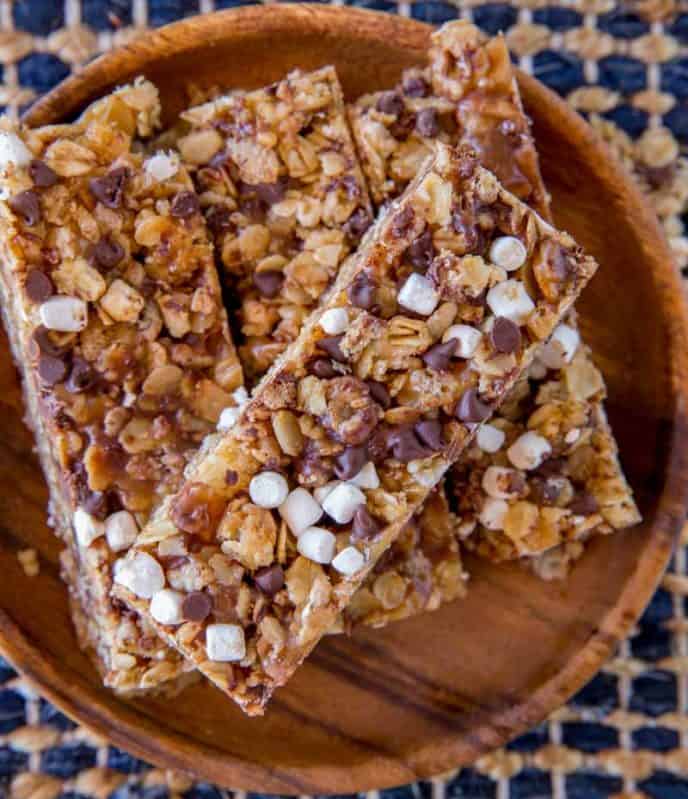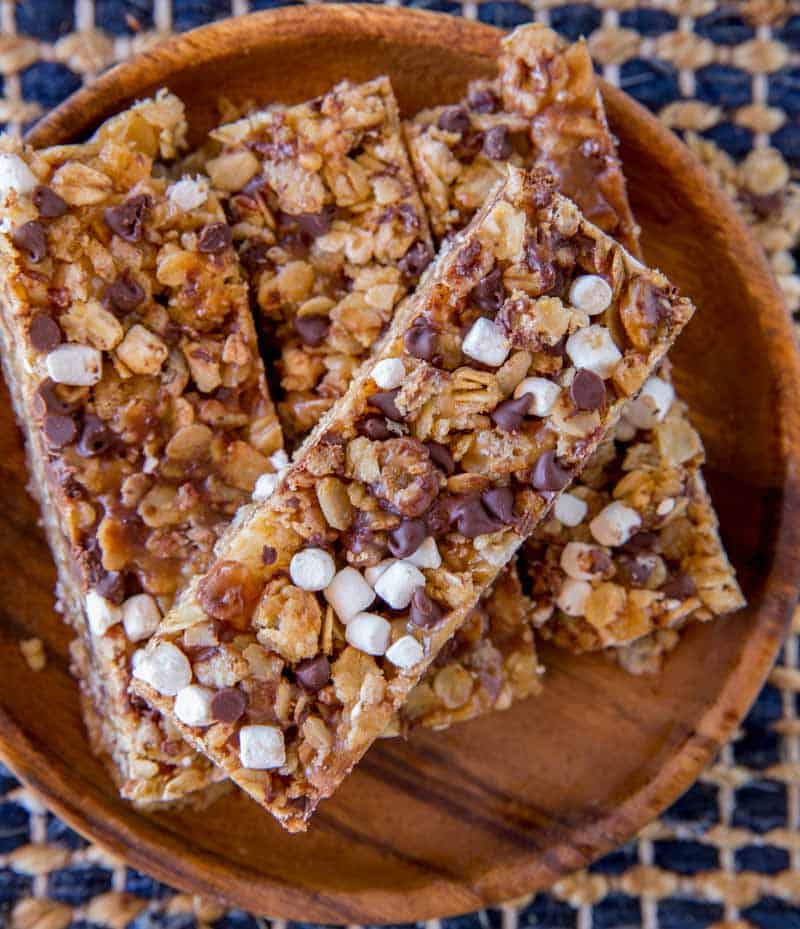 Instructions
Spray an 8x8 inch pan with canola oil or baking spray and line just the bottom of the pan with some parchment paper.

In a small pot over medium heat add the butter, brown sugar and honey and whisk on medium heat until bubbling then cook exactly for

2 minutes

.

In a large bowl add the oats, cereal, graham crackers and salt then pour the butter mixture over the cereal and whisk it together carefully to combine well then let it cool for

20 minutes

.

Add in the marshmallows and mini chocolate chips gently then press into your pan gently but slightly packed down and let it solidify in the refrigerator before slicing for

2 hours

.
Nutrition
Calories:
205
kcal
|
Carbohydrates:
34
g
|
Protein:
2
g
|
Fat:
6
g
|
Saturated Fat:
3
g
|
Cholesterol:
12
mg
|
Sodium:
112
mg
|
Potassium:
76
mg
|
Fiber:
1
g
|
Sugar:
20
g
|
Vitamin A:
320
IU
|
Vitamin C:
1.7
mg
|
Calcium:
23
mg
|
Iron:
1.7
mg