Homemade Crunch Bars are an easy candy bar made with Rice Krispies Cereal, chocolate chips and just a touch of sea salt made in just 10 minutes! You'll never buy the pre-made version again.
If you like desserts like Rice Krispies Treats and rich Chocolate Fudge, you should try out this recipe for a dessert based on one of the world's favorite candies. Crunch bars have been around since the early 1900s and are a great snack to grab on the go.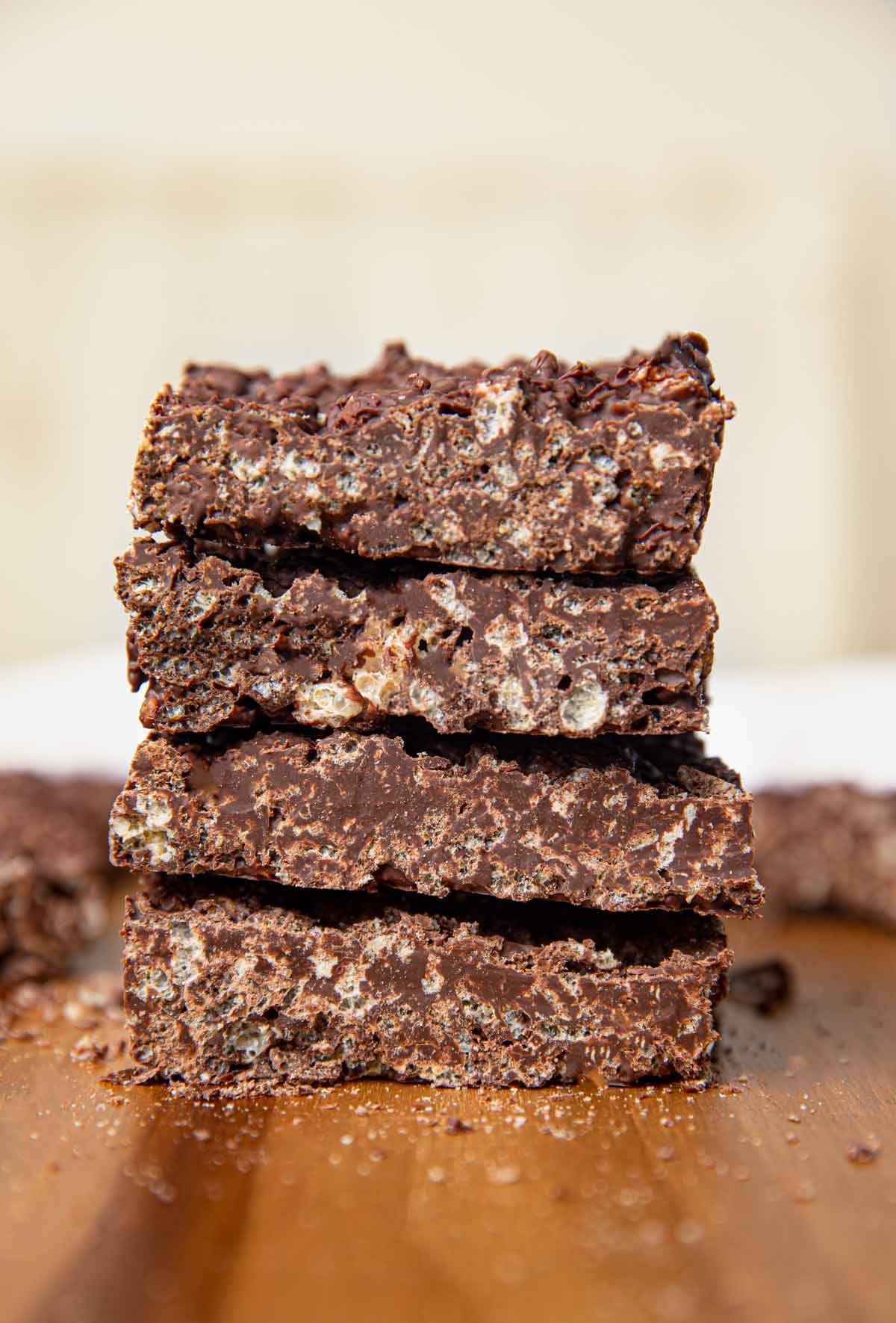 CRUNCH BARS
Are Crunch Bars your favorite candy bar? Even though you can find Crunch Bars in almost every grocery store in the United States, if you've got a craving for creamy milk chocolate and crisped rice but don't feel like leaving the house you can try my recipe for a homemade version.
Orrrrrr if you love them but you've always felt like they would be WAY better if they weren't milk chocolate, you've come to the right place.
The nice thing about making chocolate bars yourself is that you know for a fact that there are no artificial flavors or preservatives in them, unless you happen to have a huge vat of soy lecithin on hand you've been trying to get rid of (which raises a lot of questions).
The main reason I like to make this chocolate bar at home is I prefer to use a semi-sweet chocolate for the candy bar instead of milk chocolate! The flavors are so much more pronounced and with just a touch of sea salt added in, this easy recipe may just be your new favorite dessert.
Now don't get me wrong, if you want to make this the original way, you melt milk chocolate chips then fold them into rice krispies cereal and allow it to re-harden. Voila, perfect copycat of Original Crunch Bars!
The nice thing about this dessert recipe is that you can easily store crunch bars in the fridge to keep them good for a very long time. You can also customize them easily, so if you're craving fluffy marshmallows or chopped nuts you can easily add them in to make my recipe your new favorite candy.
HOW TO MAKE HOMEMADE CRUNCH BARS
Start off by lining a baking pan with parchment paper.
Melt your chocolate chips in a microwave in 30 second increments.
Once the chocolate chips are completely melted, pour it into a large bowl and stir in the rice cereal.
Spread the mixture over the parchment papered pan.
Sprinkle sea salt over the top and put the whole thing in the fridge.
Let the crunch bars sit until they have set and then slice them into bars and serve them up.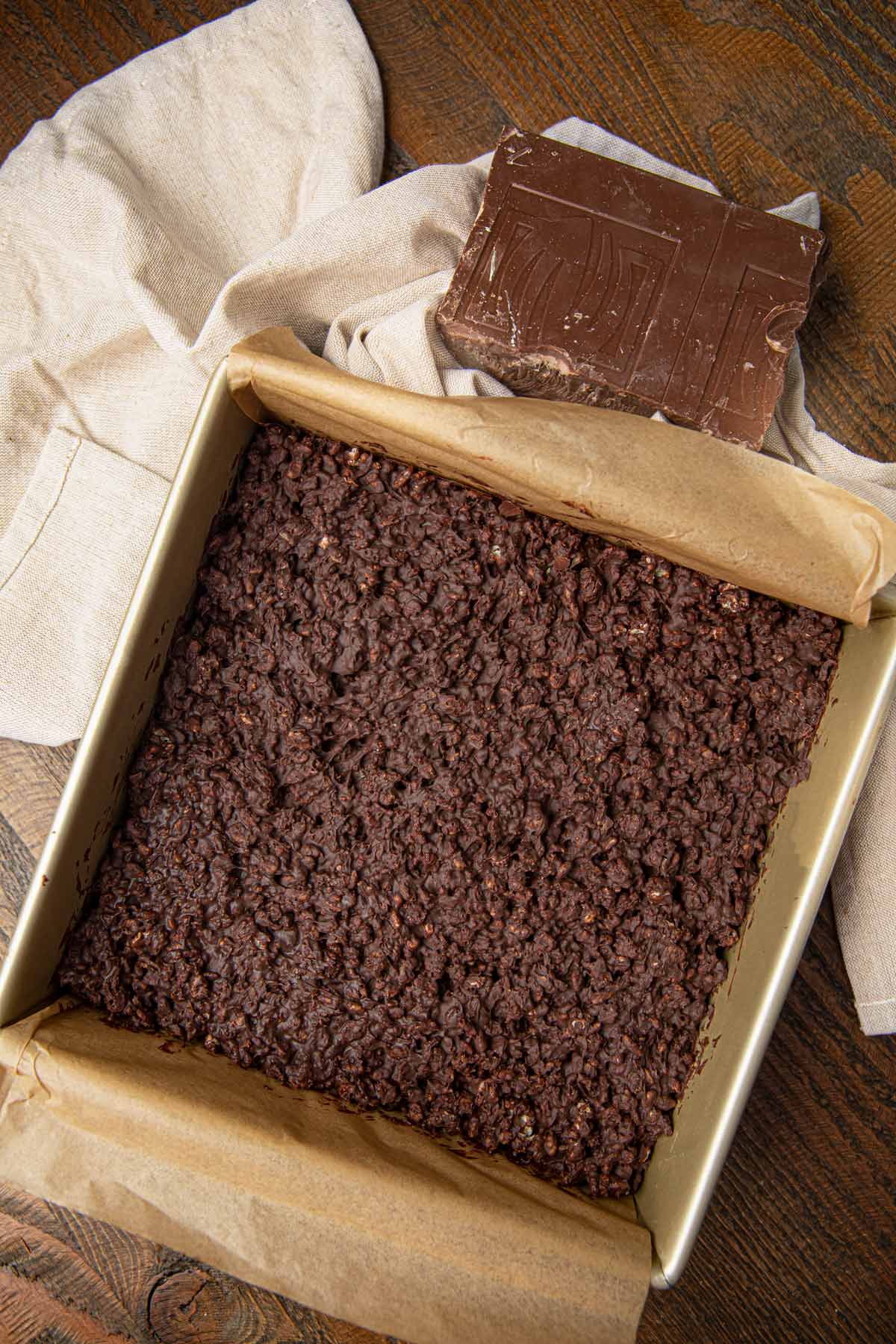 Create a free account to

Save Recipes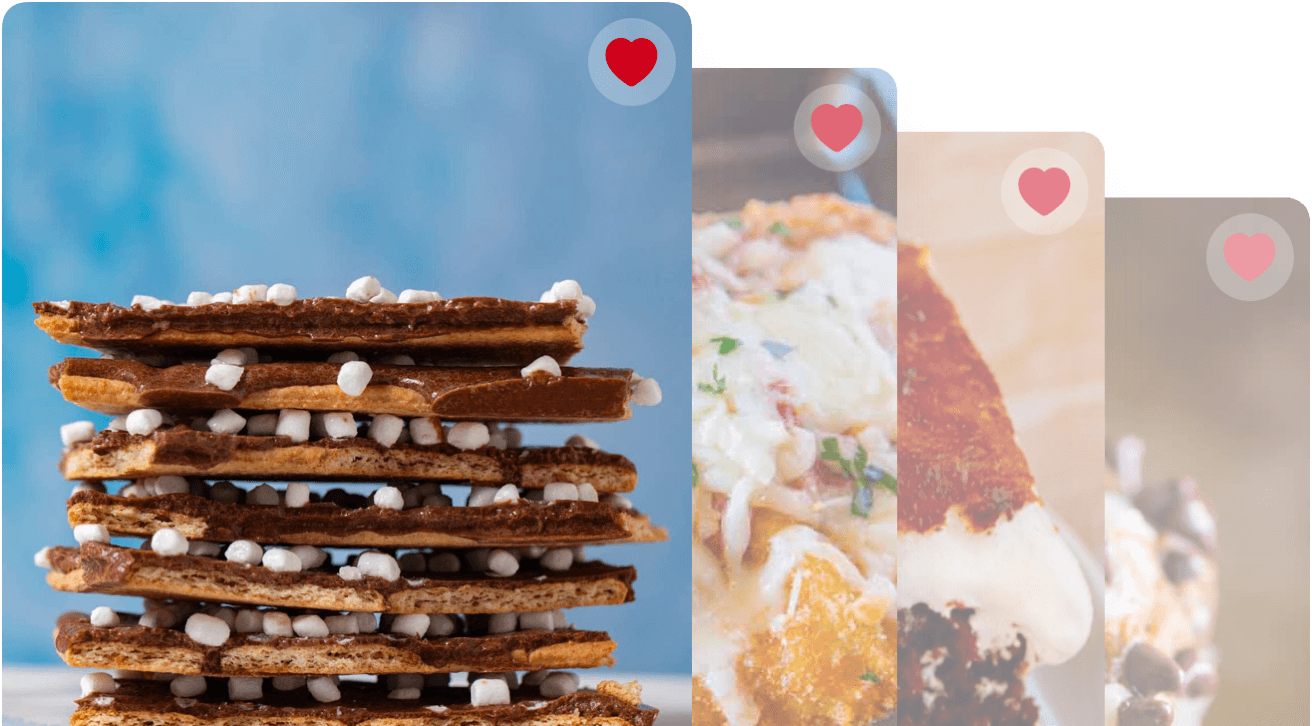 VARIATIONS
Dark Chocolate: try using dark chocolate chips instead of milk chocolate or semi-sweet. You can also melt dark chocolate and white chocolate together in a swirl pattern to give your crunch bars a cool marbled look.
Mix-ins: before you put the batter into the fridge, mix in peanut butter, melted caramel, extra chocolate chips or peanut butter cups, chopped nuts or mini marshmallows to give your crunch bars a personal touch.
Fun Size: after the mixture has set in the fridge and you're ready to cut it up, instead of slicing it into bars cut into bite sized squares. These "fun sized" pieces are perfect served on top of Vanilla Ice Cream.
History of the Crunch Bar
Nestlé is a Swiss company that was founded in 1866, which makes it older than milk chocolate.
The crunch bar was invented in 1928 and it became Nestlé's best selling candy bar in the United States in 1994.
In 2013, Nestlé announced a plan to responsibly source chocolate at the National Confectioners Association's Sweets & Snacks Expo in Chicago. Rumors also started around then that a lot of Nestlé products would no longer be available in the United States.
Nestlé sold the rights to the Crunch Bar to Ferrero, the Italian company that makes everything from Kinder Eggs to the aptly named Ferrero Rocher, in 2018.
The Hershey Company has a similar product called a Krackel bar that was invented in 1938. It's basically the same thing, because who can argue with how well chocolate and crisped rice go together?
The history of the Crunch Bar is basically a chocolate bar soap opera. A delicious one.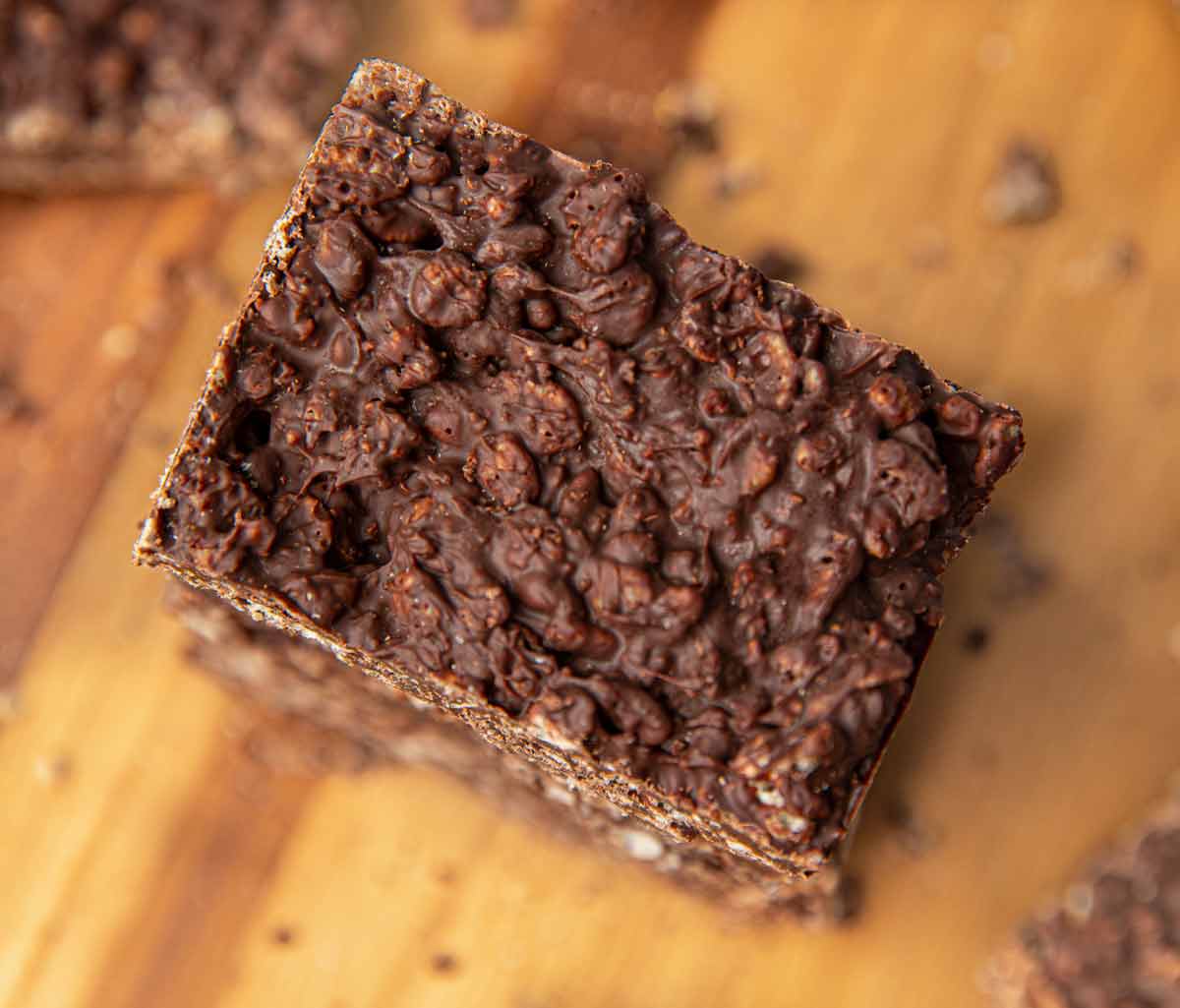 How to Store Homemade Crunch Bars?
Serve: Mass produced Crunch Bars have a ton of sugar and almost no moisture in them, which keeps them from growing bacteria for a long time. They also have preservatives in them to increase their shelf life. Since homemade Crunch Bars don't have either of these things going for them, you should keep them refrigerated to make sure they stay good for longer. Plus, no one likes a melted candy bar.
Store: Chocolate candy bars can stay good in the fridge for up to 12 months. Because these ones are homemade, please eat them within 2 weeks.
Freeze: You can freeze these Crunch Bars for up to three months (make sure they've hardened in the fridge and cut them into bars first!) They defrost well if they're contained in something airtight, and stay fresher longer.
More Delicious Candy Recipes: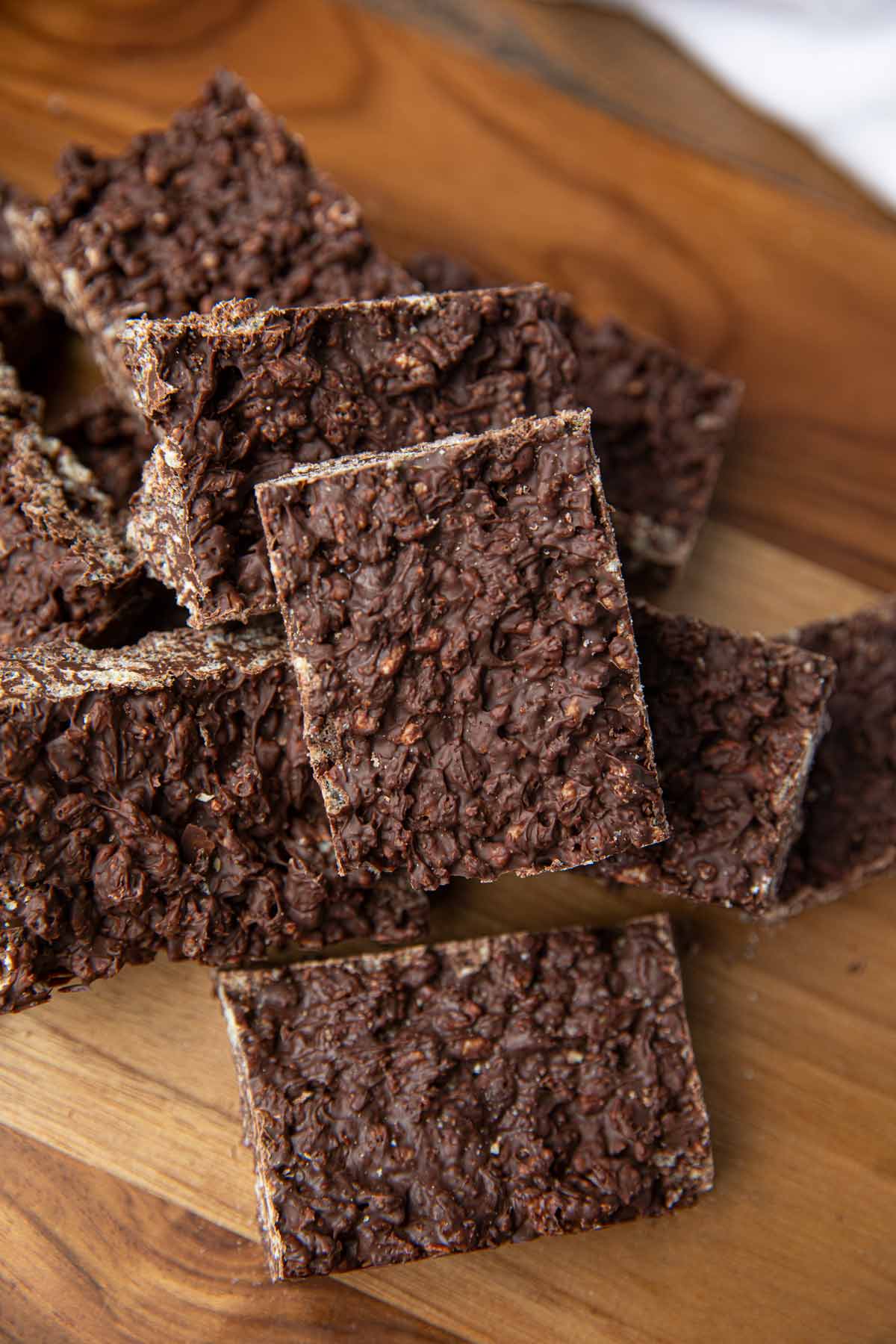 Instructions
Line an 8x8 baking pan with parchment paper.

Melt the chocolate in a microwave safe glass bowl in

30 second

increments, stirring each time, until full melted.

Fold in the cereal until full coated then pour into your 8x8 baking dish.

Spread the mixture out evenly and sprinkle over the kosher salt.

Refrigerate for at least

20 minutes

until the chocolate has completely hardened before slicing with a very sharp knife to avoid crumbling.
Nutrition
Calories:
320
kcal
|
Carbohydrates:
47
g
|
Protein:
3
g
|
Fat:
13
g
|
Saturated Fat:
8
g
|
Cholesterol:
9
mg
|
Sodium:
136
mg
|
Potassium:
12
mg
|
Fiber:
2
g
|
Sugar:
36
g
|
Vitamin A:
750
IU
|
Vitamin C:
6.3
mg
|
Calcium:
66
mg
|
Iron:
3.5
mg