Honey Lime Cookies are sweet, buttery, and wonderfully chewy with lime juice and lime zest for flavor and crunchy almonds mixed in.
This easy Cookie Recipe is the perfect combination of sweet and tangy all baked into one dessert. For equally simple, but delicious cookies try our Cake Mix Cookies and Cream Cheese Cookies next.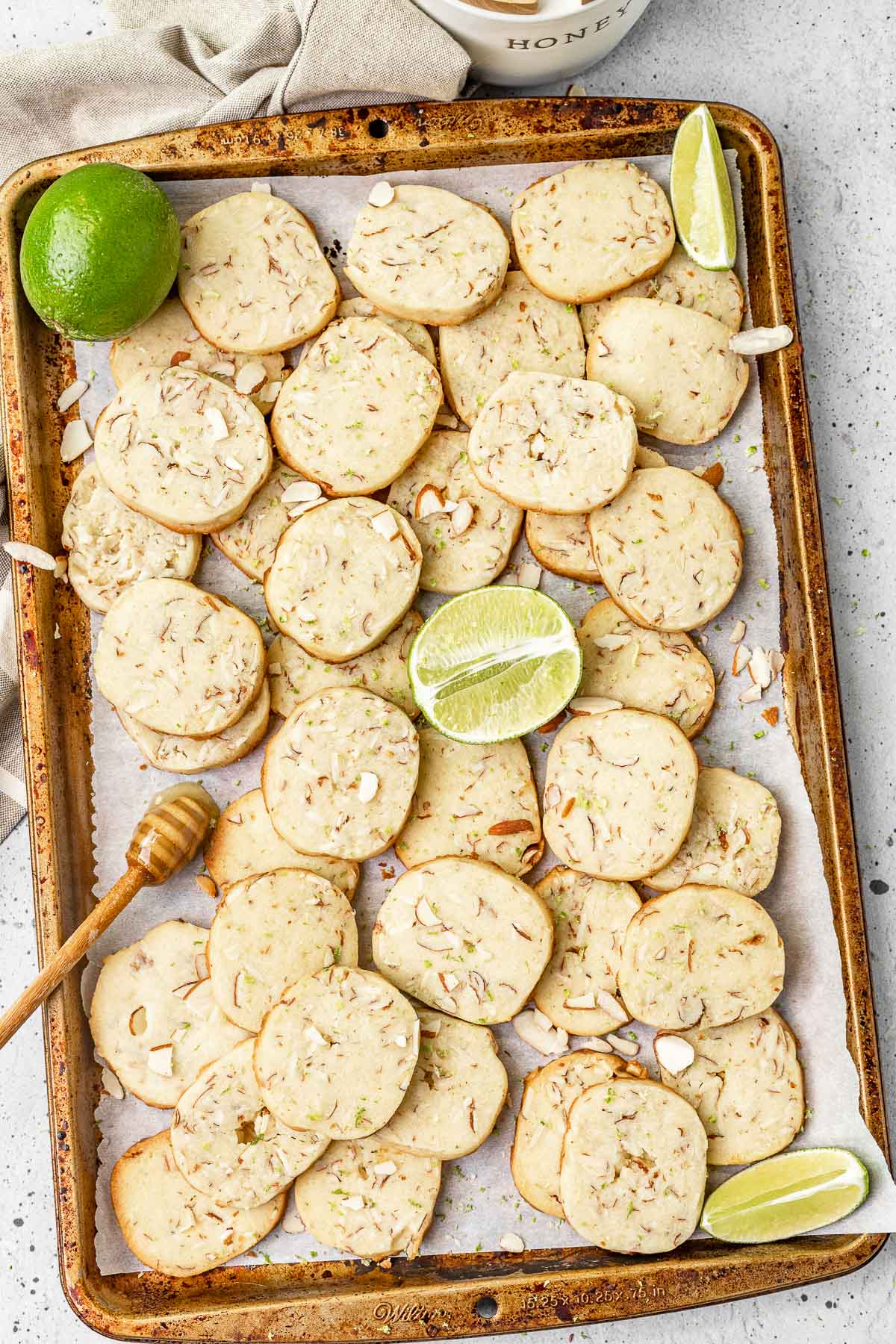 When it comes to easy baked goods, you can't go wrong with a fun cookie recipe. It's always easy to make a big batch to bring to a bake sale or any event you need to feed a crowd. They're also great to have around the house for people to grab for a sweet snack any the craving hits. Whether it's Peanut Butter Cookies, Classic Chocolate Chip Cookies, or Honey Lime Cookies, we just can't get enough of these amazing recipes. 
These cookies have similar base ingredients to what you'd find in most classic cookie recipes, but the added lime juice, almonds, and honey add amazing flavor and texture. The hints of lime, extra sweetness, and slivered almonds make the simple buttery base even more delicious. 
These cookies are also super easy to make. Just keep in mind, that you'll need to set aside some extra time to let the dough set. As long as you get the dough ready a couple of hours before you need to serve the cookies, it'll have time to chill in the fridge. Then you can bake them in just 10 minutes!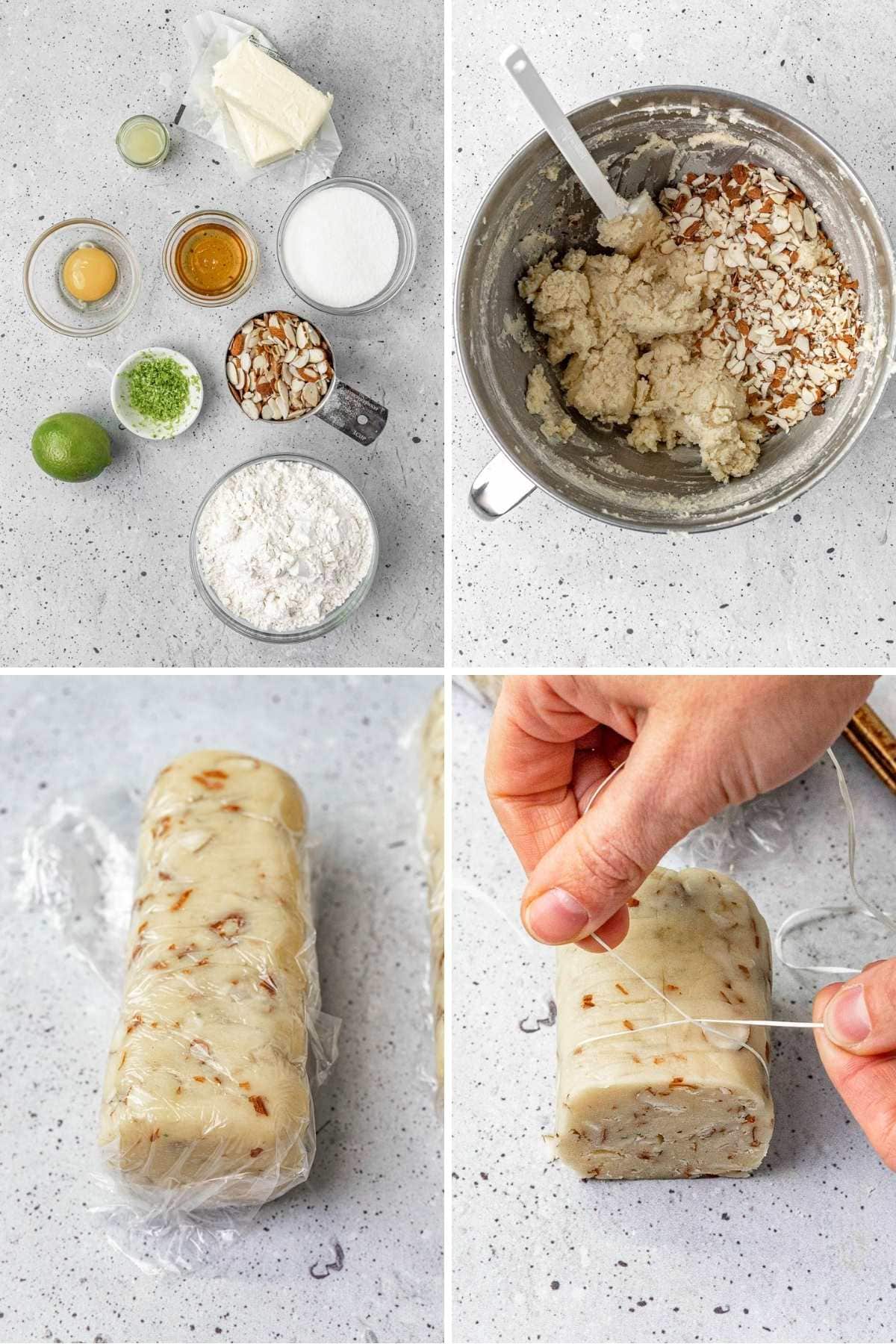 KEY INGREDIENTS
Honey: The honey adds a bit of extra sweetness along with the granulated sugar that is already in the recipe. It also has a more complex flavor that tastes amazing with the citrus ingredients. Plus, it brings some extra moisture to the crispy Honey Lime Cookies. 
Lime: For the lime flavoring, all you need is a tablespoon of grated lime zest and a teaspoon of fresh lime juice. You can always add a little more or a little less depending on your flavor preferences. Lime is quite strong, so I think the teaspoon tastes perfect. 
Almonds: Almonds add a nice earthy flavor and crunch to the cookies, but it's important to use finely chopped almonds or they'll disrupt the thin shape of the cookie too much. You can buy a bag of finely chopped almonds at the store. 
CITRUS DESSERTS
BAKING TIPS
Honey Lime Cookie Dough: Add softened butter and granulated sugar to a stand mixer. Then cream butter until it's light and fluffy. Add the honey, egg yolk, lime zest, and fresh lime juice to the mixture. Stir until just combined. Then add ½ cup all-purpose flour at a time, mixing slowly until the dry ingredients are worked into the honey lime mixture. Finish the dough by folding in the almonds. 
Form: Instead of dividing the mixture into dough balls, flour your hands and roll the dough into two 2″ logs. Once the dough is formed, wrap the logs separately in plastic wrap. Then refrigerate for 1 hour.
Cooking time: Near the end of the fridge time, preheat the oven to 350 degrees. Use unflavored floss, or baking twine to cut the cookie dough into 1/4″ slices. Place each of them 1″ apart on the cookie sheet, then bake for 10-12 minutes. When the edges are turning golden brown, you can take the Honey Lime Cookies out.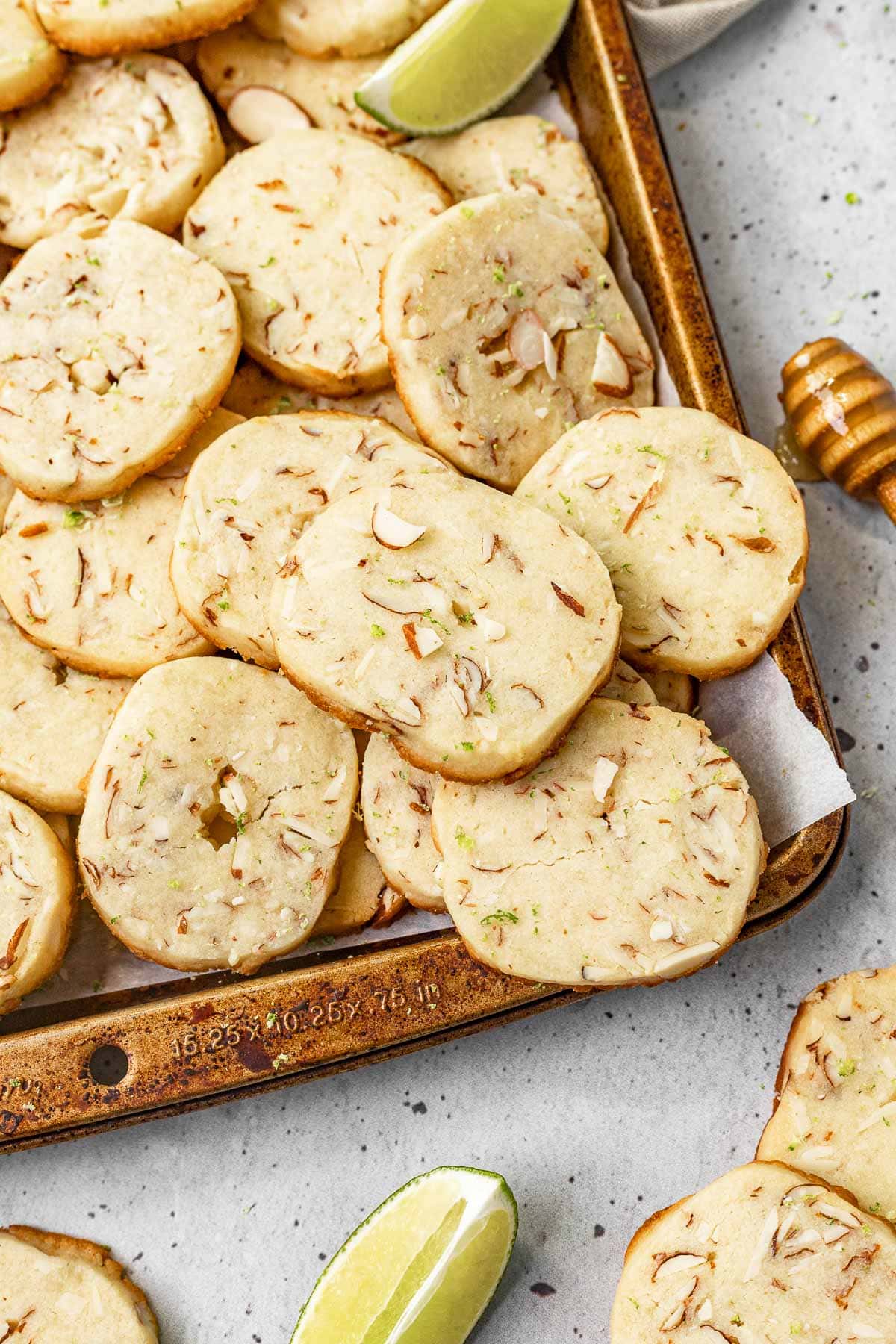 Create a free account to

Save Recipes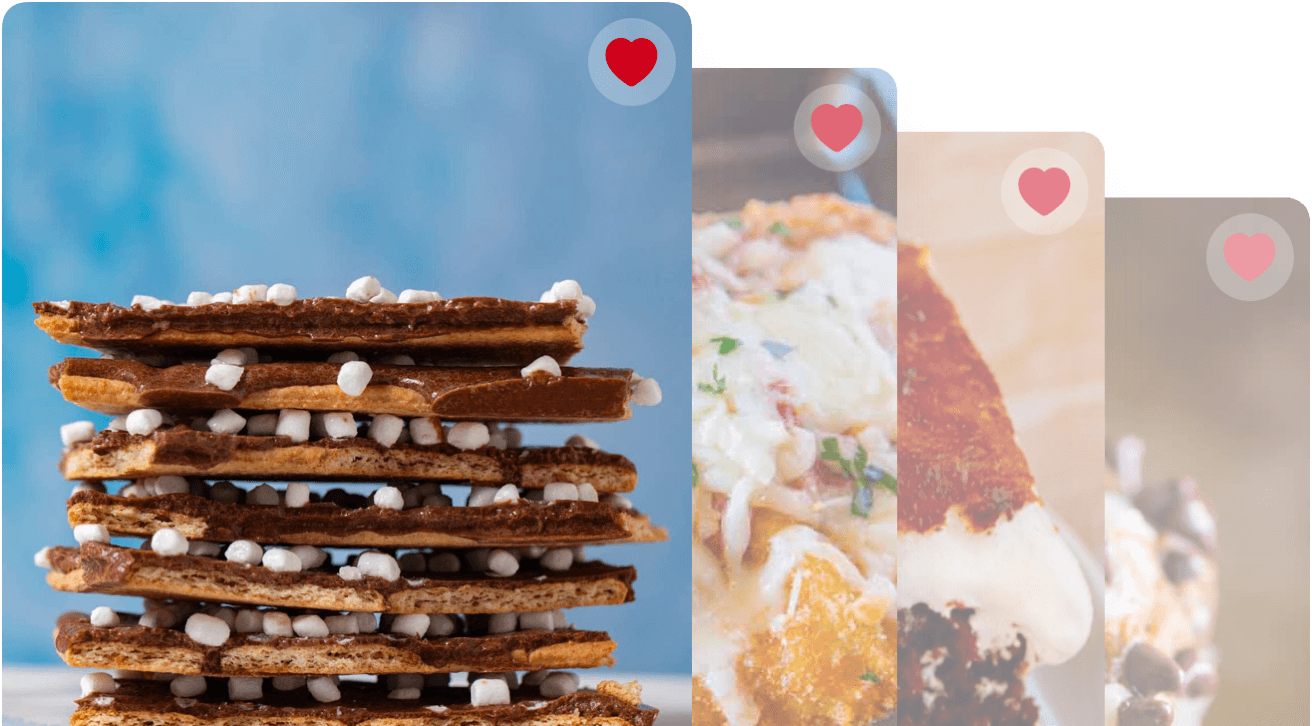 VARIATIONS
Honey lime glaze: If you want to add a topping to the Honey Lime Cookies, you can add a simple homemade honey lime glaze. Just add 4 tablespoons lime juice, 1 ½ cups confectioners' sugar, and 1 tablespoon honey to a medium bowl. Then whisk all the ingredients into a simple glaze. If the honey is hard to combine with the other ingredients, you can heat it for a few seconds in the microwave to easily mix it with the honey lime sauce. Just make sure you use a heatproof bowl. 
Honey lemon cookies: If you prefer a simple lemon dessert, you can just exchange lemons for limes in this recipe. Replace the lime ingredients in the recipe with the same amounts of lemon juice and lemon zest to make the lemon cookies. 
Mix-ins: There are lots of fun ingredients you could try mixing into your Honey Lime Cookies. Different nut varieties like pecans, cashews, or walnuts would taste great. You could also add fruits like blueberries, or dried cranberries to the mix
Sweetener: The honey adds a lot of the flavor to this recipe, so if possible you want to leave it in. However, if you want to exchange the white sugar you can use brown sugar or coconut sugar.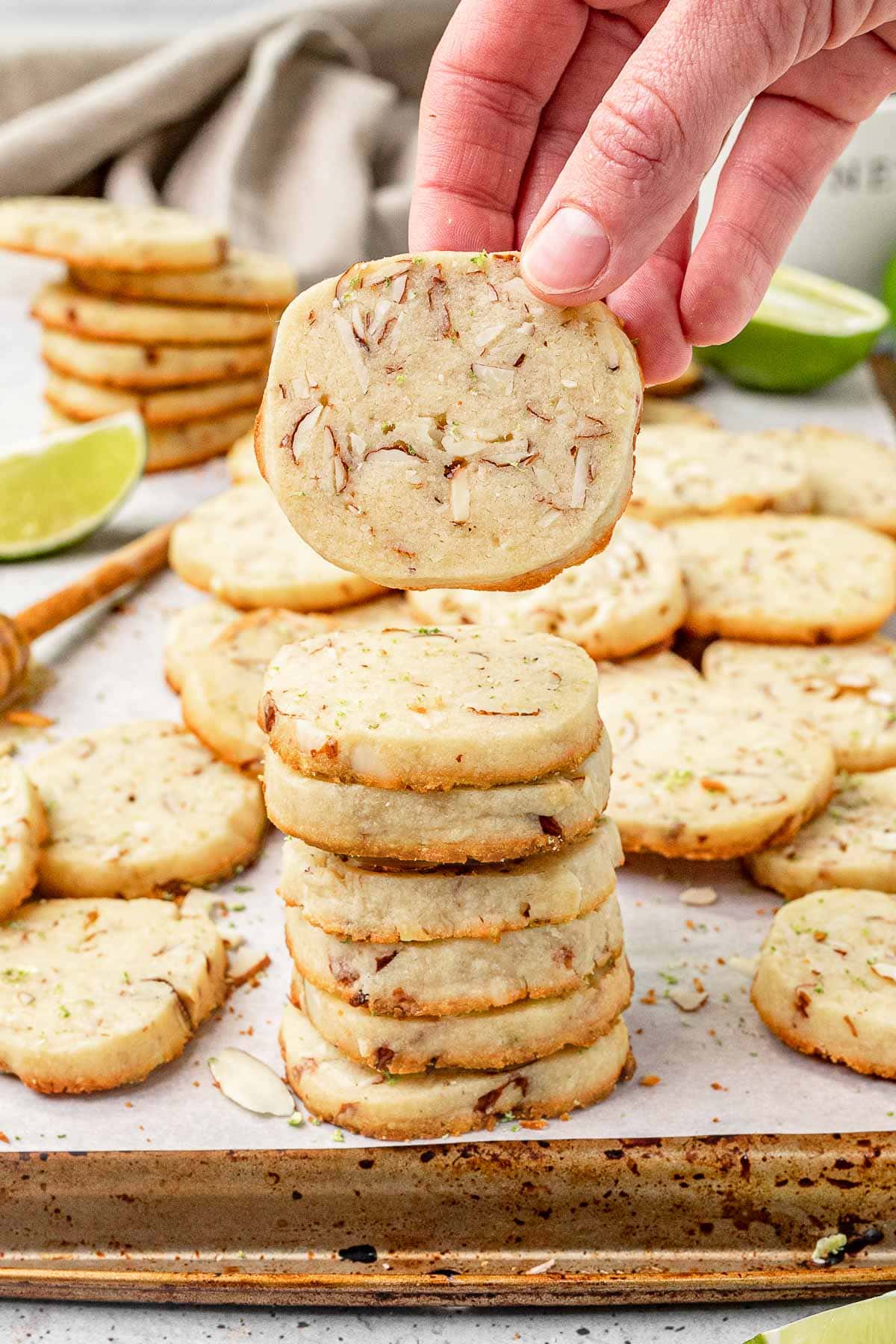 MORE COOKIE RECIPES
HOW TO STORE
Serve: Let the Honey Lime Cookies cool down before you cover leftovers in plastic wrap or aluminum foil. As long as they're tightly covered, you can leave them at room temperature for up to 2 weeks.
Store: You can also transfer the cookies to an airtight container, and store them in the fridge for 1-2 months.
Freeze: To freeze the cookies, put them in a sealed freezer bag. Then they'll stay good for up to 6 months.


Ingredients
1

cup

unsalted butter

, softened

1/2

cup

sugar

3

tablespoons

honey

1

large

egg yolk

1

tablespoon

grated lime zest

1

teaspoon

lime juice

2

cups

flour

1

cup

almonds

, finely chopped
Instructions
To your stand mixer add the butter and sugar on medium speed until light and fluffy.

Add in the honey, egg yolk, lime zest and lime juice until combined.

Add in the flour ½ cup at a time until just combined.

Fold in the almonds.

Roll dough into two 2" logs and wrap with plastic wrap.

Preheat oven to 350 degreees.

Using an unflavored floss or twine cut the cookie dough into 1/4″ thick slices.

Place on baking sheets 1″ apart.

Bake for

10-12 minutes

or until just barely turning brown on the edges.
Nutrition
Calories:
250
kcal
|
Carbohydrates:
23
g
|
Protein:
4
g
|
Fat:
16
g
|
Saturated Fat:
8
g
|
Polyunsaturated Fat:
2
g
|
Monounsaturated Fat:
6
g
|
Trans Fat:
1
g
|
Cholesterol:
42
mg
|
Sodium:
3
mg
|
Potassium:
87
mg
|
Fiber:
2
g
|
Sugar:
10
g
|
Vitamin A:
370
IU
|
Vitamin C:
1
mg
|
Calcium:
31
mg
|
Iron:
1
mg