Hoppin' John is a classic New Year's Day rice recipe from the south using smoked pork, rice, black eyed peas and the holy trinity of vegetables.
If you're looking to complete this meal, why not try my Collard Greens and Ultimate Cornbread for a lucky southern meal for the New Year?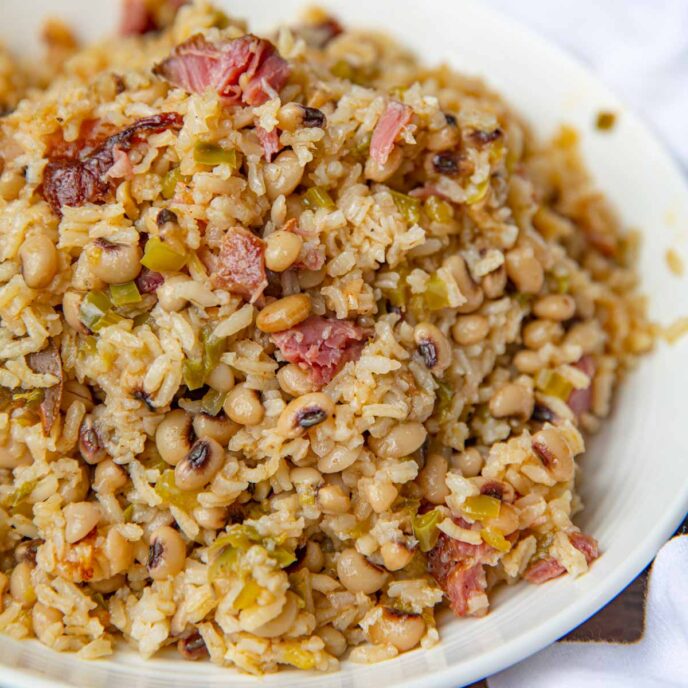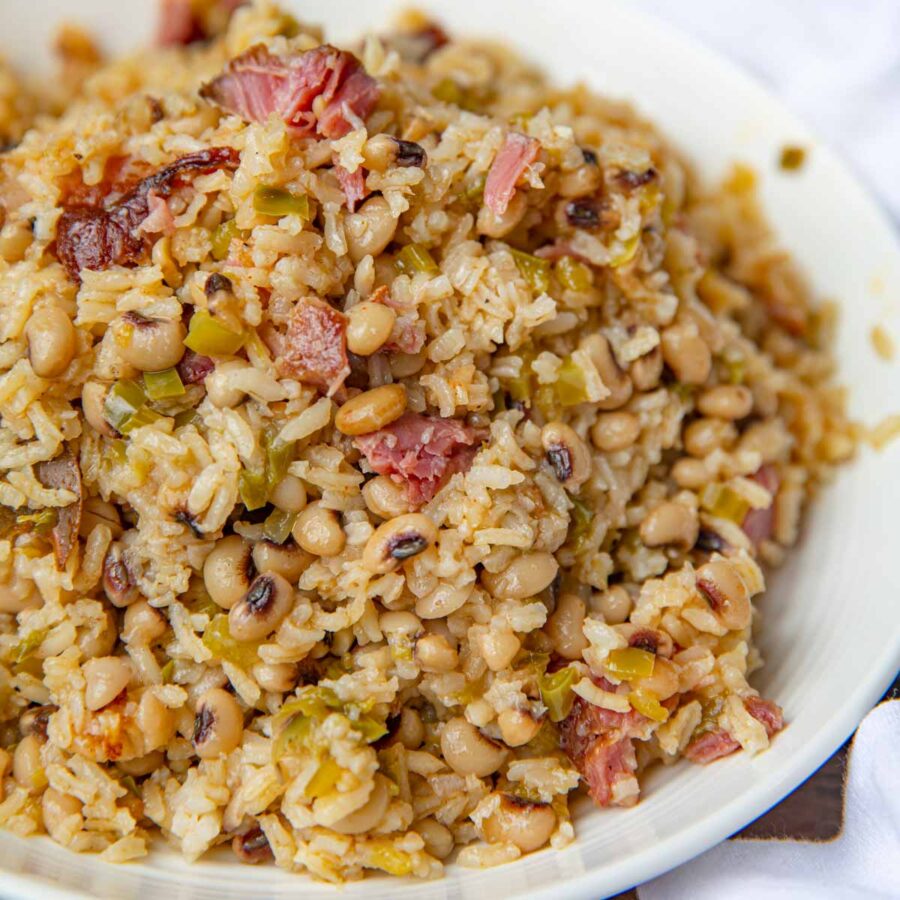 HOPPIN' JOHN
It's New Year's Eve, but this Hoppin' John recipe will still have you eating black-eyed peas anyways. Fresh vegetables like green bell peppers, celery, and onions are paired with ham hock, black-eyed peas, and Cajun seasoning to create the perfect Southern-inspired dish.
Why New Year's Day?
In the Southern United States, eating Hoppin' John on New Year's Day is lucky. If you eat your share, you're said to have a prosperous year. Black-eyed peas are symbolic of pennies. In fact, in a traditional home, a coin is added to the pot during cooking or left under the plate while eating.
If you eat collard greens or cooked spinach alongside this meal, you're furthering your luck due to the color similarities between these foods and cash.
For the rounding off of this lucky meal, add in some cornbread to represent gold! If you didn't think that was enough, tradition says that leftover "Hoppin' John" is called "Skippin' Jenny." Using leftovers like this is great for showing your frugality. This shows that you have a better chance of bringing yourself prosperity in the New Year.
The Perfect New Year's Meal:
How to Make Hoppin' John
Soak and Pick Through Beans: Soak the black-eyed peas overnight in water, discard floating beans. Look carefully for any rocks.
Cook Ham Hock: Sear your ham in a large dutch oven, this adds much more flavor to your recipe.
Sauté Vegetables: Cook the celery, onion, bell pepper and garlic in the oil that was in the pan until softened.
Add Liquids: Add broth and seasonings, simmering on low heat until reduced (this concentrates the flavors).
Cook Rice: Cook the rice in the reduced chicken broth, beans and ham.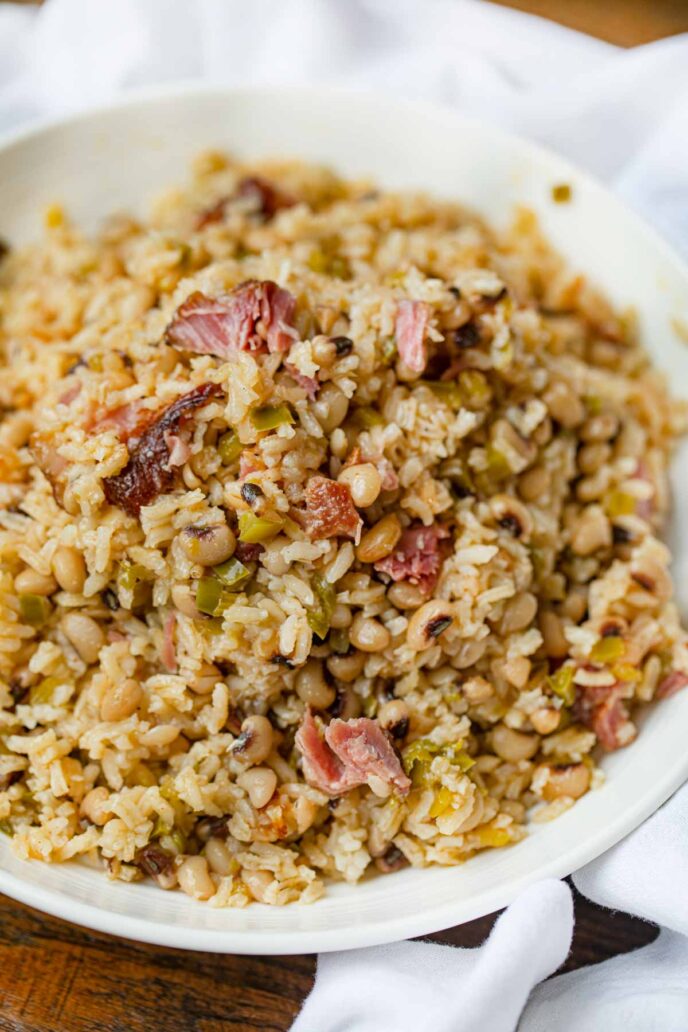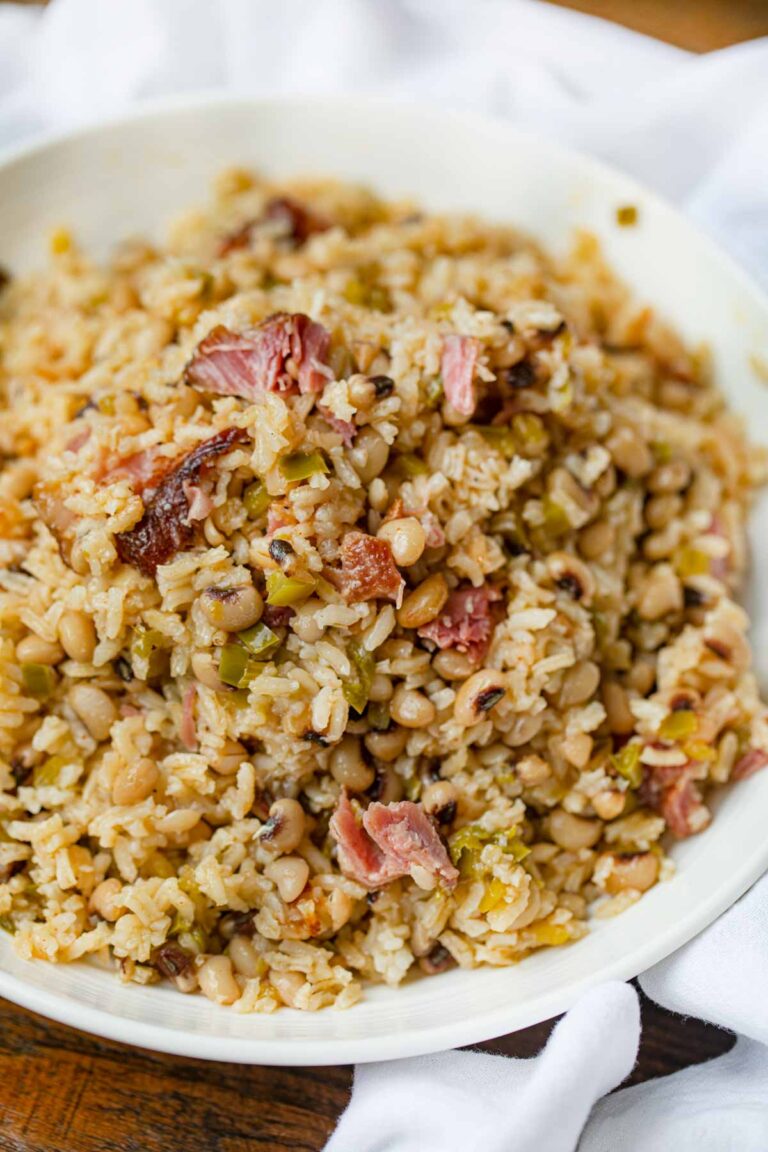 Create a free account to

Save Recipes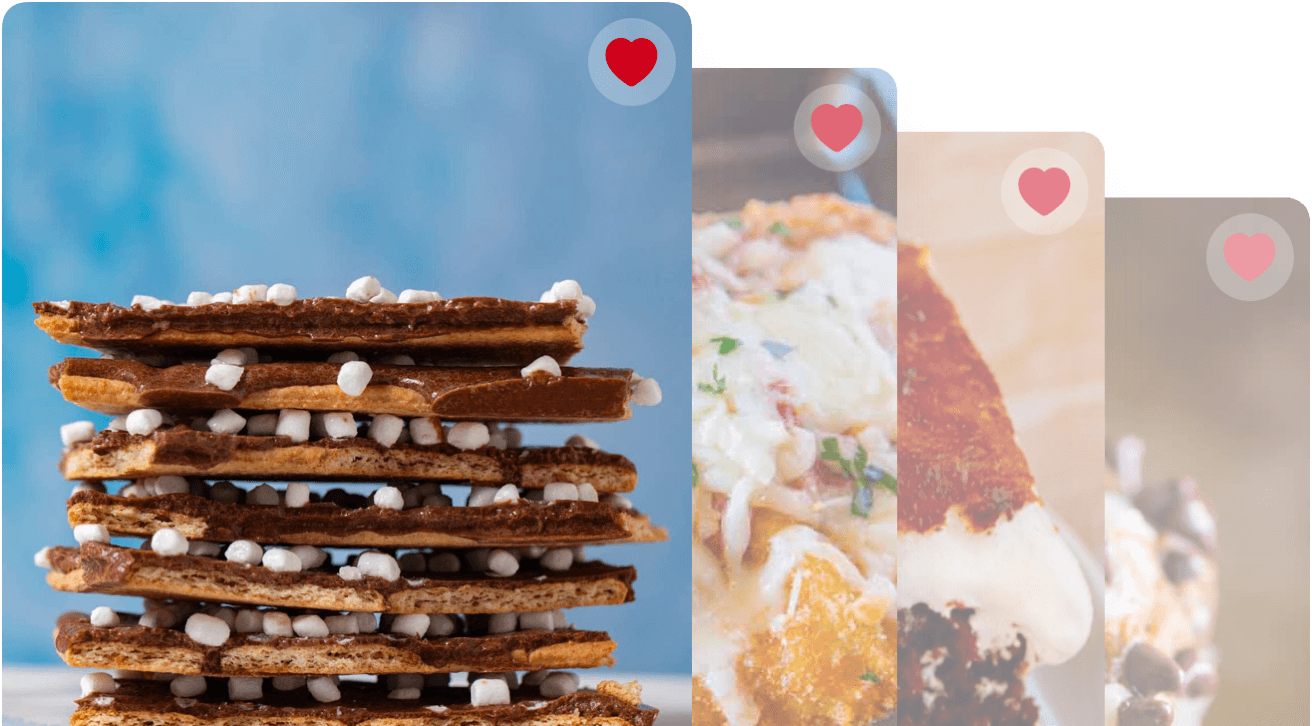 Origins of Hoppin' John:
Hoppin' John, also known as Carolina peas and rice, is a dish that utilizes seasonings, peas, and rice. It's served in the Southern region of America and can often be found with chopped onion and sliced or cubed meat added in for a complete meal.
For the meat, people often use bacon, ham hock, fatback, country sausage, or smoked turkey. However, vegetarian meat substitutes have been used as well.
If you don't have black-eyed peas, you can use field peas. This is commonly done in the Low Country of South Carolina and Georgia with black-eyed peas being used in other regions of the South.
More Southern Side Dishes:
Alternatives to Ham Hock
If you don't have or don't like a ham hock, you might have noted all the other things that people use in this meal. Occasionally, you'll see replacements like bacon, fatback, country sausage, or smoked turkey. If you choose to use any of these options, simple replace 1 smoked ham hock with 4 ounces of any other type of meat like above.
We like to use leftover Baked Ham from the holidays in this recipe.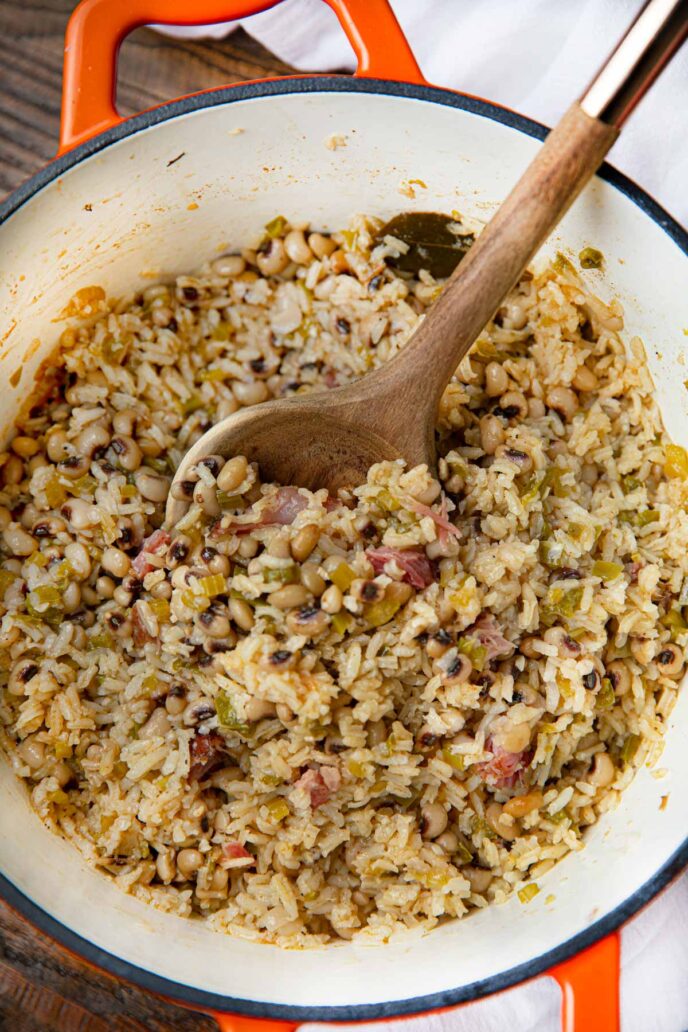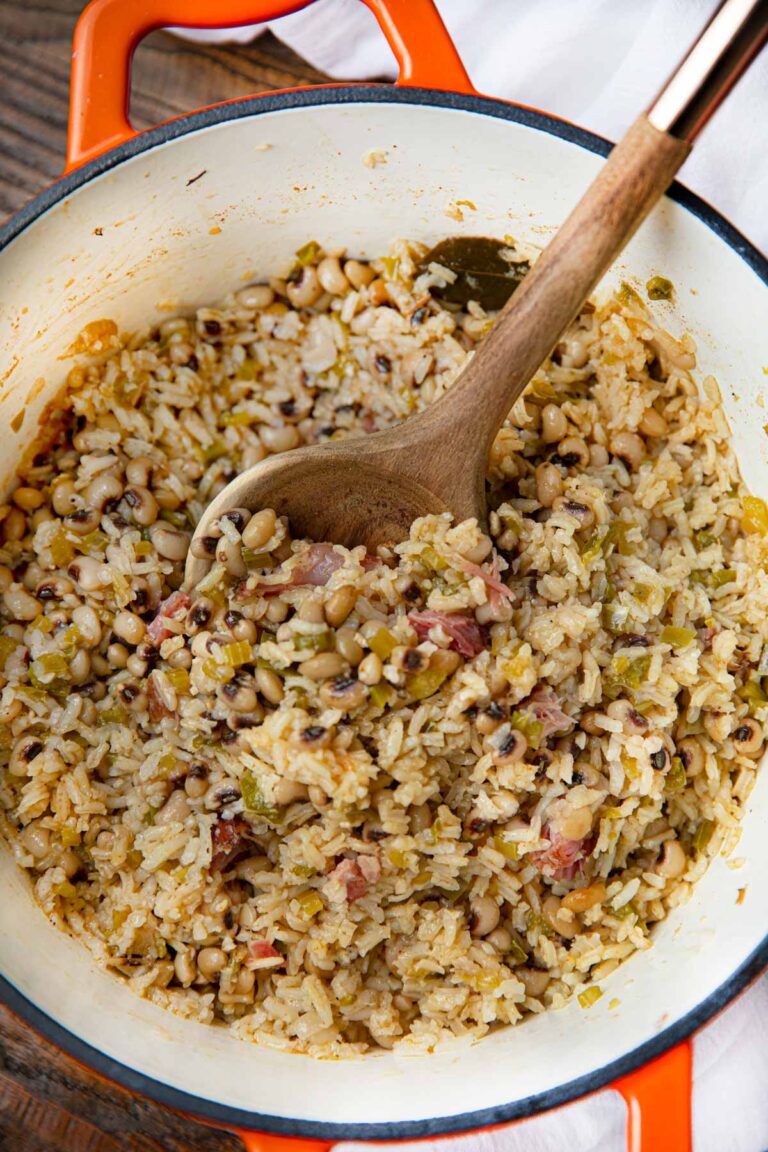 Health Notes for Hoppin' John
If you're looking for good luck and good health, then there are a few healthy options that you can incorporate into the meal. First, exchange your white rice for a long grain Carolina gold rice or brown, medium grain rice. These types of rice are much healthier than white rice with lower GI ratings.
Next, try using olive oil over vegetable oil for a deeper flavor as well as a healthier result. Olive oil is excellent for those looking for a heart-healthy diet due to the levels of fat when compared to vegetable oil.
Lastly, make sure that you are using a low fat cut of meat like turkey rather than a ham hock. This will ensure that you are minimized the unhealthy fats in the meal while replacing them with healthier options and cuts.
Serve and Store:
Serve: Don't leave out more than 2 hours, the recipe is cooked with meat and will grow bacteria after 2 hours.
Store: Store leftovers for up to 3 days in a sealed container.
Freeze: Hoppin' John can be frozen in an air-tight container for up to 3 months. Thaw at half power in your microwave before heating through to prevent overcooking while defrosting.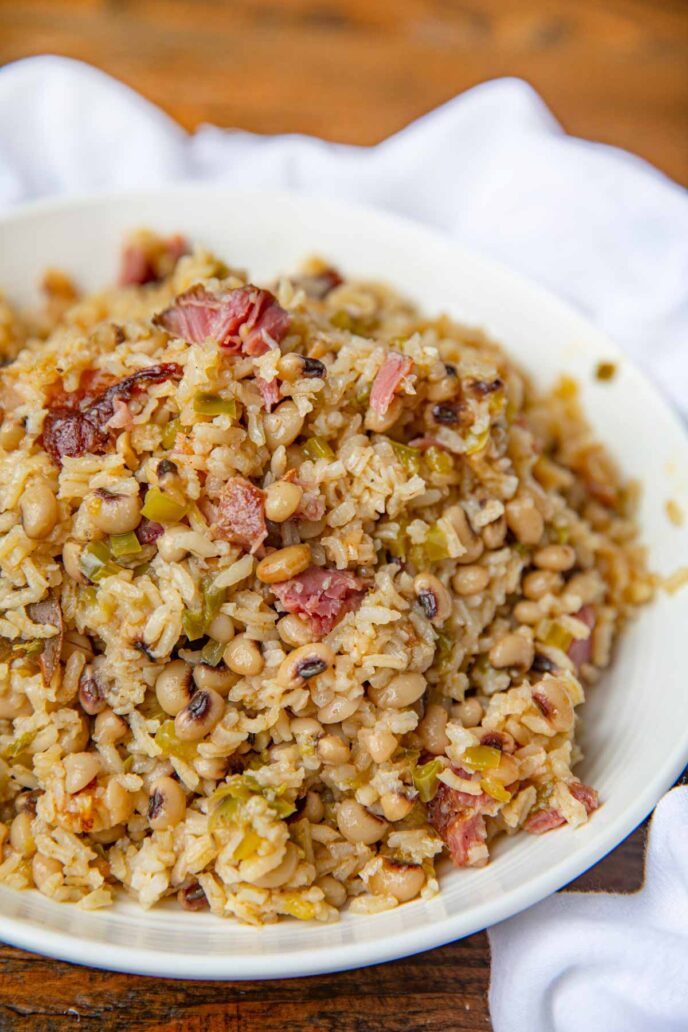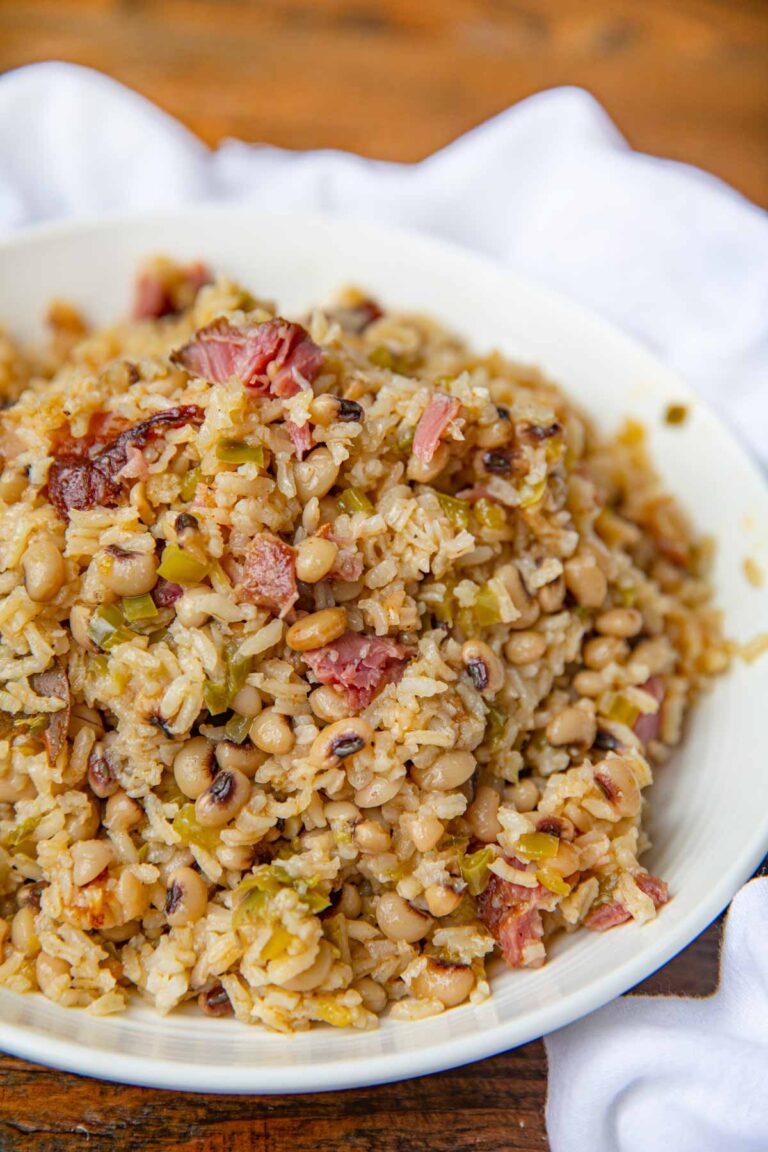 Ingredients
8

ounces

dried black-eyed peas

1

ham hock plus

1/4

cup

vegetable oil

2

stalks celery

chopped

1

yellow onion

diced

1

green bell pepper

diced

3

cloves

garlic

minced

6

cups

chicken broth

2

teaspoons

Cajun seasoning

1

teaspoon

kosher salt

2

bay leaves

1

cup

white rice

uncooked
Instructions
Soak the black-eyed peas overnight in water, discard floating beans, drain them and pick through the beans making sure there are no rocks.

In a large dutch oven add the ham and oil on medium heat and cook the meat for

4-5 minutes

searing it on all sides then add in the celery, onion, bell pepper and garlic and cook an additional five minutes.

Add in the chicken broth, cajun seasoning, salt and bay leaves, and cook, uncovered for

90 minutes

(there should be about 2 cups of liquid left).

Add in the peas and rice, cover and cook on low for

20 additional minutes

then remove the lid, fluff and serve.
Nutrition
Calories:
314
kcal
|
Carbohydrates:
39
g
|
Protein:
14
g
|
Fat:
12
g
|
Saturated Fat:
7
g
|
Cholesterol:
18
mg
|
Sodium:
992
mg
|
Potassium:
631
mg
|
Fiber:
4
g
|
Sugar:
3
g
|
Vitamin A:
360
IU
|
Vitamin C:
26
mg
|
Calcium:
62
mg
|
Iron:
3
mg