Marble Bundt Cake is an easy homemade chocolate and vanilla swirl cake. This moist, buttery vanilla chocolate cake is a simple and beautiful holiday dessert.
Easily turn Chocolate Cake into a show-stopping holiday cake by swirling it with a buttery Vanilla Cake and baking it in a decorative bundt pan. There are so many tasty Cake Recipes that are easy to make and beautiful for any occasion.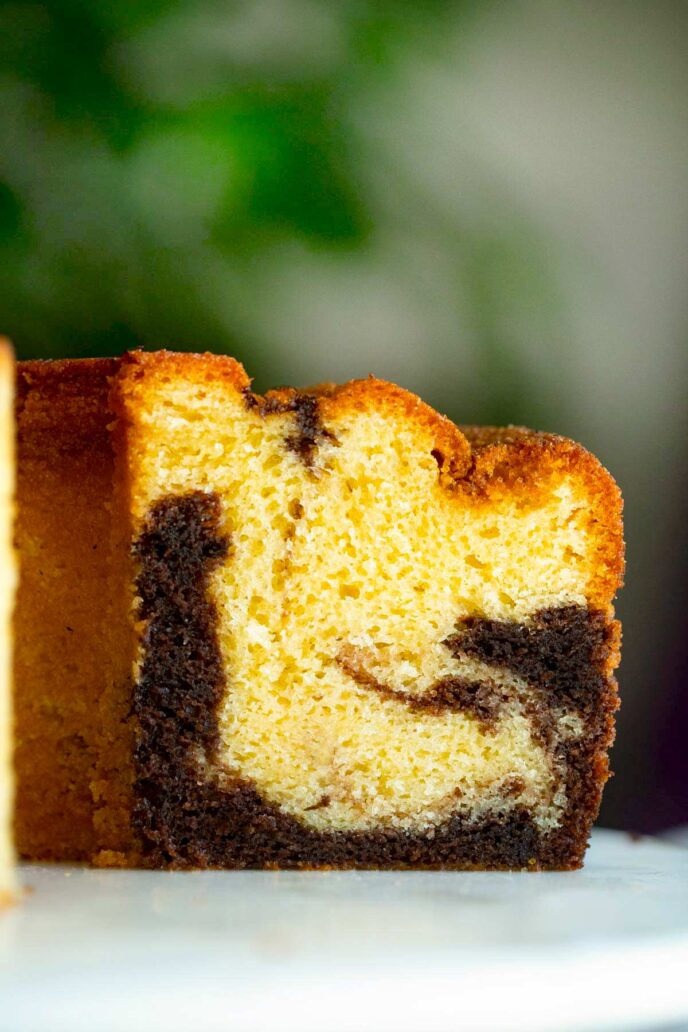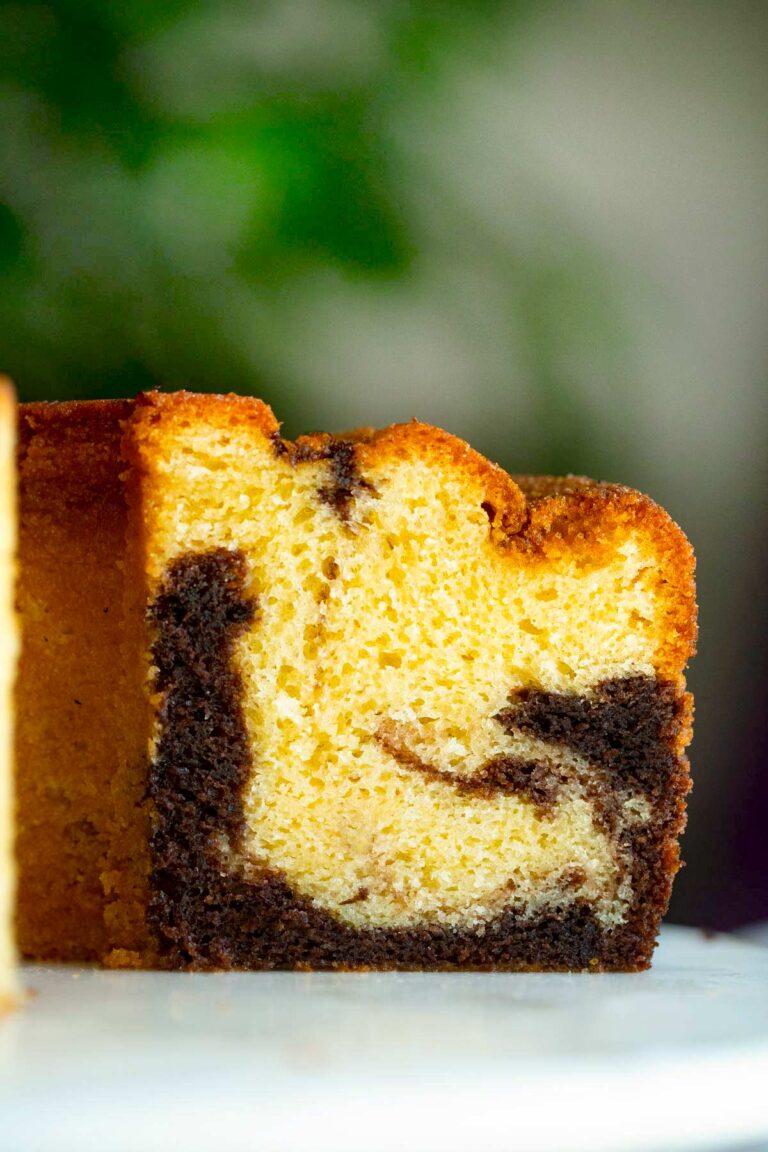 MARBLE BUNDT CAKE
Bundt pans are one of the easiest ways to get a fancy cake without having to use multiple cake pans, leveling tools, and a lot of frosting. They are foolproof, easy beautiful cakes perfect for any special occasion when you need a cake larger than our Marble Pound Cake recipe. Serve this delicious chocolate and vanilla bundt cake for your next Easter dinner, birthday party, or festive potluck.
It may look like this Marble Bundt Cake has a lot of ingredients or steps, but it's actually very easy and most (if not all) of the ingredients are things you have on hand. And if you don't have it on hand, chances are there is an easy swap like hot cocoa mix for the unsweetened cocoa powder.
Marble Bundt Cake is sure to be your new favorite holiday cake. Your guests will be so impressed with how stunning it is and they don't need to know it was oven ready in 20 minutes. Bundt cakes do have a longer bake time. This gives you plenty of time to enjoy dinner before you have to pull your Marble Bundt Cake out of the oven.
Note: If you don't have a bundt cake pan, you can bake this cake in a 9×13 baking pan as well.
A Marble Bundt Cake is a simple and classic classic cake made more beautiful by baking in a special pan. You can pick up bundt pans in pretty much any store that sells home goods or hobby shop. There are so many options nowadays for bundt pans! There is a handy guide at the bottom of this post on which bundt pan is best.
To decorate a Marble Bundt Cake, dust with powdered sugar or use a frosting like Cream Cheese Frosting or Buttercream Frosting. Warm the frosting in the microwave for about 30 seconds to pour over your Marble Bundt Cake like a glaze. For more chocolatey goodness use warm, gooey Chocolate Ganache.
MORE BEAUTIFUL, TASTY CAKES FOR THE HOLIDAYS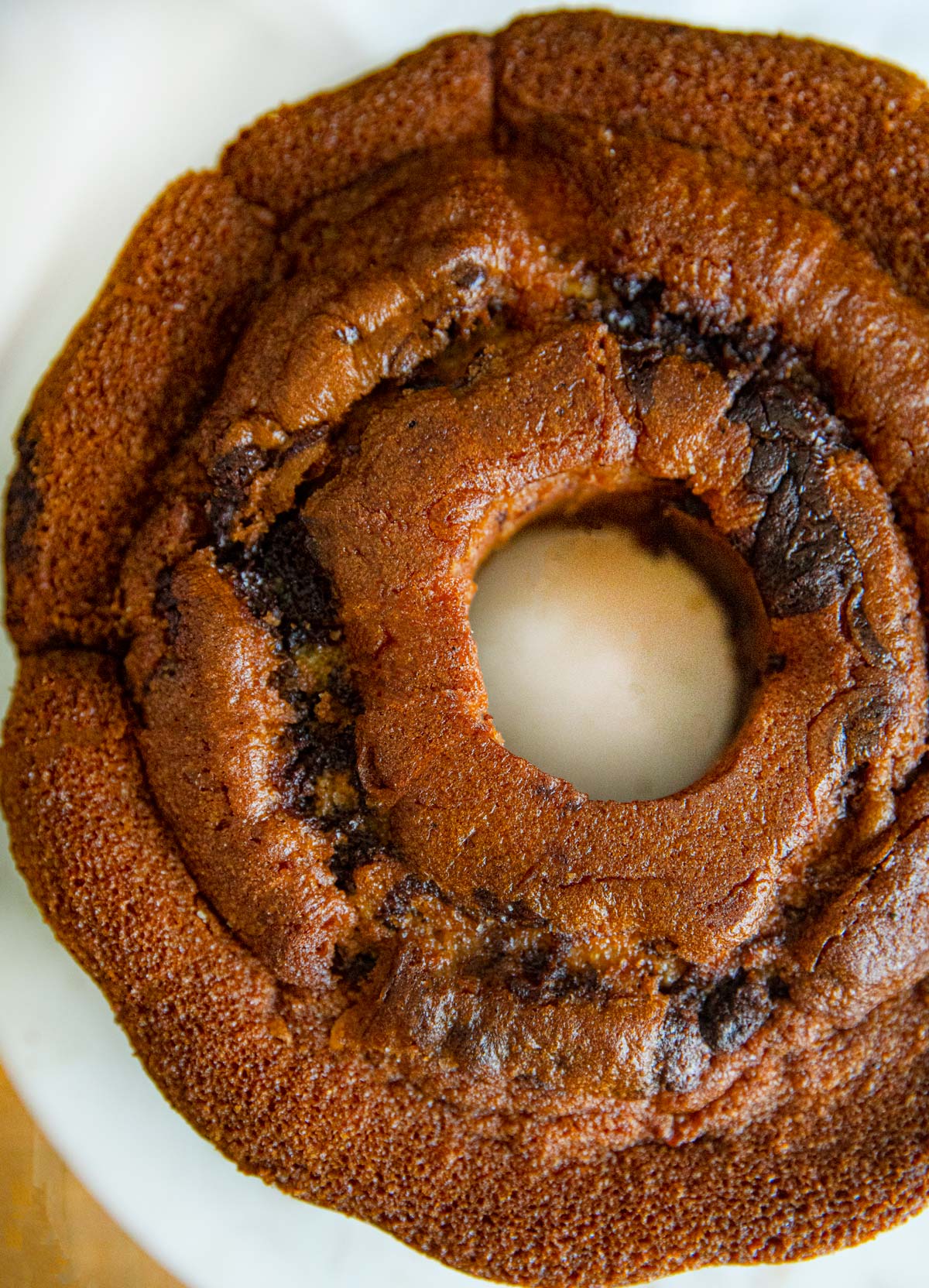 Create a free account to

Save Recipes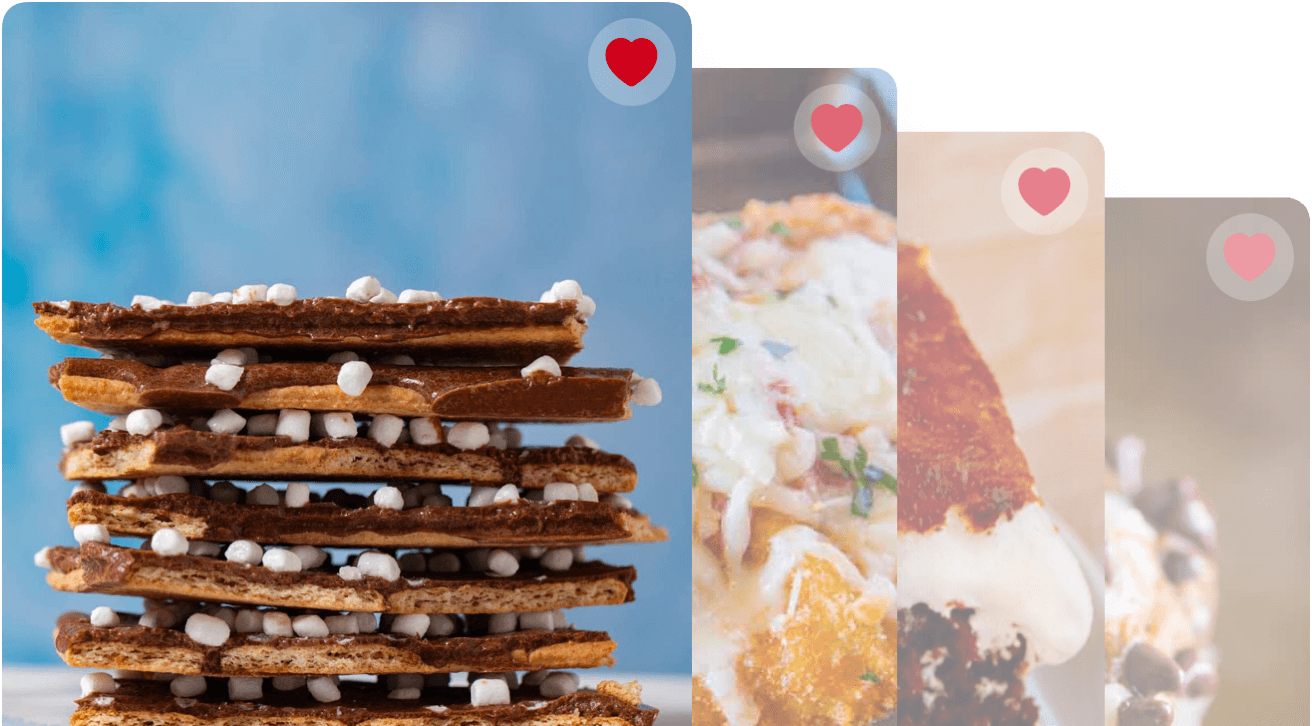 VARIATIONS ON MARBLE BUNDT CAKE
Chocolate Chips: Stir in a ½ cup of your favorite baking chips like dark chocolate chips, white chocolate chips, mint chocolate chips, butterscotch chips, or peanut butter chips.
Nuts: Toasted nuts would taste delicious in this cake! In a skillet, toast pecans, almonds, or walnuts until slightly aromatic and browned. Chop nuts before adding to the cake batter.
Buttermilk: Instead of whole milk, you can use 1 cup buttermilk, sour cream, or greek yogurt in this rich Marble Bundt Cake.
Dried Fruit: Use dried cherries, cranberries, or strawberries for a sweet, fruity burst of flavor. If you want to use fresh fruit, toss in a tablespoon of flour, until coated, before adding so they won't sink to bottom.
Cake Batter: Leave out the chocolate step and swirl in prepared cake batters like Red Velvet Cake and Carrot Cake to the vanilla cake batter. If using another full cake batter recipe with this one, you will have enough for two bundt cakes!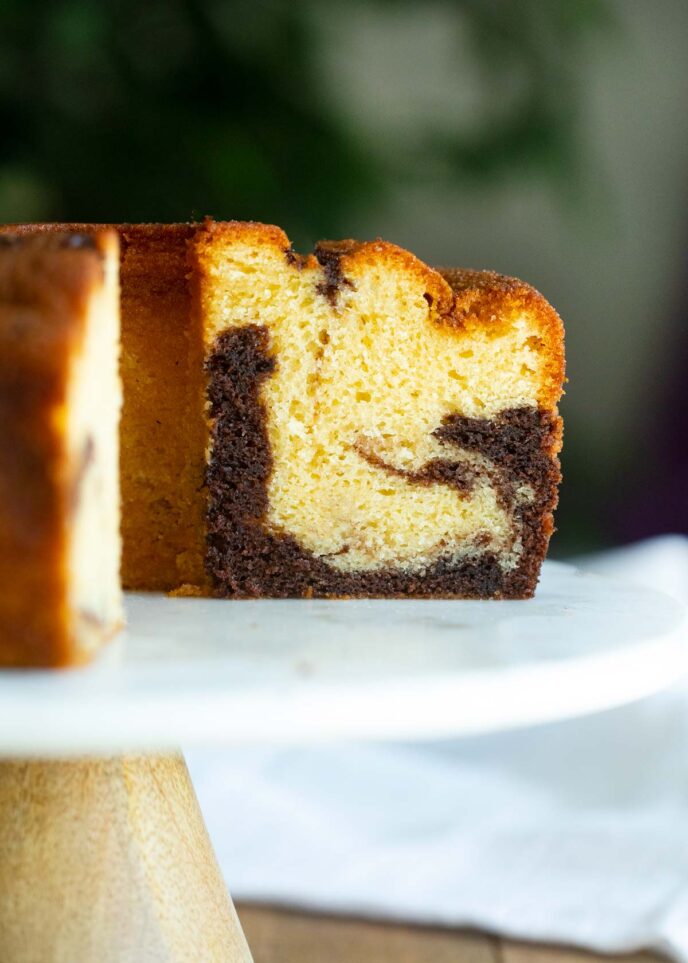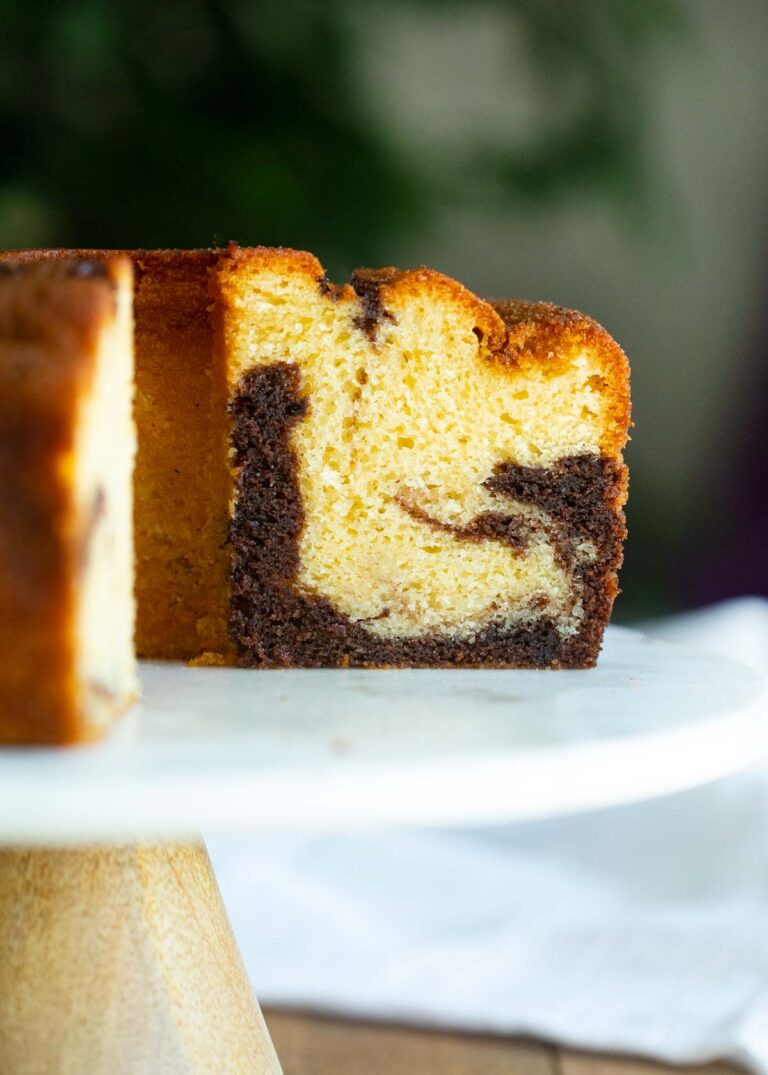 What kind of Bundt Pan is best?
Keep in mind that the darker a bundt pan is, the darker your cake will be so a lighter tint pan is recommended.
Heavy Aluminum or stainless steel bundt pans are the best pans to get a golden brown, evenly cooked cake.
Avoid glass or ceramic pans, they don't cook evenly and silicone pans are floppy and won't brown evenly.
The basic bundt pan shape is great for any kind of bundt cake recipe but some intricate designs are meant to catch glazes and enhance the cake.
Be sure to consider if the topping you are using will go with the design on the pan. For example a detailed harvest wreath bundt pan probably won't look very stunning with a thick frosting or ganache.
DELICIOUS CHOCOLATE CAKE RECIPES:
HOW TO STORE MARBLE BUNDT CAKE
Serve: This Marble Bundt Cake can be at room temperature for up 3 days, unless you use a frosting. If frosted, store after 2 hours at room temperature.
Store: Keep your Marble Bundt Cake fresh longer by storing a cooled cake in the refrigerator for up to a week. Cover tightly with plastic wrap.
Freeze: Cool cake completely before wrapping tightly with plastic wrap and aluminum foil. Freeze Marble Bundt Cake for up to 3 months.


Ingredients
3

cups

flour

1

tablespoon

baking powder

1/4

teaspoon

salt

3

sticks

unsalted butter

, softened

1/3

cup

unsweetened cocoa powder

1 2/3

cup

sugar

3

large

eggs

2

teaspoons

vanilla extract

3/4

cup

whole milk
Instructions
Preheat oven to 350 degrees.

Grease and flour a 10-cup bundt pan.

Mix the flour, baking powder, and salt in a separate bowl.

Mix the cocoa powder into the melted butter until well combined and set aside.

Using a mixer, combine the remaining softened butter with the sugar.

Add the eggs and vanilla and mix well.

Gradually add in the flour mixture to the batter.

Add the milk into the batter.

Take half of the batter and whisk it into the butter-cocoa mixture until just combined.

Pour the cocoa batter into the bundt pan.

Gently spoon the yellow cake batter into the bundt pan.

Using a the tip of a knife swirl the batter gently for a few seconds.

Bake for

70 to 80 minutes

, or until a toothpick or knife comes out clean.

Cool for

20 minutes

, then invert onto a cake stand or plate.
Nutrition
Calories:
456
kcal
|
Carbohydrates:
56
g
|
Protein:
5
g
|
Fat:
24
g
|
Saturated Fat:
14
g
|
Cholesterol:
123
mg
|
Sodium:
364
mg
|
Potassium:
89
mg
|
Fiber:
1
g
|
Sugar:
38
g
|
Vitamin A:
811
IU
|
Calcium:
33
mg
|
Iron:
1
mg