Melting Potatoes are roasted in butter, chicken broth, thyme, and garlic until they are tender enough to just melt in your mouth!
This is a great potato Side Dish that you can serve for holiday dinners, family gatherings, or weeknight meals. Melting Potatoes make an unexpected alternative to Mashed Potatoes that's just as delicious.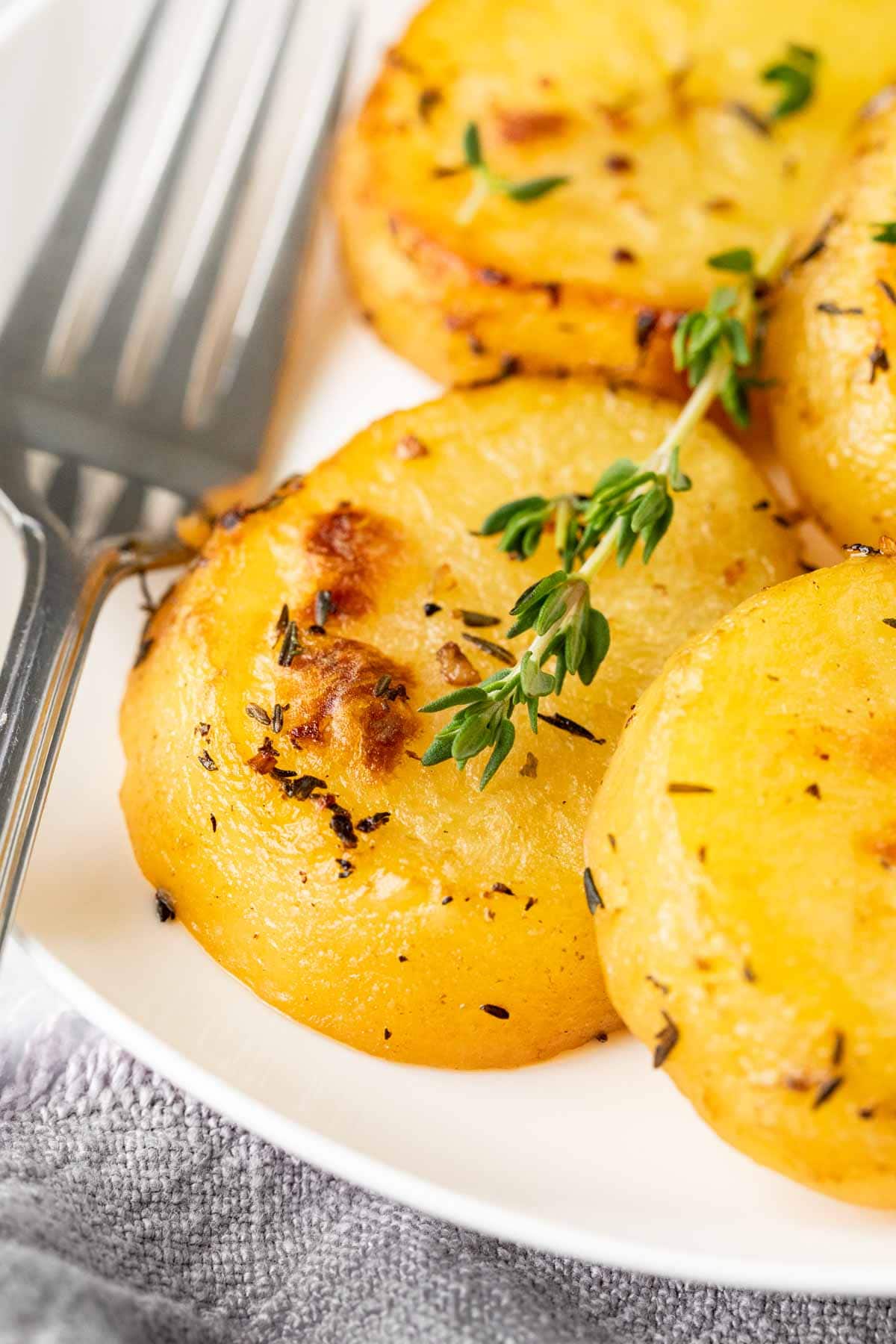 If you haven't had Roasted Melted Potatoes before, then you are in for a wonderful surprise! These delicious potatoes are packed with flavor, and roasted to tender perfection. The golden-brown roasted potatoes may just become one of your new favorite potato recipes ever. They certainly have in the home of many readers!
They're easy to make and come out delicious every single time. First, the gold potatoes are sliced into rounds. Then melt-in-your-mouth potato slices are cooked in buttery herbs mixture for a half hour. They're soaked in broth for the remaining cook time. Absorbing the chicken broth is what gives these perfect potatoes their amazingly tender texture.
The sliced potatoes look similar to any typical roasted potato recipe, but when you take a bite you'll taste the difference. The butter mixture and broth infuse the potatoes with rich, savory flavors and a soft, buttery texture that simply melts in every bite—hence the name.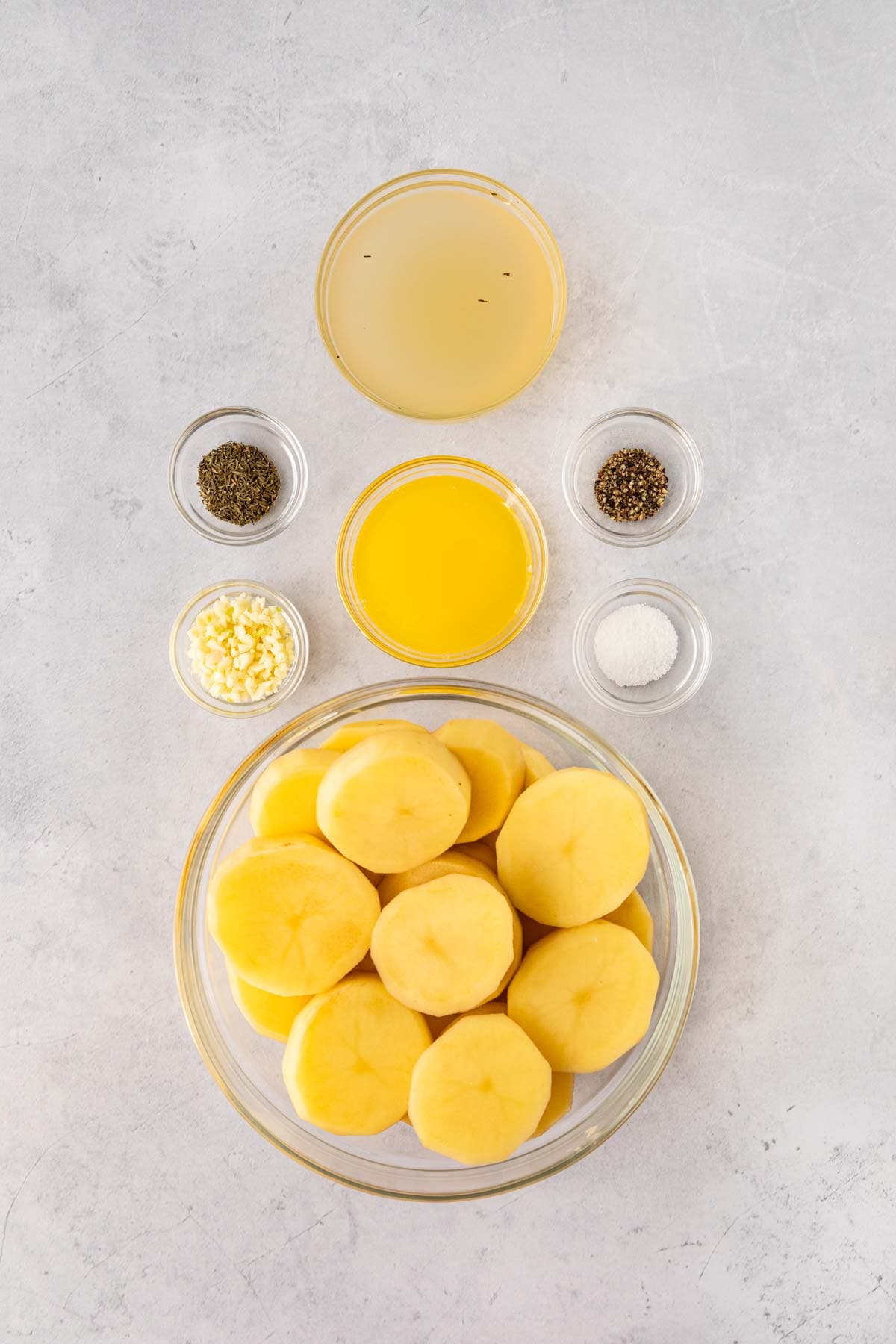 This dish makes the perfect addition to your holiday table. Serve Melting Potatoes up with festive classics like Roasted Turkey, Stuffing, and Cranberry Sauce. The flavorful and buttery potatoes make the perfect side dish that's sure to be a hit with your family and guests.
Frequently Asked Questions About Melting Potatoes
Why are they called "Melting Potatoes"?
The naming of these popular potatoes is best understood after you try them. If you know the phrase "melt in your mouth," you'll see that these potatoes quite literally accomplish that as they literally melt on your tongue upon first bite. They also require a decent amount of melted butter to achieve the satisfying texture, which is another way to interpret the aptly titled dish.
What kind of potatoes are best for Melting Potatoes?
This recipe calls for Yukon Gold potatoes, because these potatoes already have a tender, buttery texture. They really provide a perfect base for the butter, broth, herbs, and the cooking method that turns these into buttery goodness. Melting Potatoes really help Yukon Golds be all that they can be, however you can substitute for other potato varieties. Check out the Variations farther down in this post.
Should Melting Potatoes be peeled before they are roasted?
Go ahead and leave the skin on your Melting Potatoes. The skin provides extra nutrients, is more filling, and will help your soft, buttery potatoes keep their shape once they are cooked.
More Potato Recipes
How to Make Melting Potatoes
Prep: Start the recipe by preheating the oven to 450 degrees F. Wash the potatoes, then trim off the ends. Use a sharp knife to slice potatoes into 1-inch slices so that they're in small rounds.
Butter Mixture: Add the butter to a microwave-safe medium bowl and microwave until melted. Whisk the herbs, salt, pepper, and garlic into the melted butter. Pour the mixture over potatoes and toss to coat. 
Roast Potatoes: Lay the potato slices in a single layer over the bottom of a glass baking dish. Put them in the preheated oven and bake for 15 minutes. Then use a spatula to flip the potatoes and roast them for another 15 minutes. Flip the potatoes one more time, and pour chicken stock over them. Return to the hot oven for another 10 minutes until the broth is baked off and the potatoes are a wonderful golden brown.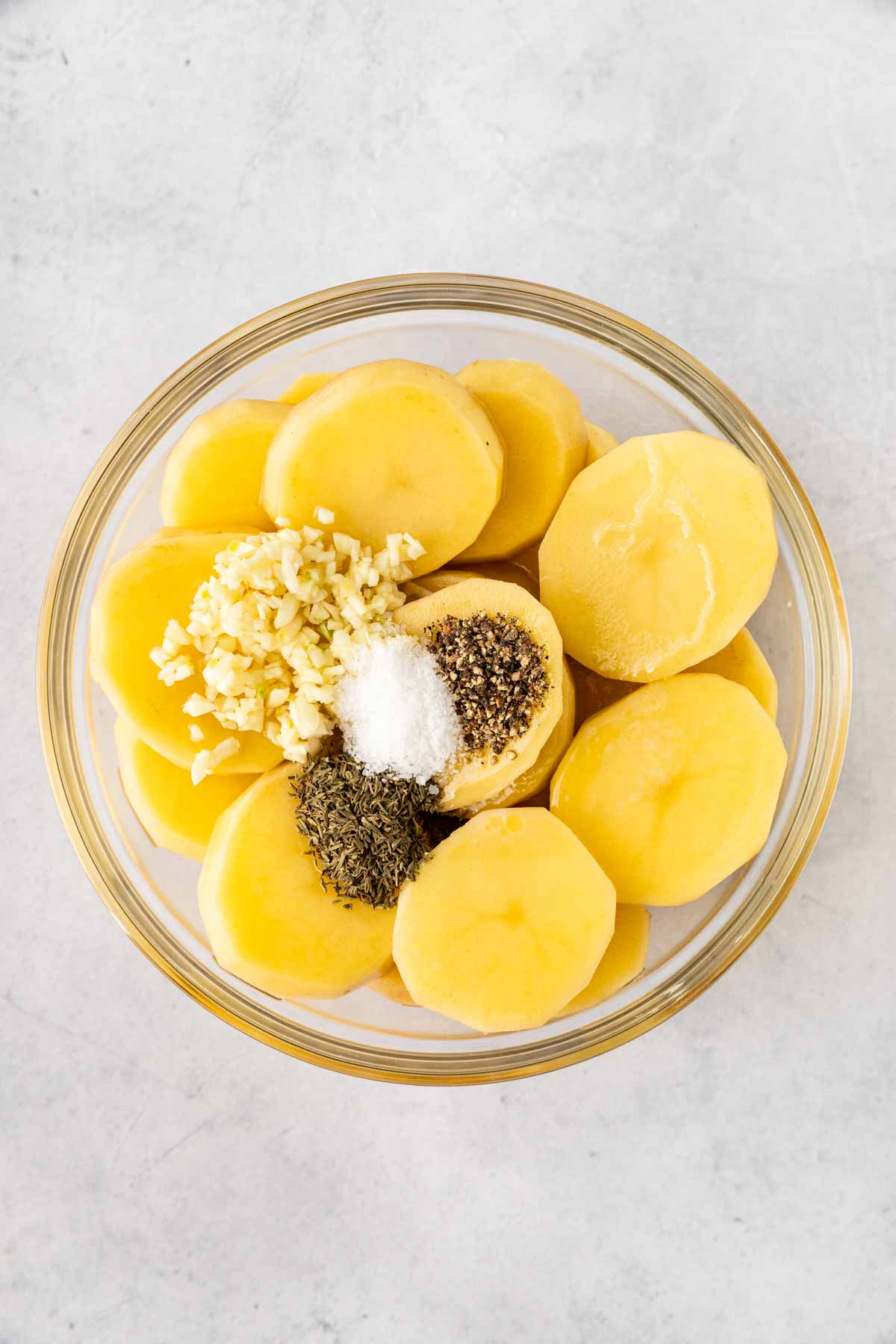 Create a free account to

Save Recipes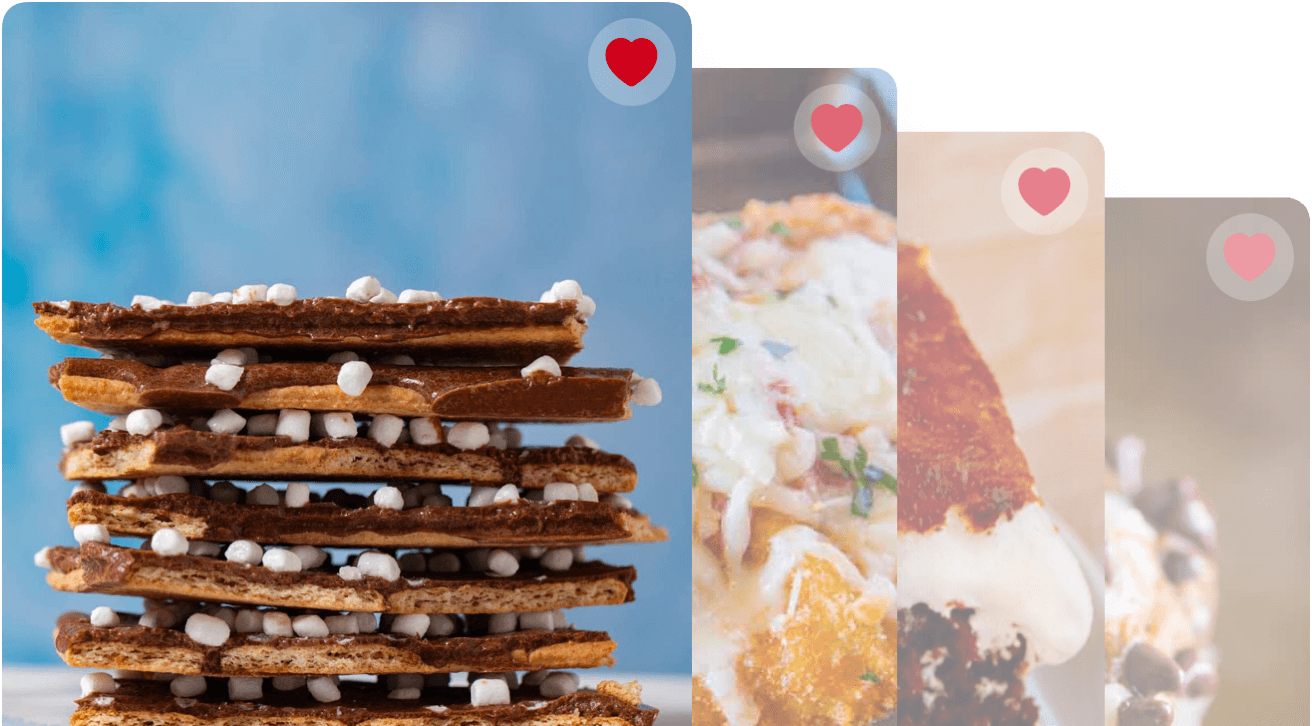 Variations on Melting Potatoes
Broth: You can try different kinds of broth to enhance these beautiful potatoes with different flavors. Instead of chicken stock, try turkey broth, vegetable broth, or even beef broth.
Seasonings: Experiment with different fresh herbs and spices for flavoring potatoes. Fresh rosemary, basil, chives, sage, garlic salt, onion powder, red pepper flakes, or oregano would all taste great. Whisk your choice of seasonings into the melted butter before pouring the mixture over the potatoes.
Potato Types: You can also try different kinds of potatoes in this recipe. Russet potatoes, red potatoes, or fingerling potatoes would roast up nicely. You could also make Melting Sweet Potatoes. Keep in mind that sweet potatoes typically cook a little faster, so you may want to shorten the cooking sessions by a couple of minutes. 
Cheese: To make this recipe similar to Scalloped Potatoes top the potatoes off with cheese before serving. Cheddar, provolone, mozzarella, or gouda would be delicious additions to sprinkle over the top. The shredded cheese will melt into stringy, gooey perfection over the hot potatoes.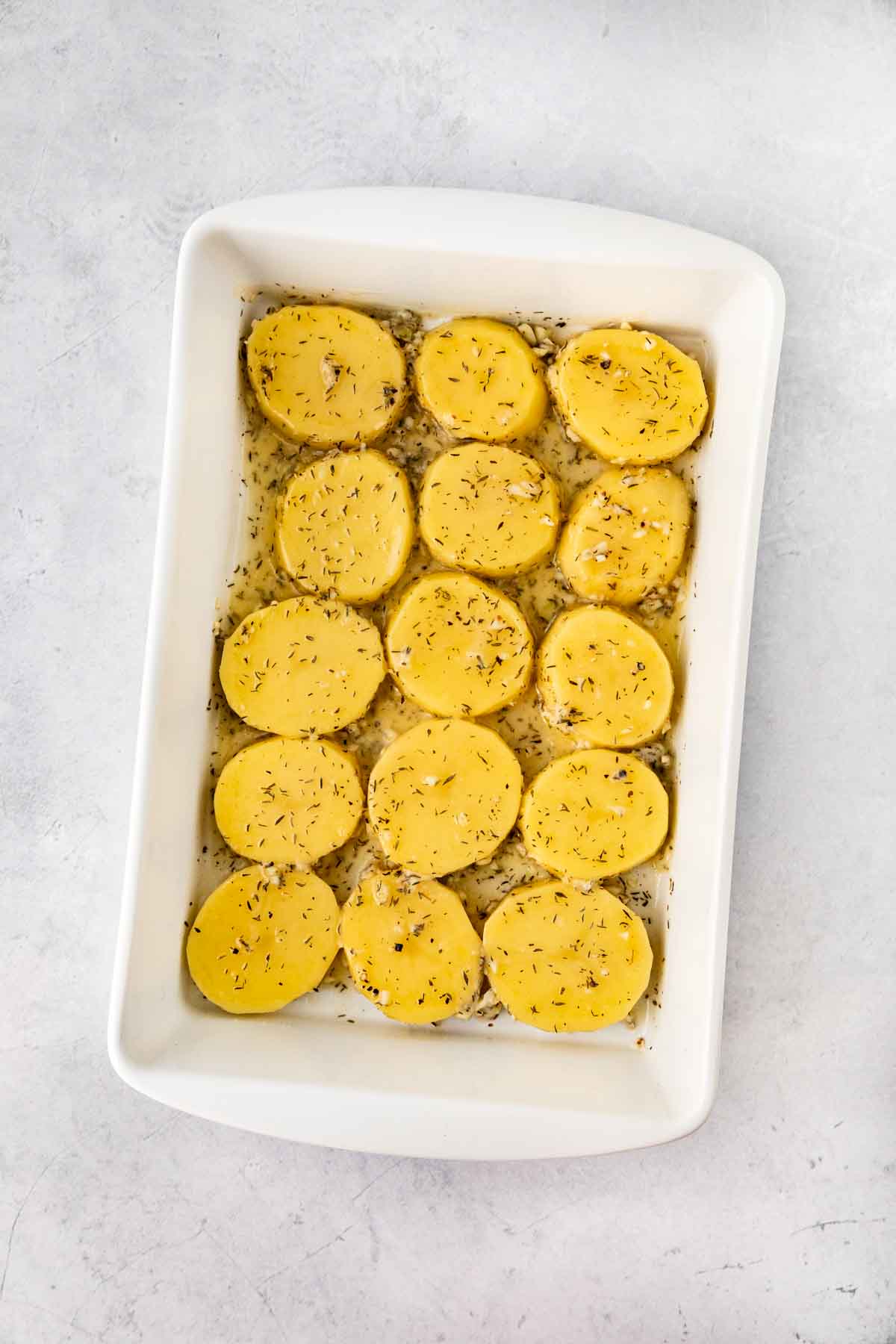 Can Melting Potatoes Be Made Ahead?
Melting Potatoes will not turn out quite the same if made or prepped ahead. The consistency of the potatoes will change a little bit overnight. If you're in a pinch and really need to make these ahead, you could refrigerate them after flipping the first time, and cooking the second side. Then refrigerate them, take them out the next day, add the broth and cook until the broth is cooked off. It will take more time cooking it from the cold refrigerator so be sure to give yourself that extra time.
More Comforting Side Dishes
How to Store Melting Potatoes
Serve: Don't leave Roasted Melting Potatoes out at room temperature for more than a few hours.
Store: Transfer any leftovers to an airtight container to store in the fridge. They can keep well in the refrigerator for up to 4 days.
Freeze: You can also seal and freeze Melting Potatoes for up to 6 months.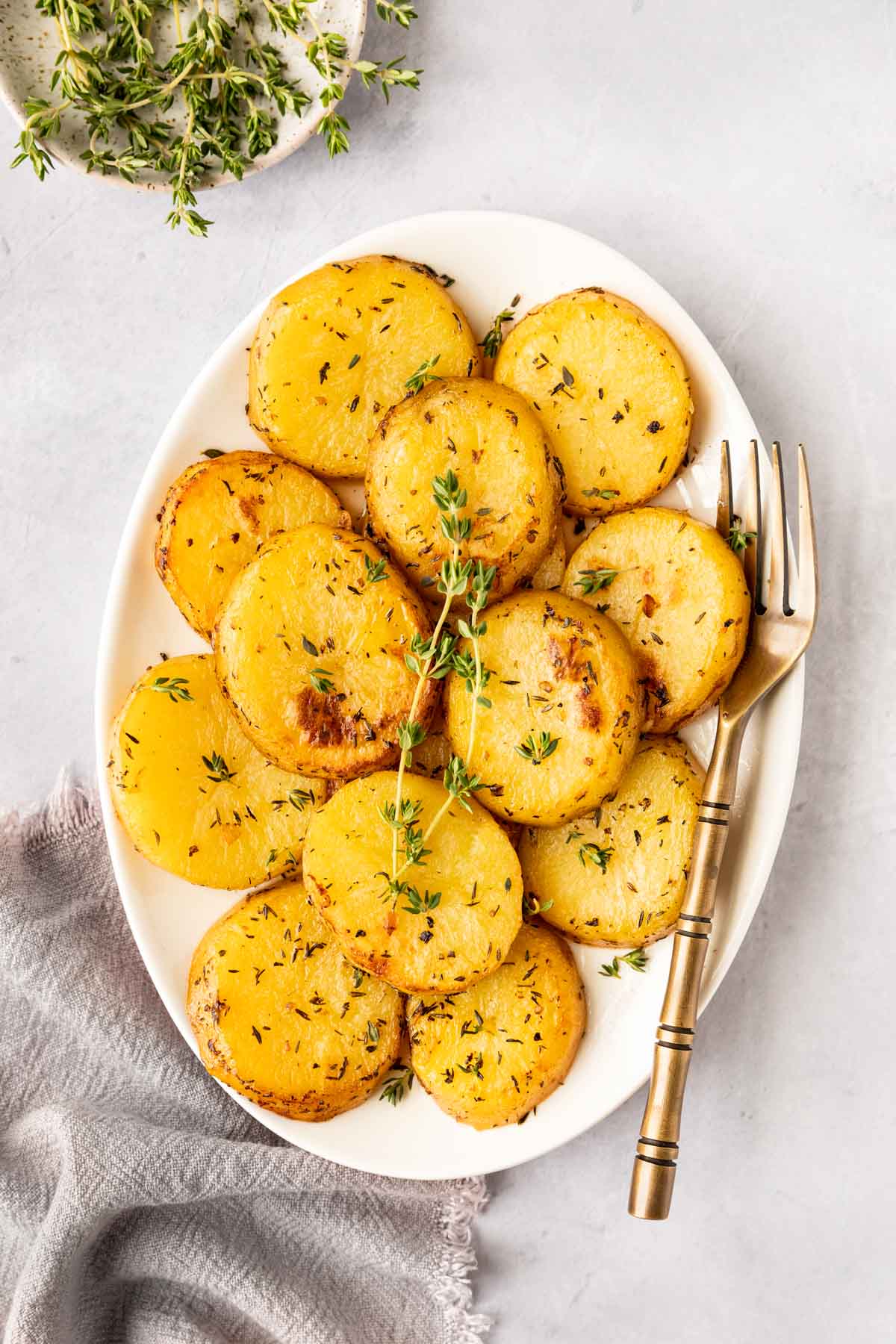 Ingredients
2

pounds

Yukon Gold potatoes

, ends trimmed and sliced 1 inch thick

4

tablespoons

unsalted butter

, melted

1

teaspoon

dried thyme

1

teaspoon

kosher salt

1/4

teaspoon

coarse ground black pepper

2

garlic cloves

, finely minced

1

cup

chicken broth
Instructions
Preheat oven to 450 degrees.

Toss the potatoes in the mixture of butter, thyme, salt, pepper, and garlic.

Add to a 9×13 baking dish and bake for

15 minutes

. Flip and bake an additional

15 minutes

.

Flip potatoes a third time, add chicken broth, and bake for

10 minutes

until broth is cooked off.
Nutrition
Calories:
188
kcal
|
Carbohydrates:
27
g
|
Protein:
3
g
|
Fat:
8
g
|
Saturated Fat:
5
g
|
Polyunsaturated Fat:
0.4
g
|
Monounsaturated Fat:
2
g
|
Trans Fat:
0.3
g
|
Cholesterol:
21
mg
|
Sodium:
543
mg
|
Potassium:
652
mg
|
Fiber:
3
g
|
Sugar:
1
g
|
Vitamin A:
244
IU
|
Vitamin C:
30
mg
|
Calcium:
28
mg
|
Iron:
1
mg