Chewy, crispy Oatmeal Reese's Peanut Butter Cookies full of oats, Reese's pieces and dark brown sugar.
These Oatmeal Reese's Peanut Butter Cookies are based on my favorite Chocolate Oatmeal Raisin cookies but with a hit of peanut butter flavor! They are easy to make, stay moist and chewy for days and will be a family favorite.
These cookies are also pretty low maintenance, the dough freezes well if you scoop them into balls before freezing, just be sure to either defrost in the fridge or add 1-2 minutes to your cooking time.
The recipe is easy enough so I figured I would give you guys some of my favorite cookie tips I practice:
I always use a scoop. I have them in 1 tbsp, 2 tbsp, and ¼ cup size, and they are spring loaded so I can get the cookie dough back out easily. I also use them for baking muffins/cupcakes, so a double win really!
I love baking on a silpat, a silicone liner that helps prevent the bottoms of your cookies from burning. Think of it almost like a protective layer so that direct heat from the bottom of the oven doesn't fry your cookies.
Find a good base recipe and have some fun with mix ins! You have an awesome oatmeal cookie recipe, swap it out like I did for these Oatmeal Reese's Peanut Butter Cookies, or add white chocolate chips and cranberries if you'd like something more festive. You've found an easy way to have a lot of different cookies with just a couple of changes.
The second the bottom of your cookie gets the hint of brown watch like a hawk and get ready to take those cookies out!
I almost always refrigerate my dough before baking. It helps tremendously to have the butter in your recipe harden back up and it makes for a more beautiful cookie. Warm butter will lead to cookie pancakes.
I also wanted to let you all know Friday will be my last post for the next 10 days since next week since I am heading to San Francisco for a week to attend the Fancy Food Show. It is a magical place with 1,500 food companies exhibiting their products to members of the food industry. I've gone as a Chef/business owner for years and this year is my first time going with Press credentials. I am hoping to be back here possibly at the end of next week with some awesome new foods I've found/tasted for you guys to try too, but I will be back on the recipe train bright and early Monday January 25th 🙂 If you guys want to follow along, I will be Instagram-ing my favorite treats while I am at the show.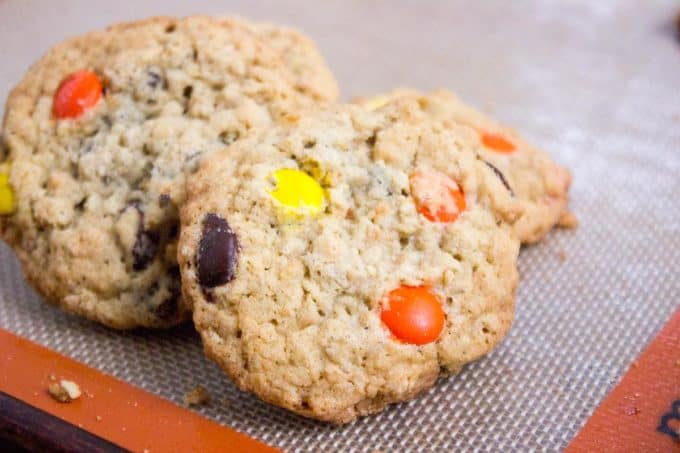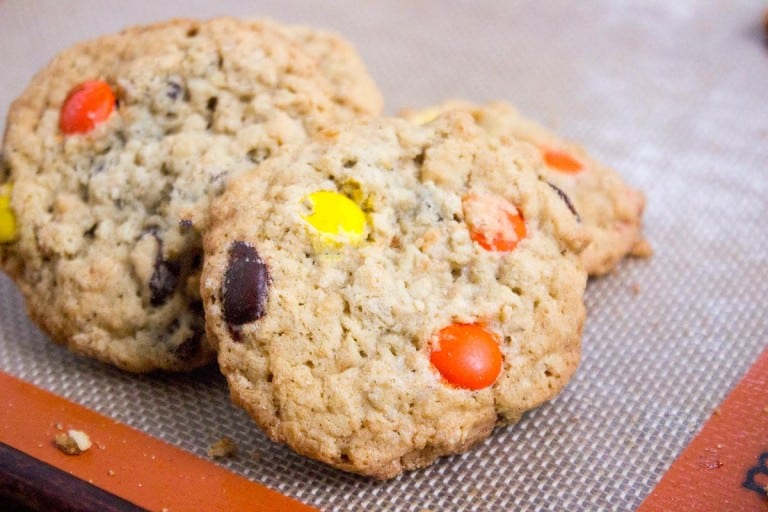 Ingredients
2

cups

flour

1

teaspoon

baking soda

1

teaspoon

baking powder

1

teaspoon

kosher salt

2

sticks unsalted butter

, softened

½

cup

peanut butter

1

cup

dark brown sugar

, firmly packed

1

cup

sugar

2

large eggs

1

tablespoon

vanilla

3

cups

rolled oats

40

Reese's Pieces Candies
Instructions
Preheat oven to 350 degrees.

In a medium bowl whisk together the flour, baking soda, baking powder and kosher salt.

In your stand mixer cream the butter and sugar for

1-2 minutes

on high until light and fluffy.

Add in the dark brown sugar, peanut butter, eggs and vanilla and mix until fully combined.

Add in the dry ingredients a third of it at a time until just incorporated.

Add in the oats, raisins and M&Ms and mix in on low for just a few seconds until combined.

Refrigerate your dough for

30 minutes

AT LEAST (the longer the better).

Depending on the size of the cookies you want, your baking time will vary.

For large cookies as pictured, using an ice cream scoop (¼ cup) drop onto greased pan or using a silpat liner, bake for

12-14 minutes

(I get 18 cookies).

For medium cookies, using a two tablespoon measure (like a coffee scoop, the one I use is double duty with a 2 tbsp measure on one side and a 1 tbsp measure on the other side) bake for

11-13 minutes

(I get 36 cookies).

For small cookies, using a 1 tablespoon measure, bake for

9-11 minutes

(I get 72 cookies).

You don't need the cookies to brown too much, so the moment the bottoms get brown, pull them out.
Nutrition
Calories:
126
kcal
|
Carbohydrates:
22
g
|
Protein:
2
g
|
Fat:
2
g
|
Cholesterol:
9
mg
|
Sodium:
119
mg
|
Potassium:
81
mg
|
Fiber:
1
g
|
Sugar:
12
g
|
Vitamin A:
15
IU
|
Calcium:
18
mg
|
Iron:
0.8
mg