Oven Baked Chicken Drumsticks is the easiest way to prepare the most crispy and juicy chicken, coated in spices and baked to perfection!
Easy Oven-Baked Chicken Thighs, Baked Chicken Breasts or Chicken Legs, always quick, affordable and delicious option for a simple Weeknight Dinner.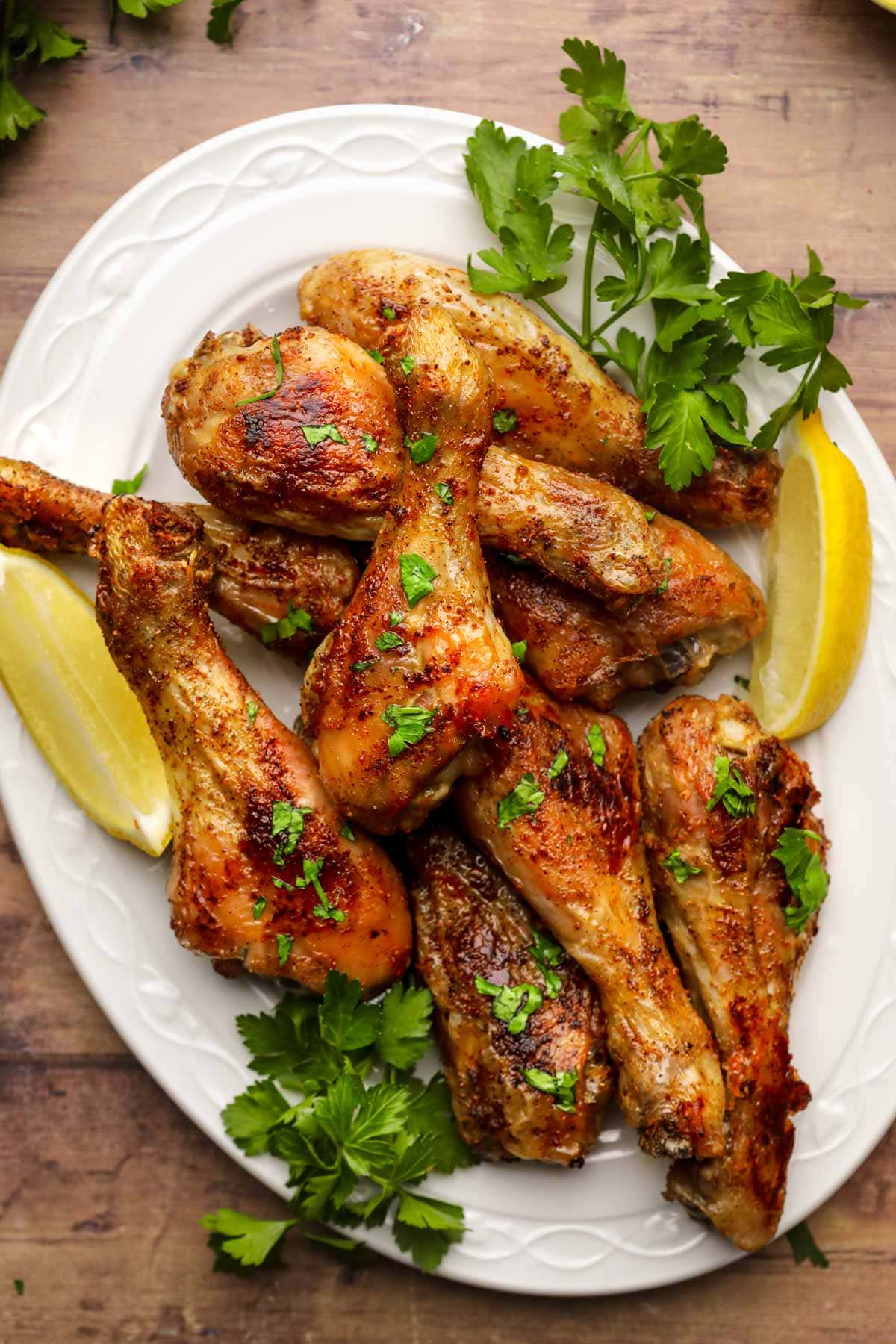 Oven-Baked Chicken Drumsticks are an easy, affordable option for a crispy and juicy chicken dinner! No marinating, no deep frying or basting. In about an hour you'll have perfectly seasoned, delicious roast chicken and even better, there's no fighting because everybody gets the best cut – the chicken leg!
These baked chicken legs are one of the most fool-proof dinner recipes out there. It only takes a few minutes of prep to get the chicken ready for baking. All you have to do is coat the chicken in spices and pop the baking dish in the oven and bake for an hour. There's no marinating either so they are great when you need a main dish that doesn't require lots of prep time.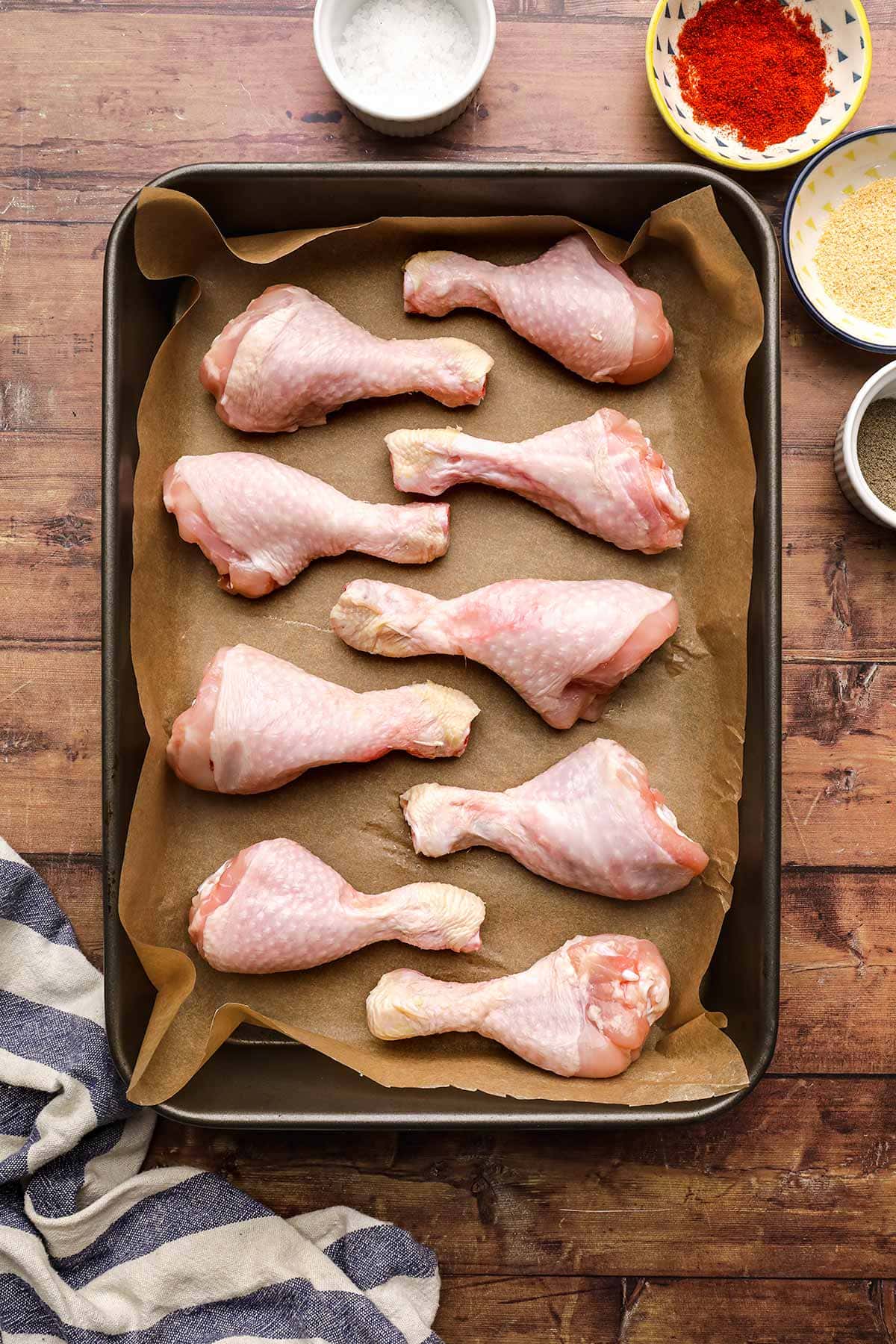 The simple ingredients and minimal hands-on work mean these delicious Baked Chicken Drumsticks are a recipe when you don't have much time or energy to cook. Just bake them up and serve with some quick Lemon Pasta, or even just a bag of salad and Dinner Rolls. You could also make these tasty legs instead of your usual whole Roast Chicken for a family dinner along with favorite sides like Sauteed Green Beans and Creamy Mac and Cheese.
What is the difference between Chicken Drumsticks and Chicken Leg Quarters?
While chicken drumsticks are often called chicken legs, they are just part of the leg of the chicken. Chicken leg quarters are the bottom halves of the chicken in one piece that includes the chicken thigh, the drumstick, and some of the back of the chicken. These are both different from chicken "drummies" which are the part of the chicken wing that looks like a drumstick when the whole wing is separated into wings, flats, and tips.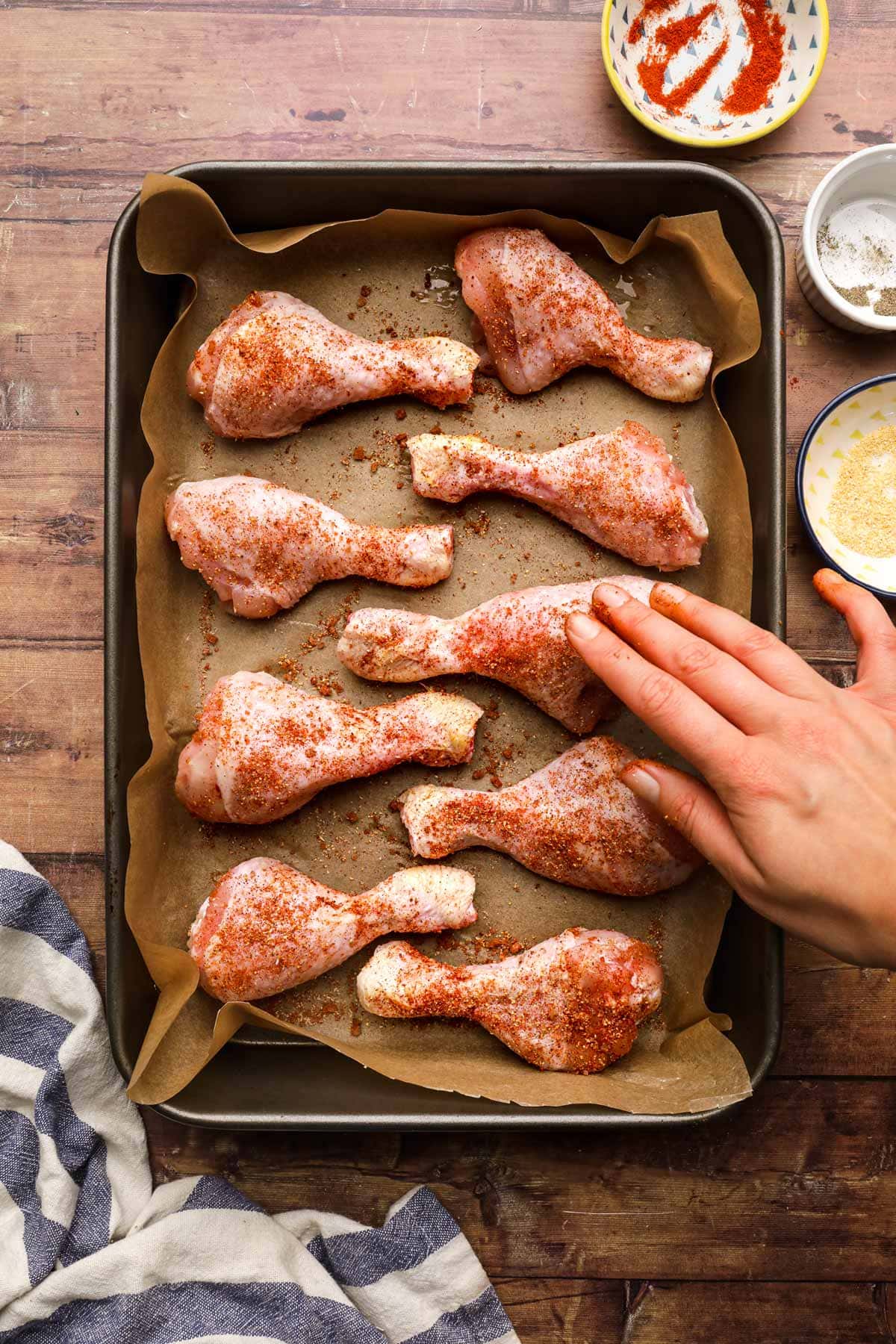 How to Make Oven Baked Chicken Drumsticks
Prep: Start by preheating the oven to 400 degrees. Line a baking sheet with parchment paper. If you don't have parchment paper, you can also line your baking sheet with foil.
Season: Place the drumsticks on the prepared baking tray with at least a few inches between each chicken leg. Sprinkle the drumsticks with salt, pepper, paprika, and garlic powder, so that the spices coat both sides.
Cook: Put the drumsticks in the oven for 30 minutes. After 30 minutes of baking time, open the oven and flip the drumsticks over. Put them back in the oven for 30 minutes, or until they're cooked through. You can use a meat thermometer to make sure the internal temperature has reached 170 degrees before taking them from the oven and serving.
Easy Delicious Dinner Sides
FAQs for Oven Baked Chicken Drumsticks
When are Chicken Drumsticks done cooking?
Chicken legs are considered done cooking when they reach an internal temperature of 170-175 degrees, which is a slightly higher temp than other chicken cuts. Use a meat thermometer halfway into the thickest part without touching the bone for the most accurate temperature.
What do you serve with Chicken Drumsticks?
Chicken drumsticks pair well with a variety of delicious side dishes like roasted or grilled vegetables, mashed potatoes, coleslaw, green salads, rice pilaf, corn on the cob, or even a refreshing fruit salad. You want to pick sides that compliment the crispy skin, tender meat, and natural flavors without overpowering the simple dish.
What is the best temperature to cook chicken drumsticks?
The best temperature to cook chicken drumsticks is at 400 degrees. Baking at this temperature ensures that the chicken cooks slow enough that the natural juices heat evenly throughout for tender meat, but not so slowly that the skin gets soggy from sitting in the fat.
How long do you cook Chicken Drumsticks?
Chicken drumsticks typically require a cooking time of about 60 minutes in the oven at 400 degrees. However, the exact cooking time may vary depending on the size of the drumsticks, your oven, and other factors. It is essential to check the internal temperature of the chicken with a meat thermometer to ensure it reaches 170 degrees to ensure it is fully cooked and safe to eat.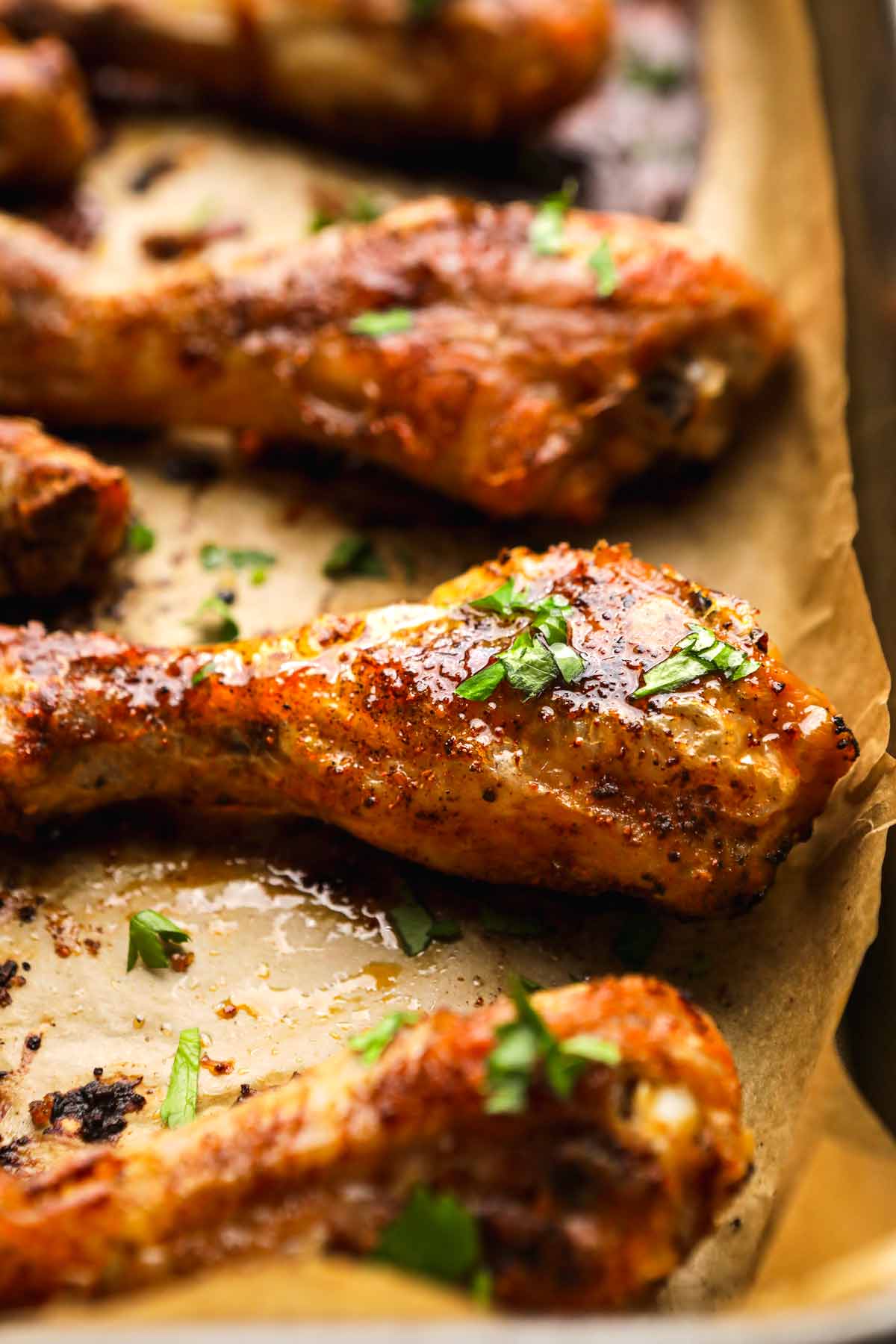 Create a free account to

Save Recipes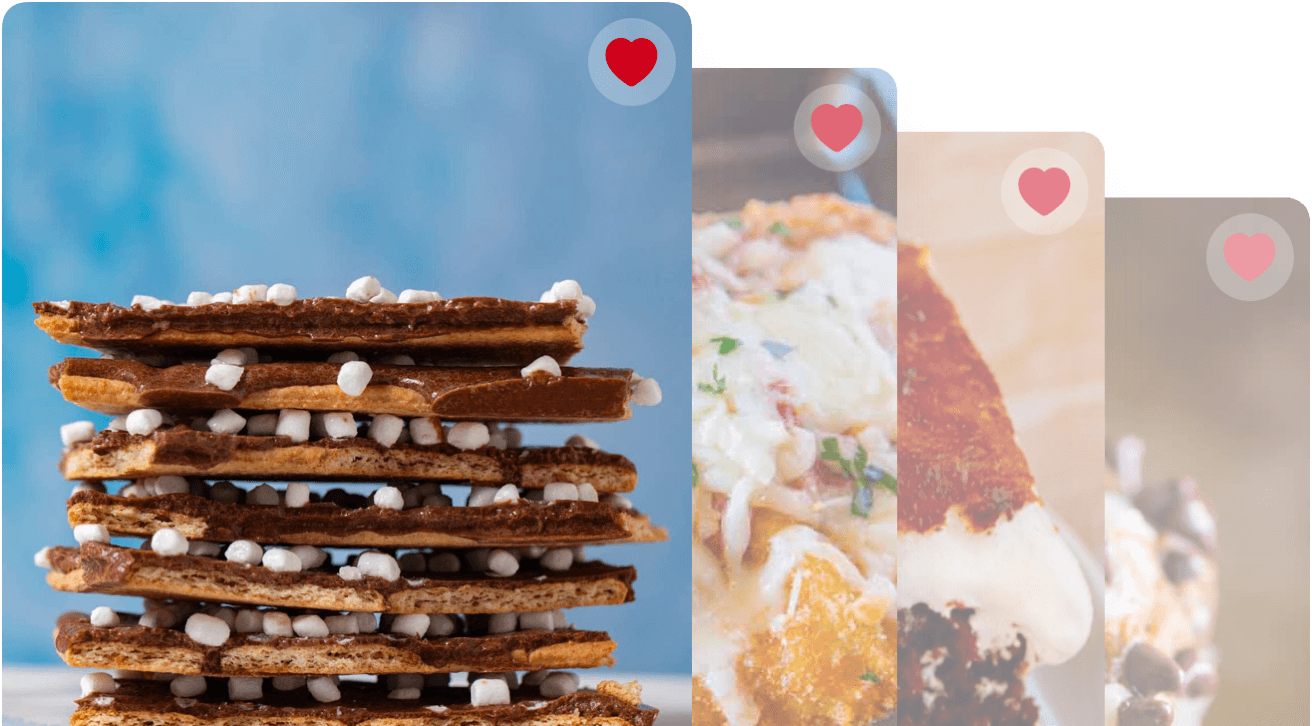 Key Ingredients
Chicken: Drumsticks come from the lower part of chicken legs, below the chicken thighs. They're a juicy, flavorful piece of chicken that are great for baking. They are also usually pretty inexpensive if you need an affordable weeknight meal.
Seasonings: This is one of the simplest recipes ever, other than the chicken drumsticks all you need are a handful of spices to flavor them. Along with kosher salt and black pepper, they are seasoned with smoky paprika and savory, aromatic garlic powder.
Can Baked Chicken Drumsticks be made ahead of time?
Oven Baked Chicken Drumsticks can be prepped ahead of time with the seasonings and marinated for up to 2 days. However, as with most baked chicken recipes, they are best the day you cook them. Unlike light meat, the dark meat does stay fairly moist when reheating, but it still changes the texture and dries out a little.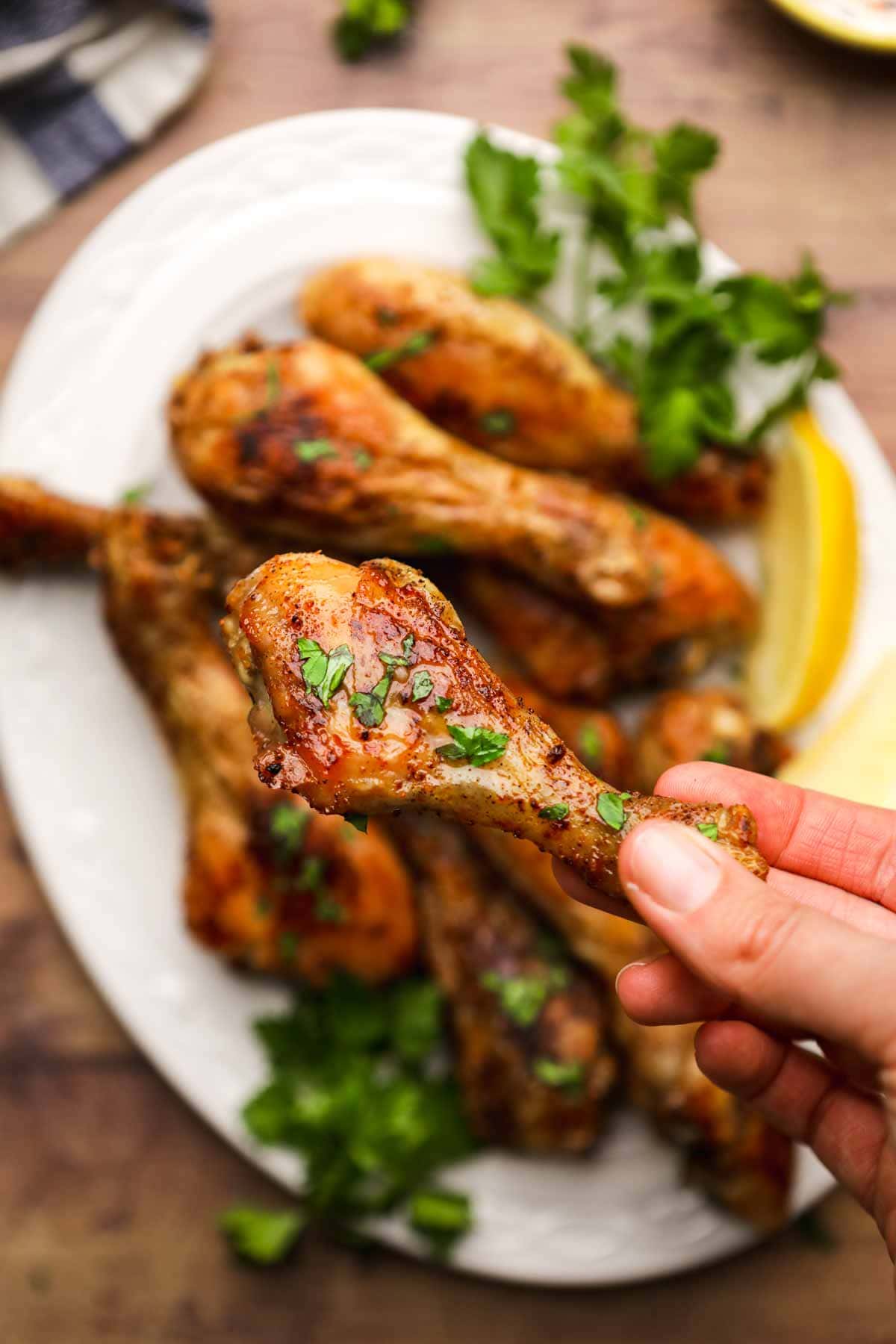 Variations
Seasonings: Try adding other flavorful spices like onion powder, cumin, cayenne pepper, rosemary, or a teaspoon of curry powder. You could add Italian seasoning or swap in pre-made spice mixtures like Taco Seasoning or poultry seasoning.
Honey Mustard Glaze: In a bowl, whisk together honey, Dijon mustard, minced garlic, and a splash of soy sauce. Brush the mixture over the seasoned drumsticks before baking or grilling. The sweet and tangy glaze adds a delightful twist to the dish, enticing both kids and adults alike.
Spicy Cajun: Create a zesty Cajun seasoning mix with ingredients like paprika, cayenne pepper, thyme, and onion powder. Brush the chicken drumsticks with melted butter and coat completely with the chicken rub. The fiery Cajun blend has a satisfying kick for those who like spice!
Lemon Herb: Prepare a marinade using fresh lemon juice, minced garlic cloves, olive oil, and chopped herbs such as rosemary, thyme, and parsley. Let the drumsticks marinate in this mixture for at least 30 minutes before cooking. The herby, citrusy lemon chicken is perfect for a light and flavorful summer meal.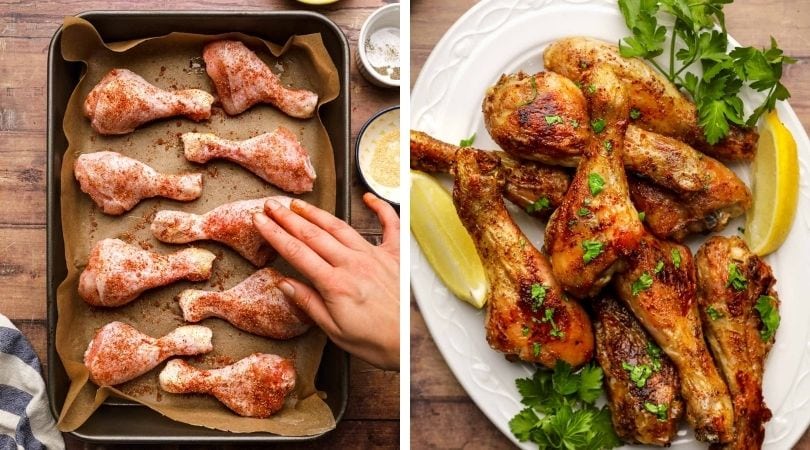 Slow Cooker Chicken Drumsticks
Season the chicken drumsticks with kosher salt, coarse ground black pepper, paprika, and garlic powder as per the original recipe.
Place the seasoned drumsticks in the slow cooker, ensuring they don't overlap, and cover with the lid.
Cook on low heat for 4 to 5 hours or on high heat for 2 to 3 hours, or until the internal temperature of the chicken reaches 170 degrees.
To make the chicken skin crispier, transfer the cooked drumsticks to a baking sheet and broil in the oven for a few minutes until desired crispiness is achieved.
Grilled Chicken Drumsticks
If you're grilling you'll want to marinate the chicken for a few hours for the best flavor.
Add ½ cup olive oil and ⅓ cup lemon juice plus the seasonings and chicken legs to a plastic ziplock bag. Refrigerate for 4-12 hours in the fridge.
Preheat the grill to medium-high heat (around 400 degrees).
Oil the grill grates to prevent sticking.
Grill the drumsticks, turning occasionally, for approximately 30-40 minutes, or until the internal temperature reaches 170 degrees.
For crispier skin, sear the drumsticks over high heat for a few minutes at the end of grilling.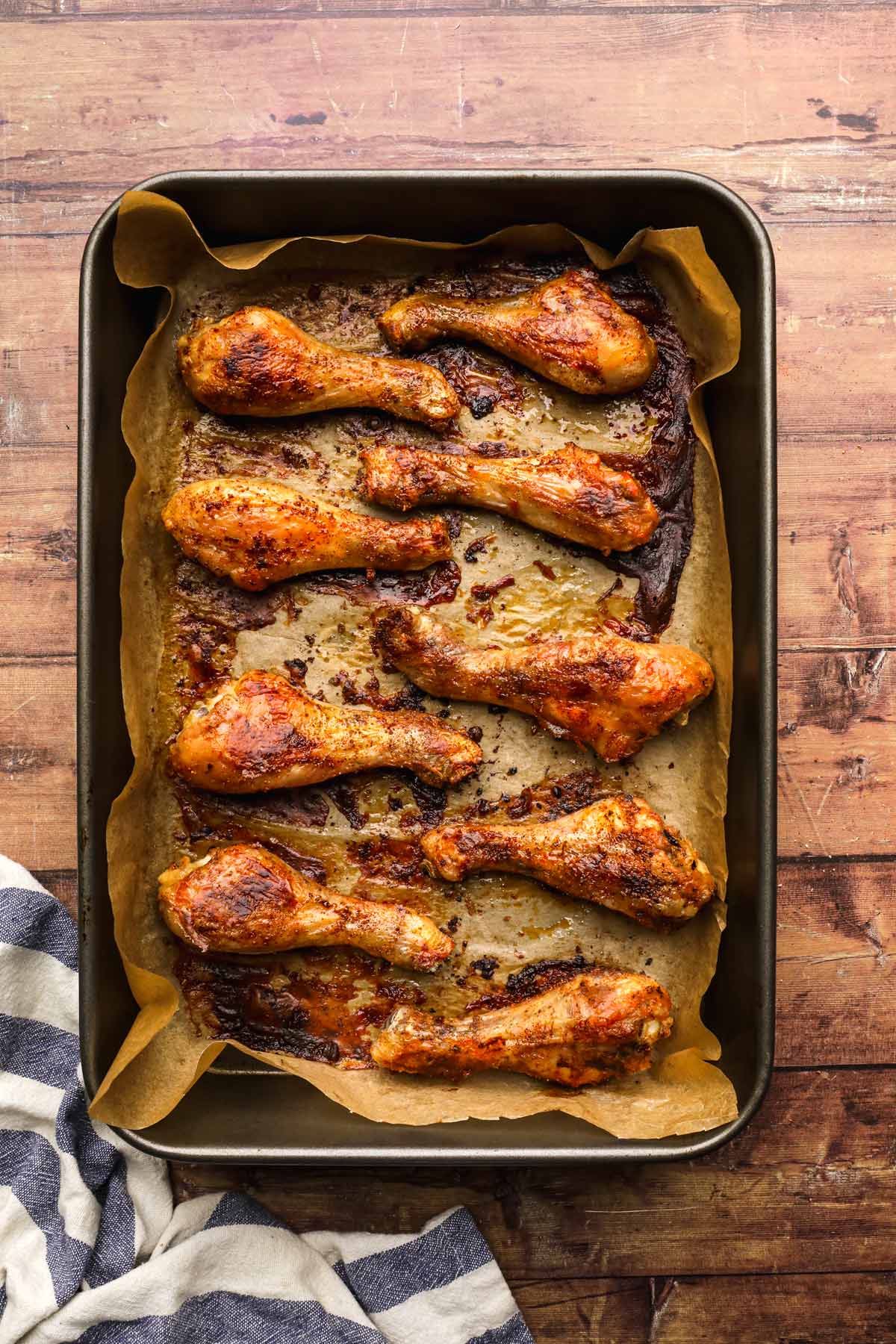 More Amazing Baked Chicken Recipes
How to Store
Store: The baked chicken legs can be at room temperature for up to 2 hours. After they've had time to cool, transfer leftover chicken to an airtight container to store in the fridge for 3-4 days.
Reheat: Reheat them in the oven on low heat covered with aluminum foil, flipping the drumsticks after a few minutes so they don't dry out and they heat evenly.
Freeze: Let the cooked drumsticks cool completely then store in a freezer safe bag for up to 3 months. Allow them to thaw overnight in the fridge before reheating in the oven.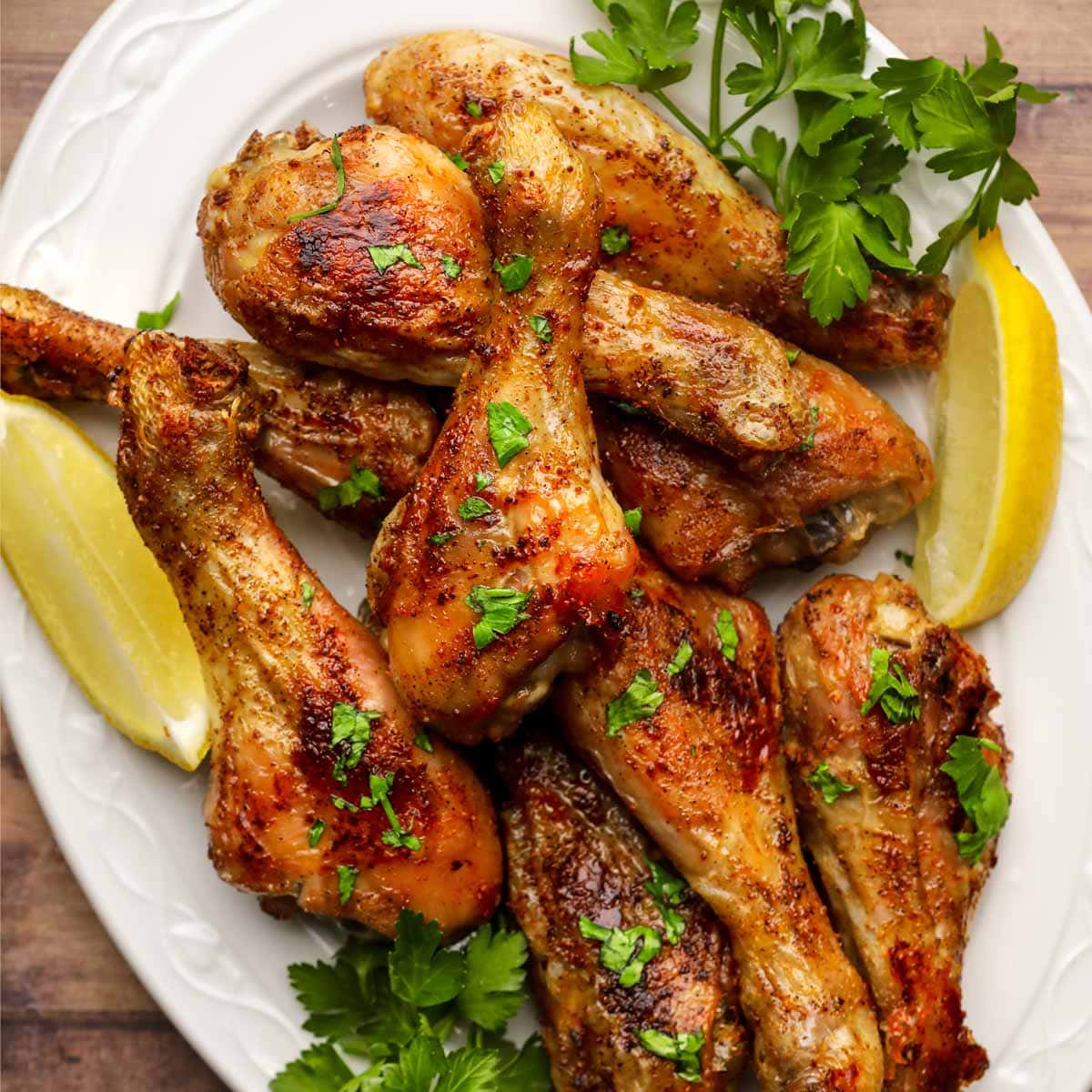 Ingredients
1

teaspoon

kosher salt

1/2

teaspoon

coarse ground black pepper

1/2

teaspoon

paprika

1/2

teaspoon

garlic powder

9

chicken drumsticks
Instructions
Preheat oven to 400 degrees.

Line a 9×13 baking pan with parchment paper.

Add drumsticks with enough space so they don't touch each other.

Sprinkle salt, black pepper, paprika, and garlic powder over both sides of the chicken.

Bake at 400 degrees for

30 minutes

.

Flip drumsticks and bake another

30 minutes

, or until internal temperature reaches 165 degrees.
Nutrition
Calories:
122
kcal
|
Carbohydrates:
0.3
g
|
Protein:
13
g
|
Fat:
7
g
|
Saturated Fat:
2
g
|
Polyunsaturated Fat:
2
g
|
Monounsaturated Fat:
3
g
|
Trans Fat:
0.03
g
|
Cholesterol:
70
mg
|
Sodium:
337
mg
|
Potassium:
175
mg
|
Fiber:
0.1
g
|
Sugar:
0.02
g
|
Vitamin A:
90
IU
|
Vitamin C:
0.003
mg
|
Calcium:
9
mg
|
Iron:
1
mg