P.F. Chang's Spicy Chicken is the perfect copycat dinner. It's tangy, spicy, and slightly sweet with pineapple juice, chili sauce, green onions, and vinegar.
There's nothing like finding Copycat Recipes for your favorite takeout dishes, and this Spicy Chicken dish fits the bill perfectly! For the full P.F. Chang's experience, make other copycat recipes as sides like P.F. Chang's Chicken Lettuce Wraps and P.F. Chang's Garlic Noodles.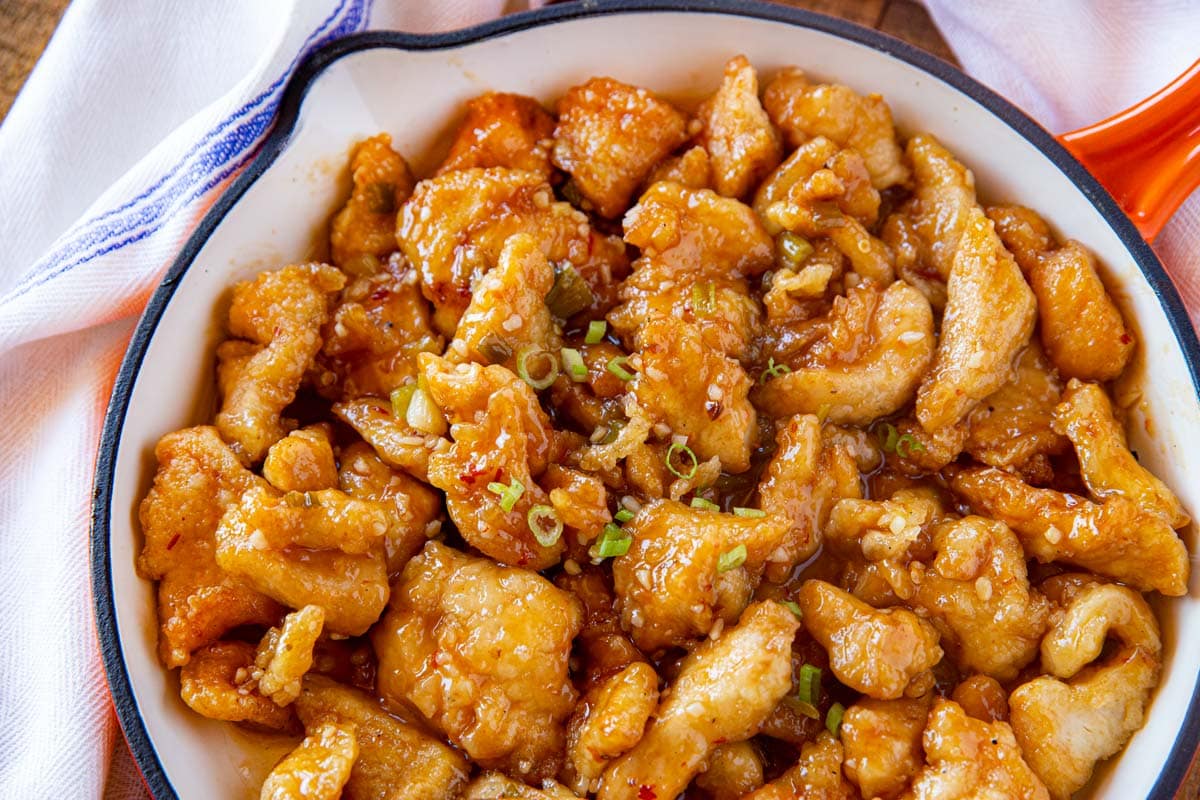 P.F. CHANG'S SPICY CHICKEN (COPYCAT)
This simple, spicy chicken recipe is sure to become a go-to in your house for weeknight dinners. It's easy to toss together and takes under 30 minutes to make. Make some stir-fried veggies and Chinese Steamed Rice to go on the side, and you'll have a dish worthy of any Chinese Restaurant from the comfort of your own table.
When it comes to this simple chicken recipe, the sauce truly makes the dish. There's nothing like its lightly spicy taste with sweet and tangy undertones from the pineapple juice. In fact, you may want to whip up some extra sauce just to drizzle over your rice and other sides. Trust me; you'll want it on everything.
Since the sauce is thickened with cornstarch, instead of flour, this chicken recipe is also amazingly gluten-free. So, it should be an excellent fit to serve a variety of diets.
This recipe for Spicy Chicken Breasts isn't too spicy, but you can always adjust the level of spice depending on your taste. If you prefer a more mild spicy chicken, decrease the amount of chili sauce in the ingredients. On the other hand, if you can't get enough spice, you can always take it up a couple of notches, and add in some red pepper flakes. Or to make sure the dish is enjoyable to everyone, you can prepare the chicken breast to be fairly mild on the spice, but have extra chili sauce on the side for anyone who wants to set their mouth on fire.
MORE CHINESE COPYCAT RECIPES
EASY TO MAKE SPICY CHICKEN
It's the perfect recipe for the next time your craving Chinese food and in a hurry! You can skip the restaurant and still get classic Chinese cuisine. Throwing this recipe together might be even easier than ordering Chinese food!
All you have to do is prepare the spicy sauce in a saucepan. Once you've finished that, heat oil in a wok or large pan and cook the chicken on high heat in the oil, cook the chicken to golden brown perfection then toss it in the sauce before serving. The sautéed chicken comes out tender, juicy, and slightly crispy on the outside every time.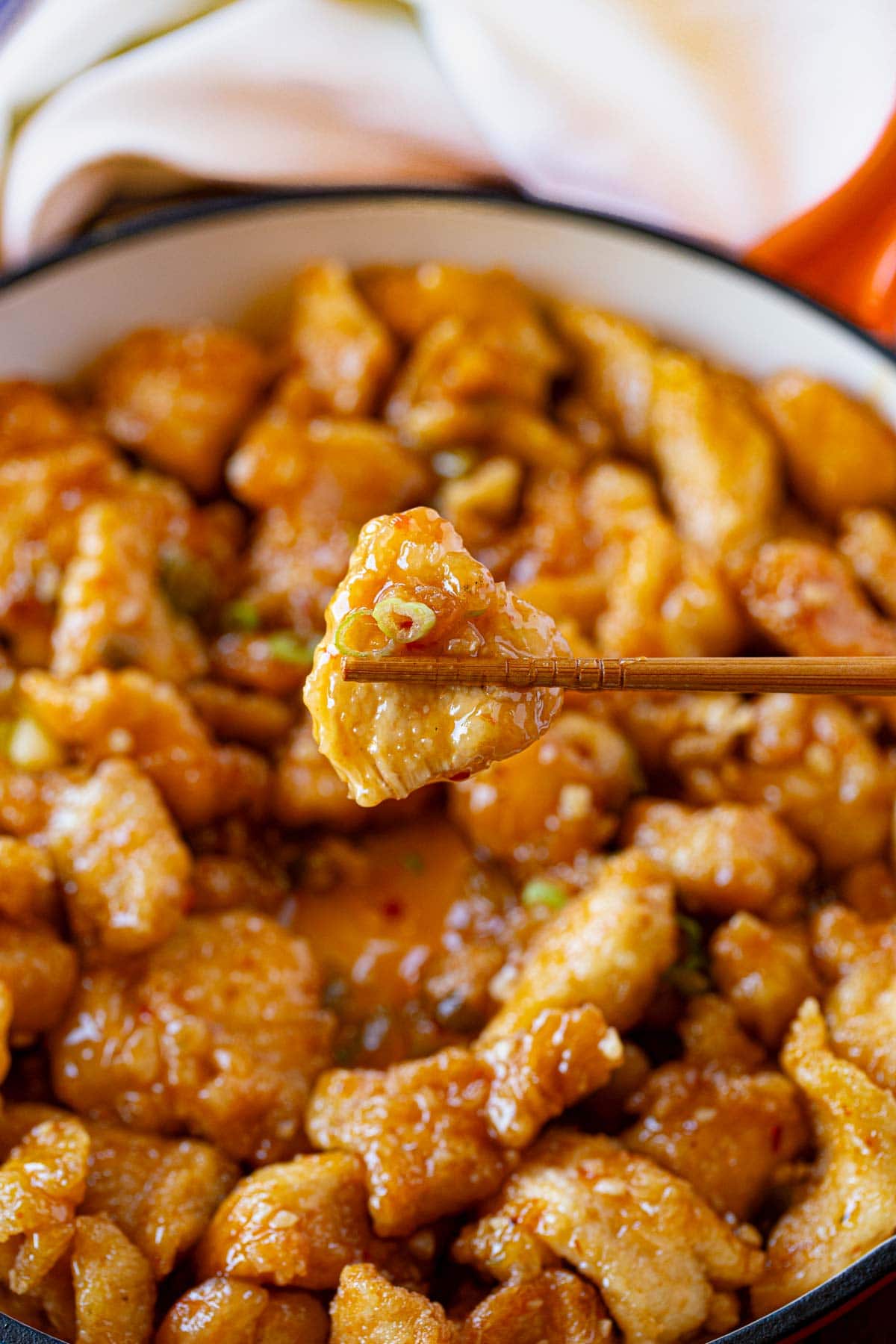 Create a free account to

Save Recipes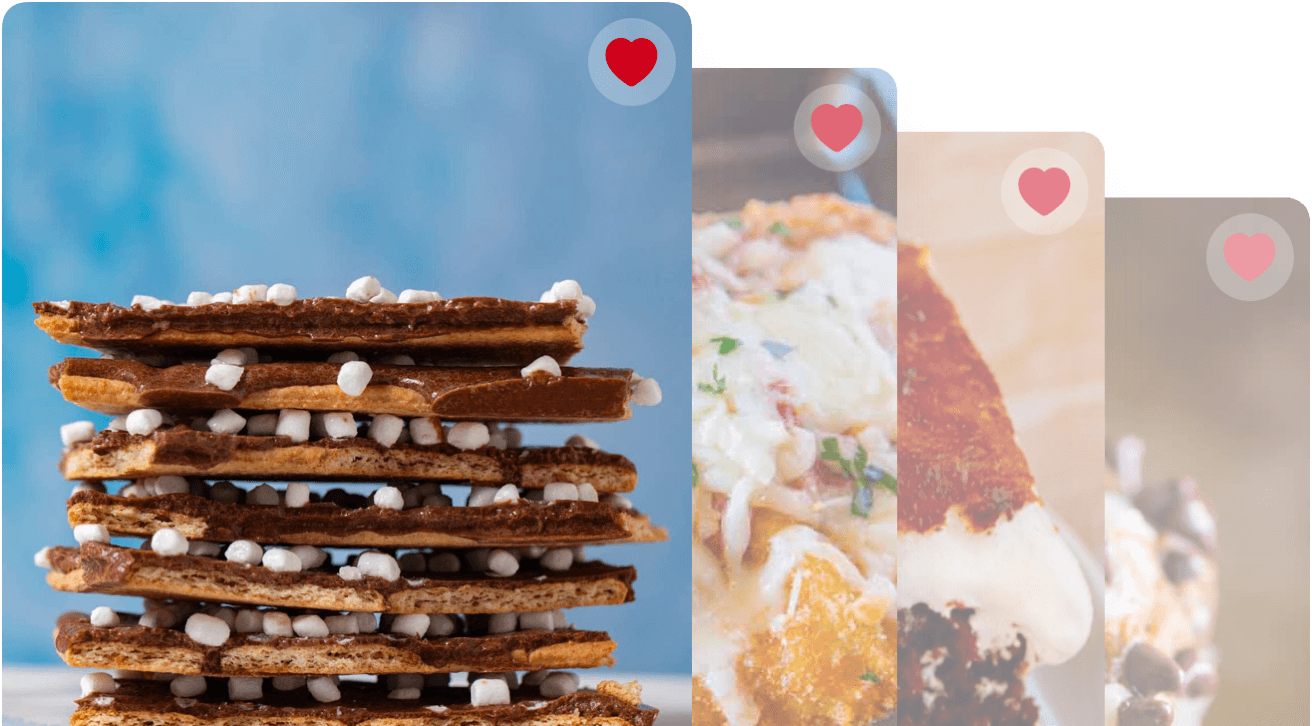 VARIATIONS ON P.F. CHANG'S SPICY CHICKEN (COPYCAT)
Meat: If you love the sauce as much as we do, you'll want to be using it on as many recipes as possible. Try it on other meats besides chicken breast. You can prepare spicy pork or beef with the same sauce recipe. You could also use this recipe to make bone-in chicken thighs. Keep in mind that the different types and cuts of meat will have different cooking times. You can find safe cooking temperatures for any meat on the USDA's Website.
Sweet and spicy: To pump up the sweetness in your Spicy Chicken dinner, try adding in some brown sugar to the sauce. The brown sugar will give a deeper, warmer flavor to the sauce. You can adjust the amount in your ingredients depending on your taste.
Flavor add-ins: There are plenty of other seasonings you can put in this chicken dish. Try experimenting with pepper flakes, oregano, cayenne pepper, thyme paprika, or garlic powder. You could even make a sweet and spicy spice mix as a dry rub for the chicken cutlets before cooking it.
INSTANT POT P.F. CHANG'S SPICY CHICKEN
Turn the instant pot to saute mode and add oil to the bottom of the pot.
Add the chicken breasts to the instant pot and brown them on each side. You'll need to brown the chicken breasts in batches.
In a bowl, whisk together the seasoning and sauce ingredients.
Cut the chicken breasts and toss them in the sauce recipe. Until well coated.
Cook the boneless chicken in the instant pot on high pressure for 15 minutes.
Let the pot sit for 10 minutes then remove the valve and open.
Add extra sauce, garlic powder, or other seasonings to the chicken recipe to taste and enjoy your restaurant-style, one-pot dinner.
WHAT TO SERVE WITH P.F. CHANG'S SPICY CHICKEN
HOW TO STORE P.F. CHANG'S SPICY CHICKEN (COPYCAT)
Serve: After you've cooked PF Chang Spicy Chicken, you shouldn't leave it at room temperature for more than 2 hours.
Store: To store leftover Spiced Chicken, let it cool to room temperature, then seal it in an airtight container. The cooked chicken breasts will keep well in the fridge for 3-4 days.
Freeze: This is also a great recipe to freeze. Kept in an airtight container PF Chang Chicken will keep well in the freezer for up to 2 months. If you want to have this dish prepped in advance, prepare the sauce ahead of time and keep it in an airtight container in the freezer. That was the next time you want to make Spicy Chicken Breasts. All you have to do is defrost your chicken and sauce, reheat the sauce, and cook the chicken.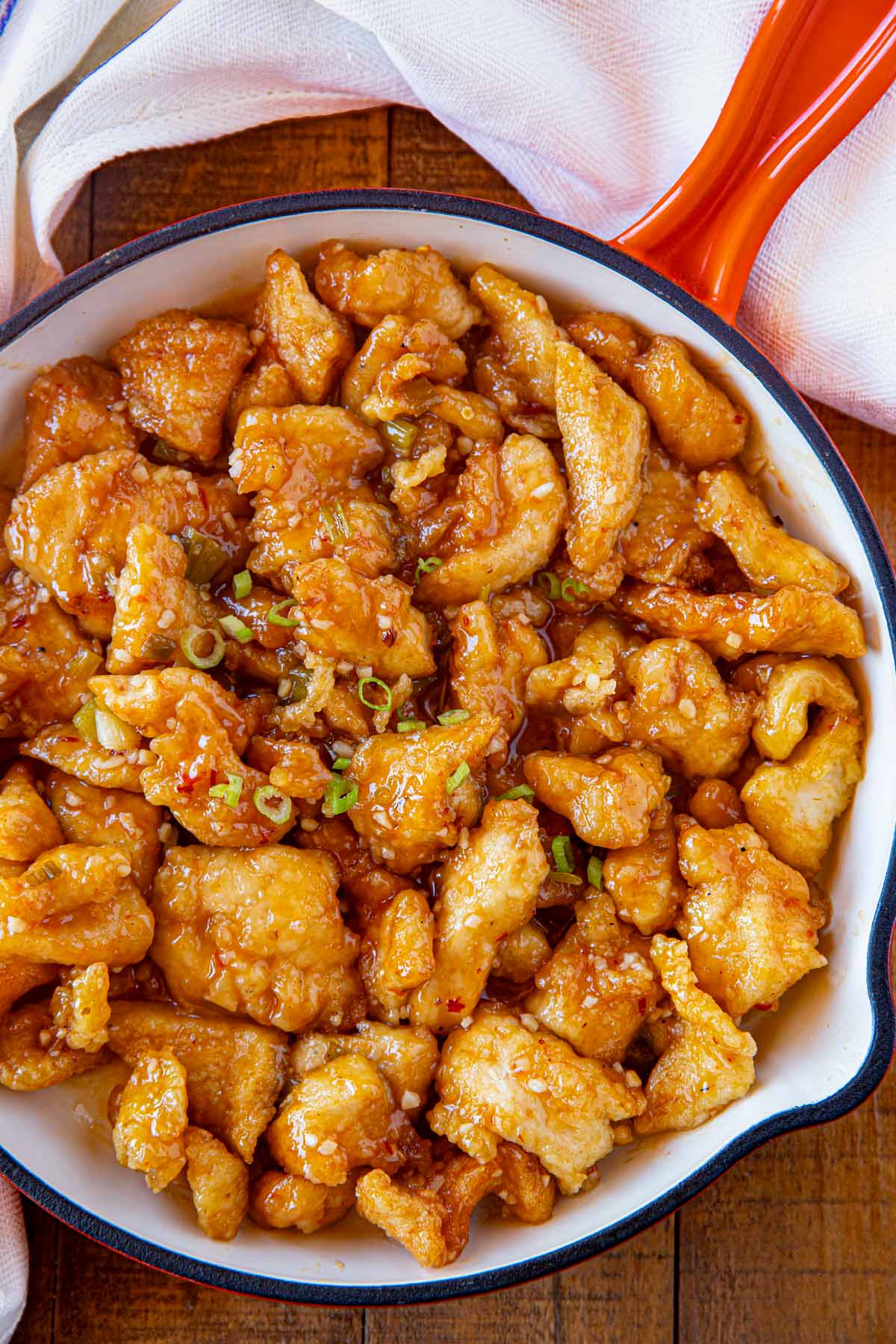 Ingredients
Chicken Ingredients
2

chicken breasts

, boneless skinless (about 1 pound)

1/4

cup

cornstarch

vegetable oil

, for frying
Spicy Chicken Sauce
5

cloves

garlic

, minced

1/4

cup

green onions

, thinly sliced (green and white parts)

1

cup

pineapple juice

1/4

cup

sweet chili sauce

, Chinese variety (Panda Express is a good option)

2

tablespoons

white vinegar

1/2

teaspoon

crushed red pepper flakes
Instructions
Cut the chicken into matchstick sized pieces and toss with cornstarch.

Heat 1 inch of oil in large skillet on high heat and fry the chicken in batches until cooked (you are not looking to brown them, just cook them until crisp), about

3-4 minutes

.

Remove chicken to a plate and drain oil, leaving 1 tablespoon or so behind to make sauce.

Add garlic and half the green onions to a large skillet or wok, cooking for

30 seconds

until fragrant.

Whisk in the pineapple juice, sweet chili sauce, white vinegar and crushed red pepper flakes.

Bring to a boil and cook for

2-3 minutes

until slightly thickened.

Add in the chicken and stir to combine, cooking

2 minutes

until sauce is thickened. If sauce is still thin add 1 teaspoon cornstarch to 1 tablespoon water and add it to the skillet, stir and cook until thickened.

Stir in remaining green onions and serve immediately.
Nutrition
Calories:
329
kcal
|
Carbohydrates:
12
g
|
Protein:
6
g
|
Fat:
29
g
|
Saturated Fat:
23
g
|
Cholesterol:
18
mg
|
Sodium:
127
mg
|
Potassium:
171
mg
|
Fiber:
1
g
|
Sugar:
5
g
|
Vitamin A:
56
IU
|
Vitamin C:
5
mg
|
Calcium:
10
mg
|
Iron:
1
mg