Peach Berry Caprese Salad is the perfect sweet and juicy fruit salad with mozzarella balls, basil, and a zesty lemon and honey balsamic dressing.
This tasty summer salad makes the perfect Side Dish to serve at a picnic, potluck, or cookout. For more beautiful salads try Corn Salad, Classic Fruit Salad, or Strawberry Spinach Pasta Salad.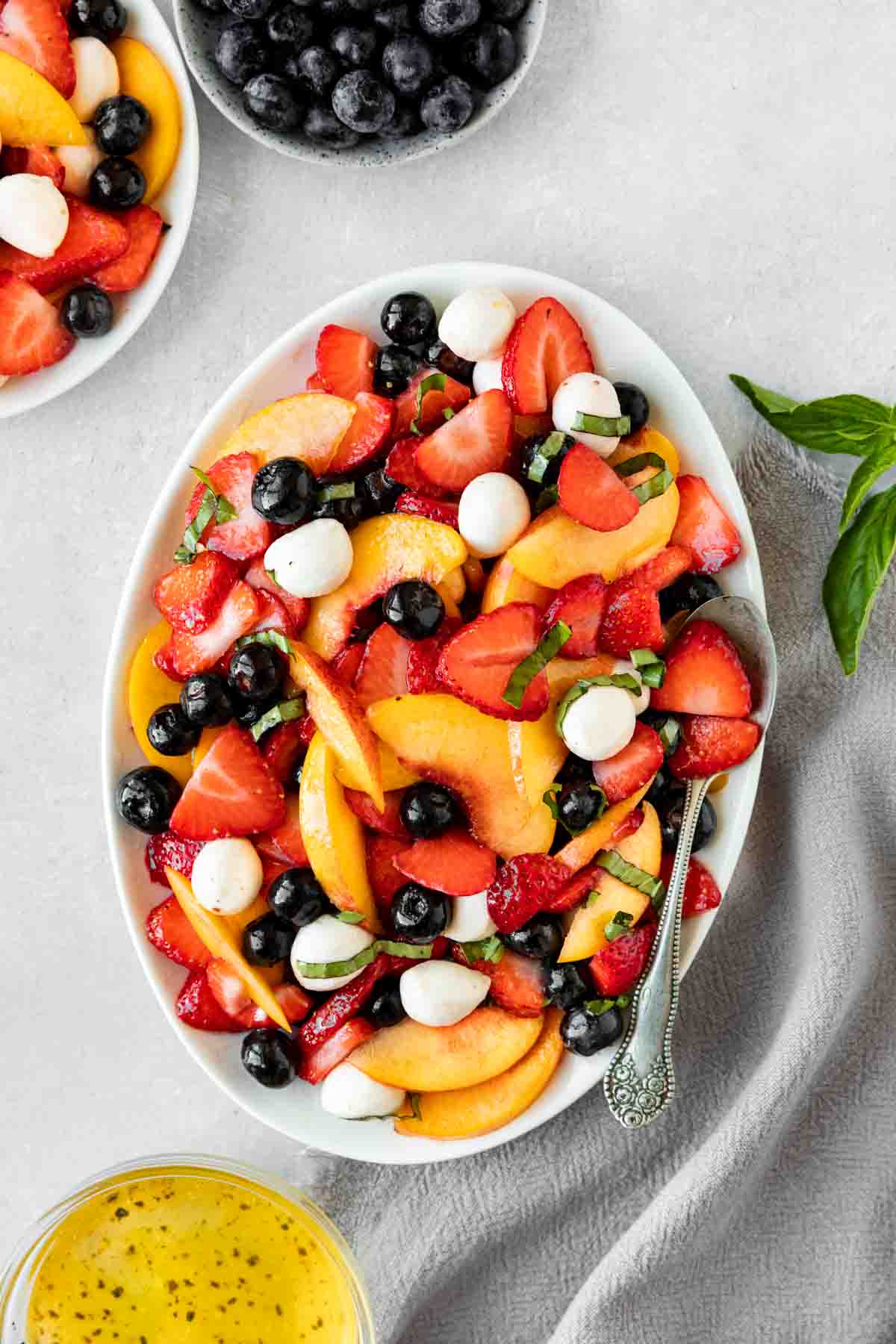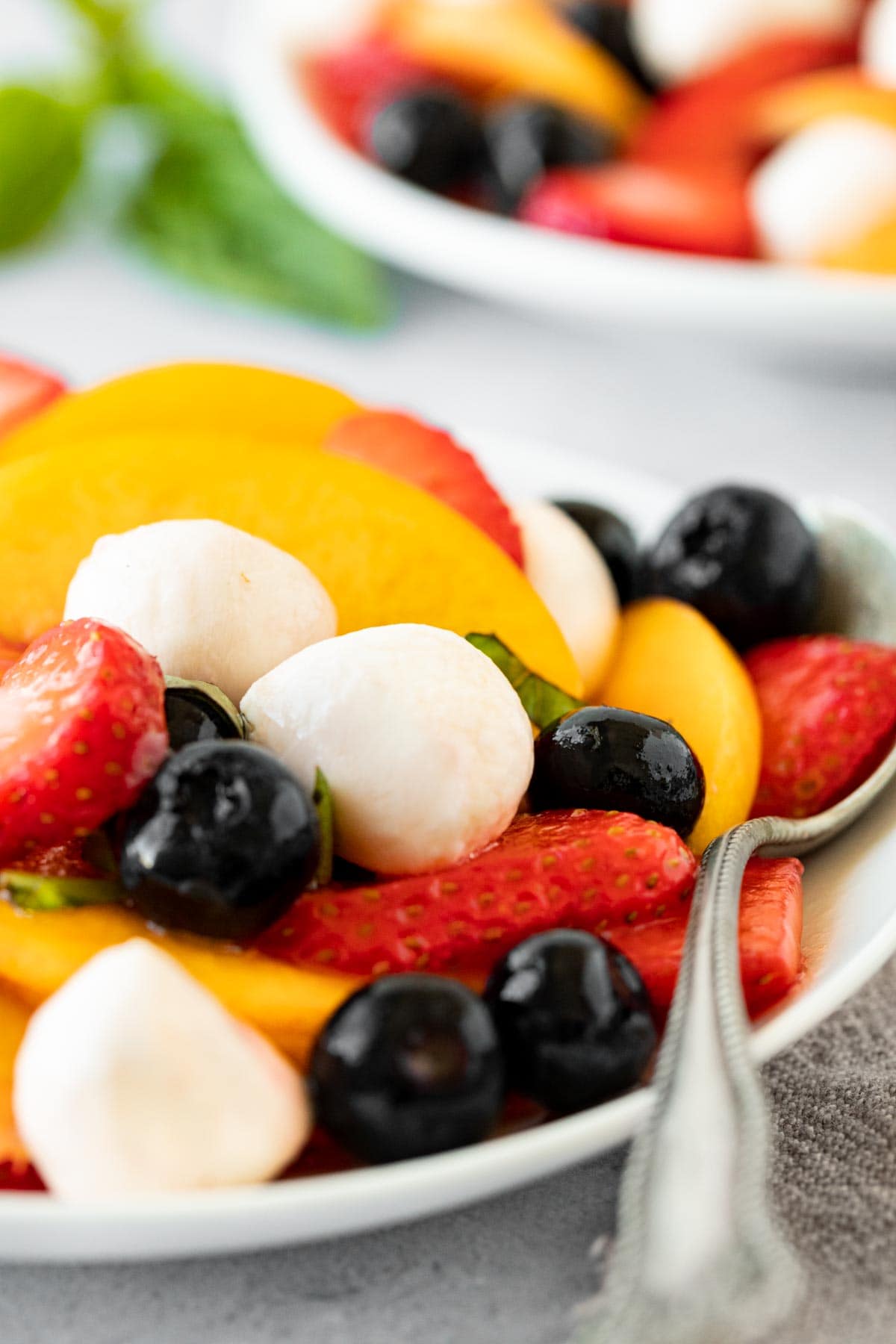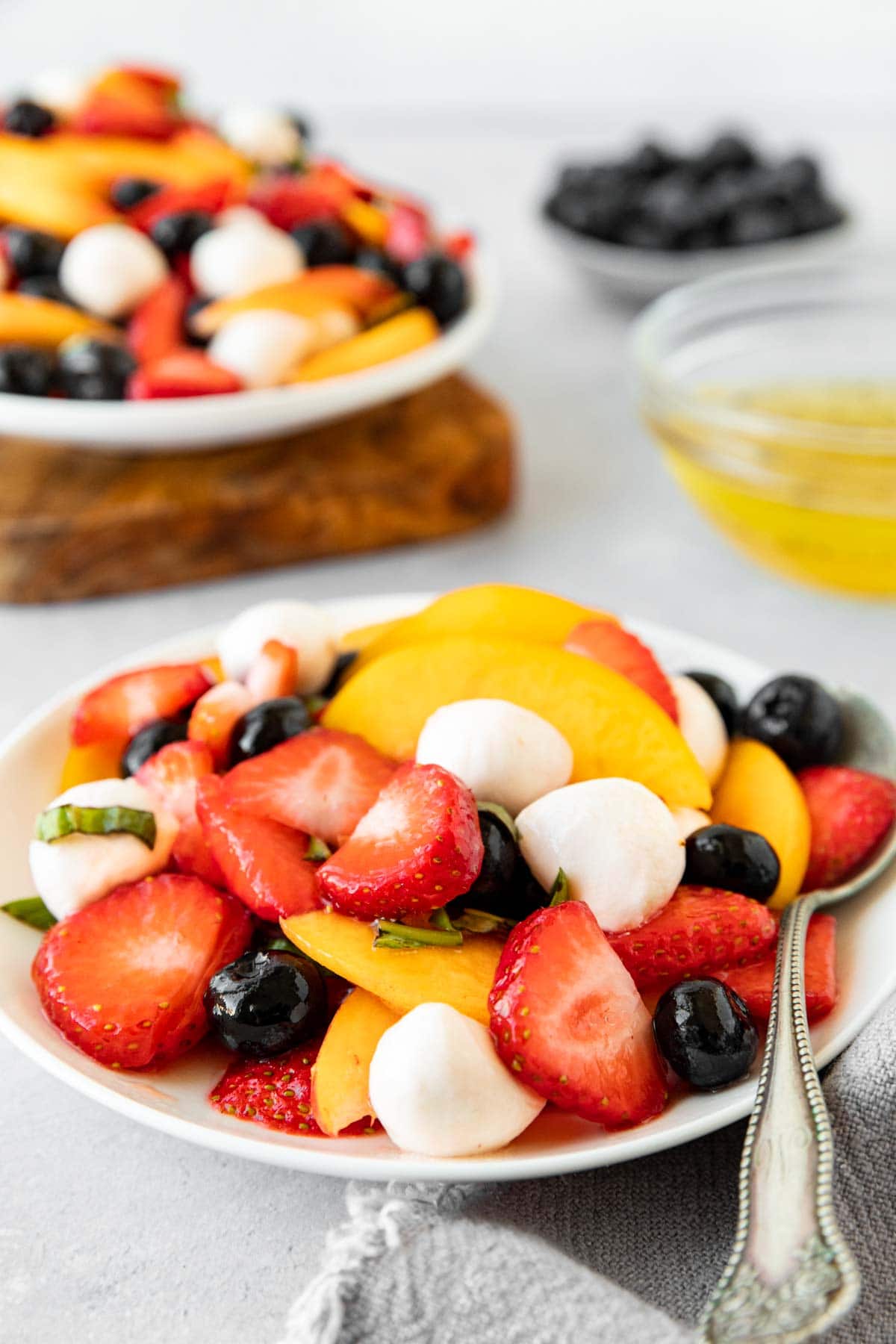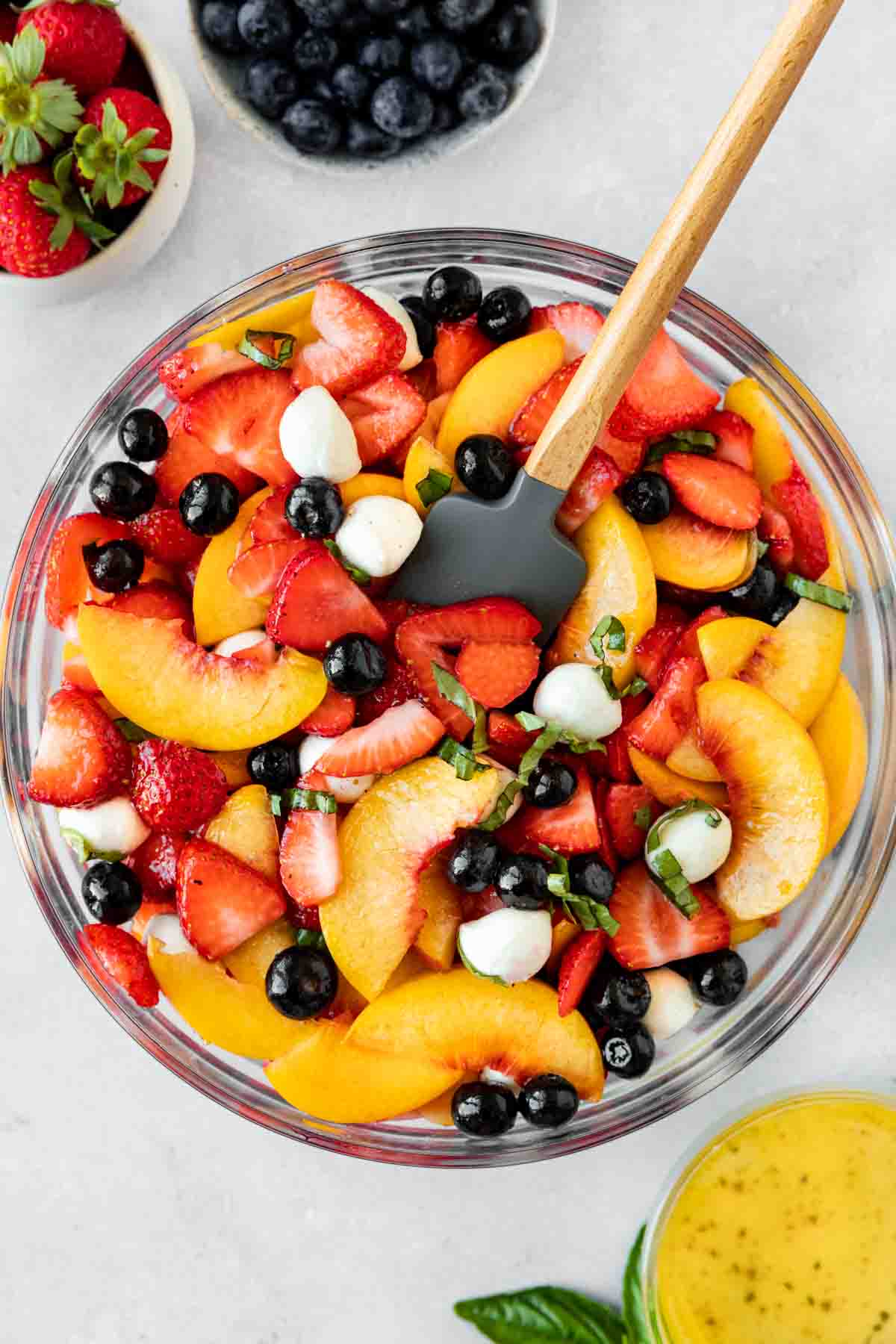 About Our Peach Berry Caprese Salad Recipe
Traditional Caprese Salads are an iconic Italian dish made with fresh tomatoes, creamy mozzarella, basil leaves, and a simple olive oil dressing. In this dish, it uses the same basic concept, but replaces the tomatoes with sweet peaches and adds in some juicy berries for a refreshing salad packed with the flavors of summer.
Peach Caprese Salad is perfect to toss together with fresh produce during peach season. Summer is the optimal time to get fresh peaches and enjoy their sweet, juicy, slightly tart taste. However, these fruits can often be enjoyed all year long from your local grocery store. You also have the choice of using frozen fruits for this Caprese Salad recipe.
"Can Peach Berry Caprese Salad be made ahead?"
This is not the ideal dish to make ahead as the quality of a dressed salad will diminish over time. However, if you want to get a little bit of a jumpstart on this dish, you can prep the fruit ahead of time and toss it all together. If you add in the cheese too early it might start to take on the colors of the fruit around it. For better results, add the cheese and toss in the dressing right before you want to serve it. You can have the dressing ready days ahead of time if you like. Just store it in a sealed container until ready to use.
Peach Berry Caprese Salad Ingredients
4 ripe, juicy Peaches: The peaches are packed with bold, sweet summer flavors that make up the foundation for the entire salad.
Berries: Along with the peaches, you'll toss in 4 cups strawberries and 1 cup blueberries to round out the fruit mixture.
8 ounces creamy mozzarella cheese: Fresh mozzarella balls are one of the key ingredients in a classic Caprese salad. Its soft texture and mild sour taste go great with the juicy fruit, which gives the whole dish a more complex taste.
¼ cup fresh basil leaves: Basil leaves are the other ingredient that is used in a typical Caprese salad. They add a balance of sweet and savory flavors with a hint of mint and anise that makes this recipe wonderfully unique from other fruit salads. You'll want to chiffonade them, which is to stack the leaves on top of each other, roll them, and thinly slice them to create short basil strips.
Dressing: Just like in a classic Italian salad, the dressing in this recipe has a simple base of ⅓ cup olive oil and ¼ cup balsamic vinegar. 1 tablespoon each of honey and lemon juice are also mixed in to play up the sweet, tart, and refreshing flavors of the fruit. ¼ teaspoon each of kosher salt and pepper add the final element to the dressing.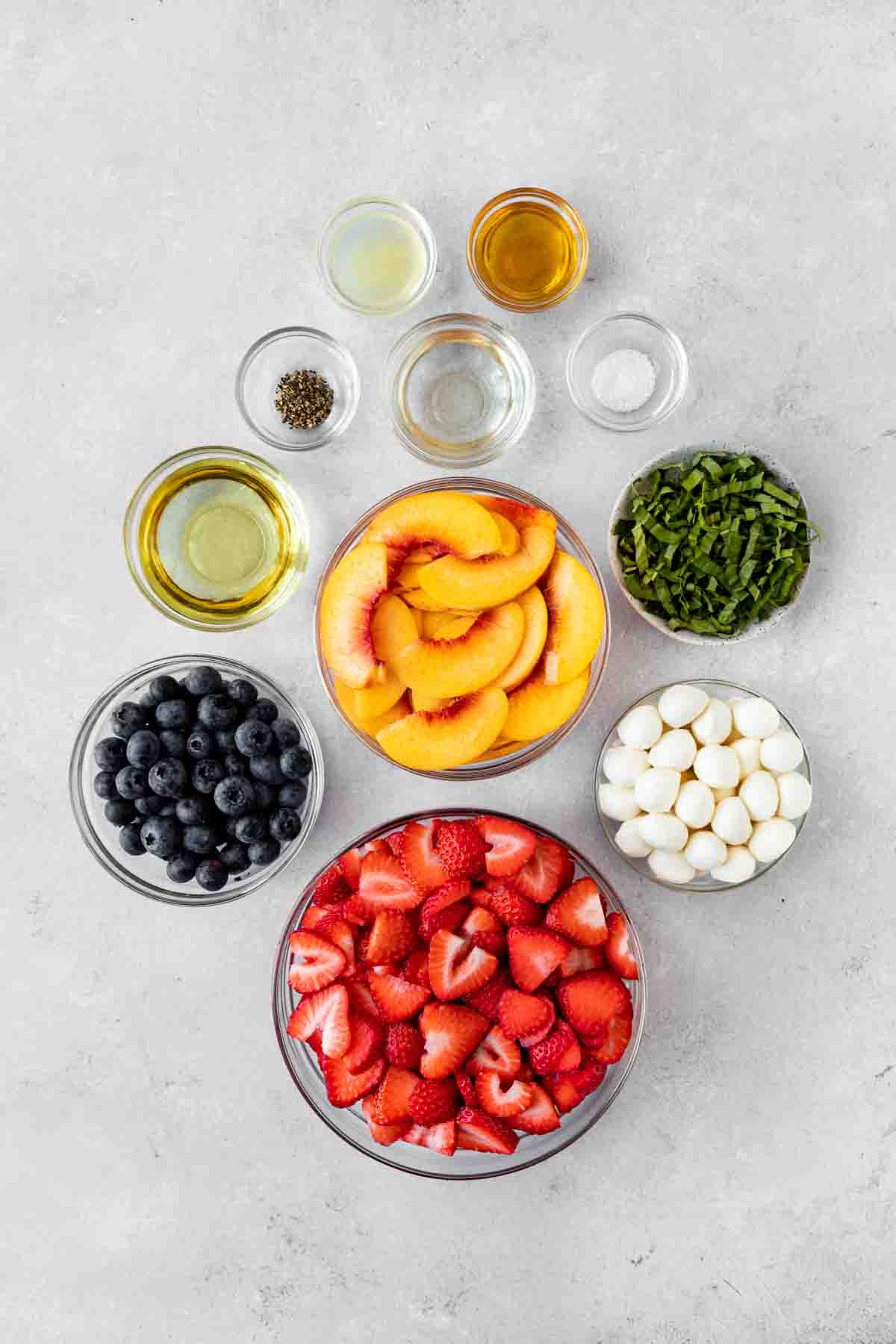 Kitchen Tools & Equipment
Cutting Board and Kitchen Knife: Use your favorite sharp kitchen knife to slice the peaches, strawberries, and basil on a cutting board.
Paring Knife: A paring knife is a small knife that you use for smaller items. It is a perfect tool to hull, or remove the green from your strawberries.
Large Bowl: A large mixing bowl is used to toss all of your ingredients together.
Small Bowl and Whisk: Prepare the dressing ingredients inside a small bowl and whisk together until everything is fully combined.
How to Make Peach Berry Caprese Salad
Time needed: 5 minutes.
Prep Time

Start by slicing the peaches into bite-size pieces. Then hull the strawberries by using a paring knife to cut a circle around the green top and remove it. Once they're hulled slice the strawberries into thin pieces length-wise. Add to a Mixing Bowl.

Dressing

Add the balsamic vinegar, honey, lemon juice, salt, and black pepper to a medium bowl. Slowly pour in the olive oil, whisking quickly as you go. Pour the dressing over the salad, toss to coat, and serve.

Assemble

Toss until the ingredients are well mixed. If you aren't going to serve the salad right away, cover it in plastic wrap to put in the fridge, and wait to add the dressing until right before serving.
Nutritional Facts
Nutrition Facts
Peach Berry Caprese Salad
Amount Per Serving
Calories 231
Calories from Fat 144
% Daily Value*
Fat 16g25%
Cholesterol 10mg3%
Sodium 106mg5%
Potassium 231mg7%
Carbohydrates 19g6%
Protein 6g12%
Vitamin A 303IU6%
Vitamin C 48mg58%
Calcium 121mg12%
Iron 1mg6%
* Percent Daily Values are based on a 2000 calorie diet.
Recipe Tips & Tricks
Make this beautiful, tasty recipe come out perfectly by following these tips.
Slice Your Peaches Like a Pro

To slice fresh peaches, begin by running your knife from the top of the peach where the stem is, completely around the peach to the other side of the stem. You'll push the knife in just until you feel you reach the hard pit center and keep it at that depth while you cut. Twist the peach to pull one half away from the pit. Then use the tip of the knife to pluck the pit out of the other half. Slice the peach into wedges from the 2 halves.

Simplify Dressing Prep

Prepare your dressing in advance, and be sure all of the ingredients are fully combined without any whisking at all. Just add all the ingredients to a mason jar, close the lid tightly, and shake to combine. Store the dressing in the refrigerator until ready to use. Give one more shake before adding to the fruit and cheese.
What to Pair With Peach Berry Caprese Salad
Toss this salad together within a few minutes for the most refreshing and flavorful side dish ever! Peach Berry Salad would go great with a light dinner like Cilantro Lime Chicken, or Grilled Shrimp. You could also pack it to go in your lunch bag with a turkey sandwich, Roast Beef Sandwich, or Chicken Salad.
How to Store Peach Berry Caprese Salad
Serve: You can keep this Caprese Salad recipe at room temperature for 2 hours.
Store: If you have any leftovers, you can cover the fresh salad in plastic wrap and store it in the fridge for up to 5 days.
Freeze: Unfortunately, the fruit won't keep its texture if you freeze and defrost it. So, if you haven't finished the salad after 5 days it's better just to make a fresh salad.
Ideas to Serve Peach Berry Caprese Salad
It's a great go-to dish to bring to BBQs or family reunions. Set out a big bowl with a serving spoon and watch it disappear fast. It is such a versatile dish that can work as an appetizer, a salad, or a side salad. Set it beside a charcuterie board for people to enjoy pre-meal. Serve it in ramekins and it will look extra special with your main dish. Enjoy this Caprese Salad as an afternoon snack alongside a crusty piece of bread or crackers and it will brighten your day.
FAQ for Peach Berry Caprese Salad
Can I use frozen or canned fruits for this Caprese Salad?
Yes, especially if you're having trouble finding fresh peaches you can use frozen peaches for this recipe.  Alternatively you can use canned peaches. Frozen berries will also work just fine. Just thaw completely and be gentle when you toss the fruits in the dressing as they will be more delicate.
Where does Caprese Salad come from?
Caprese is believed to have come from Capri, an island in Italy. The colors in traditional Caprese Salad are red from the tomato, white from the mozzarella, and green from the basil, which are all the colors of the Italian flag.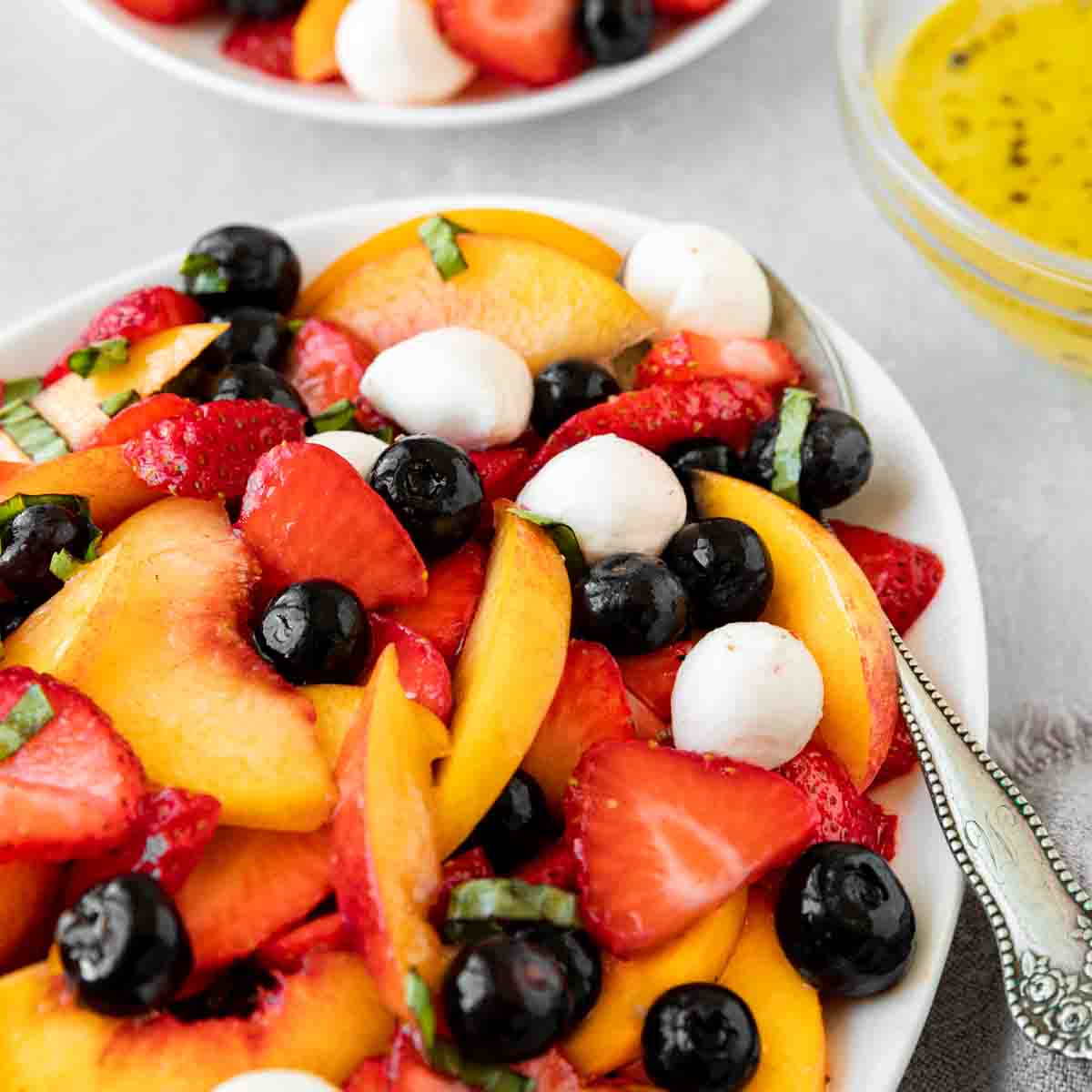 Recipe Card


Ingredients
4

peaches

, ripe, thinly sliced

4

cups

strawberries

, hulled and thinly sliced

1

cup

blueberries

8

ounces

ciliegine mozzarella cheese balls

1/4

cup

fresh basil

, chiffonade
Balsamic Dressing
1/4

cup

white balsamic vinegar

1

tablespoon

honey

1

tablespoon

lemon juice

1/4

teaspoon

kosher salt

1/4

teaspoon

coarse ground black pepper

1/3

cup

olive oil
Instructions
Add the peaches, strawberries, blueberries, mozzarella balls, and basil to a large bowl.

In a medium bowl whisk together the balsamic vinegar, honey, lemon juice, salt, and black pepper.

Slowly pour in the olive oil while whisking vigorously.

Pour the dressing over the salad and very gently toss to coat.
Nutrition
Calories:
231
kcal
|
Carbohydrates:
19
g
|
Protein:
6
g
|
Fat:
16
g
|
Saturated Fat:
3
g
|
Polyunsaturated Fat:
1
g
|
Monounsaturated Fat:
7
g
|
Cholesterol:
10
mg
|
Sodium:
106
mg
|
Potassium:
231
mg
|
Fiber:
3
g
|
Sugar:
15
g
|
Vitamin A:
303
IU
|
Vitamin C:
48
mg
|
Calcium:
121
mg
|
Iron:
1
mg
Peach Berry Caprese Salad Variations
Cheese: You can use different kinds of fresh cheese in this recipe instead of mozzarella. Any creamy cheeses like feta cheese, gorgonzola, cottage cheese, brie, or ricotta would all be a great choice of cheese.
Fruits: There are plenty of different kinds of fruit that you can toss into the salad mix. Fresh blackberries, raspberries, mandarin oranges, grapes, or fresh pineapple.
Orange Dressing: For a change to the balsamic dressing, whisk in a few tablespoons of orange juice instead of the lemon juice.
Related Recipes