Strawberry Spinach Pasta Salad with almonds, feta, and an easy balsamic and olive oil dressing is the perfect side dish for a potluck or get together. 
Classic Pasta Salad and Macaroni Salads are a huge hit all summer long but this hybrid of strawberry spinach salad and pasta salad is a fun summery salad that brings in a Fruit Salad twist you'll love!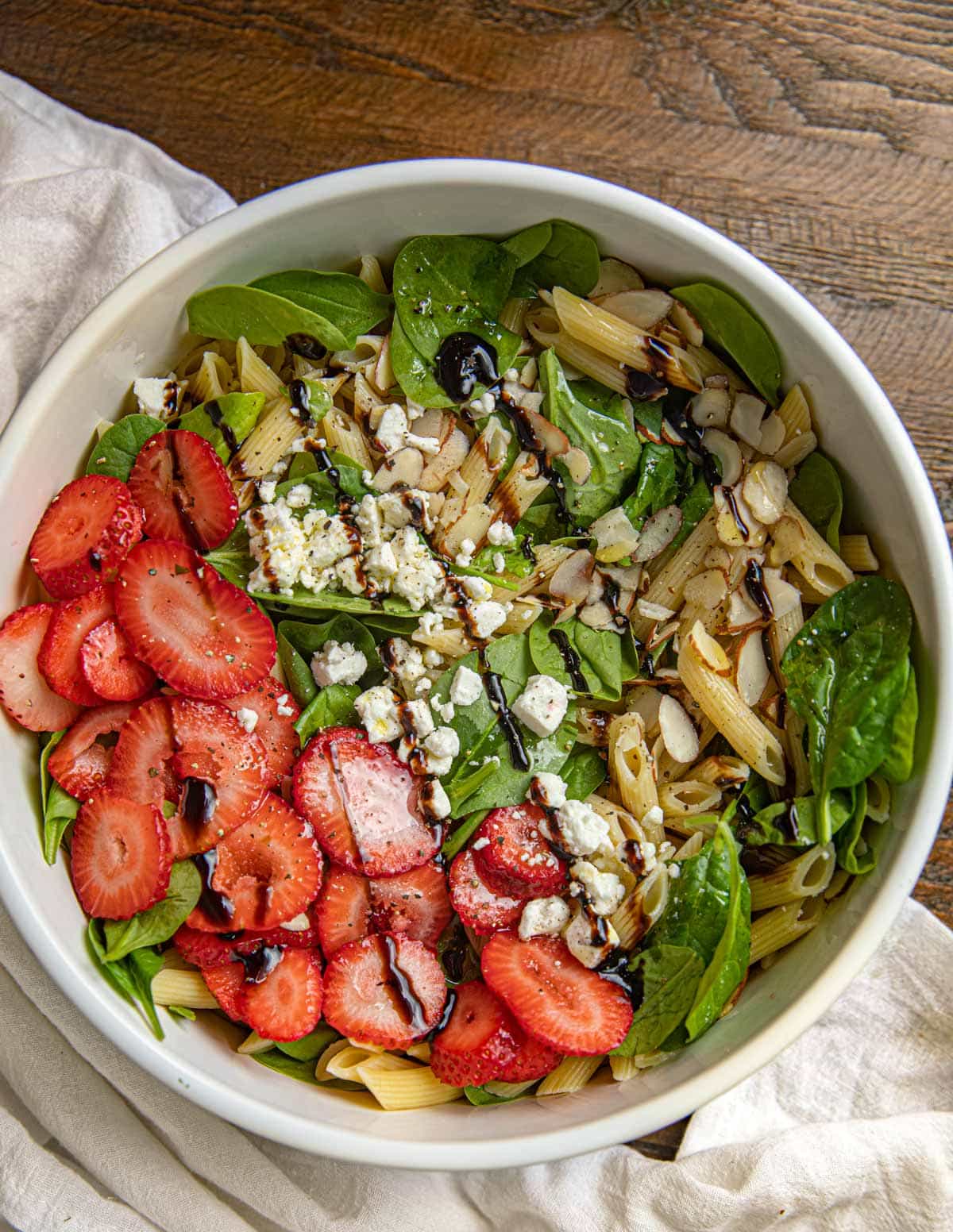 STRAWBERRY SPINACH PASTA SALAD
Pasta salad has only been an American favorite since the beginning of the 20th century, but we sure have made up for lost time. There are literally thousands of different recipes for pasta salad from all sorts of sources because of how versatile pasta salad is and because of how many things you can serve with it.
One of the more traditional American ways of serving pasta salad is at a BBQ, and my recipe for strawberry spinach pasta salad is perfect for bringing along with you to the great outdoors to grill.
HOW TO MAKE STRAWBERRY SPINACH PASTA SALAD
Start by boiling a large pot of salted water and adding your chosen noodles to it.
Once cooked, drain the noodles and mix them with salt, black pepper, lemon juice and olive oil in a large bowl.
After the pasta is thoroughly coated, add in the spinach leaves, strawberries, feta cheese and almonds.
Drizzle with balsamic glaze.
VARIATIONS
Wine vinaigrette: if you want to mix up the taste a little you can make a vinaigrette out of red or white wine vinegar instead of using a balsamic glaze.
Parmesan cheese: sprinkle some parmesan over the top of your salad to give it richer, more savory flavor.
Italian seasoning: use a dash of Italian seasoning to mix the flavor up a bit if you want some more variety.
Green onions: finely chop them up and sprinkle them over the top of the pasta salad. Not only are they crunchy, they pack in a lot of flavor.
Nuts: for more of a crunch, try adding chopped peans, cashews, sunflower seeds or pine nuts.
Garlic: finely dice up a few cloves of garlic and add them to the salad for a richer, Italian inspired variation.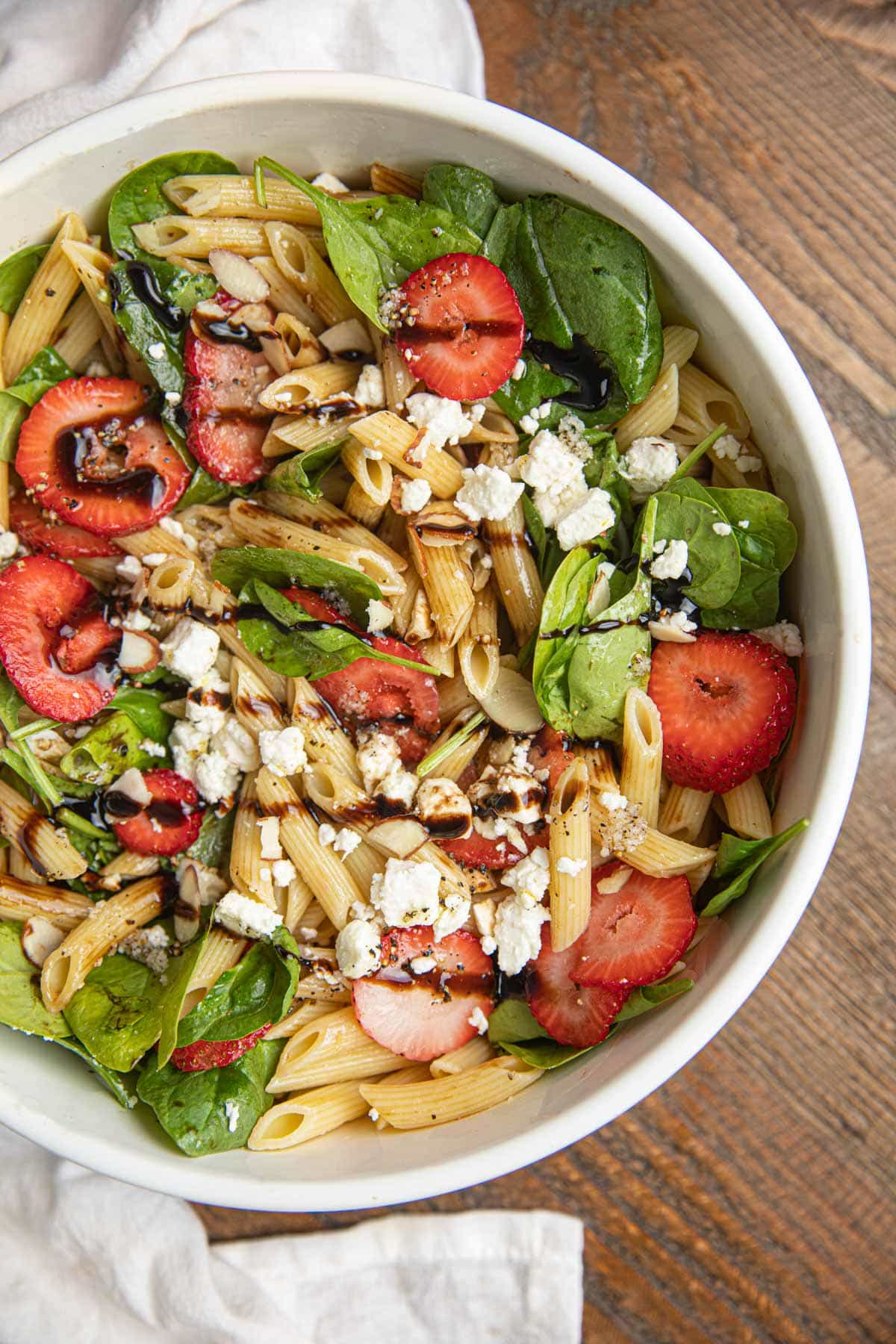 Create a free account to

Save Recipes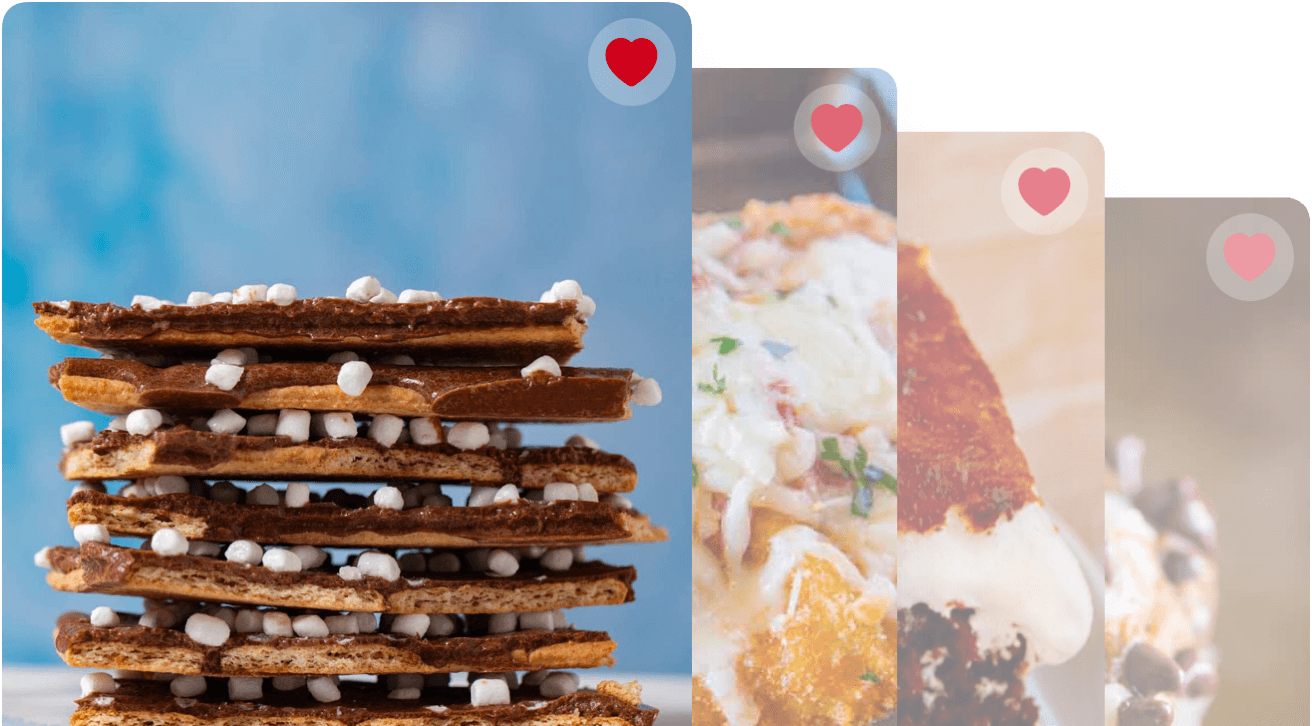 Best Pastas for Pasta Salad
Bowtie: you can use bow tie pasta for when you want to make your pasta more fun and cute. The shape also traps in more of the vinaigrette so that every bite packs more of a punch.
Penne: you can use penne for any time, place or location because of how versatile it is. It doesn't have a strong natural flavor so it picks up the tastes of the other ingredients really well.
Rotini: rotini literally means "little wheels" in Italian and, like bowtie pasta, the ridges in it trap flavor and sauce.
Whole wheat: if you're trying to eat healthy, switch to whole wheat noodles. They have more nutrients in them and still taste delicious.
What to Serve with Strawberry Spinach Pasta Salad:
How to Store Strawberry Spinach Pasta Salad:
Serve: Since there is cheese in this recipe you shouldn't leave it out at room temperature for longer than about 2 hours before you refrigerate.
Store: The strawberries and the spinach in this recipe will wilt overnight, so this salad is best consumed the day of serving. If kept overnight be aware some portions of the recipe will be soggy.
Freeze: I don't recommend freezing this recipe due to the fresh strawberry and spinach components.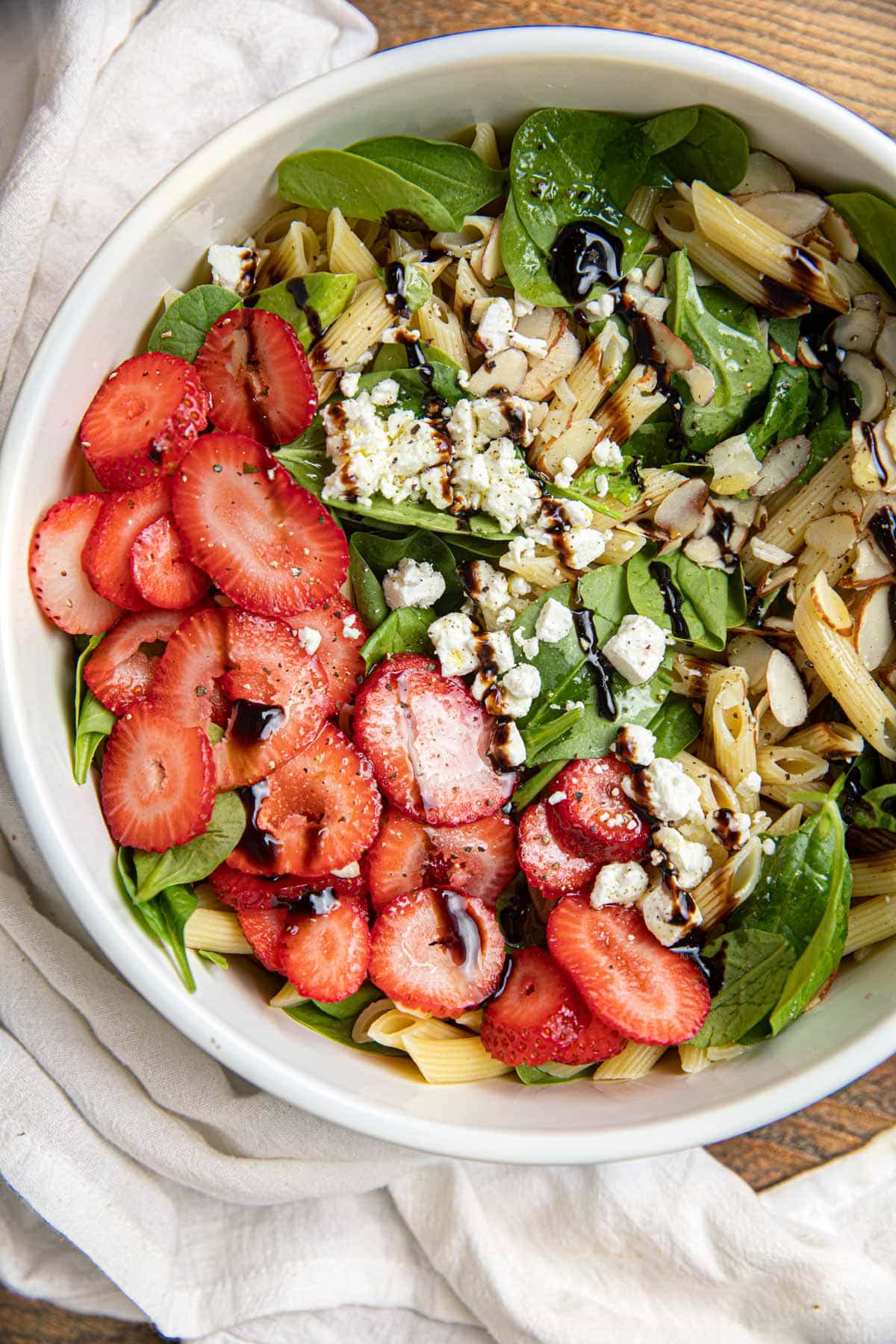 Ingredients
1/2

teaspoon

kosher salt

1/4

teaspoon

coarse ground black pepper

1/4

cup

extra virgin olive oil

2

tablespoons

lemon lemon juice

1

pound

penne pasta

4

cups

baby spinach

3

cups

strawberries

sliced

1

cup

crumbled feta

1/2

cup

sliced almonds

4

tablespoons

balsamic glaze

for drizzling
Instructions
Cook pasta one minute shy of the package directions.

Whisk together the salt, pepper, olive oil, and lemon juice in a large bowl then add in the pasta and combine.

Add spinach, strawberries, feta and almonds and toss gently until combined.

Drizzle with balsamic glaze and serve.
Nutrition
Calories:
393
kcal
|
Carbohydrates:
53
g
|
Protein:
12
g
|
Fat:
15
g
|
Saturated Fat:
4
g
|
Cholesterol:
17
mg
|
Sodium:
371
mg
|
Potassium:
352
mg
|
Fiber:
4
g
|
Sugar:
7
g
|
Vitamin A:
1490
IU
|
Vitamin C:
37.5
mg
|
Calcium:
146
mg
|
Iron:
1.8
mg