Peach Crisp is an all-American dessert. Juicy peach filling baked covered in a crunchy oat topping, made in about an hour. Perfect with vanilla ice cream!
Easy, fast desserts like Peach Cobbler are great for cookouts, potlucks, or just a quick weeknight treat. Fresh fruits like juicy peaches make any Pie Recipe the perfect summertime dessert!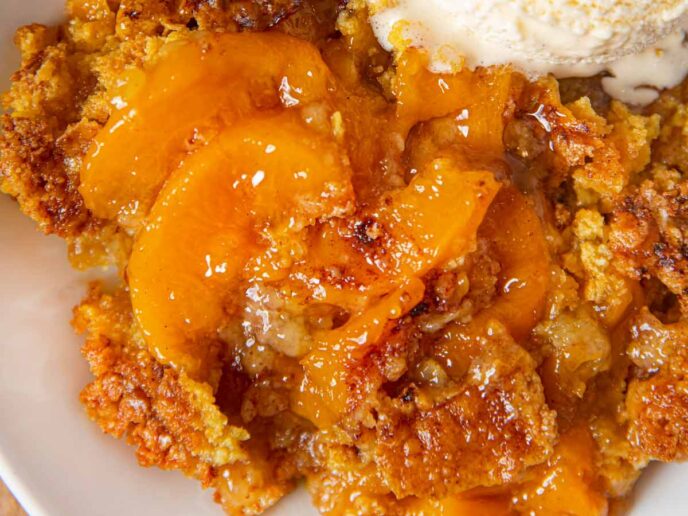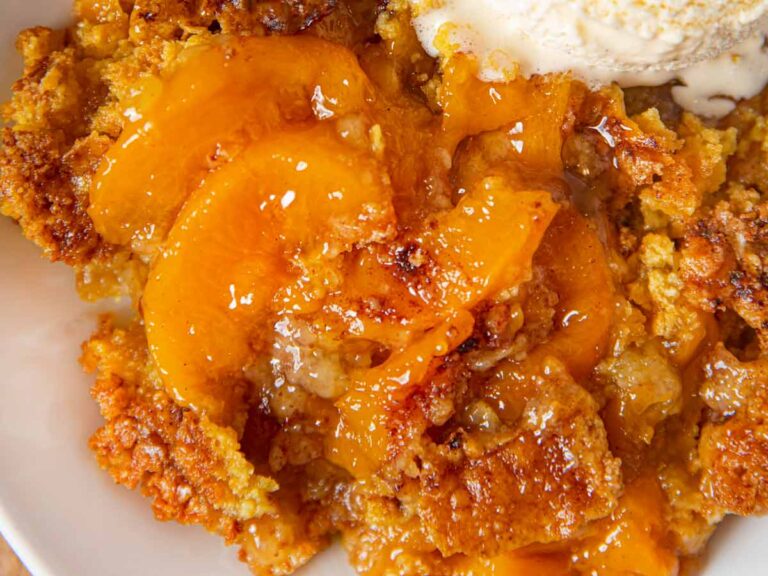 PEACH CRISP
Fruit crisps are a great way to use just past ripe fruit, a little squishy and bruised but still firm enough to hold up in a pie or fruit crisp. From Apple Crisp to mixed berry crisp to this fresh Peach Crisp recipe, it's so easy to turn ripe fruit into a delicious, warm dessert begging for a scoop of vanilla ice cream.
You may be wondering the difference between peach cobbler and peach crisp. A fruit cobbler has a biscuit or pie dough on top. A fruit crisp has a crumbly topping and this one made with rolled oats, brown sugar, flour, and unsalted butter that gets crunchy and crispy when baked.
This Peach Crisp recipe is so easy to make and adapt to what you have on hand. Substitute nuts for the oats for even more crunch or almond flour to make a gluten free Peach Crisp. You can even cut the sugar by just using fresh peaches without the other filling ingredients.
Easy Peach Crisp is the perfect summer dessert especially topped with a big scoop of Vanilla Ice Cream or dollop of Homemade Whipped Cream. You can make Peach Crisp ahead of time so it's also great for potlucks or picnic parties at the park.
To make your Peach Crisp ahead of time, prepare your peaches and cover with the crisp topping. Wrap tightly and keep in the fridge for up to a day. You can make the fruit crisp topping ahead and store for up to a month in the freezer, perfect to make a quick crisp when fruit goes just past ripe!
This recipe is so much better with fresh, juicy peaches. You can use frozen peaches but the texture is going to be a lot softer. If you use frozen peaches, make sure to thaw and drain well so your peach filling isn't runny or soggy. If you prefer peeled fruit, blanch the fresh peaches with an easy tip further in the post.
Tip to keep Peach Crisp from getting soggy
If you have particularly juicy peaches or just like a really thick fruit crisp, use this method to get them to release their juices. Toss peaches (or fruit) in a mixture of sugar and salt and let sit for about 20-30 minutes before making your Peach Crisp. Drain juices, reserving about 2 tablespoons to mix back into the peach filling.
DELICIOUS, CLASSIC FRUIT PIES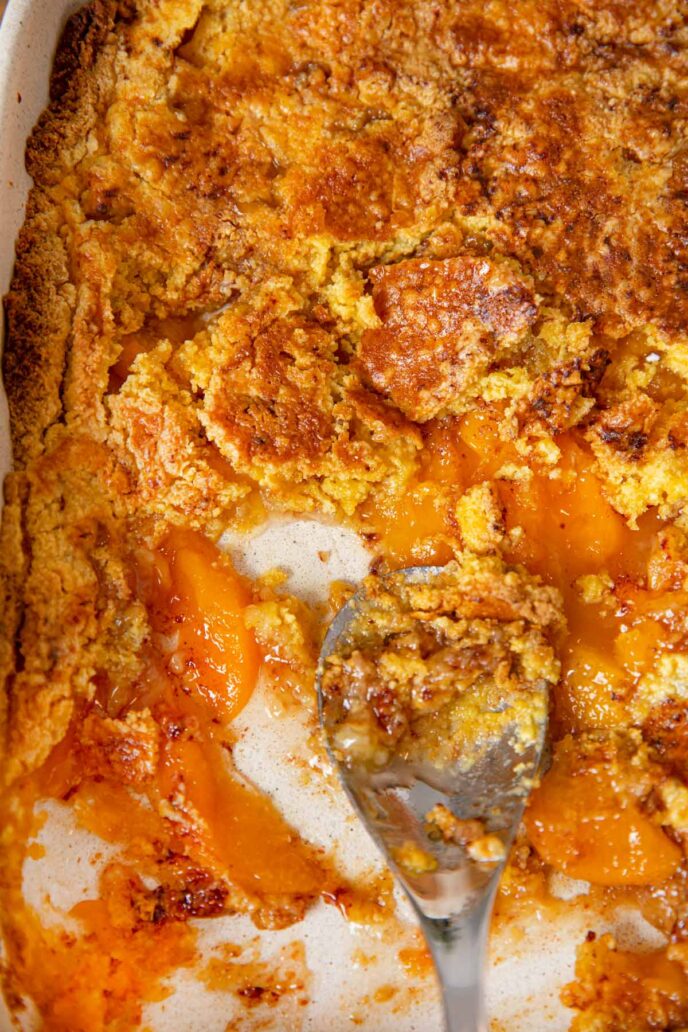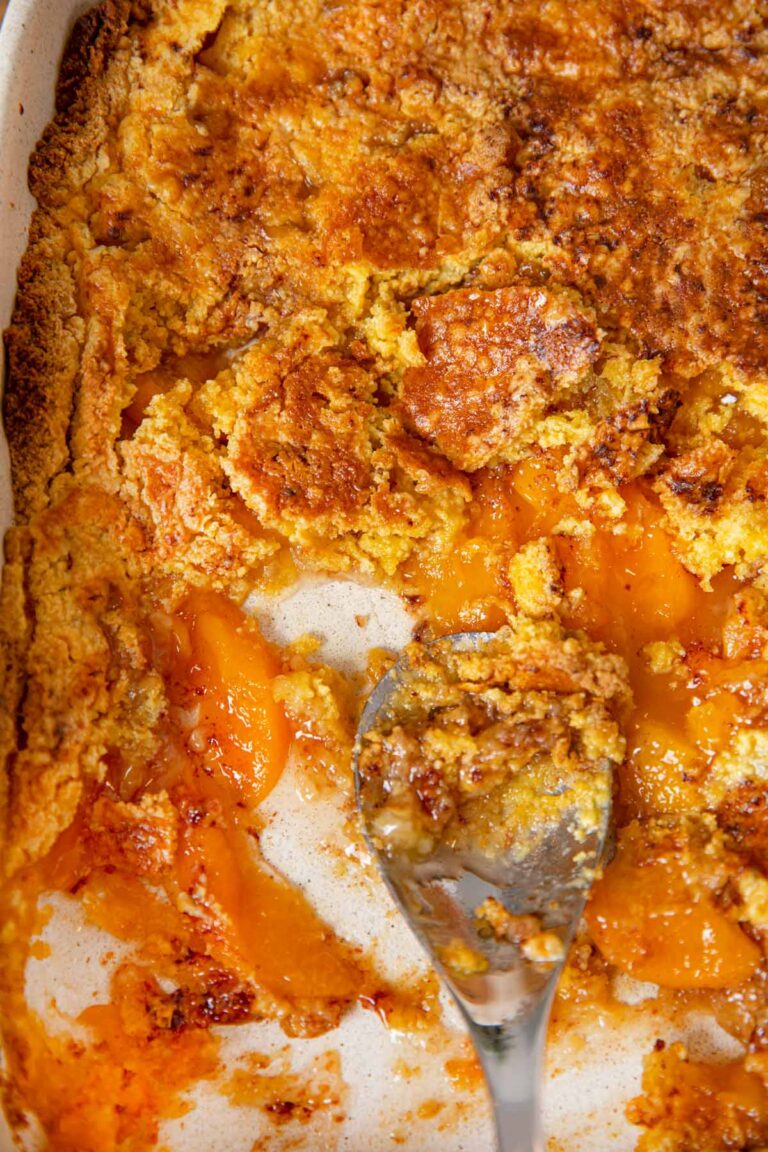 Create a free account to Save Recipes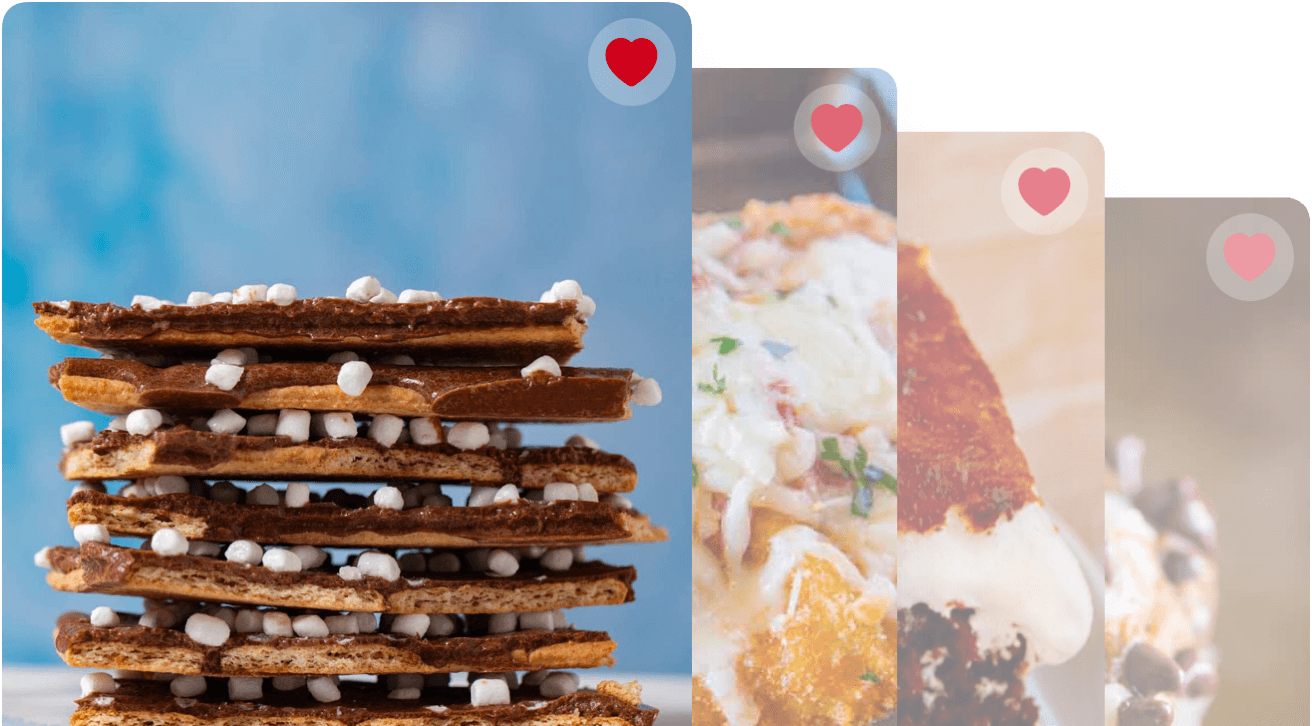 VARIATIONS ON PEACH CRISP
Peach Filling: Make different fruit crisps with firm fruits or stone fruits like plums, apricots, apples, or pears.
Spices: Try adding a teaspoon or two of cinnamon or nutmeg to the peach filling for some warm, spiced flavor.
Berries: Make an easier Raspberry Peach Pie by adding fresh (or frozen, thawed) raspberries to the peach filling. You can also use blackberries, blueberries, strawberries, or a mix of your favorites instead of the peaches.
Nuts: Give your Peach Crisp a bit of crunch by stirring in chopped almonds, pecans, or walnuts to crisp topping or into the peach filling, or both!
Bourbon: Add a tablespoon of bourbon or whiskey to the peach filling for kick to this Southern favorite and top with Salted Caramel Sauce.
HOW TO EASILY BLANCH PEACHES
Bring a large pot of water to boil. Fill a large bowl with cold water and ice, leaving room to add peaches and it won't overflow. Place 2-3 peaches into the boiling water for about 30 seconds, then remove and place directly ice bath. Repeat with remaining peaches. Skins should easily loosen for peeling, no knife needed!
Slow Cooker Peach Crisp
Set and forget a slow cooker Peach Crisp for an even easier dessert. Grease slow cooker with butter and spread peaches evenly in bottom. Prepare crisp topping as usual and sprinkle over peaches. Cook Peach Crisp on low for 3-4 hours, or until peaches are tender.
EASY FRUIT DESSERTS FOR SUMMER
HOW TO STORE PEACH CRISP
Serve: Peach Crisp can be stored at room temperature for up to 2 days, covered tightly with plastic wrap in a cool, dry spot.
Store: Keep your Peach Crisp in the refrigerator for up to 1 week in an airtight container. To keep from getting soggy, make sure it's completely cooled before storing.
Freeze: Cool Peach Crisp before freezing and store in a sealed container for up to 2 months in the freezer.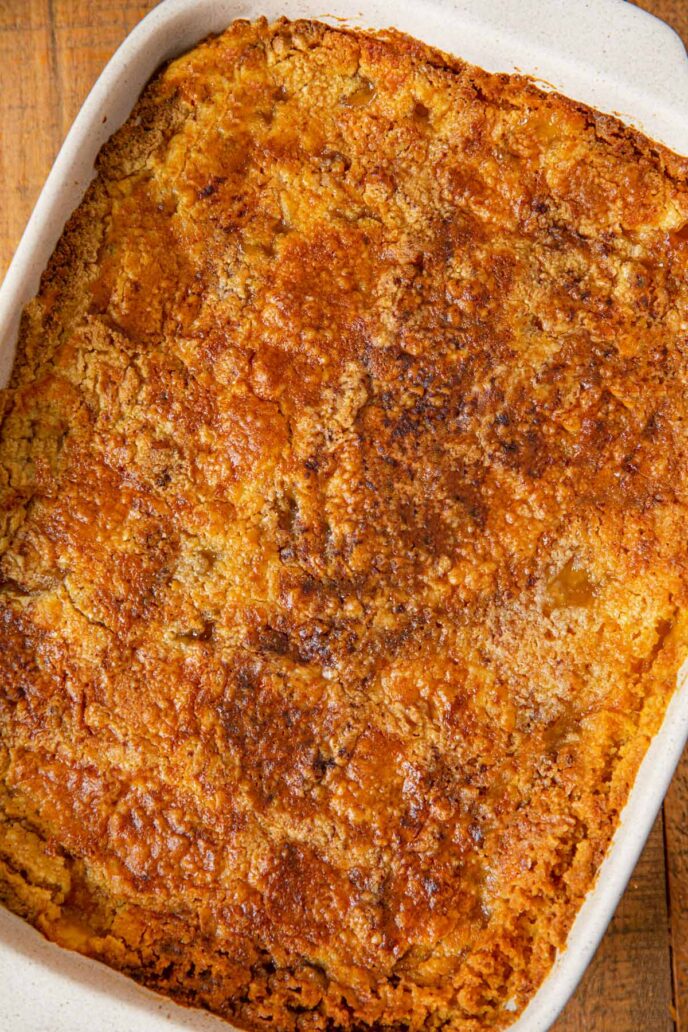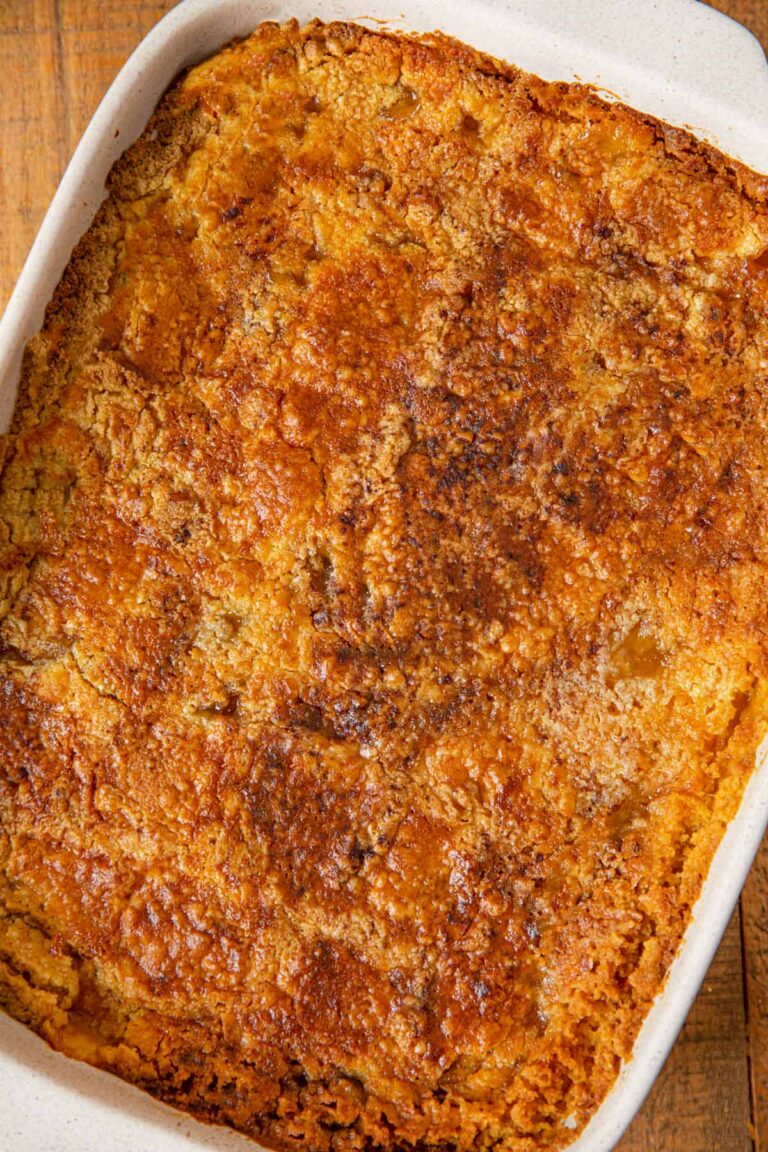 Ingredients
Peach Filling
6

peaches

, sliced (about 4 cups)

1/3

cup

sugar

1/4

cup

flour
Crisp Topping
1/2

cup

flour

1/2

cup

brown sugar

1/2

cup

butter

, chilled

1

teaspoon

ground cinnamon

1/4

teaspoon

salt

1

cup

rolled oats
Instructions
Preheat oven to 350 degrees. Grease a 9x13 baking dish; set aside.

Mix flour, brown sugar, butter, cinnamon, and salt in a bowl using a pastry cutter until evenly crumbled. Fold oats into flour mixture.

Place crisp topping in the refrigerator while you make peach filling.

Combine peaches, flour, and sugar in a large bowl. Stir until all of the peaches are well coated with the flour and sugar.

Arrange peaches evenly in the baking dish.

Sprinkle topping over peaches, pressing gently for an even, slightly flat topping.

Bake for

35-45 minutes

, or until topping is golden brown.
Nutrition
Calories:
249
kcal
|
Carbohydrates:
39
g
|
Protein:
3
g
|
Fat:
10
g
|
Saturated Fat:
6
g
|
Cholesterol:
24
mg
|
Sodium:
143
mg
|
Potassium:
222
mg
|
Fiber:
3
g
|
Sugar:
25
g
|
Vitamin A:
577
IU
|
Vitamin C:
6
mg
|
Calcium:
23
mg
|
Iron:
1
mg